The two winners of this week's Gear Giveaway will each get to design a set of custom bamboo ski poles from Grass Sticks!
All of Grass Sticks' poles are made in Steamboat Springs, CO and use natural bamboo instead of aluminum or carbon fiber. Grass Sticks' says their bamboo poles provide the ideal combination of strength and flexibility so that they won't kink or snap like aluminum poles. Plus, bamboo is one of the most efficient plants out there — producing 3x more lumber per acre than trees, producing more oxygen, and absorbing more CO2.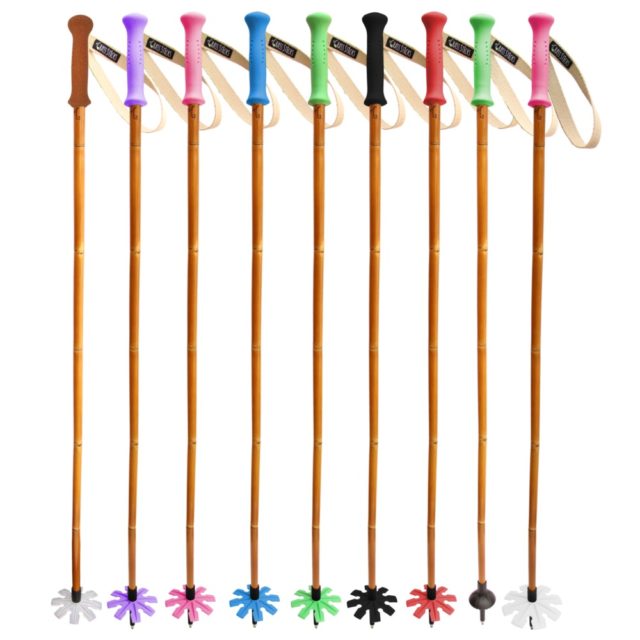 Grass Sticks' bamboo poles are finished with a UV / Moisture / Cold-proof clear coat, ensuring durability and longevity. Plus, they all carry a lifetime warranty.
On top of all of that, you also get to customize the grip, baskets, and size of your poles.
Ski poles are often boring, but Grass Sticks are not. Enter before Friday, January 18 for your chance to win.
Eligibility & How To Enter
To be eligible, like us on Facebook and / or follow us on Instagram, then sign up here to win:
(Winner will be chosen at random. Must be 18 or older. Winner will choose from available sizes and colors. This particular contest is limited to North America)
By entering, you'll also receive our weekly Blister newsletter, where we'll (a) announce each week the winner of our previous Gear Giveaway, (b) provide a roundup of the news and our highest-profile reviews of the past seven days, and (c) offer sneak peeks of the products we're currently reviewing. It's good times for sure, so don't miss out. You'll also be kept up to date on all the latest from Grass Sticks. Good luck!