Ski: 2018-2019 Moment Commander 108, 188 cm
Available Lengths: 168, 178, 188 cm
Blister's Measured Tip-to-Tail Length: 187.0 cm
Stated Weight per Ski: 2015 grams
Blister's Measured Weight per Ski: 2013 & 2013 grams
Stated Dimensions: 138-108-124 mm
Blister's Measured Dimensions: 138.1-108.1-124.8 mm
Stated Sidecut Radius: 21.0 meters
Measured Tip & Tail Splay (ski decambered): 51 mm / 36 mm
Measured Traditional Camber Underfoot: ~4 mm
Core: Aspen/Ash + Titanal (2-layers) + Carbon Stringers + Fiberglass Laminate
Base: 4001 Durasurf
Factory Recommended Mount Point: -8.5 cm from center; 85.0 cm from tail
Boots / Bindings: Nordica Strider 120, Head Raptor 140 RS, & Dalbello Lupo SP I.D. / Tyrolia AAAttack2 13
Test Location: Crested Butte, CO
Days Skied: ~18

Intro
There are very few skis that we've received more emails about than the new Commander 98 and 108 from Moment. The Commander series is Moment's new "freeride" line that replaces their Tahoe 96 and 106, and … these Commanders are unlike anything we've reviewed.
So we'll be getting both the Commander 98 and 108 on snow as soon as possible, but for now, let's take a look at the Commander 108 to see what's so unique about this ski.
Here's what Moment says about the new Commander 108:
"The Commander 108 is here to fill—overfill, maybe—the void left behind by the Tahoe 106. We started with a stable foundation: a full aspen / ash core, minimal tail rocker, and a directional shape. Then we added agility in the form of multi-radius sidecut and tip rocker. Finally, because we're slightly unhinged, we slipped two sheets of Titanal into the layup. The result is a bipolar mashup of modern all-mountain ski manageability and full-blown charger confidence—a ski that can slash and slip through tight situations or blow SLOW signs off their posts, depending on your mood. So, whether you're straightlining Elevator Shaft, rallying chop in The Slot, or just ripping groomers at pass-pulling speeds, the Commander can handle anything."
There's a lot going on here. Words like "stable," "full-blown charger," and "straightlining" are getting mixed in with "agility," "slash and slip," and "manageability."
Those aren't typically characteristics that can all be used to define a single ski, but when you start to really stare at the Commander 108's specs, Moment's phrasing starts to make a bit more sense.
Shape / Rocker Profile
There are lots of surprises here.
The Commander 108 has a significant amount of tip and tail taper compared to many other skis in its class. The tips and tails of the Commander 108 actually look like they start tapering earlier than the 118mm-underfoot Moment Wildcat.
While that taper should make the Commander 108 feel more maneuverable and easy to release, skis that are supposed to provide "full-blown charger confidence" don't often have this much taper (particularly in the tails), since lots of taper can sometimes hamper stability at high speeds and / or in variable conditions. So if you were expecting this Commander 108 to be your typical, straight-up, one-dimensional charger, well this isn't the shape that defines that genre. That said, if you tend to prefer less one-dimensional and / or more playful skis, then you have reason to be excited about this ski's shape (FWIW, I fall into that second category, and I'm extremely excited about the ski).
Surprise #2: That Tail Rocker
The Commander 108 has a fairly deep tail rocker line compared to many similarly wide directional skis. Along with the tail taper, this makes us curious about (1) how loose and pivoty the Commander 108 will feel, and (2) how well it'll hold an edge when things are really firm. But before you jump to the conclusion that this is basically a narrow pow ski, check out Moment's next surprise…
Surprise #3: That Tip Splay
This ski has very low tip splay — lower than the vast majority of ~108mm-wide skis we've reviewed (with the Volkl 100Eight being a notable exception).
One potential upside to that could be increased firm-snow performance — since the Commander 108's tips don't rise very high, you should be able to engage a lot of the ski's length when you tip it over on edge.
The potential downside could come when you're driving the tips through moguls, deeper snow, and particularly deep variable snow, when those lower tips could get bogged down.
Flex Pattern
Here's how we'd characterize the flex pattern of the Commander 108:
Tips: 7.5-8
Shovels: 8.5-9
In Front of Toe Piece: 9
Underfoot: 9.5
Behind the Heel Piece: 9-8.5
Tails: 8-7.5
Here's what Jonathan Ellsworth said about those numbers: "I love this flex pattern, and wouldn't be mad if more skis had it. It's strong (but not unbendable) and even better, it's extremely consistent. Flex the tails, then flip the ski around and flex the tips, and there is not a lot of difference. We'll see how this plays out on snow, but I'm expecting that this round, consistent flex pattern will provide a pretty big sweet spot to stand on."
Bonus Surprise: That Weight
The Commander 108 is very light for a ski with two sheets of metal.
Of the skis we've reviewed, the only other ski in this waist width that has two layers of titanal and is lighter than the Commander 108 is the G3 SENDr, which is a dedicated touring ski. The only other ski in the "All-Mountain Chargers" section of our 18/19 Winter Buyer's Guide that comes close to the weight of the Commander 108 is the Faction Dictator 3.0.
Compared to the Tahoe 106 it replaced, the Commander 108 comes in a little more than 200 grams lighter per ski … and yet the Commander 108 has two sheets of metal, but the Tahoe 106 had none.
And to really put this into perspective, the 188 cm Commander 108 is a bit lighter than the 188 cm Rossignol Soul 7 HD — a ski that nobody ever accused of being a charger. (Ok, well at some point Powder or Freeskier or somebody probably did call it a charger in one of their buyer's guides, but we assume by now that you know better.)
So again, if you expected this ski to be your typical, traditional, heavier charger, well it ain't. But if you're like me and prefer lighter, more playful skis that may provide a little? / some? / a lot? of the stability and the damp feel that metal skis are known for, then you should be even more excited right now.
For reference, here are a few of our measured weights (per ski in grams) for a few notable skis:
1848 & 1903 Line Sick Day 104, 186 cm (17/18, 18/19)
1923 & 1956 DPS Alchemist Wailer 106, 189 cm (17/18, 18/19)
1996 & 2012 Dynastar Legend X106, 188 cm (17/18, 18/19)
2013 & 2013 Moment Commander 108, 188 cm (18/19)
2022 & 2047 Faction Dictator 3.0, 186 cm (17/18, 18/19)
2026 & 2056 Black Diamond Boundary Pro 107, 184 cm (17/18, 18/19)
2030 & 2039 Rossignol Soul 7 HD, 188 cm (17/18, 18/19)
2182 & 2218 Nordica Enforcer 110, 185 cm (17/18, 18/19)
2227 & 2249 Moment Tahoe 106, 186 cm (17/18)
2283 & 2290 ON3P Wrenegade 108, 189 cm (18/19)
2312 & 2386 Prior Husume, 188 cm (17/18, 18/19)
2318 & 2341 J Skis The Metal, 186 cm (17/18, 18/19)
2376 & 2393 Blizzard Cochise, 185 cm (17/18, 18/19)
Some Comparisons
(1) Faction Dictator 3.0, 186 cm
This ski comes in at a similar weight to the Commander 108, but has shallower rocker lines and a stiffer tail. Based on that, we're curious to see if the Commander 108 could be thought of as a more forgiving, versatile, and / or playful version of the Dictator 3.0
(2) Dynastar Legend X106, 188 cm
Like the Dictator 3.0, the Legend X106 is also light and very stiff, but it has a much more tapered shape than the Dictator, and the Legend X106 has even more drastic tip and tail taper than the Commander 108. But the Legend X106 also has shallower rocker lines, so we're not really sure how these will compare since they do share a few similarities, but then contrast significantly in other areas.
(3) DPS Alchemist Wailer 106, 189 cm
This is an interesting one, mostly due to the Wailer A106's weight — it's around 70 grams lighter per ski than the Commander 108. But the Wailer A106 is still a very strong ski, and one that reviewer Paul Forward really likes. Could the Commander 108 be thought of as a Wailer A106 with a less traditional mount point?
Bottom Line (For Now)
Like the many people that have emailed us about this ski, the Moment Commander 108 has our full attention, and we're very excited to get it on snow soon. Stay tuned for updates.
Flash Review
Blister Members can now check out our Flash Review of the Commander 108 for our initial impressions. Become a Blister member now to check out this and all of our Flash Reviews, plus get exclusive deals and discounts on skis, and personalized gear recommendations from us.
FULL REVIEW
Jonathan Ellsworth, Sam Shaheen, Eric Freson, and I have now all spent time on Moment's new metal-laminate skis, the Commander 98 and 108. We already posted our full review of the Commander 98, but now it's time to discuss the wider of the two, the Commander 108. Jonathan Ellsworth and I will get the ball rolling, and we'll be adding Eric's take in the coming week or two as he gets more time on the ski in a wider variety of terrain.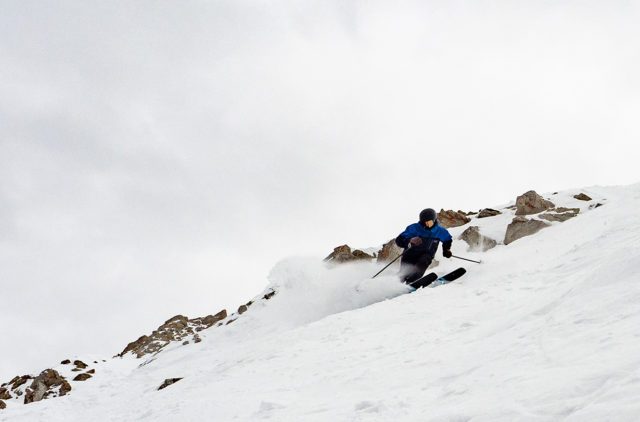 Groomers
Luke Koppa (5'8", 155 lbs): I'm not typically very concerned with a ~108mm-wide ski's groomer performance, but since I've been having a lot of fun ripping cord on the Commander 108, I wanted to touch on that first.
Despite the highly tapered tips and fairly deep rocker lines, I found turn initiation to be very intuitive on both the Commander 98 and 108. Edge hold also felt surprisingly good as long as I wasn't skiing ice or super windscoured sections.
But the thing that I really loved about the Commanders on groomers was how much energy they can produce out of a turn when you really push them. And since they're quite stiff, you can push them very, very hard. And that's a lot of fun.
The 188 cm Commander 108 feels best when making medium to large turns, and I had to try pretty hard to bend it into tighter turns. No surprise, given the length of the ski. If I wanted a slalom ski, I wouldn't be skiing a 188 cm ski with a 21-meter radius.
If the groomers were fairly smooth and the snow wasn't icy, I could basically ski as fast as I wanted on the Commander 108. It offers a blend of energy and dampness that I find to be really fun. It's not super damp and plush like much heavier skis, but it is quite damp for its weight and it also produces a lot of pop.
When the snow became more inconsistent (e.g., at the end of the day), the Commander 108 was more prone to getting knocked off track than some significantly heavier sis. Again, I think the Commander 108 is still quite damp and stable for its weight, but I couldn't just relax and expect it to keep tracking no matter what sort of patches of snow were in front of me. Instead, I had to stay pretty focused and drive it hard when the snow got rough.
Jonathan Ellsworth (5'10", ~175 lbs): I agree with what Luke's written here, but two caveats: First, Luke mentions that the Commander 108 initiates turns "intuitively," which is true. But for those of you who really like a tip shape that will pull you into a hard turn, a ski with a wider, less tapered tip might be more in line with what you're looking for (e.g., Black Crows Corvus, Nordica Enforcer 110). Second, the shorter (178 cm) Commander 98 is definitely a much more dynamic carver. So the more that matters to you (and the less it's about the width), the more you should consider the narrower Commander.
Steep, Tight, Technical Terrain
Luke: Crested Butte recently opened up a bunch of their steeper terrain, including the Headwall and Teocali Bowl. The snow was a mix of deep chop and perfect, edgeable chalk. I love skiing this sort of terrain in these conditions, and the Commander 108 was a pretty solid ski to use here.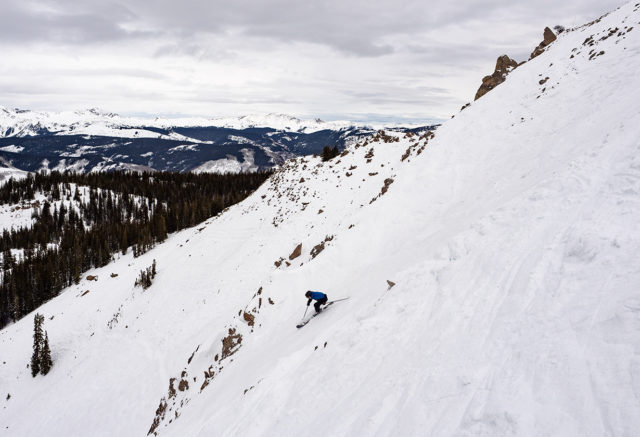 Its tapered shape and deep rocker lines make it pretty easy to slide and pivot when needed, but it still held a strong edge when I needed it to. Plus, its low weight made quick turns easier than many heavier, more traditional chargers.
One thing that Sam, Jonathan, and I all noted was that the 188 cm Commander 108 felt pretty long. It's not a heavy ski, but while making tight turns in steep terrain, trees, or bumps, it felt like you were moving a lot of ski. Since the ski is quite strong and I loved the 178 cm Commander 98, I think I could be pretty happy skiing the 178 cm Commander 108 at a mountain like Crested Butte. (I'll say more about length later).
Moguls & Trees
Luke: Just like in steep terrain, the 188 cm Commander 108 does feel like a pretty big ski in bumps. However, it's still pretty easy to slide around, and as long as I stayed centered or forward over the tips, I got along well with the Commander 108 in bumps.
It definitely has a stiff tail, and I would not recommend it to beginners or intermediates. But for advanced or expert skiers with good technique, the Commander 108 has a combination that I think some people could like a lot: it's very supportive, it's easy to slide, and it's light.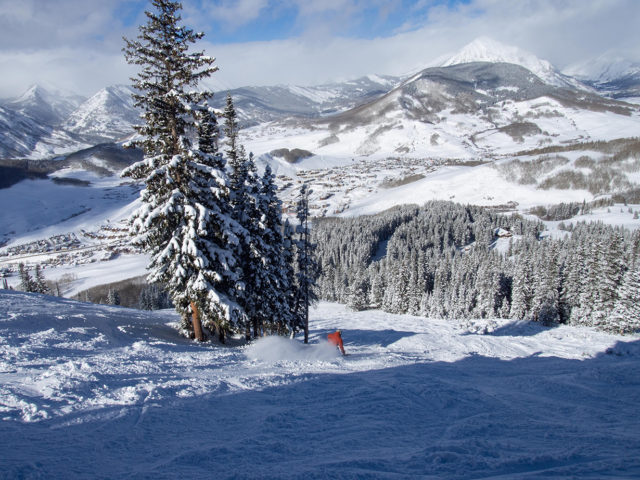 As someone who doesn't drive the front of my skis super hard down into the troughs of moguls, the Commander 108 worked quite well for me. I could make quick adjustments due to the rocker, taper, and low weight, and the ski didn't feel as punishing as I expected. It's definitely not an easy bump ski, but I've skied several skis that were significantly more difficult.
Jonathan: Those of you who read my Flash review know that I am not in love with the tips of the Commander 108 in moguls. They don't turn up / round up at all, and coupled with their rather subtle amount of tip splay, seem poised to knife into moguls when skiing hard and fast in bumps rather than planing up over them. This happened to me on one of my first runs on the ski, and it caused me to modify my approach to bumps a little bit. But neither Sam, Luke, nor Eric have had any issue with this, and Eric keeps looking at me like he thinks I'm crazy, so we'll probably just need to fire him. Anyway, that's my take. Nobody else is citing any other concerns about the Commander 108 in moguls other than the fact that the length of the 188 cm Commander 108 doesn't exactly disappear in compacted bumps.
Shallow Chop
Luke: The Commander 108 is 108 mm wide, so in my mind, it's a ski I'd typically be taking out either during a small storm or the days after a storm when the snow's been tracked out but is still fairly soft.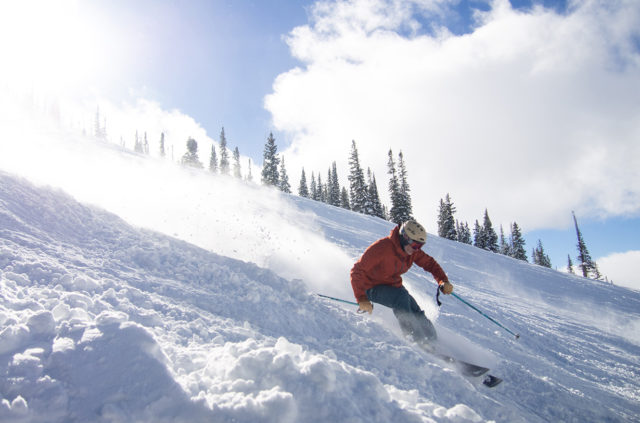 In shallow chop (less than ~6"), the Commander 108 was a ton of fun. Since it's so supportive, I could drive it as hard as I want and it would blast right through the soft snow. However, the important caveat there is that I had to be driving it hard. The Commander 108 doesn't have the mass to just blow through chop on its own. But if you're a strong skier and are willing to stay on top of the ski, the Commander 108 can be a lot of fun in soft, shallow chop. Plus, since it's so light, it was really easy to get the Commander 108 airborne. For a ski that feels quite directional, it's surprisingly balanced and light in the air (more on that later).
Deep Chop
Luke: This is where things get a bit more complicated for me. While some skis in this waist width are great for deep snow and chop (e.g., ON3P Wrenegade 108 & Prior Husume), the Commander 108 did not inspire that same confidence while skiing fast in deep, cut-up snow. And as much as I hate to admit that Jonathan may have been right, I do think it's because of the Commander 108's tips. They don't turn up very much, and there have been a few instances where I've noticed them knifing through chop rather than bending and rising up over it. I still haven't had any crashes as a result of this, but it does make me hesitant to really drive the front of the Commander 108 in deep chop. And that's unfortunate since, as I mentioned above, you do need to drive it if you want to ski really fast through variable snow.
Now, I could still ski the Commander 108 fairly centered in chop and choose to ski up, over, and around patches of chop in a more dynamic style. And this was definitely fun — the Commander 108 is still pretty nimble, and it provided a lot of pop and a strong landing platform when I wanted to catch some air. But for people who want a ski that's going to blow up deep chop at high speeds, I don't think the Commander 108 is the best ski.
That said, Moment will be releasing a wider Commander 118 that'll effectively serve as the replacement to their old Governor (a very good chop ski). So we're very curious to see how the Commander 108 compares to the Commander 118.
Powder
Luke: So far I've only had the chance to ski some leftover pow on the Commander 108, so I'll update this review if I can get it into some deeper, fresher snow. But when skiing at speed through ~10" of powder, the Commander 108 did plane up pretty well and felt predictable. However, when trying to ski through that same snow at slower speeds, the Commander 108's tips did not rise as easily. I'm not really surprised by this, given the tip-rocker profile and stiffer flex of the Commander 108's tips. So this is not a great ski for noodling around in pow at slow speeds. But if you've got the room to get it up to speed, the Commander 108 will plane up eventually.
Playfulness
Luke: Overall, I wouldn't call the Commander 108 a particularly "playful" ski. It's quite stiff, it has a fairly traditional mount point, and it feels best when you're driving the front of the ski. And yet, the Commander 108 does have some playful characteristics, and it can certainly be fun when skied with an aggressive, playful style (case in point: Tyler Curle's Instagram feed). The Commander 108 is easier to slash and slide than many skis in the "all-mountain chargers" class, and it also has a lot of pop on takeoffs. It's also very light in the air and provides a super solid and confidence-inspiring landing platform, which I really appreciated when I came off a jump a bit too far forward or back.
So, the Commander 108 is by no means a freestyle ski. But it is lighter, more pivoty, and poppier than many other chargers out there. So if you're a playful skier who doesn't need a surfy or buttery ski and instead prefers one that's very strong, the Commander 108 is worth a look.
Length
Luke: As I touched on above, the Commander 108 feels surprisingly long given its low weight, rocker profile, and tapered tips and tails. So if you're caught between sizes, I think sizing down will probably be the right call. While I almost always prefer ~108mm-wide skis in the 185-190 cm range, I actually think I could be quite happy on the 178 cm Commander 108.
Since the 188 cm Commander 108 isn't some super damp ski, I'd rather go shorter and lighter to play to its strengths (quickness and maneuverability).
Jonathan: I'm going to hold off on this for now, because I want to get back out on the Commander 108 in some steeper, bigger terrain. There's no question that if you are primarily skiing groomers and / or fairly compacted moguls, there is very little reason to go with the 188. But now that more and more terrain is opening up at CB, the longer 188 ought to make more and more sense. I'll update in a week or two.
Who's It For?
Advanced to expert skiers who find traditional chargers to be too heavy, cumbersome, or taxing, but who still want a very strong ski that they can push hard.
If your favorite part about chargers of the past is their plush, damp feel and the way you could just passively let them blow through everything, the Commander 108 is not for you.
But if your favorite part about traditional chargers is how you could drive them really hard, then the Commander 108 could be worth a look. It should be particularly appealing to skiers who like to ski hard, but who also like to seek out transitions and jumps, rather than picking a straight line to the base.
Bottom Line
The Moment Commander 108 is not your traditional charger, but for some skiers, it could be the modern charger they've been looking for. It's stiff and you can ski it quite hard, but it's also pretty easy to turn in tight spots and is very light. For skiers who value strength and maneuverability over a damp feel, the Commander 108 is worth a good look.
Deep Dive Comparisons
Become a Blister Member or Deep Dive subscriber to check out our Deep Dive of the Commander 108 to see how it stacks up against the Blizzard Cochise, ON3P Wrenegade 108, Prior Husume, Folsom Hammer, Nordica Enforcer 110, J Skis Metal, Fischer Ranger 102 FR, Head Kore 105, Faction Dictator 3.0, and Dynastar Legend X106.