Ski: 2021-2022 Black Crows Corvus, 188.2 cm
Available Lengths: 176.1, 183.4, 188.2, 193.3 cm
Blister's Measured Tip-to-Tail Length: 187.2 cm
Blister's Measured Weight per Ski: 2046 & 2120 grams
Stated Dimensions: 138-107-127 mm
Blister's Measured Dimensions: 137.3-106.4-126.7 mm
Stated Sidecut Radius: 21 meters
Measured Tip & Tail Splay (ski decambered): 46 mm / 5 mm
Measured Traditional Camber Underfoot: 0 mm
Core: poplar + two 120 cm titanal layers + fiberglass laminate
Factory Recommended Mount Point: -7.9 cm from center; 85.7 cm from tail
Boots / Bindings: Nordica Strider 120 & Head Raptor 140 RS / Tyrolia AAAttack2 13
Test Location: Crested Butte, CO
Days Skied: 9
[Note: Our review was conducted on the 18/19 Corvus, which was not changed for 19/20, 20/21, or 21/22, apart from graphics.]

Intro
Ever since we talked with Black Crows' head ski designer, Julien Regnier, about the 18/19 Black Crows lineup, we've had a ton of requests to review their redesigned Corvus.
We are now reviewing the latest iteration of Black Crows' big-mountain charger, and we'll be posting a Flash Review as soon as possible. But in the meantime, let's take a look at the Corvus's specs, because there are several aspects of its design that you were probably not expecting.
What Black Crows says about the Corvus:
"This iconic model from Black Crows has had a thorough makeover, with the addition of a reverse camber, a flat underfoot segment and a double titanal plate. This gives the new Corvus better pivoting in soft snow while keeping a very powerful grip on hard terrain. The ski is powerful and grips the ground well. Battle-ready as ever, the Corvus with its new balance offers greater confidence on all types of terrain."
The two main changes with the new Corvus are the addition of two (120 cm) titanal plates and a switch to a reverse-camber profile. Black Crows is claiming this makes the new Corvus easier to pivot in soft snow, while maintaining good grip when you need it. That all seems pretty reasonable.
Now, let's get into the details of those design changes:
Shape & Rocker Profile
In terms of its shape, the new Corvus isn't all that different from its prior iterations. It's still got a bit of tip taper, not much tail taper, and a fairly average radius (for a 188 cm big-mountain ski) of 21 meters.
While its shape didn't change much, the Corvus's rocker profile did, with Black Crows deciding to ditch the rocker / camber / rocker design of past years and switch to a design without camber.
While the new ski is technically "reverse camber," we're more inclined to call it "flat with a bit of tip rocker." Looking at the rocker profile of the new Corvus (see the bottom of this review), the rocker lines are very subtle.
The Corvus's tip starts to rise a bit early, most of the midsection is completely flat, and the tail has almost no rocker at all.
The reverse-camber, 99mm-wide Black Crows Daemon actually has more exaggerated / deeper rocker lines than the ~107mm-wide Corvus. The Corvus also has pretty low tip splay at ~46 mm, though that does seem to be a theme with some reverse-camber skis (e.g., Parlor Mountain Jay and Volkl 100Eight).
The rocker profile of the new Corvus reminds me most of skis like the old (pre-15/16) Blizzard Cochise, the Volkl Katana, and the Parlor Mountain Jay.
So I wouldn't expect the new Corvus to be super pivoty like the more dramatically reverse-cambered Moment Meridian or 4FRNT Devastator, but I suspect the Corvus's flat profile should still make it fairly easy to slide around.
Flex Pattern
Here's how we'd characterize the flex pattern of the Corvus:
Tips: 6.5-6
Shovels: 6.5-7
In Front of Toe Piece: 8-9
Underfoot: 10
Behind Heel Piece: 10-9
Tails: 8-8.5
This is a very directional flex pattern, and a pretty strong one. The Corvus's tips and shovels are pretty easy to bend, but the front ~20 cm of the ski is the only part that I'd call "soft." After the shovels, the ski quickly ramps up in stiffness around the bindings and finishes with a very strong tail.
The Corvus isn't the stiffest ski we've reviewed, but its flex pattern is still strong, seems like it'll reward a forward, driving stance and it should appeal to those who want a strong tail for support on landings and / or for finishing turns, etc.
Weight & Comparisons
In what appears to be the continuation of a broader trend (see the Moment Commanders and Faction Dictators), the new metal-laminate Corvus is not coming in all that heavy. In fact, the stated weight for the 18/19 Corvus is almost 300 grams less than the stated weight for the previous (17/18) non-metal Corvus.
At an average weight of ~2083 grams for the 188 cm version, the new Corvus is coming in closer to skis like the Salomon QST 106 than it is to the Blizzard Cochise or ON3P Wrenegade 108.
For reference, here are some of our measured weights for a few notable skis. As always, keep in mind the length differences to try to keep these comparisons apples-to-apples.
1923 & 1956 DPS Alchemist Wailer 106, 189 cm (17/18-18/19)
1996 & 2012 Dynastar Legend X106, 188 cm (17/18-18/19)
2013 & 2013 Moment Commander 108, 188 cm (18/19)
2022 & 2047 Faction Dictator 3.0, 186 cm (17/18-18/19)
2026 & 2056 Black Diamond Boundary Pro 107, 184 cm (17/18-18/19)
2030 & 2039 Rossignol Soul 7 HD, 188 cm (17/18-18/19)
2036 & 2064 Salomon QST 106, 188 cm (18/19)
2046 & 2120 Black Crows Corvus, 188 cm (18/19)
2182 & 2218 Nordica Enforcer 110, 185 cm (17/18-18/19)
2283 & 2290 ON3P Wrenegade 108, 189 cm (18/19)
2312 & 2386 Prior Husume, 188 cm (17/18-18/19)
2318 & 2341 J Skis The Metal, 186 cm (16/17-18/19)
2376 & 2393 Blizzard Cochise, 185 cm (15/16-18/19)
The Corvus definitely isn't the lightest ski in its class, but it's still surprising how much lighter it is than other dual-metal-laminate skis like the Cochise.
Some Questions / Things We're Curious About
(1) While it doesn't have any camber, the new Corvus doesn't have much rocker / early rise in its tips and tails, either. So will it feel ultra-pivoty and loose like reverse-camber skis (e.g., 4FRNT Devastator), or more locked-in?
(2) The new Corvus now has two strips of titanal, but it's not a very heavy ski. So how damp will it feel compared to other all-mountain skis in its class?
(3) The Corvus has pretty low tip splay, but it also has fairly soft shovels. So how will it perform when conditions are soft and / or deep?
(4) Given the shape of the new Corvus, it's probably tempting to make comparisons to skis like the old reverse-camber Blizzard Cochise and Volkl Katana. But the Corvus is far lighter than those skis. So could it be thought of as a new, lighter, and / or more forgiving version of those skis?
Bottom Line (For Now)
When Black Crows says that the Corvus got a "thorough makeover," they aren't lying. And there aren't many skis on the market right now that share a similar combination of traits. So we're not sure what to expect, but we'll soon be getting on the ski soon. So stay tuned for updates, and let us know if you have specific questions that you'd like us to address in our flash review or full review.
Flash Review
Blister Members can now check out our Flash Review of the Corvus for our initial impressions. Become a Blister member now to check out this and all of our Flash Reviews, plus get exclusive deals and discounts on skis, and personalized gear recommendations from us.
FULL REVIEW
Jonathan Ellsworth and I have now each spent time on the redesigned Corvus at Crested Butte, and we've come away with some surprising (and positive) impressions.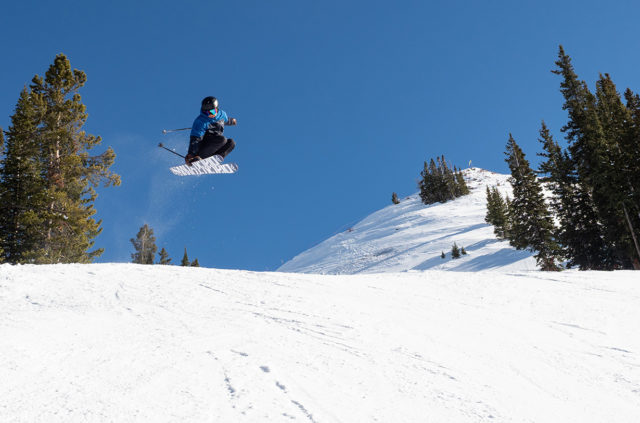 Soft Chop
Luke Koppa (5'8", 155 lbs): These are the conditions I think of first when talking about ~107mm-wide chargers. And in these conditions, the Corvus did not disappoint.
While skiing the Corvus during and after some storms at Crested Butte, it provided a solid and predictable platform that let me ski quite fast through soft chop. Its softer shovels were forgiving when I hit firmer patches of snow, but the Corvus still let me blow through the softer piles. The ski never felt harsh to me while skiing fast through soft variable snow, and it tracked quite well.
The Corvus was also surprisingly easy to turn in tight spots; compared to other skis in the "All-Mountain Chargers" category of our Winter Buyer's Guide, the Corvus feels like it falls on the easier end of the spectrum. This was unexpected, especially given reviewer Alex Mueller's remarks about the demanding nature of the previous Corvus.
The new Corvus feels quite damp and composed at speed for its weight, but it doesn't offer quite the same "let's see how few turns I can make" confidence that several heavier and / or stiffer skis in its class do. For ~95% of the skiers on the mountain, I think the Corvus's top-end stability will be more than adequate. But if you loved the old metal Katana or reverse-camber Cochise because of how stupidly fast you could go on them, you might be a bit disappointed with the high-speed stability of the Corvus.
Jonathan Ellsworth (5'10", 175 lbs): I very much agree with Luke here: those few skiers who absolutely insist on best-in-class stability (you know who you are) will want more ski than the new Corvus. But I think the story here for me is just how good the low end of the Corvus is; while the 188 cm model obviously has some material length to it, the ski is very, very easy to pivot in bumps and trees at very low speeds; there's no metal-laminate ~108 mm wide ski that I can think of that would best the Corvus in this regard, and yet the ski is … let's say … "quite" solid when mobbing around in chop.
Powder
Luke: I was on the Corvus when they dropped the ropes on Crested Butte's Headwall, revealing a couple month's worth of untouched snow, plus a lot of steep, technical terrain. The snow in some spots was waist deep, and I was nervous about how the 107mm-wide Corvus would handle these conditions.
But the Corvus didn't get bogged down in this deep snow, and floated better than I figured it would. It definitely didn't float to the top of the deep snow (I doubt any 107mm skis would), but its tips never dove unpredictably and I was able to make both big and small turns down the face.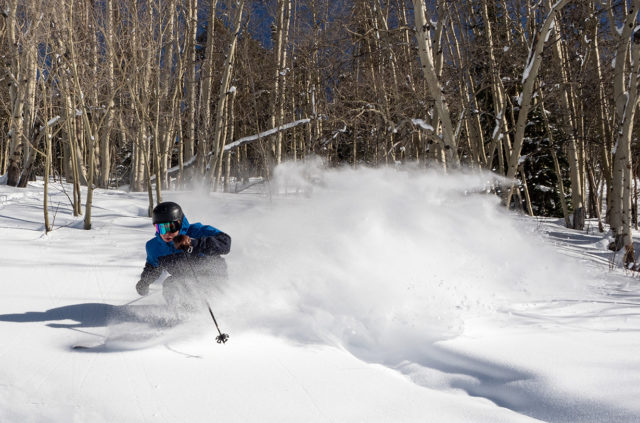 The Corvus is not a great ski for noodling around in pow on low-angle slopes, but if you've got room to let it run or the terrain is fairly steep, the Corvus works quite well in pow.
Crud
Luke: As I alluded to earlier, the Corvus provides very good suspension / damping for its weight, but there are several skis out there that offer a smoother and more stable ride in really rough snow. That said, I still liked the Corvus in crud since it's (1) pretty damp, (2) fairly light, and (3) pretty easy to turn.
There are plenty of light skis out there that are easy to turn, but they often feel very harsh on firm snow. And there are very heavy, damp skis that smooth out rough snow, but they're often a lot of work when it comes to making quicker, tighter turns. The Corvus combines a bit of both those categories — it doesn't feel harsh, but as we noted above, it's also very manageable at slower speeds. So while I didn't feel comfortable nuking through crud on the Corvus, it let me make quick adjustments while not feeling nearly as jarring as lighter skis.
Groomers
Luke: I was a bit worried about how the reverse-camber Corvus would fare on groomers, but it again proved to be more versatile than expected. Its fat tips pulled me into a turn as soon as I tipped it over on edge, and its fairly flat reverse-camber profile provided solid edge hold. It didn't carve up ice very well, but it never unexpectedly slid out on me. And this takes us to one of my favorite characteristics of the Corvus: it's really predictable and easy to transition from carved turns to feathered ones.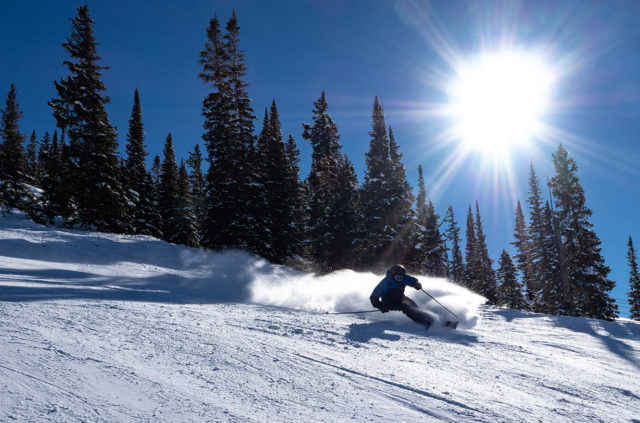 I could drive the Corvus hard and dig in its edges on all but the iciest of groomers, and I could almost effortlessly release it from a turn and break it into a slide to burn speed, spray Sam Shaheen when he wasn't paying attention, etc.
Because of how easily I could switch from carved turns to feathered turns on the Corvus, I was actually more comfortable skiing it on really firm groomers than some lighter, narrower skis with traditional camber (e.g., Armada Invictus 99 Ti).
If you want to really lay over turns on ice, there are many better skis out there (most of which are much narrower and / or heavier). But if you'd rather have a ski that's at least predictable on firm groomers — and that performs very well off piste — then the Corvus is a good option.
The last thing to note is that the Corvus, like most other reverse-camber skis, produces almost no energy coming out of a turn. So if a dynamic / poppy experience on groomers is what you're seeking, this is not the ski for you.
Jonathan: I agree with Luke's points here, and I mostly just want to underscore how much I liked the way the tips of the Corvus initiated turns. So if vague tip initiation of carved turns is something that bums you out, you won't be bummed out by the Corvus.
Moguls
Luke: If I stayed centered or forward on it, I really liked the Corvus in bumps. It's pretty easy to pivot, its shovel is forgiving yet supportive, and it feels like it has a pretty big sweet spot.
When I inevitably got backseat, the Corvus's tail did feel quite stiff and fairly punishing. It's definitely not the most difficult or punishing ski I've used in bumps, but I wouldn't recommend it to skiers who often get backseat in bumps. But for skiers with good technique, I think the Corvus is a very good bump ski.
Jonathan: I agree, but I have to say that I have yet to find the Corvus' tails to be particularly punishing in bumps. If you tend to prefer stiffer, more supportive tails in bumps, then I suspect you'll appreciate the Corvus.
Looseness
Luke: The Corvus feels easier to slide and pivot than most skis with traditional camber, but it's not nearly as loose and surfy as reverse-camber skis with deeper tip and tail rocker lines (e.g., Moment Meridian 107 & 4FRNT Devastator). For an all-mountain charger, I think that's a good thing. The Corvus feels very secure on edge on all but the firmest snow, and yet it doesn't require much effort to turn in tight terrain.
Jonathan: Yep, I think the rocker profile on this ski is very well done. The result is a loose ski that is still very easy and quick to get on edge. A more exaggerated profile will likely produce more float in deep snow, but for the variable conditions in which I tend to break out a ~108 mm wide ski, I don't need a more pronounced rocker profile.
Mount Point
Luke: I spent most of my time on the Corvus with it mounted on the recommended line, which was -7.9 cm on our ski. (We confirmed with Black Crows that their recommended mount point is -8 cm back from center.) I got along really well with the ski on that line. I could drive it as hard as I wanted, yet I could also ski it fairly centered when just cruising back to the lift.
I also spent some time on it with the bindings pushed back to around -10 cm from center, and there the ski felt a bit more supportive when pushing it hard, and a bit more sluggish in tight terrain. Since I didn't feel like I needed "more" ski in front of me at -7.9 cm from center, I preferred that mount point (I'm 5'8", 155 lbs). But for bigger / more aggressive skiers who ski with a driving, forward stance, you could move the bindings back a bit if you think the recommended line is too far forward for your liking.
Jonathan: I've only skied the Corvus on the line so far, and I've quite liked it there. Given how light the ski is, I think that I'll prefer to ski with a more upright stance in chopped snow. But the more you want to try to turn this ski into a bulldozer, the more I'd follow Luke's advice above.
Who's It For?
Advanced to expert skiers who value both stability and maneuverability.
The Corvus feels pretty nimble in tight terrain, yet it can also be skied quite hard through soft variable snow. It's also surprisingly good in fresh snow, making it a solid option for a 1-ski quiver in higher-snow areas, or as the wider ski in a 2-ski quiver for lower-snow areas.
If maximum stability at speed is your only priority, we'd recommend looking to heavier skis (there are several good options in the "All-Mountain Chargers" section of our Winter Buyer's Guide).
But if you want a ski that's pretty damp and stable, but also pretty easy to turn at slower speeds and in tighter terrain, the Corvus is worth a very good look.
Bottom Line
The Black Crows Corvus is a versatile all-mountain ski that combines some of the dampness and stability of traditional chargers with a bit of the forgiveness, maneuverability, and low weight of easier skis. That's a combination we haven't seen from many other skis, and it makes the Corvus a very good option.
Deep Dive Comparisons
Become a Blister Member or Deep Dive subscriber to check out our Deep Dive of the Corvus to see how it stacks up against the Blizzard Cochise, ON3P Wrenegade 108, Prior Husume, Folsom Hammer, Nordica Enforcer 110, J Skis Metal, Moment Commander 108, Head Kore 105, Faction Dictator 3.0, and Dynastar Legend X106.