Ski: 2018-2019 4FRNT Devastator, 184 cm
Available Lengths: 164, 174, 184, 194 cm
Blister's Measured Tip-to-Tail Length: 181.8 cm
Stated Weight per Ski: 2298 grams
Blister's Measured Weight per Ski: 2241 & 2295 grams
Stated Dimensions: 136-108-131 mm
Blister's Measured Dimensions: 135-107-130.5 mm
Stated Sidecut Radius: 25 meters (same in all lengths)
Tip & Tail Splay (ski decambered): 57 mm / 49 mm
Traditional Camber Underfoot: 0 mm (reverse camber)
Core: Ash & Beach
Base: Sintered Carbon
Factory Recommended Mount Point: -5.3 cm from center; 85.6 cm from tail
Test Locations: Taos, NM; Aspen Highlands & Arapahoe Basin, CO
Boots / Bindings: HEAD Raptor 140 RS / Marker Jester
Days Tested: 10
[Note: Our review was conducted on the 17/18 Devastator, which was not changed for 18/19, apart from graphics.]
Intro
A few years ago, we reviewed the 194 cm 4FRNT Devastator, and it still stands as one of the heaviest skis that we've ever reviewed, narrowly beating out the 16/17 192 cm Dynastar Pro Rider and the 16/17 184 cm Head Monter 108.
And then Paul Forward (who typically has a thing for pretty big skis), talked about and underscored how substantial the 194s were.
Given that, it didn't seem like the 194 Devastator was a ski that we would — or should — be recommending to a bunch of readers. And that made us really want to check out the 184 cm Devastator in a bad way, and had us wondering whether it was a more manageable ski that would be more suitable for lighter skiers or those who spend time skiing in tighter spaces.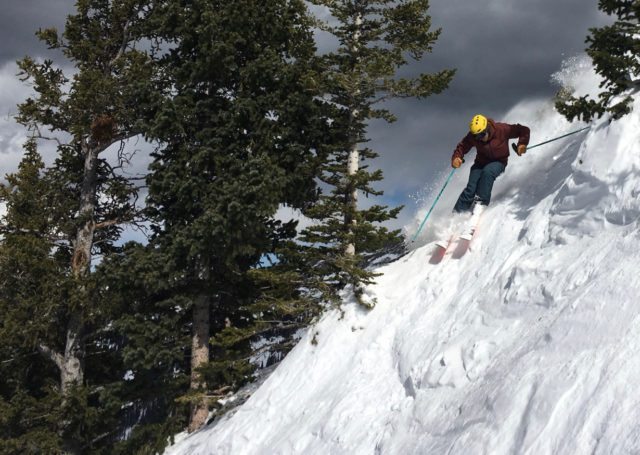 It's been a long time coming, but we are finally now getting time on the 184s. But to back up for a second, here's what 4FRNT has to say about the Devastator:
"A ski so stable and maneuverable, you'll swear it must be cheating as you can "just point 'em" on even the choppiest of days. The ReflectTech™ gives you the "pivotable" benefit of a full-rockered ski, while providing a classic, full length effective edge for superior edge-hold. The Devastator is a true One-Ski-Quiver. For women check out the Aretha, same shape just with our ContourCore™."
And that all certainly sounds very awesome. But as always, the devil is in the details, and the major question is exactly how stable the 184 model is, how maneuverable it is, how well it really functions as a one-ski quiver, how similar or different is it to the 194, and — given that these are relatively heavy but fully rockered skis — should you be looking to size down or size up on these things? Oh, and how does it compare to some other fully-rockered all-mountain skis?
Let's get to a few more details:
Flex Pattern
I'd sum up the flex pattern of the 184 Devastator like this:
Tips: 7
Shovels: 8-9
Underfoot: 10
Behind the Heel piece: 9-8
Tails: 7
The biggest thing to note here is that the solid / stiff section of the ski takes up quite a bit of the ski. By comparison, the fully-rockered, also-108mm-wide 186 cm Faction Candide 3.0 has softer shovels than the Devastator, and the 3.0's shovels stay softer than the Devastator's as you move toward the center of the ski. The tails of the Devastator are also slightly stiffer than the Candide 3.0's.
On the other side of things, the 187 cm Moment Meridian has the most stout tips and shovels of these three skis. While the very end of its tails might ramp down to a "7" (similar to the Devastator), the Meridian is significantly stiffer across the extended middle of the ski. So if you care about nollies and nose butters, it's likely that you'll get along better with the Candide 3.0 or Devastator.
Weight
While the 194 cm Devastator weighs a ton (2600+ grams per ski) the 184 cm Devastator comes in at a reasonable (though not light) 2241 & 2295 grams per ski.
And that is in very sharp contrast to the 186 cm Candide 3.0, which comes in at a much-lighter weight of 1912 & 1924 grams per ski. That's a pretty huge difference, and a difference that we would expect to be quite noticeable on snow.
Finally, the 187 cm Moment Meridian comes in between these two skis at 2113 & 2121 grams. So just given the weight, we'd expect the 184 Devastator to have noticeably better suspension than the other two skis, and this is something we're going to pay close attention to.
Shape / Rocker Profile
Very little tip and tail taper here, and our suspicion is that that is a very good thing, given that you already have a very pivot-y fully rockered design — this ski is going to be easy to pivot and turn, so heavily tapering the tip or tail would only reduce its overall stability.
Of course, the Candide 3.0 isn't heavily tapered either, so we're curious to see how quick these two skis (of very different weights) feel on snow.
Mount Point
This is a pretty important point: the 184 cm Devastator has a pretty progressive mount point of – 5.3 cm from center. The Candide 3.0 (mounted on the "all-mountain" line) is at -6.9 cm, and the Moment Meridian comes in at – 5 cm (though we preferred the Meridian at -6 cm).
The biggest thing I want to say here is that these three skis all have much more progressive mount points than some other fully-rockered skis that we've been reviewing lately, like the Volkl 100Eight, the Volkl Katana, and the Parlor Skis Mountain Jay (take a look at our instagram pic for a side-by-side shot of all of these skis). All of these skis have mount points in the -10 to -14 cm category, which puts them into wholly directional territory, and will likely mean that skiers will probably prefer one of the skis from Camp A (Devastator / Candide 3.0 / Meridian) or one of the skis in Camp B (Volkl 100Eight, Katana, and Parlor Skis Mountain Jay). And nobody is going to be tricking the skis in Camp B. Straight airs? Sure. But nose presses or 3's or switch landings? That's Camp A.
But it also raises the big question of how trickable the Devastator is relative to the Candide 3.0 and the Meridian, and how good of a tool is it for use as a directional, all-mountain ski vis a vis the skis in Camp B?
Length
This is a very big "goldilocks" question for us. While a number of you won't feel the least bit conflicted as to whether to go with the 164, 174, or 184, we suspect that a 184 cm Devastator will seem a bit short for a fully-rockered ski, while the 194 Devastator will seem too big and heavy for a whole lot of people.
Our reviewer Paul Forward (who weighs ~190 lbs) loves the 194 Devastator for skiing more open lines in Alaska.
But for those of us who regularly ski in tighter trees, chutes, or moguls, will the 184 fit the bill for all-mountain use? How long or short does the 184 Devastator feel on snow? And compared to Candide 3.0 or Meridian?
(Note: you can now listen to Paul and me discuss the 194 vs. 184 Devastator – and hear my initial on-snow impressions of the 184s, skied on the recommended line – at 58:55 of this Blister podcast.)
Bottom Line (For Now)
The 194 cm Devastator lived up to its name. Honestly, we weren't entirely sure what to expect from the 184. But we have already started getting time on the ski, and we are excited to continue to flesh out answers to all of the questions listed above.
NEXT: The Review