Funny, I think I've spent more time this season on fully-rockered skis than I ever have in my life. So the good news is that I feel like I can locate a whole bunch of these skis really accurately, including the Devastator, which I've been skiing on and off this season, even up until last week.
So let's dive in here and address some of the specific questions that I raised in my First Look:
How maneuverable is the 184?
How stable is it?
How well would it really function as a one-ski quiver?
How similar or different is it to the 194?
Given that these are relatively heavy but fully rockered skis — should you be looking to size down or size up on these things?
How does it compare to some other fully-rockered all-mountain skis?
Maneuverability
We're going to start with this, because this really is to me the defining characteristic of the 184 cm Devastator. We talked about the skis more forward mount point, and that mount point coupled with deep rocker lines and a tip and tail splay that starts early / deep into the ski … and the 184 Devastator is a straight-up pivot machine. In effect, you are standing on a very small flat platform underfoot, so if you're skiing with a pretty neutral / centered stance, you'll feel like you're on one of those exercise twist discs.
So for those of you who prize "quickness" and "maneuverability" over all else, the 184 cm Devastator should be at the top of your list, and perhaps most interestingly, it easily competes in this area with skis that are much lighter and have a whole lot more tip and tail taper, like the Rossignol Soul 7.
So why care about a heavier, less tapered ski that is just as quick (or quicker) than those other designs?
Stability
Because in the right terrain, the Devastator will track better and hold up better at faster speeds, while still working extremely well at low and more moderate speeds. And that means that the Devastator could work well as a ski for those who've just started skiing, while also working well as a quite stable, very trickable ski for advanced skiers hitting big jumps. We're talking about a broad performance envelope here.
But there is a catch, and we might as well talk about that right now.
Steep, Bumped-Up Terrain
I seem to spend a lot of time skiing in such terrain (think Taos, Telluride, A Basin's Pali lift), and in steep, bumped-up terrain — especially in firm conditions or variable conditions where some of the moguls will be pretty scraped-off / wind-scoured), the small, flat platform of the 184 Devastator would sometimes feel to me to be too small of a platform, and the Devastator could feel like I was on ice skates (because effectively, I was).
This wasn't terrifying or anything if I slowed down, but it did require me to ski more deliberately and in control rather than really letting things run.
So I think the two key questions here are: (1) Do you ski in a lot of steep terrain with firm, scraped-off bumps? And (2) Do you like to charge a bit in that terrain? If so, I think there are skis that are better for this purpose. But if you've answered No to both or even either of these questions, then you're going to dodge the biggest "shortcomings" of this ski, and you can go back to liking the sound of this super pivoty yet pretty stable ski.
Powder
At my size (5'10", ~180 lbs) and mounted on the line, I wouldn't be tempted to grab the 184 Devastator on a huge powder day. But lighter skiers — or those who tend to ski with a more centered stance — will do quite well in 1-2 feet of snow, and I think they will become even happier with their choice of ski (over some of those lighter, more tapered shapes we were talking about above) as that snow gets tracked out.
Chop
Because in soft chop, the Devastator really shines. The ski sinks into the snow (so there's no feeling of that short platform that can create that "ice skates" feeling on firm, steep bumps), but while the ski sinks in, the combination of its weight and its rocker profile keep it from getting hung up in chop, or deflecting all over the place. (And man, bump up in size on the Devastator, and I think you'll feel like you're on an chop destroyer.)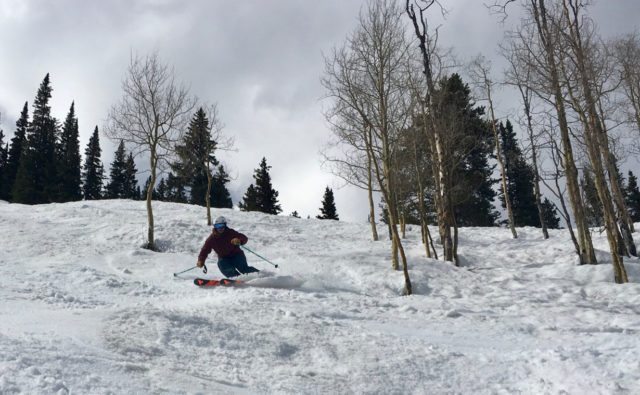 Crud
In really firm, steep crud, some of the "short platform" concerns become relevant again. Same goes for re-frozen coral reef.
But in anything short of coral reef, the 184s are fine, and again, the really nice thing about a fully-rockered design like this is that the ski resists getting hung up in weird grabby, punchy, variable snow.
Moguls / Tight Trees / Tight Spaces
In a way, we've been talking about this the whole review. These skis are a pivot fest, so outside of the 'firm snow & really steep terrain' caveat, these skis are a ton of fun, and will allow beginners, intermediates, and even advanced skiers to navigate such terrain more easily than their used to.
Groomers
I haven't skied a lot of pristine corduroy or sheer ice on the 184s, and I wouldn't try to sell you on this ski as a true carver. But get the ski on edge, and it's happy to make big, fast GS turns. Or keep the ski more bases-flat, and you can make a zillion slow, short turns on your way back to the lift. So I'm not worried about anyone's ability to get back to the lift on these skis (even on ice), but if you really care about true carving, I'd say you'll have the most fun on these skis on soft groomers where you can let them run and make medium to large turns.
Mount Point
My first runs on this ski were in bumped-up, fairly steep terrain on Taos' Kachina Peak, so right off the bat, I managed to get the skis in terrain where they struggle the most. So the ski felt crazy short to me, and I was dying to move back on the ski to feel like I had a bit more shovel in front of me.
So I moved the bindings back -1.5 cm behind the recommended line … and the skis then felt off on groomers, like I was off of the sweet spot.
My takeaway here is that moving back on the ski isn't really a solution to the fact that the ski has a small, flat platform underfoot. That's just the design of this ski, and a big reason why it's so damn maneuverable.
Ultimately, I settled on -1 cm of the recommended line, and this has been a good compromise for me, and I'd recommend it for those who are used to more traditional mount points and / or like to drive their shovels.
Having said that, the 184s feels good to me mounted on the line, it's just that I'm not as comfortable charging on them and driving the shovels at the mount point. But lighter skiers or more neutral skiers may feel differently, so I wouldn't steer everyone to mount back.
One-Ski Quiver?
Short answer, Yes. You can read through and figure out if this ski's strengths match up with how and where you like to ski, but yes, I can easily see this ski working for a number of skiers across a massive range of conditions.
The Length Question (and Recommendations)
So this is the other massive question, and for me personally, the biggest.
No, I don't think everyone needs to size up on this ski. But for the love of Ullr, do not size down.
And if you are on the fence about sizes … I would recommend going up. As I wrote in my First Look of the ski, while Paul Forward was raving about the 194 cm Devastator, the ski simply sounded too long and too heavy for the tighter, bumped-up terrain where I spend a lot of time skiing. But I think it's important and correct to say that, given the profile of this ski, you / I kind of need to throw your general notions of length and weight out the window.
Those who will be operating at more moderate speeds on the Devastator don't need to be quick to size up. But if you're looking to maximize the stability out of this design, then bump up, and I think you'll still be surprised at how relatively quick and easy this ski is.
And props to 4FRNT here, because while the weight and length of the 194 Devastator might seem alarming, my time on the 184 makes me think that this shape would simply ski worse if it was lighter.
So while I've gotten along quite well with the 184, if you told me right now that I had to spend the entire season skiing the 184 or the 194 … I would still feel a bit torn. But I personally am most intrigued by the "charger" version of this design rather than the "unbelievably quick" version, so I'd go with the 194, and worst case, I might just have to suck it up a bit when skiing end-of-the-day moguls with tired legs.
Bottom Line
Paul Forward reviewed the 194 Devastator and called it one of the best chop and crud busters he's been on. While the 184 isn't the flat-out variable-conditions killer that the 194 is, the 184 is a very quick and easy ski that still provides good stability in conditions that are the least bit soft.
NEXT: Rocker Profile Pics