Ski: 2021-2022 Prior Husume, 188 cm
Available Lengths: 175, 181, 188, 193 cm
Blister's Measured Tip-to-Tail Length: 187.5 cm
Stated Weight per Ski: 2440 grams
Blister's Measured Weight per Ski: 2312 & 2386 grams
Stated Dimensions: 137-109-124 mm
Blister's Measured Dimensions: 135.7-109-123.5 mm
Stated Sidecut Radius: 25.0 meters
Measured Tip & Tail Splay (ski decambered): 78 mm / 22 mm
Measured Traditional Camber Underfoot: ~2 mm
Core: Maple + Quadraxial Fiberglass Laminate
Base: 4001 Sintered Durasurf
Factory Recommended Mount Point: -10.7 cm from center; 83.0 cm from tail
Boots / Bindings: Head Raptor 140 RS; Nordica Strider 120; Tecnica Cochise 130 Pro / Tyrolia AAAttack2 13 AT
Test Locations: Crested Butte & Front Range, CO
Days Skied: ~15
[Note: Our review was conducted on the 18/19 Husume, which returns unchanged for 19/20, 20/21, and 21/22, apart from graphics.]

Intro
Prior has been making both skis and snowboards in Whistler for years now, and offers custom options for all of their models. Last year, we reviewed the Prior Brandywine Split XTC splitboard, and came away very impressed.
This year, we're spending some time on a few of their skis, including the Prior CBC and Husume. But right now, we're here to talk about the 109mm-underfoot all-mountain ski, the Husume.
And the punchline is: we're pretty damn excited about this ski.
Here's what Prior says about the Husume:
"The Husume's moderately long sidecut, dialed flex, 12-14mm taper, squared tail and waist width of 109-110mm provide an excellent balance of powder float, weight savings and skinnability for the backcountry.
Within ski boundaries the Husume rails on groomers and excels in chunder and variable winter conditions."
Wait, did you just say that this ski excels in chunder and in variable conditions? Because I happen to have a thing for skis that excel in chunder and in variable conditions, and I wish more companies made skis that excelled in such conditions — not simply because I'm greedy, but because if you ski inbounds … you probably spend a whole lot of time skiing chunder and variable conditions. So wouldn't it be cool if more skis excelled in the conditions we actually spend a ton of time skiing in? I mean, I'm no genius, but sometimes, even Captain Obvious makes a good point.
So anyway, Prior, you officially have gotten my hopes up, and you have my undivided attention.
Ok, let's move on.
Shape
The Husume has a decent amount of tip taper for a 109mm-underfoot ski, but its tails are much less tapered. That said, Prior calls it a "squared tail," but I would qualify that a bit — the back half of the ski stays pretty long and straight, but the end of the ski does taper pretty abruptly and significantly. Check out our rocker profile pics, and you'll see what I mean.
Rocker Profile
The Husume has a very deep tip rocker line, though its tips don't splay out dramatically until the end of the ski. But the deep tip rocker line is comparable to skis like the Liberty Origin 106, or not far off from a full-reverse camber skis like the 4FRNT Devastator. But to triangulate a bit here, the Husume's tip rocker is not as subtle as the old metal Katana or current V-Werks Katana.
Underfoot, the Husume has a long, but low section of camber. The Husume's tail splay is pretty moderate (22 mm), with a fairly deep tail rocker line similar to the ON3P Wrenegade 108.
Flex Pattern
Here's how we'd characterize the flex pattern of the Husume:
Tips: 9
Shovels: 8.5-9
In Front of Toe Piece: 9.5-10
Underfoot: 10
Behind Heel Piece: 10-9.5
Tails: 9-9.5
The Husume is a stiff ski, through and through. Its flex pattern actually reminds me a bit of the Head Monster 108, though I want to flex them back-to-back to confirm this.
Compared to the Wrenegade 108, the Husume feels stiffer throughout. There is nothing meek about the flex pattern of the Husume.
(But before you assume this ski is an unforgiving beast, read again our description of the rocker profile of this ski. And its tip shape. And its tail shape. And look at its weight….)
Sidecut Radius
Prior mentions the Husume's "moderately long sidecut," and we think that's a fair description. At 25 meters for the 188 cm version, the Husume's sidecut radius is a bit longer than many ~108mm-underfoot all-mountain skis, though not quite as long as skis like the Wrenegade 108 (27.5 m for the 189 cm) and Blizzard Cochise (27 m for the 185 cm).
Weight
For a ski that's designed to "excel in chunder and variable winter conditions," we are pretty excited about the Husume's relatively hefty weight of around 2350 grams.
For reference, here are a number of our measured weights (per ski in grams) for some notable skis. Keep in mind the length differences to try and keep things apples-to-apples.
1605 & 1630 Line Vision 108, 183 cm (19/20)
1642 & 1651 Renoun Citadel 106, 185 cm, (18/19)
1843 & 1847 Head Kore 105, 189 cm (17/18)
1848 & 1903 Line Sick Day 104, 186 cm (17/18–19/20)
1849 & 1922 Elan Ripstick 106, 188 cm (17/18–19/20)
1898 & 1893 Armada Tracer 108, 180 cm (18/19)
1913 & 1943 Sego Condor Ti, 187 cm (18/19)
1923 & 1956 DPS Alchemist Wailer 106, 189 cm (17/18–18/19)
1941 & 1965 Fischer Ranger 108 Ti, 182 cm (17/18–18/19)
1950 & 1977 Blizzard Rustler 10, 188 cm (17/18–18/19)
1980 & 2016 Liberty Origin 106, 187 cm (16/17–18/19)
1996 & 2012 Dynastar Legend X106, 188 cm (17/18–19/20)
2005 & 2035 Liberty Origin 106, 187 cm (19/20)
2013 & 2013 Moment Commander 108, 188 cm (18/19)
2018 & 2045 RMU North Shore 108, 185 cm (18/19–19/20)
2022 & 2047 Faction Dictator 3.0, 186 cm (17/18–18/19)
2026 & 2056 Black Diamond Boundary Pro 107, 184 cm (17/18–8/19)
2030 & 2039 Rossignol Soul 7 HD, 188 cm (17/18–19/20)
2036 & 2064 Salomon QST 106, 188 cm (18/19)
2046 & 2120 Black Crows Corvus, 188 cm (18/19–19/20)
2112 & 2125 4FRNT MSP 107, 187 cm (18/19)
2143 & 2194 ON3P Wrenegade 108, 184 cm (18/19)
2165 & 2211 K2 Mindbender 108Ti, 186 cm (19/20)
2182 & 2218 Nordica Enforcer 110, 185 cm (17/18–19/20)
2233 & 2255 Nordica Enforcer 104 Free, 186 cm (19/20)
2250 & 2307 Argent Badger, 184 cm (19/20)
2283 & 2290 ON3P Wrenegade 108, 189 cm (18/19)
2312 & 2386 Prior Husume, 188 cm (17/18–19/20)
2318 & 2341 J Skis The Metal, 186 cm (16/17–18/19)
2371 & 2374 Folsom Primary — Hammer Edition, 188 cm (18/19–19/20)
2376 & 2393 Blizzard Cochise, 185 cm (15/16–19/20)
Some Potential Comparisons
(1) ON3P Wrenegade 108, 189 cm
Based on their similarities in weight, shape, and rocker profile, this seems like the most obvious, and interesting comparison. (And that's precisely why we keep A/B-ing these skis, including over the past several days.)
(2) Blizzard Cochise, 185 cm
The Cochise has been a reference ski for ~108mm-underfoot all-mountain chargers. The Husume's more generous rocker profile and tapered tips make it look like it should perform better in soft snow, but what about firm conditions?
(3) Moment Meridian, 187 cm
This might not seem like an obvious 3rd comparison, but the more I think about the Meridian, the more I think this comparison makes sense. And we can't wait to break it out against the Husume in the coming days.
Bottom Line (For Now)
The Prior Husume has many of the characteristics of some of our favorite all-mountain chargers: a heavier weight, longer sidecut, and strong flex pattern. We've already now spent a good bit of time on the Husume, and you can check out this GEAR:30 podcast for a few of my initial thoughts on its on-snow performance.
And since we are continuing to get time on it, let us know what questions you'd like to see us address in our full review.
Flash Review
Blister Members can now check out our Flash Review of the Husume for our initial impressions. Become a Blister member now to check out this and all of our Flash Reviews, plus get exclusive deals and discounts on skis, and personalized gear recommendations from us.
FULL REVIEW
We've now had several reviewers spend time on Prior's all-mountain charger, the Husume, which won a "Best Of" award in our 18/19 Winter Buyer's Guide. Here, they'll each provide their thoughts on the ski in order to provide a few different perspectives.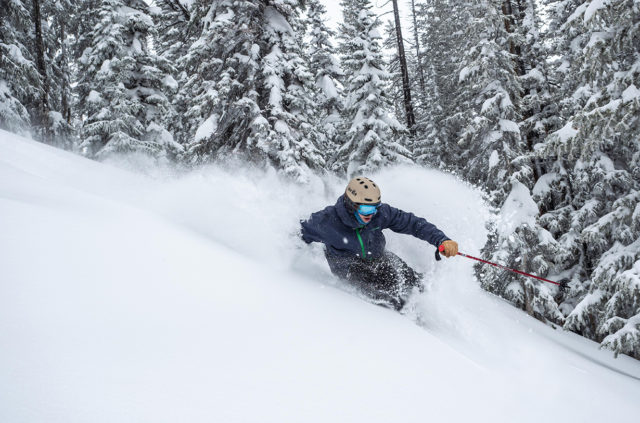 Firm and Variable
Brian Lindahl (5'10", 185 lbs): When skiing firm and / or variable conditions this season, some skis have begged me to seek out softer snow. But the Prior Husume is not one of them.
On crudded-up runs when I couldn't find a smooth spot to lay down a turn, the Husume's heavier (and stiffer) construction has been very beneficial, as it deflected less than a number of other skis I've been on recently. While the Husume felt pretty similar to the Blizzard Cochise in this regard, it doesn't feel quite as locked into a turn. So I think it's accurate to say that Prior is definitely offering a slightly different take on the more traditional "charger."
On chalky, wind-buffed snow, the Husume rode a fine line between offering strong-enough grip to hold the line, while still being very capable of being feathered out into a looser turn or a speed check. In very firm snow, where holding the line is more critical, I'd lean toward the Cochise for it's stronger edge hold and more locked-in feel. But in all other conditions, I prefer the feel of the Husume.
Jonathan Ellsworth (5'10", ~175 lbs): Yep, I'd agree with all of this.
Tracked Powder and Soft Chop
Brian: The Prior Husume struck a good balance of edge hold and slarve-ability on firm snow, and in shallow cut-up fresh snow, this behavior is still somewhat similar. However, edges cut deeper into softer snow, and the Husume definitely feels a bit more locked-in in softer snow than on firm snow. So, at slower speeds in cut-up powder, it wasn't as easy to whip out quick turns. But at higher speeds, the Husume's stiff shovels stay very composed even as the snow gets deeper. Compared to lighter, softer-shoveled skis like the Salomon QST 99 (and the QST 106), the Husume is much calmer at speed in chop.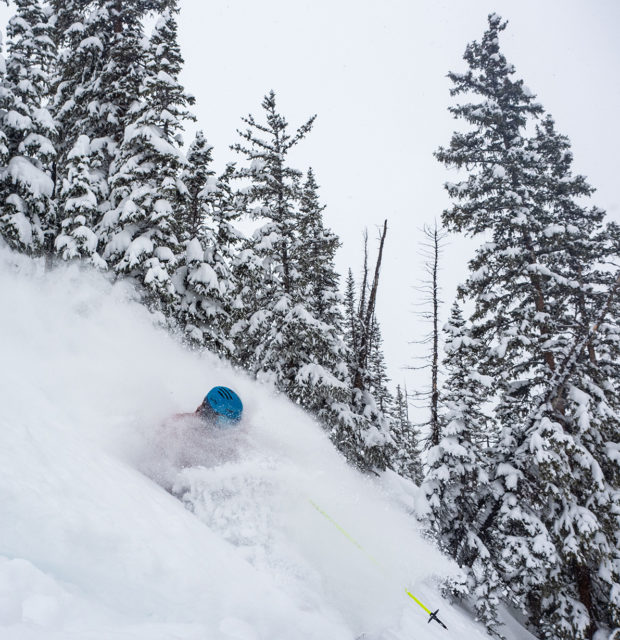 Luke Koppa (5'8", 155 lbs): I spent a bit of time skiing the Husume in soft, choppy snow and my main two takeaways were that (1) the ski feels very composed at speed and (2) it feels best when it's got a bit of room to run. I agree with Brian that the Husume is one of the looser "chargers" I've been on, but if I wanted to get the ski on edge and make big, carved turns through chop, I had to get it up to fairly high speeds. But thanks to its stable feel, I could also just straight-line and let the ski blast through stuff going bases-flat. And when I needed to abruptly shed speed, it was quite easy to do so on the Husume, provided that I was still driving the front of the ski (it doesn't feel conducive to a backseat slash).
Powder
Brian: The rocker profile of the Husume floats well in shallower powder. And, while I didn't get to ski the Husume in deep untracked snow in wide-open terrain, I didn't notice any issues with float, and would be surprised if taking a forward stance would cause tip dive when the snow stake reaches well into the double digits. As in soft, cut-up snow, the Husume was more difficult to break free in powder than it was on firm snow. That said, it still felt relatively comfortable dumping speed and feathering the turn shape with a slarve, much more so than, say, the more carving-oriented Fischer Ranger 108 Ti.
The Husume is still a stiff ski with a drawn-out splay, so if you prefer to make short, playful turns rebounding through fresh snow, I'd look elsewhere. But, like most directional chargers, the faster you go, the more maneuverable the Husume becomes.
Jonathan: I was able to get the Husume in some really deep snow (like 2+ feet in Crested Butte), and I can confirm Brian's hunch that this ski would have zero issues with tip dive.
But I can also confirm Brian's comment that the ski is "more difficult to break free in powder than on firm snow" — but just to be clear here, there is one very simple factor: in deep snow, the Husume wants some speed — more than I had suspected (as you can see if you read my Flash Review). I.e., this is not a ski that I would recommend for noodling around in low-angle, tighter trees. In such conditions and speeds, the Husume's tail could be a bit tough to break free, so let's keep this in the category of big-mountain gun … or big-mountain powder gun. Because on more open lines that have some pitch to them, where you can really keep things pointed down the fall line, there aren't any skis of this width that I can think of that will be clearly better than the Husume in really, really deep snow.
Moguls, Tight Trees, and Chutes
Brian: While skiing the Husume in powder as the terrain became tighter and speeds started getting slower, I had to work the ski with more exaggerated movements than I did with softer and snappier skis. I couldn't rely as much on the rebound to do the work. Nor did the Husume feel as loose as it does on firm snow or even in cut-up chop. However, the snow was pretty deep, and in shallower powder it wasn't as much of an issue. And, on firmer conditions, the loose nature came back to life and slarving felt completely natural and comfortable.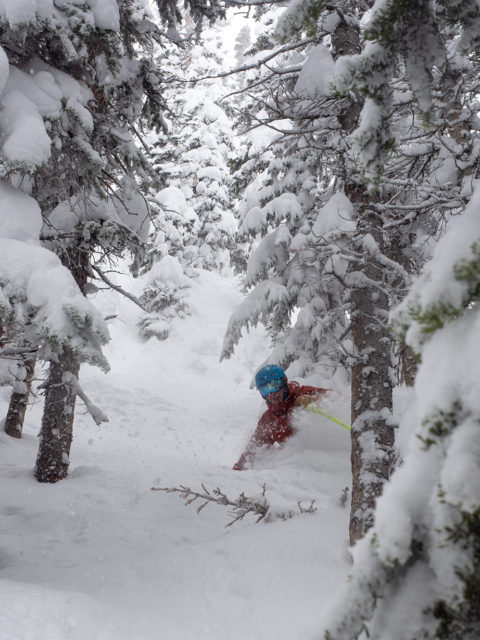 Luke: I agree with Brian, and would just add that it's important to keep in mind that the Husume is a very stiff, heavy ski with a traditional mount point. If I stayed over the front, it was surprisingly easy in bumps. But I still wouldn't call this an "easy" ski. It takes a good deal of physical input to whip around, and its tail can feel a bit punishing if you get far backseat. But stay over the front, and you're rewarded with a very strong, very damp ski that makes refrozen moguls feel way less harsh than most lighter skis.
Jonathan: Yep, stay on those shovels, stay off those tails. The Husume will definitely let you take a centered stance and pivot, but "centered" is fine, while the backseat is not a place where the Husume wants you to be.
Groomers
Brian: Again, the Husume is neither a soft nor snappy ski. As a result, it takes a lot of speed to generate good energy on groomers. When I was just trying to get back to the lift, this was no big deal, but if I was on groomers all day, I'd prefer a ski with more energy and rebound, like the 183 cm 16/17–18/19 Fischer Ranger 108 Ti. That said, I felt the Husume had better rebound than the Cochise, which felt a bit more dead when laying down high-angle carves. At slow speeds, while it isn't an energetic ski, the Husume can be feathered and slarved pretty easily into shorter turns.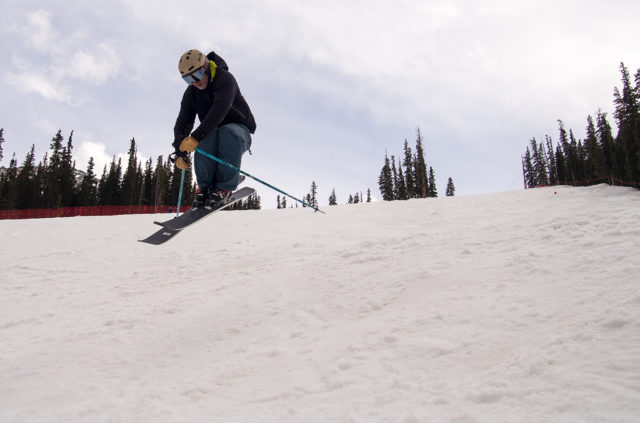 Luke: Yep, the Husume needs speed to get on edge, and it doesn't create much energy coming out of a turn. This shouldn't really be a surprise, given that this ski weighs a lot and has a stated turn radius of 25 meters for the 188 cm length. But if the snow was fairly soft and I had some room, I appreciated the Husume's strong, smooth feel when skiing fast on groomers. It doesn't initiate turns as eagerly as less tapered skis, but the upside is that the Husume has never felt hooky or unpredictable to me — just calm and composed.
Who's It For?
The Husume is a very strong, stable ski with a pretty wide performance envelope on firmer snow. Experts will really appreciate its balance of edge hold, slarviness, and high-speed performance, while advanced skiers should have no problem skiing it all day — especially in more open terrain. However, as the snow gets deeper, the Husume requires a bit more skill and technique to maneuver it through narrower terrain.
If you like playful, light, and / or snappy skis, you should probably steer clear of the Husume — there are a lot of other options out there that fit that mold better (check out our Winter Buyer's Guide for hundreds of options). But if you prioritize stability, prefer to feather your turns when skiing tight, technical terrain on firm-snow days, you aren't afraid of going fast in deeper snow, and you have solid technique when maneuvering tighter terrain (or you can avoid it when conditions are deep), then the Husume would be an excellent choice.
Bottom Line
Given that this is a heavy, stiff, directional charger, the Prior Husume strikes a very good combination of stability, versatility, and pivotability. Its stout flex and hefty weight mean it can handle high speeds through variable conditions, yet it doesn't feel terribly overbearing if you need to shut it down or change directions. In tracked-up soft snow, it begs to be skied fast, and has no problem floating when conditions are deep — but be prepared to be on your game in narrower terrain.
Deep Dive Comparisons
Become a Blister Member or Deep Dive subscriber to check out our Deep Dive of the Husume to see how it stacks up against the ON3P Wrenegade 108, Blizzard Cochise, Folsom Hammer, Black Crows Corvus, K2 Mindbender 108Ti, Moment Commander 108, Faction Dictator 3.0, Nordica Enforcer 110, 4FRNT MSP 107, and J Skis Metal.