Boot: 2019-2020 Nordica Strider 120 DYN
Stated Flex: 120
Available Sizes: 22.5–31.0
Stated Last (size 26.5): 100 mm
Stated Range of Motion: 46°
Stated Forward Lean: 12°
Size Tested: 26.5
Stated Boot Sole Length (size 26.5): 305 mm
Blister's Measured Weight (size 26.5):
Shells, no Liners: 1486 & 1494 g
Liners, no Footbeds: 365 & 366 g
Shells + Liners = 1851 & 1860 g
Buckles: 4 micro-adjustable
Powerstrap: 45 mm Velcro
Shell Material:
Cuff: Bimat PU
Shoe / Clog: Bimat Triax
Soles: Replaceable Grip Walk w/ standard Alpine soles sold separately
Binding Compatibility:
With Grip Walk Soles: Grip Walk, Tech / Pin, and MNC bindings
With Standard Alpine Soles: Standard Alpine, Grip Walk, Tech / Pin, and MNC bindings
Tech Fittings: Dynafit-certified
MSRP: $649.95
Reviewer: 5'8", 155 lbs
Test Locations: Crested Butte, Cameron Pass, Telluride, & Front Range, CO; Taos Ski Valley, NM; Revelstoke, Lake Louise, Sunshine Village, & Rogers Pass, BC
Days Tested: 120+
[Note: Our review was conducted on the 17/18 version of the Strider 120 DYN, which returns unchanged for 18/19 and 19/20.]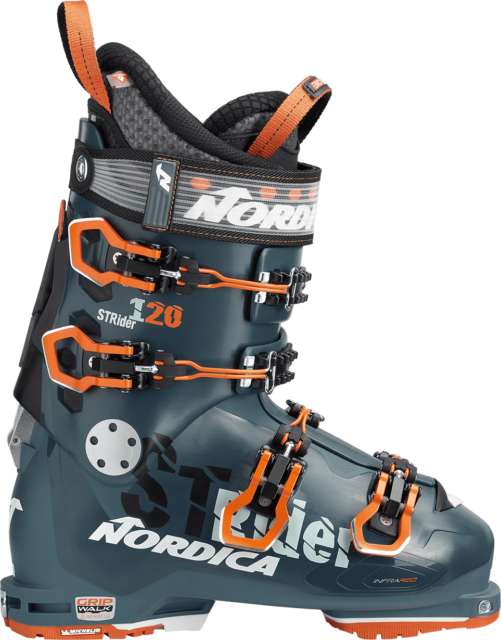 Intro
Since the creation of boots like the Dynafit Titan, Black Diamond Factor, and Tecnica Cochise, almost every ski-boot manufacturer has come out with a boot that has a walk mode for hiking / skinning, yet promises "alpine boot" performance on the downhill.
The Strider series is Nordica's offering in this category, and a couple years ago, reviewer Cy Whitling published his thoughts on the Strider Pro 130. As a lighter, smaller individual who splits his time between the resort and backcountry, I was intrigued by the Strider 120. Could it be my 1-boot quiver for everything?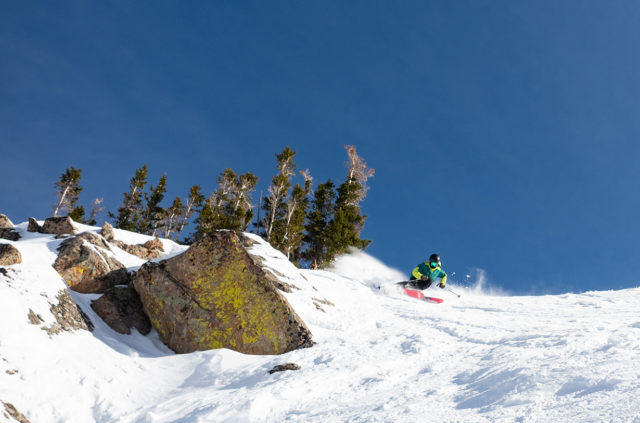 I've now spent well over 100 days in the Strider 120, and have become a big fan. Here's why: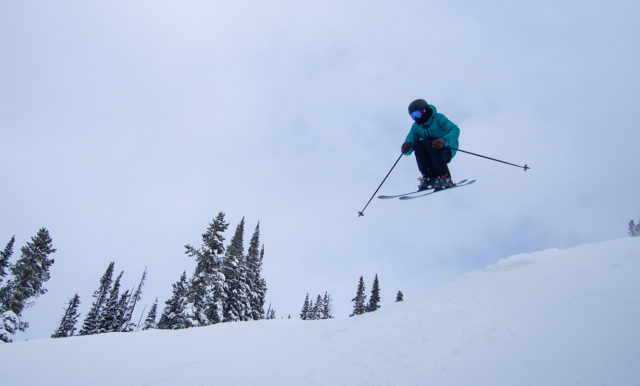 Liner
I love the liner of the Strider 120. It's beefy, comfortable, hasn't packed out much after more than 100 days of use, and it's still fairly light.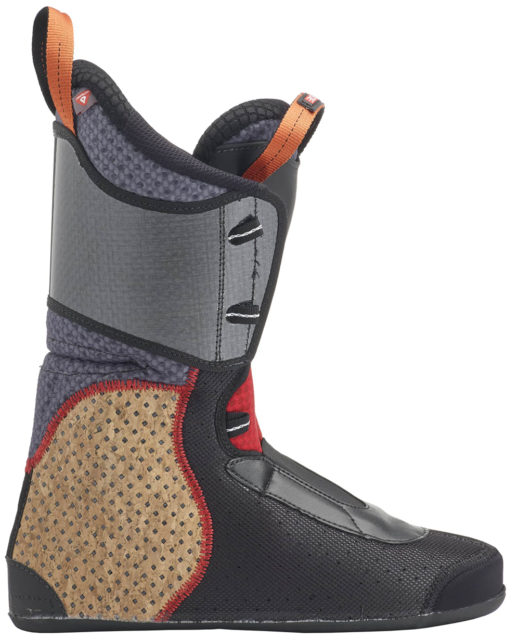 The Strider 120's liner is heat moldable, and I did have it molded right after trying it on. This didn't make a massive difference, but it did give me a bit more room in my toes (more on fit later). But the shape and cork material around the ankle pocket of the Strider 120's liner has conformed really well to my lower-volume ankle, and I've never had any major issues with blisters in this boot.
The liner in the Strider 120 has a flexible section around the Achilles to help increase range of motion, though it's thicker and less flexible than most touring boots' liners (e.g., Tecnica Zero G Tour Pro, Atomic Hawx Ultra XTD 130, and Scarpa Maestrale XT).
Of all the stock liners I've used, the cork liner in the Strider 120 seems like one of the best.
Walk Mechanism
The Strider 120's walk mechanism is big, easy to actuate with mittens or gloves, and I've never had any issues with it engaging / disengaging when I didn't want it to. And that's really all I want out of a boot with a walk mode.

While I was wary of the Strider 120's internal walk mechanism, it's proved to be very reliable — no icing issues, and it's very easy to tell when it's engaged or not. All in all, no complaints here.
Buckles
The Strider 120 uses four micro-adjustable buckles with wire latches. Nordica claims that the wire bails save several grams vs. traditional buckles, which makes sense given how thin the Strider 120's buckles are.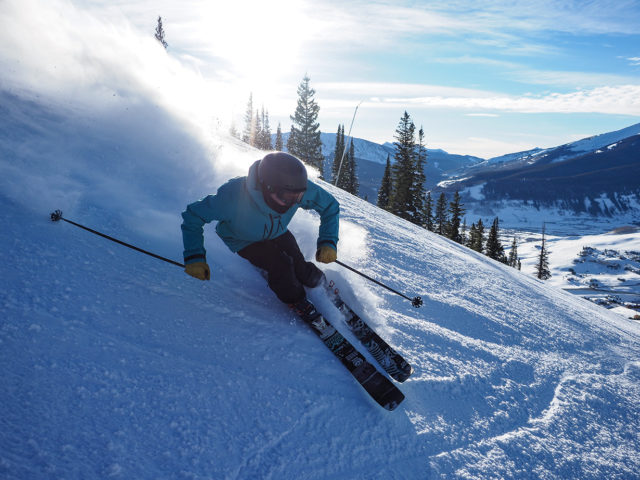 At first, the Strider 120's buckles were a bit trickier to use compared to traditional buckles. But after just a few days, I got used to them, and I don't really have any issues with them. I thought they might be less durable since the wires are so thin, but after well over 100 days of buckling and unbuckling them (and bashing them on plenty of rocks and roots), they're still functioning flawlessly. Although, as shown above, they won't prevent you from forgetting to buckle them … *facepalm*.
Power Strap
The Strider 120 features the same 45 mm Velcro power strap as the Strider Pro 130, which I appreciate. It's disappointing when brands skimp on features on their softer boots, so it's nice to see a big, beefy power strap on a 120-flex boot.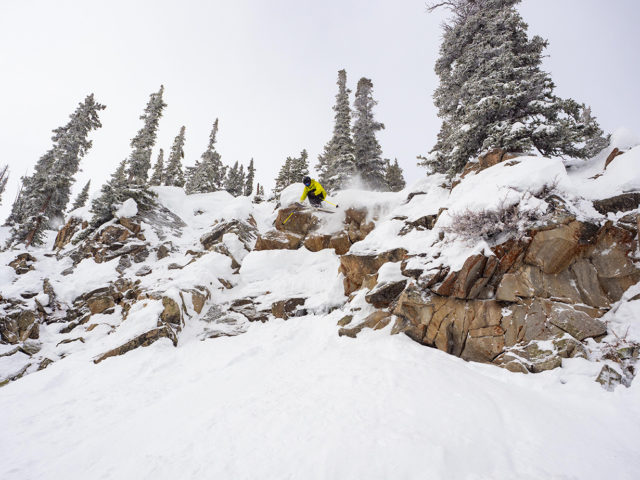 The strap on the Strider 120 has a rubberized section at the end, which helps with grip when wearing gloves or mittens. While it doesn't provide the elastic / progressive feel of a Booster strap, I'd say that the Strider 120's power strap is very good for a stock strap.
Soles
The Strider 120 comes with Grip Walk soles installed, and standard alpine soles are available for purchase.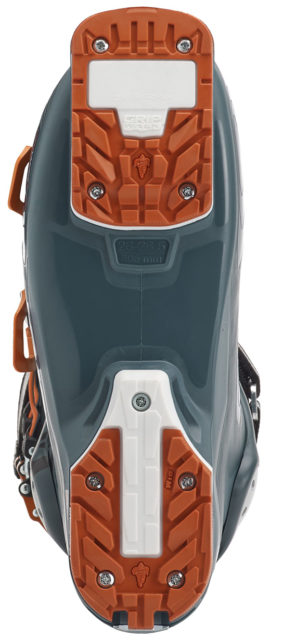 The Grip Walk soles on the Strider 120 feel a bit grippier than most Grip Walk soles I've used, which I'd attribute to the Strider 120's soles' Michelin rubber. However, that increased grip also seemed to detract from the soles' durability, as I had several chunks of rubber missing after a few days of scrambling around in the boots on talus. And since the soles still have a big chunk of non-grippy plastic around the AFD area, they don't inspire much confidence while scrambling on rock. That's by no means abnormal for a 50/50 boot, but is worth keeping in mind if you're looking for a boot to use in a lot of rocky terrain.
Fit
As always, we highly recommend going to a good bootfitter to figure out what boot might work best for your foot. With that said, here's how the Strider 120 fits my feet.
For reference, I have pretty average-volume feet, but I have large lateral splats which mean my midfoot widens when I am standing / skiing, and I often get pain on the outside of my forefoot and midfoot when running, skiing, skinning, etc. I have a low instep and an average to low arch. My feet tend to work best with boots that offer ample room in the midfoot, and have lower insteps (e.g., the Salomon QST Pro 130). Since my toes taper significantly (i.e., my pinkie toe is much shorter than my big toe), I've never needed a 6th toe punch in any boots.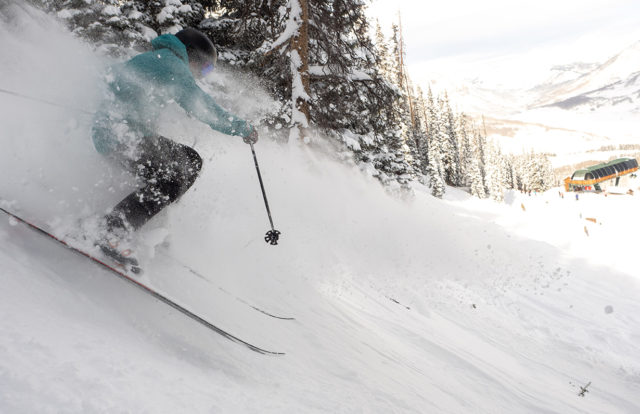 Overall, the Strider 120 fits my feet quite well. Without doing any work to it, the overall fit was quite good and secure, but I had my usual pressure around my midfoot. After heat-molding the shell and liner, this was alleviated a bit, but the boot was still painful around the midfoot after long days of skiing.
Fortunately, our reviewer, Kara Williard, is a Masterfit Certified bootfitter, and she was able to alleviate my issues. Kara lifted my heel a bit by adding some material to the Strider 120's boot board, and then punched out the midfoot area.
After that, the Strider 120 fit my foot nearly perfectly. I can ski in it all day without any pain, yet I still have a very precise fit over my lower instep and lower-volume ankle, and the toe box is comfortably roomy without feeling sloppy.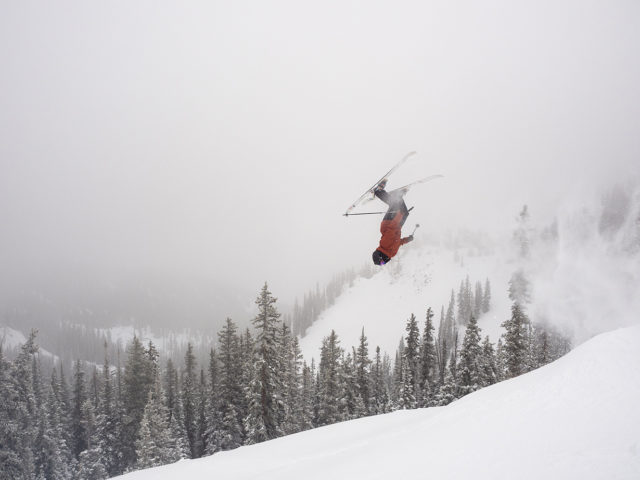 While I'd sometimes prefer a stiffer boot (see below), the pain-free fit I've been able to get in the Strider 120 has been a big part of why I've spent over 100 days in it. That's not to say it'll work for your feet, but is just another example of why fit is paramount, and why certain features or performance characteristics of a boot are often not worth compromising on fit.
Uphill Performance
The Strider 120 has a stated 46° range of motion (aka, "ROM"), with supposedly 23° in the forward direction, and 23° in the rearward direction.
While I'd say that stated ROM does seem pretty accurate, I'd also echo Cy Whitling's comments about the Strider Pro 130 — there's a bit of friction in the Strider's ROM as you get very far back or forward in the boot.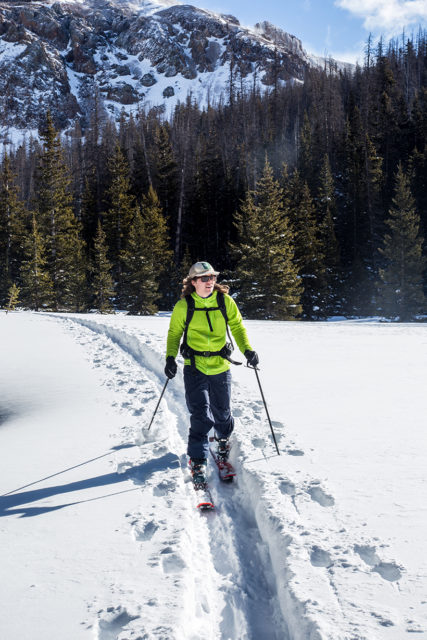 Compared to dedicated touring boots like the Tecnica Zero G Tour Pro, Atomic Hawx Ultra XTD 130, and Scarpa Maestrale XT, the Strider 120 feels like it has significantly less ROM, which is particularly noticeable on flat skin tracks.
For short and / or steep tours, I was pretty happy with the Strider 120's touring mobility. But if I wanted a dedicated touring boot or wanted a boot for longer tours, I'd definitely prefer a lighter boot with a larger ROM. If uphill performance is equally as important to you as downhill performance, there are tons of very good, and better options than the Strider 120 (see the Ski Boots section of our 18/19 Winter Buyer's Guide).
But if you don't tour a lot, your tours tend to be short, and / or you place much more of an emphasis on downhill performance, then the uphill performance of the Strider 120 is adequate.
Downhill Performance
Even though it has a walk mode and is fairly light, I've been using the Strider 120 as my dedicated inbounds boot for the past year. And overall, I've been quite happy with it.
The Strider 120 feels almost identical to most 120-flex alpine boots I've used when it comes to downhill performance. For a 50/50 boot, that's exactly what I want.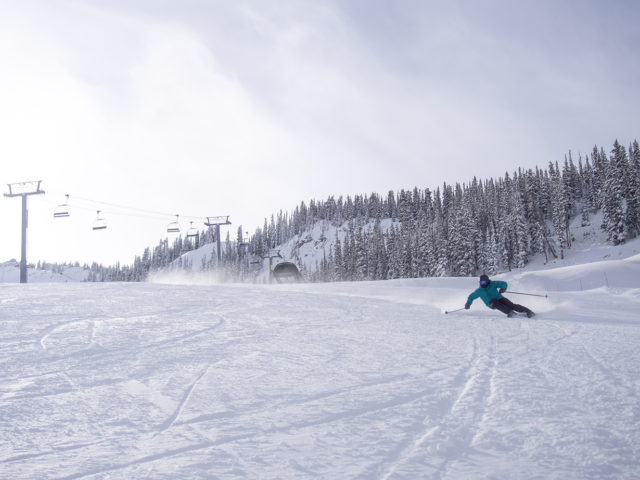 The Strider 120's forward flex is nice and progressive — I can easily flex the boot initially, but then it ramps up in stiffness as I get deeper into the flex of the boot. In terms of overall forward stiffness, the Strider 120 feels on par with 120-flex alpine boots. The Strider 120 also has a notably more "damp" and plush feel compared to lightweight touring boots like the Tecnica Zero G Tour Pro and Atomic Hawx Ultra XTD 130. That's a big part of why I choose the Strider 120 over those boots when I'm spending the whole day in the resort — lighter boots can feel a bit harsh if I'm skiing hard in rough snow, but the Strider 120 does not.
In the rearward direction, the Strider 120's flex feels a tiny bit softer than some other "120-flex" boots I've used. It's by no means a huge difference, and I'm still happy using it as my everyday inbounds boot. But the Strider 120 does feel a bit softer in rearward flex compared to the Tecnica Zero G Tour Pro, Atomic Hawx Ultra XTD 130, Scarpa Maestrale XT, and K2 Recon 120.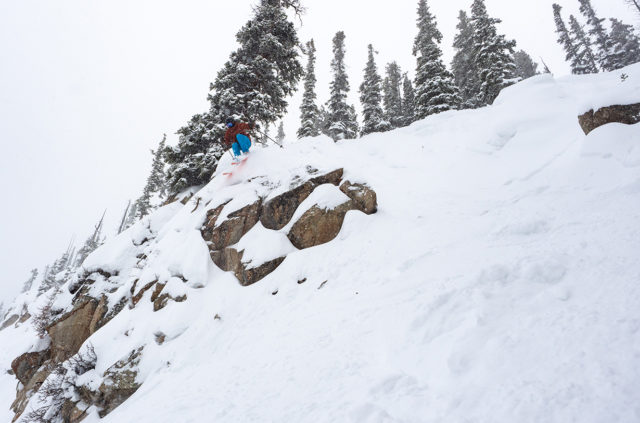 If you're coming from a 120-flex alpine boot without a walk mode, the Strider 120 should feel very familiar in terms of its flex pattern. So if you don't want to lose your alpine boot's performance, but like the sound of a slightly lighter boot with a walk mode, the Strider 120 makes a lot of sense.
Durability
I haven't been very nice to this boot — I've banged out hundreds of inbounds laps in it, scrambled in it on rocky traverses, and taken it up plenty of skin tracks. After all that, it's still performing about as well as it did when I got it. Apart from its Grip Walk soles losing a bit of rubber, the Strider 120 has held up very well after over 120 days of use.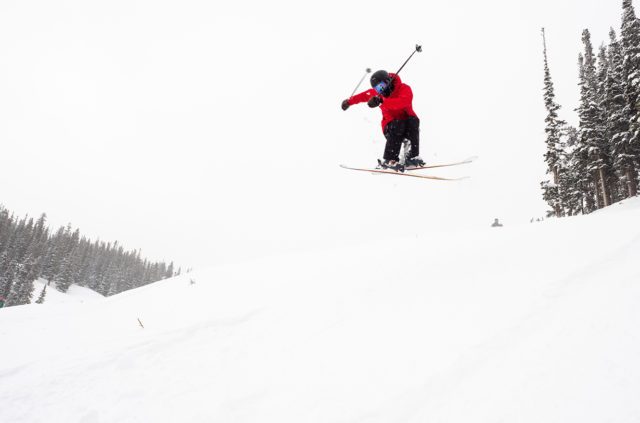 The walk mechanism, buckles, and power strap are all still working great, and while the shell is a little scuffed up, I haven't noticed any drop in performance. The liner feels like it may have packed out a bit in the toe box, but not so much that the fit feels sloppy.
Who's It For?
People who value downhill performance over uphill performance, but who still want the ability to go out on some shorter tours or hikes.
The Strider 120 does not have a ton of ROM, and it is far from the lightest boot out there. But it feels extremely similar to an alpine boot on the downhill, and (in what should be obvious here) it walks worlds better than a dedicated alpine boot that doesn't have a walk mode.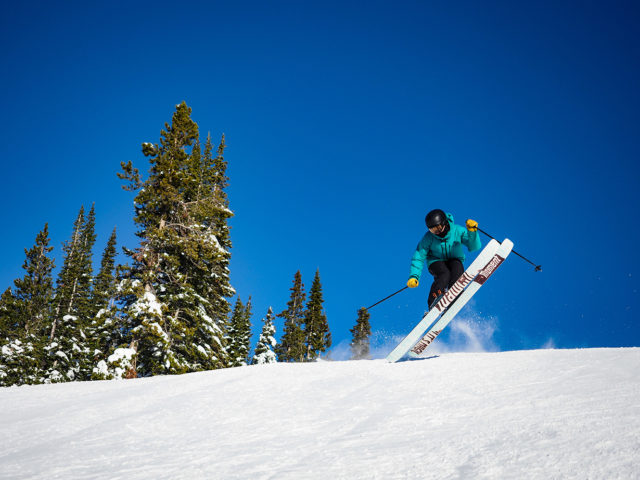 If you want a boot that you'll only tour in, there are now a ton of options that will serve you better. And if you never plan on touring or doing long hikes, just stick with an alpine boot without a walk mode.
But if you go on the occasional tour or hike a lot on the resort, the Strider 120 is an excellent option.
Bottom Line
The Nordica Strider 120 is a very good, medium-volume 50/50 boot. It walks better than a true alpine boot, still skis really well, has an excellent stock liner, and has proved to be pretty durable. For people who want a 120-flex boot that they can use both in the resort and on the occasional day on the skin track, go see if the Strider 120 fits your feet.