Boot: Scarpa Maestrale XT (20/21)
Stated Flex: "130+"
Available Sizes: 24.5-32
Stated Last (size 27.0): 101 mm
Stated Range of Motion: 56°
Stated Forward Lean: 16° ± 2°
Size Tested: 26.5 / 27.0
Stated Boot Sole Length: 306 mm
Blister's Measured Weight (size 27.0):
Shells, no Liners: 1258 & 1258 g
Liners, no Footbeds: 247 & 252 g
Shells + Liners = 1505 & 1510 g
Buckles:
Powerstrap: "Booster" cam-style
Shell Material:
Cuff: Grilamid
Shoe / Clog: Carbon Grilamid LFT
Tongue: Pebax
Soles: Non-replaceable, rockered Vibram rubber (ISO 9523 standard)
Binding Compatibility: All "tech" / pin bindings; MNC bindings
Tech Fittings: Yes
[Note: Our review was conducted on the 19/20 Maestrale XT, which was not changed for 20/21 or 21/22.]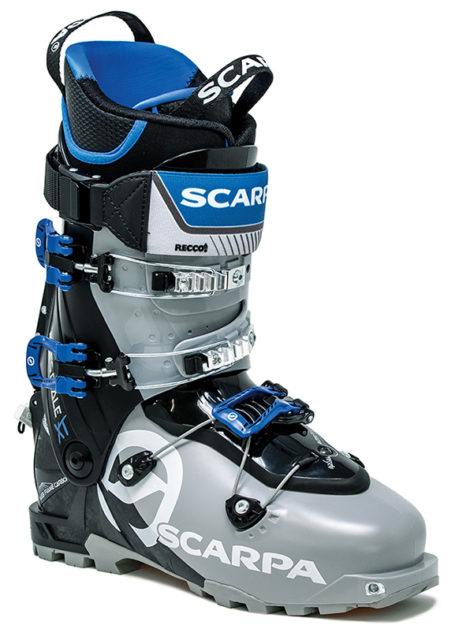 Intro
The Scarpa Maestrale line of alpine touring boots is one of the most popular line of boots out there. The original Maestrales could be seen on skin tracks throughout the world for years, and then Scarpa overhauled the line for the 17/18 season. We are very big fans of the redesigned Maestrale RS — it's a pretty light touring boot that walks very well and is stiff enough for many hard-charging skiers.
But while the Maestrale RS is plenty stiff for most backcountry skiers, it wasn't the stiffest boot out there. And since the redesigned Maestrale RS's release, almost every other ski-boot company has come out with their own "130" flex touring boot, further increasing the competition.
So for the 19/20 season, Scarpa is releasing an even stiffer and beefier version of the Maestrale: the Maestrale XT.
We'll be posting a Flash Review soon for Blister Members, but in the meantime, let's take a look at how the new Maestrale XT's specs stack up against the competition.
Weight + Comparisons
Despite supposedly ramping up the strength of the flex pattern and adding more material on the cuff (we'll say more about this later), the Maestrale XT is still an impressively light boot at around 1510 grams for a size 27.0. That weight puts it right in the class of "130" flex touring boots like the Atomic Hawx Ultra XTD 130, Salomon S/Lab MTN, and Fischer Ranger Free 130.
For reference, here are a number of our measured weights for some notable boots in this category. Make sure to note the size differences — our pair of the Maestrale RS is a 24.5 / 25.0, which is significantly smaller than our 27.0 Maestrale XT.
Our measured weights show the size of boot, then the weight of each boot + the weight of each liner, then the total weight for shells + liners, listed in grams:
Scarpa Maestrale RS (24.5 / 25.0): 1053 & 1057 + 244 & 245 = 1297 & 1302 g
Tecnica Zero G Tour Pro (26.5): 1099 & 1100 + 210 & 211 = 1309 & 1311 g
Salomon MTN Explore (26.5): 1126 & 1135 + 281 & 281 = 1407 & 1416 g
Atomic Hawx Ultra XTD 130 (26.5): 1128 & 1127 + 300 & 305 = 1428 & 1432 g
Scarpa Maestrale XT (26.5 / 27.0): 1258 & 1258 + 247 & 252 = 1505 & 1510 g
Head Kore 1 (26.5): 1132 & 1136 + 392 & 393 = 1524 & 1527 g
Salomon S/Lab MTN (26.5): 1257 & 1246 + 288 & 303 = 1545 & 1549 g
Fischer Ranger Free 130 (26.5): 1204 & 1204 + 348 & 351 = 1552 & 1555 g
Roxa R3 130 T.I. (27.5): 1341 & 1348 + 263 & 262 = 1604 & 1610 g
Salomon QST Pro TR 130 (26.5): 1389 & 1391 + 273 & 274 = 1662 & 1665 g
Nordica Strider Pro 130 DYN (27.5): 1445 & 1440 + 363 & 373 = 1808 & 1813
Lange XT Free 130 LV (27.5): 1472 & 1473 + 376 & 376 = 1848 & 1849 g
Full Tilt Ascendant (27.5): 1613 & 1615 & + 3018 & 311 = 1921 & 1962 g
Tecnica Cochise 130 DYN (25.5): 1493 & 1496 + 440 & 441 = 1933 & 1937 g
Scarpa Freedom RS (27.0): 1614 & 1623 + 396 & 397 = 2010 & 2020 g
Liner
The XT's liner reminds me a bit of the Tecnica Zero G Tour Pro's liner — neither are very thick, and I wouldn't call either "plush". But they're both pretty firm and supportive. The Maestrale XT's liner feels pretty similar to other Intuition liners in terms of the density of its foam.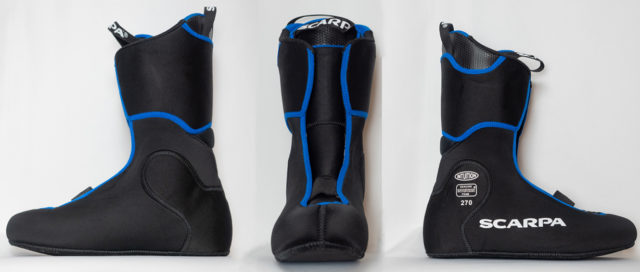 Compared to the liner in the Atomic Hawx Ultra XTD 130, the Maestrale XT's is more supportive and less flimsy. Compared to a beefier AT boot like the Nordica Strider Pro 130, the Maestrale XT's liner is notably less "squishy" and plush.
Walk Mechanism
One of the big differences between the Maestrale XT and other Maestrale boots is the XT's walk mechanism. The other Maestrale boots use a big external bar that we've come to calling the "prison shank" walk mechanism. The Maestrale XT, on the other hand, uses the walk mechanism from Scarpa's burlier line of Freedom boots.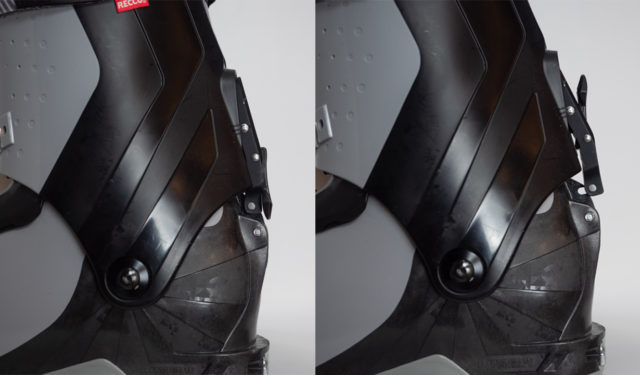 The Maestrale XT's walk mechanism still functions pretty similarly to the other Maestrale boots — you flip down a latch that snaps a bar onto a slot in order to attach the cuff to the lower shell.
Using it at our HQ at Elevation, the Maestrale XT's walk mechanism seems solid when locked into ski mode, and is pretty easy to use with gloves. We're interested to see if we notice any noteworthy performance differences with the alternative walk mode while skinning and skiing.
Buckles
This is another notable change with the Maestrale XT. Instead of the other Maestrale's combination of one lower buckle, one ankle / instep ratchet strap, and one cuff buckle, the Maestrale XT ditches the ankle ratchet strap and adds a second buckle onto the cuff (the XT uses the same lower shell buckle).
Now, there are a lot of people who are very passionate about the other Maestrale's ankle ratchet strap — many report that it does a great job of locking in the heel and allowing for comfortable touring and skiing. So, the Maestrale XT's lack of an ankle / instep buckle might throw off some people, though as always, we think having a bootfitter find the boot that's right for your foot will always trump and singular design advantages.

The Maestrale XT's lower buckle is the same as the other Maestrales, and it does a good job of locking down the front of my foot. I found it a bit fiddly at first, but after literally a few times getting in and out of the boot, I quickly got the hang of the "z-cable" buckle.
Power Strap
Scarpa says the Maestrale XT uses a "Booster® Active Power Strap."
I'm a big fan of Booster® straps — they tend to give boots a slightly more progressive flex, which I really like.
The Maestrale XT's strap is wide, has a bit of "give" to it that's distinctive to Booster straps, and it uses a cam-style tensioning system. These are all upsides in my opinion.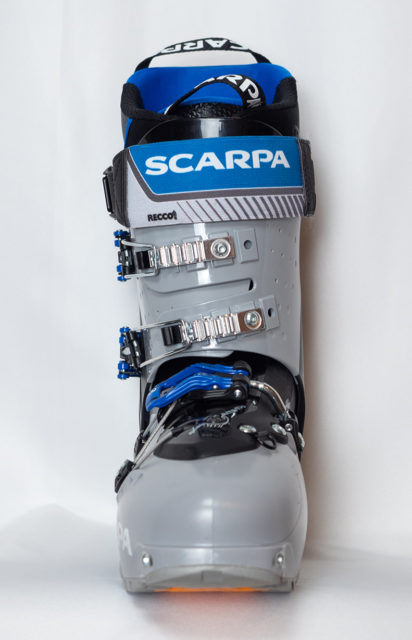 Lastly, the Maestrale XT — and all of the other Maestrale boots — features a RECCO reflector in the power straps.
We'll see how well the Maestrale XT's booster strap works on snow, but at least for now, I'm quite happy with the design Scarpa went with.
Cuff
In addition to having a beefier power strap and an additional cuff buckle, the Maestrale XT features a large upper cuff. The other Maestrale boots have pretty minimal upper cuffs, but the XT's cuff is much more similar to a full overlap boot.
Range of Motion
The Maestrale XT's stated range of motion (aka, "ROM") is 56°, which is slightly less than the other Maestrale's 60°. We don't tend to pay a whole lot of attention to slight differences in stated ROM since the usable ROM can vary significantly between boots. So, we'll talk more about how well the Maestrale XT walks once we've had a chance to use it much more.
Soles
The Maestrale XT uses the same Vibram sole as the other Maestrale boots. That means it should grip well, though the XT's sole is also quite thin like the Maestrale RS's, which brings up some concerns about long-term durability for people who spend a lot of time walking on rocks in their ski boots. Like the other Maestrale boots, the Maestrale XT's sole is not replaceable.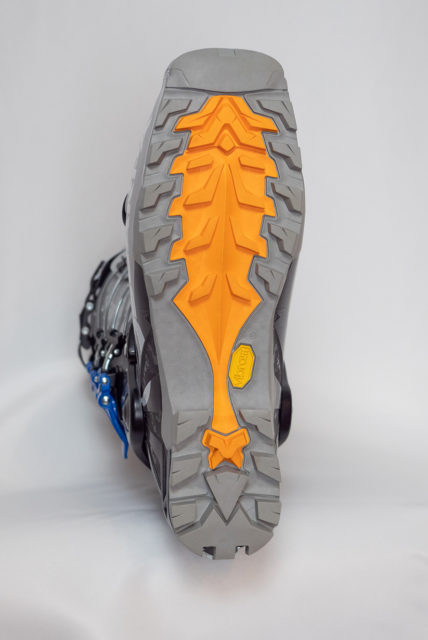 Fit
The Maestrale XT uses the same exact last and lower shell as the Maestrale RS. So, here I'll discuss my own fit impressions, and will also add in Sam Shaheen's thoughts from his review of the Maestrale RS.
As always, we highly recommend going to a good bootfitter to figure out what boot might work best for your foot. With that said, here's how the Maestrale XT fits my feet.
For reference, I have pretty average-volume feet, but I have large lateral splats which mean my midfoot widens when I am standing / skiing, and I often get pain on the outside of my forefoot and midfoot when running, skiing, skinning, etc. I have a low instep and an average to low arch. My feet tend to work best with boots that offer ample room in the midfoot, and have lower insteps (e.g., the Salomon QST Pro 130). Since my toes taper significantly (i.e., my pinkie toe is much shorter than my big toe), I've never needed a 6th toe punch in any boots.
The Maestrale XT feels pretty comfortable on my fairly wide midfoot, and the heel / ankle feels nice and secure. As in pretty much all boots, I don't notice any pressure over my instep in the Maestrale XT.
The one thing that stood out to me was that the Maestrale XT's toe box felt surprisingly narrow. It's not extremely narrow (I'd say the Atomic Hawx Ultra XTD 130's toe box is a bit lower-volume overall), but the Maestrale XT doesn't have quite as much room in the toe box compared to the Tecnica Zero G Tour Pro. I imagine that heat-molding the Maestrale XT's Intuition liners could help this.
The Maestrale XT's upper cuff feels surprisingly high-volume. I need to move the upper buckles to the tightest slot to get a close fit for skiing. I have pretty skinny calves and ankles and usually move boot's upper buckles to be a bit tighter, but I'm typically not on the absolute tightest setting.
Now, here's what Sam Shaheen said about the Maestrale RS, with comparisons to the old Maestrale boots.
Sam Shaheen: (For reference, my foot is medium volume overall, but with a rather narrow heel and forefoot, and a very high arch and instep.)
The volume in the forefoot of the Maestrale RS is definitely less than the previous version — I have a slightly more precise / tighter fit in the instep than the old boot. I usually use a 98 mm last alpine boot, and the current Maestrale feels like a 100-101 mm last in the forefoot, unlike the very roomy previous version, which felt a bit wider.
The toe box of the current Maestrale RS feels pretty similar to the original version, despite feeling slightly narrower in the forefoot. It's proved roomy enough to be comfortable while I (intentionally or unintentionally) spent some pretty long days in the backcountry.
The biggest issue I've had with the fit of the Maestrale RS is with its heel pocket. In relation to the old version, the new heel pocket is much wider and less anatomically shaped. In the old boot, I could wear it out of the box after just baking the liners and be fine. In the new boot, I got a large amount of heel lift resulting in blisters on the way up, and poor performance on the way down. Strategically-placed L pads have helped this, but I still wish (for my foot, at least) that there was a more anatomical shape around the Achilles. The L pads can take up space, but they don't change the shape of the shell.
All this is to say that the new Maestrale RS is one of the wider and roomier touring boots in the ~130-flex category, which is definitely something to consider if you have big ol' club feet.
Bottom Line (For Now)
The Scarpa Maestrale XT looks like a very competitive addition to the 130-flex touring-boot market. We're getting it on snow today and will be posting a Flash Review for Blister Members very soon, and will then be posting our full review once we've had a chance to put a lot of days on it.