Ski: 2021-2022 Line Vision 108, 183 cm
Available Lengths: 175, 183, 189 cm
Blister's Measured Tip-to-Tail Length: 181.5 cm
Stated Weight per Ski: 1605 grams
Blister's Measured Weight per Ski: 1605 & 1630 grams
Stated Dimensions: 142-108-128 mm
Blister's Measured Dimensions: 140.1-107.5-126.8 mm
Stated Sidecut Radius (183 cm): 19.5 meters
Measured Tip & Tail Splay (ski decambered): 69 mm / 41 mm
Measured Traditional Camber Underfoot: ~3 mm
Core: Paulownia/Maple + Carbon, Aramid, & Fiberglass Laminate
Base: 1.3 mm Sintered
Factory Recommended Mount Point: -5.95 cm from center; 84.8 cm from tail
Boots: Nordica Strider 120; Dalbello Lupo Pro HD; Tecnica Zero G Tour Pro; Atomic Hawx Ultra XTD 130
Bindings: Fritschi Tecton
Reviewers:
Luke Koppa: 5'8″, 155 lbs
Jonathan Ellsworth: 5'10", 175 lbs
Test Location: Crested Butte, CO
Days Skied: ~15
[Note: Our review was conducted on the 19/20 Vision 108, which remains unchanged for 20/21 and 21/22, apart from graphics.]

Intro
Next year Line is introducing two new skis — the Vision 98 and Vision 108 — that they're labeling as "freeride" skis. But these skis are very, very light. In fact, they're the lightest men's skis in Line's collection, and they're even lighter than the old (and very good) Line Sick Day Tourist, which used to be Line's dedicated touring ski.
But there's a lot more going on with these new skis than just their low weight, which is why we were so psyched about them at Outdoor Retailer last week. You can hear Sam Shaheen and I blab about them on our GEAR:30 podcast, and also find a bit more info about them in our Blister Outdoor Retailer Snow Show Awards.
But today, we're taking a closer look at the widest ski in the series, the Vision 108, because its design has some of us itching to get on it.
What Line says about the Vision 108
"Introducing the ski you wish you had yesterday. The one freeride ski that can slap down pillow stacks one day and explore far out zones the next. Forged out of THC Construction, the Vision 108 reimagines what's possible for lightweight freeride skis. Stable at speeds, light in the air, and easy to smear."
It's interesting that Line doesn't explicitly mention touring in this description, given how much the Vision 108 weighs (see below). Instead, they're emphasizing the Vision 108's stability, playfulness, and ability to not simply go uphill well, but ski hard on the way down.
Oh, and that mention of "THC Construction" warrants a good bit of explanation, so let's talk about it:
Line's "THC" Construction
Here's what Line says about the Vision's new construction:
"This is not just an excuse to make weird pot references; this is some serious tech. By combining three different laminates – aramid, carbon, and fiberglass – that resonate at different frequencies, we've created a hyper dampening construction that allows us to shave weight. No more twitchy, pingy carbon feel; just feel good, smooth skiing in a lightweight package. Skiing is believing, and we're about it"
Well, I'll admit I have a hard time believing that this isn't an excuse to make weed references, but I guess I'll take Line's word for it. Beyond the name, the Vision's laminate construction sure sounds interesting.
I'm one of many people who has been a bit disappointed by lightweight touring skis that are packed full of carbon in order to make them stiff, but in turn, end up feeling very harsh on firm / rough snow. So if Line has managed to make a very light ski without that "pingy" feeling, I'd be quite happy.
Shape / Rocker Profile
While the Vision 108's construction is different from most other skis on the market, its shape is more traditional. It has a bit of taper in the tips, and a bit more taper in the tails. But the Vision 108 doesn't have nearly as much tip taper as the K2 Wayback 106 or Black Diamond Helio 105 Carbon, and the Vision 108's tail taper is still on the moderate side.
Overall, the Vision 108's shape looks very similar to a "Best Of" winner, the Line Sick Day 104. The Vision 108 has slightly less tapered tips, and maybe a bit more taper in the tails. But overall, the two skis look very similar.
The Vision 108's rocker profile also looks pretty similar to the Sick Day 104's, with the Vision 108 having a deeper tip rocker line and slightly higher tail splay. Overall, the Vision 108's tip rocker line is quite deep compared to many other 108mm-wide skis, and its tail splay is higher than almost all the other skis we've tested that come in at similarly low weights.
While the Vision 108's tail isn't a true twin, its rocker profile still looks like it'd encourage a more playful skiing style. As someone who likes to do some longer tours but who also likes to slash and jump around in the backcountry, I'm very psyched on the shape and rocker profile of the Vision 108. And that excitement grew when I measured this next spec:
Mount Point
The recommended mount point on our pair of the 183 cm Vision 108 came in just a hair under -6 cm from center. That's much more forward than almost all the other touring skis we've used, and significantly more forward than the recommended mount points on the Sick Day 104 (-10.15 cm) and Sick Day Tourist 102 (-10.6 cm).
But the Vision 108's recommended mount point isn't crazy far forward, and we've been on a lot of skis with mount points around -6 cm that can be skied with both a centered, balanced stance and a more forward, driving one. So I'm personally very eager to see how the Vision 108 responds to different stances. And given its low weight and more progressive mount point, I imagine that the Vision 108 is going to feel super light in the air.
Flex Pattern
Here's how we'd characterize the flex pattern of the Vision 108:
Tips: 5.5-6
Shovels: 6.5-7
In Front of Toe Piece: 7-9
Underfoot: 9.5
Behind the Heel Piece: 9-8
Tails: 7-7.5
The Vision 108's flex pattern is on the softer side, though the middle of the ski is still pretty strong. The Vision 108's flex pattern is extremely similar to the Sick Day 104's flex pattern, with the Vision 108 being a tiny bit softer in the tips, and a touch softer in the tails.
Compared to the 19/20 Line Sir Francis Bacon (First Look coming soon), the Vision 108's flex pattern feels very similar, with the SFB's tips and tails being a bit stiffer than the Vision 108's.
I love the flex pattern of the Sick Day 104, so I'm glad to see that the Vision 108 shares a lot of similarity in this regard. I (and many other Blister reviewers) tend to prefer light skis that don't have super stiff flex patterns, as they seem to result in a slightly less harsh ride than very light skis with super stiff flex patterns. So I'm eager to see if the Vision 108's more forgiving flex pattern (and maybe its THC construction) can result in a more damp ride compared to similarly light skis.
Weight
The 183 cm Vision 108 comes in at just over 1600 grams, which is very light. It's not quite as light as more traditional touring skis like the K2 Wayback 106, G3 FINDr 102, and Black Diamond Helio 105 Carbon, but the Vision 108 is still coming in much lighter than nearly every other ~108mm-wide ski we've reviewed.
For reference, here are a number of our measured weights (per ski in grams) for some notable skis. Keep in mind the length differences to try and keep things apples-to-apples.
1446 & 1447 Line Vision 98, 179 cm (19/20)
1476 & 1490 K2 Wayback 106, 179 cm (18/19–19/20)
1477 & 1482 G3 FINDr 102, 184 cm (17/18–18/19)
1547 & 1551 Black Diamond Helio 105 Carbon, 185 cm (17/18)
1562 & 1566 Scott Superguide 105, 183 cm (17/18–18/19)
1605 & 1630 Line Vision 108, 183 cm (19/20)
1606 & 1641 Blizzard Zero G 105, 188 cm (19/20)
1642 & 1651 Renoun Citadel 106, 185 cm, (18/19)
1706 & 1715 Volkl BMT 109, 186 cm (17/18–19/20)
1720 & 1747 Line Sick Day Tourist, 186 cm (16/17)
1733 & 1735 Blizzard Zero G 108, 185 cm (17/18–18/19)
1745 & 1747 4FRNT Raven, 184 cm (16/17–18/19)
1755 & 1792 Line Sick Day 104, 179 cm (17/18,–19/20)
1814 & 1845 Elan Ripstick 106, 181 cm (17/18–19/20)
1825 & 1904 Black Crows Corvus Freebird, 183.3 cm (17/18–19/20)
1843 & 1847 Head Kore 105, 189 cm (17/18)
1848 & 1903 Line Sick Day 104, 186 cm (17/18–19/20)
1849 & 1922 Elan Ripstick 106, 188 cm (17/18–19/20)
1898 & 1893 Armada Tracer 108, 180 cm (18/19)
1913 & 1943 Sego Condor Ti, 187 cm (18/19)
1923 & 1956 DPS Alchemist Wailer 106, 189 cm (17/18–18/19)
1941 & 1965 Fischer Ranger 108 Ti, 182 cm (17/18–18/19)
1950 & 1977 Blizzard Rustler 10, 188 cm (17/18–18/19)
1970 & 1979 Atomic Backland FR 109, 189 cm (17/18)
1980 & 2016 Liberty Origin 106, 187 cm (17/18–18/19)
1996 & 2012 Dynastar Legend X106, 188 cm (17/18–19/20)
2022 & 2047 Faction Dictator 3.0, 186 cm (17/18–18/19)
2026 & 2056 Black Diamond Boundary Pro 107, 184 cm (17/18–19/20)
2030 & 2039 Rossignol Soul 7 HD, 188 cm (17/18, 18/19)
2036 & 2064 Salomon QST 106, 188 cm (18/19)
Some Questions / Things We're Curious about
(1) Line keeps calling the Vision 108 a "freeride" ski, rather than a touring ski. So just how stable will it feel, and could it be suitable as a 50/50 or even dedicated resort ski?
(2) The Vision 108 has pretty deep rocker lines, fairly high tail splay, pretty soft tips and tails, and a progressive mount point. So could it finally be the lightweight, playful ski that less directional skiers like myself have been waiting for?
(3) Speaking of mount points, how well will the Vision 108 respond to both forward and more centered skiing stances?
(4) The Vision 108 shares a lot in common with one of our favorite skis, the Sick Day 104. So where will the two skis differ the most?
Bottom Line (For Now)
The Line Vision 108's design contains a combination of traits that we rarely see: a really low weight, moderate flex pattern, deep rocker lines, fairly high tail splay, and a progressive mount point. I and a few other Blister reviewers like Cy Whitling have been looking (read: begging) for that combination for some time, so we're extremely eager to get the ski on snow. Stay tuned for updates.
Flash Review
Blister Members can now check out our Flash Review of the Vision 108 for our initial impressions. Become a Blister member now to check out this and all of our Flash Reviews, plus get exclusive deals and discounts on skis, and personalized gear recommendations from us.
FULL REVIEW
There are now a lot of very good, very light, directional skis on the market, but there aren't many very light skis that cater to a more playful skiing style. As someone who likes to tour, values low weight in the backcountry, but who also skis with more of a playful style, the Vision 108 looked like it could finally be the ski I (and arguably many others) had been waiting for.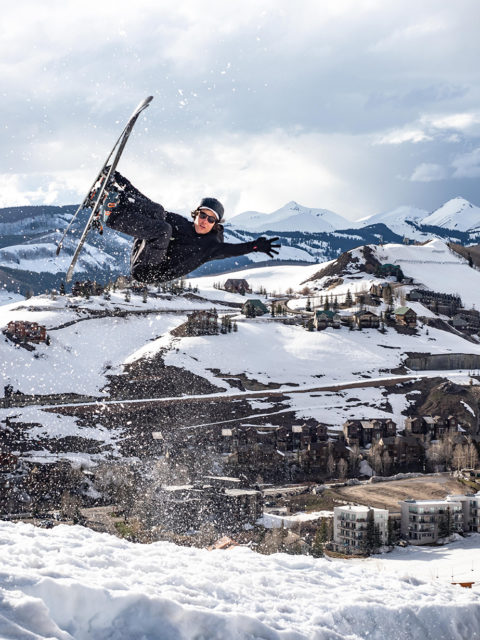 So … is it?
Powder
Luke Koppa (5'8", 155 lbs): I haven't had the chance to ski the Vision 108 in any super deep snow, but I did get it in around ~8" of light, dry pow. There, it planed predictably, was very easy to slash and slarve, and was overall a predictable and easy ski. Unlike more directional touring skis I've been on (e.g., Black Diamond Helio 105 & Scott Scrapper 105), the Vision 108 was easy to ski centered or forward, and felt much more maneuverable than those skis when skiing pow in the tight trees we're often limited to here in CO due to mid-winter avalanche danger.
I would like to get the Vision 108 in some really deep snow to confirm this, but my initial thought is that it floats a bit above its width in powder, primarily due to its very deep tip rocker line and fairly soft flex in its tips and shovels. I wouldn't choose it if I was looking for a dedicated pow ski for bottomless days, but the Vision 108 definitely floats well enough to make it a strong contender for a 1-ski touring quiver for a place like CO.
Soft Chop
Luke: Line isn't positioning the Vision 108 as a dedicated touring ski (at all, in fact), so I also skied it a lot in the resort during my testing. And that means skiing chopped-up snow.
In chop that's still pretty soft, the Vision 108 performed well for its weight. But remember, this thing only weighs a bit over 1600 grams, so that "for its weight" caveat is important.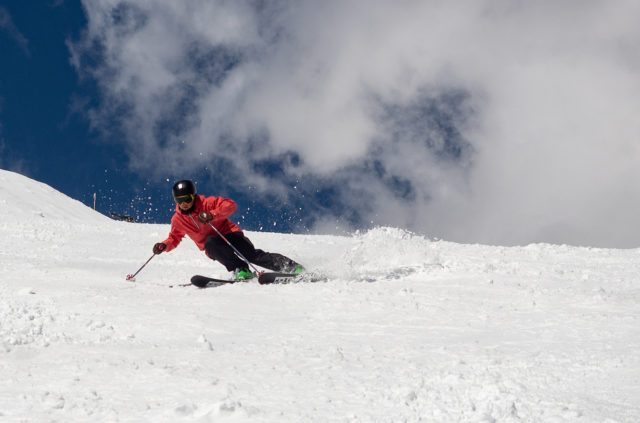 I'm 5'8", 155 lbs, and in very soft chop (e.g, only a few tracks on a run), the Vision 108 was fine for me. It's strong enough to not get bucked around a lot when hitting a track, and then it's really fun to mess around on in the cleaner patches.
But once the snow was very cut up (e.g., after noon on a resort pow day), I definitely had to dial back my speed and ski more dynamically to keep the Vision 108 tracking. Like pretty much every other ski I've used that's this light, the Vision 108 just doesn't have the mass to power through denser patches of soft snow.
If you tend to ski very conservatively in chop, the Vision 108 is still a viable option for the resort. But if you want a ski that'll let you make big, fast turns through chop, you'd be much better off on a significantly heavier ski.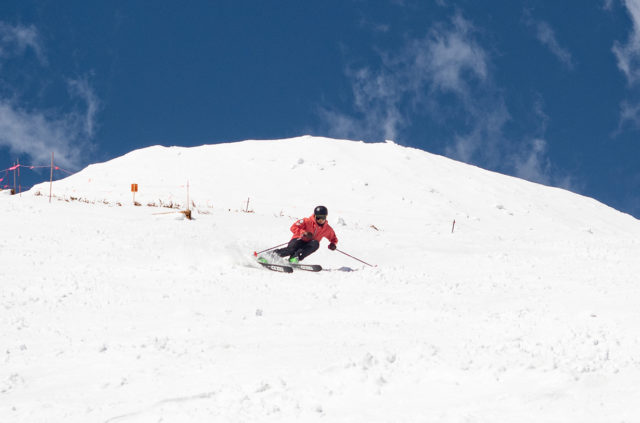 Jonathan Ellsworth (5'10", 175 lbs): Indeed. Most skis that are even 200 grams heavier (i.e., ~1800-1850 grams) will be significantly more stable, and bumping up 400 g to the ~2000 gram range will result in a lot more stability.
Firm Chop / Crud
Luke: As the snow gets more set up and nastier, the Vision 108's low weight is much more noticeable. This is not a very damp, plush, or otherwise comfortable ski to be on when skiing on really firm, rough snow.
Jonathan Ellsworth and I would both say that the Vision 108 is damp for its weight — it doesn't feel as harsh and "tinny" as some other similarly light, carbon-laminate skis I've used. But would I want to take it out in the resort when it hasn't snowed in a while and the off-piste snow is super firm? Nope. That's where much heavier skis make a lot more sense, as they do a far better job of smoothing out rough snow.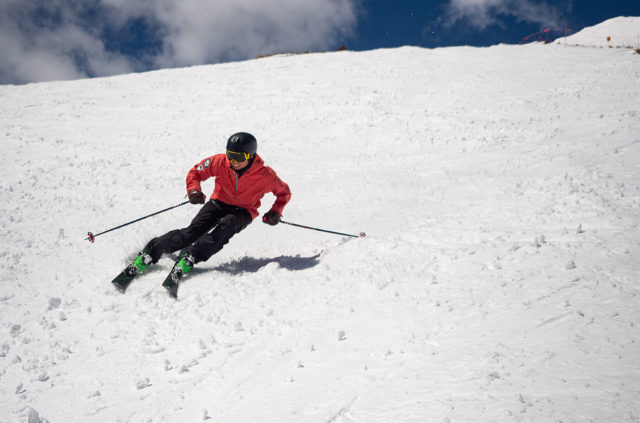 And if this review sounds like it's coming off negative, keep reading. Because while I don't think the Vision 108 makes a ton of sense as an inbounds-only ski that you'll use on a lot of rough snow, I think it's an excellent touring ski.
Corn
Luke: I've spent a good chunk of time skiing corn on the Vision 108, and I really couldn't think of a ski I'd rather be on when it comes to skinning up hills to ski down nice, soft spring snow.
Admittedly, most skis are fun on perfect corn. It's such a forgiving snow type, and I think nailing the timing on a run to catch it when it has just turned to nice corn is one of the best feelings ever.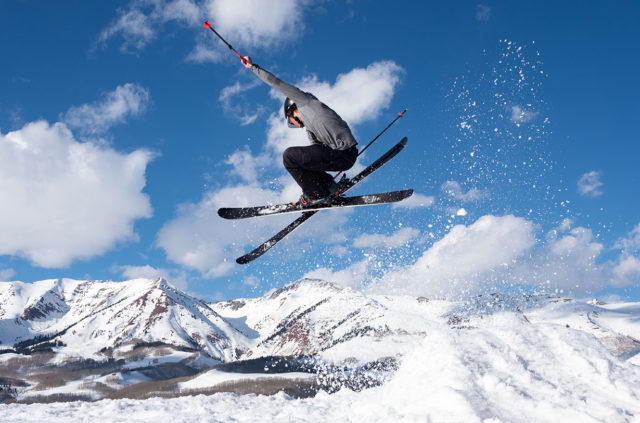 But what sets the Vision 108 apart from most other touring skis is that it's super easy to slide around, you can ski it very centered (or even backseat), and you can even ski it switch. As will be a theme in this review, I think this level of playfulness is the primary thing that makes the Vision 108 stand out from the other touring skis in its class.
Jonathan: Really, nobody should care too much about what I have to say about this ski, so if I were you, I would pay closer attention to Luke's comments. But having toured on this ski several days now for good corn, I can say that despite the fact that I tend to prefer heavier and more substantial skis, I've gotten along with the Vision 108 just fine. As in, when Luke and I go tour today (after we just got a bit of fresh snow yesterday in CB), not only would I have zero hesitation about taking this ski out tomorrow, I'd honestly be happy to. In soft, fresh snow, I like this ski, and I like that I've consistently beat Luke to the top on it. (Sorry, Luke!)
Groomers
Luke: The Vision 108 is very easy to release from a turn, but once you commit to driving the front of it, it actually offers surprisingly good edge hold. Despite its deep rocker lines and more progressive mount point, I had a blast ripping groomers on the Vision 108 with a pretty forward, aggressive stance. I could also ski it centered with no problem, but I think you get the most out of the Vision 108 on groomers when driving it hard as it helps dig in the edges and means you get more energy coming out of a turn.
Speaking of which, the Vision 108 is a very energetic ski. It was pretty easy to bend into turns, and then launched me out of them. And that pop translated to jumps too, which I'll discuss later.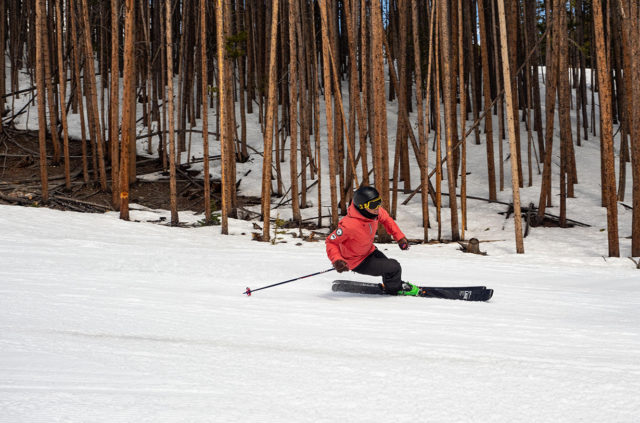 In terms of stability, the Vision 108 felt pretty comfortable at high speeds when the groomers were either very smooth / consistent, or very soft. I could basically ski it as fast as I wanted to on super slushy spring groomers, and was also happy making fast turns on fresh, clean corduroy.
On roughed-up, end-of-day groomers, the Vision 108 feels less comfortable. Basically, the firmer and less consistent the snow gets, the more I'd rather be on a heavier ski. Trying to make big, fast turns on the Vision 108 on inconsistent groomers got scary at times, and I felt much better making smaller, skidded turns where I could more easily keep the ski tracking where I wanted it to.
Jonathan: I 100% agree with Luke's first three paragraphs in this section. I have no idea about the last paragraph, because I have no interest in finding out what this ski feels like on roughed-up groomers. (But hey, that's just me.)
Moguls, Trees, and Tight Terrain
Luke: The Vision 108 is incredibly easy in tight terrain. That's what happens when you give a ski a lot of rocker, a forgiving flex pattern, and a borderline ridiculously low weight. The Vision 108 is so easy to flick around, doesn't punish you as soon as you get backseat, and still holds an edge pretty well on smoother, firmer snow.
I think some very aggressive and / or bigger skiers will want a ski with a flatter and / or stiffer tail for really steep, technical terrain. But if you primarily want a ski that's easy to ski in bumps, trees, etc., the Vision 108 is a great option. Just keep in mind that it won't feel nearly as damp or stable on really rough snow compared to much heavier skis. So while I'd be happy to ski the Vision 108 in late-spring slush bumps or trees in the backcountry, I wouldn't want to use it for days in the resort when it hasn't snowed in a while.
Jonathan: I definitely agree. That said, will there be some really expert skiers and / or really finesse-oriented skiers and / or really lightweight skiers who will go do some very sick things on these skis inbounds? I have no doubt. But if the question is how well this particular ski works as an inbounds ski in steep, technical terrain, well again, there are heavier skis out there — that are still crazy light — that are more substantial. And in techy terrain, more substantial to me equals more confidence-inspiring.
Uphill
Luke: While Line says the Vision 108 is a "freeride" ski and not just a "touring" ski, I've spent a lot of my time on it going uphill, in addition to going downhill. So I want to touch on that quickly.
In short, the Vision 108 is awesome on the uphill. This isn't all that surprising, given its very low weight of a little over 1600 grams per ski for the 183 cm length. The Vision 108 has worked fine with the skins I've used on it (G3 Alpinist and Black Diamond Ultralite Mix STS), and I don't really have anything negative to say about it with regard to its uphill performance. It's gripped well on all the snow conditions I've used it on, and it's light enough that I don't hesitate taking it out for longer days.
There's a chance some people might not love the Vision 108's more forward mount point for kick turns, but I haven't had any trouble with it.
Jonathan: Regular readers of Blister will know that lightweight skis aren't exactly my thing. Quite the opposite, actually. So it should come as no surprise that, for someone like me, I would only consider this as a touring ski. And I've sure as hell enjoyed going uphill on these. Just nothing not to like, and I haven't been bothered in the least by the more forward mount point — neither on the uphill, nor on the way back down.
Playfulness
Luke: The Vision 108 is playful in pretty much every regard. It's super easy to slash around, feels incredibly light in the air, and is very poppy.
The Vision 108's -6 cm mount point is far enough forward that I don't personally have any issues with how balanced it feels in the air, but far enough back that I can still drive it when I need to.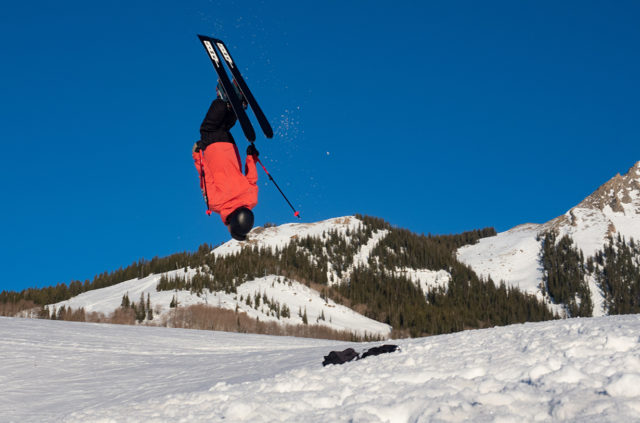 I spent a lot of time on the Vision 108 hucking my meat off backcountry booters, and it basically seems ideal for this. It's light enough to skin on deep into the backcountry, but has a shape, mount point, and flex pattern that make it feel natural spinning and flipping off of stuff.
As I alluded to earlier, I think the Vision 108's playfulness is what makes it stand out from other touring skis. It's just got that abstract "fun factor" that I think many more directional skis lack, at least as someone who tends to prefer more playful inbounds skis. When I'm touring, I'm not looking to charge down lines as fast as possible. Instead, I like to take my time, slash windlips, jump off stuff, and throw tricks when possible. The Vision 108 caters to this latter skiing style way better than any other ski I've been on that's this light.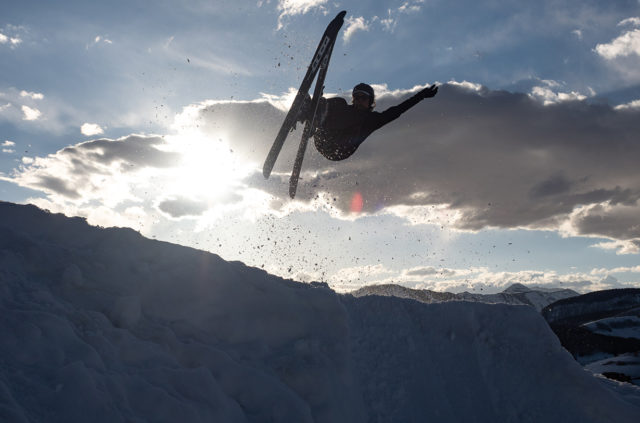 Jonathan: I'm not flipping or spinning, so again, don't mind me here. But I'm only here to say that this is not merely some jib stick that you should obviously cross off your list if you yourself aren't hitting backcountry booters. While I don't disagree with Luke that the Vision 108 might be ideal for that, I'd also say that, if you are in the market for a fun ski in this weight range, well, this is a fun ski even if you're keeping things pointed straight and rarely (if ever) leaving the ground.
Is it a 50/50 Ski?
Luke: First, note that I didn't start by asking if the Vision 108 is a dedicated resort / inbounds ski. While you could use it solely in the resort, I think you'd be missing out on the upsides of the Vision 108 and making its downsides (stability in rough snow) more pronounced. Even a slightly heavier ski like the Line Sick Day 104 would be a better option if you're looking for a lighter ski that you'd use only in the resort.
But for 50/50 use inside and outside of the resort, the Vision 108 has some potential — it just depends on your priorities and how you'll be using it. If you'll primarily be using this ski in the backcountry (e.g., ~70% backcountry / ~30% resort), the Vision 108 is a viable option as it's a great touring ski and performs pretty well for its very low weight in more challenging resort conditions.
If you tend to ski either very conservatively or with a very active, dynamic style, the Vision 108 could work as a true 50/50 ski. But if you want a 50/50 ski that you can ski very hard on when conditions aren't ideal, I'd recommend looking at something heavier (e.g., Line Sick Day 104).
I think the Vision 108 excels in the backcountry, but it can work in the resort for certain skiers.
Jonathan: If you already know that you get along really well in bounds with very light skis, then sure, this could be a 50/50 ski for you. But man, I personally would recommend considering that Line Sick Day 104 that Luke mentioned, and would regard it as a much safer bet if you really aren't sure about how light or heavy you want to go.
Who's It For?
Luke: Do you like freestyle-oriented skis and are looking for something you can haul uphill for long (or short) days in the backcountry? If so, the Vision 108 is one of the best options I can think of for you.
Do you not ski switch or spin, but are looking for a touring ski that's easy, playful, and forgiving? Check out the Vision 108.
Do you sound like one of the above skiers and spend most of your time in the backcountry with the occasional day in the resort? Again, take a look at the Vision 108 (especially if your resort days tend to be in pretty soft, forgiving snow — i.e., when avalanche conditions dictate that you shouldn't be out in the backcountry.)
I would not recommend the Vision 108 if you love very directional skis with rearward mount points and stiff, flat tails. There are plenty of other more traditional touring skis around this weight that would better suit you.
I also think most people looking for a true 50/50 ski would be better off on slightly heavier skis (see the "50/50" section in our Winter Buyer's Guide for a bunch of options).
But for people looking for a playful, easy, and fun touring ski, the Vision 108 is a very compelling option.
Bottom Line
With the Vision 108, Line has essentially filled a void in the market. The Vision 108 is light enough for long days of uphill travel, but when you head downhill, it brings a level of playfulness that isn't matched by many skis that are as light as it is. In short, our take is that the Vision 108 takes Line's signature catchphrase to the backcountry-ski market and makes it "more funner."
Deep Dive Comparisons: Line Vision 108
Become a Blister Member or Deep Dive subscriber to check out our Deep Dive comparisons of the Vision 108 to see how it compares to the Amplid Facelift 108, Line Sir Francis Bacon, Line Sick Day 104, 4FRNT Raven, Renoun Citadel 106, Black Diamond Helio 105, K2 Wayback 106, Elan Ripstick 106, Faction Candide 3.0, Sego Big Horn 106, Atomic Backland FR 109, and Scott Scrapper 105.