Ski: 2019-2020 4FRNT Raven, 184 cm
Available Lengths: 177, 184, 190 cm
Blister's Measured Tip-to-Tail Length: 182.8 cm
Stated Weight per Ski: 1770 g
Blister's Measured Weight per Ski: 1745 & 1747 grams
Stated Dimensions (mm): 120-104-112
Blister's Measured Dimensions (mm): 121-103.5-112 mm
Stated Sidecut Radius: 29 meters
Tip & Tail Splay (ski decambered): 67 mm / 22 mm
Traditional Camber Underfoot: 0 mm
Factory Recommended Mount Point: -5.4 cm from center; 86.0 cm from tail
Test Locations: Crested Butte, CO; New Mexico backcountry; British Columbia backcountry; New Zealand backcountry
Boots: Salomon MTN Lab, Salomon MTN Explore, Atomic Hawx Ultra XTD 130, Salomon S/Lab X-Alp, Dynafit Vulcan, & Scarpa F1
Bindings: Marker Kingpin & Dynafit ST Radical
Days Tested (total): ~40
[Note: Our review was conducted on the 16/17 Raven, which was not changed for 17/18, 18/19, or 19/20, apart from graphics.]

Intro
The 4FRNT Raven is one of our favorite touring skis, and we've just added an update from reviewer Eric Freson for a fresh perspective on the ski.
But first, let's recap:
(1) The Raven received one of two 'Best Of' awards that we handed out for touring skis in our 16/17 Buyer's Guide. And then it received Best Of awards in our 17/18 and 18/19 Winter Buyer's Guides. Because even after the touring market has evolved over the years, the Raven continues to stand out.
(2) We also wrote a glowing report in our initial Flash Review of the Raven, and pretty much every impression we wrote about in that Flash Review has been confirmed with more time on snow.
So why do we think the Raven is so good? We'll get to that in just a second, but first, a bit on the evolution of the Raven and a few details…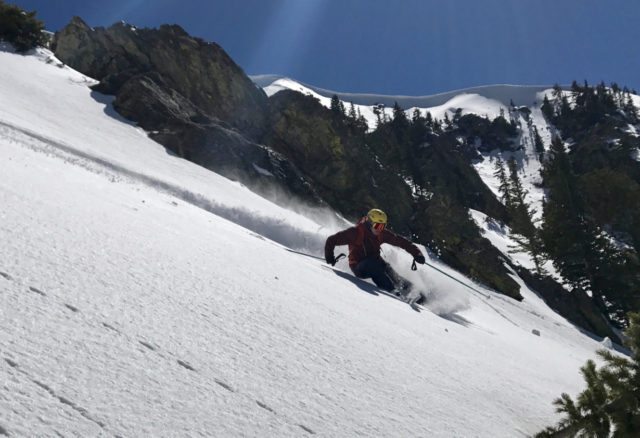 Evolution of the Raven
We talked to 4FRNT Skis founder, Matt Sterbenz, about the various iterations of the Raven, and this is how he summed it up:
"The first year Raven (2014-2015) had a dual radius sidecut with carbon laminates edge to edge in the tips and tails. While Hoji [4FRNT skier and part owner, Eric Hjorleifson, who worked on the design of the Raven] was absolutely slaying on this ski, we got some complaints that:
The dual radius made the ski feel unbalanced on edge.
The full-width isolated carbon laminated segments of the tip and tail were throwing off the even-flexing feel of the ski.
The ski wasn't light enough.
It was only offered in a 184 cm length, and that was too short for some skiers.
So In response, we introduced a new 190 cm length in year 2 with a singular, 29 meter sidecut with the same construction.
So it goes:
14/15: 184 cm Raven, with dual sidecut geometry + carbon tip and tail.
15/16: Same 184 cm Raven, but we introduced the 190 cm Raven — but with a single geometry — and both the 184 cm and 190 cm models were built with the first year Raven's carbon tip and tail.
16/17: New 184 cm Raven – the 184 now has the single geo mould, so gets made to ski like the 190 cm Raven. We also introduced a new lightweight core and laminate construction, now with full-length carbon stringers tip to tail, and no longer edge to edge.
17/18: The 184 cm and 190 cm Raven are the same as the 16/17 Raven.
And the camber profile of the ski stays steady throughout all of the iterations of the ski."
Good recap, Matt.
For the 18/19 season, 4FRNT moved factories and added a 177 cm length option for the Raven, but they assured us that the ski's design has remained unchanged.
(And here's to not changing skis that you have finally dialed in over the years.)
Flex Pattern
Here's how we'd characterize the flex pattern of the Raven:
Tips: 6-7
Shovel: 8-9
In Front of Toe Piece: 9-10
Underfoot: 10
Behind the Heelpiece: 10-9
Tails: 8.5-7
Jonathan Ellsworth (5'10", 175 lbs): While the Raven has a very accessible tip, the ski gets quite stiff through the middle, and softens up a bit through the tails. The tails are still pretty stout, but they are not eyebrow-raising stiff — in all of my time on the Raven, it's never struck me as a particularly stiff ski, and certainly not a demanding ski. At all. This flex pattern just works, and it works perfectly in concert with the shape and rocker profile of the ski.
Eric Freson (5'10", 170 lbs): The flex pattern of this ski, especially for its stated usage (backcountry / touring) just flat out performs. It's a ski that you can stomp on, while still being forgiving enough to enjoy at slower speeds and tighter terrain.
(FWIW, 4FRNT skis like the Raven, Hoji, and Renegade are, in my opinion, excellent platforms for tech bindings, in part because their flex generally runs stiff to very stiff underfoot. I've found that stiffness underfoot helps to keep undesirable flex out of your binding / boot interface, and, from my experience, that has led to more consistent power transfer and fewer pre-releases.)
Shape + Rocker Profile
Jonathan: This is a pretty straight ski, and I'll say more below about why I (and reviewers Paul Forward and Brian Lindahl) tend to like straight ski shapes in the backcountry.
The tip of the ski exhibits very little tip taper (another bonus, in my opinion), but there is a long, subtle amount of taper at the tail — the widest point of the rear of the ski 26-27 cm from the end of the ski. So it's a long, subtle tail taper, and we never found the ski to lack support or stability, which can become an issue with more heavily tail tapered + tail rockered skis.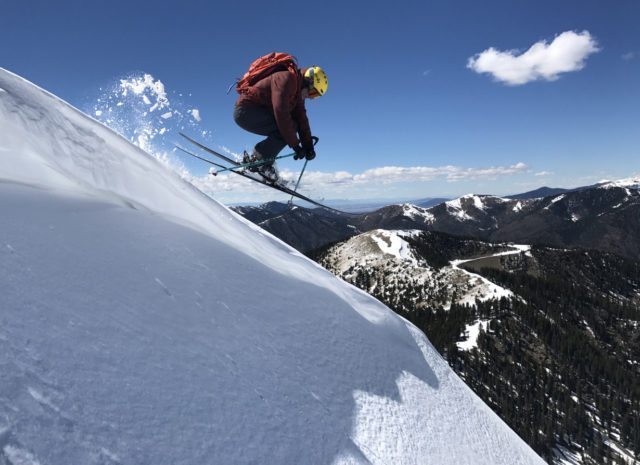 Speaking of rocker, the Raven has a pretty subtle and quite beautiful tail rocker line.
The tip rocker line is less subtle, which is probably a good thing — and one of the reasons why the Raven fairs pretty well in deeper snow.
Eric: Sometimes you find skis that have such dramatic rocker profiles that it makes skinning a chore — your contact patch with the snow can become so small that the traction your skins can create is limited.
But despite its reverse-camber design, I did not have any issues with Raven on the skin track. Its shape also seems to lend itself well to walking, as I rarely find myself catching the tapered tails on each other. Finally, the Raven's subtle tail rocker / splay and tail cap make it easier to plant the Raven vertically in the snow compared to skis with more tail splay / twinned tails. This is particularly nice when building anchors or placing the skis in sketchy spots while on a steep slope.
So What's the On-Snow Result?
Jonathan: The Raven is a very easy ski to ski.
It is also proved to remain remarkably predictable in really horrible conditions, i.e., chewed-up, bulletproof coral reef. On the particular day I'm speaking of, this was awful snow, and it was horrible skiing. But the flat camber underfoot and solid flex profile of the Raven made it easy to avoid having the ski hook up unwantedly in these conditions.
(In such conditions, I wouldn't want to have a lot of traditional camber underfoot, and I wouldn't want to have a ski with a lot of sidecut that would be more prone to getting caught and hooked by the frozen-apocalypse chunks.)
And in warmer, weird, punchy / grabby conditions, the Raven's rocker profile also makes skiing pretty predictable and easier than it would be on skis with a lot of camber underfoot and very flat, fat tails.
Eric: I agree that this is a very forgiving ski, especially given how much stability it offers. 4FRNT seems to have really figured out the Raven's sidecut and rocker profile to maximize the utility of this ski in a wide range of conditions and speeds.
I've found the Raven's easy and intuitive feel to be especially beneficial in situations where you need to be thinking about things other than your skis (e.g., making turns above a cliff you will rappel over mid-line while looking for your belay point and staying abreast of sloughing snow). Being able to trust that the ski will exhibit predictable behavior — regardless of the conditions it might encounter — is not only confidence inspiring, but rather essential when skiing in technical, complex terrain.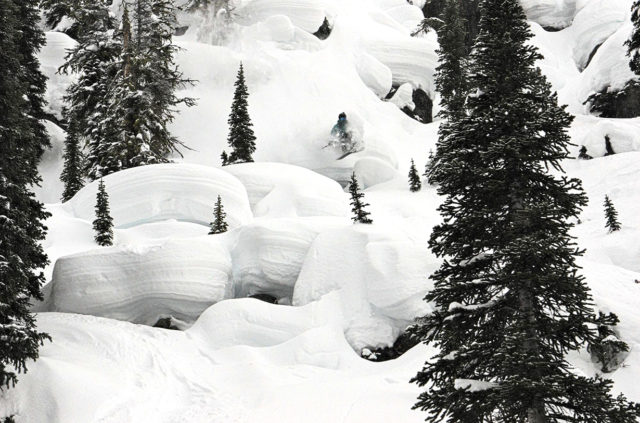 The shape and flex of the Raven also make it's incredibly easy and natural to shed or build speed mid-run. Should you find yourself in a situation requiring either, the Raven is happy to respond accordingly. It's easy to hold both a long slarve which can shed momentum / speed, or quickly point down the fall line and maintain stability and speed through variable snow. This combo allows you to focus more on terrain and snow management while on slope compared to a ski that requires more user input and concentration to accomplish the same objectives.
One area where the Raven's flex, shape, and rocker profile do hamper its performance is when you need to shed speed quickly in tight spaces on firm snow. Its lack of effective edge on firm snow, coupled with its stiff flex underfoot can make it more difficult to rein things in very quickly on very firm / icy snow. So if you're looking for a ski that you'll primarily use for tight, steep, icy couloirs, you'd probably be better off with another ski (e.g., Salomon MTN Explore 88 or 95). But for an all-round backcountry ski, the Raven is excellent.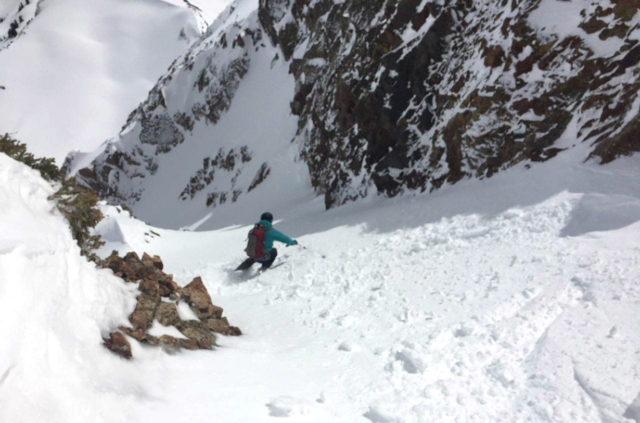 A Couple Notes + Another PSA
Jonathan: Those of you who insist on skiing lightweight skis inbounds should have the Raven on your radar. And especially if (sigh) the trend continues for inbounds skis to become lighter and lighter, then in a year or two, the Raven will look even better as an inbounds tool.
(Public Service Announcement #4,246: dear skiers, regardless of what the entire industry keeps telling you, weight is not your natural enemy; in the right circumstances — and in many circumstances — weight can be your best friend.)
For my money, however, if you took the exact shape of the Raven, built it with heavier materials, and bumped its weight up from ~1750 g per ski to, say, 2150 g per ski … I would be extremely interested in the Raven for inbounds duties. Of course, 4FRNT is already making a somewhat similar ski called the Devastator, and you might want to check it out.
But while going lightweight with your skis when you're lazily riding chairlifts can be a very overrated thing to prioritize, when you have to drag those skis up a skin track, that's a different story, and we are always looking for skis that offer the best combination of low weight + downhill performance. And that's where the Raven is hard to beat.
Eric: Having skied the Hoji, Renegade, Raven, and Devastator inbounds, none of these skis would be on my list for a resort quiver of one. In all instances, the skis' shapes and flexes are excellent, but their lack of traditional camber makes for a more challenging ride on firmer conditions where so much of your edge pressure and bite comes from the area immediately underfoot. In soft conditions, I would happily reach for the 184 or 190 Raven as a resort ski, and I feel that, except for moments of #maximumattack, you could be well served by the Raven as a 50/50 or very light inbounds ski for soft snow.
What about Good Conditions?
Jonathan: I'm glad you asked. But the reality is that in really nice, light pow or on really smooth, clean chalk, you will pay far less of a penalty for being on a lightweight ski. So in a beautiful, fresh, 12-24" of powder, there are any number of ~105mm-wide skis with tip and tail rocker that are going to allow you to have an amazing day. But far fewer skis can come in at ~1750 g per ski, perform wonderfully in good conditions, but then also perform as admirably as the Raven in less-than-wonderful conditions.
And that's why I've spent so much time above talking about the less-than-wonderful stuff.
And the funny part here is that this really shouldn't be that hard; if touring skis are going to keep getting lighter and lighter, but you still need them to not suck / not be terrifying in shitty conditions, then just:
(1) Don't over-taper the tip. The lighter you go, the less tip taper that ski needs.
(2) Go mellow with the amount of traditional camber underfoot. (You're skiing the backcountry for goodness sake, you're not running slalom gates on groomed slopes. You don't need a ton of energy out of the turn.)
(3) Relatedly, you don't need much sidecut. Again, unless you ski tour with slalom gates tucked away in your backpack and you set a course as you move up the mountain.
(4) Give the ski a nice, solid flex pattern. Especially with this shape, you'll create a big sweet spot for the ski, and make the ski easy to stand on (as opposed to feeling like you're struggling like mad just to maintain your balance) when conditions go variable — or horrible.
Eric: The Raven can sometimes make you wonder why you reach for a fatter ski in soft and deep conditions. Great float, good speed, and excellent stability for its weight make for a lot of fun when the conditions are soft. The tip and shovel of the ski offer a great combination of compliance, forgiveness and support, giving you time and the on-snow feedback about to let you react to the snow and terrain you will encounter. I.e., the Raven's predictability lets you focus on the line ahead, rather than needing to focus 100% on every turn. Compared to something like the Renegade, the Raven requires less input and is less demanding in the varied conditions you might find on different aspects and elevations, making the Raven more forgiving in variable conditions. If I know conditions are going to be variable, I'll reach for the Raven over the Renegade.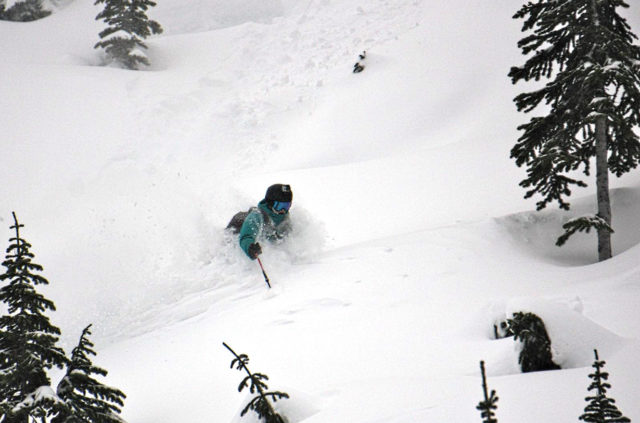 A testament to the general usability of the Raven can be drawn from my experiences skiing it in different boots. In the Scarpa F1 (a capable but softer-flexing boot), I was able to maintain control of the ski in a wide range of conditions and never felt as though the ski was the one in the driver's seat. The Raven didn't force me to ski powerfully to be in control.
It was, however, easy for me to "out-ski" the F1 with the Raven, as the ski could handle more energy / force than the flex of the F1 could. In a stiffer and heavier boot such as the Dynafit Vulcan or Salomon MTN Lab, the Raven again felt like a good match, even if I chose to really flex both the boot and the ski. The Raven has the adaptability to accommodate different skier types and equipment choices in a way which not every ski exhibits.
Are There Exceptions to This?
Jonathan: Of course.
(1) If you are often ski mountaineering on steep, super firm lines, then you have very good reasons to want a fat, flat tail and some (or a bunch) of traditional camber underfoot. I have yet to get the Raven on top of any super steep, super firm lines, and to be honest, I think the ski would perform okay (and predictably) on such lines. But the fact is, this design would not be my first choice. I'll take the additional bite you'd get from a fat, flat tail and some traditional camber underfoot.
(2) If you really like to make a lot of turns — or if you are looking for a ski to be used inbounds and out of bounds — then the Raven is probably not the ticket. The Raven is straight enough and has a solid enough flex pattern that it definitely does not want to carve turns at slow speeds. I tried this a few times on different days, and it just doesn't work. While you can pretty easily smear shorter turns on the Raven, to genuinely carve turns, you'll need some speed and be okay making bigger shapes — and then, the Raven excels.
I happen to like making bigger turns at speed, so once again, the Raven is a good match for me personally, but your preferences may lean the other way.
Length / Sizing Recommendations
Jonathan: Reviewer Brian Lindahl and I (who are both about 5'10" and ~175 lbs) have been quite content with the 184s — especially for touring — and we also think that advanced, much lighter skiers won't have any problem handling the 184s.
But if you are on the fence w/r/t sizing, while we are pleased with the stability we're getting out of the 184 Raven, none of us believe that the 190 will be a bear, and we wouldn't caution you against sizing up if you are inclined to.
Eric (5'10″, 170 lbs): I'm another satisfied customer with the 184 cm Raven. Its one of the shortest skis I have been on in some time, and while I did initially get a bit hung up on that number before I had a chance to ski it, the on-snow performance is in no way lacking, and I haven't found myself looking for "more" ski.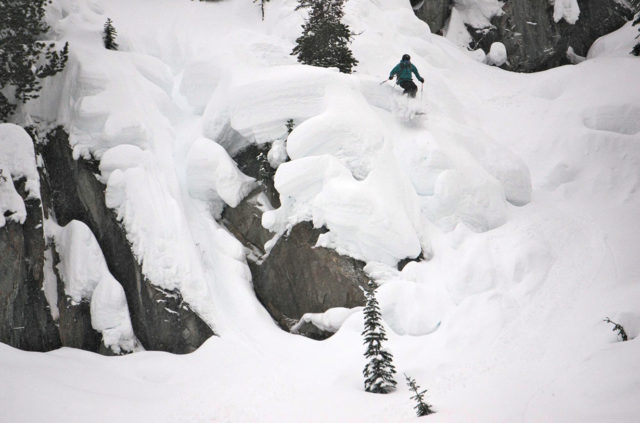 The Raven has checked my preconceived notions about what I needed in overall ski length, and I have come to enjoy the shorter 184 cm's benefits. Kick turns are easier, there's the drop in weight associated with a shorter ski (including smaller skins), they're easier to transport on a backpack or snowmobile, and most notably, there's the increased maneuverability when things get truly narrow or steep.
Bottom Line
Jonathan: The 4FRNT Raven is a dialed-in touring ski that was clearly designed with backcountry skiing first and foremost, as opposed to being an inbounds ski that was simply put on a diet. It is easy to ski, yet it also holds up as well as anything we've skied at this weight to hard, aggressive skiing.
It's probably not really Eric Hjorleifsons' style, but he and 4FRNT could have easily named this ski the Mic Drop.
Eric: If you're looking for an everyday backcountry-specific setup, it's hard to think of something I would recommend over the Raven. It offers excellent soft and firm snow performance for its width, no unpredictable tendencies, it's lightweight for its size, and above all, it's an ability multiplier for the skier. It manages to be both approachable and simultaneously that devil in your ear encouraging you to push it just a little harder.
Deep Dive Comparisons: 4FRNT Raven
Become a Blister Member or Deep Dive subscriber and check out our Deep Dive of the Raven to see how it stacks up against the HEAD Kore 105, LINE Tourist 102, Volkl BMT 109, Black Diamond Helio 105, Blizzard Zero G 108, Faction Candide 3.0, Salomon QST 106, and G3 FNDr 102.