Ski: 2021-2022 Renoun Citadel 106, 185 cm
Available Lengths: 178, 185, 191 cm
Blister's Measured Tip-to-Tail Length: 182.7 cm
Blister's Measured Weight per Ski: 1642 & 1651 grams
Stated Dimensions: 136-106-125 mm
Blister's Measured Dimensions: 135.5-105.1-125.0 mm
Stated Sidecut Radius: 19.5 meters
Measured Tip & Tail Splay (ski decambered): 56 mm / 22 mm
Measured Traditional Camber Underfoot: ~3 mm
Core: Aspen + 12 Channels of HDT + Carbon Fiber Laminate
Base: Durasurf 4001
Factory Recommended Mount Point: -5.25 cm from center; 86.1 cm from tail
Boots / Bindings: Nordica Strider 120 & Dalbello Supo SP I.D. / Tyrolia AAAttack2 13
Test Locations: Crested Butte, CO; Taos Ski Valley, NM
Days Skied: 12
[Note: Our review was conducted on the 18/19 Citadel 106, which was not changed for 19/20, 20/21, or 21/22, apart from graphics.]

Intro
When we posted our First Look and Flash Review of the 17/18 Renoun Endurance 98 last year, we called it, "one of the most mental things we've ever reviewed." Because, while that ski comes in at around 1700 grams for the 184 cm version, Jonathan Ellsworth had been spending his time A/Bing it against the Head Monster 98, which weighs almost 700 grams more per ski, and is one of the most stable skis we've ever tested in that width.
So why was Jonathan comparing a ski that weighs less than some dedicated touring skis (the Renoun Endurance 98) to a super-heavy, metal-laminate charger? While we generally don't single out individual design components when talking about a product's performance, we're pretty confident that it has a lot to do with Renoun's unique construction element — Hyper Damping Technology, aka, HDT.
For more info on what HDT is and how Renoun got started, you should definitely check out our Blister Podcast conversation with Renoun Founder, Cyrus Schenck.
While our time on the Endurance 98 had us pretty confounded (see our full review of the 18/19 Endurance 98), we've since spent time on a few more skis from Renoun, including their newest ski, the Citadel 106. The Citadel 106 is not only lighter and wider than the Endurance 98, it also is reported to have about twice as much HDT in its core. And after taking a look at its specs, it seems like the Citadel 106 is also just about as crazy as the Endurance 98.
What Renoun says about the Citadel 106:
"The Citadel 106 has been a vision of ours since the inception of RENOUN. Wider, lighter, carbon fiber. More HDT, less chatter. Everything you need to build a super ski unlike any other. After 3 years of R&D – Research & Dreaming, we've made it a reality."
And then they offer this alternative description of the Citadel 106 in this very succinct fashion:
"The Most Stable Full-Carbon Ski. Ever."
So the Citadel 106 is both Renoun's widest ski and their lightest ski. It's also their first full-carbon-laminate ski, and that construction is probably a big contributor to the Citadel 106's very low weight.
But then Renoun also says that the Citadel 106 has more HDT than their other skis (Cyrus said the Citadel 106 has about twice as much as the Endurance 98 and Z-Line 90). So given our experience on the Endurance 98, maybe all the HDT in the Citadel 106 really will make it the "most stable full-carbon ski ever"?
Shape / Rocker Profile
The Citadel 106 looks a bit like a wider Endurance 98. It has squared-off tips, but its tips and tails do taper pretty significantly (i.e., the widest points in the tails and shovels are fairly far from the ends of the ski). The Citadel 106's shape doesn't look quite as straight as the 17/18 Endurance 98.
The Citadel 106 has a pretty shallow tip rocker line compared to some other skis of this width, like the Line Sick Day 104 and Salomon QST 106. On the other hand, the Citadel 106's tail rocker looks slightly deeper than average, and the tip and tail rocker lines are pretty similar in terms of depth. But the Citadel 106 has much more tip splay than tail splay.
Flex Pattern
Here's how we'd characterize the flex pattern of the Citadel 106:
Tips: 6
Shovels: 7-8
In Front of Toe Piece: 8-8.5
Underfoot: 9
Behind the Heel Piece: 8-7
Tails: 6.5-6
Like the Endurance 98, the flex pattern of the Citadel 106 definitely isn't burly, and the flex pattern also feels pretty symmetrical. Overall, the flex pattern of the Citadel 106 feels pretty similar to (and perhaps a tiny bit softer than) the 188 cm Elan Ripstick 106, though the Ripstick 106 feels like it has more snap / rebound to its flex. Compared to the 188 cm, 18/19 Salomon QST 106, the Citadel 106 actually has slightly stiffer tips and shovels, but the back half of the QST 106 is noticeably stronger.
While the Citadel 106 and Endurance 98 both have pretty soft flex patterns, the really confounding thing with the Endurance 98 was that — despite handflexing quite soft — that ski did not feel very soft at all when actually skiing hard on it. HDT reacts and changes depending on how much force is exerted on it, and that's pretty obvious on snow — the Endurance 98 definitely felt stiffer at higher speeds than it did while noodling around at slower speeds, or while just handflexing it.
So, basically, our point is that the Citadel 106's flex pattern should make it pretty manageable and playful at slow speeds. But at higher speeds, well, we expect a different story.
Mount Point
With a recommended mount point of -5.25 cm from center, the mount point of the Citadel 106 falls in line with freestyle-oriented skis like the ON3P Kartel 108 or Moment Meridian 107.
And that mount point is really interesting since (1) the Citadel 106 has a pretty directional rocker profile and (2) one thing that we thought about the 17/18 Endurance 98 was that it could probably benefit from a more rearward mount point (the Endurance 98's mount point was -7 cm from center).
Weight
In case you skimmed past the specs at the top of this review, you'll have figured out by now that the Citadel 106 is very light for its size — both when compared to 50/50 skis in this waist width, as well as dedicated touring skis.
For reference, here are some of our measured weights (per ski in grams) for a few notable skis. As always, keep in mind the length differences between skis to keep things more apples-to-apples.
1476 & 1490 K2 Wayback 106, 179 cm (18/19)
1477 & 1482 G3 FINDr 102, 184 cm (17/18, 18/19)
1547 & 1551 Black Diamond Helio 105 Carbon, 185 cm (17/18)
1562 & 1566 Scott Superguide 105, 183 cm (17/18, 18/19)
1642 & 1651 Renoun Citadel 106, 185 cm, (18/19)
1706 & 1715 Volkl BMT 109, 186 cm (17/18, 18/19)
1733 & 1735 Blizzard Zero G 108, 185 cm (17/18, 18/19)
1745 & 1747 4FRNT Raven, 184 cm (17/18, 18/19)
1755 & 1792 Line Sick Day 104, 179 cm (17/18, 18/19)
1814 & 1845 Elan Ripstick 106, 181 cm (17/18, 18/19)
1825 & 1904 Black Crows Corvus Freebird, 183.3 cm (17/18, 18/19)
1843 & 1847 Head Kore 105, 189 cm (17/18, 18/19)
1848 & 1903 Line Sick Day 104, 186 cm (17/18, 18/19)
1849 & 1922 Elan Ripstick 106, 188 cm (17/18, 18/19)
1898 & 1893 Armada Tracer 108, 180 cm (18/19)
1913 & 1943 Sego Condor Ti, 187 cm (18/19)
1923 & 1956 DPS Alchemist Wailer 106, 189 cm (17/18, 18/19)
1941 & 1965 Fischer Ranger 108 Ti, 182 cm (17/18, 18/19)
1950 & 1977 Blizzard Rustler 10, 188 cm (17/18, 18/19)
1970 & 1979 Atomic Backland FR 109, 189 cm (17/18)
1980 & 2016 Liberty Origin 106, 187 cm (17/18, 18/19)
1996 & 2012 Dynastar Legend X106, 188 cm (17/18, 18/19)
2022 & 2047 Faction Dictator 3.0, 186 cm (17/18, 18/19)
2026 & 2056 Black Diamond Boundary Pro 107, 184 cm (17/18, 18/19)
2030 & 2039 Rossignol Soul 7 HD, 188 cm (17/18, 18/19)
2036 & 2064 Salomon QST 106, 188 cm (18/19)
The Citadel 106 is coming in significantly lighter than pretty much any of the 50/50 skis in the list above, and it's even lighter than some touring skis like the 186 cm Volkl BMT 109 and 185 cm Blizzard Zero G 108. So yeah, this ski is very light.
Some Questions / Things We're Curious about
(1) One of our biggest surprises with the 17/18 Endurance 98 was how stiff it felt at high speeds. We think this is probably due to that ski's fairly straight shape, somewhat forward mount point, and its HDT construction. The Citadel 106 has a tighter sidecut radius, but it also has an even further forward mount point and even more HDT. So will the Citadel 106 be more versatile when it comes to turn shapes and carving? Or will it be even more difficult to bend into tighter turns?
(2) Is it best to think of the Citadel 106 as a dedicated backcountry ski, or can it actually hold up to hard skiing in the resort? While we ask this question of any 50/50 ski, the Citadel 106's weight is much more in line with skis that are solely designed for touring, so the very fact that we're even talking about the Citadel 106's inbounds performance is really saying something.
(3) The Citadel 106 has a very progressive mount point. So will we still be able to drive and bend the ski with a forward stance, or will this ski require a more neutral / centered approach?
Bottom Line (For Now)
Renoun's skis continue to surprise us. As both the lightest and widest ski in their line, the Citadel 106 is pretty wild. While we'd normally dismiss it as a backcountry tool that really only works in nice, forgiving snow, our experience with HDT and the Endurance 98 has us hesitant to make that prediction. We're still putting together our full review, but in the meantime, Blister members can check out our Flash Review of the Citadel 106, and let us know in the comment section below anything you'd like us to address in the full review.
Flash Review
Blister Members can now check out our Flash Review of the Citadel 106 for our initial impressions. Become a Blister member now to check out this and all of our Flash Reviews, plus get exclusive deals and discounts on skis, and personalized gear recommendations from us.
FULL REVIEW
Sam Shaheen and I have now both spent time on Renoun's widest ski, the Citadel 106. Sam's been touring on it around Colorado, and then we've both been skiing it quite hard inbounds at Crested Butte and Taos. In keeping with the other Renoun skis we've reviewed, the Citadel 106 is a unique ski. And for some people, we think its combination of traits should be very, very appealing.
Powder
We ended up spending several days on the Citadel 106 in fresh snow — from ~8" of dense, heavy pow, to over 2' of light, fluffy, mid-winter blower.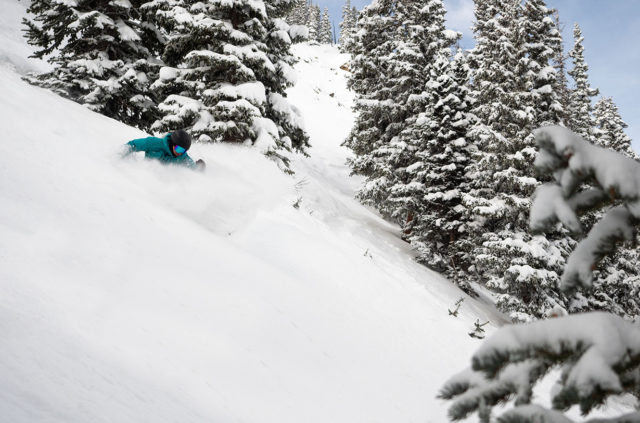 And overall, the Citadel 106 is a good powder ski for how wide it is. It definitely doesn't float to the top of light snow like a wider ski would (or one with more tip rocker). But since it's so incredibly light, the Citadel 106 was extremely easy to maneuver in tight terrain — even when that tight terrain was buried under lots of deep snow.
That said, this is one area where the Citadel 106's quite progressive mount point (-5.25 cm from center), proved to be a bit of a hindrance. If I kept a balanced stance, the Citadel's tips never dove unpredictably in powder. But if I tried to drive the front of it, its tips struggled to stay afloat.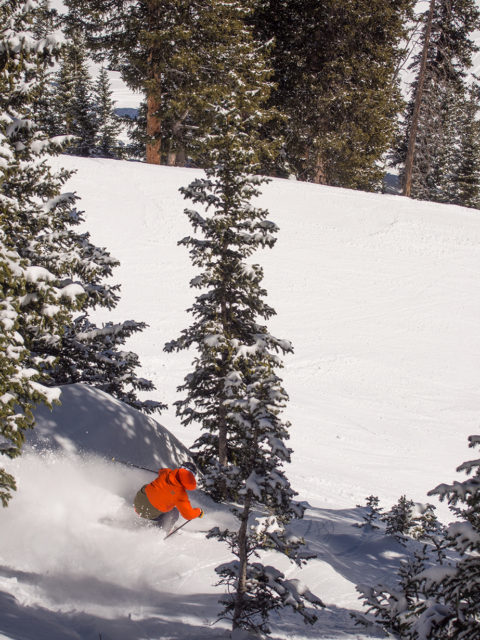 So if you're comfortable having a ski that you can porpoise in and out of deep snow (rather than float to the top), the Citadel 106 is a capable pow ski. And it really excels in tighter terrain, rather than big, open faces.
Soft Chop
While most wider skis are fun in powder, many lighter and / or softer skis tend to lose composer is when that fresh snow gets cut up and packs into dense clumps.
Yet, for how light it is, the Citadel 106 stays remarkably composed while skiing fast through soft chop. It's nowhere near as stable as many skis that weigh more than 2000 grams, but compared to every other ski I've used that weighs less than ~1700 grams, the Citadel 106 feels more stable at speed in rough snow.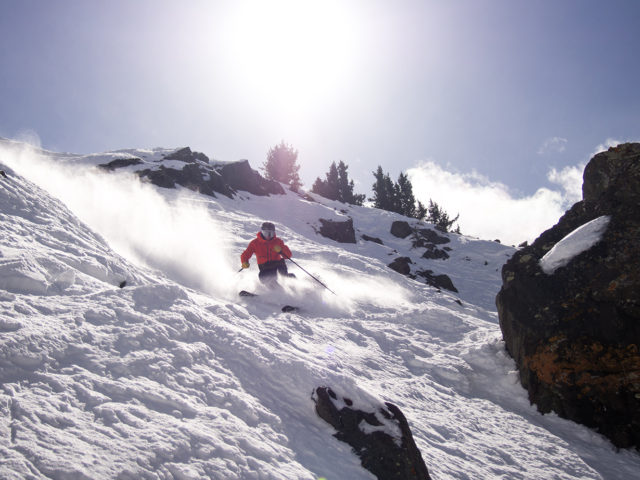 And while I didn't feel very confident driving the Citadel 106 hard in deep snow, I could drive it in shallower snow. This definitely helped in chop as I could pressure the front of the ski to help keep it from getting knocked off track. At the same time, I could ski it with a very balanced, centered stance if I wanted to slow down.
To be clear: the Citadel 106 is not some charger. If you want to be able to ski very fast through chop without your skis deflecting, you should be looking at skis that are far heavier. But for how light it is — and especially given how easy it is at slow speeds — the Citadel 106's stability is very impressive.
Moguls, Trees, & Tight Terrain
I think this is where the Citadel 106 shines. Like the Renoun Endurance 98, the Citadel 106 is very easy, loose, forgiving, and playful at slow speeds. And honestly, I think the Citadel 106 is the easiest ski I've ever used at slow speeds. Its tips and tails are forgiving, it's low weight makes it ridiculously easy to pivot and swing around, and it has enough rocker to make slipping through tight chokes easy.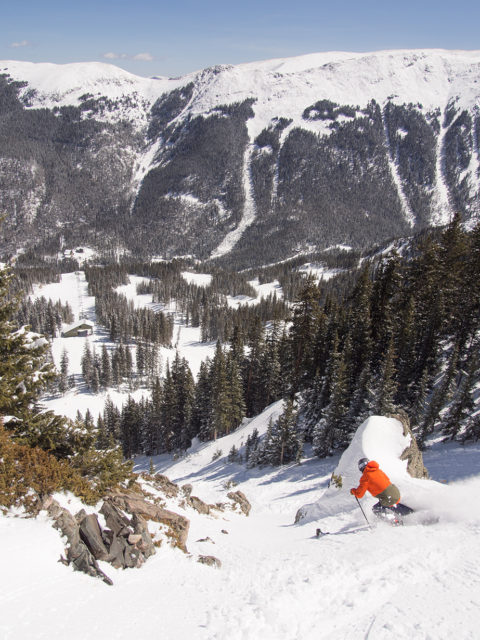 I really came to like this combo in steep, techy terrain where I could effortlessly throw the Citadel 106 around, yet I still had a pretty solid platform to land on during hop turns. That said, I think bigger and / or more aggressive skiers may want a stiffer tail than the Citadel 106's.
There have been times in bumps and steep terrain when Sam Shaheen and I both wanted a bit more support for when we got knocked backward. I think the vast majority of people will be very happy with the flex pattern of the Citadel 106, but if you often find yourself saying skis' tails are too soft, the Citadel 106 is probably not the best ski for you.
Apart from those few occasions though, I loved the flex, weight, and nimble feel of the Citadel 106. It felt extremely quick in bumps and trees, and was very forgiving of mistakes. It definitely feels like it prefers a more centered stance, and if I really tried to drive it in bumps it did feel like there wasn't quite enough ski in front of me to do so. But when I stayed centered, it was incredibly easy to pivot my way through super tight terrain.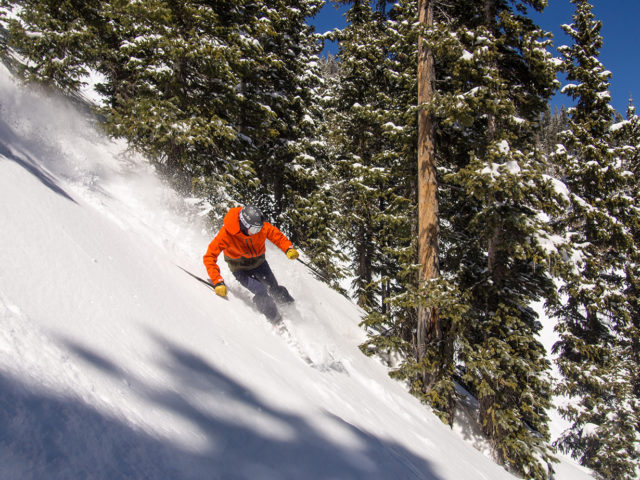 Despite how easy it is at slow speeds, the Citadel 106 didn't feel very out of place in the resort compared to other similarly light skis (e.g., Black Diamond Helio 106 & Scott Scrapper 105). The Citadel 106 doesn't have that very harsh, "pingy" feel that many carbon skis do. I wouldn't go as far as to say that the Citadel 106 feels particularly damp, but it doesn't feel harsh.
Groomers
On fairly soft, consistent groomers, the Citadel 106 can carve a clean turn. Its tips don't have a lot of taper, and they will pull you across the fall line when you drive them. And unlike the other Renoun Skis, the Citadel 106 does produce a bit of energy out of a turn. It's certainly not best in class when it comes to pop / energy, but it's not completely dead, either.
On very firm or roughed-up groomers, the Citadel 106 feels a bit nervous / jittery. It doesn't offer great edge hold, and since it can get knocked out of a carve much easier than heavier skis, I never felt like I wanted to really push the ski hard and fast on really firm groomers.
So if you want to use your ~106mm-wide ski in super firm days, there are many better options. But if you'll be using this ski primarily when things are soft, the Citadel 106 performs pretty well on the occasional groomer run.
Playfulness
The Citadel 106 is extremely light, feels surprisingly loose, and has a pretty progressive mount point. As a result, it feels very playful. It's quite easy to throw sideways, it feels incredibly light in the air, and overall feels like a super-light freestyle ski. I don't spin a whole lot, but the Citadel 106 had me attempting (and even sometimes — landing!) more spins than I had on any other ski. It's just so easy to whip around. It also provides a pretty solid landing platform, though I'd like a stiffer tail for bigger drops.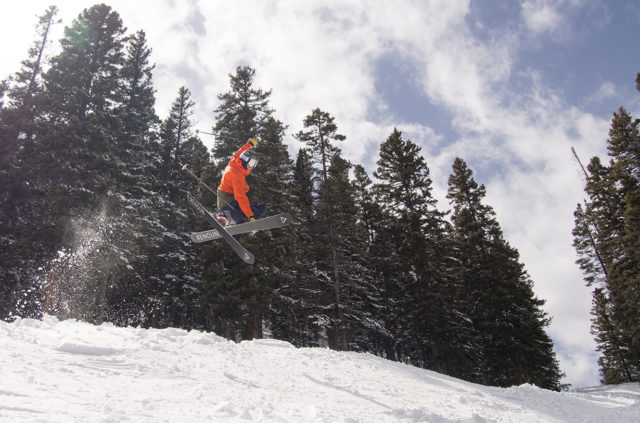 My only real complaint here is that the Citadel 106 doesn't have a truly twinned tail, so I don't like landing or riding switch on it in soft / deep snow. But of all the 1650-gram skis out there, I can't think of one that'd feel more playful than the Citadel 106.
Is it a 50/50 Ski?
Yes. With some qualifiers.
There are many skis out there now that are a bit heavier than the Citadel 106, but that perform better in very rough snow (e.g., Line Sick Day 104). So if downhill performance is your priority, I'd go with a heavier ski.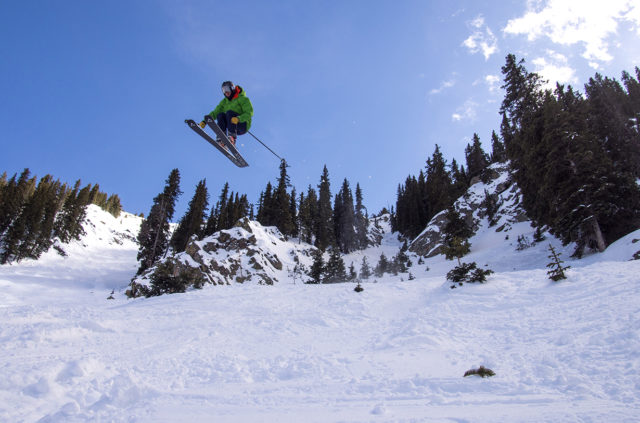 But if low-speed maneuverability and low weight are your top priorities, then the Citadel 106 should be a very compelling option. It's extremely easy to ski at slow speeds and in tight terrain, yet it still feels stable enough to be skied fairly hard in the resort.
Who's It For?
People who want a ski that's very easy at slow speeds, is extremely light, but that will still hold up to fairly high speeds and rougher snow in the resort.
If you're not planning on touring on this ski and you do like to ski fast and hard on firm snow, I'd go with something heavier. And if you're more concerned with high-speed stability than low-speed maneuverability, there are tons of better options.
But if you spend a lot of your time in trees and other tight terrain, want something that makes that skiing easy, and like to head into the backcountry, then the Citadel 106 should be on your radar. It offers excellent stability for its very low weight, yet it's also very easy when you're not raging.
Bottom Line
The Renoun Citadel 106 is a very impressive piece of equipment. It's significantly more stable than other skis of similar weights, yet it also maintains those ski's quickness and forgiving nature. It's certainly not for everyone, but if you've been looking for a very light, playful, versatile, and easy ski that can still be skied pretty hard, the Citadel 106 should be on your list.
Deep Dive Comparisons
Become a Blister Member or Deep Dive subscriber to check out our Deep Dive of the Citadel 106 to see how it stacks up against the Line Sick Day 104, Rossignol Soul 7 HD, Salomon QST 106, Faction Candide 3.0, Blizzard Rustler 10, Sego Big Horn 106, Armada Tracer 108, Elan Ripstick 106, and Renoun Endurance 98.