Ski: 2020-2021 Renoun Endurance 98, 184 cm
Available Lengths: 160, 169, 178, 184, 191 cm
Blister's Measured Tip-to-Tail Length: 182.8 cm
Stated Weight per Ski (178 cm): 1775 grams
Blister's Measured Weight per Ski (184 cm): 1734 & 1750 grams
Stated Dimensions: 128-98-122 mm
Blister's Measured Dimensions: 128.6-97.1-121.8 mm
Stated Sidecut Radius: 19 meters
Measured Tip & Tail Splay (ski decambered): 52 mm / 20.5 mm
Measured Traditional Camber Underfoot: ~3 mm
Core: Aspen + Carbon Stringers + 8 Channels of HDT + Titanal Binding Reinforcement + Fiberglass Laminate
Base: Durasurf 4001
Factory Recommended Mount Point: -6.8 cm from center; 84.6 cm from tail
Boots / Bindings: Nordica Strider 120 / Marker Griffon Demo
Test Locations: Crested Butte & Arapahoe Basin, CO
Days Skied (Total): 7
[Note: Our review was conducted on the 18/19 Endurance 98, which was not changed for 19/20 or 20/21.]

Intro
When we first received the 17/18 Renoun Endurance 98, I was worried it was going to put Blister editor-in-chief, Jonathan Ellsworth, into a shock-induced coma.
The Endurance 98's on-snow performance challenged many of our core beliefs about ski performance. Which, for someone who reviews skis for a living, is essentially like having your concept of reality broken in half. Listening to Jonathan try to comprehend how on earth a ~1750-gram ski was able to be so strong was one of the highlights of my year.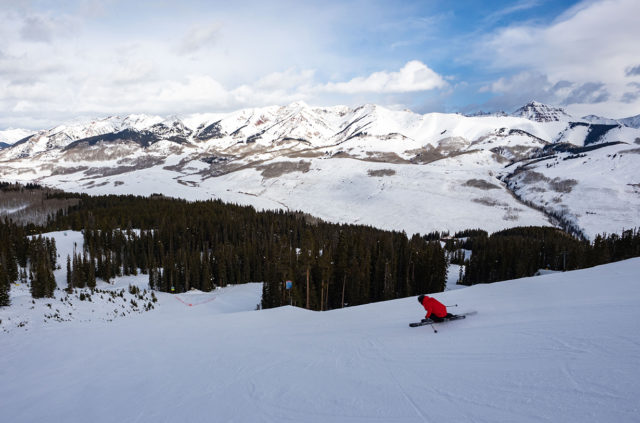 But I'm getting ahead of myself. First, if you haven't already, check out our podcast with Renoun's founder, Cyrus Schenck, where he talks about the brand and their unique "Hyper Damping Technology" (aka, HDT) that makes their skis so crazy. The short story is that Renoun's skis use a non-newtonian polymer that help them stiffen during hard impacts, yet remain soft and pliable at slower speeds.
Here, I'm going to cover exactly why the Endurance 98 is like nothing we've skied before (apart from other Renoun skis), and also what's different with the 18/19 version.
17/18 Renoun Endurance 98 vs. 18/19 Renoun Endurance 98
The Endurance 98 got several updates for the 18/19 season.
First and foremost was a slight change to its shape that made the tips and tails a bit wider, kept the waist the same, and thus shortened the sidecut radius from 20.5 m to 18 m for the 178 cm version. We are all fully on board with this since the 17/18 version could be difficult to get on edge unless you were going pretty dang fast (more on that later).
Second, Renoun made the core very slightly thinner (~4%), which was designed to let you more easily bend the ski into turns. For the same reason just listed above, we're happy about that update.
Third, they moved the apex of the Endurance 98's camber back about 2 cm and gave the ski a slightly more abrupt transition in the rocker of the tail (the 17/18 ski had a bit of a flat spot near the tail).
Fourth, they added a titanal binding-reinforcement plate.
Lastly, they switched to a semi-cap construction for increased durability.
All in all, I'm happy with all of the updates Renoun decided to go with. And after skiing both iterations, I think the 18/19 ski is a better ski in pretty much every regard.
Shape / Rocker Profile
With its updated shape and rocker profile, I think the Endurance 98 looks even more similar to more skis on the market. All in all, it's a pretty regular-looking ski. It has a bit of tip and tail taper, fairly shallow tip and tail rocker lines, and nothing crazy other than its fairly squared-off tip shape.
Flex Pattern
Here's how we'd characterize the flex pattern of the Endurance 98:
Tips: 6
Shovels: 6.5-7.5
In Front of Toe Piece: 8-9
Underfoot: 9.5
Behind Heel Piece: 9-8
Tails: 7.5-7
The 18/19 ski flexes very similarly to the 17/18 version, but is a tiny bit softer underfoot and near the bindings (just as Renoun described).
But like the 17/18 ski, the crazy thing about the 18/19 Endurance 98 is how soft and forgiving its flex pattern is when flexed by hand. Because — spoiler alert — it does not feel that soft when you're skiing it hard.
Weight
The 18/19 ski is ever so slightly heavier than the 17/18 ski, but that difference is basically negligible. The 18/19 Endurance 98 is still insanely light for how it skis, and comes in similar in weight to a lot of touring skis.
For reference, below are a few of our measured weights (per ski, in grams) for a few notable skis. As always, note the length differences to keep things apples to apples.
1507 & 1595 Salomon MTN Explore 95, 184 cm (16/17-18/19)
1629 & 1684 Elan Ripstick 96, 181 cm (17/18-18/19)
1686 & 1725 Renoun Endurance 98, 184 cm (17/18)
1734 & 1750 Renoun Endurance 98, 184 cm (18/19)
1745 & 1747 4FRNT Raven, 184 cm (16/17-18/19)
1758 & 1774 Moment Commander 98, 178 cm (18/19)
1807 & 1833 Fischer Ranger 98 Ti, 180 cm (16/17-18/19)
1894 & 1980 Black Crows Daemon, 183.6 cm (17/18-18/19)
1896 & 1919 Dynastar Legend X96, 186 cm (17/18, 18/19)
1921 & 1968 Head Kore 99, 189 cm (18/19)
1925 & 1937 Liberty Helix 98, 186 cm (18/19)
1931 & 1932 DPS Foundation Cassiar 94, 185 cm (18/19)
1956 & 1999 K2 Pinnacle 95 Ti, 184 cm (17/18-18/19)
1966 & 1973 Liberty Origin 96, 187 cm (18/19)
1998 & 2044 4FRNT MSP 99, 181 cm (17/18-18/19)
2007 & 2029 Armada Invictus 99 Ti, 187 cm (18/19)
2049 & 2065 Volkl Mantra M5, 177 cm (18/19)
2050 & 2080 ON3P Wrenegade 96, 184 cm (18/19)
2053 & 2057 Atomic Vantage 97 Ti, 188 cm (18/19)
2114 & 2133 Nordica Enforcer 93, 185 cm (16/17-18/19)
2115 & 2149 J Skis Masterblaster, 181 cm (16/17-18/19)
2124 & 2137 Blizzard Bonafide, 180 cm (17/18-18/19)
2131 & 2189 Nordica Enforcer 100, 185 cm (15/16-18/19)
Ok, now that we've covered what's new with the 18/19's Endurance 98's specs, let's get into how it feels on snow.
FULL REVIEW
Slow Speeds vs. High Speeds
The Endurance 98 feels very different when you are pushing it hard vs. when you are skiing it at slower speeds, so it's worth touching on that right away.
When just cruising around and not pressuring the ski hard or skiing fast, the Endurance 98 feels very forgiving, pretty playful, and easy to slide around. It just feels like an easy ski.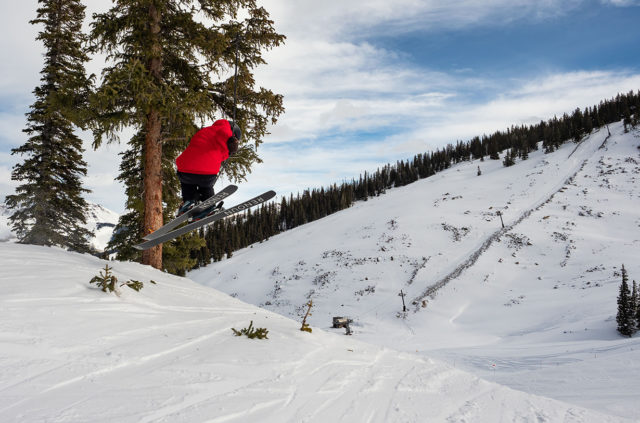 But once you start skiing fast, the Endurance 98 gets progressively stronger, and feels like it becomes more damp. This was most noticeable while trying to carve really hard on Crested Butte's International — a very long, pretty steep groomer where it's easy to get well over 50 mph.
Near the bottom of the run I had the Endurance 98 high on edge and going very fast, and I was basically flexing all the way through my boots (Nordica Strider 120) while trying to bend the ski into a tighter turn. I couldn't do it. And apart from the Endurance 98, the Head Monster 83 Ti is the only other ski I've personally been on where I flexed that deep into my boots while trying to bend it. And for reference, that 177 cm Monster 83 Ti weighs around 1940 grams and has 2 layers of titanal.
I now fully comprehend why Jonathan was so confused / frustrated when he tried to bend the original Endurance 98. Because the harder you push the ski, the harder it pushes back.
The Endurance 98 doesn't feel quite as inherently damp and stable as some 2200-gram skis, but if you commit to leaning into it hard, the Endurance 98 stays remarkably quiet and composed at very high speeds. It's bizarre.
So with that said, let's get into how that slow-speed vs. high-speed behavior translates to specific conditions and terrain.
Groomers
If you want to take things easy and slide around your turns on the Endurance 98, it'll happily due so. Its rocker profile, soft (at slow speeds) flex pattern, and very low weight all combine to make it very easy to pivot and push around when not going very fast.
But unlike many skis that are similarly easy at slow speeds, the Endurance 98 can also handle very high speeds, too.
As I noted above, if you get the Endurance 98 up to higher speeds and lean into it hard, it stays weirdly quiet and composed, given how freaking light it is.
And the good thing about the 18/19 ski is that it initiates turns more easily than the 17/18 ski, which had less sidecut and needed a lot of speed to get on edge. The 18/19 Endurance 98 isn't some zippy carver, but if you lean it over, it'll carve clean, medium-radius turns.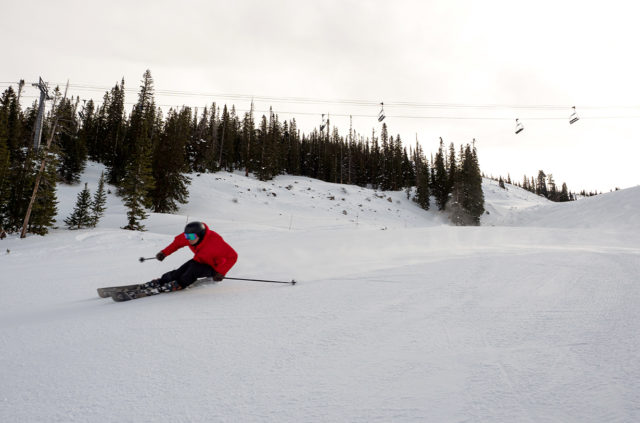 The other interesting thing about the Endurance 98 is that you can ski it with either a forward, driving stance, or more of a neutral, centered stance. Even on the fairly progressive -6.8 cm recommended line, the ski felt totally comfortable when I was driving it as hard as possible, or when I was steering it from my boots and simply pivoting it around. Pretty cool.
There are a few downsides to the Endurance 98's groomer performance. First, if you like skis that produce a lot of energy and rebound out of a turn, this is not the ski for you. The Endurance 98 can feel a bit dead. I thought I was getting some rebound out of the ski when carving it super hard, but then I realized what I was actually feeling was my ski boots bouncing back, since I had been flexing so deep into them while attempting to bend the Endurance 98.
The second thing about the Endurance 98's groomer performance is that, if you want to carve it on edge, it feels pretty one-dimensional in terms of turn shapes. You can easily slide shorter turns and feather longer ones. But if you want to carve the Endurance 98, you basically need to stick to its medium-sized 19-meter radius (for the 184 cm version).
The good news is that the 19-meter radius feels pretty versatile — not too tight and not too long for most scenarios, so I didn't really notice it that much.
The Endurance 98 also isn't amazing on ice. I'd say it's still pretty average compared to most skis in its class when it comes to edge hold on ice, but don't expect anything crazy in terms of grip.
The last thing to note is that I didn't find the Endurance 98 to feel quite as damp and stable as much heavier (2200+ g) skis when I was just straight lining and leaning back on the ski. In these scenarios, the Endurance 98 felt like it got knocked around a bit more easily. But if I leaned into the Endurance 98 and pushed it, the gap in stability was closed significantly. So just put in some effort to stay on top of the ski, and the Endurance 98 will reward you with ridiculous stability for how light it is.
And to be clear, here I'm not talking about skiing with an active / dynamic style (i.e., skiing around patches of snow rather than through them, jumping off clumps, etc.). Instead I'm just talking about driving the Endurance 98 and leaning into it. There are light skis out there that you can ski with a really dynamic style in order to ski fast (e.g., Elan Ripstick 96), but I haven't skied any skis that are as light as the Endurance 98 that let me just lay into the ski and ski it very fast without having to make lots of minute adjustments to keep the ski tracking the right way.
Moguls
Similar to groomers, the Endurance 98 feels pretty easy and forgiving at slow speeds in bumps. It was easy to schmear and slide around, its tail didn't feel harsh, and its round flex pattern felt pretty supportive and intuitive if I got too far back or forward.
Now, if you like to zipperline through bumps and really mash your skis through them with a lot of brute force, I think the Endurance 98 will feel a bit different. In that case, it's a bit stiffer and less forgiving. Jonathan noted that he found that ski to feel a bit punishing while skiing bumps, and I could understand that.
Jonathan pushes his skis more than I do in bumps. And since Renoun's HDT stiffens up more during hard impacts, I could see how the Endurance 98 might feel more punishing the harder you ski it.
But at least for me, as someone who skis with a slightly forward stance in bumps but doesn't push my skis crazy hard, the Endurance 98 mostly just felt pretty easy, intuitive, and quick.
So your experience with the Endurance 98 in bumps will probably depend on how you approach moguls. And our advice here is that, if you tend to take a more mellow approach to bumps, you should be fine. And if you tend to be more of a "HULK SMASH" approach, well, don't. You can still ski bumps fast, but you're better off trying to keep a light touch rather than jamming your tips hard into troughs, or trying to tail gun your way through very deep troughs or over very big bumps.
Off-Piste Snow & Tight Terrain
The Endurance 98's combination of slow-speed maneuverability and high-speed stability made it a lot of fun in shallow off-piste snow. It's easy to flick around (which is especially nice in steep, techy terrain), but then I could push the ski hard and fast during wide-open runouts.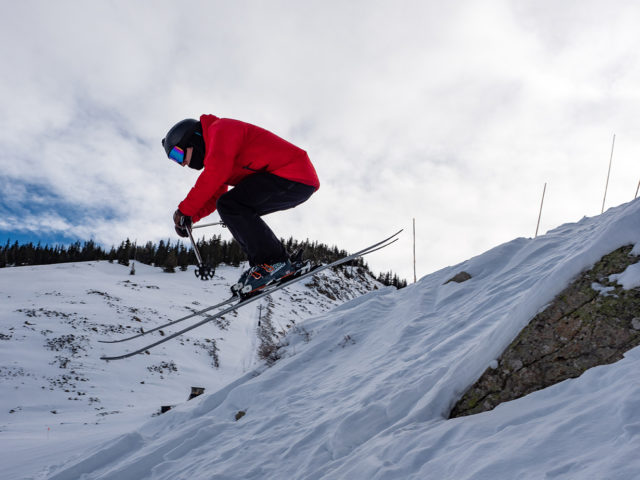 In trees, the Endurance 98 again felt really easy and playful, allowing for lots of fast adjustments. For how hard I could push it when the terrain opened up, the Endurance 98 felt super quick and easy in tight spots.
Who's It For?
Someone who really likes the sound of a ski that's easy at slow speeds for bumps, trees, and tight terrain while also being capable of mobbing down big, long groomers.
There are easier and more forgiving skis for making quick turns, and there are plenty of better skis for making fast turns on groomers. But I have never used a ski that's as adept at both as the Endurance 98. So if the combination described above sounds intriguing, the Endurance 98 is certainly worth a look.
Bottom Line
The Renoun Endurance 98 really doesn't ski like anything else we've reviewed. It's easy and playful at slow speeds, incredibly light for its size, and it feels extremely strong at speed. "Unique" is a word that gets thrown around too often, but in this case, it's true.
Deep Dive Comparisons
Become a Blister Member or Deep Dive subscriber to check out our Deep Dive of the Endurance 98 to see how it stacks up against the Moment Commander 98, 4FRNT MSP 99, Nordica Enforcer 100, Blizzard Bonafide, Volkl Mantra M5, J Skis Masterblaster, Blizzard Rustler 9, K2 Pinnacle 95 Ti, Liberty Origin 96, and ON3P Wrenegade 96.