Ski: 2020-2021 Liberty Origin 96, 187 cm
Available Lengths: 171, 176, 182, 187 cm
Blister's Measured Tip-to-Tail Length: 185.7 cm
Blister's Measured Weight per Ski: 1966 & 1973 grams
Stated Dimensions: 130-96-118 mm
Blister's Measured Dimensions: 130.1-96.3-117.9
Stated Sidecut Radius: 20 meters
Measured Tip & Tail Splay (ski decambered): 63 mm / 35 mm
Measured Traditional Camber Underfoot: ~3 mm
Core: Poplar/Bamboo + Carbon Stringers + Fiberglass Laminate
Factory Recommended Mount Point: -8.15 cm from center; 84.7 cm from tail
Ski: 2016-2017 Liberty Origin 96, 187 cm
Available Lengths: 171, 176, 182, 187 cm
Blister's Measured Tip-to-Tail Length: 185.7 cm
Stated Dimensions: 130-96-118 mm
Blister's Measured Dimensions: 129-95.5-117 mm
Blister's Measured Weight per Ski: 1991 & 1997 grams
Stated Sidecut Radius: 20 meters
Measured Tip & Tail Splay (ski decambered): 73 mm / 36 mm
Measured Traditional Camber Underfoot: ~4 mm
Core: Poplar/Bamboo + Carbon Stringers + Fiberglass Laminate
Factory Recommended Mount Point: 7.45 cm behind center; ~85.4 cm from tail
Boots / Bindings: Nordica Strider 120 / Tyrolia AAAttack 13 demo
Test Locations: Crested Butte & Arapahoe Basin, CO
Days Skied (18/19 Origin 96): 10
[Note: Our review was conducted on the 18/19 Origin 96, which was not changed for 19/20 or 20/21, apart from graphics.]

Intro
Two years ago when he reviewed the Liberty Origin 96, Jonathan Ellsworth called it "tenacious," and said that he'd never really skied anything like it. He found it to be a surprisingly strong ski that, when combined with its radically deep rocker lines, made for a really fun time in a lot of different conditions.
But for the 18/19 season, Liberty is dialing back the Origin 96's tip rocker — and they're doing the same for the Origin 90 and women's Genesis 90 and Genesis 96, too.
What Liberty says about the new Origin 96:
"The award-winning Origin 96 is back with a newly refined, early rise tip profile. With more edge contact in varied conditions, the Origin 96 is ready to carve harder than ever before, but still retains a playful personality everywhere on the mountain. With bamboo, poplar, and carbon fiber, energy and stability are what you can count on."
So the new Origin 96 is supposed to perform better on firm and variable snow, which seems like a logical expectation given the new ski's decreased tip rocker and splay.
Shape / Rocker Profile
Liberty says the Origin 96's tip rocker is the only thing that's changed between the 17/18 and 18/19 versions. The new ski has a slightly shallower tip rocker line, and noticeably less tip splay (63 mm on the new ski vs. 73 mm on the previous version).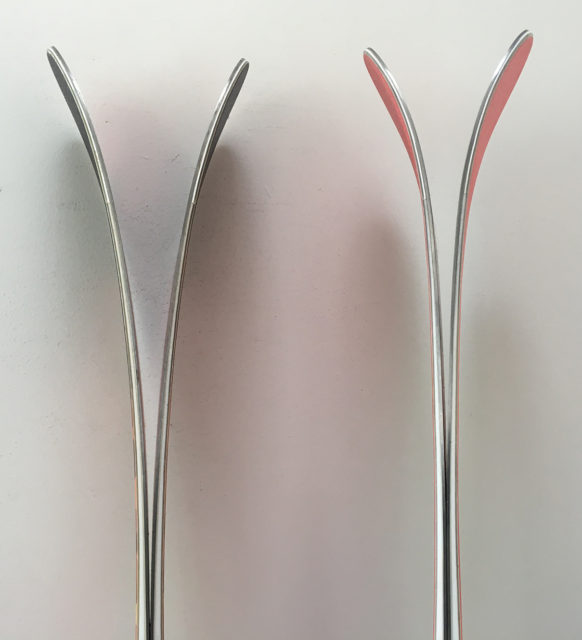 Overall, the new Origin 96 still has deeper rocker lines than some of the more traditional options in this class (e.g., Blizzard Bonafide, Volkl Mantra M5, 4FRNT MSP 99). So while Liberty is emphasizing the new Origin 96's improved carving performance, their note about it retaining a playful personality sounds accurate.
Flex Pattern
Here's how we'd characterize the flex pattern of the Origin 96:
Tips: 6
Shovels: 6.5-7.5
In Front of Toe Piece: 9-10
Underfoot: 10
Behind Heel Piece: 9.5-8.5
Tails: 8-7
The Origin 96 has a fairly round flex pattern that starts pretty soft in the tip, then ramps up smoothly to a very supportive section around the bindings, and finishes with a tail that's a bit stiffer than the tips. Compared to the old Origin 96 we reviewed, the new version's flex pattern feels nearly identical, with the new ski's tails being just slightly softer.
The Origin 96 definitely doesn't have a super burly flex pattern, but Jonathan emphasized how strong the old Origin 96 felt thanks to its stiffer section underfoot, so we have reason to think that the same will hold true for the new version.
Weight
Like the previous version, the new Origin 96 is a bit lighter than many all-mountain skis in this waist width. But given the industry-wide trend we've been seeing of all-mountain skis getting lighter and lighter, the Origin 96 isn't doesn't look quite as light as it used to.
For reference, below are a few of our measured weights (per ski, in grams) for a few notable skis. As always, keep in mind the length differences to keep things apples-to-apples.
1734 & 1750 Renoun Endurance 98, 184 cm (18/19)
1896 & 1919 Dynastar Legend X96, 186 cm (17/18, 18/19)
1921 & 1968 Head Kore 99, 189 cm (18/19)
1925 & 1937 Liberty Helix 98, 186 cm (18/19)
1966 & 1973 Liberty Origin 96, 187 cm (18/19)
1991 & 1997 Liberty Origin 96, 187 cm (17/18)
1998 & 2044 4FRNT MSP 99, 181 cm (17/18, 18/19)
2007 & 2029 Armada Invictus 99 Ti, 187 cm (18/19)
2049 & 2065 Volkl Mantra M5, 177 cm (18/19)
2053 & 2057 Atomic Vantage 97 Ti, 188 cm (18/19)
2115 & 2149 J Skis Masterblaster, 181 cm (17/18, 18/19)
2124 & 2137 Blizzard Bonafide, 180 cm (17/18, 18/19)
2131 & 2189 Nordica Enforcer 100, 185 cm (17/18, 18/19)
2373 & 2397 Head Monster 98, 184 cm (17/18)
Some Questions / Things We're Curious about
(1) The old Origin 96 was one of the best ~95mm-underfoot skis we used when it came to performance in deep snow. So will the new ski's decreased tip rocker and splay dramatically hinder the ski in pow? Or will it still sit near the top of this class when it comes to float?
(2) On the opposite end of the conditions spectrum — how much better will the new Origin 96 be on firm snow?
Bottom Line (For Now)
The old Liberty Origin 96 stood out from the competition in large part due to its significant amount of tip rocker and splay. And we really liked that ski. So now that Liberty mellowed out the Origin 96's rocker profile, is the new ski more versatile? And how does this new model measure up against the many other skis in this class?
Blister members can check out our initial on-snow impressions in our Flash Review, and while we compile our full review let us know in the Comments section below anything you'd like us to address in the full review.
Flash Review
Blister Members can now check out our Flash Review of the Origin 96 for our initial impressions. Become a Blister member now to check out this and all of our Flash Reviews, plus get exclusive deals and discounts on skis, and personalized gear recommendations from us.
FULL REVIEW
Jonathan Ellsworth and I started skiing the updated Origin 96 on the slushy terrain at A-Basin last spring, and we've also been spending time on it at Crested Butte this winter. In fact, I was just skiing it at Crested Butte 15 minutes before I sat down to write this. We don't always rush to write reviews that quickly, but I was having an absolute blast on the Origin 96, so I was eager to tell you all why. But first…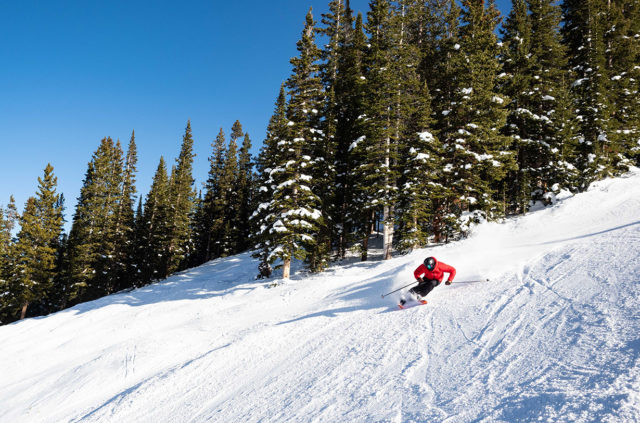 What we said about the Origin 96 in our 18/19 Winter Buyer's Guide:
"Honestly, we could pretty easily put this ski in either our "More Forgiving" or "More Stable" section, because the Origin 96 is a fairly light ski that can be skied quite hard for its weight, yet it remains quite forgiving. The new, revised Origin 96 has less tip splay and a shallower tip rocker line, and it feels a bit more precise than the previous version, while still retaining a slightly more playful feel than some of the skis here (it's pretty easy to slide around). So while it's more forgiving than a lot of the skis in our "More Stable" section, we'd still call this ski "tenacious" — it's definitely not the dampest ski out there, but if you stay fairly light on your feet, the Origin 96 accommodates an aggressive skiing style, from railing groomers, zipperlining bumps, or mobbing through spring slush."
Steep Off-Piste Terrain
Crested Butte recently started running their High Lift, which opened up the iconic Headwall and a bunch of other steep, technical terrain. For this sort of terrain and the skiing style it requires (e.g., lots of quick, small turns), the Origin 96 seemed almost perfect.
The Origin 96 feels really light and is also quite easy to break free and slide around. Those are both great traits for steep terrain where I'm not hitting super high speeds and instead need to precisely pick my way through my line. The Origin 96 didn't get hung up in the 8-15" of fresh snow left over from the recent storm, and it also held an edge pretty well when I needed it to.
I kept thinking of two words while skiing the Origin 96 — "precise" and "tenacious." It feels super nimble and is very easy to flick around in the air and on the snow, but at the same time, it's super fun to ski very hard with a dynamic / active style.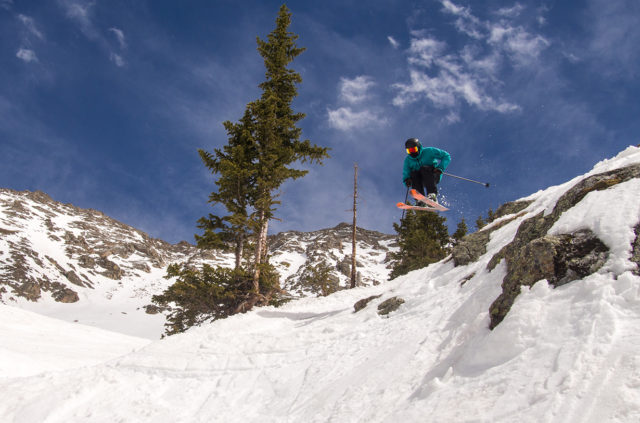 Bigger or very aggressive skiers may find themselves overpowering the shovels of the Origin 96, but I never had any real issues with it, even when driving it pretty hard.
Overall, the Origin 96's combination of (1) low weight, (2) decent edge hold, (3) ability to slide / pivot, and (4) strong but forgiving flex pattern made it really intuitive and confidence inspiring in steep terrain.
Groomers
On groomers the Origin 96 is, again, intuitive and predictable. It initiates turns easily and I could easily make big GS turns or bend it into tighter ones. It also produces a good deal of energy coming out of a carved turn.
There are several skis in this class that offer better edge hold, but I was happy with the Origin 96's edge hold on anything softer than ice. And unlike those skis with better edge hold, the Origin 96 is very easy to break into slides and slashes. As a result, the Origin 96 feels equally comfortable skiing pretty hard and fast or while relaxing and sliding your turns around. And when I combined those two styles, the Origin 96 was a ton of fun — get some speed going, carve a hard turn, then find a windlip and lay down a big, extended slash. Again, I think "tenacious" is the right word to describe this ski.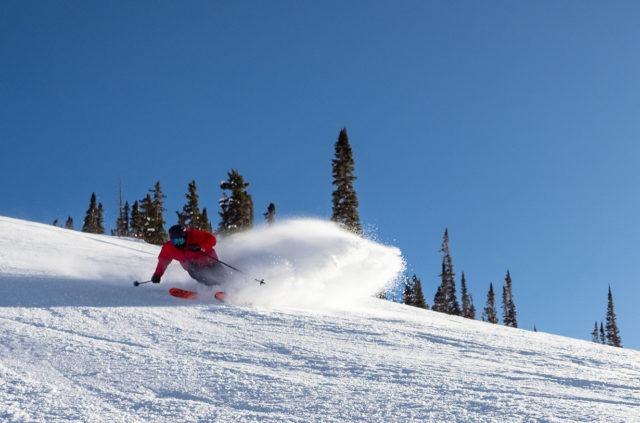 If the groomers were fairly soft and / or fairly smooth, I could go quite fast on the Origin 96 without it getting knocked around. But at the end of the day when all the snow had been pushed around, I definitely found myself having to slow down and avoid hitting the patches of snow head-on.
So if you like to mob down groomers and like a ski that will smooth out inconsistencies in the snow, I'd recommend checking out a heavier ski. But if you either take a more casual, slower approach to groomers or are willing to be more deliberate with your line choice and avoid smashing into piles of snow, the Origin 96 is a very competent groomer ski.
Moguls
I think the Origin 96 falls on the slightly easier end of the spectrum when it comes to bumps. Its low weight and tip and tail rocker make it easy to make quick adjustments in bumps, and the forgiving flex in its tips and tails make it less punishing than many other ~96 mm skis.
The Origin 96, at least in the 187 cm version we've been skiing, won't let you ski completely backseat in bumps — the section behind the bindings is still pretty stiff, and there are easier skis out there if you want maximum forgiveness in bumps. But the Origin 96 is still pretty forgiving in moguls, and I think it offers a nice blend of forgiveness and support that makes it a good ski to use while trying to improve your technique in bumps.
Powder
The 18/19 Origin 96 has less tip rocker and splay than the last version, so I was curious to see how it'd perform in fresh snow. After taking it out in the leftovers of a recent 15" storm cycle in Crested Butte, I think it's still one of the better skis in its waist width when it comes to performance in powder. The Origin 96's tips never dove on my while skiing through ~12" of fresh or cut-up pow, and it remained pretty easy to pivot in the deeper snow, despite its narrower width. I think the Origin 96's performance in pow makes it a great 1-ski quiver for lower-snow areas.
Soft Chop
In soft, cut-up snow the Origin 96 continued to be predictable and punched above its width. It doesn't blast through patches of chop like bigger, heavier, and / or stiffer skis, but I could still ski quite fast through soft chop on the Origin 96. Instead of mobbing straight through, I'd aim for the bigger patches and catch some air. And while it's no crud-buster, the Origin 96's tip rocker kept it from slicing into the snow unpredictably.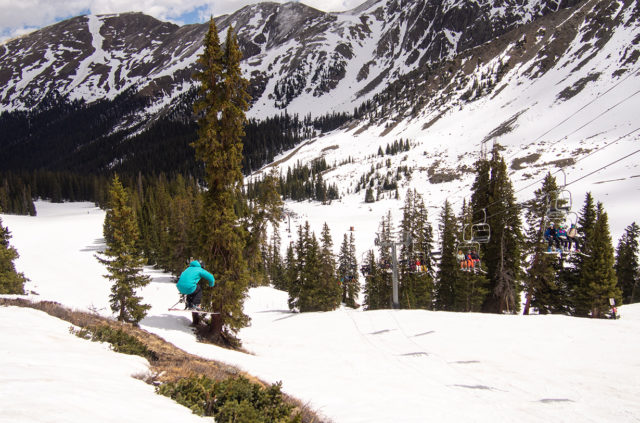 Crud
In areas where the chop had settled and hardened, I had to ski a lot slower and more carefully. The Origin 96 is not a super damp ski, and it felt harsh when skiing fast over and through crud. That said, I'd say it performed just as well, if not better than similarly light skis in these conditions. If you want a more damp and planted feel, look to heavier skis.
Playfulness
Like the Liberty Helix 98, the Origin 96 falls somewhere between traditional flat-tailed all-mountain skis and true freestyle skis when it comes to playfulness. The Origin 96 definitely feels best when skied with a bit of pressure on the front of the ski, but you can also ski it pretty centered. It's much easier to slash and slide around compared to skis with less tip and tail rocker, though it's not the surfiest ski in its class.
The Origin 96 feels very light in the air, which is great for quick shifties or spins, though it doesn't feel as balanced as skis with mount points closer to center. But if you're not throwing big spins the Origin 96 is still a ton of fun — it's easy to break free from a turn, produces a lot of pop on takeoffs, provides a solid landing platform, and is easy to throw around.
Who's It For?
I think a lot of skiers could get along well with the Origin 96.
I think it'd be a very good option for intermediate skiers who want a ski that's forgiving but also strong enough that they can keep using it as they improve. And in the shorter lengths, I think beginner skiers could get along well with it, too.
At the same time, I think the Origin 96 could work very well for advanced or expert skiers who prefer a lighter ski and ski with a "light on your feet" style, rather than a very planted, get-down-the-hill-as-fast-as-possible style.
Those looking for a super damp feel should check out heavier skis (there are lots of good options in the "All-Mountain More Stable" section of our Buyer's Guide). But if you're looking for a fairly light ski that you can still ski very hard and that performs quite well on both firm snow and fresh snow, the Origin 96 is certainly worth a look.
Bottom Line
The Liberty Origin 96 is a ski that's light and quick, but that also encourages an aggressive and dynamic skiing style. It holds up to pretty high speeds, yet it also very easy at slower speeds and in technical terrain. It can carve a clean turn on firm snow, yet it also floats very well for its width. All in all, it's a very versatile and well-executed all-mountain ski.
Deep Dive Comparisons
Become a Blister Member or Deep Dive subscriber to check out our Deep Dive of the Origin 96 to see how it stacks up against the Liberty Helix 98, Atomic Bent Chetler 100, J Skis Masterblaster, Nordica Enforcer 100, 4FRNT MSP 99, Moment Commander 98, Renoun Endurance 98, K2 Pinnacle 95 Ti, Blizzard Rustler 9, and ON3P Wrenegade 96.