Ski: 2021-202 Liberty Helix 98, 186 cm
Available Lengths: 165, 172, 179, 186 cm
Blister's Measured Tip-to-Tail Length: 184.4 cm
Blister's Measured Weight per Ski: 1,925 & 1,937 grams
Stated Dimensions: 133-98-121 mm
Blister's Measured Dimensions: 133.4-97.7-120.9 mm
Stated Sidecut Radius: 21 meters
Measured Tip & Tail Splay (ski decambered): 55 mm / 50 mm
Measured Traditional Camber Underfoot: ~5-6 mm
Core: Bamboo/Poplar + Fiberglass Laminate
Base: Sintered P-Tex
Factory Recommended Mount Point: -8.1 cm from center; 84.1 cm from tail
Boots / Bindings: Nordica Strider 120 / Marker Jester Demo
Test Locations: Crested Butte & Arapahoe Basin, CO
Days Skied: 5
[Note: Our review was conducted on the 18/19 Helix 98, which was not changed for 19/20, 20/21, or 21/22, apart from graphics.]

Intro
For 18/19, Liberty is bringing back the Helix name to their line, this time in the form of the brand-new Helix 98. We reviewed the original Helix (which was 105mm-underfoot), and thought it offered a fun blend of stability and energy. So we're very curious to see where this new, narrower Helix 98 slots into the ~98mm all-mountain category, and to compare it to Liberty's other ski in this class, the Origin 96.
Here's what Liberty says about the Helix 98:
"The Helix is back! Now in a more versatile 98mm waist, but retaining the do-anything DNA of its award-winning predecessor, the brand-new Helix 98 is a one-ski wrecking machine. Versatile, energetic and stable, the Helix 98 features easy turn initiation and floatation with control from Liberty's signature bamboo and poplar core. Crush the entire mountain, including the terrain park, with performance and a grin."
There's a lot going on in this description, so let's unwrap it a bit. First and foremost, Liberty is definitely emphasizing the Helix 98's versatility, and it seems pretty clear that they're aiming for the elusive 1-ski quiver with the Helix 98. Second, they talk about the Helix 98 being both energetic and stable, two characteristics that are not often shared equally by the same ski. Lastly, they mention that the Helix 98 can "crush the entire mountain, including the terrain park," and that claim about park performance is made even more interesting when you take a look at some of the Helix 98's specs further down…
Shape / Rocker Profile
At first glance, the Helix 98's shape and rocker profile actually look nearly symmetrical. The Helix 98's tips and tails have fairly shallow rocker lines, but both the tips and tails rise quickly, with the Helix 98's tail nearly being a full twin. The rest of the ski has a good deal of camber (~5-6 mm underfoot).
While it might look like a park ski, the Helix 98's shape is not totally symmetrical, with a roughly 12 mm difference in width between the tips and tails. The Helix 98's extremities have very little taper, and when combined with the ski's fairly conservative rocker lines and generous camber, the Helix 98 looks like it should offer plenty of effective edge.
Compared to the 18/19 Origin 96 (review coming soon), the Helix 98 has slightly shallower rocker lines, more camber, more tail splay, and a bit less taper.
Mount Point
As we just noted, the Helix 98 has a nearly twinned tail, and looks almost symmetrical in terms of both rocker profile and shape. However, its recommended mount point of -8.1 cm from center puts it more in line with directional skis, rather than park skis. So while Liberty claims the Helix 98 can handle the park, its mount point seems to suggest that it is more of an all-mountain ski, rather than a freestyle ski. So we'll be testing the Helix 98 at a variety of mount points to see how it does as a traditional, directional all-mountain ski, as well as a more freestyle-oriented option.
Flex Pattern
Tips: 6
Shovels: 6.5-8
In Front of Toe Piece: 8.5-9.5
Underfoot: 9.5
Behind Heel Piece: 9.5-8
Tails: 7-6
The flex pattern of the Helix 98 feels very similar to that of the Origin 96. The Helix 98 is very slightly softer at the ends of its tips and tails, but the Helix 98 feels like it gets stiffer quicker as you get closer to the middle of the ski, whereas the Origin 96's flex ramps up a bit slower.
Overall, the Helix 98 has fairly soft tips and tails, but its flex then ramps up pretty quickly, and the back half of the ski feels a bit stiffer than the front half.
Dimensions / Sidecut Radius
The previous verison of the Helix that we reviewed had stated dimensions of 135-105-122 mm and a stated 25.5-meter sidecut radius for the 187 cm version.
The new Helix 98 is obviously narrower at the waist, though its tips and tails are not that much narrower (measured dimensions = 133.4-97.7-120.9 mm). As a result, the new Helix 98 has a tighter stated sidecut radius of 21 meters for the 186 cm version. This puts it right around the middle of the pack when it comes to stated sidecut radii, which often makes skis feel pretty versatile when it comes to making a variety of turn shapes.
Weight
Like most Liberty skis we've reviewed, the Helix 98 is fairly light for its size. For reference, below are a few of our measured weights (per ski in grams) for some notable skis.
1807 & 1840 Atomic Bent Chetler 100, 188 cm (18/19)
1896 & 1919 Dynastar Legend X96, 186 cm (17/18-18/19)
1925 & 1937 Liberty Helix 98, 186 cm (18/19)
1931 & 1932 DPS Foundation Cassiar 94, 185 cm (18/19)
1943 & 1968 Liberty V92, 186 cm (18/19)
1966 & 1973 Liberty Origin 96, 187 cm (18/19)
2007 & 2029 Armada Invictus 99 Ti, 187 cm (18/19)
2020 & 2004 Liberty Helix, 187 cm (15/16)
2024 & 2029 Salomon QST 99, 188 cm (17/18)
2049 & 2065 Volkl Mantra M5, 177 cm (18/19)
2053 & 2057 Atomic Vantage 97 Ti, 188 cm (18/19)
2062 & 2063 Rossignol Experience 94 Ti, 187 cm (18/19)
2124 & 2137 Blizzard Bonafide, 180 cm (17/18, 18/19)
2131 & 2189 Nordica Enforcer 100, 185 cm
2139 & 2118 Nordica Soul Rider 97, 185 cm
2344 & 2367 J Skis Masterblaster, 187 cm (17/18, 18/19)
Some Comparisons
18/19 Liberty Origin 96, 187 cm
This is the most interesting comparison as these two skis from Liberty look very similar on paper. So how similar will they feel on snow, and which types of skiers would be better off with which particular ski?
18/19 Atomic Bent Chetler 100, 188 cm
These skis share identical sidecut radii, both have a good deal of camber, and both skis claim to combine all-mountain and freestyle performance, despite having fairly traditional recommended mount points of around -8 cm from center. The Helix 98 is a bit heavier and has less taper, so will it feel like a more stable version of the Bent Chetler 100?
Bottom Line (For Now)
With the brand-new Helix 98, Liberty looks like they've created what could be a pretty versatile and playful all-mountain ski. While we put together our full review, let us know about any questions or comparisons you'd like to see us address.
Flash Review: Liberty Helix 98
Blister members can now read our initial on-snow impressions in our Flash Review of the Helix 98.
(Learn more about Blister member benefits, and become a Blister member)
FULL REVIEW
I've now spent time on Liberty's new Helix 98 in a pretty wide range of conditions — from the slushy, wide-open runs at A-Basin last spring, to Crested Butte's mid-winter groomers, moguls, and off-piste terrain. Through all of that, it's proved to be quite versatile and I think a lot of skiers will get along well with it. Here's why: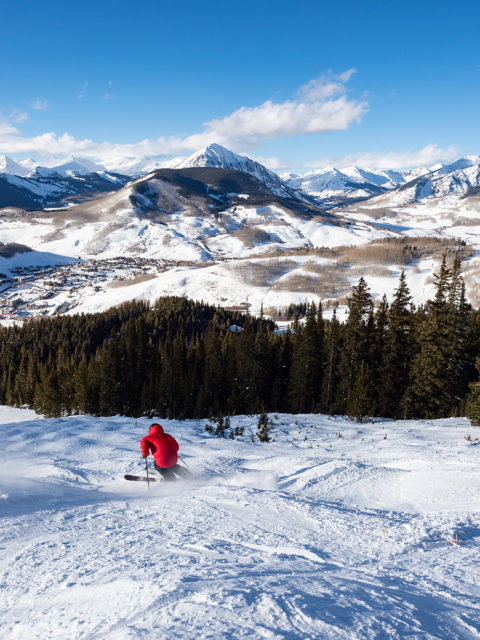 What we said about the Helix 98 in our 18/19 Winter Buyer's Guide:
"This season, Liberty brought back the Helix with a narrower waist, and though it might look like a park ski, the new Helix 98 is actually a versatile all-mountain ski that feels very similar to the Liberty Origin 96 — so if you like one, we think you'll also get along with the other. The Helix 98 is a bit stiffer throughout than the Origin 96, and its less-tapered shape feels a bit more engaging on firm snow. If you prioritize freestyle performance, there are better options in our "Freestyle" section. But if you thought the Origin 96 felt a bit too loose and want something with a slightly more supportive flex pattern, the Helix 98 is worth a look. Like the Origin 96, the Helix 98 is a lighter ski that, while not as damp as heavier options, still feels comfortable at higher speeds in a variety of terrain."
That's the short summary, but now let's dive in more to how the Helix 98 performs in specific terrain and conditions.
Slush & Soft Chop
I spent my first few days on the Helix 98 at A-Basin late last season. As I've noted in many reviews before, I love spring skiing. The snow is soft, the chopped-up slush litters runs with natural terrain features to jump off, and you can ski in a t-shirt. All great things.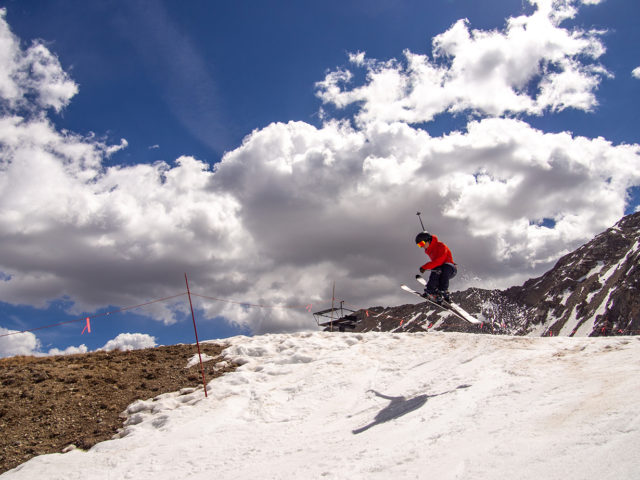 In this sort of snow, the Helix 98 is a blast. It feels quite strong when skiing hard through soft snow, but its tips and tails are soft enough that I didn't find the ski to feel very demanding or punishing. There are plenty of skis that are more damp and stable than the Helix 98, but in soft snow, the difference in stability between the Helix 98 and heavier skis was minimal. And since it's fairly light, the Helix 98 was also quite easy to whip around (both in the air and on the ground), which isn't true of many of the heavier, more damp skis out there.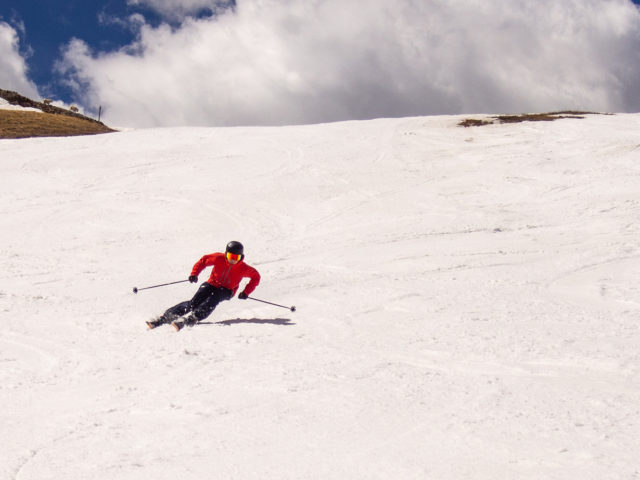 One thing I noticed while lapping A-Basin's wide-open runs was that the Helix 98 seems to prefer medium to long turns, rather than really tight ones. I could easily break it free from a turn and scrub speed if I needed to, but when I wanted to carve, the Helix 98 felt most comfortable when I could open up my turns a bit.
Firm Groomers
After getting on the Helix 98 late last season, I brought it back out at Crested Butte to do some more firm-snow testing.
While it didn't feel quite as confidence inspiring on firm groomers as it did on slushy ones, I think the Helix 98 still punches a bit above its weight when it comes to stability. Combine that with its intuitive turn initiation and good edge hold, and you've got a fun recipe for groomers.
At Crested Butte I again noticed the Helix 98's preference for medium to large turns (think GS and bigger). As long as the runs didn't have a ton of big, pushed-around piles of snow, I could ski the Helix 98 quite fast on Crested Butte's long, steep groomers.
Unlike the Liberty Origin 96, the Helix 98 doesn't offer a ton of energy out of a turn. The Helix 98 doesn't feel completely dead, but if maximum energy / pop is your top priority, there are better options. But while it's not the most energetic ski, the Helix 98 is very intuitive and predictable on groomers, and that's something I think many skiers will appreciate.
Once the groomers did get really roughed up by the end of the day, I did have to be a bit more deliberate with my line choice on the Helix 98 — navigating between and over the piles, rather than just skiing straight through them. If I tried to just nuke through the inconsistent snow, the Helix 98 would occasionally get knocked off track. I'd recommend checking out some heavier and / or stiffer options if you want a ski that'll let you blast through variable snow at high speeds.
Moguls & Trees
Just like on groomers, the Helix 98 felt very intuitive in bumps and in the trees. It doesn't have really deep rocker lines, and there are many skis that are easier to pivot at slow speeds. But if you're coming from a flat-tailed ski and want something that's a bit easier to slide around without feeling sloppy or vague when finishing a turn, the Helix 98 could be a good option.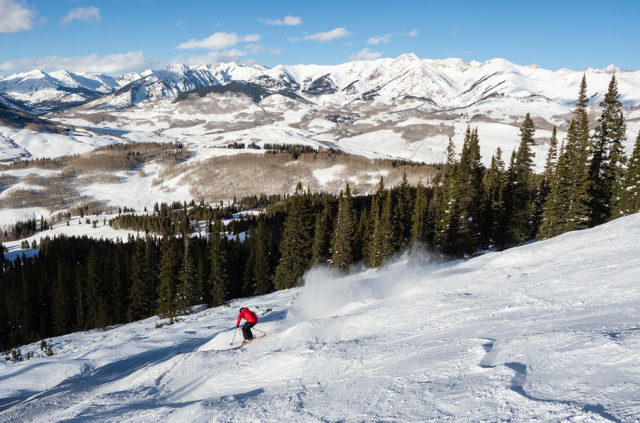 While it's not the slarviest ski, the Helix 98's low weight does make it easy to flick around. And as I noted above, the Helix 98's tips and tails are pretty forgiving, so it didn't feel punishing when I got a bit backseat.
In terms of skiing styles in bumps, the Helix 98 feels pretty versatile. I could ski it fairly centered and pivot it from the middle of the ski, but it's also strong enough that I could drive the front of it, too. Skiers who just want something that's really easy to slide and turn should look to skis with more rocker and / or taper, and aggressive skiers who drive the front of their skis really hard will probably want something stiffer. But I think the Helix 98 will work well for the large number of skiers that fall between those two categories.
Playfulness
We mentioned in our First Look of the Helix that it looks a bit like a park ski. And I do know of some skiers that really like it in the park. But to me, the Helix 98 feels like more of a directional all-mountain ski than it does a freestyle ski. Granted, I was skiing it on the recommended line, which is pretty far back at -8 cm from center. There, the Helix 98 felt best when skied with a forward stance. I could ski it centered, but the ski initiated turns and tracked much better when I was driving the front of it.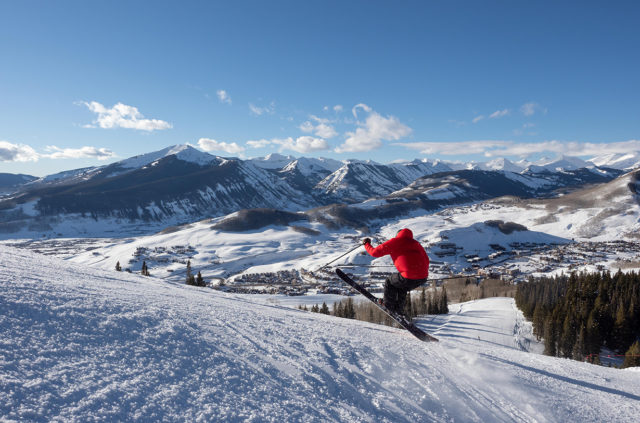 We also had reviewer Joey Teahan on the Helix 98, and he mounted it around -3 cm from center. Joey spends pretty much all of his time on freestyle skis with mount points close to center, and he spins and flips much more than I do. Compared to other all-mountain freestyle skis, he thought the Helix 98 felt a bit "planky" — he found it difficult to butter and press, and didn't feel like he got much energy out of it. That said, a lot of that does come down to personal preference. So freestyle skiers who don't want something that's very buttery and soft and instead prefer something with a strong platform will probably get along better with the Helix 98.
Freestyle performance aside, the Helix 98 does still sit on the more playful end of the spectrum when compared to the entire all-mountain category. The Helix 98 is easier to break free and slash than skis with flatter tails, and it feels pretty balanced in the air (especially if you mount forward of the recommended line). Just don't expect it to be some super surfy, poppy, playful ski.
Who's It For?
Skiers who want a pretty light, forgiving all-mountain ski that performs well in a wide variety of conditions and still holds up to pretty hard skiing. You shouldn't get the Helix 98 if you just want something that you can ski really fast on no matter the conditions. But if you stick to moderate speeds when the snow is rough, or you ski with an active style, the Helix 98 is definitely worth a look.
Bottom Line
The Liberty Helix 98 is a versatile ski that does a good job of blending a wide range of traits and accommodates a variety of skiing styles. It's light and easy to turn in bumps, but is also pretty stable for its weight. It can carve well on groomers and rewards a forward, driving stance, but it's also a bit more playful than many of the other directional all-mountain skis out there. And while you can ski it hard and fast if you ski with an active / dynamic style, the Helix 98 is just as comfortable at slower speeds.
While some skis have one or two standout characteristics and fall short elsewhere, the Helix 98 does a lot of things quite well. That's high praise, and why I think it should work for a wide range of skiers.
Deep Dive Comparisons
Become a Blister Member or Deep Dive subscriber to check out our Deep Dive of the Helix 98 to see how it stacks up against the Liberty Origin 96, Atomic Bent Chetler 100, J Skis Masterblaster, Nordica Enforcer 100, 4FRNT MSP 99, Moment Commander 98, Renoun Endurance 98, K2 Pinnacle 95 Ti, Blizzard Rustler 9, and ON3P Wrenegade 96.