Ski: 2019-2020 Dynastar Legend X96, 186 cm
Available Lengths: 165, 171, 178, 186 cm
Blister's Measured Tip-to-Tail Length: 185.2 cm
Blister's Measured Weight per Ski: 1896 & 1919 grams
Stated Dimensions: 133-96-113 mm
Blister's Measured Dimensions: 132.6-96.5-112 mm
Stated Sidecut Radius: 18 meters
Measured Tip & Tail Splay (ski decambered): 68 mm / 11 mm
Measured Traditional Camber Underfoot: ~5 mm
Core: Paulownia + Fiberglass Laminate
Factory Recommended Mount Point: -10.9 cm from center; 81.7 cm from tail
Boots / Bindings: Dalbello Lupo SP I.D.; Head Raptor 140 RS; Salomon S/Max 130 / Tyrolia AAAttack 13
Test Locations: Crested Butte & Front Range, CO
Days Skied: ~10
[Note: Our review was conducted on the 18/19 Legend X96, which returns unchanged for 19/20, apart from graphics.]
Intro
A couple months ago, we took a look at the Dynastar Legend X106, and were pretty curious about its combination of a pretty stout flex pattern, very tapered shape, and fairly low weight.
Now, we're checking out that ski's narrower sibling, the Legend X96, which shares many of the same traits of the Legend X106.
[Note: You can now also check out our First Look of the Atomic Vantage 97 Ti.]
Here's what Dynastar says about the Legend X96:
"Equal parts power and playfulness, the all-new LEGEND X96 delivers freeride-inspired, all-terrain performance wherever the snow takes you.
Our newest Powerdrive Free construction unleashes smooth dynamic power, playful energy, and ground-breaking grip for the most responsive ski control."
Shape / Rocker Profile
Overall, the Legend X96 looks very similar to the Legend X106. The X96 has slightly less tail rocker and splay, and a bit less tail taper. Other than that, the two skis look quite similar. Both skis have more tip and tail taper than most other skis in their respective classes, and both the Legend X's have pretty minimal tail rocker and shallow tip rocker lines, but with a good deal of tip splay.
Flex Pattern
Here's how we'd characterize the flex pattern of the Legend X96:
Tips: 9-8
Shovels: 8-9
In Front of Toe Piece: 9.5-10
Underfoot: 10
Behind Heel Piece: 10-9.5
Tails: 9-9.5
Just like its wider brother, the Legend X96 is a very stout ski. It's surprising to us just how stiff this light ski is, and we'll be very interested to see how this weight, flex pattern and tip and tail shape work together on snow.
Weight
For a ~95mm-underfoot inbounds ski, the Legend X96 is pretty light at around 1900 grams. And while there are still heavier skis like the Head Monster 98 and Blizzard Bonafide, if you take a look at the list below, you'll see that there seem to be an increasing number of all-mountain skis in this class that are coming in around — or below — the 2000 gram mark.
For reference, here are some of our measured weights for a few notable skis:
1629 & 1684 Elan Ripstick 96, 180 cm (17/18–19/20)
1734 & 1750 Renoun Endurance 98, 184 cm (18/19)
1758 & 1774 Moment Commander 98, 178 cm (18/19)
1800 & 1824 Luke Koppa's Romp Skis 100, 183 cm (18/19)
1807 & 1840 Atomic Bent Chetler 100, 188 cm (18/19–19/20)
1863 & 1894 Blizzard Rustler 9, 180 cm (18/19–19/20)
1894 & 1980 Black Crows Daemon, 183.6 cm (17/18–19/20)
1896 & 1919 Dynastar Legend X96, 186 cm (18/19–19/20)
1921 & 1968 Head Kore 99, 188 cm (18/19–19/20)
1925 & 1937 Liberty Helix 98, 186 cm (18/19–19/20)
1931 & 1932 DPS Foundation Cassiar 94, 185 cm (18/19–19/20)
1937 & 1945 Fischer Ranger 94 FR, 184 cm (19/20)
1966 & 1973 Liberty Origin 96, 187 cm (18/19–19/20)
1985 & 2006 Parlor Cardinal 100, 185 cm (16/17–18/19)
1994 & 2011 Fischer Ranger 99 Ti, 181 cm (19/20)
1997 & 2001 Blizzard Brahma, 180 cm (17/18–19/20)
1998 & 2044 4FRNT MSP 99, 181 cm (17/18–18/19)
2007 & 2029 Armada Invictus 99 Ti, 187 cm (18/19–19/20)
2049 & 2065 Volkl Mantra M5, 177 cm (18/19–19/20)
2050 & 2080 ON3P Wrenegade 96, 184 cm (18/19)
2053 & 2057 Atomic Vantage 97 Ti, 188 cm (18/19–19/20)
2062 & 2063 Rossignol Experience 94 Ti, 187 cm (18/19–19/20)
2085 & 2096 Dynastar Menace 98, 181 cm (19/20)
2101 & 2104 Fischer Ranger 102 FR, 184 cm (18/19–19/20)
2114 & 2133 Nordica Enforcer 93, 185 cm (16/17–19/20)
2115 & 2149 J Skis Masterblaster, 181 cm (16/17–18/19)
2118 & 2139 Nordica Soul Rider 97, 185 cm (15/16–19/20)
2124 & 2137 Blizzard Bonafide, 180 cm (17/18–19/20)
2131 & 2189 Nordica Enforcer 100, 185 cm (15/16–19/20)
2311 & 2342 K2 Mindbender 99Ti, 184 cm (19/20)
Bottom Line (For Now)
The Dynastar Legend X96 is yet another addition to the growing class of light, stiff all-mountain skis.
We've now gotten a bit of time on the Legend X96, so Blister Members can check out our Flash Review, and then let us know about any questions you'd like to see addressed in our full review.
Flash Review
Blister Members can now check out our Flash Review of the Legend X96 vs. the Vantage 97Ti for our initial impressions. Become a Blister member now to check out this and all of our Flash Reviews, plus get exclusive deals and discounts on skis, and personalized gear recommendations from us.
FULL REVIEW
The Dynastar Legend X96 is low on weight, very stiff with respect to its flex pattern, and accessible in terms of its shape. We didn't really know what to expect from that combo, but now that we've had a chance to ski it in a variety of conditions, here are our thoughts.
Moguls
I've really enjoyed the Legend X96 in moguls, but that comes with the large caveat that this ski suits my skiing style extremely well. I like skis that are energetic, easy to pivot / slide, and powerful — while also being forgiving. I realize that's a long checklist, but the Legend X96 hits pretty much all of those traits as a bump ski.
In pure fall-line, zipper bumps, the Legend X96 does well. It is light enough to flick around pretty easily and is predictable when mashing it into troughs — as long as you're driving it. My only complaint about the Legend X96 as a high-performance bump ski is that the tail can be a bit punishing. I am far from faultless when it comes to ski technique and when I make the inevitable major mistake in bumps, the tail on the Legend X96 occasionally will send me flying. It still has a forgiving tail shape, so it's easy to break free and slide if you mess up at slower speeds, but a high-speed mistake on the Legend X96 makes the extremely stiff tail feel a bit punishing.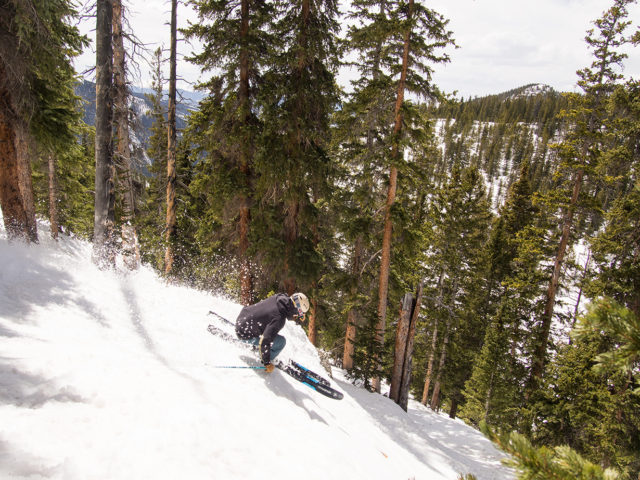 In more technical moguls that are steeper, in the trees, weird, or double fall-line — and where speeds tend to remain a bit more reasonable — the Legend X96 really excels. The combination of its stiff flex and easy-to-slide shape means that this ski has a ton of energy when pushed, is stiff and solid underfoot, yet is fairly forgiving, given how stiff it is. I certainly wouldn't recommend the Legend X96 to a beginner or intermediate skier, but advanced and expert skiers will likely appreciate the strength-to-forgiveness ratio of this ski.
Another point to make, which is a common characteristic of light + stiff skis, is that the Legend X96 really feels best when I'm pushing it hard. If I'm not driving through the fronts of my boots and skiing aggressively, this ski has a tendency to get knocked around. But the more I drive it, the more I'm rewarded with energy out of each turn and the more composed the ski feels.
All that's not to say that the Legend X96 isn't perfectly happy sliding turns around moguls at slow speeds, because it does that quite well too. But it is to say that, the harder I push the Legend X96, the more I like the ski and the more I get out of it. And if your top priority is having a ski that's light, easy to slide, and that won't punish mistakes, either size down on the Legend X96, or go with a softer ski (see the "All-Mountain – More Forgiving" section of our Winter Buyer's Guide).
Off-Piste Trees & Steeps
In off-piste conditions that are less moguled, the Legend X96 feels more comfortable the steeper things get. If the terrain is such that I want to be laying down super-G turns, there are other skis I'd rather be on. The Legend X96 doesn't offer the most precise turn initiation and its low weight can be a liability at speed, especially when the snow gets a bit firm / variable. This is not a big-turn, high-speed charger.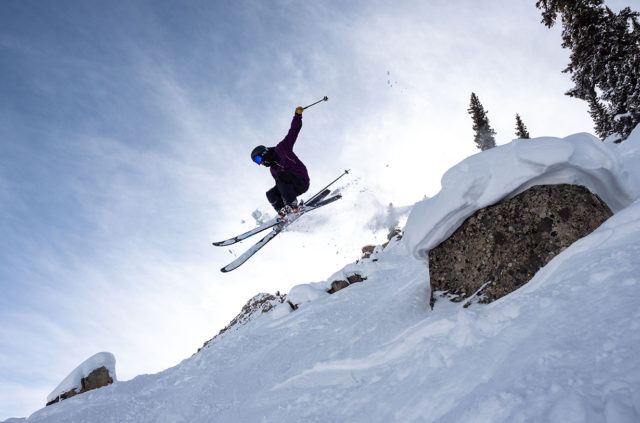 But when the terrain is tighter or steeper, the Legend X96 feels much more comfortable. Because of its weight, it is very easy to jump turn and whip around in tight spaces. As long as I'm not reaching high speeds on firm snow, I've been very happy with the Legend X96 — and the more you ski with a dynamic style and appreciate high-energy skis, the more I think you'll be happy with this ski in these conditions, too. The more you like a damp feel and / or a ski that initiates and holds carved turns really well, the less I think you'll like the Legend X96.
Groomers
When it comes to ~95 mm underfoot carvers, there are many that are more fun than the Legend X96. With its heavily tapered tips and tails and its notable amount of rocker, the Legend X96 feels a bit vague when initiating turns on groomers. It feels strong once in a turn, but it definitely feels like I'm carving from the center of the ski, as it doesn't have as much effective edge as less tapered skis like the Volkl Mantra M5 or Blizzard Bonafide.
The Legend X96 definitely feels more at home off-piste than it does while railing groomers, and if groomers are a high priority of yours, then I would look for something else (with a more traditional, less tapered shape).
Powder
As a <100mm-underfoot ski, the Legend X96 (unsurprisingly) doesn't float great in powder. But what it lacks in float, it makes up for in easy pivots and slides.
In light, low-density snow, the Legend X96 is a fairly predictable submarine. It doesn't float well but it will track under the snow and retains a lot of the characteristics that make it so much fun in trees, steeps, and moguls. But if that snow gets heavy or deep, the Legend X96 gets much less fun. This is not a powder ski (as much as these pictures of me skiing it in pow may have you believe otherwise).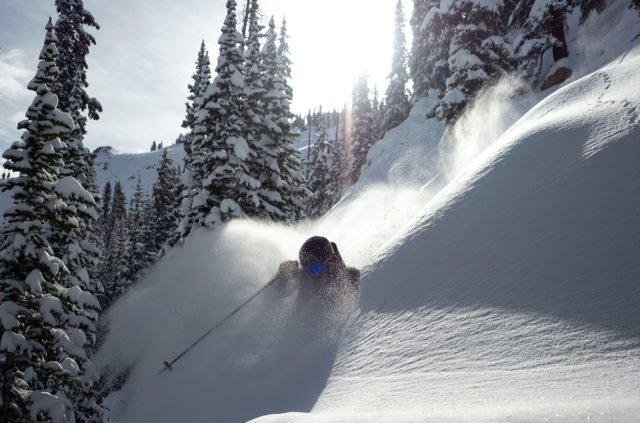 If I had to take out the Legend X96 on a powder day, I would definitely be more interested in skiing steeps, trees, and more technical terrain, rather than wide-open terrain at higher speeds. The Legend X96 (just like on firm snow) excels in techy terrain and doesn't plane well enough to blast through wide open powder fields at high speeds.
In less than about a foot of snow, the Legend X96 is fairly manageable, but really, if you're skiing a moderate to higher-snow area, I'd recommend adding a wider ski to your quiver for pow days if you're considering the Legend X96 as your narrower ski.
Chop
The Legend X96 feels best when slicing through chop, rather than blasting over it. It's narrow and has a lot of tip taper so, similarly to how it likes to submarine in pow, it also won't float up over chop — especially deeper chop.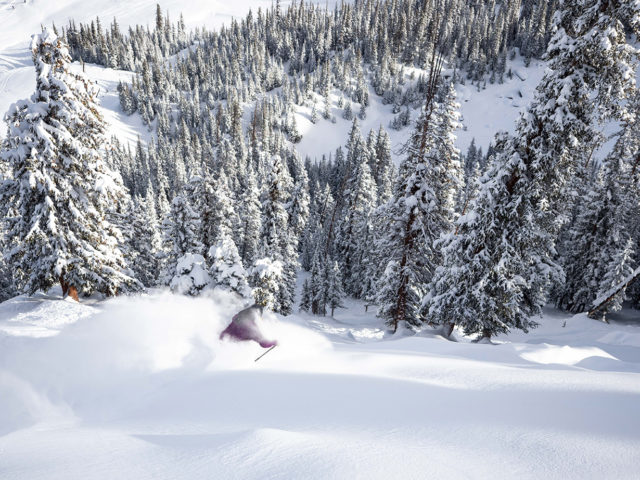 Also, due to the light weight of the ski, the Legend X96 does have a tendency to get bounced around a bit, especially when the chop is heavier or deeper. But, as I said earlier, this is not a pow ski and therefore its pow and chop performance shortcomings shouldn't be taken as a large slight to the ski. Not many skis this narrow excel in pow or chop.
If you like to carve through or over chop, it's the same story as the Groomer section — go with a ski with less taper (and probably a heavier one). But if you prefer a more nimble feel, the Legend X96's chop performance is passable.
Variable Conditions
As long as I kept a forward, driving stance on the Legend X96, I could get through most soft variable conditions without issue. The ski is quite light, so if I skied it with a neutral stance and let the skis run, things got scary pretty quick. But the more active, aggressive, and forward I skied, the better the Legend X96 felt. In softer variable, the strong platform of the Legend X96 makes me want to ski faster and harder — it's a blast.
But in refrozen firm chop or boilerplate ice, the Legend X96 just doesn't have the mass to stay composed. There are many other skis on the market that offer better suspension and feel more comfortable in these (terrible) conditions (see the "All-Mountain – More Stable" section of our Winter Buyer's Guide).
Who's It For?
For skiers with an active / dynamic style and good technique — especially those who like to ski more technical, off-piste terrain — I think the Legend X96 is a great option.
If you prefer skis with more planted, damp feel and / or like high speeds in open terrain, you'd probably be better off on a heavier and less tapered ski. And if you are a beginner or intermediate, I'd recommend checking out some of the softer options in the "All-Mountain – More Forgiving" section of our Winter Buyer's Guide.
Bottom Line
The Dynastar Legend X96 has a unique combination of features. It's stiff, light, and has a more accessible shape. This results in a ski that is great in tight, technical terrain and moguls for the advanced or expert skier.
Deep Dive Comparisons
Become a Blister Member or Deep Dive subscriber to check out our Deep Dive of the Legend X96 to see how it stacks up against the Volkl Mantra M5, Blizzard Bonafide, J Skis Masterblaster, Nordica Enforcer 100, Moment Commander 98, Rossignol Experience 94 Ti, Atomic Vantage 97Ti, 4FRNT MSP 99, Atomic Bent Chetler 100, Liberty Origin 96, Blizzard Rustler 9, Renoun Endurance 94, and ON3p Wrenegade 96.