Ski: 2021-2022 Blizzard Rustler 9, 180 cm
Available Lengths: 164, 172, 180, 188 cm
Blister's Measured Tip-to-Tail Length: 178.3 cm
Blister's Measured Weight per Ski: 1863 & 1894
Stated Dimensions: 127.5-94-117 mm
Blister's Measured Dimensions: 127.2-93.4-116.5 mm
Stated Sidecut Radius: 17 meters
Measured Tip & Tail Splay (ski decambered): 76 mm / 30 mm
Measured Traditional Camber Underfoot: ~2 mm
Core: Poplar/Balsa/Beech/Paulownia/ISO (Synthetic) + Partial Titanal Layer + Carbon Tips / Tails + Fiberglass Laminate
Factory Recommended Mount Point: -7.7 cm from center; 81.4 cm from tail
Boots / Bindings: Nordica Strider 120, Dalbello Lupo 120 SP I.D. / Marker Griffon Demo
Reviewers:
Luke Koppa: 5'8", 155 lbs
Sam Shaheen: 5'10", 140 lbs
Test Locations: Crested Butte & Arapahoe Basin, CO
Days Skied: 8
[Note: Our review was conducted on the 18/19 Rustler 9, which was not changed for 19/20, 20/21, or 21/22, apart from graphics.]

Intro
For the 18/19 season, Blizzard has expanded their men's and women's freeride lines, adding the narrower Rustler 9 and Sheeva 9 to complement the current Rustler 10 & 11 and Sheeva 10 & 11.
We've really enjoyed our time on both the Rustler 10 and 11, though for slightly different reasons. The Rustler 10 is a playful, poppy all-mountain ski that excelled at more moderate speeds and while making smaller turns. Meanwhile, the Rustler 11 feels like more of a big-mountain ski that we could push quite hard given its fairly low weight.
So, how does the Rustler 9 compare to its wider siblings, and where does it fit in to the category of ~95mm-underfoot all-mountain skis?
Rocker Profile
All of the Rustler's have similar-looking rocker profiles, with the widest Rustler 11 having the deepest rocker lines and the most tip and tail splay.
On the other end, the Rustler 9 has considerably shallower rocker lines and a bit less tip and tail splay, which makes sense given that it is a narrower ski and needs to be a bit more firm-snow oriented.
Compared to other skis in this class, however, the Rustler 9 has pretty deep tip and tail rocker lines, and a lot of tip splay. The tail of the Rustler 9 is less splayed out than the Rustler 10 (30 mm vs. 40 mm), but the Rustler 9 still has significantly more tail rocker and tail splay compared to more traditional all-mountain skis like the Blizzard Bonafide or Nordica Enforcer 93.
Flex Pattern
Here's how we'd characterize the flex pattern of the Rustler 9:
Tips: 7
Shovels: 7-8
In Front of Toe Piece: 9
Underfoot: 10
Behind Heel Piece: 9-8
Tails: 8-7.5
The flex pattern of the 180 cm Rustler 9 feels extremely similar to that of the 188 cm Rustler 10. Both skis have pretty round flex patterns that smoothly transition from fairly soft tips and tails (though they aren't noodly) to a strong midsection.
Compared to the Blizzard Brahma and Bonafide, the Rustler 9 is slightly softer in the tips / shovels, and more noticeably softer in the tails.
Sidecut Radius
While we don't put much stock in stated sidecut radius numbers, it's worth touching on the Rustler 9's sidecut radius (17 m for the 180 cm) because of our experience with the Rustler 10.
Even after a detune, the Rustler 10 (19 m radius for the 188 cm) felt pretty limited to small- and medium-radius turns, and felt fairly hooky when trying to make big turns at high speeds. Interestingly, we did not feel like the Rustler 11 (21 m radius for the 188 cm) exhibited any of the same behavior, and we found it to be comfortable making all sorts of turn shapes.
So we'll be experimenting with the Rustler 9 as we put together our full review to see how it handles a variety of turn shapes and speeds.
Weight
Like the Rustler 10 and 11, the Rustler 9 is fairly light for its size.
But compared to other skis in its class, the Rustler 9 isn't as comparatively light as the Rustler 10 & 11. This is likely due to the construction differences between the skis. The Rustlers all incorporate a partial sheet of titanal, and the wider the ski, the less titanal is used. (If you look at the skis, you can see that the titanal extends farthest down the ski on the Rustler 9, and is a bit shorter on the Rustler 10 & 11.)
For reference, below are some of our measured weights (per ski in grams) for a few notable skis. Keep in mind the length differences of these skis to keep things more apples-to-apples.
1585 & 1586 Head Kore 93, 180 cm (17/18, 18/19)
1680 & 1707 Line Sick Day 94, 186 cm (17/18, 18/19)
1839 & 1842 Black Crows Orb, 178.3 cm (17/18, 18/19)
1863 & 1894 Blizzard Rustler 9, 180 cm (18/19)
1864 & 1882 Armada Invictus 89Ti, 187 cm (18/19)
1869 & 1894 Atomic Vantage 90 Ti, 184 cm (18/19)
1896 & 1919 Dynastar Legend X96, 186 cm (17/18-18/19)
1920 & 1940 Volkl Kendo, 177 cm (17/18, 18/19)
1931 & 1932 DPS Foundation Cassiar 94, 185 cm (18/19)
1943 & 1968 Liberty VMT 92, 186 cm (18/19)
1950 & 1977 Blizzard Rustler 10, 188 cm (17/18, 18/19)
1966 & 1973 Liberty Origin 96, 187 cm (18/19)
1997 & 2001 Blizzard Brahma, 180 cm (17/18, 18/19)
2049 & 2065 Volkl Mantra M5, 177 cm (18/19)
2053 & 2057 Atomic Vantage 97 Ti, 188 cm (18/19)
2062 & 2063 Rossignol Experience 94 Ti, 187 cm (18/19)
2114 & 2133 Nordica Enforcer 93, 185 cm (17/18, 18/19)
2115 & 2149 J Skis Masterblaster, 181 cm (17/18, 18/19)
2124 & 2137 Blizzard Bonafide, 180 cm (17/18, 18/19)
2171 & 2176 Head Monster 88, 184 cm (18/19)
This list is pretty wild, mostly because of the huge number of skis that are coming in well under 2000 g per ski. The times they are a changin'.
One other thing to note is that the 180 cm, 98mm-wide Blizzard Bonafide — which is the direct counterpart to the 180 cm, 94mm-wide Rustler 9 — is more than half-a-pound heavier per ski. And since we suspect that quite a few people will be wondering whether they ought to go Bonafide or go Rustler 9, now would be a good time for you to decide whether you're more in the "I like weight" camp or the "I prefer light" camp.
Some Questions / Things We're Curious About
(1) Blizzard makes a few all-mountain skis in the 88-100mm range, so we're curious to see how different or similar the 88mm-wide Brahma, the 94mm-wide Rustler 9, and the 98mm-wide Bonafide all feel, and which skiers will get along best with each of them.
(2) As we noted above, the Rustler 10 felt most comfortable when making small- or medium-radius turns, so how will the Rustler 9 feel when it comes to making different turn shapes?
(3) The Rustler line is designed to be a bit more playful than Blizzard's "all-mountain freeride" line (e.g., Brahma, Bonafide, Cochise, & Bodacious), so just how playful will the Rustler 9 feel? And how much will that playfulness come at the cost of some stability on firm snow?
Bottom Line (For Now)
The Blizzard Rustler 9 looks to bring more firm-snow performance to the Rustler lineup. By the specs, it seems like the Rustler 9 should share the same playful feel of the other Rustler skis while doing a bit better on days when it hasn't snowed in a while.
We've now spent some initial time on the Rustler 9, and Blister Members can check out our Flash Review using the link below. As we prepare our full review, let us know about any questions you'd like to see us address in our full review.
Flash Review: Blizzard Rustler 9
Blister members can now read our initial on-snow impressions in our Flash Review of the Rustler 9.
(Learn more about Blister member benefits, and become a Blister member)
FULL REVIEW
Sam Shaheen and I have now each spent several days on the newest addition to Blizzard's Freeride lineup, the Rustler 9. From the slushy, wide-open bowls of A-Basin, to the clean groomers and long bump runs at Crested Butte, we've had this ski in a pretty wide range of conditions. So we're going to discuss what makes it stand out, but before we dive in, here's what we said about the Rustler 9 in our 18/19 Winter Buyer's Guide:
"The Rustler 9 is the newest addition to Blizzard's Rustler lineup, and it's a fairly versatile one. It's a pretty playful ski with a rocker profile that makes it easy to slide around, and it has a snappy, energetic flex pattern. But it's also not a flimsy noodle; it has a fairly stout midsection with a titanal layer that runs through the middle of the ski, and that's paired with a sidecut radius that begs you to lay over quick, tight, high-angle turns. If you think skis like the Blizzard Bonafide or Volkl Mantra feel a bit too demanding or too lifeless, then the Rustler 9 could be a good call. It's not as stable at high speeds as the Bonafide or Mantra, but if you tend to stick to moderate speeds and / or like to make tighter turns, then you should check out the Rustler 9."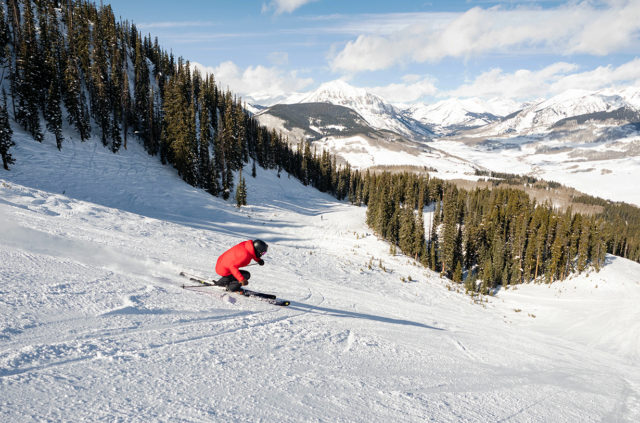 Playfulness
Luke Koppa (5'8″, 155 lbs): Like the Rustler 10 and 11, the Rustler 9 falls in between true freestyle skis (e.g., Faction Candide 2.0, J Skis Allplay, etc.) and more directional all-mountain skis (e.g., Blizzard Bonafide, Volkl Mantra, etc.).
And as someone who's not spinning all that much, I'm a fan of skis like the Rustler 9. Its rocker profile and fairly round, not-too-stiff flex pattern make it easy to slash and pop off features. But at the same time, it allows you to drive the front of the ski like you would on a more directional ski (and that you might not be able to do on a center-mounted freestyle ski).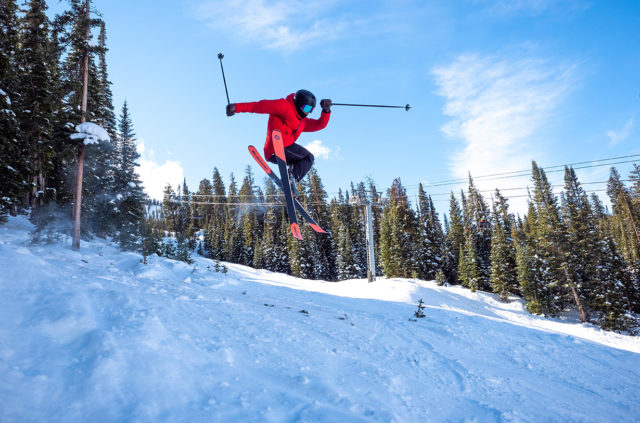 Sam Shaheen (5'10", 140 lbs): Yep, Luke nailed it. The Rustler 9 is a very playful directional ski. For people who like to jump, slash, and pop around the mountain, but who aren't concerned with spinning, flipping, or jibbing, the Rustler 9 hits a good middle ground.
Groomers
Luke: Some skis take a bit of time to get used to, especially when it comes to how they carve. But like the Rustler 10 and 11, I felt comfortable carving turns on the Rustler 9 on my first run. If I tipped it over on edge at all, its tips felt like they were eager to pull me into a turn. Once in a turn, the Rustler 9 offered pretty good edgehold on fairly soft groomers, though I'd want something with less rocker for those oh-so-fun days where all I'm doing is attempting to carve on sheets of ice.
One aspect of the Rustler 9 that I really like is how it is both very energetic and fairly damp through its midsection. Cranking out tight turns rewarded me with lots of energy coming out of a turn, but the middle of the ski still felt pretty strong and stable.
While it was a lot of fun to make small to medium-sized turns on the Rustler 9, it did exhibit a bit of hookiness when I tried to open up my turns. As a rough estimate, I'd say the ski started to feel a bit twitchy once I tried to make turns that were reaching GS size. Any turns smaller than that, and it felt great. But when I opened things up, it seemed as though the tips of the ski were gently (or in really big turns, not so gently) urging me to put the ski back on edge and slow things down. In less ambiguous terms, the edges of the Rustler 9's tips seemed to catch on the snow at high speeds and nudged the front of the ski across the fall line in an attempt to get it back into a tighter turn.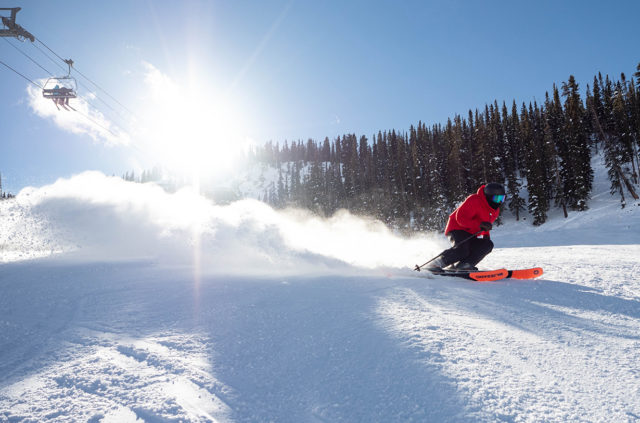 So if you stick to moderate-sized turns — and particularly if you really enjoy cranking out smaller turns — the Rustler 9 is a lot of fun on groomers. But if you like to really mob down groomers with big, arcing turns, then you might want to consider another ski.
Sam: I pretty much agree with everything Luke says here. The only thing that I would like to add is a note on the top end / overall power of the Rustler 9 on groomers.
While it does feel quite comfortable on edge, its easy turn initiation and snappy, lightweight feel don't make for a ski with a high top end. At higher speeds — especially if the ski isn't on edge — the Rustler 9 can feel pretty squirrely. When I push the ski hard, it can feel a bit overpowered — it doesn't take an ex-racer to overpower the shovels on this ski.
That said, I think the majority of people won't have an issue overpowering this ski. But if you're the type of skier that likes to drive a ski very hard, I'd recommend something a bit stiffer and heavier.
Moguls & Tight Terrain
Luke: The Rustler 9 has fairly deep tip and tail rocker lines and a forgiving flex pattern, and as a result, it felt very easy to slide, pivot, and slash through bumps and trees. Overall, the ski felt very forgiving, and I never worried about it punishing me when I got too far backseat.
Of skis in the ~95mm range, the Rustler 9 is one of the easier skis I've used when it comes to maneuvering through narrow spots. And at the same time, it's still a blast on groomers, which is something I definitely appreciate. I don't like one-dimensional skis.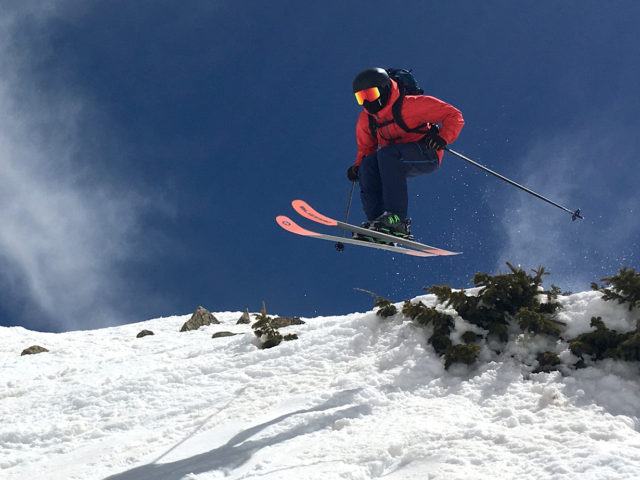 At 5'8", 155 lbs, I was pretty happy with the 180 cm Rustler 9. However, I think bigger skiers would probably appreciate the 188 cm version, since the Rustler 9 doesn't have extremely stiff tips or tails, and I could see larger and / or more aggressive skiers overpowering the 180. Though like the Rustler 10, just because you go with a longer length doesn't mean that you should expect a much stronger, more stable ski. We don't suspect that a longer length is going to change the forgiving, playful nature of the ski.
Sam: I think the Rustler 9 shines in tight terrain and moguls. At slower speeds (which I'm usually skiing at in these conditions) the Rustler 9 has a lot of rebound and feels light on my feet. Jump turning in steep trees or zipper-lining bumps feels natural and intuitive. And I found the ski to be forgiving enough to feel comfortable skiing pretty hard in variable terrain.
Off-Piste Snow
Luke: If I stuck to fairly controlled, smaller turns, the Rustler 9 again felt intuitive and pretty easy in inconsistent, off-piste snow. The tip rocker helped keep the ski from getting bogged down, and the moderate flex pattern and tail rocker made it easy to release from a turn.
That said, if I tried to straightline through grabby snow, I again noticed the Rustler 9 wanting to pull me into a turn and be on edge, rather than run bases-flat through the snow. So again, stick to small to medium-sized turns, and the Rustler 9 feels great. But when you get it up to higher speeds and try and make larger turns, the Rustler 9 can start to lose its composure.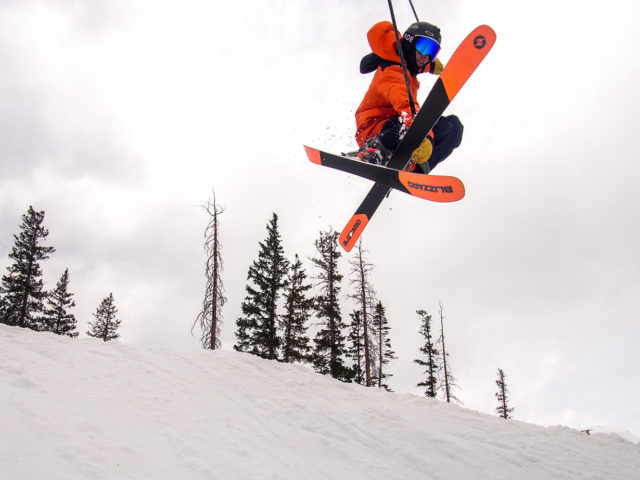 Sam: I'll reiterate what Luke said. The Rustler 9 feels like it wants to be in a turn, pretty much always. In variable snow and chop, this can make the ski feel a bit twitchy. I imagine a bit of detune on the tips could mellow this out a bit, though we experienced a similar sensation on the Rustler 10, even after detuning its tips and tails. Just know that in variable snow, the Rustler 9 calls for a dynamic and active style, and it doesn't want to go straight and blast through variable snow like some other skis in the category.
Who's It For?
Luke: Beginner to advanced skiers who want a narrower ski that's easy to turn, has lots of energy, but that's also still fairly stable on edge. Skiers who like to make big, fast turns and who are more concerned with high-speed stability than they are with playfulness and slow-speed maneuverability should look to heavier, more directional options. But if you want a playful ski that feels pretty comfortable in all conditions and that won't punish you for mistakes, the Rustler 9 is worth a look.
Bottom Line
The Blizzard Rustler 9 is an intuitive, playful, and forgiving ski that should work well for a pretty wide range of skiers. From beginners who are learning how to put a ski on edge to advanced skiers who like to carve tight turns and bang out mogul laps, the Rustler 9 is an approachable, versatile ski.
Deep Dive Comparisons: Blizzard Rustler 9
Become a Blister Member or Deep Dive subscriber and check out our Deep Dive of the Rustler 9 to see how it stacks up against the Blizzard Bonafide & Brahma, Volkl Mantra M5, Black Crows Orb, Atomic Bent Chetler 100, K2 Pinnacle 95, and more…