Ski: 2018-2019 Moment Commander 98, 178 cm
Available Lengths: 168, 178, 188 cm
Blister's Measured Tip-to-Tail Length: 177.2 cm
Stated Weight per Ski: 1785 grams
Blister's Measured Weight per Ski: 1758 & 1774 grams
Stated Dimensions: 128-98-113 mm
Blister's Measured Dimensions: 127.5-98.2-114.3
Stated Sidecut Radius: 19.5 meters
Measured Tip & Tail Splay (ski decambered): 48 mm / 35 mm
Measured Traditional Camber Underfoot: ~4 mm
Core: Aspen/Ash + Titanal (2-layers) + Carbon Stringers + Fiberglass Laminate
Base: 4001 Durasurf
Factory Recommended Mount Point: -8.1 cm from center; 80.5 cm from tail
Boots / Bindings: Nordica Strider 120; Dalbello Lupo SP I.D.; Head Raptor 140 RS / Tyrolia AAAttack2 13 AT Demo
Test Location: Crested Butte, CO
Days Skied: 13

Intro
First things first: for the many people who have been asking, we will soon be putting up Flash Reviews for the new Moment Commander 98 and Commander 108. Those should go live within the next week.
But before we do that, we wanted to post our measured specs, rocker pics, and initial impressions for the Commander 98, to give you an idea of why it stands out so much.
What Moment says about the Commander 98:
"Scrapping the Tahoe 96 left us with a hole in the lineup, and the Commander 98 is here to fill that void. Multi-radius sidecut, a full aspen / ash core and a directional shape laugh at speed limit signs while maintaining the ability to slash and slip through tight situations. Whether you're straightlining chutes or arcing Super G turns while outrunning ski patrol, the Commander is here to take charge. Oh, and did we mention we added two sheets of Titanal to help you solidify your spot as the best skier on the mountain? Well, we did."
Moment is definitely hyping up the Commander 98's ability to charge. However, just like their description of the Commander 108, Moment is not only emphasizing the Commander 98's high-speed stability, but also its ability to slide and maneuver through tight terrain. And that actually doesn't seem all that wild when you take a look at the Commander 98's design…
Shape / Rocker Profile
The Commander 98 shares a very similar shape and rocker profile with the Commander 108, so I'm not going to go quite as full-on gear nerd here as I did in our First Look of the Commander 108.
The long story short is that both of the Commanders have a pretty significant amount of tip and tail taper, pretty deep tail rocker lines, and pretty low tip splay.
The Commander 98 has significantly more tip and tail taper than most skis in its class apart from a few skis like the Dynastar Legend X96 and the DPS Alchemist Wailer 99.
In terms of rocker, the Commander 98 has deeper tip and tail rocker lines than most skis that are around 98 mm underfoot, though the ON3P Wrenegade 96 has similarly deep rocker lines and way more tip splay.
Flex Pattern
Here's how we'd characterize the flex pattern of the Commander 98:
Tips: 8.5
Shovels: 8.5-9
In Front of Toe Piece: 9.5
Underfoot: 9.5
Behind the Heel Piece: 9.5-8.5
Tails: 8.5
This is a very strong flex pattern that is quite stiff through most of the ski, but smoothly transitions to slightly softer sections in the last ~20 cm of the tips and tails. Jonathan Ellsworth noted that the Commander 108's flex pattern was nice and round, and the same can be said of the 98 — its tips aren't wildly softer or stiffer than its tails.
Compared to the Commander 108, the Commander 98 is ever so slightly stiffer at the extremities, but the difference is pretty minimal.
The Commander 98 has stiffer tips and shovels than the Blizzard Bonafide, and a similarly strong tail. Compared to the (quite stiff) Dynastar Legend X96 and Atomic Vantage 97 Ti, the Commander 98 is a touch softer, particularly in the tail.
Weight
This is probably the most surprising thing about the Commander 98 and 108 — they are very light for skis that have two layers of titanal. Of the skis on our list below, the next lightest ski that also has two full layers of titanal is the 4FRNT MSP 99, which is nearly 200 grams heavier per ski.
And just to illustrate the changes in industry trends over the years, we also included the weight of Moment's old 104mm-underfoot touring ski, the Tallac. The backcountry-specific 186 cm Tallac is a bit heavier than the inbounds-oriented 178 cm Commander 98. It's pretty interesting to go back and read Jonathan's review of the Tallac and hear him talk about how light it is at ~1800 grams, while today, there are several inbounds skis that are lighter than it.
For reference, below are a few of our measured weights (per ski, in grams) for a few notable skis. As always, note the length differences to keep things apples to apples.
1629 & 1684 Elan Ripstick 96, 181 cm (17/18, 18/19)
1734 & 1750 Renoun Endurance 98, 184 cm (18/19)
1758 & 1774 Moment Commander 98, 178 cm (18/19)
1797 & 1809 Moment Tallac, 186 cm (15/16)
1896 & 1919 Dynastar Legend X96, 186 cm (17/18, 18/19)
1921 & 1968 Head Kore 99, 189 cm (18/19)
1925 & 1937 Liberty Helix 98, 186 cm (18/19)
1931 & 1932 DPS Foundation Cassiar 94, 185 cm (18/19)
1956 & 1999 K2 Pinnacle 95 Ti, 184 cm (17/18, 18/19)
1966 & 1973 Liberty Origin 96, 187 cm (18/19)
1998 & 2044 4FRNT MSP 99, 181 cm (17/18, 18/19)
2007 & 2029 Armada Invictus 99 Ti, 187 cm (18/19)
2013 & 2013 Moment Commander 108, 188 cm (18/19)
2049 & 2065 Volkl Mantra M5, 177 cm (18/19)
2050 & 2080 ON3P Wrenegade 96, 184 cm (18/19)
2053 & 2057 Atomic Vantage 97 Ti, 188 cm (18/19)
2114 & 2133 Nordica Enforcer 93, 185 cm (17/18, 18/19)
2115 & 2149 J Skis Masterblaster, 181 cm (17/18, 18/19)
2124 & 2137 Blizzard Bonafide, 180 cm (17/18, 18/19)
2131 & 2189 Nordica Enforcer 100, 185 cm (17/18, 18/19)
Some Questions / Things We're Curious about
My short answer to the question, "What are you curious about?" would be, "Literally everything."
Personally, I'm very excited about the Commander 98 and 108, and I really don't know what to expect. But here are a few of the particular things we'll have in mind during our testing.
(1) Is the Commander 98 more of a nimble all-mountain ski, or more of a big-turn, fall-line charger?
(2) How will the Commander 98's significant taper and fairly deep rocker lines perform on very firm snow?
(3) Given its weight, how suitable is the Commander 98 as a 50/50 or touring ski?
(4) How does the ski feel and perform with the bindings a few cm forward of the recommended line?
(5) How demanding vs. forgiving is the Commander 98?
(6) Of the big, important class of ~98 mm wide skis, where does the Commander 98 fit in, and which skis feel most comparable?
Bottom Line (For Now)
Just like the Moment Commander 108, the Commander 98 is a pretty unusual ski that certainly stands out. We will post Flash Reviews of the Commander 98 and 108 as soon as possible, so stay tuned for updates.
Flash Review: Moment Commander 98
Blister members can now read our initial on-snow impressions in our Flash Review of the Commander 98.
(Learn more about Blister Member benefits, and Become a Blister Member)
FULL REVIEW
When we first got the new Moment Commander 98, we weren't really sure what to expect. As you can see in our First Look, we had a lot of questions, and didn't have a good sense of where the ski would slot in the ~100 mm all-mountain category.
But I now have 10 days on the 178 cm Commander 98, and Jonathan Ellsworth and Sam Shaheen have also put time on it and this is a ski that we've discussed it a lot — including on our latest GEAR:30 podcast.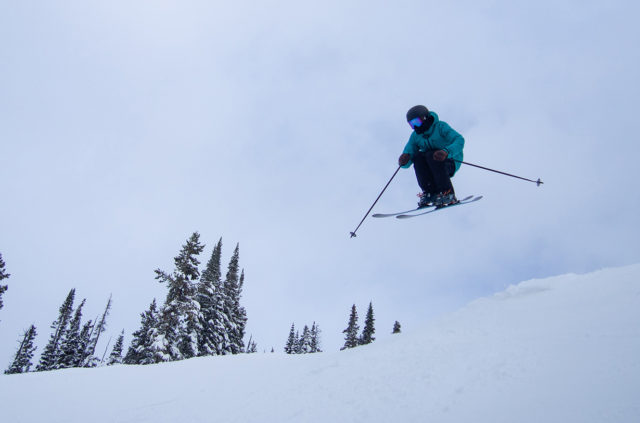 So here's my take on Moment's strong, light, metal-laminate ski:
Groomers
While I think the Commander 98 does quite well off piste, I was very surprised by how much I liked it on groomers. On anything softer than straight ice, the ski held an edge surprisingly well (given its rocker lines and taper). But more importantly, I could really lay into the Commander 98's stiff flex pattern and was then rewarded with a lot of pop coming out of a turn.
On fairly smooth, soft-ish groomers, I had a great time while cranking out both fairly tight, and pretty big turns at high edge angles. And the Commander 98 was not only versatile in terms of turn shapes, but also stances. If I wanted to, I could lay off the shovels and ski from a pretty neutral stance. But when I wanted to really drive and push the ski, I could get over the shovels as much as I wanted, even though we skied it in a length that we all worried would feel a bit short (I'm 5'8", 155 lbs).
The Commander 98 didn't pull me into a turn like a narrower, carving-oriented ski. But the Commander 98 does initiate turns intuitively, which, for a ski that I'm going to use off-piste a lot, is what I'd prefer.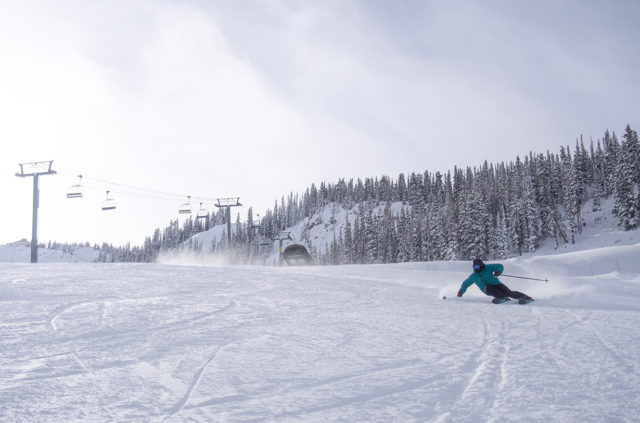 Moment talks about how the Commanders can handle both straightlines and tight terrain, and I think that's pretty accurate. The Commander 98 held a strong edge during big turns on corduroy, but it was also very easy to feather and throw the ski sideways to shut down speed.
The only time when I felt like I needed to slow things down on the Commander 98 on groomers was when the snow had been cut up at the very end of the day and there were lots of pushed-around piles of snow. Here, the ski would get knocked off track if I wasn't paying attention and anticipating the patches of snow. But if the snow was smooth, I could basically ski it as fast as I wanted.
All in all, I really like the Commander 98 on groomers. I'd prefer a narrower ski with less rocker and taper (e.g., Head Monster 83 Ti) for really smooth, firm snow / ice. But on anything softer than ice, the Commander 98 is a blast.
Moguls
When I was attentive and making deliberate line choices, I really liked the Commander 98 in bumps. It has a really low swing weight and it's pretty easy to slide through troughs, which made it feel very nimble. And since it's pretty stiff, I could drive the front of the ski quite hard.
When I got lazy, the Commander 98's stiff tails urged me to be better — this is not a great ski for people who tend to get backseat a lot in bumps. That said, the Commander 98 wasn't as punishing as I expected; I found its fairly round flex pattern to be pretty intuitive in bumps. It will punish backseat skiing, but I think its sweet spot is pretty big (as do Sam and Jonathan).
I haven't personally had any issues with the Commander 98's tips in bumps. They're low, but they haven't caught on anything while I was skiing moguls. Jonathan has had an issue with the Commander 108's similarly low tips in bumps, but he skis with a more forward stance than I do. So from my experience, if you're not deliberately driving the tips of your skis really hard down into the troughs of moguls, the Commander 98 seems to do just fine.
Shallow Chop & Crud
In fairly shallow (<6"), soft chop, I was still able to ski very hard and fast on the Commander 98. Its stiff flex pattern meant I could drive the ski through the soft chop and keep moving downhill.
When that soft chop had been sitting in the sun for a few days — thawing, refreezing, and turning into crud — the Commander 98's low weight began to make itself known. This is not what I'd call a "plush" ski. I think it is quite damp for its weight, but it still felt a bit jarring when skiing fast through firm, off-piste snow.
So if you want a ski that'll just absorb firm inconsistencies in the snow, I think there are several better (and mostly heavier) choices. But if you prefer to slow things down when the snow is really rough, the Commander 98 can still do that quite well. Since it's so light and pretty easy to release from a turn, the Commander 98 can be fun to ski with a dynamic, "light on your feet" style.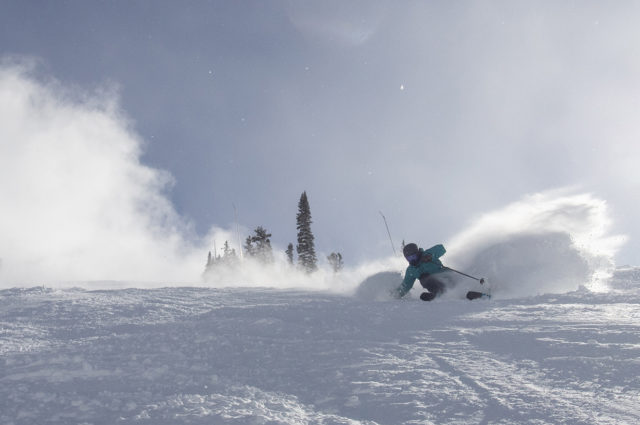 And that's one of the things that sticks out to me with this ski. There are now a lot of very light, nimble skis out there, and there are also still some heavy skis that encourage skiing like a bulldozer with little regard for the conditions or terrain. But those light skis are often not very damp and / or strong, and the heavy skis don't work very well when you want to make lots of quick transitions.
The Commander 98 sets itself apart because it is strong and damp enough to ski very hard and fast when conditions are pretty forgiving (i.e., at least a little bit soft and / or smooth). But it's also very quick — I had no trouble making tons of small adjustments in bumps and off-piste snow on the Commander 98.
Deep, Dense Powder & Chop
I was on the 178 cm Commander 98 when they dropped the ropes on Resurrection under Crested Butte's East River lift. The snow was untouched by skiers, though it had condensed to the point that the ~12" of untracked snow was pretty dense.
In this snow, the 178 cm Commander 98's tips did not rise very well, and I felt like I needed to ski backseat to prevent the ski from diving. Now, part of that is definitely due to the length — I typically opt for skis in the 183-190 cm range, especially in fresh snow. But I also think some of this could be attributed to the Commander 98's tip rocker profile. Its tips don't rise very high, and they did not plane up and over the snow, but instead cut through it.
Granted, this is a 98mm-wide ski, so deep-snow performance probably won't be a huge priority for many of you reading this. But if you want your ~98mm all-mountain ski to perform well in deep snow — and particularly at slower speeds — there are better options out there.
50/50 Use — Backcountry & Resort
This was one of the main questions I had coming into the review — would the Commander 98 be a good ski to use both inside and outside of the resort?
Based on its performance and low weight, I think some people could definitely appreciate the Commander 98 as a 50/50 ski. It's light, strong, and performs well in a pretty wide range of conditions. I think it could be a particularly fun ski for spring corn missions.
That said, for where (Colorado) and how I ski (with a playful style), I'd want a 50/50 ski that's a bit more forgiving and that will plane up better in deep snow. In the backcountry, it's rare that I'm hitting high speeds, so I would prefer a ski that will forgive mistakes in tricky snow rather than have one that I can charge on. Since I can ski as hard and fast as I want in the resort, that's where I prefer the Commander 98.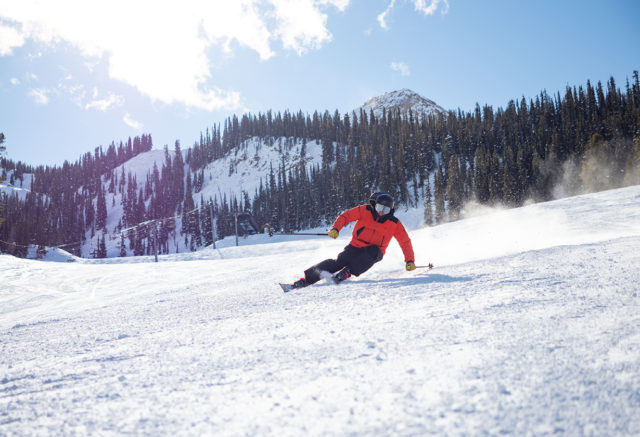 So, whether or not the Commander 98 will work as a 50/50 ski comes down to your preferences. If you like a stiffer ski and are looking for a 50/50 ski that you'll use in mostly shallow conditions, it could definitely work.
Mount Point
I spent most of my time on the Commander 98 with the bindings mounted on the recommended line (-8.1 cm from center). I really liked it there — I could drive the front of the ski very hard, I could still ski it pretty neutral when I wanted to, and it felt pretty light in the air.
I also skied the Commander 98 with the bindings at -6 cm from center. Here, the ski still felt "normal" and intuitive, just a bit lighter in the air. But since the ski felt so light on the recommended line, I ended up preferring it at -8 cm since I could get more leverage over the tips and really push the front of the ski when I needed to.
Length
When we first saw the Commander 98, we had a big debate about whether to go with the 178 cm model or the 188, and I figured I'd want to size up. The ski has lots of taper, deep rocker lines, and it's quite light. But apart from deep snow, I've never felt like I needed a longer ski, and I doubt going up in length would've made a huge difference in deep snow. Plus, since I think the Commander 98's quickness is one of its best traits, I think the shorter length plays well to that particular strength of the ski.
Who's It For?
Advanced to expert skiers who like to ski hard and fast when conditions are soft and / or smooth, but who also like to ski with a dynamic style, make lots of quick adjustments, and find damp, heavy skis to feel sluggish.
Bottom Line
Moment's Commander 98 offers an interesting combination of traits. It's very strong and can be skied very hard in fairly forgiving conditions, yet it's also light, pretty easy to slide around, and rewards an active skiing style.
Deep Dive Comparisons
Become a Blister Member or Deep Dive subscriber to check out our Deep Dive of the Commander 98 to see how it stacks up against the Blizzard Bonafide, J Skis Masterblaster, Volkl Mantra M5, Liberty Origin 96, Blizzard Rustler 9, Head Kore 99, Atomic Vantage 97 Ti, Renoun Endurance 98, 4FRNT MSP 99, ON3P Wrenegade 96, and more.