Ski: 2019-2020 Armada Invictus 99 Ti, 187 cm
Available Lengths: 171, 179, 187 cm
Blister's Measured Tip-to-Tail Length: 185.9 cm
Blister's Measured Weight per Ski: 2007 & 2029 grams
Stated Dimensions: 135-99-125 mm
Blister's Measured Dimensions: 134.6-98.5-124.4 mm
Stated Sidecut Radius: 21.5 meters
Measured Tip & Tail Splay (ski decambered): 60 mm / 20 mm
Measured Traditional Camber Underfoot: ~3 mm
Core: Poplar/Ash + Titanal (2-layers) + Innegra/Carbon Laminate
Base: Armada's "Comp Series" Base
Factory Recommended Mount Point: -7.4 cm from center; 85.5 cm from tail
Test Locations: Crested Butte, Telluride, & Front Range, CO
Days Skied: ~20
[Note: Our review was conducted on the 18/19 Invictus 99 Ti, which returns unchanged for 19/20, apart from graphics.]

Intro
The Invictus line is Armada's directional all-mountain series, and Armada emphasizes their hard-charging performance across a range of conditions. We reviewed the original Invictus 108 Ti and found it to be a very stable directional charger that performed surprisingly well in deep snow.
Then for the 17/18 season, Armada tweaked the Invictus line, using two 4-mm sheets of titanal instead of the two 5-mm sheets in the previous versions. They also added a Carbon/Intelligrid laminate that is designed to add both damping and energy / pop to the skis.
For the 18/19 and 19/20 seasons, the Invictus line returns unchanged, except for a graphics update and the discontinuation of the Invictus 108 Ti for 19/20.
We've been spending time on a couple of the 18/19 Invictus skis, and to get an idea of where these new skis fall in line with other directional all-mountain skis, let's take a closer look at the Invictus 99 Ti.
Here's what Armada says about the Invictus 99 Ti:
"With an award-winning frame, the Armada Invictus 99 Ti doesn't take days off. A ski designed by skiers for skiers, the 99 Ti rewrites the speed limit with a lively metal laminate and dampening Intelligrid that increases response and controls chatter. Hard-Pack? Powder? Chunder? The 99 Ti will eat it all and come back for seconds."
Armada is definitely emphasizing the hard-charging capabilities of the Invictus 99 Ti, which is to be expected given the Invictus line's design intentions. They're also placing it in the 1-ski quiver category. But what's particularly interesting is their talk about a "lively metal laminate and dampening Intelligrid." Lively and Dampening are typically oxymorons, so we'll see to what degree the Invictus 99 Ti manages to offer both, and we'll weigh in on how lively or how planted this ski feels.
Shape / Rocker Profile
The Invictus 99 Ti has a pretty big shovel, coupled with subtle tail taper. That shape is fairly traditional, but the ski's rocker profile isn't — it has pretty high tip splay and a fairly deep tip rocker line. Compared to the Blizzard Bonafide and Volkl Mantra M5, the Invictus 99 Ti has a similar, if not slightly shallower tip rocker line, but the Invictus 99 Ti's tips rise pretty quickly, whereas the tips of the Bonafide and Mantra M5 don't splay out until the end of the skis.
At the tail, the Invictus 99 Ti has a very shallow tail rocker line, but the tail rises abruptly to 20 mm of tail splay, which is a bit more than the Mantra M5's 18 mm, and significantly more than the Bonafide's 7 mm tail splay.
The Invictus 99 Ti's tip rocker and tip shape suggest that it should perform well in powder for its width, and that becomes even more interesting when you take a look at this next section…
Flex Pattern
Here's how we'd characterize the flex pattern of the Invictus 99 Ti:
Tips: 6
Shovels: 6.5
In Front of Toe Piece: 8-10
Underfoot: 10
Behind Heel Piece: 9.5-9
Tails: 9
The Invictus 99 Ti has a very directional flex pattern. Its tips and shovels are actually pretty soft, but then the flex quickly ramps up to a very solid midsection and a very strong tail. The Invictus 99 Ti's tail feels pretty similar to the tail of the Head Monster 98, which is one of the most stable skis we've tested in this waist width. So while the Invictus 99 Ti's tips / shovels should allow for easy turn initiation and good floatation, the rest of the ski feels very strong and supportive.
Weight
While we didn't review the previous version of the Invictus 99 Ti, Armada's stated weight for the 16/17 Invictus 99 Ti was 2300 grams per ski — it had dual 5-mm titanal layers, instead of the dual 4-mm layers used on the 17/18 and 18/19 version.
Our 187 cm model of the 18/19 Invictus 99 Ti is coming in at around 2015 grams per ski, which is quite light compared to other dual-metal-laminate skis, and way lighter than the stated weight of the original Invictus 99 Ti. So again (and as with all lighter skis), the Invictus 99 Ti's stability has been a key factor we've been paying attention to while reviewing the ski.
For reference, here are a number of our measured weights (per ski in grams) for some notable skis. As always, pay close attention to the length differences to keep things more apples-to-apples.
1629 & 1684 Elan Ripstick 96, 180 cm (17/18–19/20)
1734 & 1750 Renoun Endurance 98, 184 cm (18/19)
1758 & 1774 Moment Commander 98, 178 cm (18/19)
1800 & 1824 Luke Koppa's Romp Skis 100, 183 cm (18/19)
1807 & 1840 Atomic Bent Chetler 100, 188 cm (18/19–19/20)
1894 & 1980 Black Crows Daemon, 183.6 cm (17/18–19/20)
1896 & 1919 Dynastar Legend X96, 186 cm (17/18–19/20)
1921 & 1968 Head Kore 99, 188 cm (18/19–19/20)
1925 & 1937 Liberty Helix 98, 186 cm (18/19–19/20)
1966 & 1973 Liberty Origin 96, 187 cm (18/19–19/20)
1985 & 2006 Parlor Cardinal 100, 185 cm (16/17–18/19)
1998 & 2044 4FRNT MSP 99, 181 cm (17/18–18/19)
1950 & 1977 Blizzard Rustler 10, 188 cm (17/18–18/19)
2007 & 2029 Armada Invictus 99 Ti, 187 cm (18/19–19/20)
2049 & 2065 Volkl Mantra M5, 177 cm (18/19–19/20)
2050 & 2080 ON3P Wrenegade 96, 184 cm (18/19)
2053 & 2057 Atomic Vantage 97 Ti, 188 cm (18/19–19/20)
2101 & 2104 Fischer Ranger 102 FR, 184 cm (18/19–19/20)
2115 & 2149 J Skis Masterblaster, 181 cm (16/17–18/19)
2124 & 2137 Blizzard Bonafide, 180 cm (17/18–19/20)
2131 & 2189 Nordica Enforcer 100, 185 cm (15/16–19/20)
2233 & 2255 Nordica Enforcer 104 Free, 186 cm (19/20)
2311 & 2342 K2 Mindbender 99Ti, 184 cm (19/20)
2344 & 2367 J Skis Masterblaster, 187 cm (16/17–18/19)
These numbers are quite interesting. Basically, the 187 cm Invictus 99 Ti is quite similar in weight to the 188 cm Vantage 97 Ti, but those two skis are quite a bit lighter than the other metal-laminate skis in this category. So does the Invictus 99 Ti feel more like the lighter batch of skis (e.g., Dynastar Legend X96, Head Kore 99, and Liberty Origin 96), or more like the heavier batch of skis (e.g., J Skis Masterblaster, Blizzard Bonafide, Nordica Enforcer 100)?
Bottom Line (For Now)
The Armada Invictus 99 Ti has many of the design characteristics of an all-mountain charger (pretty strong flex pattern, dual-metal-laminate construction, fairly long effective edge), but its low weight makes it stand out from many of the other skis in this category. We've been spending time on the Invictus 99 Ti this season, so stay tuned for updates, and let us know about anything you'd like us to address in our full review.
FULL REVIEW
Over the last year, we've had a handful of reviewers on Armada's metal-laminate all-mountain ski, the Invictus 99 Ti, and given their respective skiing styles, it's led to some different perspectives on this ski. So pay particularly close attention to context here, and think about which reviewer or reviewers sound the most like you. Ok, so here we go: 5 reviewers, 1 ski.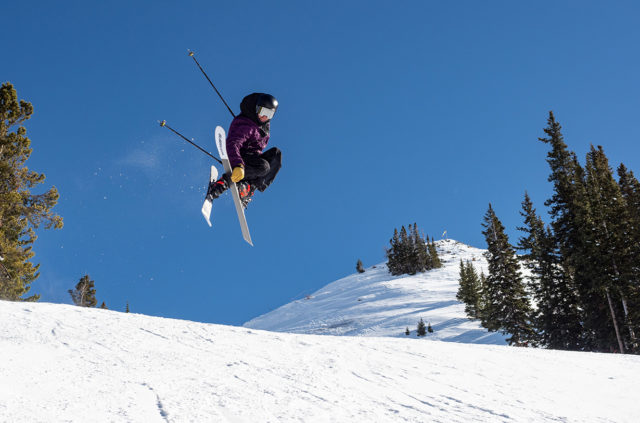 Powder
Brian Lindahl (5'10", 185 lbs): Our hypothesis about the Invictus 99 Ti's powder performance was mostly correct — its softer, minimally-tapered tips and large amount of tip splay provide a decent amount of float for a ski this wide. In that respect, the 187 cm Invictus 99 Ti reminds me a lot of the 188 cm Salomon QST 99 we reviewed.
Even on deeper days or in wind-affected powder, I didn't feel like I had to lean back much at all on the Invictus 99 Ti to keep its tips from diving. While I didn't find the Invictus 99's tips to be hooky, its stiff tails really prefer to hang on to to the end of the turn. Not unlike the Salomon QST 99, the Invictus 99 Ti took a decent amount of effort — exaggerated unweighting and foot retraction — to make quick turns in untracked powder in the trees. Overall, the 187 cm Invictus 99 Ti prefers arcing big turns in open spaces over slashing around playfully in the trees.
Sam Shaheen (5'10", 140 lbs): Overall I agree with what Brian has said above, but (as will quickly become a theme in this review), I want to emphasize that, to me, the 187 cm Invictus Ti does not feel like a particularly quick ski. Even with its fairly low weight, this ski often feels cumbersome to me at low speeds and in tight spaces. It felt like it preferred to be opened up in smooth, untracked snow in wide open areas.
Eric Freson (5'10", 180 lbs): Piggybacking of what Brian has already said, I was impressed by the Invictus 99 Ti's float in untracked snow, given its narrower width. The tips did an excellent job of staying high in the snowpack for how narrow the ski is, and I was able to stay forward over the ski without fear of unexpectedly torpedoing a tip to the bottom.
I would also agree that the ski does prefer bigger-radius turns, and that it is not a slarvy ski that you can effortlessly pivot around in tight spaces. But I would also say that, for how strong this ski is, I felt that I was able to move it edge to edge as quickly as needed in tight terrain — if I was willing to muscle it a bit. I didn't think of it as cumbersome, more that it just requires deliberate input, rather than some skis where you can just intuitively and / or lazily pivot them around quickly.
Tracked Powder and Soft Chop
Brian: When skiing fast through cut-up powder, the Invictus 99 Ti offers more stability than many skis in this category. However, it's still not a very heavy ski, and its large tip splay and softer tips held it back a bit when I didn't have the ski on edge. Running bases flat, the Invictus 99 Ti tends to "plow" a bit and get pushed around, rather than slicing through the snow. This behavior is pretty characteristic of a lot of skis that have softer tips and shovels. But if you keep the Invictus 99 Ti on edge, this characteristic is less pronounced, and it can retain good stability at high speeds through soft chop.
At more moderate speeds, the Invictus 99 Ti's softer shovels become a benefit instead of a liability. I was able to bend the softer tip into short, quick turns at slower speeds. However, as in untracked snow, the stiff tails don't release easily, so the second half of a quick turn requires a bit more effort than it does with skis that have softer and / or more rockered tails.
Sam: Surprisingly, given (what I would describe as) the general lack of quickness and planted feel of the Invictus 99 Ti, I didn't think it felt great in chop at high speeds. There is a definite lack of dampness, and I found heavier skis in the category to feel much more composed. The Invictus is quite light, and I thought it got rather easily deflected at high speeds.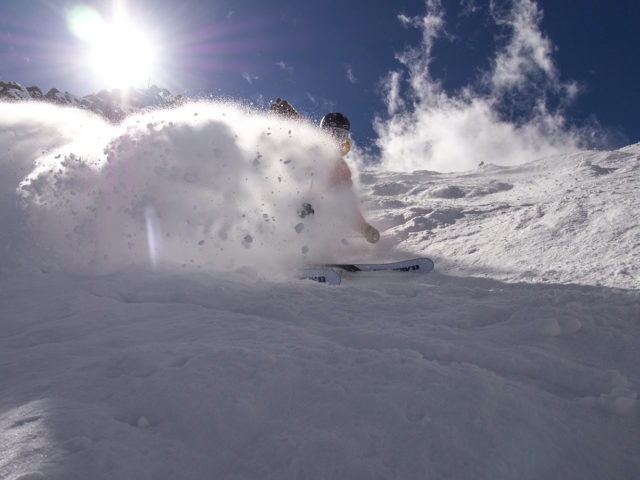 Eric: I think the Invictus 99 hits a happy medium in regard to its accessibility and performance in post-storm conditions. It does a pretty good job of being a big-mountain ski with a skinnier waist — it can fluidly and rather seamlessly transition from pow to chop to firm snow without becoming too unsettled. It's also not so big, slow, or powerful that it requires you to be in #maximumattack mode all the time to make it work.
You can find the limits on this ski, but it has enough backbone so that I wasn't finding them all the time. I thought the flex of the Invictus 99 worked particularly well in these types of soft-snow conditions as its middle-of-the-road weight, progressively stiffer flex, and rather damp feel (for its weight) allowed it to transition through snow types smoothly. I would second what Brian said in regard to it being better on edge than flat, and also attribute it to a softer flex in the front of the ski.
Jonathan Ellsworth (5'10", ~175 lbs): So Brian and Eric seem to be on a pretty similar page here, and Sam Shaheen, a bit less so. The trick here is that I don't think any of them are wrong about the claims they're making. In terms of how damp the ski feels, I tend to be more on Team Sam. But that said, I 100% agree with Brian and Eric that, if you are able to keep these skis on edge, the Invictus 99 can still track well in chopped up and variable snow.
Moguls, Tight Trees, and Chutes
Brian: The Invictus 99 Ti's stiff tails are noticeably more manageable on firm snow than in soft and / or deep conditions — provided that you stay forward and drive the ski. The more you ski the Invictus from a centered stance, the more effort it will take to release the tails. But when driven from the front of the ski boot, the Invictus 99 Ti's softer tips let me make quick work of awkward moguls lines, irregular trees, and deeply-inset chutes.
Finally, I thought that the Invictus 99 Ti felt quite comfortable banging down tight moguls lines. Its softer tips strike a nice balance between being supportive enough to avoid folding up, while also being forgiving enough to not knock me backseat. However, if you do get knocked backseat too far, the Invictus 99 Ti's stiff tail can be punishing.
Sam: I agree with Brian that the Invictus 99 Ti much prefers a forward, driving stance. I found the tail to be quite punishing if I got too far backseat, so a forward stance feels almost mandatory.
That said, I don't think that this ski is a good option for a lot of people in bumps (especially beginners and intermediates). To me, it felt quite slow edge to edge, had a distinctly planted feel, and isn't very forgiving of mistakes. I agree with Brian that the tips of the ski are happy being banged into the fronts of moguls, but bare in mind that Brian is a very strong, technically proficient, directional skier who greatly prefers stiff (and often demanding) skis. I think most skiers would find the Invictus 99 Ti to be too cumbersome to be a good bump ski — at least in the 187 cm length.
Luke Koppa (5'8", 155 lbs): I tend to prefer very different skis than Brian and Eric, especially in bumps. I ski with a fairly neutral, slightly forward stance in bumps and prefer to pivot and slide my skis, rather than mash the front of them down into troughs. As a result, I tend to like skis with a considerable amount of tail rocker, and that have softer, more forgiving tails. So, it came as no surprise to me that I did not get along well with the Invictus 99 Ti in bumps. Its tail felt punishing and it didn't feel very quick, given its fairly low weight.
So to quote our fearless leader, Jonathan Ellsworth: "Know Thyself." If you don't tend to ski with an aggressive, forward stance and have liked skis with softer and / or rockered tails, the Invictus 99 Ti is not the ski for you. But if you do pressure the front of your skis and appreciate a strong, supportive tail, then it'd make much more sense.
Eric: Do you like to make GS turns though mogul runs and deal with impacts as they come? If yes, I think you'll like the Invictus 99. Do you like to use trees as slalom gates and attack down the fall line when skiing in tight trees? If yes, I think you'll like the Invictus 99. Do you like to hatchet your tails into the chalk of a steep chute while working to keep the speedometer high in tight spaces? If yes, I think you'll like the Invictus 99. In other words, if you ski very aggressively in tighter terrain, you'll probably get along well with the Invictus 99 Ti.
But if what Luke describes sounds more like you, I would echo the sentiments of both Sam and Luke.
Firm and Variable
Brian: Overall, I thought the Invictus 99 Ti felt confidence inspiring on firm and variable snow at speed, and that it had a more planted feel than its lighter weight might imply. It's not a supremely damp ski like the old Head Monster 98, but the top end of the Invictus 99 Ti is still quite respectable, and I don't think many skiers will find its speed limit. It can hold a carve quite well on firm, undulating surfaces (as long as they aren't icy), while its softer tip provides good suspension.
At more moderate speeds, the Invictus still works well, likely due to its softer flex through the shovels. And in more open spaces, the stiff tails are less overwhelming and can be skidded into longer turns without having to be forced into quick maneuvers.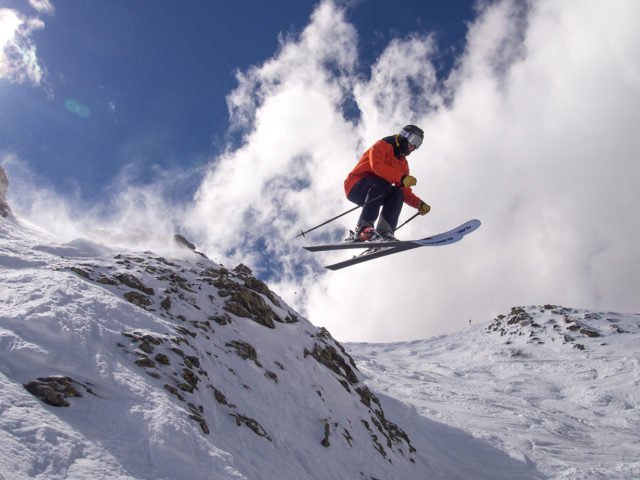 Luke: I mostly agree with Brian, the only thing I'd add is that the Invictus 99 Ti feels pretty confidence inspiring when you're driving it pretty hard. I think it's pretty damp and planted for its weight, but I didn't feel like it was a ski that I could just stand in the middle of and let run at super high speeds. Running bases flat or lightly on edge, the Invictus 99 Ti got knocked around more easily than heavier skis in its class. But when driving it hard on edge, it felt significantly more solid and stable.
Eric: Yup!
Jonathan: Since Brian brought up the hallowed (and deceased) Head Monster 98, let's get clear here: that was a ski that you could very much "just stand in the middle of and let run at super high speeds" (to quote Luke). And that not the way you ski the Invictus 99 Ti. Of course, the Monster 98 also weighed a lot … which is clearly not everyone's cup of tea.
Groomers
Brian: The Invictus 99 Ti prefers to arc big, wide turns on groomers, and it's not a particularly snappy or energetic ski. Its softer shovels, paired with a strong flex underfoot and through the tail, make it difficult to load up the entire ski to produce a strong rebound.
Despite having wide shovels, the Invictus 99 Ti doesn't really pull you into a turn, either. Unless I really threw my weight into the shovels, I had to be a bit patient with turn initiation. On the flip-side, this also means that the Invictus isn't particularly hooky and, as a result, doesn't require a lot of attention when carving turns on groomers.
Sam: I agree here with Brian. I would add that on very firm and icy conditions, the Invictus 99 Ti doesn't offer the best edge hold or inspire much confidence in its ability to hold a line. The ski feels a bit harsh and slightly unpredictable on very firm snow.
Luke: Yep, I agree with Sam and Brian. The Invictus 99 Ti isn't a great ski for ice, but on even fairly soft groomers, it can be fun to carve big turns on it. Just don't expect much energy coming out of a turn.
Eric: Brian's breakdown of the Invictus 99 on groomers echos my own. I didn't get to ski them on anything truly approaching ice, but I did think they performed well on firm snow. The slow rebound / damp feel and strong flex meant that I could ski it hard and trust it to stay composed until I was able to find the grip I was looking for.
Who's It For?
Brian: The Invictus 99 Ti's design seems best for technically-proficient skiers who prefer to ski with a forward stance. It's not the most demanding ski out there — especially in wide-open spaces — but beginner, intermediate, and advanced skiers might find the Invictus 99 Ti's stiff tails difficult to maneuver through tight mogul lines, trees, and / or untracked snow.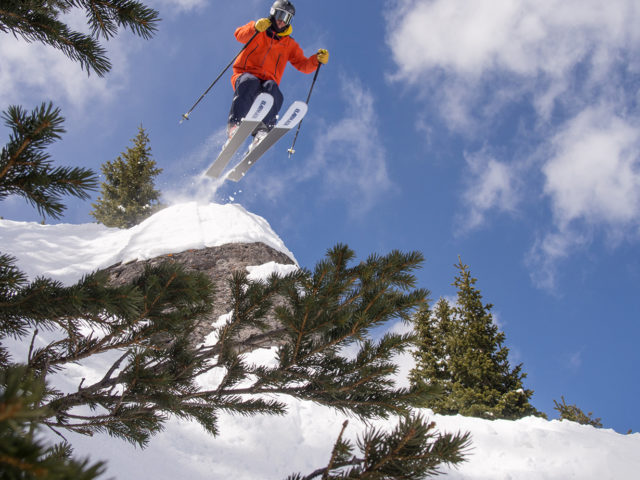 The Invictus 99 Ti is not a very energetic ski, so if you prefer a more lively ride, look elsewhere (there are lots of good options in the "All-Mountain – More Stable" section of our 18/19 Winter Buyer's Guide). But if you prefer arcing big turns through open spaces and have the technical skill to manage it in tighter terrain, the Invictus 99 Ti is a solid choice. And, it comes in at a weight where it wouldn't feel totally out of place as a 50/50 1-ski quiver for the backcountry and the resort.
Eric: Yup. The Invictus 99 Ti is not some super demanding bruiser, but it's also no featherweight. It requires someone who is willing to stay on top of it and drive it, but it's also not so demanding that none but the most aggressive can reign it in. If you are looking for a ~100mm-wide, big-mountain ski and aren't expecting it to obliterate everything in your path like some 2300-gram, 190cm-long, 115mm-wide ski, the Invictus 99 Ti is worth a good look.
Bottom Line
The Armada Invictus 99 Ti offers a pretty planted, solid, and powerful feel without coming in at the hefty weight of many other metal-laminate skis. It planes well in deeper snow for its width, can carve big, clean turns on and off piste, and can be worked through tighter terrain if you stay on top of it. It's not a great ski for skiers who want to slarve around or who often end up in the backseat. Overall, the Invictus 99 Ti is a competent big-mountain ski in an all-mountain width and offers good stability while not being overly demanding — provided the skier has solid technique.