Ski: 2021-2022 Nordica Enforcer 104 Free, 186 cm
Available Lengths: 172, 179, 186, 191 cm
Blister's Measured Tip-to-Tail Length: 184.5 cm
Blister's Measured Weight per Ski: 2233 & 2255 grams
Stated Dimensions: 135-104-124 mm
Blister's Measured Dimensions: 136.4-103.9-126.6 mm
Stated Sidecut Radius (186 cm): 18.5 meters
Measured Tip & Tail Splay (ski decambered): 66.5 mm / 44 mm
Measured Traditional Camber Underfoot: ~4 mm
Core: Poplar/Beech/Balsa + Titanal (2 layers) + Carbon & Fiberglass Laminate
Factory Recommended Mount Point: -8.85 cm from center; 83.4 cm from tail
Boots / Bindings: Nordica Strider 120; Head Raptor 140 RS; Dalbello Lupo SP I.D. / Tyrolia AAAttaack2 13 AT
Test Location: Crested Butte, CO
Days Skied: ~15
[Note: Our review was conducted on the 19/20 Enforcer 104 Free, which was not changed for 20/21 or 21/22, apart from graphics.]

Intro
In case you haven't heard, we're big fans of Nordica's Enforcer and Santa Ana series. And personally, I'm a massive fan of the Enforcer 110 — it combines the damp and stable, yet forgiving feel of the Enforcer 100 with a more playful shape and rocker profile, which perfectly suits my skiing style.
But while the Enforcer 110 is very versatile and carves incredibly well for its size, it is still a bit wide for firm-snow days. So, back on our GEAR:30 podcast a few months ago, I mentioned how happy I'd be if Nordica took the rocker profile and construction of the Enforcer 110 and made it into a slightly narrower ski.
Well, apparently they heard me. Or more realistically, they had a similar idea last year when they were designing their 2019-2020 line, because for next season, they're releasing the Enforcer 104 Free — a ski that looks, feels, and seems like a narrower Enforcer 110. And you could say that I'm just a little bit excited about it.
But before we get to my personal ramblings about this ski, let's talk about the whole 19/20 Enforcer and Santa Ana lineup.
2019-2020 Nordica Enforcer and Santa Ana Skis
Beyond the addition of the Enforcer 104 Free, Nordica is also adding an Enforcer 88 and Santa Ana 88. The 88's are based on the Enforcer 93 and Santa Ana 93, both of which have dual-metal-laminate constructions and pretty flat tails. We have both the Enforcer 88 and Santa Ana 88 in hand, and will be posting more about them very soon.
To complement the narrower, flatter-tailed Enforcer 100, 93, and 88, Nordica has decided to switch up the naming scheme for their wider Enforcer skis, all of which have more twinned / rockered tails than the Enforcer 100, 93 and 88. The current Enforcer 110 and Enforcer Pro will be called the Enforcer 110 Free and Enforcer 115 Free, respectively. And then the brand-new Enforcer 104 Free will fill the narrower end of the "Free" lineup.
The Enforcer 88 and 104 Free share the same Poplar/Beech/Balsa wood cores and 2-layer titanal construction of the other Enforcers. But the new 88 and Enforcer 104 Free's wood cores extend a bit further in the skis, reducing the amount of ABS used in the tip and tail spacers. This is intended to reduce the swing weights of the new skis.
None of the current Enforcer or Santa Ana skis are getting changed apart from graphics and names, which we are very happy about. They're already really good, so thank you, Nordica, for not messing them up.
But while we encourage manufacturers to not change something that's already good, we're fully on board with them taking an already good ski and using it to design another model in the line. So let's talk about the Enforcer 104 Free.
Shape / Rocker Profile
The Enforcer 104 Free looks really similar to the Enforcer 110. The Enforcer 104 Free has a very similar shape, with a bit of early taper at the tips and tails, but its tips and tails don't taper to much of a point like skis like the Dynastar Legend X106.
The Enforcer 104 Free's rocker profile is very similar to the Enforcer 110, with the Enforcer 104 Free having just slightly shallower rocker lines and slightly lower tip and tail splay. But the differences between the two skis are subtle, which I'm psyched about. The Enforcer 104 Free still has a pretty deep tip rocker line compared to most skis in its class, and it has a nearly twinned tail with a pretty deep tail rocker line.
Flex Pattern
Here's how we'd characterize the flex pattern of the Enforcer 104 Free:
Tips: 7
Shovels: 7-8
In Front of Toe Piece: 8-9
Underfoot: 9.5
Behind the Heel Piece: 9-8.5
Tails: 8.5
Surprise! The Enforcer 104 Free's flex pattern is very similar to the Enforcer 110's. The Enforcer 104 Free's tips are a touch stiffer, as are its tails. But the difference is subtle. Both skis have tips and shovels that are fairly easy to bend, but they have pretty stout midsections and fairly strong tails.
Compared to the Enforcer 100, the Enforcer 104 Free's tips and tails are noticeably stiffer, with the tails being more noticeably stiffer than the tips.
One ski we're very anxious to A/B against the Enforcer 104 Free is the Fischer Ranger 102 FR — another ski with a strong flex pattern and a slightly more playful-looking rocker profile. Compared the Ranger 102 FR, the Enforcer 104 Free's shovels are a bit softer, and it's tails are more noticeably softer.
Weight
The Enforcer 104 Free is not a particularly light ski. In fact, our pair of the 186 cm Enforcer 104 Free is coming in a little bit heavier than our pair of the 185 cm Enforcer 110.
And while the difference isn't big, I'd much rather have the narrower, more firm-snow-oriented Enforcer 104 Free be a bit heavier than the more soft-snow-oriented Enforcer 110. Because I tend to use a ~104mm-underfoot ski in both soft and not-at-all-soft conditions, and a bit of heft can make a ski feel more composed and stable when conditions aren't ideal.
For reference, here are a number of our measured weights (per ski in grams) for some notable skis. Keep in mind the length differences to try and keep things apples-to-apples.
1807 & 1840 Atomic Bent Chetler 100, 188 cm (18/19-19/20)
1848 & 1903 Line Sick Day 104, 186 cm (17/18-19/20)
1894 & 1980 Black Crows Daemon, 183.6 cm (17/18-19/20)
1998 & 2044 4FRNT MSP 99, 181 cm (17/18-18/19)
1923 & 1956 DPS Alchemist Wailer 106, 189 cm (17/18-18/19)
1950 & 1977 Blizzard Rustler 10, 188 cm (17/18-18/19)
1996 & 2012 Dynastar Legend X106, 188 cm (17/18-19/20)
2007 & 2029 Armada Invictus 99 Ti, 187 cm (18/19-19/20)
2013 & 2013 Moment Commander 108, 188 cm (18/19)
2022 & 2047 Faction Dictator 3.0, 186 cm (17/18-18/19)
2026 & 2056 Black Diamond Boundary Pro 107, 184 cm (17/18-19/20)
2030 & 2039 Rossignol Soul 7 HD, 188 cm (17/18-19/20)
2036 & 2064 Salomon QST 106, 188 cm (18/19)
2049 & 2065 Volkl Mantra M5, 177 cm (18/19-19/20)
2046 & 2120 Black Crows Corvus, 188 cm (18/19-19/20)
2050 & 2080 ON3P Wrenegade 96, 184 cm (18/19)
2053 & 2057 Atomic Vantage 97 Ti, 188 cm (18/19-19/20)
2101 & 2104 Fischer Ranger 102 FR, 184 cm (18/19-19/20)
2114 & 2133 Nordica Enforcer 93, 185 cm (16/17-19/20)
2115 & 2149 J Skis Masterblaster, 181 cm (16/17-18/19)
2124 & 2137 Blizzard Bonafide, 180 cm (17/18-19/20)
2131 & 2189 Nordica Enforcer 100, 185 cm (15/16-19/20)
2165 & 2211 K2 Mindbender 108Ti, 186 cm (19/20)
2182 & 2218 Nordica Enforcer 110, 185 cm (17/18-19/20)
2233 & 2255 Nordica Enforcer 104 Free, 186 cm (19/20)
2250 & 2307 Argent Badger, 184 cm (19/20)
2283 & 2290 ON3P Wrenegade 108, 189 cm (18/19)
2311 & 2342 K2 Mindbender 99Ti, 184 cm (19/20)
2318 & 2341 J Skis The Metal, 186 cm (16/17-18/19)
2344 & 2367 J Skis Masterblaster, 187 cm (16/17-18/19)
2376 & 2393 Blizzard Cochise, 185 cm (15/16-19/20)
Some Questions / Things We're Curious about
(1) The Enforcer 104 Free and Enforcer 110 are very similar. So where will they differ the most on snow, and who should pick one over the other?
(2) Like the Enforcer 110, the Enforcer 104 Free has a metal-laminate construction but combines that with pretty deep rocker lines and a nearly twinned tail. So how playful and / or stable will it feel?
(3) How much better will the Enforcer 104 Free be on firm snow compared to the Enforcer 110? And how much worse will the Enforcer 104 Free be in deep snow?
(4) How will the Enforcer 104 Free compare to the quite stable, but also fairly playful Fischer Ranger 102 FR?
Bottom Line (For Now)
I'm going to shut up now, because I really just want to get these skis mounted and on snow. But the summary of this First Look is that it seems as though Nordica recognized that they've been doing something right with their Enforcer series, and figured they should add another — and potentially very versatile — ski to the range. I'm extremely excited to ski the new Enforcer 104 Free, so stay tuned for updates.
Flash Review
Blister Members can now check out our Flash Review of the Enforcer 104 Free for our initial impressions. Become a Blister member now to check out this and all of our Flash Reviews, plus get exclusive deals and discounts on skis, and personalized gear recommendations from us.
FULL REVIEW
The Nordica Enforcer 104 Free is one of the newest additions to the venerable Enforcer lineup, and upon seeing it, it looked like it could be exactly what I've been looking for — a narrower Enforcer 110 that retained that skis more playful feel vs. the flatter-tailed Enforcer 100 and Enforcer 93.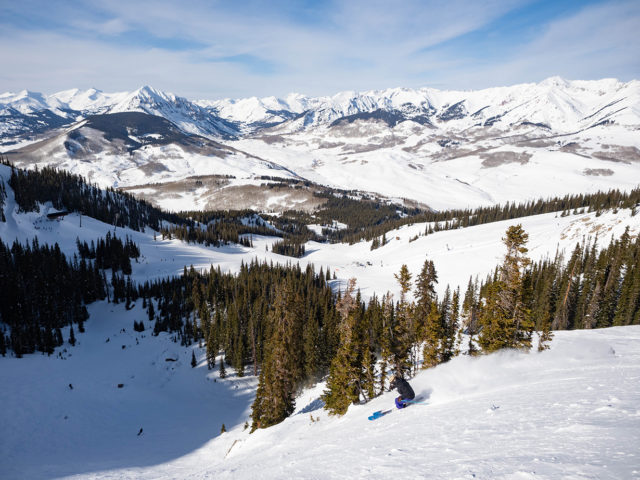 Well, Jonathan Ellsworth, Sam Shaheen, and I have now each spent time on the new Enforcer 104 Free, and I think Nordica has created another winner with this ski.
Powder
Luke Koppa (5'8", 155 lbs): The Enforcer 104 Free isn't a dedicated pow ski, but I've still had a lot of fun on it in snow up to ~12" deep. Its floats pretty well for how wide it is, its rockered tails are easier to pivot than most flat-tailed skis, and I haven't experienced any unexpected tip dive. Like most ~105mm-underfoot skis, I wouldn't pick the Enforcer 104 Free as the widest ski in my quiver if I lived in a high-snow area, but for lower-snow areas, I think it could definitely serve as a solid pow ski.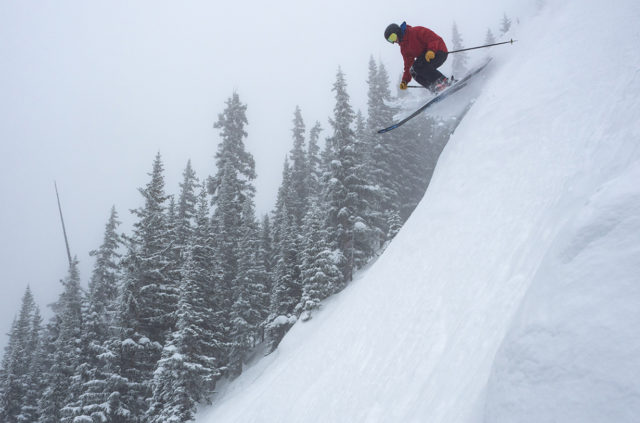 That said, given how well this ski performs across a very broad range of conditions and terrain, I think its performance in pow is very good for its width, and makes it a strong contender in the 1-ski-quiver category.
Jonathan Ellsworth (5'10", ~175 lbs.); Luke has spent more time in deep snow than have on the Enforcer 104, but I don't disagree with his statements. That said, I also want to underscore that I don't regard this as a pow ski (and I'm confident that Luke would agree with me). I.e., some skis work better than their direct competitors in deep snow. I think the Enforcer 104 is fine in 12" of pow, but I wouldn't call it surprisingly good in pow for its width — in my book, this is still very much an "all-mountain" ski … and a good one.
Soft Chop
Luke: While it doesn't matter too much in soft, untracked, forgiving powder, the Enforcer 104 Free's heavy weight and stronger flex pattern make a big difference in soft, choppy snow. As long as the chop isn't super deep (<12"), the Enforcer 104 Free does a great job of blasting through soft patches of snow at speed. If the snow hadn't been too skied out (i.e., there were lots of tracks, but the snow hadn't yet settled into dense clumps), I could basically ski as fast as I wanted to on the Enforcer 104 Free.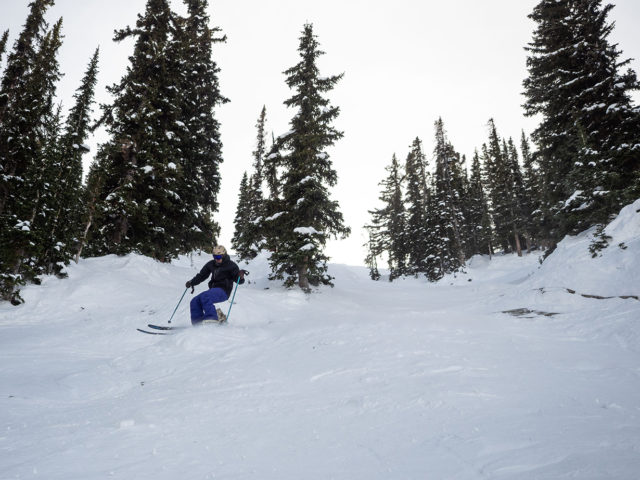 There are certainly skis with higher speed limits when the snow gets rough, but the Enforcer 104 Free feels strong, smooth, and stable in soft snow. And the thing that makes this ski stand out is that it combines that strong, stable feel with a more playful and forgiving nature — if I didn't want to rage down the mountain on the Enforcer 104 Free, I didn't have to. I could just as easily slide it slowly as I could make big, fast, carved turns down wide-open fields of chop.
Jonathan: Yeah, okay. I don't really have any nits to pick with that description.
Crud
Luke: I just mentioned that there are other skis that are more stable than the Enforcer 104 Free, and that's most noticeable in firm, inconsistent, cruddy conditions. The Enforcer 104 Free definitely still falls on the "more stable" end of the spectrum, and I think it feels more composed at speed in crud vs. the Enforcer 110. But if maximum stability is your top priority, you'd probably be better off with a ski in the "All-Mountain Chargers" section of our Winter Buyer's Guide. But most of those skis are also going to be more demanding and punishing than the Enforcer 104 Free, which is why I'm a big fan of this ski.
I like to ski fast, but I also make mistakes. So I'd rather have something that's pretty stable, but that's not going to demand that I'm 100% on my game 100% of the time. For me, the Enforcer 104 Free accomplishes that really well. It maintains the damp, smooth feel of all of the other Enforcer skis, and also those skis' more forgiving natures. When it comes to straight-lining crud and then having to shut things down fast, that's a combination I appreciate.
Jonathan: That was all well put. For really pinning it down difficult snow, there are more inherently stable skis on the market. But this ski feels very comfortable and intuitive in weird, off-piste conditions that it is easy to slow things down a bit and pick your way through teeth-rattling conditions, while also being enough ski that if you just decide to say Screw It and point it, there is enough support there to help you keep it together.
Groomers
Luke: All of the Enforcers carve well for their respective widths, and the Enforcer 104 Free is no exception. It initiates a turn predictably, I never felt that it hooked up unexpectedly, and it holds an edge well for its width. And while the Enforcer 110 carves really well for how wide it is, the Enforcer 104 Free takes it up a notch — it feels a bit stronger and more solid on edge, and I feel more comfortable laying it over on firm snow.
That said, there are definitely a few skis in this waist width that carve a bit better on pure ice compared to the Enforcer 104 Free (e.g., Fischer Ranger 102 FR). But on anything softer than ice, the Enforcer 104 Free held an edge quite well, and when things did get truly icy, I could predictably slide my turns on the Enforcer 104 Free.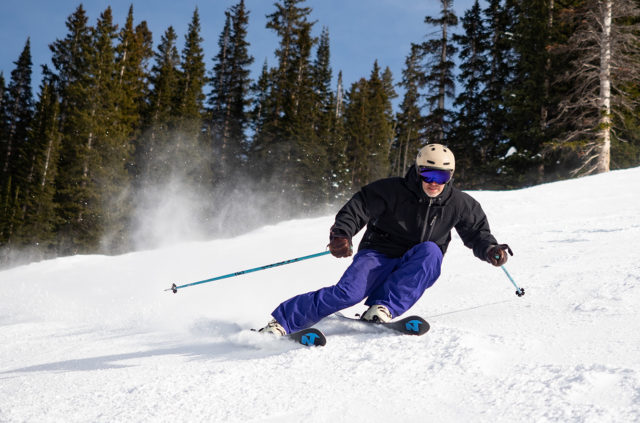 In terms of turn shapes, the Enforcer 104 Free is pretty versatile — I could carve pretty tight turns, but it also felt comfortable opening things up into Super-G-sized turns. I'd say the Enforcer 104 Free feels more damp than energetic, but it's not completely dead — it'll still provide a bit of energy out of a turn.
Jonathan: I mostly just want to say how much I like carving these … which is something that I've said about every ski in the Enforcer lineup (including the 191 cm, 115mm wide, Enforcer Pro, and will be writing soon about the new 88mm-wide Enforcer 88).
To be clear, this is not to say that I think that all of these skis have "the same" carving performance, but if we just zero in on the Enforcer 100, 104 Free, and 110 for a minute, I'd say that these skis all feel intuitive and easy to carve, offer good stability at speed, are extremely easy to roll up on edge, have shovels that are soft enough to happily bend into hard, medium-sized turns, strong enough to make big turns (especially on softer groomers), and have tails that are solid enough to let you finish turns with some power and snap.
Moguls, Trees, & Tighter Terrain
Luke: The Enforcer 104 Free is a pretty heavy ski, and that weight is noticeable in tight terrain — this isn't the easiest ski to flick around. But its rocker profile makes it easier to pivot than flatter-tailed skis, and I think intermediate through expert skiers won't have much of a problem maneuvering it through trees, bumps, etc.
Sure, you can find plenty of skis that are significantly easier to whip around and that are more forgiving if you get backseat. But if you care about stability at speed and low-speed maneuverability, well, that's where the Enforcer 104 Free starts to stand out. It requires a decent amount of physical input to flick around, but I never felt like the ski was bucking me during awkward movements, and when I cleared the tight spots and got to let the ski run, its damp construction kept me moving without much deflection.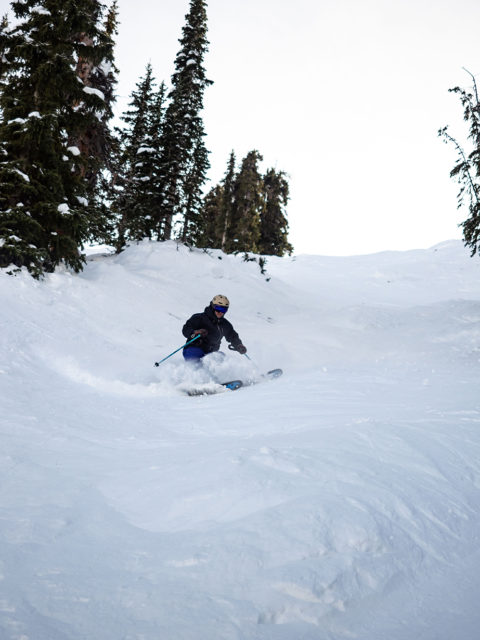 Oh, and when that tight terrain was really firm and bumpy? That's another area where I'd argue that a heavier ski like the Enforcer 104 Free is actually better than a lighter ski that's more nimble. Because when the snow gets nasty, the Enforcer 104 Free is less likely to chatter than those lighter skis, and instead will stay tracking where you want it to. For hacking quick turns down a steep, firm chute, I'd rather have the Enforcer 104 Free's damp feel than a quicker, lighter ski that's just going to chatter like crazy and be a handful to keep in line when conditions are rough.
Jonathan: Just as a slight counterpoint to Luke's first couple of paragraphs in this section, I can't really say that the Enforcer 104 Free ever felt "heavy" to me. This is probably because, once inbounds skis start getting too light, I am pretty quick to find them becoming "scary," so I am much happier to have to provide a bit more input.
Where Luke and I definitely agree is that this ski isn't punishing or jarring — it produces a nice suspension that has made the ski feel good when skiing scraped-off, firm moguls, thick chop, deeper snow, etc. And I was just on a new competitor to the Enforcer 104 Free the other day that I definitely would not describe as having nice suspension, which is just to say that we are not yet at a point in ski design where I think this can be taken as a given.
Mount Point
Luke: I spent my time on the Enforcer 104 Free with the bindings either on the recommended line (~8.8 cm from center) or about +2 cm in front of that line (~6.8 cm from center). I think most directional skiers will get along very well with the ski on the line — you can drive it hard, its tail is pretty forgiving but supportive, and the ski engages carved turns predictably.
If you're looking for a more playful, balanced feel, you might want to try bumping the bindings a couple cm forward of that line. As someone who likes having the option of either skiing with a centered / balance stance (not pressuring the front of my boots much) or also driving the front of my skis hard, I liked the Enforcer 104 Free at +2 cm in front of the line. It felt a touch more balanced in the air, I had more tail support on landings, and I didn't feel like I really lost anything vs. skiing it on the line.
Jonathan: I don't have much to add here, other than to report that I have only skied the 104 Free on the line, and never felt tempted to move it.
Playfulness
Luke: The Enforcer 104 Free is not all that playful compared to all-mountain-freestyle skis with more rocker and more symmetrical flex patterns, but it is more playful than many of the metal-laminate all-mountain skis out there.
When it comes to pop, energy, low swing weight, and skiing with a very balanced stance, the Enforcer 104 Free is not super playful. It has a fairly stiff tail relative to its tips, it's more damp than it is poppy, it feels pretty heavy in the air, and it feels best when skied with at least a bit of pressure on the tips.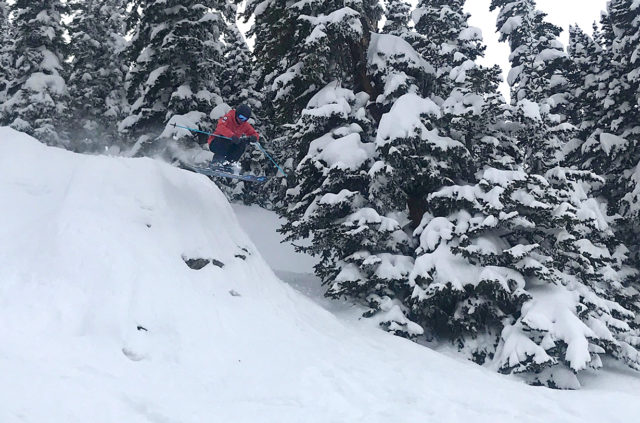 But when it comes to being able to slash and slarve your way around the mountain, the Enforcer 104 Free's rocker profile does make it feel more playful than other skis in its class with less rocker like the Blizzard Bonafide, K2 Mindbender 99Ti, Volkl Mantra M5, etc. Plus, the Enforcer 104 Free skis switch pretty well.
So if you spin a lot and prioritize freestyle performance more than stability, check out some of the options in the "All-Mountain Freestyle" section of our Winter Buyer's Guide. And if you love a flat tail that holds onto the end of a turn, look to the "All-Mountain — More Stable" section in that guide. But if you appreciate a damp and stable feel and like to throw some slashes in between your carved turns, the Enforcer 104 Free is a great option.
Jonathan: Yep.
Who's It For?
We think a lot of high-intermediate to expert skiers could get along well with the Enforcer 104 Free. It's pretty easy to ski for how stable it is, it works very well across a wide variety of conditions and terrain, and it brings a bit of playfulness that many directional metal-laminate skis lack.
Are you a heavier intermediate skier (say, 175-180 lbs or more) who's improving and wants a ski that won't hold you back in the future, but that won't kick your ass in the meantime? Check out the Enforcer 104 Free
Are you an advanced or expert skier who wants a ski that's pretty stable at speed but that doesn't feel quite as directional and one-dimensional (read: boring) as most flat-tailed metal-laminate skis? Check out the Enforcer 104 Free.
Do you fall into either of the above categories and are looking for a 1-ski quiver that can handle pretty much any condition or terrain you throw at it? Again, check out the Enforcer 104 Free.
Bottom Line
The Nordica Enforcer 104 Free had a lot to live up to. The Enforcer 100 and 110 and already really good skis, and the 10 mm gap between them may seem negligible on paper. But with the Enforcer 104 Free, Nordica has taken the stable-yet-forgiving nature of both of those skis and crafted it into a very versatile ski. It's quite stable without being super hard to ski, does a good job of blending the Enforcer 100's firm-snow performance with the Enforcer 110's playfulness, and has overall impressed us across the gamut of conditions we've used it in.
Deep Dive Comparisons
Become a Blister Member or Deep Dive subscriber to check out our Deep Dive of the Enforcer 104 Free to see how it stacks up against the Nordica Enforcer 100 & 110, Fischer Ranger 102 FR, K2 Mindbender 108Ti, Line Sick Day 104, Rossignol Soul 7 HD, Salomon QST 106, 4FRNT MSP 107 & 99, Blizzard Rustler 10, ON3P Wrenegade 108, J Skis Metal, Black Crows Corvus, and Moment Commander 108.