Ski: 2021-2022 K2 Mindbender 108Ti, 186 cm
Available Lengths: 172, 179, 186, 193 cm
Blister's Measured Tip-to-Tail Length: 185.7 cm
Stated Weight per Ski: 2236 grams
Blister's Measured Weight per Ski: 2165 & 2211 grams
Stated Dimensions: 136-108-125 mm
Blister's Measured Dimensions: 136.0-107.5-124.7 mm
Stated Sidecut Radius: 22.9 meters
Measured Tip & Tail Splay (ski decambered): 60 mm / 33.5 mm
Measured Traditional Camber Underfoot: ~4 mm
Core: Fir/Aspen + "Titanal Y-Beam" + Fiberglass Laminate
Factory Recommended Mount Point: -9.75 cm from center; 83.1 cm from tail
Boots / Bindings: Nordica Strider 120; Head Raptor 140 RS, Dalbello Lupo SP I.D. / Tyrolia AAAttack2 13 AT
Test Location: Crested Butte, CO
Days Skied: ~20
[Note: Our review was conducted on the 19/20 Mindbender 108Ti, which was not changed for 20/21 or 21/22, apart from graphics.]

Intro
We discussed on our latest GEAR:30 podcast the origin of the line, the technology behind it, and how it came to be with K2's head ski designer, Jed Yeiser.
in this post, we're gonna dive into the specifics of the entire line, what sets these skis apart from other models on the market, and take a closer look at the Mindbender 108Ti.
The Entire Mindbender Lineup of Skis
The men's line of Mindbender skis will consist of the Mindbender 85, 90C, 90 Ti, 98 Ti, 108 Ti, and 116C.
The skis with "Ti" in their name have a Y-shaped layer of titanal, while the skis with a "C" in their name feature a variable-braid carbon laminate.
The women's Mindbender lineup will include the Mindbender 85, 88 Ti, 90C, 98 Ti, 106C, and 115C. The same naming scheme (e.g., "Ti" and "C") applies to the women's skis, and all the women's versions have "Alliance" at the end of their name (e.g., "Mindbender 115C Alliance") to reference K2's team of female skiers that contributed to the design of the skis.
We'll soon be talking with four of the women behind K2's alliance to discuss the backstory of the project, and we'll also be reviewing several of the women's Mindbender skis.
K2 will also be making a junior Mindbender ski, the Mindbender Team, which is based on the Mindbender 108Ti, has a waist of 98 mm, and will be offered in 145, 155, 165 cm lengths.
One interesting thing with the Mindbender series is that K2 says that they designed each ski independently in order to make it perform best for the conditions and styles in which it'd be skied. This isn't revolutionary, but it's certainly not the norm. Typically, many brands start with one ski, and then scale up and down in width while not changing all that much in terms of shape and construction. But since people tend to use a 90mm-wide ski very differently than a 116mm-wide ski, it makes sense to treat their designs distinctly.
And if that talk about Y-shaped titanal and variable-angle braiding sounds weird to you, you're not alone. So let's dive into the tech that K2 is highlighting in the Mindbenders:
"Torsional Control Design"
K2 says that, with the Mindbenders, they were able to independently fine-tune both the longitudinal and torsional flex of the skis. They did this with two techniques — their "Titanal Y-Beam" and "Carbon Spectral Braid."
Both of these technologies aim to accomplish the same goal: have a fairly torsionally rigid shovel, a strong, very torsionally rigid section underfoot, and a more maneuverable, less torsionally rigid tail. This is meant to make the skis more stable and precise where you need them to be (in the front and underfoot), while still having a tail that's easy to release when you need it to. It's certainly an interesting concept, especially if it works.
With the "Ti" skis, K2 used a Y-shaped layer of titanal that extends over the edges of the ski in the shovel, spans edge-to-edge underfoot, and only sits over the center of the ski in the tail (see image below). K2 says that the Titanal Y-Beam "delivers the highest levels of precision and stability in a damp, stable platform."

With the "C" skis, they used a carbon weave that has a denser, high-angle weave in the shovel which then progresses to a less dense, lower-angle weave as you move toward the tail of the ski.

K2 says the Carbon Spectral Braid "keeps skis lighter and more playful for conditions when power and damping are less important." Seeing as the carbon weave is used on the powder-oriented Mindbender 116C and 115C, that justification makes sense. If you're only skiing soft snow, you probably don't need a super strong, damp, or heavy ski. It's also cool to see K2 offering the Mindbender 90 in both titanal and carbon iterations to give skiers more options.
So, that's the design philosophy behind all of the Mindbender skis. Now let's take a look at the big-mountain charger of the group, the Mindbender 108Ti.
What K2 says about the Mindbender 108 Ti:
"String 'em up and slap 'em down. These freaks were made to run. Utilizing our proprietary Titanal Y-Beam™, this freak of a ski is meant to do one thing: mash. From deep pow to the chalky steeps, this beast is the big mountain charger you've been waiting for."
Well, there's definitely some "Swagger Award" potential here. But the main points seem to be the Mindbender 108Ti's high-speed stability and its versatility across both soft and firm snow.
Shape / Rocker Profile
The Mindbender's technology might be new, but the Mindbender 108Ti's shape is not all that crazy by modern standards.
The Mindbender 108Ti has a bit of tip and tail taper, but not nearly as much as the K2 Pinnacle 105 Ti (which it effectively replaces). The Mindbender 108Ti's taper lines border on the conservative end of things, which, for a ski that's supposed to "mash," is probably a good thing. The Mindbender 108Ti's shape reminds us of the 4FRNT MSP 107 and Elan Ripstick 106, and isn't all that different compared to other chargers like the Blizzard Cochise and ON3P Wrenegade 108.
The Mindbender 108Ti's rocker profile isn't all that crazy, either. It has a pretty deep tip rocker line compared to other skis in its class, but the Mindbender 108Ti's tip doesn't start rising that much until near the end of the ski. The Mindbender 108Ti's tail rocker line is also fairly deep, but again, doesn't rise till near the very end.
Interestingly enough, the Mindbender 108Ti's rocker profile looks awfully similar to a now-deceased ski that we very much loved, the Line Supernatural 108. And that's probably not a coincidence — you can listen to our podcast with Jed Yeiser for more on how the Supernatural 108 played a role in the design of the Mindbender 108Ti.
The Mindbender 108Ti's subtle taper and low rocker lines should equate to more effective edge than more heavily rockered and / or tapered skis like the ON3P Wrenegade 108 and Prior Husume. Yet the Mindbender 108Ti's fairly deep rocker lines should help with its soft-snow performance, especially when you take a look at the next section…
Flex Pattern
Here's how we'd characterize the longitudinal flex pattern of the Mindbender 108Ti:
Tips: 5.5-6
Shovels: 6.5-7.5
In Front of Toe Piece: 8-9.5
Underfoot: 9.5
Behind the Heel Piece: 9.5-8.5
Tails: 7.5-8
The first thing that stands out is the Mindbender 108Ti's tips — they're very soft. This is probably the only thing on the Mindbender 108Ti that reminds us of K2's Pinnacle skis. The Pinnacle 95 Ti and Mindbender 108Ti's tips both feel similarly soft, and they're far softer than most other "chargers" like the Blizzard Cochise, ON3P Wrenegade 108, Prior Husume, etc.
But then the Mindbender 108Ti ramps up in stiffness smoothly to a large section around the middle of the ski that is quite strong. It finishes with a tail that's also strong, though not as stiff as some other skis in its class like the Moment Commander 108, Black Crows Corvus, and Prior Husume.
Weight
K2 is very adamant about the Mindbender 108Ti's ability to charge, and its weight of just under 2200 grams per ski for the 186 cm version seems in line with that. It's not the heaviest ski in its class, but it's far from the lightest. And as more and more skis get lighter and lighter, the Mindbender 108Ti's weight puts it closer to the heavier end of the spectrum. If you've read just about any ski review on Blister, you'll know that this is something we're excited about.
For reference, here are a bunch of our measured weights for a number of notable skis. As always, keep in mind the length differences to try to keep these comparisons apples-to-apples.
1923 & 1956 DPS Alchemist Wailer 106, 189 cm (17/18-18/19)
1996 & 2012 Dynastar Legend X106, 188 cm (17/18-18/19)
2013 & 2013 Moment Commander 108, 188 cm (18/19)
2022 & 2047 Faction Dictator 3.0, 186 cm (17/18-18/19)
2026 & 2056 Black Diamond Boundary Pro 107, 184 cm (17/18-18/19)
2030 & 2039 Rossignol Soul 7 HD, 188 cm (17/18-18/19)
2036 & 2064 Salomon QST 106, 188 cm (18/19)
2046 & 2120 Black Crows Corvus, 188 cm (18/19)
2112 & 2125 4FRNT MSP 107, 187 cm (18/19)
2143 & 2194 ON3P Wrenegade 108, 184 cm (18/19)
2165 & 2211 K2 Mindbender 108Ti, 186 cm (19/20)
2182 & 2218 Nordica Enforcer 110, 185 cm (17/18-18/19)
2250 & 2307 Argent Badger, 184 cm (19/20)
2283 & 2290 ON3P Wrenegade 108, 189 cm (18/19)
2312 & 2386 Prior Husume, 188 cm (17/18-18/19)
2318 & 2341 J Skis The Metal, 186 cm (16/17-18/19)
2335 & 2399 Line Supernatural 108, 186 cm (14/15-16/17)
2376 & 2393 Blizzard Cochise, 185 cm (15/16-18/19)
Some Questions / Things We're Curious about
(1) Will we be able to notice the difference in torsional rigidity between the Mindbender 108Ti's tips, midsection, and tails? If so, what is the on-snow result?
(2) K2 is saying a lot about the Mindbender 108Ti's stability, so just how stable is it compared to the other chargers out there?
(3) The Mindbender 108Ti has pretty soft shovels, so will they be a liability at high speeds, a benefit at slower speeds (and in deeper snow), or will we really notice them at all?
(4) Will the Mindbender 108Ti feel most at home off piste, on piste, or equally comfortable in both?
(5) The Mindbender 108Ti isn't super light or super stiff, so should non-experts also be considering it?
(6) The Mindbender 108Ti looks a bit like the Line Supernatural 108, and K2 says that ski did play a role in the Mindbender 108Ti's development. So is this new ski a replacement for the beloved Supernatural 108?
Bottom Line (For Now)
The K2 Mindbender 108Ti combines a unique new construction with a more traditional shape, rocker profile, and weight. Blister Members can read our initial impressions in our Flash Review linked below, and then stay tuned for our full review for more info.
Flash Review
Blister Members can now check out our Flash Review of the Mindbender 108Ti for our initial impressions. Become a Blister member now to check out this and all of our Flash Reviews, plus get exclusive deals and discounts on skis, and personalized gear recommendations from us.
FULL REVIEW
K2's new Mindbender lineup has been getting a lot of buzz. The skis have some interesting technology going into their construction, K2's marketing copy sure hypes them up a lot, and they certainly seem like a significant departure from K2's recent Pinnacle skis that they effectively replace.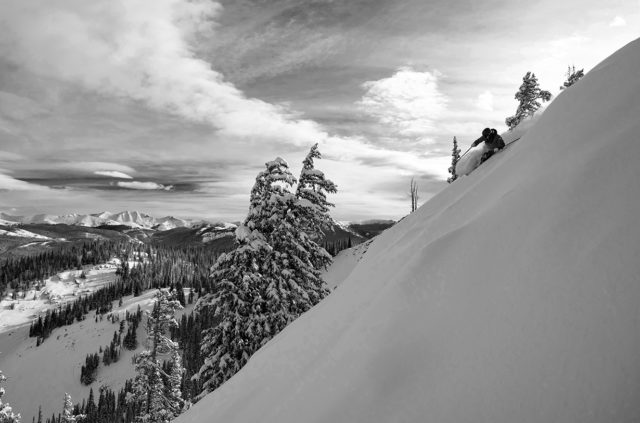 We've been spending a lot of time on the Mindbender 108Ti in a wide range of conditions — from the deep storms Crested Butte's been getting recently, to firm, steep, technical terrain. And after all that, we've come away quite impressed.
Powder
Luke Koppa (5'8", 155 lbs): At 108 mm wide, the Mindbender 108Ti isn't some dedicated pow ski (K2 makes the Mindbender 116C for really deep days). But even in over a foot of pow, I've come away really liking in the Mindbender 108Ti in deeper snow.
The Mindbender 108Ti's combination of (1) a pretty traditional, rearward mount point, (2) fairly wide and not-very-tapered shovels, and (3) a soft flex in those shovels all equated to very good float for a ski that's only 108 mm wide.
At slower speeds and on flatter terrain, the Mindbender 108Ti planed pretty well. But it was when I got it up to speed when the fun really started. The soft tips did a great job of rising to the top of the snow, and I think I could be pretty happy on this ski in up to around a foot and a half of powder. On really deep days, I'd opt for the wider Mindbender 116C (which we'll be talking about soon). But for a 108mm-wide ski, the Mindbender 108Ti floats very well.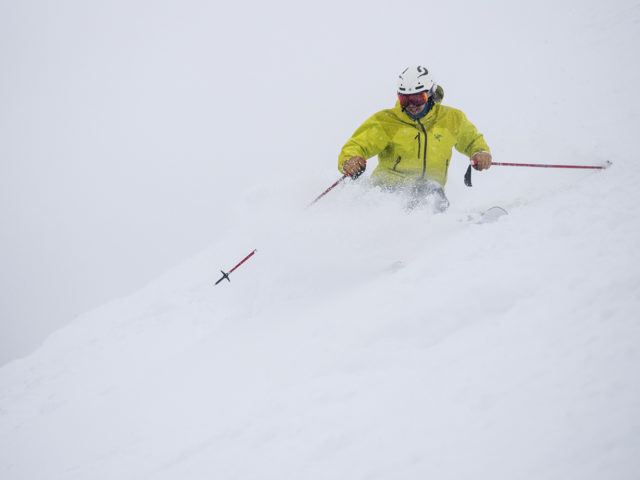 The Mindbender 108Ti is not the surfiest ski out there, but if I stayed forward on it, it was still pretty easy to maneuver in deep, steep, and tight terrain. If you're coming from skis with a lot of tail rocker, you'll probably find the Mindbender 108Ti to be a bit more work when it comes to making small turns in deep snow. But if you're coming from more traditional skis with flat tails, I'd be surprised if you found the Mindbender 108Ti difficult in these conditions.
Jonathan Ellsworth (5'10", ~175 lbs): We've been skiing such deep snow here in Crested Butte that I've ended up being on a number of narrower skis (read: 108 mm wide), and in deep snow (even when hitting stashes of 2 feet or more), the Mindbender 108Ti has been my favorite. As Luke said, everything about the construction and design of the ski works to keep the ski planing, and if I disagree at all with Luke, it would be that I found the Mindbender 108Ti to be quite surfy / surfy enough — certainly when compared to a number of other 108mm-wide skis, and even when compared to some 118mm-wide skis. Then again, I would say that Luke typically prefers a slightly looser ski than I do, and I wouldn't read too much into the differences in our take on this ski: of the 108mm wide skis on the market, I'm comfortable calling this one of the better skis for deep snow.
I'd also like to point out that this is a really fun ski to carve up clean, untracked pow. If the snow wasn't super heavy, that non-very-tapered tip shape never felt hooky to me, but instead was easy to engage and very happy to slice clean, deep turns. I like.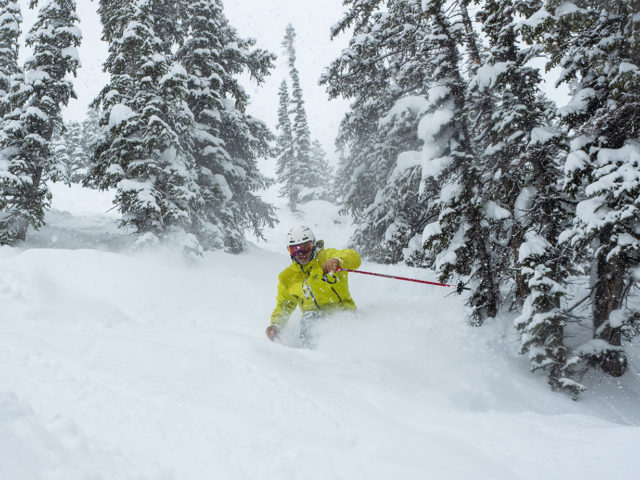 Sam Shaheen (5'10", 145 lbs): I will echo what Luke and Jonathan said above and point out one thing that I really appreciate about the Mindbender 108Ti in powder — its large sweet spot. For a ski that is relatively strong and damp, it feels comfortable being skied from a variety of stances. Especially in the varied terrain at Crested Butte, I really like that I can adjust my stance to the terrain. Wide open pow field? Ski it neutral. Tight, steep chute? Ski it forward. Big drops or deep variable snow? Ski on the heels for a turn or two.
The Mindbender 108 Ti just feels like a very versatile platform, and it does surprisingly well in powder. As was said above, I'd be happy to have the 108Ti in snow up to ~18".
Soft Chop
Luke: The Mindbender 108Ti is a blast in soft, choppy conditions. And that's where I think a ski like this should excel — when it's not super deep, but everything is still soft and you're looking for stuff to jump off of and a soft runout to straight-line through.
In super deep chop, the Mindbender 108Ti's softer shovels did "plow" a bit, rather than punching right through. But if the chop was soft and shallower than around a foot, I could still blast through just about anything on the Mindbender 108Ti. And in super deep chop, skiing the Mindbender 108Ti a bit more neutral / not pressuring the shovels as much helped alleviate the "plowing" effect.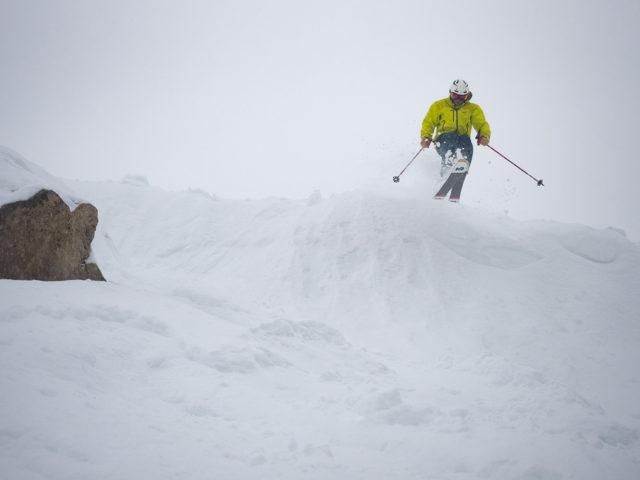 There are a few skis on the market that encourage more of a "destroy the mountain" mentality than the Mindbender 108Ti, but I think most skiers will find this ski to be very stable in chop.
Jonathan: I'm going to focus on Luke's last paragraph — I definitely wouldn't put the Mindbender 108Ti in the 'destroyer of mountains' category. But I also think that a broader range of skiers will find the 108Ti to be stable enough in chop, and far more versatile and less fatiguing than true 'destroyers'. And in shallower cut up snow (less than 12") I would stay centered or get on the shovels a bit, and the ski was (for me) a nice combination of 'stable enough' and 'playful enough' to make the conditions fun.
Sam: Yep, for me, the 108Ti is a great combination of stable in chop while remaining quite easy to handle. Many of the 'destroyer of mountains' skis are very stable at speed, but are a huge pain in the ass to ski at slower speeds or in tight spaces — plus, they are very punishing of mistakes. The Mindbender 108Ti strikes a great balance between outright stability while still being fairly loose and decently forgiving of mistakes.
Firm Chop / Crud
Luke: In shallower, firmer conditions, the Mindbender 108Ti's shovels become more of a positive feature. They do a great job of absorbing harsh impacts, yet the ski is strong enough so that I can drive it hard and keep it tracking.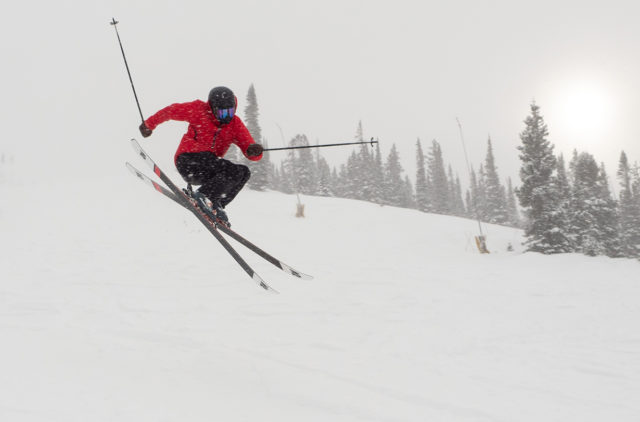 Again, there are some skis that will let you smash and mash your way down the mountain with less regard for what's in front of you, but of the ~108mm-wide skis I've been on the most, the Mindbender 108Ti sits near the top when it comes to stability. And unlike many of the skis that are more stable than it, you don't have to be in attack mode all the time on the Mindbender 108Ti — it still feels very comfortable when just cruising at mellow speeds.
Jonathan: Interesting. Because with about 6 or 7 days on the 108Ti, I am currently thinking of this ski as a bit more soft-snow oriented as opposed to firm-snow oriented. See our Deep Dive Comparisons to get a clearer sense of where we'd locate this ski, but mostly, I would say that in firm chop and crud, what makes the 108Ti fun in those conditions is how relatively easy it is to pivot the ski and still ski pretty hard and fast with a dynamic style, and yet (as Luke notes) if you really want to slow down and pick your way through firm chop and crud, the ski accommodates that quite well, too.
Sam: It's interesting to hear Jonathan and Luke's takes on this ski in firm snow. I haven't gotten quite as much time on it as they have, but I've been really happy with the idea of this ski as a 1-ski quiver — which very much includes firm snow.
For my skiing style and preferences (generally a dynamic style and I prefer lighter, more forgiving skis), the Mindbender 108Ti feels like it can do just about everything I want it to do. No, it isn't an amazing firm-snow ski that's extremely damp or that has a ton of energy, but the 108Ti feels instantly intuitive in most terrain. It's easy to ski and is fairly forgiving while still being pretty damp with a decent top end. The more dynamic your skiing style, the more I think you'll like the Mindbender 108Ti on firm snow.
Groomers
Luke: My first few runs on the Mindbender 108Ti were on groomers and, despite being a wider ski, I immediately felt comfortable on it. Turn initiation felt super intuitive and easy — just put a bit of pressure on the front of your boots, and the skis basically pull you into a turn.
The Mindbender 108Ti doesn't bend easily into super tight slalom turns, but it's still pretty versatile in terms of turn shapes. I could make GS turns at low speeds, GS turns at high speeds and high edge angles, or just let the skis run into big, fast, Super-G-style turns. And throughout all of those turn shapes, the Mindbender 108Ti maintained its calm, damp feel. It even produced a bit of energy when I was really bending it (though it's far from the most energetic ski out there).
Of the 108mm-wide skis I've used, the Mindbender 108Ti is one of the better carvers. While I think this ski excels off piste, it's still a lot of fun on groomed slopes.
Jonathan: Unfortunately, with all this fresh pow we've been getting, I haven't been able to get the 108Ti on much corduroy. This is also the furthest thing in the world from a complaint. Let it snow!
Sam: I'll have to dito Jonathan here, fortunately.
Bumps, Trees, & Tighter Terrain
Luke: Plenty of skis can mob through chop or rip groomers, but many of those skis are a handful when the terrain gets tight and technical. But, surprisingly, the Mindbender 108Ti struck me as pretty easy in this terrain. Its tail is not difficult to slide on firm, shallow snow, it doesn't feel very punishing, and I never felt like the ski was the one in the driver's seat, rather than me.
Chock this up to K2's "Torsional Control Design," the Mindbender 108Ti's rocker profile, or witchcraft, but the Mindbender 108Ti does a really good job of blending stability and forgiveness.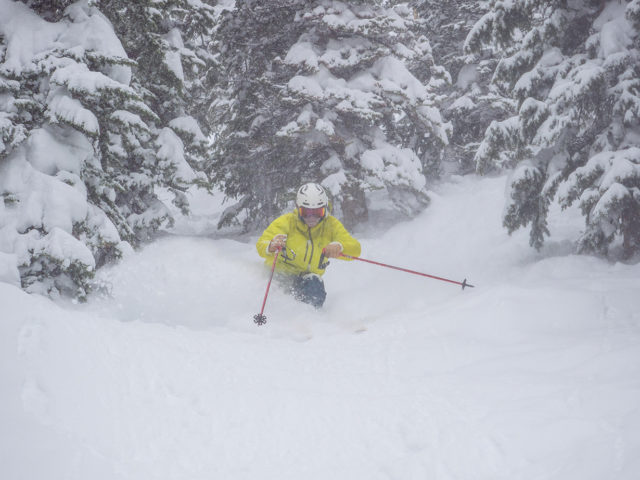 Yes, there are plenty of easier skis out there if you first and foremost want a ski that's forgiving in bumps and trees (see the "All-Mountain – More Forgiving" section of our Winter Buyer's Guide). But given how fun and stable it is at speed, I think the Mindbender 108Ti strikes a really nice balance.
Jonathan: I totally agree. I think high intermediate, advanced, and expert skiers should have no problem with the 108Ti in tighter trees. In bumps and trees, this ski feels lighter on my feet than it actually is, I think because it is so willing to pivot. This is not a ski that really requires you to muscle it around — especially given its relative stability.
Sam: "The Mindbender 108Ti does a really good job of blending stability and forgiveness" — Luke Koppa. And also my one-sentence review of this ski.
Mount Point & Stance
Luke: All of the Mindbender skis have pretty traditional mount points. The Mindbender 108Ti's recommended mount point of -9.75 cm from center puts you pretty far back on the ski, and it does feel like it. But as I just talked about, it's not a super demanding ski. So for technically proficient skiers that don't end up in the backseat super often, I think the Mindbender 108Ti's recommended mount point will feel nice.
On the recommended line, the Mindbender 108Ti felt best when skied with a forward, driving stance. But I could ski it centered when needed, and it wasn't as punishing as some skis in its class (especially those with equal or better stability) if I did get backseat.
I ended up skiing the Mindbender 108Ti with the bindings mounted +1, +2, and +3 cm in front of the recommended line. As someone who prefers skis with a more balanced feel, I ended up liking the ski best with the bindings at +2 (-7.75 cm from center). Here, I could ski it a bit more centered, it felt slightly more balanced in the air (though still fairly heavy), and I didn't feel like I lost anything in the way of edge hold, carving performance, etc. At +3, I felt like the Mindbender 108Ti's tails washed out a bit early while carving, so I wouldn't recommend mounting it super far in front of the line.
Jonathan: I've only been skiing it on the recommended line, and while I don't suspect that I'd dislike it at +1 or +2, I also haven't found myself in situations where I wished I was more forward on the ski (e.g., in CB's plentiful steep and techy terrain, where quick maneuverability is a valuable attribute). So if you're used to skis with mount points in the -9 to -12 range, I would be very surprised if you didn't get along with the 108Ti on the recommended line.
Playfulness
Luke: As we've mentioned before, playfulness is a complex concept — skis can be "playful" in various ways.
In terms of feeling balanced in the air, poppy, or otherwise eager to spin and flip, the Mindbender 108Ti is not very playful. It's heavy, has a mount point that leaves you with a lot of tip and little tail, and I'd say it's more damp than poppy.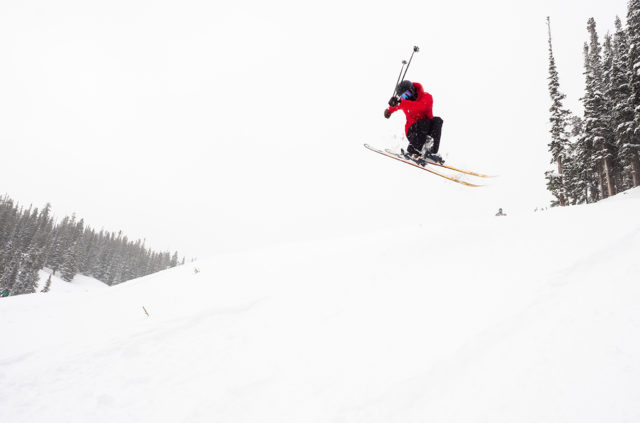 But in terms of being able to release the tails into slashes, the Mindbender 108Ti is notably more playful than most straight-up "chargers". So if those skis have sounded or felt a bit too one-dimensional for you and you like to both carve and slarve your turns, then the Mindbender 108Ti's level of playfulness might be what you're looking for. But if freestyle performance is a priority and / or you ski with a neutral / centered stance, then I'd recommend checking out other options in the "All-Mountain Freestyle" section of our Winter Buyer's Guide.
Jonathan: Yep.
Sam: Agreed. I'll add that another thing that can make a ski feel playful is energy out of a turn. And, as Luke said, the Mindbender 108Ti is not that poppy. It has a more planted feel and isn't very balanced in the air. It is pretty loose and happy to slash and break out of turns, but this is not a playful ski in most senses of the term.
Who's It For?
Because of its combination of forgiveness and stability, we'd be comfortable recommending the Mindbender 108Ti to a very wide range of skiers. We think intermediate skiers with fairly good technique (i.e., you know how to drive the front of a ski) could get along well with it, and it'd be a great ski to grow with as you progress.
But we also think that advanced to expert skiers looking for something that's quite stable at speed, yet quite manageable when you're not charging should check out the Mindbender 108Ti. It's not the most stable ski out there, but it's not some twitchy deflection machine either. And for a lot of skiers, we think that should make it a very appealing option.
Bottom Line
The K2 Mindbender 108Ti is a versatile ski — both in terms of conditions / terrain as well as the skiers we think will get along with it. It offers good stability in rough snow, floats very well in powder, is a blast to carve on-piste, and does all of this without the demanding / punishing nature of some of the other skis in its class.
Deep Dive Comparisons
Become a Blister Member or Deep Dive subscriber to check out our Deep Dive of the Mindbender 108Ti to see how it stacks up against the Blizzard Cochise, ON3P Wrenegade 108, Prior Husume, Folsom Hammer, 4FRNT MSP 107, Black Crows Corvus, Faction Dictator 3.0, Head Kore 105, Moment Commander 108, Nordica Enforcer 110, and J Skis Metal.