Ski: 2021-2022 4FRNT MSP 107, 187 cm
Available Lengths: 175, 181, 187 cm
Blister's Measured Tip-to-Tail Length: 185.7 cm
Stated Weight per Ski: 2210 grams
Blister's Measured Weight per Ski: 2112 & 2125 grams
Stated Dimensions: 139-107-129 mm
Blister's Measured Dimensions: 139.6-106.5-127.8
Stated Sidecut Radius: 21 meters
Measured Tip & Tail Splay (ski decambered): 72 mm / 21 mm
Measured Traditional Camber Underfoot: 2-3 mm
Core: poplar + titanal (2-layers) + fiberglass laminate
Base: sintered
Factory Recommended Mount Point: -8.65 cm from center; 84.2 cm from tail
Boots / Bindings: Head Raptor 140 RS; Nordica Strider 120; Dalbello Lupo SP I.D. / Marker Jester
Test Locations: Crested Butte & Telluride, CO
Days Skied: ~12
[Note: Our review was conducted on the 18/19 MSP 107, which returns unchanged for 19/20, 20/21, and 21/22, apart from graphics.]

Intro
Last year 4FRNT announced the return of one of their original skis, the MSP. We recently posted our full review of that ski, and the short story is that we think it's a very versatile and intuitive all-mountain ski that should work for a really wide range of skiers. This year, they expanded the lineup to include the MSP 99 (which is the same ski as the 17/18 MSP) and the brand-new MSP 107.
We'll soon be posting more of our on-snow impressions of the MSP 107, but for now, let's take a look at how its design compares to the diverse category of wider all-mountain skis.
What 4FRNT says about the MSP 107:
"Last season we introduced the MSP99 and it immediately became our #1 selling ski, so we've now introduced this completely new wider MSP107 as a larger sibling. It expands the MSP series capabilities beyond the groomers and into the pow. The 107 is intuitive from the first turn instilling a higher level of confidence everywhere on the mountain. The dampness and stability inspire you to ski faster, while the tight sidecut carves on a dime. The tips are playful and extra wide for floating in the steep and deep with ease."
I think the key phrases here are "intuitive," "dampness and stability," "carves on a dime," and "floating in the steep and deep."
In other words, it doesn't sound like 4FRNT is hyping up the MSP 107 as some super burly charger, but they do seem to be emphasizing its versatility across a wide range of conditions.
Shape / Rocker Profile
The MSP 107 has a bit of tip and tail taper, but it's pretty subtle compared to many similarly wide skis on the market. Skis like the Nordica Enforcer 110, Dynastar Legend X106, Moment Commander 108, and Rossignol Soul 7 HD all have more tip and / or tail taper.
For a modern, 107mm-wide ski, the MSP 107 also has fairly conservative, shallow rocker lines. The MSP 107 still has a bit of rocker in its tips and tails, but there are plenty of skis with deeper rocker lines (e.g., ON3P Wrenegade 108, Prior Husume, and Nordica Enforcer 110).
Flex Pattern
Tips: 6
Shovels: 6.5-7
In Front of Toe Piece: 9-10
Underfoot: 10
Behind Heel Piece: 9
Tails: 8.5
The MSP 107 has a noticeably directional flex pattern with fairly soft tips and shovels, a stout midsection, and a pretty strong tail. There aren't any noticeable hinge points in its flex pattern — it's a pretty smooth ramp up.
The MSP 107's flex pattern unsurprisingly feels very similar to the MSP 99, and is fairly similar to the flex patterns of the Enforcer 100 and 110 (two skis we like a lot).
Weight
For a 107mm-wide ski with two layers of metal, the MSP 107 comes in at a pretty average, if not slightly light weight of around 2120 grams per ski for the 187 cm version. It's not falling in line with super-light metal-laminate skis like the Faction Dictator 3.0 and Moment Commander, but also isn't in the category of chargers like the Blizzard Cochise and ON3P Wrenegade 108.
For reference, here are a bunch of our measured weights for a number of notable skis. As always, keep in mind the length differences to try to keep these comparisons apples-to-apples.
1923 & 1956 DPS Alchemist Wailer 106, 189 cm (17/18-18/19)
1996 & 2012 Dynastar Legend X106, 188 cm (17/18-18/19)
2013 & 2013 Moment Commander 108, 188 cm (18/19)
2022 & 2047 Faction Dictator 3.0, 186 cm (17/18-18/19)
2026 & 2056 Black Diamond Boundary Pro 107, 184 cm (17/18-18/19)
2030 & 2039 Rossignol Soul 7 HD, 188 cm (17/18-18/19)
2036 & 2064 Salomon QST 106, 188 cm (18/19)
2046 & 2120 Black Crows Corvus, 188 cm (18/19)
2112 & 2125 4FRNT MSP 107, 187 cm (18/19)
2182 & 2218 Nordica Enforcer 110, 185 cm (17/18-18/19)
2283 & 2290 ON3P Wrenegade 108, 189 cm (18/19)
2312 & 2386 Prior Husume, 188 cm (17/18-18/19)
2318 & 2341 J Skis The Metal, 186 cm (16/17-18/19)
2376 & 2393 Blizzard Cochise, 185 cm (15/16-18/19)
Bottom Line (For Now)
Sometimes we can get caught up in the latest trends — whether that's super light skis, skis with tons of rocker, or those with wild new shapes. But all too often, those skis don't stack up to the skis that just stick to proven combinations of shape, rocker profile, flex pattern, and weight. The 4FRNT MSP 107's specs seem to make it fall into that second category. Its flex pattern is moderate without feeling flimsy, its rocker profile and shape are similarly middle-of-the-road, and its weight is neither super heavy nor ultralight. We're continuing to get more time on it, and will post updates very soon. Stay tuned…
FULL REVIEW
This past season Jonathan Ellsworth, Sam Shaheen, and I all spent time on 4FRNT's wider metal-laminate ski, the MSP 107. Like the narrower MSP 99, the MSP 107 seems like a ski that a lot of people could get along well with. Let's dive in.
Powder
The MSP 107 slots into a category of skis that could be considered by some to be dedicated pow skis, while others might be looking at these as daily drivers. In line with this middle-of-the-road class, the MSP 107's performance in pow is fairly average for a ski of this width.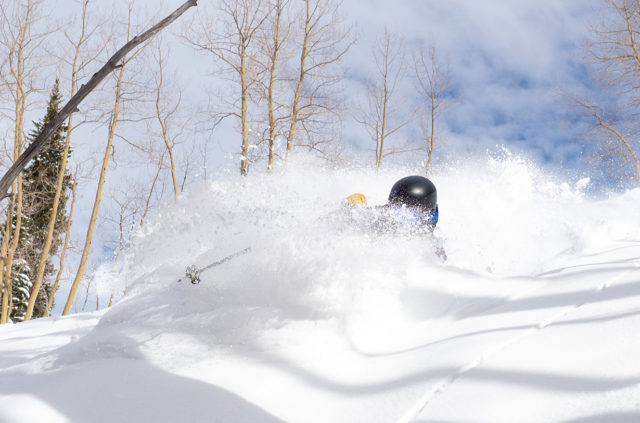 The MSP 107 has a pretty conservative amount of rocker compared to a lot of skis in this class, and consequently, it isn't the surfiest ski or the best ~107mm-wide option for really deep snow. But thanks to its fairly set-back mount point (-8.6 cm from center) and softer, wider shovels, the MSP 107 works just fine for an "average" pow day — i.e., In fresh snow up to ~12", the MSP 107 planes well and is still pretty easy to slash and slarve.
In other words, there are a number of skis in this class that are better options for truly deep days, but there are also several that are worse — the MSP 107 falls in the middle, which will be a recurring theme in this review. It's not a ski that stands out as exceptional or terrible in any particular aspect, but rather a ski that does everything pretty well.
Soft Chop
In soft chop, the MSP 107's "pretty good at everything" characteristic holds true. It's significantly better at blasting through soft patches of snow than the many lighter skis in its class, but we wouldn't classify it as a full-on "charger."
We all agree that the MSP 107 isn't a ski that you can just stand on and expect to demolish everything in your path, but it is a very predictable and intuitive ski that offers pretty good stability at speed. And unlike those skis that do demolish everything in their path, the MSP 107 is much easier, forgiving of mistakes, and does not feel limited to only skiing fast, hard, and aggressively.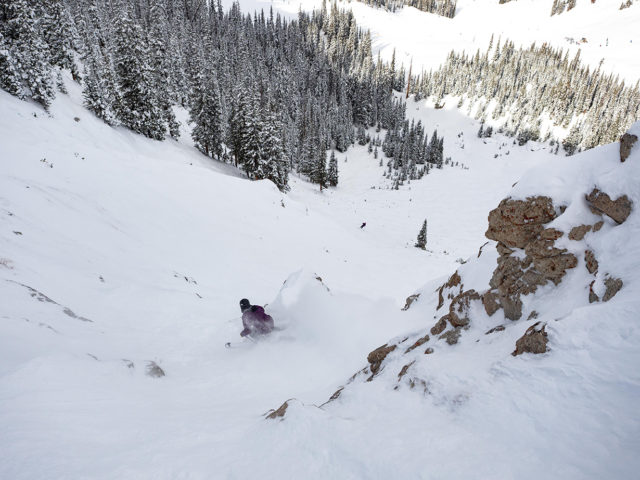 So yes, you can ski pretty fast on the MSP 107. But when your legs are fried from shredding super sick lines all day, you can also easily just chill out and smear around on the MSP 107.
Crud
Like the MSP 99, the MSP 107 has a nice, smooth, damp feel. On firm, rough snow, that means it does a good job of muting out small inconsistencies in the snow and letting you stay focused on the line ahead of you, rather than the snow under your feet.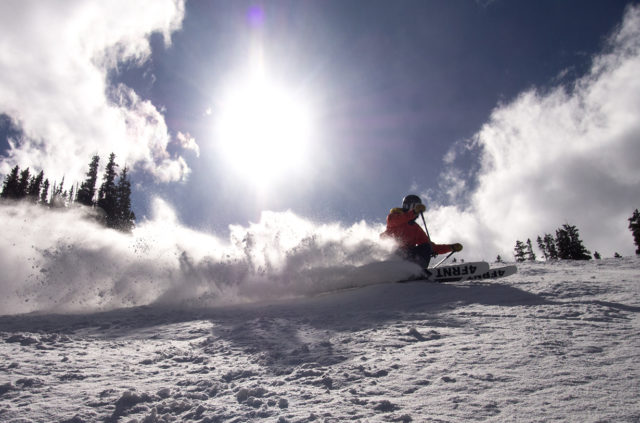 That said, when you start running into larger chunks of firm snow, the MSP 107's lower weight and softer shovels start to show. Again, there are several skis in this class that offer better high-speed stability (see the All-Mountain Chargers section of our Winter Buyer's Guide), but I think the majority of beginner, intermediate, and advanced skiers won't have any problems with the MSP 107's stability. And if you're an expert who appreciates a damp feel but doesn't love heavy chargers that mostly only want to go fast, then I'd still recommend checking out the MSP 107.
Groomers
The MSP 107's damp, smooth feel and subtly tapered and rocker shape makes for a calm, predictable experience on groomers.
It initiates turns easily when you pressure the shovels, holds an edge pretty well for its width, and can make a wide variety of turn shapes. There are a few skis in this class that offer better edge hold (the MSP 107 can feel a bit torsionally soft while trying to rail turns on really firm, soft snow). But given that it's 107 mm wide, I think the MSP 107's edge hold is totally adequate.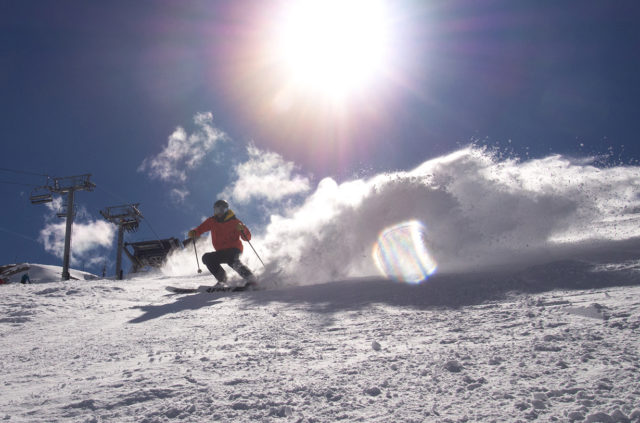 One thing to note here is that the MSP 107's damp feel does come with a cost; none of us would call this a particularly lively, poppy, or energetic ski. So if pop and energy are what you're after, I'd look elsewhere. But if you don't care too much about that and / or would prefer a ski that's calm and composed rather than springy and snappy, you should get along well with the MSP 107.
Moguls, Trees, and Tight Terrain
Despite not having a whole lot of rocker or taper, the MSP 107 feels very manageable in tight terrain. Provided you ski it with a fairly forward stance (not back on its tails), the MSP 107 is pretty easy to pivot and smear, while being strong enough to be skied aggressively in tight terrain.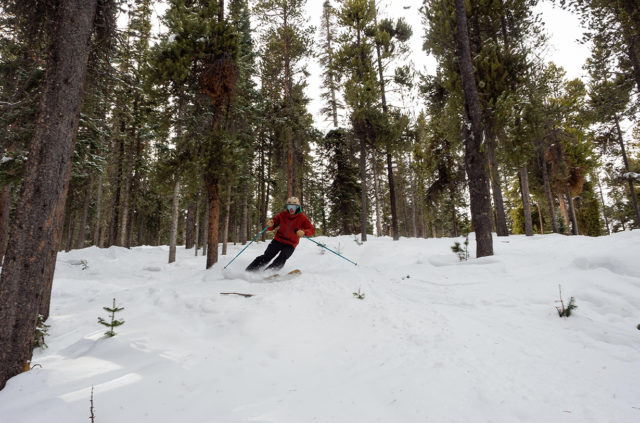 Again, the MSP 107 falls right around the middle of the spectrum in tight terrain. It's definitely not as surfy and loose as skis with more tail rocker, and it's not the ski for people who want really stiff shovels that they can just lay into constantly. But for skiers with fairly good technique — or those who are looking to improve their technique — the MSP 107 is a pretty easy ski in tight terrain, but is strong enough to use while you work to improve.
Who's It For?
As alluded to above, we think the MSP 107 could work for a really wide range of skiers. Some skis are easy to recommend to a specific type of skier because the ski excels at a very particular thing. The MSP 107 is not one of those skis — it doesn't have one standout trait, but instead does everything pretty well. And in our experience, it seems that the majority of skiers (maybe the vast majority of skiers) don't have very specific characteristics that they are looking for, or clear performance tradeoffs / compromises that they are willing to make.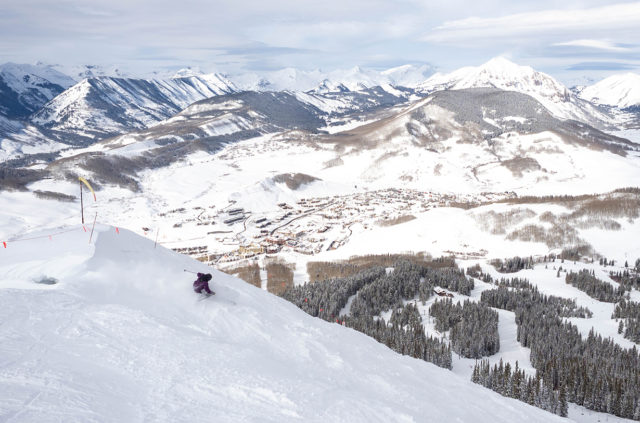 For that reason, we think beginners could get along well with the MSP 107 in a shorter length, and that expert skiers who want a fairly damp and strong ski that's also not a demanding ski could also like it.
If you know you want a ski that's the most playful, most energetic, most stable, etc., the MSP 107 is not for you. But for people who just want an intuitive, fairly easy, fairly stable, and versatile all-mountain ski, the MSP 107 is a very appealing option.
Bottom Line
Like the MSP 99, the 4FRNT MSP 107 is a ski that manages to cover a very broad performance envelope and that will work for a very wide assortment of skiers. It's not the best at one particular thing, but it's not notably bad at anything, either. For a lot of skiers, that makes the MSP 107 worth a serious look, and we think that most skiers who click into these skis will be able to have a good time on the mountain.
Deep Dive Comparisons: 4FRNT MSP 107
Become a Blister Member or Deep Dive subscriber to check out our Deep Dive comparisons of the MSP 107 to see how it compares to the Nordica Enforcer 110, J Skis Metal, Blizzard Cochise, K2 Mindbender 108Ti, ON3P Wrenegade 108, Prior Husume, Moment Commander 108, Folsom Hammer, Black Crows Corvus, and Faction Dictator 3.0.