Ski: 2021-2022 K2 Wayback 106, 179 cm
Available Lengths: 172, 179, 186 cm
Blister's Measured Tip-to-Tail Length: 178.6 cm
Stated Weight per Ski: 1550 grams
Blister's Measured Weight per Ski: 1476 & 1490 grams
Stated Dimensions: 136-106-124 mm
Blister's Measured Dimensions: 136.0-105.4-123.4
Stated Sidecut Radius: 22 meters
Measured Tip & Tail Splay (ski decambered): 58 mm / 18 mm
Measured Traditional Camber Underfoot: ~2 mm
Core: Paulownia + Partial Titanal Layer + Carbon Fiber Stringers + Fiberglass Laminate
Base: Sintered
Factory Recommended Mount Point: -13.0 cm from center; 76.2 cm from tail
Boots / Bindings: Salomon S/Lab MTN & Scarpa Maestrale RS / Fritschi Vipec Evo 12
Test Locations: Front Range, CO
Days Skied: ~10
[Note: Our review was conducted on the 18/19 Wayback 106, which returns unchanged for 19/20, 20/21, and 21/22, apart from graphics.]

Intro
K2 says that its touring ski lineup — which consists of the men's Wayback and women's Talkback lines — is the best-selling line of touring skis in the world. And for 18/19, they're overhauling the whole line, which will consist of the Wayback 80, 84, 88, 96, and 106, and the Talkback 84, 88, and 96.
We are currently reviewing a couple of the skis in the new line, and today we're checking out the widest ski in the series, the Wayback 106.
Here's what K2 says about the Wayback 106:
"The widest of the new Wayback family combines lightweight and freeride performance to take your mid-winter touring to new heights."
This certainly isn't the most detailed ski description we've seen, but place the Wayback 106 in the growing category of lightweight, freeride-oriented touring skis. So we are primarily interested to see how well the Wayback 106 performs on the downhill, given its impressively low weight.
Shape / Rocker Profile
As we discussed in this GEAR:30 podcast, one of the things we really like about the Wayback 106 is its shape. There is a very short tapered section at the tip of the ski, but it is short, and at the tail, the ski does not taper very much. For really lightweight skis, we think this is a good thing — especially when paired with a good rocker profile … like the Wayback 106's.
The Wayback 106 has fairly deep tip and tail rocker lines, but not a ton of tip and tail splay. The shape and rocker profile of the Wayback 106 seem to suggest a preference for soft snow compared to skis that have more traditional camber underfoot (like the Scott Superguide 105). We're curious to see how versatile the Wayback 106 feels when it comes to soft- vs. firm-snow performance, and especially interested in the Wayback 106's potential as a 1-ski touring quiver for higher snow areas.
Flex Pattern
Hand flexing the Wayback 106, we'd characterize its flex pattern like this:
Tips: 7
Shovels: 7-8
In Front of Toe Piece: 8.5-9
Underfoot: 9.5
Behind Heel Piece: 9-8.5
Tails: 8.5-9
Overall, the flex pattern of the Wayback 106 feels pretty strong, but it's not extraordinarily stiff. And we think this is a good thing. We say it all the time: skis that are both light and very stiff often produce a harsh ride when conditions aren't ideal, whereas light skis that are slightly softer can be a bit more forgiving and offer better suspension. The Wayback 106 feels like it should be supportive without being overly demanding.
Weight
For a 179 cm, 106mm-underfoot ski, the Wayback 106 is quite light at around 1480 grams. For reference, here are our measured weights (per ski in grams) for some comparable skis. (As always, pay attention to the particular lengths of each ski):
1476 & 1490 K2 Wayback 106, 179 cm (18/19)
1477 & 1482 G3 FINDr 102, 184 cm (17/18, 18/19)
1547 & 1551 Black Diamond Helio 105 Carbon, 185 cm (17/18)
1562 & 1566 Scott Superguide 105, 183 cm (17/18, 18/19)
1605 & 1630 Line Vision 108, 183 cm (19/20)
1606 & 1641 Blizzard Zero G 105, 188 cm (19/20)
1642 & 1651 Renoun Citadel 106, 185 cm, (18/19)
1642 & 1662 Atomic Backland 107, 182 cm (18/19–19/20)
1706 & 1715 Volkl BMT 109, 186 cm (17/18, 18/19)
1733 & 1735 Blizzard Zero G 108, 185 cm (17/18, 18/19)
1745 & 1747 4FRNT Raven, 184 cm (17/18, 18/19)
1752 & 1771 Amplid Facelift 108, 189 cm (18/19–19/20)
1755 & 1792 Line Sick Day 104, 179 cm (17/18, 18/19)
1825 & 1904 Black Crows Corvus Freebird, 183.3 cm (17/18, 18/19)
Bottom Line (For Now)
With a very low weight, versatile-looking shape, and strong-but-accessible flex pattern, the K2 Wayback 106 shares several characteristics with some of our favorite touring skis. We've spent a bit of time on the Wayback 106, and will be posting our Flash Review within the next day, so stay tuned for that, and let us know if you have anything you'd like to see addressed in our full review.
Flash Review: K2 Wayback 106
Blister members can now read our initial on-snow impressions in our Flash Review of the Wayback 106, with our initial comparisons to the Scott Superguide 105, Salomon MTN Explore 95, and Dynastar Mythic 97.
(Learn more about Blister Member benefits, and Become a Blister member)
FULL REVIEW
This year K2 overhauled their touring collection, releasing completely new shapes and constructions for their Wayback and Talkback skis.
The Wayback 106 is the widest ski in the series, so is it more of a pow ski, a versatile all-conditions ski, or something else? And what kinds of skiers will get along best with it?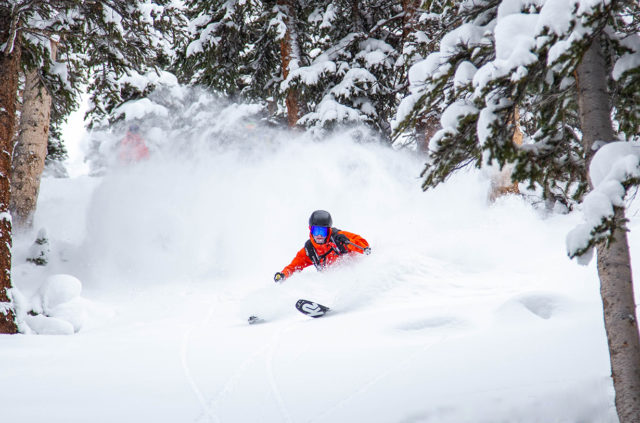 Uphill
Clocking in at just below 1500 grams per ski in the 179 cm length, the Wayback 106 is on the lighter end of the spectrum of mid-fat touring skis. It feels light on the skin track, and very light on the pack.
That said, I think it's important to note that there are things other than weight that play a role in determining how well a ski performs on the skin track, and the Wayback 106 is a great example of that. This ski has fairly subtle rocker lines, but they are very deep on both the tips and tails. As a result, there is less climbing-skin surface area touching the snow on the way up when skinning on the Wayback 106. This means that the Wayback 106 doesn't offer the quite as much grip as a ski with less rocker and / or more camber underfoot.
The grip of the Wayback 106 shouldn't be a major factor in choosing or not choosing this ski, but it is worth noting, particularly if you're someone who spends a lot of time on icy skin tracks and / or likes to use skins with very good glide, but not great grip (e.g., some pure mohair skins).
Downhill
I've gotten the Wayback 106 in just about every type of backcountry snow imaginable — from neck-deep blower to boilerplate ice, and everything in between. Overall I've been quite happy with the ski — it is easy, forgiving, and fairly versatile.
Powder
For a ski that is only 106 mm underfoot, the Wayback floats very well in powder. Its very traditional mount point and deep rocker lines certainly help, but I think the thing that makes the Wayback so good in powder is that it has a huge sweet spot. I can easily stand in the middle of the ski and let the tips plane up without having to worry about unpredictable behavior.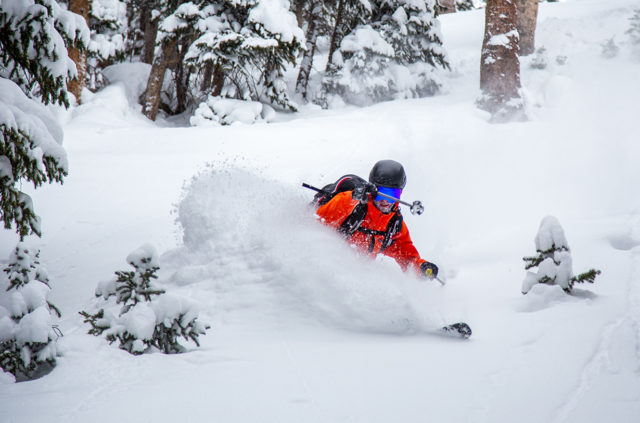 Because of its mount point and shape, the natural stance for the Wayback 106 puts me further back than on other skis in this class (e.g., Line Sick Day 104, Renoun Citadel, or Scott Superguide 105). As a result, the Wayback 106's tips always feel ready to plane up in all but the deepest snow.
The Wayback 106 isn't all that stable though. It much prefers to pivot around at moderate speeds in the trees or tight terrain, rather than making longer, higher-speed turns in big terrain. It just doesn't have the stiffness or mass to be comfortable at very high speeds, which is the case with many lightweight touring skis.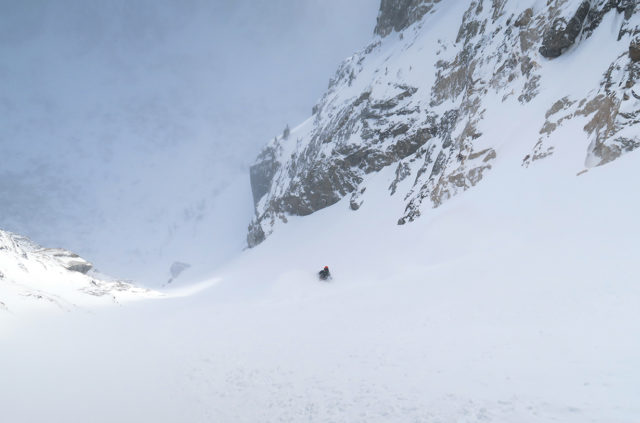 I think the Wayback 106 is most at home in 6-12" of consistent light snow, skiing trees or tighter terrain. As an everyday touring ski for an intermediate to advanced skier looking for powder stashes, the Wayback 106 is a great option.
Firm and Variable Snow
The pivoty nature of the Wayback 106 in powder definitely carries over to firm and variable snow. The ski feels more comfortable being skied with finesse and navigating around variable snow rather than blasting through it. The Wayback 106 is very light, so in more chunky and variable snow, it can be a challenge to keep the Wayback 106 under control.
It helps that (in part, thanks to its traditional mount point) the Wayback 106 can be driven through the fronts of the boots quite well. Especially when the snow gets firm, I can transition from a more neutral stance to a more forward one to help keep the ski on track. It still feels quite easy to pivot and break free when skied from a forward stance, but that forward stance still makes it a bit easier to keep the tips pointed where I need to go.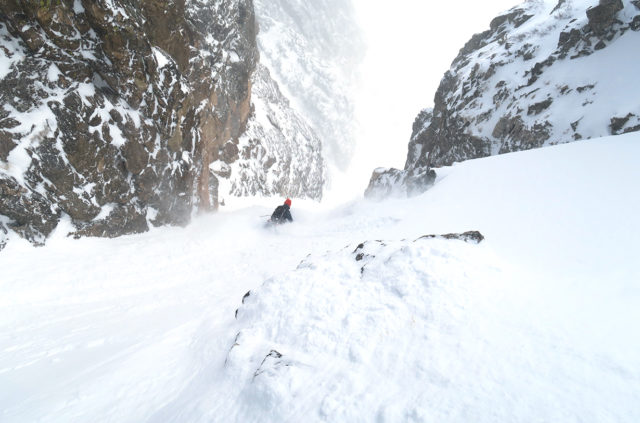 On very firm or icy snow, the Wayback 106 feels ok as long as the snow surface is fairly consistent. I can confidently drive it and hop-turn on it through tight, icy terrain. If the snow gets more variable though, skiing aggressively on the Wayback 106 becomes more of a challenge.
For example, when I try to move my weight back to keep the tips from diving under large piles of uncut or punchy, breakable crust, there is very little support in the tail of the ski.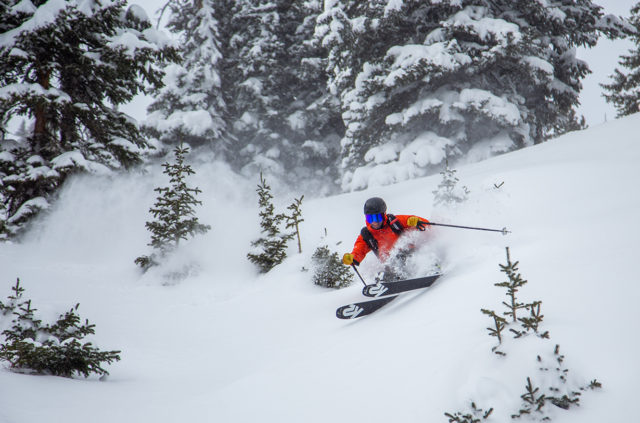 On many skis that I've been on recently (e.g., the Folsom Trophy Carbon), if I need to ski a turn or two from my heels to keep the tips up, I can do so with confidence. But on the Wayback 106, as soon as I get on the tails, they feel unsupportive. Granted, the 179 cm Wayback 106 is a bit shorter than I'd typically choose. And I don't think this will be a big problem for many skiers. As long as you aren't trying to ski variable snow aggressively at high speeds, I doubt you'll notice the more forgiving / less supportive tail of the Wayback 106. But because of this, I have a hard time recommending this ski to expert skiers.
Corn / Spring snow
In what is a common refrain in our reviews of skis that are this light, if the snow is consistent and predictable, the Wayback 106 is a blast. But if that snow gets variable and unpredictable, things can get a little scary.
In consistent corn, the Wayback feels great. It's playful, willing to break free and slash, or even feather longer turns. Shutting down speed is pretty easy — there is nothing difficult about this ski.
But if the snow gets inconsistent and manky, the Wayback 106 is a bit of a chore. It takes a lot of effort to keep the tips from getting bounced around and requires much slower speeds to keep it under control. Overall, the Wayback 106 feels pretty average when it comes to its ratio of stability to weight. So if you want a ski that will hold up better to higher speeds and more aggressive skiing, we'd recommend looking at heavier options.
Who's It For?
The Wayback 106 is a great choice for the intermediate to advanced backcountry skier looking for an everyday touring ski. It floats surprisingly well in powder but is still light enough to haul around for long days or springtime peak bagging. It is very forgiving and very easy to ski, but can still be skied relatively hard from a forward stance, given its low weight.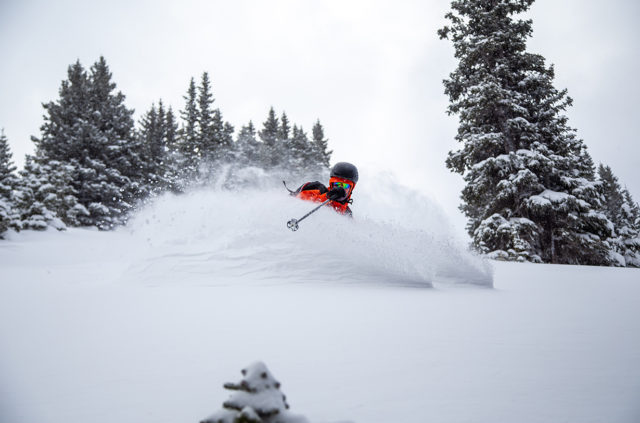 I think a lot of skiers will get along well with this ski. It's not flashy or exceptional in any one particular area, but it is versatile and forgiving. If you're an expert skier, I'd push you towards something with a bit of a stronger tail. But for pretty much any other backcountry skier, I think the Wayback 106 is a good option.
Bottom Line
The K2 Wayback 106 is a very lightweight, forgiving touring ski that I think a lot of skiers will get along with quite well. It floats very well for its width, has a large sweet spot, and can even hold its own on harder snow (as long as that snow is consistent). Intermediates to advanced skiers looking for an everyday touring ski, take note.