Ski: 2019-2020 Amplid Facelift 108, 189 cm
Available Lengths: 176, 184, 189 cm
Blister's Measured Tip-to-Tail Length: 187.8 cm
Stated Weight per Ski: 1700 grams
Blister's Measured Weight per Ski: 1752 & 1771 grams
Stated Dimensions: 135-108-127 mm
Blister's Measured Dimensions: 134.3-107.8-126.5 mm
Stated Sidecut Radius (189 cm): 18 meters
Measured Tip & Tail Splay (ski decambered): 51.5 mm / 33 mm
Measured Traditional Camber Underfoot: ~6 mm
Core: Paulownia/Balsa/Birch + Carbon Fiber Laminate
Base: Sintered 7HD
Factory Recommended Mount Point:
"All Mountain": -2.5 cm from center; 91.4 cm from tail
"Freeride": -4.5 cm from center; 89.4 cm from tail
Boots / Bindings: Nordica Strider 120; Tecnica Zero G Tour Pro; Dalbello Lupo Pro HD / Marker Kingpin 13
Reviewer: 5'8", 155 lbs
Test Location: Crested Butte, CO
Days Skied: 11

Intro
Amplid has been making both skis and snowboards for over a decade, and they were the first company to offer both skis and snowboards from their very start. You can learn more about the brand in our podcast with Amplid's co-founder and legendary snowboarder, Peter Bauer.
Our snowboard reviewers have been big fans of Amplid's boards, with their Milligram and Millisurf splitboards getting "Best Of" awards in our Winter Buyer's Guides.
This year, we're testing a couple of Amplid's skis, one of which is the Facelift 108.
The Facelift 108 is based on the shape of Amplid's inbounds ski called the Multiplayer, but the Facelift 108 features the ultralight construction used in their Milligram and Millisurf splitboards. Combine that lightweight build with the playful shape of the Multiplayer, and the Facelift 108's design looks pretty different than the majority of touring skis on the current market.
What Amplid says about the Facelift 108
"Offering freeskiers a quick and less exhausting way to access new terrain, the Facelift 108 isn't another humdrum touring ski from another so-so ski brand. The unusual fusion of Amplid's scientific carbon construction with the Multiplayer's surprising performance and always playful shaping has created a gold-standard for human-powered freeskiing.
The devil is in the detail, Amplid's BBP's jigsaw-like arrangement of Birch, Balsa and Paulownia, carefully defines areas where strength is needed and where weight can be saved. A full-length topsheet protects these carbon beauties from skinning abuse.
I little wider than its sibling [the Facelift 102], the Facelift 108 adds extra float and a more surfy feel to lightweight touring."
Amplid's description of the Facelift 108 puts it squarely into the growing category of playful touring skis that we've talked about on our GEAR:30 podcast and in our 2019 Outdoor Retailer Awards. The Facelift 108 is supposed to be very light for the uphill (which it is), yet is supposed to maintain a playful feel on the downhill.
Shape / Rocker Profile
The Facelift 108's shape looks pretty similar to the old Atomic Backland FR 109 — the Facelift 108 has a lot of tip and tail taper, with those taper lines extending deep into the middle of the ski.
Interestingly enough, the Facelift 108's rocker profile is much more conservative by today's standards. The Facelift 108's tip and tail rocker lines are pretty shallow, and don't extend all the way to where the taper starts.
Compared to the Line Vision 108, Atomic Backland FR 109, and Armada Tracer 108, the Facelift 108 has a significantly shallower tip rocker line and lower tip splay, and a similarly shallow tail rocker line. Like those skis, the Facelift 108 has pretty high tail splay, though it doesn't have a full twin. The last thing to note about the Facelift 108's rocker profile is that it has a lot of camber, at about 6 mm underfoot.
Flex Pattern
Here's how we'd characterize the flex pattern of the Facelift 108:
Tips: 6.5
Shovels: 6.5-7.5
In Front of Toe Piece: 8-9
Underfoot: 9.5
Behind the Heel Piece: 9-8.5
Tails: 7.5-6.5
The Facelift 108 has a fairly strong, round flex pattern. The ends of the ski (the last ~20 cm after the micro-cap section ends — see the photos) are pretty soft. But everywhere else, the Facelift 108 is actually very strong. So while this ski has flexible tips and tails (which should make butters and presses feasible), the rest of the ski is no noodle.
That's a combination we've liked on skis in the past (e.g., the Rossignol Black Ops 118, ON3P Kartel 108, and Icelantic Nomad 115), so we'll see if the flex pattern of the Facelift 108 continues the trend.
Mount Point
The Facelift 108 has a line marked as "ski center," which on our pair, measured about 0.5 cm back from the true center of the ski. It then has a label that says to mount 20 mm behind that line for "All Mountain," and 40 mm back for "Freeride." That puts those mount points at -2.5 and -4.5 cm from true center, respectively.
Both of those mount points are quite progressive, especially compared to other skis that come in as light as the Facelift 108. But Amplid also says on their site that they recommend mounting the ski anywhere from -1 cm to -5 cm from center. So we'll be testing the Facelift 108 at various mount points to see how it responds to those different mount points and different skiing styles.
Weight
The Facelift 108 is quite light at just over 1750 grams for the 189 cm version. It's not quite as light as more directional touring skis like the Black Diamond Helio 105 Carbon and K2 Wayback 106, but the Facelift 108 is significantly lighter than 50/50 skis like the Armada Tracer 108, the old Atomic Backland FR 109, and the Line Sick Day 104. As always, we'll see just how stable the Facelift 108 feels, and if it should be thought of as a dedicated touring ski, a 50/50 ski, or as a ski you could actually use every day in the resort.
For reference, here are a number of our measured weights (per ski in grams) for some notable skis. Keep in mind the length differences to try and keep things apples-to-apples.
1476 & 1490 K2 Wayback 106, 179 cm (18/19–19/20)
1477 & 1482 G3 FINDr 102, 184 cm (17/18–18/19)
1547 & 1551 Black Diamond Helio 105 Carbon, 185 cm (17/18)
1562 & 1566 Scott Superguide 105, 183 cm (17/18–18/19)
1605 & 1630 Line Vision 108, 183 cm (19/20)
1606 & 1641 Blizzard Zero G 105, 188 cm (19/20)
1642 & 1651 Renoun Citadel 106, 185 cm, (18/19)
1642 & 1662 Atomic Backland 107, 182 cm (18/19–19/20)
1706 & 1715 Volkl BMT 109, 186 cm (17/18–19/20)
1720 & 1747 Line Sick Day Tourist, 186 cm (16/17)
1733 & 1735 Blizzard Zero G 108, 185 cm (17/18–18/19)
1745 & 1747 4FRNT Raven, 184 cm (16/17–18/19)
1752 & 1771 Amplid Facelift 108, 189 cm (18/19–19/20)
1806 & 1862 Armada Tracer 108, 180 cm (19/20)
1814 & 1845 Elan Ripstick 106, 181 cm (17/18–19/20)
1825 & 1904 Black Crows Corvus Freebird, 183.3 cm (17/18–19/20)
1843 & 1847 Head Kore 105, 189 cm (17/18)
1848 & 1903 Line Sick Day 104, 186 cm (17/18–19/20)
1849 & 1922 Elan Ripstick 106, 188 cm (17/18–19/20)
1898 & 1893 Armada Tracer 108, 180 cm (18/19)
1913 & 1943 Sego Condor Ti, 187 cm (18/19)
1923 & 1956 DPS Alchemist Wailer 106, 189 cm (17/18–18/19)
1941 & 1965 Fischer Ranger 108 Ti, 182 cm (17/18–18/19)
1950 & 1977 Blizzard Rustler 10, 188 cm (17/18–18/19)
1970 & 1979 Atomic Backland FR 109, 189 cm (17/18)
1980 & 2016 Liberty Origin 106, 187 cm (17/18–18/19)
1996 & 2012 Dynastar Legend X106, 188 cm (17/18–19/20)
2022 & 2047 Faction Dictator 3.0, 186 cm (17/18–18/19)
2026 & 2056 Black Diamond Boundary Pro 107, 184 cm (17/18–19/20)
2030 & 2039 Rossignol Soul 7 HD, 188 cm (17/18–19/20)
2036 & 2064 Salomon QST 106, 188 cm (18/19)
Some Questions / Things We're Curious About
(1) The Facelift 108 has a progressive mount point, a round flex pattern, and a pretty symmetrical shape and rocker profile. So just how playful will it feel?
(2) On the other side, will directional skiers who aren't spinning still be able to get along well with the Facelift 108, or should they look elsewhere?
(3) We've talked about the trend of more brands making playful touring skis, so how will the Facelift 108 compare to other options in this category like the old Atomic Backland FR 109, the Line Vision 108, Black Crows Ferox Freebird, and Moment Wildcat Tour 108?
(4) Our snowboard reviewer, Andrew Forward, is a huge fan of Amplid's carbon construction on their Milligram and Millisurf splitboards. So will we be similarly high on that same construction in the Facelift 108?
Bottom Line (For Now)
The Amplid Facelift 108 combines a very lightweight construction with a modern, tapered shape, a progressive mount point, a round, fairly strong flex pattern, and a conservative rocker profile. The result? We're not sure. But that's why we're getting it on snow very soon, and will report back with updates.
FULL REVIEW
Luke Koppa (5'8", 155 lbs): Back in January, we talked about the trend of companies making more playful lightweight touring skis. While I wouldn't have called this a "trend" until this year, Amplid was ahead of the game with their Facelift 108. First released a few years ago, the Facelift 108 takes Amplid's all-mountain-freestyle Multiplayer shape and shaves off a bunch of weight.
As I've mentioned in other reviews, my skiing and ski-gear preferences had often left me making compromises when it came to touring skis. I could either go with a very lightweight but not very playful ski, or I could go with a much heavier but much more "fun" one.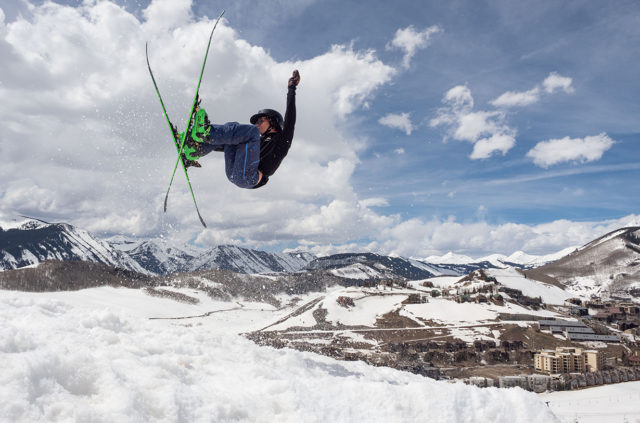 So I was eager to finally get on the 189 cm Facelift 108, and I've now been able to do so in a pretty wide range of conditions.
Powder
One thing that stood out to me with the Facelift 108 when I first saw it was just how subtle its rocker lines are, given the ski's freestyle orientation. Compared to many current ~108mm-wide skis, the Facelift 108 has shallower rocker lines and lower tip splay. But at the same time, the Facelift 108 also has a lot more taper than many skis in its class, and this combo creates a unique on-snow feeling.
In shallower powder (<6") the Facelift 108 floated fine, particularly if the snow was fairly dense as the skis softer shovels could bend and plane up. If the snow was lighter and / or deeper, the Facelift 108 would not float to the top like most skis in its class which have more rocker. But, likely because of its tapered shape, the Facelift 108 was still pretty easy to pivot and slarve around, even when it was cutting through the fresh snow rather than floating on top.
The Facelift 108 wouldn't be my top pick for super deep days, but it does seem like a pretty good option for those seeking a 1-ski quiver for higher-snow areas, or those who prefer to be "in" powder rather than on top of it.
The other thing to note here is that the Facelift 108 very much feels like a ski that's designed to be skied with a pretty neutral / centered stance. You can drive the front of it fairly hard on firm snow, but in deeper, softer snow I could get the tips to dive when I pressured them in the way I would on a ski with a much more traditional mount point (e.g., -8 or farther back). That's not a huge surprise, but I did notice this on the Facelift 108 whether the bindings were mounted -2 cm from center, and all the way back to -5 cm from center.
For reference again, I'm 5'8", 155 lbs and skied the 189 cm Facelift 108.
Soft Chop
As I noted in the First Look of this ski, the Facelift 108's flex pattern is quite strong in the middle of the ski, and the ends of its tips and tails are the only parts that are notably soft. This flex pattern was immediately evident on snow — for a freestyle-oriented ski, this thing feels strong.
In soft chop that hadn't yet set up very much, I could ski surprisingly hard and fast on the Facelift 108. Its lower weight felt like less of a detriment to its stability and its strong flex pattern let me blast through soft tracks.
As I just mentioned, you can drive the Facelift 108 a bit through the shovels on firmer / shallower snow, particularly when mounted at -4 cm or -5 cm from center. This helped in shallower soft chop as I could push into the front of the ski to keep it tracking in the right direction. In very deep chop (<12") I found it best to ski more balanced and dynamic as the ski's tips would occasionally dig into set-up patches and buck me forward.
But as long as the chop was soft, the Facelift 108 was fun, capable, and encouraged an aggressive but playful style. I still think the Facelift 108 is best suited for touring rather than inbounds skiing, but I'd be perfectly happy to break it out in the resort on shallower pow days. It's strong enough to ski hard on, while it's low swing weight and energetic flex pattern mean it's incredibly easy to flick around in the air.
Apart from making tracks through untracked snow, my favorite part of a resort "pow" day is being able to ski stupidly fast through soft chop and jumping and spinning off of the set-up patches. The Facelift 108 is an excellent ski for the "popping and spinning" part of that scenario, and is strong enough that it works fairly well for the "skiing fast" part — at least for its weight.
Crud
While I had a lot of fun skiing the Facelift 108 in soft chop, it was significantly less enjoyable when the snow gets firmer (like every ski I've used that's this light). The Facelift 108 is not heavy, has a forward recommended mount point, and a lot of taper. All of this equates to a ski that has very little tip in front of you, very little weight in that tip, and that doesn't set you up in a great position to be able to drive the crap out of the shovels to keep them pointed where you want them.
The Facelift 108 got knocked off track pretty easily in rough, firm snow. I found that the best strategy on this ski for crud was to ski with a pretty active / dynamic style. Instead of making big turns and blasting through crud like you can on skis that are several hundred grams heavier, the Facelift 108 encouraged me to get more creative with my line choice. Find smooth snow where possible, find stuff to jump off of, and throw the skis sideways often to keep my speed in check.
This is basically the strategy I have to take with all the skis I've used that weigh as little as the Facelift 108, but the Facelift 108 makes the jumping and slashing part easier and more fun than a lot of the directional skis in this class. If you're looking for a dedicated inbounds ski or true 50/50 ski that you can ski on as hard as your resort skis, you'd be better off on a heavier ski. But for backcountry conditions or the occasional resort day, the Facelift 108 is alright. It feels pretty average overall when it comes to its stability-to-weight ratio.
Groomers
The Facelift 108 has an interesting combination of a pretty tight sidecut and a lot of taper. On groomers it's capable of making tighter turns, but it lacks the quick turn initiation and a less-tapered tail to strongly exit turns. But the upside to all this tip and tail taper is that the Facelift 108 is very easy to throw sideways on firm snow when you want to shut things down.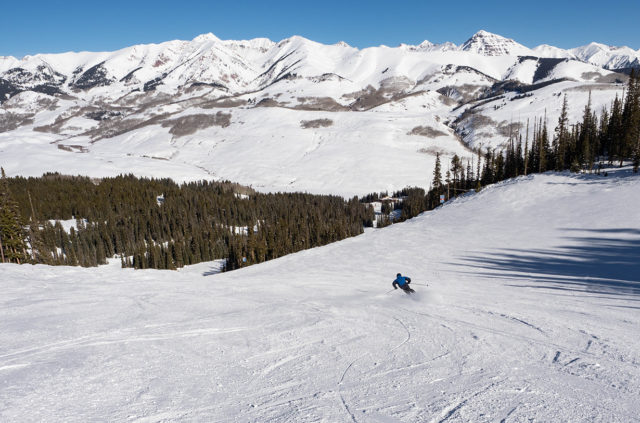 While I love skis that "pull me into a turn," I still had a surprisingly good time on the Facelift 108 on groomers. The ski held an edge quite well, was super poppy when I committed to bending it, and was incredibly easy to get in the air.
At the end of the day when the groomers were borderline mini-mogul fields, I had to slow down on the Facelift 108 or it could get a little scary. But again, for its weight, the Facelift 108's stability is respectable.
Moguls, Trees, and Tight Terrain
Despite its minimal rocker, the Facelift 108 is very easy to pivot and slide (particularly on firm snow). Combined with its super low swing weight, this made the Facelift 108 feel very quick in tight spots (even in the 189 cm length).
People who love skis with less tapered shapes that hold onto a turn will likely not love the Facelift 108. But if you like to pivot your way through tight terrain (rather than carve) — and especially if you like to do so with a more centered stance — the Facelift 108 should feel nice and maneuverable.
Despite having a pretty stiff section behind the bindings and a lot of tail due to the mount point, I never thought the Facelift 108 felt particularly punishing. There are several skis in this class that would be easier and more maneuverable in terrain that's both tight and covered in deep, soft snow, but in anything less than ~6" of fresh snow, I had no complaints about the maneuverability, support, or forgiveness of the Facelift 108.
Playfulness
This is where the Facelift 108 stands out from the rest of the touring market. It has a nearly symmetrical shape, a forward mount point, a somewhat twinned tail, and a round flex pattern. All of this makes for a touring ski that feels very familiar coming from other freestyle-oriented skis, and that works well for taking a more playful approach to the mountain.
The Facelift 108 is not super surfy in deep snow, but it's really easy to slash around in shallower snow. And when it comes time to get in the air, the Facelift 108 feels awesome. Its swing weight feels so light, it's mount point (whether at -2 or -5 cm) made it feel very balanced during spins, and its stronger flex pattern felt very supportive on landings.
I spent a lot of time this spring building jumps and the Facelift 108 was great for this. While I initially worried about the 189 cm length of the ski being too long, I never found myself thinking the ski felt sluggish in the air, and the tapered shape seemed to help keep the ski from catching when I didn't quite get the ski fully around during a spin. The Facelift 108 also skis switch well, though I'd definitely want a ski with higher tail splay for landing switch in very deep snow
One thing to note is that the Facelift 108, unlike the Line Vision 108 (one other playful touring ski), feels pretty stiff through most of the ski. So the Facelift 108 doesn't feel particularly easy to press / butter on firm snow, and you have to push into it pretty hard to bend it and get energy out of it. But thanks to its low weight, it's not hard at all to get the Facelift 108 off the ground. Just keep in mind that this ski doesn't feel like some super soft, buttery ski.
Uphill / Skinning
The low weight of the Facelift 108 feels great on the uphill, and it's worked very well with the tip and tail hardware of G3, Black Diamond, Contour, and Pomoca skins.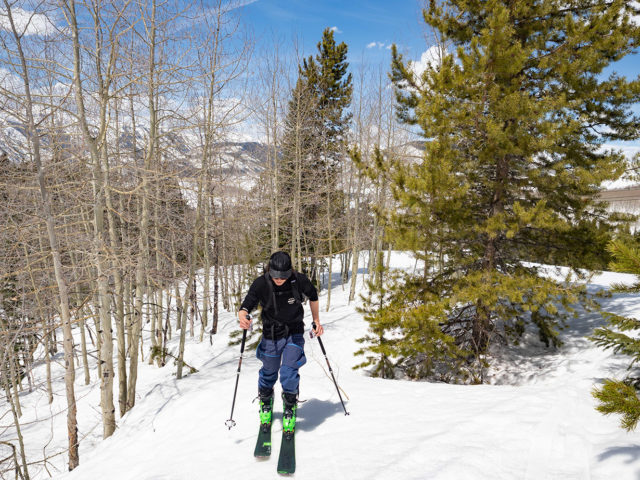 The one downside on the uphill for the Facelift 108 is its mount point. Whether it was mounted at -2 cm or -4 cm, the 189 cm Facelift 108 was quite difficult for more to kick turn due to how much tail it has. I think a very large part of this is due to its length — I'm 5'8", so my legs aren't all that long and I'd never claim to be particularly flexible.
I've skied ~180-183 cm with mount points around -4 cm that I had no trouble kick turning, and I think the 184 cm Facelift 108 would be a lot easier for me to kick turn. The 189 cm version definitely took a few days of practice to get used to while kick turning, but I was eventually able to do them fairly easily. So I wouldn't worry too much about skinning on the Facelift 108, just keep in mind that you'll probably have to do some practicing if you're coming from skis with more rearward mount points.
Who's It For?
Skiers who like to work for their turns and who ski with a more playful style.
If you like to ski with a very forward, driving stance, prefer skis without much taper, or otherwise don't care too much about playfulness, there are now plenty of options that will serve you better than the Facelift 108 (see the "Backcountry Touring Skis" section of our Winter Buyer's Guide).
But the Facelift 108 makes a lot of sense for backcountry skiers who want something a bit looser, more balanced in the air, and that's overall better for throwing tricks than most of the other similarly light skis on the market.
Regarding the question of 50/50 use for the resort and the backcountry, I think the Facelift 108 would work fairly well if you'll primarily be using it when the snow is very soft (e.g., powder or slush). In soft snow, its low weight is less noticeable and its stronger flex means it can be pushed pretty hard. But on firm snow, it offers significantly less stability than heavier skis, and I'd recommend checking out heavier options for true 50/50 use (see the "50/50" section of our Winter Buyer's Guide).
Bottom Line
The Amplid Facelift 108 offers a combination that's still pretty rare today. It's very light and feels great on the way up. But when you ditch the skins and head downhill, it caters to a more playful, freestyle-oriented style better than the majority of similarly light touring skis.
Deep Dive Comparisons: Amplid Facelift 108
Become a Blister Member or Deep Dive subscriber to check out our Deep Dive comparisons of the Facelift 108 to see how it compares to the Line Vision 108, Line Sir Francis Bacon, 4FRNT Raven, Renoun Citadel 106, Line Sick Day 104, Black Diamond Helio 105, K2 Wayback 106, Elan Ripstick 106, Faction Candide 3.0, and Sego Big Horn 106.