Ski: 2021-2022 Folsom Trophy Carbon, 188 cm
Available Lengths: 180, 184, 188 cm
Blister's Measured Tip-to-Tail Length: 185.9 cm
Blister's Measured Weight per Ski: 1895 & 1906 grams
Stated Dimensions: 145-115-140 mm
Blister's Measured Dimensions: 143.5-113.8-139.4
Stated Sidecut Radius: 17 meters
Measured Tip & Tail Splay (ski decambered): 76 mm / 54 mm
Measured Traditional Camber Underfoot: ~3-4 mm
Core: Poplar/Bamboo + Carbon Fiber Laminate
Factory Recommended Mount Point: -5.65 cm from center; 87.3 cm from tail
Boots / Bindings: Salomon S/Lab MTN & Nordica Strider 120 / Fritschi Tecton 12
Test Locations: Crested Butte, Front Range Backcountry, & Vail, CO
Days Skied: 8
[Note: Our review was conducted on the 18/19 Trophy Carbon, which was not changed for 19/20, 20/21, or 21/22, apart from graphics.]

Intro
Folsom says their Trophy ski is "one of the quickest and most nimble powder shapes on the market," and they also say it has the "go-to geometry for soft snow stunts, jumps, butters, and more."
In other words, the Trophy is designed to be a very playful powder ski. And last week we got our hands on a pair that was made with Folsom's full carbon layup, which results in a ski that's significantly lighter than the standard fiberglass-layup version.
We're still getting more time on the Trophy Carbon, but for now, let's take a look at how its design compares to the other skis in its class.
Shape / Rocker Profile
The Trophy we're testing uses Folsom's "powder rocker" profile, but it's also available with a variety of other rocker profiles.
While it has a lot of tip and tail splay, the Trophy's rocker lines are not actually all that deep compared to most playful ~115mm skis. The ON3P Kartel 116, Atomic Bent Chetler 120, and Moment Wildcat all have at least slightly deeper tip and tail rocker lines.
In terms of its shape, the Trophy's shovels start to taper quite early, but they don't taper to much of a point — it's more of a straight section for about 10 cm of the shovel. The Trophy's tails don't start tapering until the last ~15 cm of the ski, and they are also fairly straight after the taper point, rather than narrowing to much of a point.
Flex Pattern
Here's how we'd characterize the flex pattern of the Trophy Carbon:
Tips: 6
Shovels: 7-7.5
In Front of Toe Piece: 8-9.5
Underfoot: 10
Behind the Heel Piece: 9.5-9
Tails: 8.5-7
The tips and shovels of the ski are easy to bend, but then there's a smooth ramp up to a very solid section around the bindings. The Trophy Carbon finishes with tails that are a bit stiffer than the tips. All in all, this flex pattern feels very nice, especially for a ski that's supposed to let you butter and spin off features — the tips are pretty soft, and the tails are a touch stiffer, which should help on landings.
Folsom said the Trophy Carbon we're testing has their standard "Demo" flex, and if you were doing the custom process with them, you could make it softer or stiffer.
Sidecut Radius
The Trophy has a fairly tight sidecut radius of 17 meters for all available lengths. This, combined with the tip and tail rocker, seems to fall in line with Folsom's talk about how nimble the ski is.
Weight
As noted above, the Trophy we're testing uses a full carbon layup, rather than fiberglass. As a result, it's quite light for its size at ~1900 grams for the 188 cm. The Trophy Carbon's low weight slots it right into the (fairly small) category of playful pow skis that are light enough to drag around in the backcountry.
For reference, here are a few of our measured weights (per ski, in grams) for some notable skis. As always, keep in mind the length differences to keep things apples-to-apples.
1710 & 1744 Atomic Bent Chetler 120, 184 cm (18/19)
1795 & 1817 Moment Wildcat Tour, 184 cm (17/18, 18/19)
1895 & 1906 Folsom Trophy Carbon, 188 cm (18/19)
1910 & 1941 Scott Scrapper 115, 189 cm (17/18, 18/19)
1965 & 2009 Moment Wildcat Tour, 190 cm (17/18, 18/19)
2034 & 2052 Blizzard Rustler 11, 188 cm (17/18, 18/19)
2083 & 2097 Line Magnum Opus, 188 cm (17/18, 18/19)
2130 & 2130 Moment Wildcat, 190 cm (18/19)
2133 & 2133 Salomon QST 118, 192 cm (17/18, 18/19)
2183 & 2190 Black Crows Anima, 188.4 cm (17/18, 18/19)
2196 & 2199 Icelantic Nomad 115, 191 cm (17/18, 18/19)
2212 & 2215 Armada ARV 116 JJ, 185 cm (17/18, 18/19)
2297 & 2317 K2 Catamaran, 184 cm (17/18, 18/19)
2408 & 2421 ON3P Kartel 116, 186 cm (17/18, 18/19)
Bottom Line (For Now)
The carbon version of Folsom's Trophy shares a lot in common with some of our favorite playful pow skis, but comes in at a weight that makes it a prime candidate for 50/50 and touring use. We've already gotten a couple days on it, and Blister Members can check out our Flash Review linked below for our initial impressions. Stay tuned for our full review…
Flash Review
Blister Members can now check out our Flash Review of the Trophy Carbon for our initial impressions. Become a Blister member now to check out this and all of our Flash Reviews, plus get exclusive deals and discounts on skis, and personalized gear recommendations from us.
FULL REVIEW
Luke Koppa and I have both been spending time on Folsom's lightweight playful pow ski, the Trophy Carbon. I've been touring on it around the Front Range of Colorado, and we've both spent time on it inbounds at Crested Butte. The category of freestyle-oriented pow skis that are light enough to tour on is pretty small, but we think Folsom's addition is a very competitive one, so let's dive in.
Powder
Sam Shaheen (5'10", 140 lbs): As I mentioned in my Flash Review of this ski, I've been thinking of the Trophy Carbon as a "Super Bent Chetler 120". I think that description is still accurate (you can read more about how these two skis compare in our Deep Dive on the Trophy Carbon), but the skis are probably most noticeably different in powder.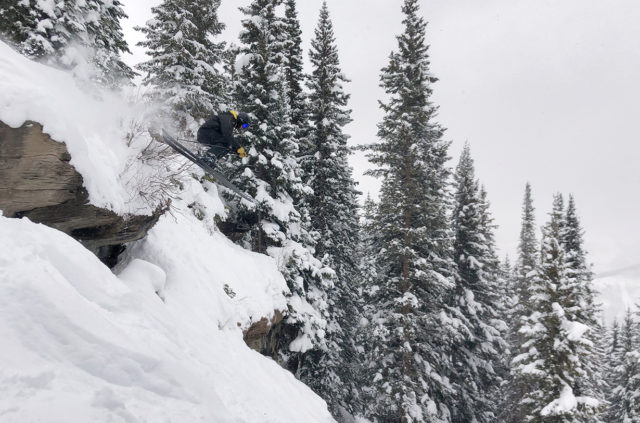 The Trophy Carbon is longer, has a more rearward mount point (-5.65 cm from center), and has less taper. As a result, it feels a bit more traditional in powder. The Trophy's longer tips like to plane on top of fresh snow and, unlike the Bent Chetler 120 or Prior CBC (which are more symmetrical skis), the tail on the Trophy feels distinctly different from the tip since it is shorter and stiffer than the tip.
This doesn't keep slashes, hacks, and slarves on the Trophy Carbon from feeling natural, but it does give the Trophy Carbon slightly less of a freestyle feel in deeper snow. In deeper snow, more of the Trophy Carbon's shovel is engaged in the snow, as opposed to firm snow where the Trophy Carbon's deeper tip rocker line leaves some of the tip raised off the snow. As a result, the Trophy Carbon is more comfortable being driven in pow, whereas skis with more centered mount points (e.g., BC 120 and Prior CBC) feel more comfortable being skied from a more neutral stance.
To be clear, the Trophy Carbon is still a very playful ski. You can still ski it pretty neutral, and as you'll read below, it feels nimble and natural in the air. It's just not quite as playful as some of the most playful skis on the market like the Bent Chetler 120 and CBC.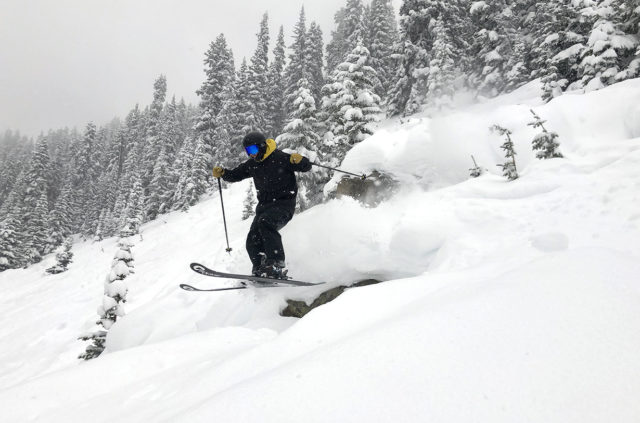 In light, consistent pow, the Trophy Carbon is incredibly easy and intuitive. I can make the ski plane up to make a slash or bury the tips to burn speed at will. The Trophy Carbon feels predictable and playful in these conditions. When the pow gets a bit heavier and / or wind affected, the Trophy Carbon starts to prefer a more neutral stance. In heavier snow, if I drive the ski too much, the relatively soft tips and shovels can fold up a bit. This isn't all that surprising given the flex pattern, low weight, and fairly forward mount point of the ski.
Chop, Crud, and Variable Snow
Sam: The Trophy Carbon is a light ski. Coming in at ~1900 g for the 188 cm version, the Trophy Carbon is certainly on the lighter end of 50/50 pow skis and it's arguably light enough to be a dedicated touring ski. That said, it shouldn't come as a surprise that it has a tendency to get tossed about in variable snow and chop.
In softer, shallower chop (like we often get here in Colorado midway through a pow day), the Trophy Carbon does just fine. I am able to drive the ski pretty hard, so it's pretty easy to keep the tips pointed where I want. It has a strong platform underfoot that feels comfortable being pushed while the soft tips easily float up and over lighter piles of snow.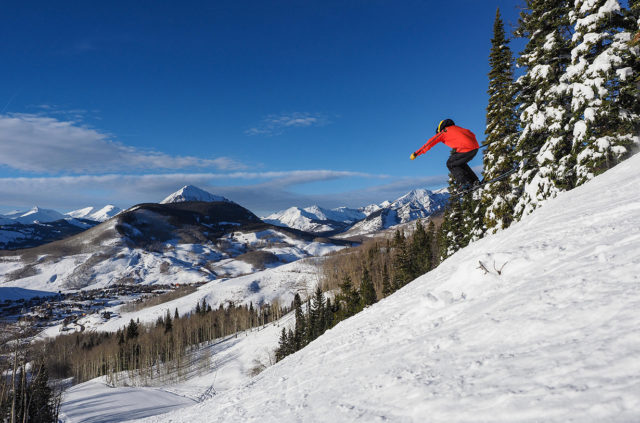 In heavier or deeper chop and crud, the Trophy Carbon requires a bit more finesse. In deeper chop, I prefer to ski it with a neutral stance to keep the tips from getting bogged down, but this can lead to the ski getting squirrely at high speeds. The Trophy Carbon is far from a chop destroyer, but no similarly light ski that we've been on is.
Luke Koppa (5'8", 155 lbs): Yep, I agree with what Sam has said. The Trophy Carbon feels strong and pretty stable for its weight, but this is not a ski I can get on and just expect to be able to ski recklessly fast, no matter the snow conditions.
But because of its playful shape, poppy feel, and low weight, the Trophy Carbon was a ton of fun in soft chop. I could carry speed through the good snow, then quickly make a slash to shut things down and get back in control when the snow got rough.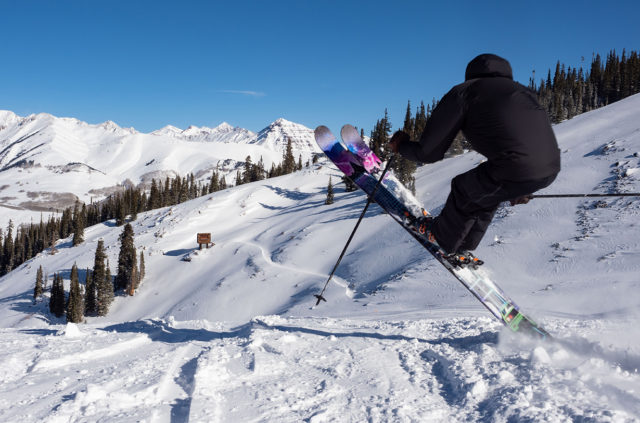 On firmer, rougher snow, I had to slow things down and be more careful with my line choice in order to avoid skiing directly into firm chunks of snow. If I tried to ski very fast through firm crud, the Trophy Carbon felt a bit harsh and unstable. But again, since the Trophy Carbon feels so quick, the ski made it easy to ski with a more dynamic, deliberate style.
Groomers and Firm Off-Piste Snow
Sam: For a wider, freestyle-oriented pow ski, the Trophy Carbon is a blast on groomers. The ski feels comfortable being layed over on edge and provides a good amount of energy out of the turn. The Trophy Carbon can be driven hard on groomers that are anything softer than sheer ice. No, this ski doesn't have the edge hold or precision of narrower, piste-oriented skis, but it is still a ton of fun on edge.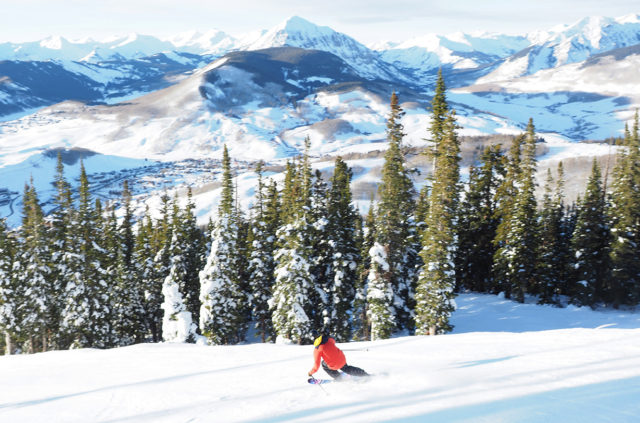 Luke: I got a few runs on the standard, non-carbon Trophy a couple years back, and one of the main things that stood out to me was just how good it carved for being 115 mm wide. And the same is true of the Trophy Carbon. It's easy to put on edge, holds that edge well, and produces a lot of energy coming out of a turn. It's not a very damp ski, but if the groomers are consistent, the Trophy Carbon is surprisingly fun. And the other thing I want to note here is that I had the most fun on the Trophy Carbon when making small- to medium-radius turns. If I tried to open up my turns and really let the ski run, it felt a bit nervous / squirely. But keep it on edge and crank out tighter turns, and you can have a great time carving the Trophy Carbon on groomers.
Moguls, Trees, and Tight Terrain
Sam: Consolidated, consistent off-piste snow was where the Trophy Carbon really made a lasting impression on me. It is light enough to throw around very quickly in bumps or trees, has a solid underfoot platform that can be pushed pretty hard without folding up unpredictably, and it has tons of rebound and energy. In some ways, it feels like a wider, more freestyle-y Rossignol Soul 7 HD.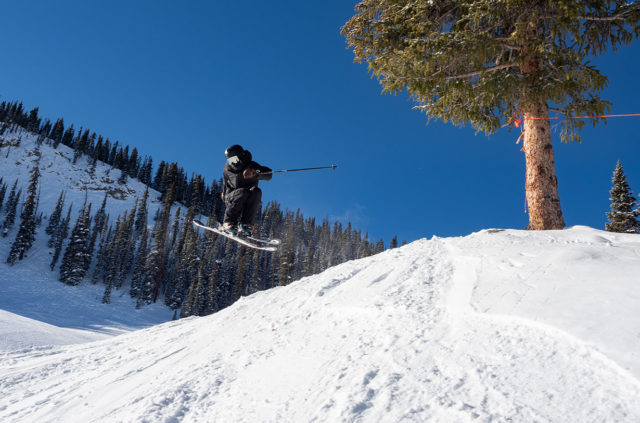 The Trophy Carbon can't be skied as hard and fast as most heavier skis, and it certainly isn't as damp as those skis. But it feels comfortable being skied pretty hard, and it's forgiving if you make a mistake. When I get on this ski, I just want to push it — take that turn a little faster, launch that air a little bigger.
I ski with an aggressive, but dynamic style. As a result, I tend to like skis that are strong, quick, and energetic, rather than those that are heavier, more damp, and a bit more sluggish. For my personal skiing style, the Trophy Carbon is an absolute blast on firmer snow and in technical terrain.
Luke: The Trophy Carbon feels very easy, intuitive, playful, and still quite supportive. So at moderate speeds in tight terrain, I really liked it. It was maneuverable in bumps and trees, supportive without feeling punishing, and its pop made finding transitions in bumps and trees a lot of fun.
That said, the Trophy Carbon's low weight doesn't encourage me to ski as fast as possible. It's fun to ski it with a very dynamic, light-on-my-feet style, but I was more wary of having to run out airs into fields of chop and bumps on the Trophy Carbon than I was on much heavier skis like the Faction Prodigy 4.0 and Rossignol Black Ops 118. For a 50/50 ski though, the Trophy Carbon performed very well on firm snow and in tight terrain. Just expect it to feel a bit less stable and composed at high speeds vs. heavier, dedicated resort skis.
In The Air
Sam: The Trophy Carbon feels light, balanced, and very comfortable in the air. The tail has a great amount of pop to it, so jumping off stuff is a blast. Even with the further back mount point compared to other freestyle pow skis, the Trophy Carbon feels comfortable spinning and tricking. For hitting big airs at high speeds, I'd probably prefer a heavier, more damp ski like the CBC (or perhaps the non-carbon version of the Trophy). But for drops and airs less than ~25', the Trophy Carbon is a riot.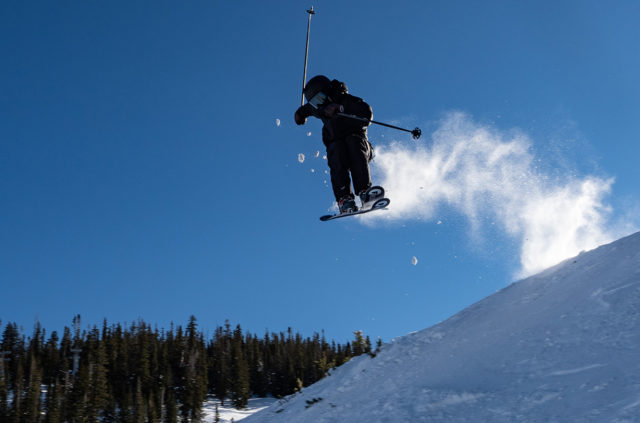 Luke: Yep, Sam's spot on. The Trophy Carbon's mount point (-5.65 cm from center) is still pretty forward compared to the whole spectrum of pow skis, so it feels very natural in the air. It's not quite as balanced as nearly symmetrical skis like the CBC and Bent Chetler 120, but I felt much more comfortable throwing shifties and little spins on the Trophy Carbon than I did on more traditional skis like the Icelantic Nomad 115, Line Sick Day 114, etc.
Who's It For?
Sam: People looking for very playful, freestyle-oriented 50/50 powder skis don't have many options right now. The Trophy Carbon is on the lighter end of this (small) category, which makes it easy to recommend to people who will be doing a lot of touring. But I think it's also a great choice for people who have a dynamic / active skiing style and who want a freestyle-oriented pow ski that can still be driven pretty hard.
If the Bent Chetler 120 piques your interest but you're nervous about its crazy low weight or its very forward mount point, the Trophy Carbon has a similar feel with much less radical specs. And it can be driven and pushed a bit harder than the BC 120.
Luke: To me, the Trophy Carbon seems like an ideal ski for people who like to tour to find lots of pillows, cliffs, and other moderate-sized drops to play around on in the backcountry. If your tours tend to be really long and / or you prioritize a super balanced feel over stability, then the lighter Bent Chetler 120 might be a better option. But the Trophy Carbon still feels great in the air, can be skied pretty hard when conditions aren't ideal, and is light enough that I'd be happy using it as a dedicated powder touring ski.
As for the question of use in the resort, as Sam alluded to, that depends on your skiing style. Those who like to drive their skis really hard and ski very fast no matter the conditions would be better off on a heavier ski, and probably one with a more traditional, less playful shape. But if you're splitting your time between the resort and backcountry and ski with a playful, dynamic style, the Trophy Carbon is a great option.
Bottom Line
Sam: In my Flash Review of the Folsom Trophy Carbon, I said that it might be my new favorite ski. And while there are a few other skis that are also currently competing for that spot, I can say that the Trophy Carbon is still WAY up in my list. It has a great combo of lots of energy / pop, a low weight, and a super playful feel, yet it can still be driven and pushed pretty hard. If you're looking for a freestyle pow ski to use in the backcountry and resort, the Trophy Carbon should definitely make your list.
Deep Dive Comparisons
Become a Blister Member or Deep Dive subscriber to check out our Deep Dive of the Trophy Carbon to see how it stacks up against the Atomic Bent Chetler 120, Moment Wildcat / Blister Pro & Wildcat Tour, Blizzard Rustler 11, Rossignol Super 7 HD, Scott Scrapper 115, Liberty Origin 112, and Faction Candide 4.0.