Ski: 2021-2022 Prior CBC, 184 cm
Available Lengths: 178, 184, 188, 193 cm
Blister's Measured Tip-to-Tail Length: 182.3 cm
Blister's Measured Weight per Ski: 2147 & 2286 grams
Stated Dimensions: 138-118-137 mm
Blister's Measured Dimensions: 139.6-116.5-137.5 mm
Stated Sidecut Radius: 16.5 meters
Measured Tip & Tail Splay (ski decambered): 64 mm / 61 mm
Measured Traditional Camber Underfoot: ~3 mm
Core: Maple + Carbon Stringers + Quadraxial Fiberglass Laminate (custom options available)
Base: 4001 Sintered Durasurf Base Die Cut
Factory Recommended Mount Point: -2.15 cm; 89.0 cm from tail
Boots / Bindings: Dalbello Lupo SP I.D. & Nordica Strider 120 / Marker Jester
Test Locations: Crested Butte & Arapahoe Basin, CO
Days Skied: 7
[Note: Our review was conducted on the 18/19 CBC, which comes back unchanged for 19/20, 20/21, and 21/22, apart from graphics.]

Intro
Last year we took a look at the Prior Husume, which is a pretty big, heavy, stiff directional charger.
Here we're looking at another ski from Prior, but this one — the CBC — is much less directional. In fact, it's one of the most symmetrical, and perhaps the most freestyle-oriented pow skis we've ever reviewed.
So what happens when a company based in Whistler, BC, designs a ski designed for throwing tricks off the pillows and big mountain lines around their home base?
What Prior says about the CBC
"The CBC is Prior's first true backcountry freestyle twin; it can be found bouncing from pillow to pillow in the Whistler Backcountry or navigating through tight inbound trees. With a waist of 118mm, the CBC provides ample float while staying nimble and playful. The CBC features a centered Twin Rocker Profile that tackles variable conditions with ease and maximises switch ski performance. From deep, off piste pillows to lift lines, the CBC brings playful inspiration to the backcountry."
So the CBC is supposed to allow freestyle skiers to go from throwing tricks in the park to throwing them off of natural features into deep pow, with an emphasis on playfulness, switch skiing performance, and stability in variable conditions.
Shape / Rocker Profile
This obviously doesn't mean anything in terms of the ski's performance, but the CBC is one of the most beautiful skis I've ever seen. There's just something about the minimal white topsheet, symmetrical shape, and smooth, nearly symmetrical rocker profile.
But personal musings aside, the CBC is a ski with pretty heavily tapered tips and tails, and a fairly tight sidecut radius of 16.5 meters for the 184 cm version. That's a combo we see in a lot of playful, quick-turning pow skis.
The CBC's rocker profile is also nearly symmetrical, which is similar to other skis designed to take off and land switch in deep pow.
But while its rocker profile is similar to many jibby pow skis, the CBC starts to stand out a whole lot more when you flex it…
Flex Pattern
Here's how we'd characterize the flex pattern of the CBC:
Tips: 8.5
Shovels: 9-9.5
In front of toe Piece: 9.5
Underfoot: 9.5
Behind Heel piece: 9.5
Tails: 9-8
The CBC's playful shape might suggest it's some pow noodle, but its flex pattern tells an entirely different story. This ski is stiff, and not just underfoot. Like the Prior Husume, the CBC stays stiff through the majority of its length, and just goes a bit softer in near the end of its tips and tails. But the transition is very smooth — the CBC's flex pattern feels very consistent and round like many playful skis, it's just significantly stiffer throughout than many other skis in this class.
Mount Point
According to Prior, the 184 cm CBC is designed to be mounted 89 cm from the tail, which puts it at around -2.15 cm from center on our 184 cm CBC. That's one of the most centered recommended mount we've ever seen on a 115mm+ ski. And to put that into a broader perspective, there are plenty of park-specific skis that have recommended mount points that aren't this close to center.
Weight
Like the Husume, the CBC falls on the slightly heavier end of the spectrum, though it's not too far off from many of our favorite playful-but-stable pow skis (like the Moment Wildcat / Blister Pro) and the CBC is still substantially lighter than the 186 cm ON3P Kartel 116.
It's also worth noting that, like all of Prior's skis and snowboards, the CBC is available in a carbon layup that allegedly cuts the weight by about 15%, which would bring the 184 cm CBC's weight to under 2000 grams.
For reference, below are a few of our measured weights (per ski, in grams) for a few notable skis. As always, keep in mind the length differences to keep things apples-to-apples.
1980 & 2019 Moment Deathwish, 184 cm (17/18-18/19)
2006 & 2011 Rossignol Super 7 HD, 188 cm (17/18-18/19)
2034 & 2052 Blizzard Rustler 11, 188 cm (17/18-18/19)
2042 & 2105 Line Mordecai, 186 cm (17/18-18/19)
2083 & 2097 Line Magnum Opus, 188 cm (17/18-18/19)
2097 & 2103 Liberty Origin 112, 184 cm (18/19)
2103 & 2100 Moment Wildcat / Blister Pro, 184 cm (17/18-18/19)
2147 & 2286 Prior CBC, 184 cm (17/18-19/20)
2183 & 2190 Black Crows Anima, 188.4 cm (17/18-18/19)
2196 & 2199 Icelantic Nomad 115, 191 cm (17/18-18/19)
2212 & 2215 Armada ARV 116 JJ, 185 cm (17/18)
2228 & 2231 Blizzard Spur, 192 cm (17/18-18/19)
2297 & 2317 K2 Catamaran, 184 cm (17/18-18/19)
2408 & 2421 ON3P Kartel 116, 186 cm (17/18-18/19)
2438 & 2492 Rossignol Black Ops 118, 186 cm (16/17-18/19)
Bottom Line (For Now)
The Prior CBC is a gorgeous ski with a design that seems purpose-built for taking your tricks into natural terrain. Blister members can check out our initial on-snow impressions in our Flash Review linked below, and while we put together our full review, feel free to add in the Comments section below anything you'd like us to address.
Flash Review
Blister Members can now check out our Flash Review of the CBC for our initial impressions. Become a Blister member now to check out this and all of our Flash Reviews, plus get exclusive deals and discounts on skis, and personalized gear recommendations from us.
FULL REVIEW
Luke Koppa and I have now spent time on Prior's freestyle pow ski, the CBC, in a range of conditions from spring slush to deep, cold pow. And we're both very high on this ski. We've talked about it on our GEAR:30 podcast, in our Buyer's Guide, and through many frequent text chains that included lots of messages like "holy crap this ski is good." And now that we've skied it in a wider range of conditions, it's time for the full review.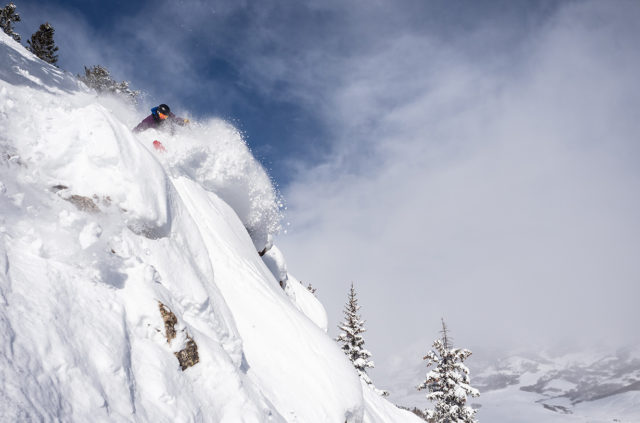 What we said about the CBC in our 18/19 Winter Buyer's Guide:
"Prior is based in Whistler, BC, so it seems fitting that we think the CBC is pretty much the ideal ski for bombing down massive pillow lines. It has a very strong flex pattern and a pretty hefty weight, but it also has a near-dead-center mount, an almost symmetrical shape, and lots of tip and tail splay. The result is a ski that rewards a centered stance and feels very comfortable in the air, but that stays more composed at speed and in variable snow than many of the softer skis here. It also has just about the most confidence-inspiring landing platform of any ski we've ever been on. The CBC just feels solid. If you want to throw tricks in deep pow and want a ski that will not fold up at speed and on big landings, the CBC is one of our top choices."
Shape + Flex + Weight
Sam Shaheen (5'10", 140 lbs): We really like the shape, flex, and weight of this ski. And you might find a theme in a few upcoming reviews we'll be posting. There are a lot of skis that we really like (the CBC included) that combine stiff flex patterns with easy / more playful shapes and fairly hefty weights. This is a combo that a lot of us here at Blister have come to appreciate.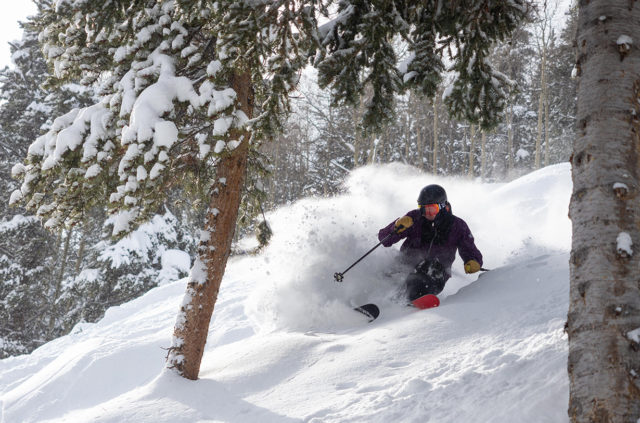 The CBC is a perfect example of this concept. Apart from the very ends of the tips and tails (which dip into the 8/10 range), the entire ski flexes at or stiffer than a 9/10. When we first hand flexed this ski, it was after Luke and I had gotten time on it last spring and neither of us could believe how stiff the ski was. Because on snow, the ski is not demanding. In fact, it is pretty intuitive and easy to ski. Thus began our fascination with stiff skis that have easy shapes and not-so-light weights. Keep an eye out for our reviews of the Prior Husume, Dynastar Proto, and Folsom Hammer for more data points on this idea.
Powder
Sam: As a ~117mm-wide ski, the CBC is indisputably a powder ski. So it's good that it excels in deep snow. I've now gotten to ski on two different storm days. One was a 10" dump at Crested Butte that plastered the mountain in snow after a few days of consistent snow before — it was deeeeep. The other was about 4" of fresh over firm.
In deep snow, the CBC doesn't quite have the float of other pow skis with wider tips and more traditional mount points. The 191 cm Icelantic Nomad 115, for instance, definitely beat the 184 cm CBC when it comes to outright float. But the CBC still floats quite well when skied from a neutral stance. It has a very wide, solid platform, so when I stand in the center of the ski and let it run, the tips plane predictably.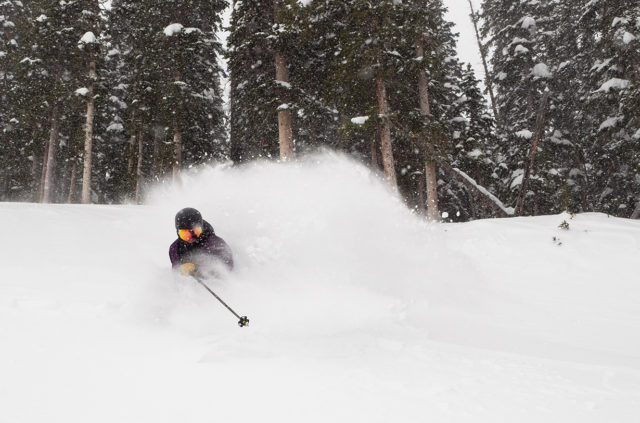 Because of its large amount of tip taper, the CBC is very easy to pivot. It feels quick and comfortable making hard slashes or making fast turns in tight spaces. Perhaps because of the long, wide tail and centered mount point, the CBC feels best in powder when skied with a neutral or slightly forward stance. This is in contrast to many other, more tradtitional skis that feel pretty comfortable when skied with a more forward, driving-the-tips style. But the CBC is still a joy in pow — just stand in the middle of the ski and play.
Luke Koppa (5'8", 155 lbs): Yep, I agree with everything here. If you like to ski with a very forward, driving stance in powder, you'd be better off on a ski with a more rearward mount point and probably less tapered tips. But for a freestyle-oriented pow ski (and one with a correspondingly forward mount point), the CBC offers good float in deep snow.
Chop , Crud, and Variable Snow
Sam: In deep chop, the CBC's progressive mount point and heavily tapered tips leave it at a bit of a disadvantage compared to skis with less taper and more traditional mount points. The CBC does have a tendency to get knocked around or bogged down when going through particularly deep or heavy patches of snow. But the CBC does have a bit of weight behind it and a stout flex. And (perhaps) as a result, I would take the CBC in chop over skis like the Blizzard Rustler 11, Atomic Bent Chetler 120, or Blizzard Spur.
And unlike some other skis in the freestyle pow category, you can drive the CBC through the front when you need to. So when the snow gets particularly rough, I can easily move my weight forward and control the ski a bit better.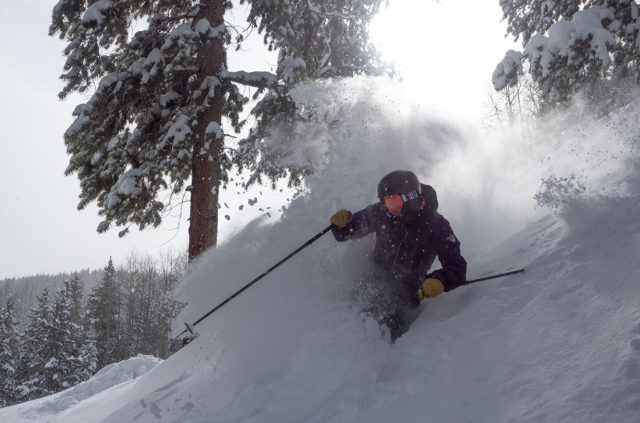 In more consolidated variable or even firm snow, the CBC feels strong and can be pushed very hard. It doesn't have the huge top end or insane dampness of a ski like the Rossignol Black Ops 118, but for folks with an active, more playful ski style, the CBC is a blast when the pow gets skied out.
Luke: The CBC isn't some chop destroyer like the less-tapered and much heavier Black Ops 118, but the CBC is still a very strong ski that's not super light. Again, if you want to drive the front of your skis really hard, there are plenty of better options. But if you're coming from playful skis with forward mount points and want to be able to ski hard and fast in chop, I think you'll really like the CBC. It's also much quicker and more nimble than heavier, less tapered skis like the Black Ops 118. So, with the CBC, you get a strong, damp platform that you can ski hard on, but you don't lose much in the way of surfiness or a balanced feel in the air.
In the Air
Sam: If you're interested in the CBC, there's a good chance that you like to jump off of stuff. And, unsurprisingly, the CBC feels amazing in the air. It has a ton of energy and pop when flying off of lips. And once you've launched into orbit, the CBC is very balanced and surprisingly light in the air. It inspires confidence and wants to spin, shifty, and generally get weird in the air.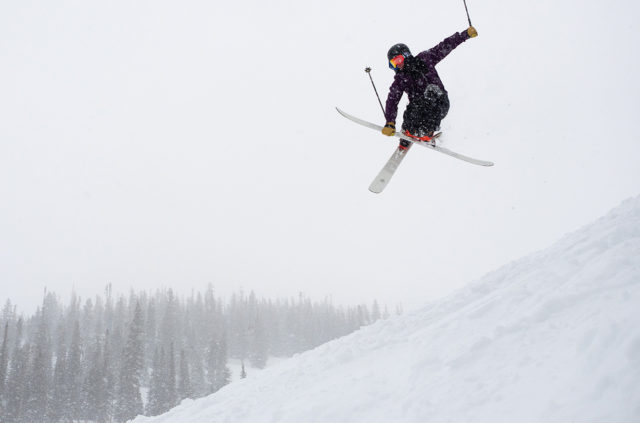 The CBC feels like a park ski on steroids — it's big and strong, but still forgiving and super playful. This is my first choice for a BC booter ski, no questions asked.
Luke: Performance-enhancing-drug analogies aside, yes, the CBC feels excellent in the air. It's very balanced, has a low swing weight for heavy it is, and feels natural on take offs.
Landings
Sam: Perhaps the only thing more fun than being in the air on the CBC is landing on it. It has such a huge, stiff sweet spot that landing on the CBC feels like a magnitude 8 earthquake. Or like when one of those giant monsters smashes a dunk in Space Jam. Or like when the beat drops in Meek Mill's "Dreams and Nightmares". Or like taking your boots off after a 15-hour tour. Or like when they finally call your number at the DMV. Or like when you see that Candide posted a new video on Instagram. Or like when you get upgraded to first class on an international flight for free. Or like when you find a fire series on Netflix that already has 6 seasons.
I might have gotten a bit carried away there, but you get the point. Landings on the CBC feel GOOD.
Luke: I was gonna say that there's no way to really describe how good landings feel on the CBC, but apparently Sam came up with eight. But, yeah, this ski feels incredibly solid when you land.
Groomers
Sam: Let's be real. You're probably not looking at the CBC for its groomer performance. But this ski actually does surprisingly good on edge. Yes, it is very wide, has a relatively short effective edge, and a very progressive mount point — not typically a good combo for groomers. But the CBC has such a strong platform that it can be driven pretty hard on groomers. Combine that with a rather tight sidecut that likes to make energetic shorter to medium-radius turns and the CBC is actually pretty fun on groomers.
Luke: I had a pretty good time on the CBC on the groomers I got it on. Edge hold felt surprisingly good, and it plowed through shallow, slushy snow quite well. I do want to reiterate that, if you love the feeling of a ski that you can drive hard and that pulls you into a turn, the CBC is not designed for you.
If I tried to drive the ski super hard through the front, the sidecut and fat, nearly symmetrical tail felt a bit odd. Instead, the CBC feels best when skied with a slightly forward, but pretty centered stance where you can keep the ski tracking, but mostly just let the tighter sidecut take you through the turn from the middle of the ski.
Who's It For?
Sam: The CBC would be an excellent wider ski for advanced to expert freestyle-oriented skiers who appreciate a stiff ski that can be pushed hard but that still retains a huge amount of playfulness. The CBC's stiff flex means that it isn't for someone who wants to press and butter at slow speeds, but rather someone who wants to send big airs into deep snow, hit pillow lines, and / or ski techy steeps.
Luke: Want to send big cliffs and pillows in deep snow, toss in some tricks, and never have to worry about your skis folding up on you? If so, let me introduce you to the Prior CBC.
Bottom Line
The Prior CBC has a rare combination of traits. It's very stiff, fairly heavy, but has a very forgiving and freestyle-oriented shape. And, somewhat surprisingly, that combo works really well. This ski inspires confidence in the air and on landings while still being able to be skied hard in technical terrain and variable snow. It's a surprisingly versatile ski of which we're huge fans — well done, Prior.
Deep Dive Comparisons
Become a Blister Member or Deep Dive subscriber to check out our Deep Dive of the CBC to see how it stacks up against the Rossignol Black Ops 118, Moment Blister Pro / Wildcat, K2 Catamaran, Icelantic Nomad 115, and Blizzard Spur.