Ski: 2021-2022 Dynastar M-Free 118, 189 cm
Available Lengths: 189 cm
Blister's Measured Tip-to-Tail Length: 186.6 cm
Blister's Measured Weight per Ski: 2341 & 2357 grams
Stated Dimensions: 145-118-135 mm
Blister's Measured Dimensions: 144.7-118.0-135.3 mm
Stated Sidecut Radius: 24 meters
Measured Tip & Tail Splay (ski decambered): 65 mm / 39 mm
Measured Traditional Camber Underfoot: ~7 mm
Core: poplar + fiberglass laminate
Factory Recommended Mount Point: -9.1 cm from center / 84.2 cm from tail
Boots / Bindings: Head Raptor 140 RS; Dalbello Lupo SP I.D.; Nordica Strider 120 / Tyrolia AAAttack2 13 AT
Test Location: Crested Butte, CO
Days Skied: 10
[Note: We reviewed the Dynastar PR-OTO Factory, which returned unchanged for 19/20, 20/21, and 21/22, apart from new graphics and a name change to the "Menace Proto." For 20/21, Dynastar did not change the construction of the ski, but again changed the graphic and the name to the "M-Free 118." Here, we refer to it by its original name, the PR-OTO Factory.]

Intro
Last year Dynastar announced that they'd be coming out with a brand-new pow ski for 18/19 that was designed with close collaboration with freeskiing legend, Richard Permin.
If you're not familiar with Permin, check out the video below and then do a quick search for any of his video parts from the past few years (his segment from MSP's Attack of La Nina is particularly good).
Permin is one of the few skiers out there right now who not only excels on gnarly big-mountain faces, but who can also throw technical freestyle tricks of those same lines.
So, it seems appropriate that his new signature ski, the PR-OTO Factory, looks like it blends characteristics from both sides of the big-mountain spectrum. And as a result, we've been hearing conflicting reports about what this new ski is — is it a burly charger, a surfy freestyle ski, a mix of both…?
We'll soon be getting on the Proto Factory, but for now, let's take a look at its specs and see how they compare to some of the other skis in this class.
What Dynastar says about the Proto Factory:
"Built to handle the deepest days and the most challenging terrain, the PROTO FACTORY was designed, developed, and approved by Factory Team rider Richard Permin.
Validated across a diversity of playgrounds last winter by the man himself, from the bottomless powder and tree skiing of Japan to the big mountain arena of Alaska, the PROTO FACTORY blends a fall line seeking missile with playful freeride versatility for whatever terrain is in front you."
Dynastar is definitely emphasizing the Proto's powder performance, which makes sense given that it's 118 mm wide. But as I hinted above, Dynastar isn't compartmentalizing the Proto into either side of the playful vs. directional spectrum. Instead, they talk about its ability to bomb down the fall line and play around. Consider us intrigued.
Shape / Rocker Profile
The Proto's shape looks a bit like a blend of their Legend X skis and their old Pro Rider. The Proto shares some of the tip taper of the Legend X skis, but the Proto has a bit less tail taper, despite being wider than any of the Legend X skis. But the Proto still has a more tip and tail taper than the pretty traditionally shaped Pro Rider.
In terms of rocker profile, the Proto is pretty moderate by modern standards for a ~118mm-wide pow ski.
The Proto has almost symmetrical and pretty shallow tip and tail rocker lines. The Proto's tip rocker line is shallower than most other 118mm-wide skis we've reviewed. The Proto's tail rocker line is less unusual — it's a bit deeper than some directional pow skis like the Volkl Confession or Blizzard Bodacious, and not quite as deep as more freestyle-oriented skis like the Moment Wildcat / Blister Pro, Prior CBC, etc.
The other surprise with the Proto is how much camber it has — we actually had to measure and re-measure it several times to make sure we weren't making a mistake. With ~7 mm of camber and tip and tail rocker lines that aren't super deep, we don't expect the Proto to be the surfiest ski out there.
Flex Pattern
Here's how we'd characterize the flex pattern of the Proto Factory:
Tips: 6.5-7
Shovels: 7.5-8.5
In Front of Toe Piece: 9-9.5
Underfoot: 9.5
Behind the Heel Piece: 9-8
Tails: 7
As I noted above, before receiving the ski, we'd heard a lot of conflicting reports regarding just how burly it is — some people said it was a super stiff charger that only expert skiers would like, while others talked up its playfulness.
After hand-flexing it, I got much more excited about the Proto. It's a strong ski, but its tips and tails are far from unbendable. Plus, its flex pattern feels pretty round — the tails are a touch stiffer than the tips, but not by much. Many of our reviewers, including myself, tend to like skis with round flex patterns, so I'm psyched on this.
Weight
For a ski that's supposed to be able to charge down big-mountain faces, the Proto Factory comes in at what I'd call a "proper" weight of around 2350 grams per ski.
While Dynastar's Legend X skis are quite light, I'm glad to see that the Proto is not. Compared to the most of the more freestyle-oriented pow skis, the Proto comes in a bit heavier. And compared to the more directional big-mountain skis, the Proto comes in about average in terms of weight.
For reference, below are a few of our measured weights (per ski, in grams) for a few notable skis. As always, note the length differences to keep things apples to apples.
1910 & 1941 Scott Scrapper 115, 189 cm (17/18–18/19)
2013 & 2099 Moment Wildcat / Blister Pro, 184 cm (18/19)
2034 & 2052 Blizzard Rustler 11, 188 cm (17/18–18/19)
2102 & 2137 Line Sick Day 114, 190 cm (17/18–18/19)
2126 & 2173 Rossignol Super 7 RD, 190 cm (17/18–18/19)
2130 & 2130 Moment Wildcat / Blister Pro, 190 cm (18/19)
2133 & 2133 Salomon QST 118, 192 cm (17/18–18/19)
2161 & 2163 Faction Dictator 4.0, 186 cm (17/18–18/19)
2183 & 2190 Black Crows Anima, 188.4 cm (17/18–18/19)
2196 & 2199 Icelantic Nomad 115, 191 cm (17/18–18/19)
2220 & 2252 Faction Prodigy 4.0, 186 cm (17/18–18/19)
2212 & 2215 Armada ARV 116 JJ, 185 cm (17/18–18/19)
2222 & 2278 Prior CBC, 184 cm (17/18–18/19)
2228 & 2231 Blizzard Spur, 192 cm (17/18–18/19)
2230 & 2250 Black Diamond Boundary Pro 115, 185 cm (17/18–18/19)
2246 & 2265 Fischer Ranger 115 FR, 188 cm (17/18–18/19)
2267 & 2270 Whitedot Ragnarok 118, 190 cm (16/17–18/19)
2297 & 2317 K2 Catamaran, 184 cm (17/18–18/19)
2341 & 2357 Dynastar Proto Factory, 189 cm (18/19)
2343 & 2360 J Skis Friend, 189 cm (18/19)
2346 & 2351 Nordica Enforcer Pro, 191 cm (17/18–18/19)
2370 & 2387 Volkl Confession, 193 cm (17/18–18/19)
2382 & 2395 ON3P Billy Goat, 184 cm (17/18–18/19)
2408 & 2421 ON3P Kartel 116, 186 cm (17/18–18/19)
2418 & 2433 ON3P Wrenegade 114, 189 cm (18/19)
2429 & 2437 Kingswood SMB, 188 cm (16/17–18/19)
2438 & 2492 Rossignol Black Ops 118, 186 cm (16/17–18/19)
Mount Point
The Proto Factory has a pretty traditional recommended mount point of around -9 cm from center. However, we've been on several skis with similar mount points (e.g., Fischer Ranger 102 FR & Icelantic Nomad 115) that also worked well with the bindings moved a few centimeters forward to help with freestyle performance. So, I'm very curious to see how the Proto will respond to different mount points.
Some Questions / Things We're Curious about
(1) Is the Proto Factory more of a fall-line-seeking, directional pow ski, or more of a surfy tool designed to throw tricks off every wind lip, pillow, etc.? This is the big question for me — the Proto has a nearly symmetrical rocker profile and playful-looking shape, but then it's got a pretty strong flex pattern and a substantial weight. So what's the result?
(2) How demanding vs. forgiving is the Proto Factory? Should it only be on the feet of pro skiers like the one who helped design it?
(3) What happens when you move the bindings forward of the recommended line?
(4) What the are closest comparisons?
Bottom Line (For Now)
The Dynastar Proto Factory is one of those skis where we can't really figure out what it'll feel like by just looking at its specs. It shares traits with skis from both the more directional and more playful side of the spectrum, and we mostly just want to get a lot of time on it as soon as possible to figure out where the Proto Factory slots in. So, that's what we're gonna do. Stay tuned for updates.
FULL REVIEW
It's been a very good year in Crested Butte to test fat skis, including the Dynastar Factory PR-OTO Factory (aka, the "Proto").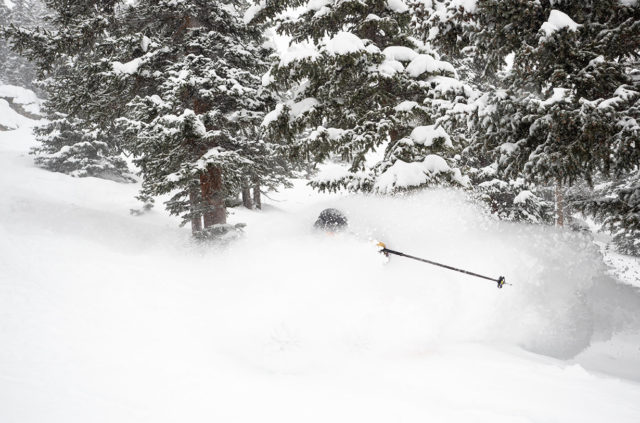 We've received a lot of questions about this ski, and we ourselves had plenty of questions about it. But after getting three reviewers on it and skiing it in some very deep snow, we're ready to weigh in. And we're also going to be sending it to our reviewer Paul Forward in Alaska so that he can provide his two cents from AK. But for now, here are our thoughts:
Powder
Luke Koppa (5'8", 155 lbs): This is a 118mm-wide ski, so it had better perform in pow. And it definitely does.
At my height and weight, I think it'd have to be an incredibly deep day for me to need more float than the 189 cm Proto provides. Its tips plane very well, and I never had any unpredictable tip dive on it in up to two feet of light snow.
But plenty of skis can be fun in pow, so what makes the Proto stand out? I think the unanimous answer from all of us at Blister is its surfy, loose feel. We never, ever would have guessed that a ski with 7 mm of camber could be so easy to pivot, but the Proto is. It is super easy to throw it sideways, and as long as you keep the ski moving a bit (rather than hop-turning), it's incredibly easy and fun to slarve around on the Proto.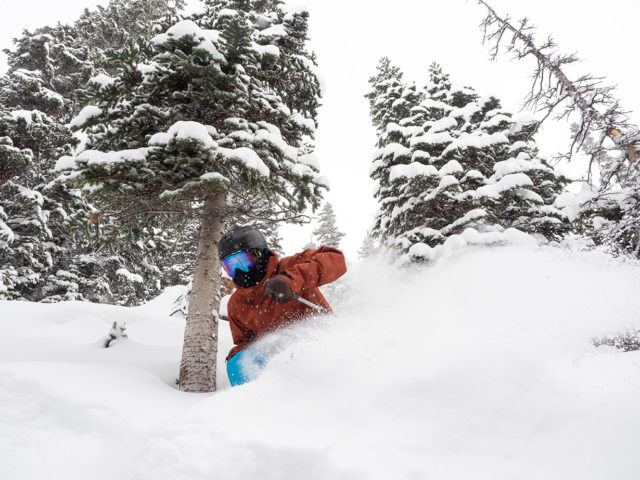 Unlike some freestyle-oriented skis, you can still drive the front of the Proto, and it adapts well to both a forward, aggressive stance, and a more centered, balanced one.
When hitting variable densities of powder, the Proto's heavier weight seemed to help it blast through the firmer patches and keep me balanced and heading where I wanted to. That's something I really appreciate, especially on mountains like Crested Butte where I'm skiing many different aspects (and therefore, different snow types) throughout the day.
On very low-angle terrain, I would've preferred a softer, lighter, and / or more heavily rockered ski, since the Proto felt a bit sluggish and cumbersome on slopes less than ~25°. But get the Proto on anything steeper than that, and it's a ton of fun. Of the skis I've used, I think the Proto would be my top pick for skiing pow in Alaska (which is why we're sending it to Paul to see what he thinks).
Sam Shaheen (5'10", 140 lbs): I'm going to echo Luke here — the Proto is shockingly loose and pivot-y. Which, especially at a mountain like CB (which is so steep and technical), is a great feature for a ski that is so long and heavy. There are very few skis that I've been on that are this big while being so easy and intuitive to flick around in powder (or really, in any snow condition). It's still a heavy ski, so it requires some physical effort to move it around. But as long as you keep any speed / momentum, the Proto is surprisingly easy to move through tight terrain.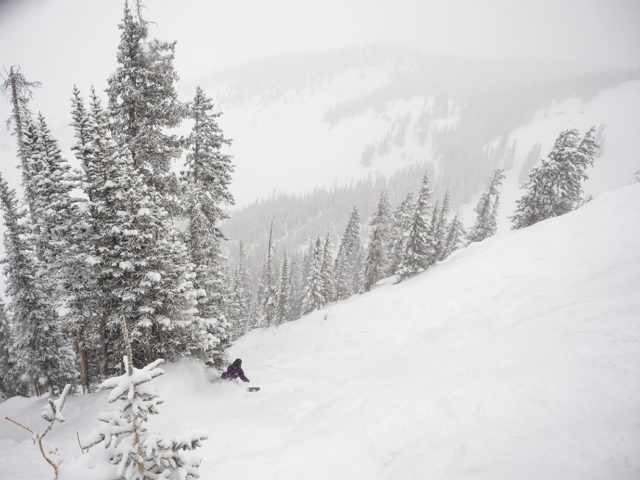 Jonathan Ellsworth (5'10", 175 lbs): Yep, I was stunned by how loose and easy-to-pivot this ski is … which is also why I love how heavy the ski is, too. Honestly, it still doesn't quite add up to me, and in a good way. Most of the skis I've been on that felt this loose are also quite light, and under my feet, at least, that can result in a ski that feels too loose and twitchy, and that I have to work to keep the ski from deflecting in variable snow, deeper chop, or when making turns down steep, techy terrain. But in the case of the Proto, the mass of the ski and traditional camber underfoot lets me have a loose ski when I want it, but a ski that I can still plant with a good bit of precision when I need it.
And as Luke mentioned above (I'm not sure whether he's stealing my line or he actually said it first) at my height and weight, I think this ski would be a blast in Alaska. The ski just seems ideal for sliding power turns down big faces, but then allowing you to snap off two or three quick turns when needed.
That said, I this is also an excellent tool for skiing trees in deep snow — especially (as Luke said) if those tree lines have a bit of pitch to them.
Soft Chop
Luke: Once the powder had been cut up a bit, the Proto continued to be a lot of fun. Again, its heavier weight and stiffer flex let it cut through soft patches, and its loose feel let me slash every last bit of untouched pow.
As long as the chop was pretty soft, I could ski very fast on the Proto. Its damp and strong feel, combined with its big sweet spot, meant that I didn't have to be too careful in terms of my line choice. Just get it pointed downhill, throw it sideways whenever you want, and charge through all the soft patches.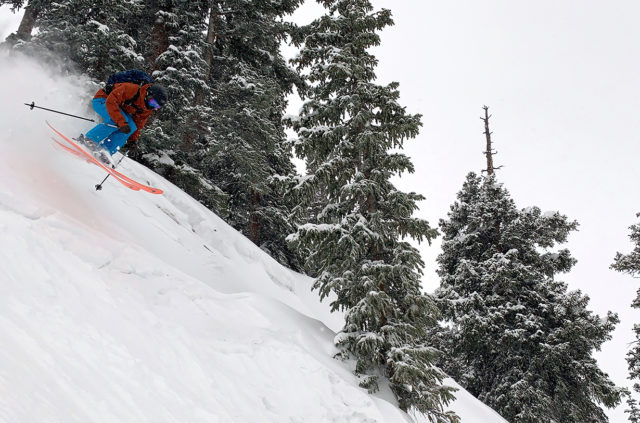 Sam: Yep, yep, yep. Exactly. It's a very loose ski that holds up to speed and variable snow pretty well. I think the Proto's heavily tapered tips make it a little less stable than its weight and flex profile might suggest, but as long as the chop isn't super deep or heavy, I never thought twice about whether or not I'd be able to blast through it on the Proto.
Jonathan: My dislike of heavily tapered tips is pretty well documented, and you may feel differently. But I would agree that the Proto is "good to quite good" in chop, but a bit less tip taper would likely put this ski into the "excellent / outstanding" category. But make that change, and you will almost certainly sacrifice some of the skis pivotability, and that's not something that I'd be tempted to mess with.
Firm Chop / Crud
Luke: When the snow had settled more and become denser, the Proto started to feel a bit less stable at speed. If I had to venture a guess, I think this is due to the Proto's shape. Its tips are very tapered, and they got knocked off track a bit easier than skis with less taper like the Rossignol Black Ops 118.
The Proto still felt very damp and strong while skiing fast through crud, but to keep it tracking, I had to drive it a bit harder and not get quite as lazy as I could on the Black Ops 118. To be clear: the Proto is still one of the more stable pow skis I've been on, its shape just seems to cater more to soft snow than it does to really dense or straight-up firm chop / crud.
Sam: Luke is right that In variable snow and firmer chop, the Proto does require more input to keep it composed than the Black Ops, but the Proto still feels strong and damp. There is a bit of vagueness in the tip that is noticeable the firmer the snow gets, which is basically just to say that this is a legit pow ski, and not first and foremost a variable-conditions charger.
Moguls, Trees, & Tight Terrain
Luke: Because of how easy it is to pivot the Proto, I really, really liked it in tighter terrain. Is it a particularly quick or nimble ski? Nope. It weighs close to 2350 grams per ski. But is it easy to pivot around? Yep.
As I've noted elsewhere, I like to slide my way through bumps and tight terrain, rather than do a lot of weighting / unweighting of the front and back of the ski to lift it up and over bumps. For my style of skiing, the Proto worked great. It's easy to throw out the tail, and the ski felt very supportive without feeling particularly punishing.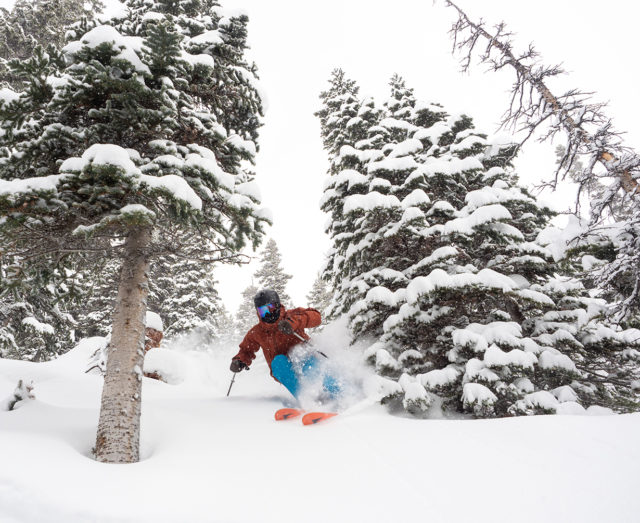 Another benefit of the Proto's weight is that, when pushing it through choppy, tight terrain, it goes where you want it to and isn't easily knocked around. There are plenty of lighter skis that are easier to flick around, but if the snow is inconsistent, they can chatter and get bounced around a lot. On the Proto, I'd just drive it through the turn, and it'd keep going where I wanted it it to until the next turn.
On the other hand, skis that are more stable than the Proto tend to be a lot of work when making lots of smaller turns. While the Proto might not be quite as stable as those skis, the upside to its shape is that it feels much easier in tight terrain than its weight and strong flex pattern might suggest.
Sam: As I said above, I've never been on a ski this long, stiff, and heavy that was so easy to pivot around. In tight terrain, the Proto is a blast. It has a good amount of rebound and energy when pushed very hard, and the tail is strong so it's quite fun to push the ski hard from a forward, driving stance. However, it is not a ski that I would recommend for beginners or intermediates — the tail can be punishing of mistakes.
Jonathan: The only thing that I really want to add here is that the more hardpacked the snow gets, the less interested I'll get in skiing the Proto in moguls and tight terrain. There are a number of ~115mm-wide skis that handle very firm conditions pretty well, and while it's by no means the end of the world to get the Proto into wind-scoured bumps or scraped-off lines through steep trees, I tend to want a bit more bite (especially in the tips) than the Proto affords. But in soft or deep moguls, tight trees, or really any type of terrain really, I'm not going to be complaining about being on this ski.
Groomers
Luke: On consistent groomers — whether they were firm or soft — I could lay down clean carves on the Proto. It doesn't initiate turns as eagerly / quickly as skis with less tapered shapes, but I was still pretty happy with the Proto on groomers. It definitely prefers longer turns over smaller ones, but when the snow was fairly smooth, I didn't have any major complaints with this 118mm-wide ski's performance on piste.
That said, if the groomers were a mix of soft snow and very firm, wind-scoured sections, the Proto would occasionally slide out unpredictably. So in these conditions, I felt best sliding my turns on the Proto as it was more predictable when sliding vs. when trying to carve the ski high on edge.
Oddly enough, one of my favorite days on the Proto was when Crested Butte got about 4" of very light, fresh snow on top of a firm base. That day, I was amazed by how much fun I was having on the 118mm-wide Proto. I would just straight-line for a bit to get some speed, and then quickly throw the ski sideways into a long, extended drift. I've never gotten so many face shots on a 4" day.
So if the snow is consistent and / or soft, the Proto can be fun on groomers. But it does feel like more of a true "pow ski" than some other options like the Rossignol Black Ops 118 and Moment Wildcat, which feel a bit more like wider "all-mountain" skis.
Mount Point
Luke: The Proto's recommended mount point is pretty traditional at -9.1 cm from center. But there's good news for people who might find that mount point too far back — the Proto has a really big sweet spot, and works well with the bindings moved forward of the line.
I skied the Proto at +1, +2, +3, and even +4 cm in front of the recommended line. At every one of those mount points, the ski still felt intuitive and didn't feel weird like some skis can when you move the bindings away from the recommended line.
I ended up liking the Proto best at +4 (-5.1 cm from true center). Here, I could pivot the ski a bit easier, it felt more balanced in the air, and I didn't feel like I lost much in terms of stability or the ability to drive the front of the ski.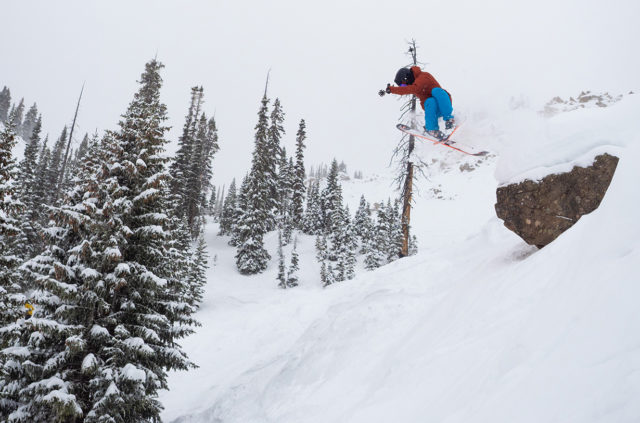 So for directional skiers who like to drive the front of their skis, the Proto's recommended line is probably the way to go. And for people who want a more balanced and playful feel, don't worry about moving the bindings forward a few cm.
Sam: Though I haven't skied the Proto anywhere except the recommended line, I will say that I was quite happy with the ski on the line. I like directional skis and didn't feel like I needed more looseness / quickness from this already incredibly loose ski. If you're not a very directional skier, there a ton of more freestyle-oriented options in this category that are excellent options (see our Deep Dive Comparisons article).
Jonathan: I didn't push my bindings as far forward as Luke, but I can say that I got along well with the Proto on the recommended line, and also at 2 cm in front of the line. And if I had to pick one mount point and stick with it forever, and probably split the difference, go with +1 cm, and call it a day. So to recap for directional skiers out there, Sam and I both like the line — and the taller / heavier you are, the more I would stick to the recommended line. But +1 felt good to me, too. So don't lose sleep fretting over where to mount point on this ski.
Playfulness
Luke: Playfulness is a bit of an ambiguous and complicated term. Some skis are "playful" in the sense that they're really energetic and are fun to pop off of all sorts of airs. Others are playful because they feel balanced in the air and are easy to spin. Yet others are playful because of how loose they are and how easy they are to slash and slide around.
The Proto falls into the last category. It doesn't feel light in the air (even with the bindings moved to -5.1 cm from center), and it's not particularly poppy. But it is super fun to lay down both big, extended slarves and quicker slashes on the Proto. And it also feels very solid on landings.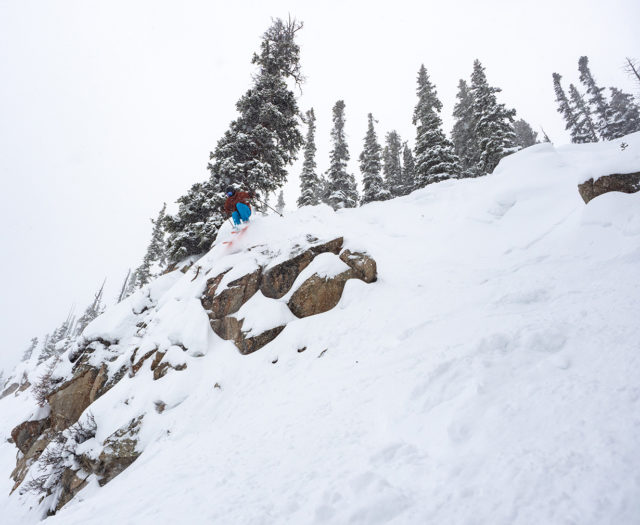 So if you like to spin a lot and want something on which that's easy to do, there are many better options (see the "Powder Skis — More Playful" section of our 18/19 Winter Buyer's Guide). But if you don't spin a lot and mostly want something that's loose and surfy, then the Proto should feel pretty playful in that regard — especially if you're coming from directional skis without much rocker or taper.
Sam: I think Luke does a good job of describing playfulness — it's an odd concept in skiing. For me, the Proto doesn't quickly come to mind when I think of playful pow skis. It has a planted feel and a directional shape. But it is definitely loose and pivot-y, and is much more playful than any of us at Blister expected before skiing it. If "playfulness" is a priority in your ski choice, there are more skis out there that fill all three of Luke's categories of "playfulness." But if "playful" is more of an added bonus in your ski selection rather than a top priority, then the Proto might be the ski you're looking for.
Who's It For?
People who want a pow ski that's loose and surfy without losing a strong and damp feel.
Directional skiers who tend to carve their pow skis more than slide them should check out some other options in the "Powder Skis — More Directional" section of our 18/19 Winter Buyer's Guide. Same goes for skiers who want a wider ski that will let them absolutely mob through firm chop and crud.
On the other end of the spectrum, freestyle-oriented skiers would probably be better off on a ski with a less directional (and more symmetrical) shape.
But people who don't need the absolute most stable pow ski, still appreciate a ski that's damp and strong, and like to slash their way through a powder day should definitely consider the PR-OTO Factory.
Bottom Line
The Dynastar PR-OTO factory offers a unique combination of a loose and surfy feel, a damp construction, and great flotation. It holds up quite well in softer chop, stays pretty composed on firm snow, and is much easier than its heavy weight, long length, and stiffer flex pattern would suggest. All in all, the Proto seems like a very good option for skiers looking for a strong and stable pow ski, but who like to mix in some slashes and slarves when they're heading down the fall line.
Deep Dive Comparisons
Become a Blister Member or Deep Dive subscriber to check out our Deep Dive of the PR-OTO Factory to see how it stacks up against the Rossignol Black Ops 118, ON3P Renegade 114, Prior CBC, Moment Wildcat / Blister Pro, Head Kore 117, Nordica Enforcer Pro, Blizzard Spur, K2 Catamaran, and Icelantic Nomad 115.