Ski: 2019-2020 Faction Dictator 4.0, 186 cm
Available Lengths: 180, 186, 192 cm
Blister's Measured Tip-to-Tail Length: 184.9 cm
Stated Weight per Ski (180 cm): 2100 grams
Blister's Measured Weight per Ski (186 cm): 2161 & 2163 grams
Stated Dimensions: 139-115-127 mm
Blister's Measured Dimensions: 139.2-114.9-127.1
Stated Sidecut Radius: 24/27 meters
Tip & Tail Splay (ski decambered): 55 mm / 24 mm
Traditional Camber Underfoot: 2-3 mm
Core: Poplar/Paulownia + Titanal (2-Layer) + Fiberglass Laminate
Factory Recommended Mount Point: -9.75 cm from center; 82.7 cm from tail
Boots / Bindings: Salomon S/Max 130 Carbon; Dalbello Lupo SP I.D. / Tyrolia AAAttack 13 AT
Test Locations: Crested Butte, Telluride, & Summit County, CO; Jackson Hole, WY
Days Skied: ~19
[Note: Our review was conducted on the 17/18 Dictator 4.0, which was not changed for 18/19 or 19/20, apart from graphics.]

Intro
In our review of the Faction Dictator 3.0, we noted that this was one of the most "game-on" skis that's currently on the market. It is a light, powerful ski that will punish mistakes, but that will reward skiers who have strong legs and strong technique.
And we noted (with eyebrows raised, and with some excitement), that, in the design of the wider Dictator 4.0, Faction showed zero interest in deviating from that formula.
Here's what Faction says about the Dictator 4.0:
"With a lightweight paulownia/poplar core built for the backcountry, two full layers of titanal for GS-ready stability, the all-new Dictator 4.0 has a need for speed. Weapon of choice when sending it down the Bec des Rosses, the Dictator 4.0's long sidecut in the tail lets you open it up for steep, charging turns, while the shorter sidecut and rocker in the tip keep it nimble and under control. with a 115 mm waist, the Dictator 4.0 floats over fresh snow and makes old crud feel like it's a powder day, every day."
Typically, when we're looking at two skis in the same series, the question is how similar or different the two skis are — or how much consistency there is across all the skis in the series.
And in the case of the 105mm-wide Dictator 3.0 and the 115mm-wide Dictator 4.0, the two skis are basically identical twins, with the primary difference being — by far — their width. Yep, the 4.0 very much appears to be — simply? merely? — a wider 3.0.
Of course, we'll see once we get these on snow how accurate that assessment is, but compare the specs of the two skis, and you'll see what we mean.
Flex Pattern
Faction rates the stiffness of the Dictator 3.0 as 8 out of 10, and actually gives the Dictator 4.0 a rating of "9/10." (Their very good Candide 3.0 gets a "7/10".)
But hand flexing the two skis, you could be forgiven for concluding that the two skis basically have the exact same flex pattern; the differences are very slight.
Dictator 4.0 – Flex Pattern
Tips: 8
Shovels: 8.5-9
In front of Toe Piece: 9-9.5
Underfoot: 10
Behind Heel piece: 9
Tails: 9
Dictator 3.0 – Flex Pattern
Tips: 7.5-8
Shovels: 8-9
Underfoot: 10
Behind the Heel piece: 10-9
Tails: 9
In other words, I believe that the flex pattern is so close between the two skis that out of a batch of 3.0's and 4.0's you could find skis that are well within manufacturer tolerances that would be subtly stiffer or softer, making it even more reasonable to conclude that the flex patterns of these two skis are "the same." Or very nearly the same. Which is to say, "stiff."
Weight
While the biggest, most obvious difference between the two skis is that the Dictator 4.0 is wider than the 3.0, that additional width (of course) means that the 4.0 is heavier:
186 cm Dictator 3.0 = 2022 & 2047 g
186 cm Dictator 4.0 = 2161 & 2163 g
And so, our biggest questions here:
(1) Is the weight increase merely due to the fact that the 4.0 is wider? I.e., will the 4.0 feel equally light and stiff (and as unforgiving) as the 3.0, or will the extra weight actually lead to a difference in dampness and suspension on snow?
(2) Or maybe the weight / stiffness combination will simply feel different given that, presumably, most people would typically be using the Dictator 4.0 in deeper snow?
And for the record, Sam Anthamatten was reportedly very involved in the design process of the Dictator series, and he has been skinning up and skiing down some pretty gnarly lines on this ski, as you can see Here.
For reference, here are a number of our measured weights (per ski in grams) for some notable skis. Keep in mind the length differences to try to keep things apples-to-apples.
1710 & 1744 Atomic Bent Chetler 120, 184 cm (18/19–19/20)
1808 & 1809 Line Pescado, 180 cm (17/18–19/20)
1910 & 1941 Scott Scrapper 115, 189 cm (17/18–19/20)
1931 & 1959 Volkl BMT 122, 186 cm (17/18–18/19)
2013 & 2099 Moment Wildcat / Blister Pro, 184 cm (18/19–19/20)
2019 & 2051 K2 Mindbender 116C, 186 cm (19/20)
2024 & 2031 Line Outline, 186 cm (19/20)
2034 & 2052 Blizzard Rustler 11, 188 cm (17/18–19/20)
2043 & 2046 4FRNT Inthayne, 188 cm (18/19-19/20)
2081 & 2115 Faction Candide 5.0, 183 cm (19/20)
2102 & 2137 Line Sick Day 114, 190 cm (17/18–19/20)
2126 & 2173 Rossignol Super 7 RD, 190 cm (17/18–19/20)
2130 & 2213 Faction Candide 4.0, 188 cm (19/20)
2133 & 2133 Salomon QST 118, 192 cm (17/18–18/19)
2161 & 2163 Faction Dictator 4.0, 186 cm (17/18–19/20)
2174 & 2187 Moment Wildcat / Blister Pro, 190 cm (18/19–19/20)
2183 & 2190 Black Crows Anima, 188.4 cm (17/18–19/20)
2196 & 2199 Icelantic Nomad 115, 191 cm (17/18–18/19)
2220 & 2252 Faction Prodigy 4.0, 186 cm (17/18–19/20)
2212 & 2215 Armada ARV 116 JJ, 185 cm (17/18–19/20)
2222 & 2278 Prior CBC, 184 cm (17/18–19/20)
2228 & 2231 Blizzard Spur, 192 cm (17/18–19/20)
2230 & 2250 Black Diamond Boundary Pro 115, 185 cm (17/18–19/20)
2240 & 2250 Volkl Revolt 121, 184 cm (19/20)
2246 & 2265 Fischer Ranger 115 FR, 188 cm (17/18–18/19)
2262 & 2236 J Skis Friend, 183 cm (18/19)
2267 & 2270 Whitedot Ragnarok 118, 190 cm (16/17–18/19)
2296 & 2309 Liberty Origin Pro, 192 cm (17/18–19/20)
2297 & 2317 K2 Catamaran, 184 cm (17/18–19/20)
2341 & 2357 Dynastar PR-OTO Factory, 189 cm (18/19–19/20)
2343 & 2360 J Skis Friend, 189 cm (18/19)
2346 & 2351 Nordica Enforcer Pro, 191 cm (17/18–19/20)
2382 & 2395 ON3P Billy Goat, 184 cm (17/18–19/20)
2408 & 2421 ON3P Kartel 116, 186 cm (17/18–19/20)
2429 & 2437 Kingswood SMB, 188 cm (16/17–18/19)
2438 & 2480 DPS Foundation Koala 119, 189 cm (19/20)
2438 & 2492 Rossignol Black Ops 118, 186 cm (16/17–19/20)
2490 & 2529 K2 Catamaran, 191 cm (17/18–19/20)
Rocker Profile
Again, the rocker lines and tip and tail splay of the Dictator 4.0 are so similar to the Dictator 3.0's that you could pretty much call them the same. Which is pretty interesting, since you could argue that as you go wider (and hence, presumably looking to use this ski in deeper snow), you might want to increase at least the amount of tip rocker, if not the tail rocker also. But that is not what Faction did here, and we have complained / wondered out loud on more than one occasion why skis have to have so much rocker these days, when a little can go a long way?
Well, the Dictator 4.0 certainly stands out as an exception for those who think that wider skis are often (a) too rockered) and (b) have shovels that go too soft. Neither of those things is true of the Dictator 4.0, and I can't immediately think of another ski we've reviewed that is this wide and that has so little tip rocker.
Bottom Line (For Now)
Lots of ski companies are talking a big game these days about "all-mountain charging," but few companies are currently putting out designs that seem to be this serious about it. Now we just need to get the Dictator 4.0 on snow and find out exactly what this thing can do.
Flash Review: Faction Dictator 4.0
Blister Members can now read our initial on-snow impressions in our Flash Review of the Dictator 4.0.
(Learn more about Blister Member benefits, and Become a Blister member)
FULL REVIEW
We've now had three reviewers on Faction's big-mountain gun, the Dictator 4.0. They've each come back with slightly different takes, so here we're offering each of their perspectives on this big, stiff ski.
Powder / Soft Conditions
Eric Freson (5'10", 165 lbs): In short, the Dictator 4.0 is a rocket ship — in the right conditions.
I had the opportunity to test the Dictator 4.0 in everything from ~12" of fresh pow to refreeze over the course of the winter at Crested Butte and Jackson Hole. These skis saw it all.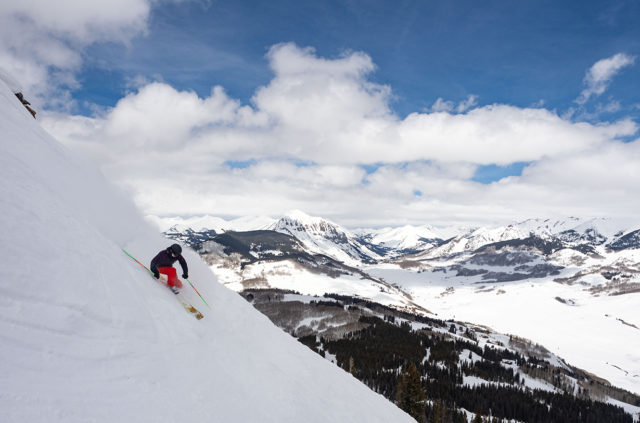 As both Sam and Jonathan have stated previously, this is a ski that demands your energy, your attention, and you at your best. It excels in soft snow, and for certain skiers, may provide the confidence to ski that line that you had previously just peered at over the edge.
Clinking the tips of the skis together on a chairlift or standing on the top of a line gives you that oh-so-satisfying sound that only skis that have a lot of fiberglass and vertical sidewalls will give you. A very solid "resonance," as our reviewer, Drew Kelly described it, and I would agree. The "sound" of this ski signals that it means business.
In soft snow, I found the 4.0 to be exceptional. The low-profile rocker and taper of the Dictator 4.0's tips, combined with its pretty stiff flex pattern, give you a ski that is powerful, but not at the total exclusion of flotation.
That said, a surfy ski this is not.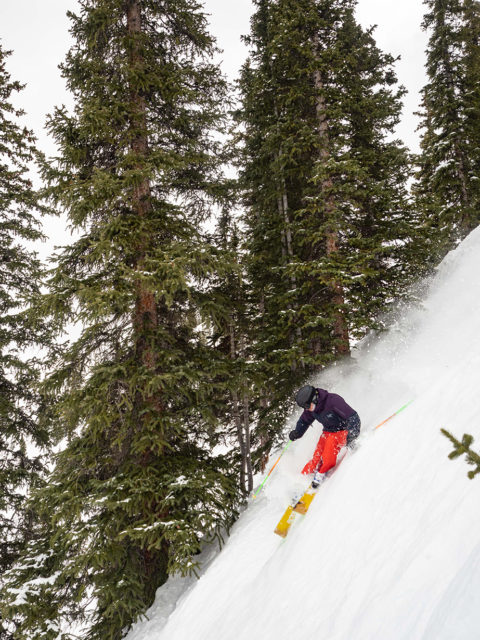 Pointing the Dictator 4.0 down the fall line in soft snow, the ski earned my total confidence. Since the the front end of the ski maintains its composure so well in pow, I found that I could look farther ahead than I'm used to since I didn't have to worry about encountering variable snow mid line — the ski would track fine. I could drive the front of the ski and not worry about the shovels of the ski folding up on my and pushing me forward or back. The Dictator 4.0 does need pitch and speed to perform (especially in soft snow), but with these two elements, the ski is both stable and predictable.
I did not have the opportunity to ski the 4.0 in bottomless powder, but I would expect it to perform fine once up to speed. At slower speeds, or when making smaller-radius turns, or on mellower terrain, I would definitely reach for something else with more rocker, more pop, and a more playful demeanor, because the Dictator 4.0 really likes — and needs — speed.
Sam Shaheen (5'10", 140 lbs): I agree with most of what Eric says here, except for the idea that the Dictator 4.0 inspired confidence for intimidating lines. What I'm about to say here comes up quite a bit in our conversations here at Blister, and my opinion is often in the minority, so take that into account.
For me, a ski that inspires confidence is a ski that allows me to (A) ski from a variety of stances (forward, neutral, and even off the tails); (B) can be pushed extremely hard, and (C) is forgiving enough of mistakes to prevent spectacular crashes. The Dictator 4.0 is one of those three things — it can be pushed extremely hard. However, it must be driven hard (and it performs better the more it is driven) and it is one of the least forgiving skis I've been on.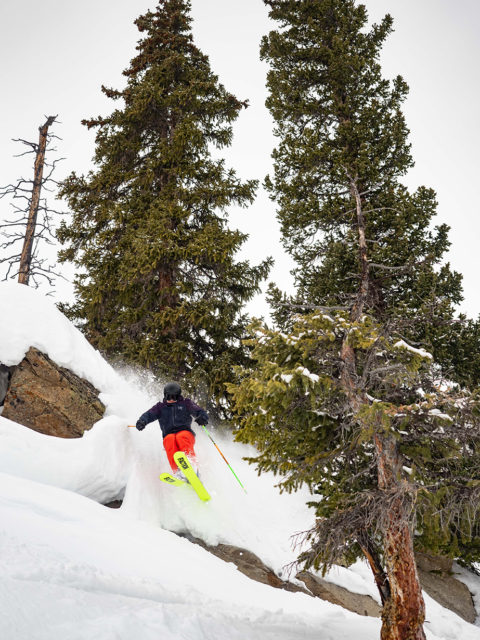 In soft conditions (e.g. slush or powder) that are perfectly uniform and predictable, the Dictator 4.0 works fine for me. I can confidently drive the ski without worrying about making mistakes. But if things get slightly variable, the 4.0 quickly gets to be too much for me to handle. It takes every ounce of strength and concentration I have to drive this ski, and I feel like I can never let my guard down. As I said in our review of the Dictator 3.0, I think if I skied the 4.0 for a whole season I would get significantly stronger and better at skiing, but for me at least, it wouldn't be fun.
Jonathan Ellsworth (5'10", 175 lbs): Consider me to be somewhere in the middle between Eric's take and Sam's take on this ski. When we are truly talking about getting this ski in soft, forgiving snow, I quite like it, for the reasons Eric points out. But as soon as you start introducing very steep, technical, bumped-up terrain with patches of firmer, variable snow … I agree with Sam that I prefer a ski that offers better suspension and is a bit more forgiving.
The punchline for me is that, the more we are talking about skiing down big, open lines in pretty soft snow, the happier I would be on the Dictator 4.0. But the stronger you are physically and technically, the happier you will likely be on this ski across a broader range of conditions and terrain. But seriously, be both: physically and technically strong.
Oh, and you should also not give a damn about your ski being "playful."
(I mean, it is called the Dictator after all, so Faction has provided fair warning here.)
Firm Conditions / Groomers
Eric: On firmer snow, the shovel of the Dictator 4.0 became a bit more demanding. It does need to be skied with a very forward stance, and the stiff flex pattern and the ski's fairly light weight mean that the ski will beat you up a bit if you're not in control. It exhibits less of this when on edge as compared to skiing bases-flat, but I still think a stiff-flexing boot and a love of skis that provide a lot of terrain feedback are necessary to enjoy it.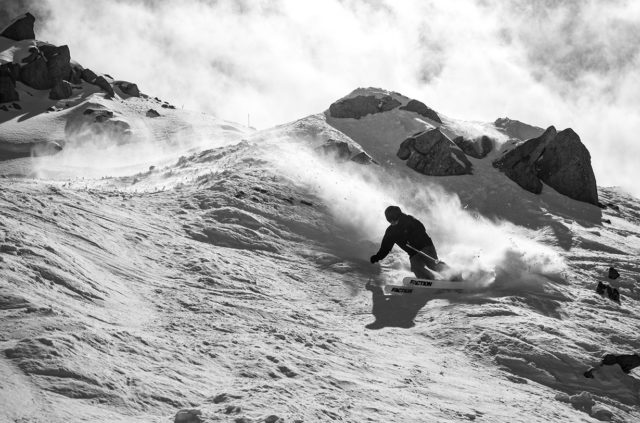 On groomers, the Dictator 4.0 has to get up to speed before it starts to get fun. While the tips are quick to roll over onto edge (even at lower speeds), the sidecut of the tail of the ski really needs more pace before you can get it on edge. It's a fast and powerful ski, and you are more likely to run out of room than run out of stability on groomers.
One thing I noticed about the Dictator 4.0 is just how calm and predictable it feels while running bases-flat on groomers. I have never been on a ski this wide with so little tip shimmy or darting when on its bases. You can don't need to put this ski on edge at low speeds to feel in control, and skiing flat-footed on groomers at 10 mph has never required so little of my attention.
The Dictator 4.0 is a good fit for those who are powerful carvers. I have no background in racing, and my technique is probably not the prettiest. But the more I focused on edge articulation, driving the ski, and keeping my body geometry correct, the more natural the ski felt. I think the ski's dual-radius sidecut was noticeable here — the tips of the ski felt quick to respond considering its length and flex pattern.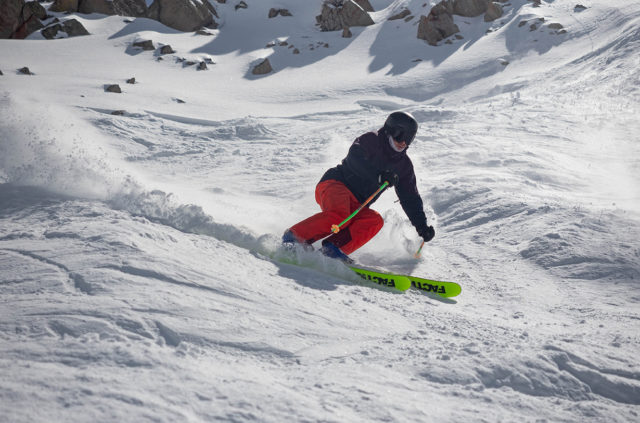 My biggest complaint about the Dictator 4.0 is that I kept wishing for a damper ride from the front of the ski when things got firm. The tip is certainly chattery when it's struggling for edge bite. We've been testing the 186 cm length, and I would love to try the 192 cm to see if some additional length would help reduce some of the feedback the ski provides before it reaches the toe piece. But compared to other skis in its class, the Dictator 4.0 definitely does not offer the most "plush" or damp ride on firm snow.
Similar to the tips, the Dictator 4.0's tails are low taper, low profile, and stiff. There is plenty to stand up on, with good stability, and an even, progressive flex.
In softer snow, I stayed over the tips of the ski with no issue, and relied less on the tails.
On firmer conditions, however, I relied more heavily on the tails at times to avoid feedback from the tips of the ski. The Dictator 4.0's more traditional mount point meant that, at my weight and ability, I was able to flex the tail more effectively, and this helped to mitigate some of the chattering the tips could be prone to, since it was harder for me to bend them in off-piste firm snow.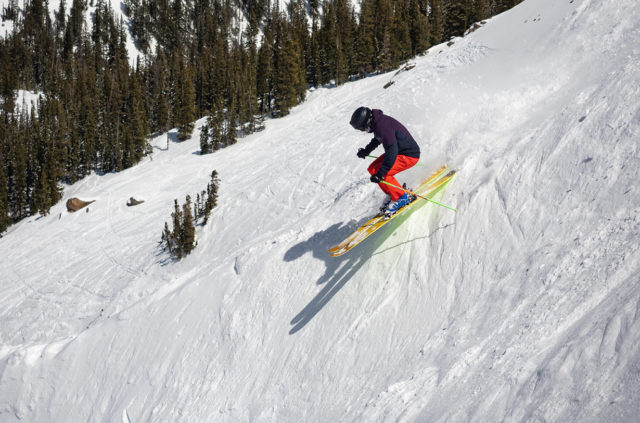 The flat tail was also a welcome feature for me, as it helped to make the ski feel predictable when it came time to release pressure and throw them sideways. I love skis that allow you to stand up on the tail and ride out a line if you get in over your head, and that's the Dictator 4.0.
Sam: I agree with pretty much everything Eric said here. Especially the harsh feeling of the Dictator 4.0 in firm / rough conditions. This ski just doesn't have the suspension to mellow out icy / chunky conditions at high speeds.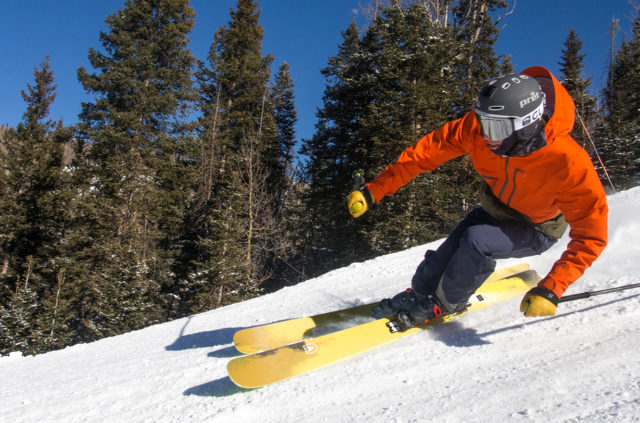 Unlike Eric though, I liked the Dictator 4.0 on groomers more than just about any other condition. Yes, this ski needs huge amounts of speed to bend into a carve, and yes, it is ~115 mm underfoot. But besides its width and weight, this ski is basically a GS ski — flat tail, stiff as hell, two sheets of metal, minimal taper, and very minimal rocker. This all makes for a game-on ski that you can RAIL on groomers — as long as you're going scary fast.
Tight Terrain
Eric: With some effort in tighter spaces I could make the Dictator 4.0 pivot effectively, but that's not this ski's natural inclination. I would not classify the Dictator 4.0 as a ski with any interest in making a classic smear turn — at all but the fastest of speeds, there is too much effective edge, too much torsional rigidity, and too little rocker to make that much of an option.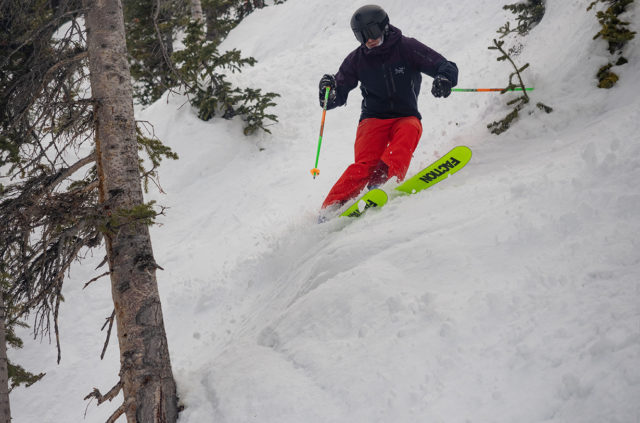 Overall, the Dictator 4.0 is a ski that will reward skiers with strong fundamentals and technique. As Sam has said about the Dictator 4.0, it will make you a better skier, in part because it rewards and reinforces "good" technique.
Speed is also your friend with the Dictator 4.0. Whether in soft or firm conditions, the ski does better the faster you allow it to go. It affords a level of predictability that I found to be helpful when I got going too fast to slow down, and needed to negotiate whatever happened to be in front of me or below me. Technically proficient skiers will be able to maneuver it at slower speeds, but you will work harder to keep the ski on edge and engaged, and it's not this ski's happy place.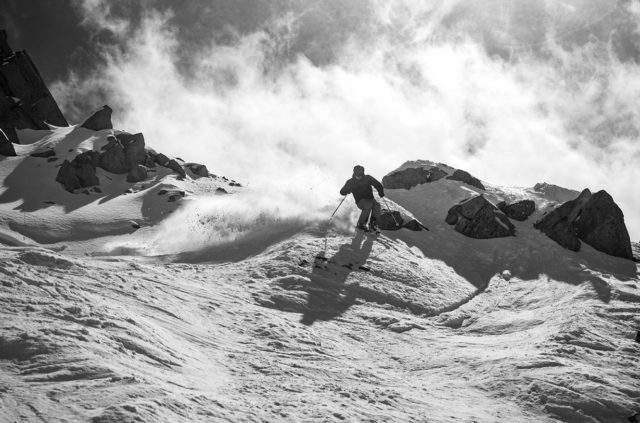 I realize that we might be beating a dead horse here, but just to be crystal clear, this is a ski that wants speed to perform at it's best, and it's a ski that does have a tendency to get away from you, so you better just be ready to open'er up. So if you're someone who prefers to micromanage your speed and the ski underneath you, this is not your ski.
Sam: It's important to note that I primarily skied the Dictator 4.0 with its factory tune, and Eric skied it after we did a base grind on the ski. When we first got this ski, it felt very locked into a turn and a bit edge high (Jonathan will concur), so it definitely did not feel happy breaking turns free at slower speeds. But even with a different tune, the ski is just so stiff and has so much effective edge that tight spaces and low speeds simply aren't where it is going to excel.
Cliffs, Drops, Etc.
Eric: As a directional ski, the Dictator 4.0 makes short work of straight airs of any size that you are likely to encounter. Its stiff flex, subtle rocker, and lighter weight make it easy to move around in the air, and also to put the landing gear down when it's time.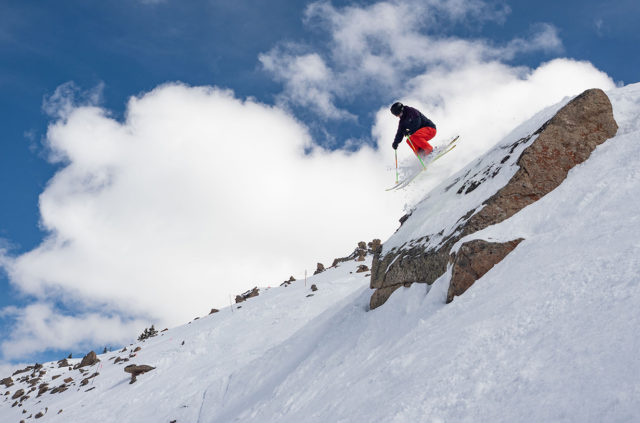 Given how stiff the tail is, you do need to be able to stand up and ski away from your landing. If you let your feet get too far in front of you, it can be a struggle to get them back underneath you as the ski continues to build speed.
Sam: Again, this is primarily a stylistic-preference thing, but for me, I want a much more forgiving ski for sending airs. The 4.0's tail is plenty supportive for big landings, but for me, it's too demanding to inspire confidence.
Who's It For?
Eric: The Dictator 4.0 is an exceptionally fast and powerful ski that's best suited for mowing down soft snow, big faces, and challenging terrain. It takes a technically proficient and strong skier to stay on top of it, and it is probably best to regard this as a fairly specialized tool.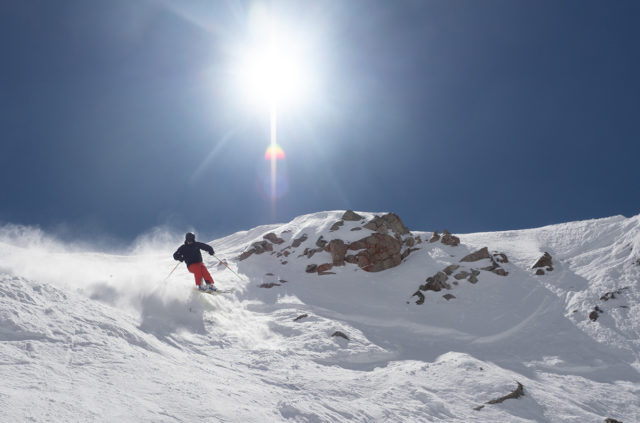 I personally love the Dictator 4.0 because it's the kind of ski that's become harder and harder to find these days — it excels as a true charger in soft snow, and validates why I still ski all-metal bindings.
There are certainly more versatile options if you want to ski something ~115 mm wide every day. The Dictator 4.0 is very unforgiving in firm off-piste conditions, and while it's a competent and capable ski on groomers, it doesn't exactly "spark joy" for me. It's a ski that requires your constant attention when on edge, and requires you to drive it at all times.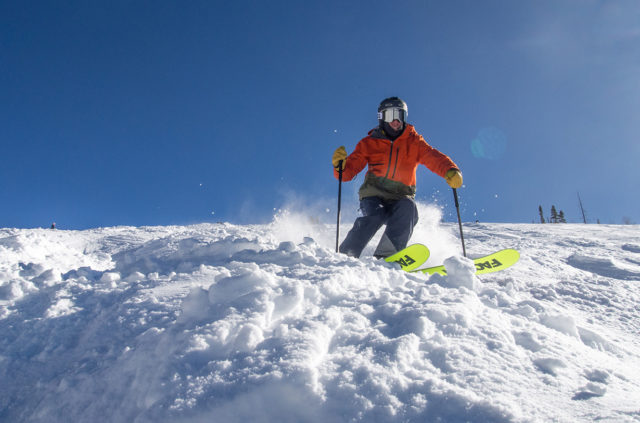 I'm not saying that you'd be wrong to ski the Dictator 4.0 every day, but you would definitely be working harder than you need to a good bit of the time for little gain, as there are other skis out there that offer similar stability and a more damp, forgiving feel. But if you are a skier who misses competing in freeride comps, enjoys power, and are happy to deal with an unforgiving ski in exchange for one with a stiff flex, the Dictator 4.0 is worth a look.
Sam: My rather cynical one-line review of the Dictator 4.0 is: anyone who legitimately needs this much ski should be getting it for free.
(But I'd also listen to what Eric said.)
Bottom Line
Eric: The Dictator 4.0 reminds me of the old race-room, big-mountain skis with small serial numbers that you kinda knew were too much for you, but that you really wanted anyways.
It is probably a relatively small group of people that this ski is "absolutely" right for. But those folks will likely love this ski, and will find it rewarding.
And for those who deep down know that the Dictator 4.0 might be a bit much, I'd still encourage you to consider it, but only as a ski that you'll primarily use in soft snow. Know that the Dictator 4.0 will be demanding, bossy, and sensitive. But the first time you make six turns down that pitch that you typically do in twelve to fifteen with no drama, you'll probably be feeling like Jeremy Nobis, and you'll have Sam Anthamatten to thank.
Deep Dive Comparisons: Faction Dictator 4.0
Become a Blister Member or Deep Dive subscriber to check out our Deep Dive comparisons of the Dictator 4.0 to see how it compares to the Blizzard Bodacious, Moment Wildcat / Blister Pro, Nordica Enforcer Pro, Line Sick Day 114, Icelantic Nomad 115, Dynastar PR-OTO Factory, ON3P Wrenegade 114, and Rossignol Super 7 RD.