Ski: 2021-2022 4FRNT Inthayne, 188 cm
Test Locations: Crested Butte & Telluride, CO
Days Skied: ~8
Available Lengths: 181, 188 cm
Blister's Measured Tip-to-Tail Length: 185.4 cm
Stated Weight per Ski: 1995 grams
Blister's Measured Weight per Ski: 2043 & 2046 grams
Stated Dimensions: 138-118-129 mm
Blister's Measured Dimensions: 137.3-116.3-128.6 mm
Stated Sidecut Radius (188 cm): 25 meters
Measured Tip & Tail Splay: 79.5 mm / 74.8 mm
Measured Traditional Camber Underfoot: 0 mm
Core: Aspen + Maple Underfoot + Carbon Stringers + Fiberglass Laminate
Base: 1.3 mm sintered carbon "race base"
Factory Recommended Mount Point: -5.8 cm from center; 86.9 cm from tail
Boots / Bindings: Nordica Strider 120; Dalbello Lupo SP I.D. / Marker Jester
Reviewers:
Luke Koppa: 5'8", 155 lbs
Sam Shaheen: 5'10", 145 lbs
[Note: Our review was conducted on the 18/19 Inthayne, which returns unchanged for 19/20, 20/21, or 21/22, apart from graphics.]

Intro
4FRNT pro rider and ski builder, Thayne Rich, came out with his signature ski, the Inthayne, two seasons ago. His goal was to combine the quick-turning nature of the 4FRNT Renegade with the playfulness and twin tail of the 4FRNT Devastator in order to make a ski that he could throw tricks and land switch on in deep snow. For a bit of context surrounding the Inthayne and Thayne himself, check out this video:
For the 18/19 season, 4FRNT tweaked the Inthayne, making it a bit lighter and reducing the sidecut from 35 m to 25 m. The ski is returning unchanged for 19/20, apart from graphics. We'll be getting the new ski on snow very soon, but for now, let's take a look at how it compares to some of the other pow skis on the market.
What 4FRNT says about the Inthayne:
"Pro skier, Thayne Rich known for his award winning backcountry freestyle video segments in Level 1 has completely re-designed his ski for this year. Imagine the snow is stacked up outside, and you're on a mission to build a booter and land in bottomless powder. You don't just want to hit it, you want to stomp it switch. This ski has the power to charge, yet also the ease to slash, pop, spin and ride out switch everywhere on the hill. It achieves this through it's unique reverse camber that allows you to drive the ski underfoot vs. pressuring the tips like a traditionally cambered ski. The result is tips that automatically rise out of the pow in all conditions like no other. New this year, Thayne tightened the sidecut from 35 to now 25m radius and mellowed out the reverse camber to be flatter enabling the ski to turn quicker while maintaining the same weight. If you want to ski natural features like you're hot lapping the terrain park, Thayne's signature ski is your ticket to stick it."
The highlights here seem to be the Inthayne's playfulness, maneuverability, float, and general freestyle performance. That seems pretty standard for the pro model of a skier like Thayne, so let's get to the ski's actual design:
Shape / Rocker Profile
The Inthayne looks a bit like a more symmetrical 4FRNT Renegade — the Inthayne's tips and tails taper pretty early, and the shape looks nearly symmetrical overall. The Inthaynes shape actually looks pretty similar to the J Skis Friend, with the Inthayne having slightly narrower tips and tails and less sidecut.
4FRNT's description of the Inthayne's rocker profile is pretty accurate — the ski is mostly flat, with no camber and a bit of early rise in the tips and tails. But the Inthayne's rocker lines aren't super deep. As we've seen on other flatter, reverse-camber skis like the Black Crows Corvus and Volkl 100Eight, this sort of flat rocker profile often results in good edge hold when you tip the ski on edge. But the Inthayne still has a high, twinned tail.
Flex Pattern
Here's how we'd characterize the flex pattern of the Inthayne:
Tips: 6.5
Shovels: 7-7.5
In Front of Toe Piece: 8-9
Underfoot: 9.5
Behind the Heel Piece: 9-8.5
Tails: 7.5-7
The Inthayne's tips and tails are pretty soft, but its flex ramps up quickly and much of the ski is quite stiff. As Thayne mentioned about the ski, its tails are a touch stiffer than the tips, which is designed to offer more support on forward landings while letting you bend the tips and let the tails rise on switch landings.
Compared to the J Skis Friend, the Inthayne's tips and tails are a touch softer, but the Inthayne's flex pattern ramps up much more quickly, while The Friend's flex ramps up slower.
Sidecut Radius
While 4FRNT decreased the Inthayne's sidecut this year, the new ski's radius is still pretty long at 25 meters. Of course, sidecut numbers can often be misleading or downright made-up, but we'll be keeping this in mind when we're on the Inthayne to see how it handles a variety of turn shapes.
Weight
The Inthayne is very light for its size. At just over 2000 grams for the 188 cm version, it definitely falls on the lighter end of the spectrum. As you can see below, there are only a handful of skis of similar sizes that come in lighter than the Inthayne.
For reference, here are a whole bunch of our measured weights (per ski, in grams) for a number of notable skis. As always, note the length differences to keep things apples to apples.
1710 & 1744 Atomic Bent Chetler 120, 184 cm (18/19–19/20)
1910 & 1941 Scott Scrapper 115, 189 cm (17/18–18/19)
2013 & 2099 Moment Wildcat / Blister Pro, 184 cm (18/19–19/20)
2034 & 2052 Blizzard Rustler 11, 188 cm (17/18–19/20)
2043 & 2046 4FRNT Inthayne, 188 cm (18/19-19/20)
2083 & 2097 Line Magnum Opus, 188 cm (15/16–18/19)
2102 & 2137 Line Sick Day 114, 190 cm (17/18–19/20)
2126 & 2173 Rossignol Super 7 RD, 190 cm (17/18–19/20)
2130 & 2130 Moment Wildcat / Blister Pro, 190 cm (18/19–19/20)
2133 & 2133 Salomon QST 118, 192 cm (17/18–18/19)
2183 & 2190 Black Crows Anima, 188.4 cm (17/18–19/20)
2196 & 2199 Icelantic Nomad 115, 191 cm (17/18–18/19)
2220 & 2252 Faction Prodigy 4.0, 186 cm (17/18–19/20)
2212 & 2215 Armada ARV 116 JJ, 185 cm (17/18–19/20)
2222 & 2278 Prior CBC, 184 cm (17/18–19/20)
2228 & 2231 Blizzard Spur, 192 cm (17/18–19/20)
2230 & 2250 Black Diamond Boundary Pro 115, 185 cm (17/18–19/20)
2246 & 2265 Fischer Ranger 115 FR, 188 cm (17/18–18/19)
2267 & 2270 Whitedot Ragnarok 118, 190 cm (16/17–18/19)
2296 & 2309 Liberty Origin Pro, 192 cm (17/18–19/20)
2297 & 2317 K2 Catamaran, 184 cm (17/18–19/20)
2341 & 2357 Dynastar PR-OTO Factory, 189 cm (18/19–19/20)
2343 & 2360 J Skis Friend, 189 cm (18/19)
2346 & 2351 Nordica Enforcer Pro, 191 cm (17/18–19/20)
2382 & 2395 ON3P Billy Goat, 184 cm (17/18–18/19)
2408 & 2421 ON3P Kartel 116, 186 cm (17/18–18/19)
2429 & 2437 Kingswood SMB, 188 cm (16/17–18/19)
2438 & 2492 Rossignol Black Ops 118, 186 cm (16/17–19/20)
2490 & 2529 K2 Catamaran, 191 cm (17/18–19/20)
Some Questions / Things We're Curious about
(1) As we just noted, the Inthayne is quite light. So how stable will it feel in conditions that aren't super deep and forgiving?
(2) The Inthayne is a reverse-camber ski with pretty high tips and tails, but it's still pretty flat through most of the ski. So just how easy will it be when it comes to making quick slashes and pivots, and what about edge hold on firm snow?
(3) With its twin tip and fairly forward recommended mount point of -5.8 cm from center, we're curious to see how the Inthayne will respond to a more directional, forward stance, in addition to a more centered, balanced one.
Bottom Line (For Now)
The 4FRNT Inthayne's design seems right in line with what it was designed to do: slash, slarve, and throw tricks in deep snow. We're very curious to see what the on-snow result is, so stay tuned for updates.
Flash Review
Blister Members can now check out our Flash Review of the Inthayne for our initial impressions. Become a Blister member now to check out this and all of our Flash Reviews, plus get exclusive deals and discounts on skis, and personalized gear recommendations from us.
FULL REVIEW
Sam Shaheen, Cy Whitling, and I have now all spent time on 4FRNT's playful pow ski, the Inthayne, so let's get into how it performs.
Powder
Luke Koppa (5'8", 155 lbs): This is what the Inthayne was made for, and it's definitely where it excels.
I could ski the Inthayne neutral / centered or drive the front of it, though, to me, the ski felt most natural when skied with a centered stance. When skied with an upright (rather than forward) position, I could throw slashes easily, set up for drops, and the ski felt balanced in the air.
In terms of flotation, the Inthayne felt as good as I'd expect a ~117mm-wide ski should. At my height and weight, I'm not someone who tends to bury the tips of skis this wide and long, and the Inthayne was no exception. I could drive it pretty hard in the deepest snow I got it in (~1.5 feet) without issue, and the Inthayne still remained easy to throw sideways in powder.
Based on its tapered shape and reverse-camber profile, I expected the Inthayne to be really loose and surfy. And while it is easier to pivot in powder than many directional skis, there are several skis in this class that are easier when it comes to slashing and slarving your way down the fall line (see the "Powder Skis – More Playful" section in our Winter Buyer's Guide).
But I think the thing that makes the Inthayne stand out is how solid it feels on consequential lines and bigger drops, especially given its playful orientation and low weight. The Inthayne feels like a really strong ski while still feeling balanced, which is a great combo when navigating steep terrain that's littered with big and small cliffs.
Sam Shaheen (5' 10", 145 lbs): I agree with everything Luke says here, but I want to underscore how strong this ski feels. To be clear, it isn't a full-on super heavy, damp, burly charger. But given its weight and shape, I expected it to feel a lot more playful and easy than it did.
In pow, it is not a difficult or demanding ski, but the strength makes it feel very supportive. The tails feel strong on drops and in steep, tight trees, and those stiffer tails allowed me to burn speed in deeper snow without getting too back seat. (In other words, the tails don't fold up easily, so I could maintain my stance better in tricky terrain.)
Another thing that surprised me about this ski was how comfortable it felt being driven. Again, this ski is far from being your standard directional or traditional ski. But the Inthayne felt much more comfortable being driven that I expected, given its shape and mount point. The sweet spot on this ski feels centered more around the balls of the feet than boot center. This made it feel comfortable skiing neutral and being driven fairly hard, but not skied from the heels.
Cy Whitling (6'0″, 175 lbs): As Luke and Sam said, this is a strong and playful pow ski. The order of those words is important, though — it's strong first. I haven't found the Inthaynes speed limit in pow, it loves to go fast, take chances, and jump off stuff along the way.
As someone who is both taller and fatter than Luke and Sam, I did find that the 188 cm Inthayne isn't the "floatiest" ski I've been on. If I start to get too far forward, I find myself occasionally burying the tips, and it doesn't plane quite so easily for me as the (wider & shorter) 184 cm Atomic Bent Chetler 120. That's not to say the Inthayne doesn't float well, it's just that it's not class-leading in terms of pure flotation in deep snow.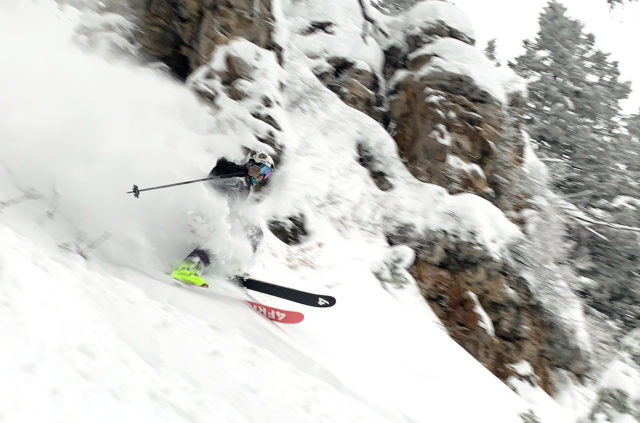 The Inthayne is very easy to slash, pop, and spin, but I'd agree with Luke — it's far from the jibbiest or most playful pow ski I've been on. The Armada ARV 116 UL, Atomic Bent Chetler 120, and K2 Catamaran are all easier to slash and jib around on, but the Inthayne isn't far off. The Inthayne is easy to throw sideways, just not as effortless as those other skis.
The flip side is that when you do decide to slash some powder around, the Inthayne is less hooky or inclined to more quickly get pointed back down the fall line than those skis. Not that any of these skis are truly "hooky," but the Inthayne is happy to smoothly break loose in powder regardless of where you're pivoting it from (i.e., forward or centered), and it slides more smoothly through the powder slash than most other playful pow skis I've been on (but this is for powder — a lot of that changes in shallower / firmer conditions). And the Inthayne has a much higher speed limit than any of those skis.
Soft Chop
Luke: The Inthayne's strong-yet-playful feel translated really well to the soft chop you usually end up encountering during most of a resort pow day.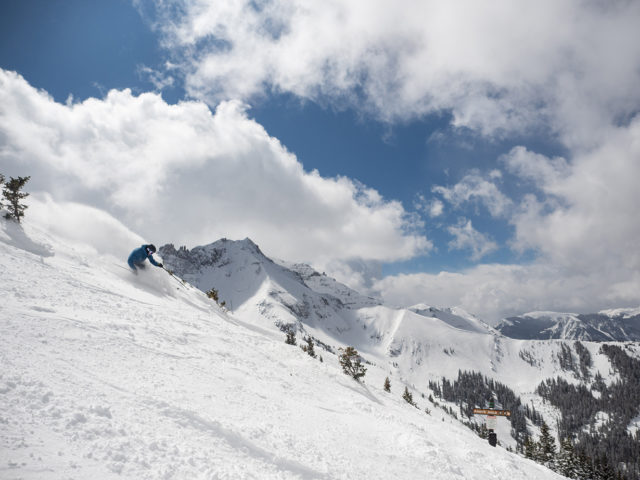 I didn't have high expectations for the Inthayne in chop since it's quite light and very tapered, but Sam and I were both really impressed by just how hard we could rally the Inthayne in soft chop. In this snow, weight isn't quite as big of a factor when it comes to stability, and the Inthayne's stiffer flex pattern and straighter sidecut seemed to make the most difference. I found myself skiing surprisingly fast on the Inthayne in soft chop with the ski not getting knocked off track very easily.
As I've said in other reviews, I love skiing soft chop. It basically transforms the whole mountain into a terrain park with tons of patches of snow to jump off of, but unlike a terrain park, all the landings are still soft and forgiving so I don't have to worry as much about, you know, actually landing stuff.
The Inthayne (like many playful pow skis) makes skiing soft chop a lot of fun. But unlike many skis in this class, the Inthayne is both light and quite stable, which means I could ski it very fast in soft chop while still being able to get it around quickly for spins, shifties, etc.
If your primary goal on a pow day is getting back to the lift as fast as possible to get back to whatever untouched pow is left, you'd be better off on a heavier ski that does a better job of blasting through chop (see the "Powder Skis – More Directional" section of our Winter Buyer's Guide). But for people who like to mix big, fast turns with big, lofty airs, the Inthayne is definitely worth a look.
Sam: Yep, strongly seconded here. The Inthayne has such a long taper line and long stated radius that the sidecut feels really straight on snow. I think this helps the cause in soft chop because the ski tracked quite well and didn't get deflected nearly as much as I was anticipating.
And again, the strength of the Inthayne plays a role here too. I felt comfortable going quite fast in choppy conditions and a lot of that is due to the stiff underfoot platform. The Inthayne just feels really solid.
Cy: I love this kind of skiing, and I really love it on the Inthayne. Skiing the Inthayne a day after the storm, it feels like there is some unseen force driving my foot into the gas pedal. I just want to go fast and jump off stuff on this ski. I found myself attempting gap transitions that I usually don't look at on the Inthayne because it's so composed in chopped-up inruns and landings that it's much easier to safely carry more speed in and out of hits.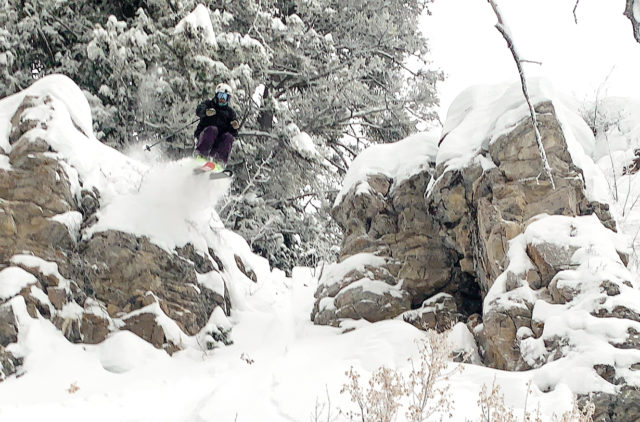 We talk a lot about a ski's speed limit on Blister, and usually, that refers to how fast you can ski it before it loses its composure, the tips start flopping around, and you stop having a good time. Equally important to that equation, to me at least, is how easy it is to shut down a ski when you're going fast. I don't care how composed a ski feels going 50 MPH if it's impossible to slow it down without running through a group of ski schoolers.
The Inthayne does a really good job of staying nimble, even at speed. It's easy to shut it all down on a dime if someone traverses into your landing. That gives me the confidence to ski it faster, knowing I can stay in control.
In the air, the Inthayne feels just a touch more sluggish than the 184 cm Moment Deathwish, it takes just a tiny bit of extra effort to get spins around, but it's an easy adjustment to make. And the Inthayne's lack of hookiness makes it easy to shuffle around under- and over-rotated spins.
Firm Chop / Crud
Luke: On firm, inconsistent snow the Inthayne remains predictable but lacks the mass and damping to encourage me to ski super fast. I think the Inthayne is very stable for its weight, but it's important to keep in mind that this is a 188 cm, ~117mm-wide ski that only weighs a little over 2000 grams per ski. That's quite light.
So on really firm, rough snow, the Inthayne requires a pretty active skiing style to keep it composed. In other words, don't expect the Inthayne to be able to roll over / through chunks of firm snow without getting knocked off track. Heavier skis will do a much better job of bulldozing rough snow.
But if you're willing to dial things back on firm snow, the Inthayne is totally fine doing so. It's pretty easy to slide and pivot around, its round flex pattern creates a fairly large sweet spot, and it's still strong enough to push pretty hard when you want.
Sam: As Luke says, the Inthayne encourages an active skiing style, which is true of most lightweight skis. This happens to fit really well with my personal ski style, so I really enjoy skiing it on firmer snow and crud.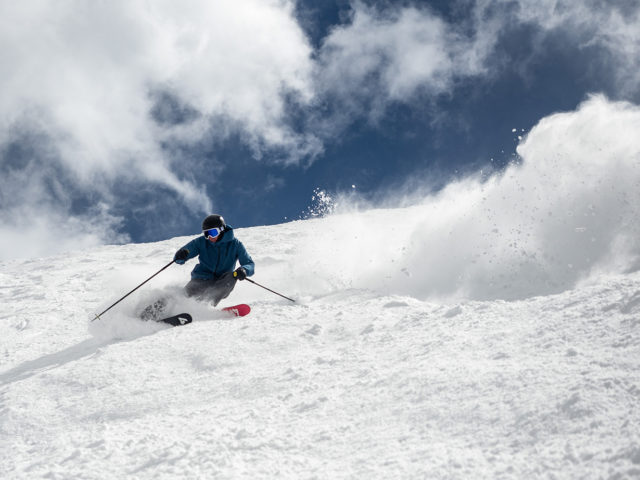 When the snow isn't deep, the strength of the Inthayne becomes a bit more obvious. It's harder to break the tails free and slash, and the sweet spot feels a bit smaller. The ski feels noticeably more harsh in firm snow too, which I think is mostly due to the lack of camber and low weight.
One thing that surprised me though is that, even given its reverse-camber profile, the Inthayne has a noticeable amount of energy and rebound on firm snow. To be clear, in terms of energy and rebound, it's no Rossignol Soul 7. But I was surprised by the energy that the Inthayne had when I pushed it hard.
Cy: In firm chop, Luke called the Inthayne "stable for its weight" and I'd agree. Sure, it's fine, but it's not awesome — which is completely to be expected for a ski that's this wide and this light.
I can ski firm chop on the Inthayne, and I can have a bunch of fun on it, but it doesn't encourage me to go nearly as fast and as big as it does when conditions are soft. It's just a bit too much work for me to ski that aggressively on the Inthayne when conditions are rough. In firmer conditions, I found that the Deathwish makes it easier to find and hold an edge.
Moguls, Trees, and Tight Terrain
Luke: If the tight terrain had a bit of fresh snow on top, the Inthayne was very easy to maneuver, despite its large size. I could ski it centered or forward, and I found that the ski felt equally comfortable pivoting through the troughs of bumps or working up and over them (without having the shovels fold up).
When I got the Inthayne into tight terrain with firm snow, it became more difficult to ski. Most of the Inthayne's rocker profile is flat, and on firm snow, that equates to a lot of effective edge. And a lot of the portion of the ski that's engaged is quite stiff, which means that you're dealing with a pretty long, stiff, and wide ski on firm snow.
This surprised me a few times. Many playful pow skis have soft, heavily rockered tails that let me scrub the tails by leaning back on them (and thus bending and washing out the tails). I once tried doing this on the Inthayne after the exit air on the Crested Butte run called Cesspool, and instead of easily scrubbing speed, the Inthayne stayed in the turn and I went careening straight into a tree.
That was all it took for me to realize that the Inthayne required more of a forward stance on firm snow in order to slide and pivot its tails. If I did this, it was still pretty easy to ski, but there's a lot of pretty stiff tail behind you so this isn't the best ski if you like to lean back on the tails of your skis in steep, firm, consequential terrain.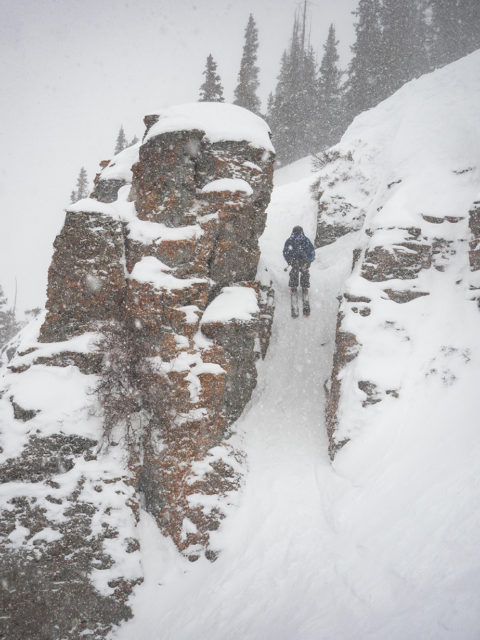 Sam: Yep, having watched Luke's Cesspool incident (and the GoPro footage of it a bunch of times, and laughing a bunch of times), I can attest to his experience and say that mine is very similar. The Inthayne feels surprisingly bigger, stiffer, and heavier than it measures. The firmer the snow, the more forward I want to be and the more active I need to ski it. For me, this makes me really like this ski, but this is another good place to bring up the maxim, Know Thyself — this isn't a super soft and surfy pow ski.
Cy: My first run on the Inthayne was on firm snow down a tight run with lots of trees and cliffs. I got to the bottom wishing I'd brought another ski up with me — the Inthayne kicked my butt. Luke mentioned that when he tried to scrub speed in firm snow by flexing the tails, the Inthayne threw him into a tree. That little "weight the tails, move some snow, lose some speed" move is one of my old standbys, and every time I tried it on the Inthayne, I regretted it. Unlike Luke, I didn't hit any trees, but I did end up laying in a bunch of alders for longer than I'd like.
If there's any snow to move around though, tight terrain on the Inthayne is a blast. But if the snow is firm, you should get forward, drive those tips, and consider maybe skiing slightly more open terrain.
Groomers
Luke: I don't have high expectations for any 117mm-wide skis' groomer performance, especially those with lots of taper and reverse-camber profiles (like the Inthayne). While the Inthayne is fine on groomers, it's not what I'd call "inspiring." It requires a significant amount of speed to get on edge, and it definitely feels limited to longer turns when carving.
But the Inthayne did offer surprisingly good edge hold (which I'd attribute to its flat rocker profile), and there was nothing about how it performed on groomers that I think would make it a dealbreaker for many people (unless you really love to carve tight turns on your 115mm+ pow ski).
Sam: Yep, for me, the most difficult aspect of the Inthayne on groomers is its vague turn initiation. There is so much tip taper that engaging the ski on edge is quite challenging, and I would sometimes leave one ski behind when trying to start a carve on groomers. This ski is not very easy to bend into a turn, though that will be a lot less true for skiers who are a lot heavier than me.
Cy: Sam and Luke sum it up. The Inthayne isn't scary on them, but it also makes it clear that groomers are not where this ski was designed to excel.
Playfulness
Luke: I think the Inthayne strikes a nice balance of playfulness and stability for aggressive freestyle skiers. It's not super poppy and isn't the loosest, surfiest ski out there. But the Inthayne does feel balanced in the air; feels great while skiing switch; is fairly easy to throw sideways; and offers a solid landing platform for big airs. Combined with its fairly low swing weight, this all makes the Inthayne a very good option for skiers who like to spin, flip, and butter, but who would rather have a ski with some backbone than some ultra poppy, ultra buttery ski.
Sam: I agree with Luke, but I just want to say again that I think this ski feels bigger, heavier, and stronger on snow than it looks and feels in hand. In the air, I was very surprised because the Inthayne doesn't feel super light underfoot or easy to throw around / spin / shifty. It is certainly easier to spin than a lot of more directional skis, and I still have a great time skiing playfully on it. But it certainly isn't the most playful freestyle pow ski on the market.
Cy: It's fun to spin and jib on the Inthayne but it doesn't feel much like a "jib ski" to me. It's stiff enough that it's hard to press far into butters, though it isn't hooky at all, so even though I'm not flexing it through the butter like I'm used to, it still comes around easily. Similarly, the Inthayne is not hard to spin, but there are plenty of skis out there that have significantly lower swing weights.
I review a lot of skis that are "playful but can hold up when you push them." The Inthayne feels like it fits that statement if you reverse the order — it's a ski that begs to be pushed hard, and is fine throwing some spins and flips along the way. And it turns out, that's a really fun combo. A lot of my skiing is of the "smooth-coffee-shop-folk-music and low-speed, low-vis jibbing" variety. But when I'm on the Inthayne, I want to crank some Rage, go faster, and see if I can make it from this stump to that far-away knuckle, before I throw a three off the cat track. This is a ski that feels best when pushed hard, and when you do that, it's happy to throw some tricks in between, but there are better skis for low-speed jibbing.
Who's It For?
Luke: The Inthayne strikes me as an excellent 50/50 pow ski for aggressive playful skiers who like to throw tricks, skin uphill for some of their turns, and who want a strong ski that won't fold up on big drops.
I think directional skiers who are looking for a playful, strong, and light ski could also get along well with the Inthayne, just keep in mind that you'll have a lot of tail behind you so beginners and intermediates who often end up backseat would probably be better off on a softer ski.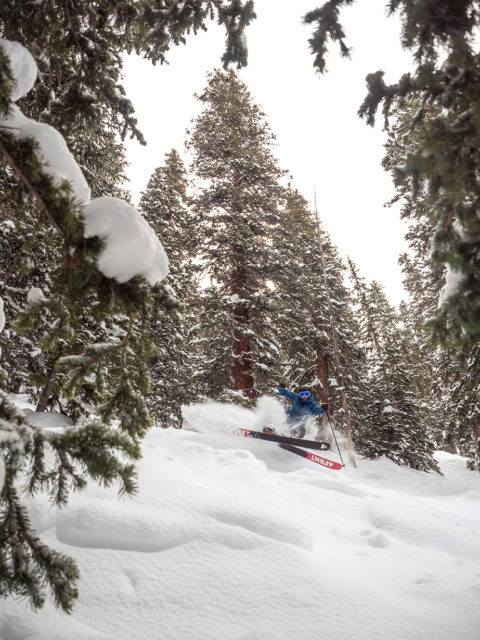 If you're looking for a dedicated resort pow ski that can blast through chop and crud with little to no snow feedback, I'd recommend a significantly heavier ski. But for those people who are either (a) using this ski in the backcountry where a low weight is beneficial or (b) want a resort pow ski that's lighter and quicker than the more stable skis in this class, the Inthayne is worth a look.
Sam: I think the Inthayne is easy to recommend to advanced and expert skiers, particularly those with a more aggressive, active, and dynamic style (just like Thayne Rich). Unlike Luke, I wouldn't be all that tempted to use this as a 50/50 ski simply because I rarely need a ski this strong in the backcountry and would prefer a surfier ride in purely untracked snow.
As a resort ski, I really like the Inthayne. It likes to be pushed hard and offers a stable platform that inspires confidence — as long as you stay on top of it. It isn't the most damp ski nor the most stable. But if you have good technique and an active skiing style, I think you'll really enjoy the Inthayne.
Cy: Initially, I expected to throw a pair of Shift bindings on the Inthayne and make it my 50/50 setup. And if you told me that I needed to go film the best backcountry video part I possibly could, I would probably still do that.
But for my everyday backcountry skiing, I agree with Sam. The Inthayne is just a little too strong and a little overkill for most of my backcountry days. It's got a higher speed limit than I need when I'm out there skinning for my turns. I'd rather have something a little lighter, that can't charge quite as hard, but that is also a little more fun to noodle around in mellow terrain. But, I know plenty of folks who go much harder than me in the backcountry and side country. And for those people, the Inthayne seems like a great choice. And for what it's worth, if you like the Moment Deathwish but want something with a slightly higher top end, the Inthayne is my top recommendation.
Bottom Line
The 4FRNT Inthayne makes a lot of sense if you watch Thayne Rich ski. Equally capable on techy pillow lines as it is on big, open faces, the Inthayne is a ski that seems ideal for those who like to slash, spin, and flip in deep snow, and who want to go big.
Deep Dive Comparisons: 4FRNT Inthayne
Become a Blister Member or Deep Dive subscriber to check out our Deep Dive comparisons of the Inthayne to see how it compares to the Moment Deathwish, Faction Candide 4.0, Armada ARV 116 JJ, Moment Wildcat / Blister Pro, Blizzard Rustler 11, Atomic Bent Chetler 120, Dynastar PR-OTO Factory, Rossignol Black Ops 118, Line Outline, Prior CBC, Icelantic Nomad 115, Folsom Trophy Carbon, Blizzard Spur, and Line Sick Day 114.