Ski: 2020-2021 Moment Deathwish, 184 cm
Test Locations: Crested Butte & Summit County, CO
Days Skied: 14
Available Lengths: 174, 184, 190 cm
Blister's Measured Tip-to-Tail Length: 182.2 cm
Stated Weight per Ski: 1950 grams
Blister's Measured Weight per Ski: 1964 & 1972 grams
Stated Dimensions: 138-112-129 mm
Blister's Measured Dimensions: 137.6-111.9-129.3 mm
Stated Sidecut Radius (184 cm): 25 meters
Measured Tip & Tail Splay (ski decambered): 72 mm / 69 mm
Measured Traditional Camber Underfoot: 4 mm
Core: aspen/ash + carbon stringers + fiberglass laminate
Base: 7500 Series Sintered
Factory Recommended Mount Point: -5.1 cm from center; 86.0 cm from tail
Ski: 2020-2021 Moment Deathwish, 190 cm
Blister's Measured Tip-to-Tail Length: 188.1 cm
Stated Weight per Ski: 2065 grams
Blister's Measured Weight per Ski: 2047 & 2049 grams
Stated Dimensions: 138-112-129 mm
Blister's Measured Dimensions: 137.1-111.6-128.7 mm
Stated Sidecut Radius (190 cm): 27 meters
Measured Tip & Tail Splay (ski decambered): 65.5 mm / 67 mm
Measured Traditional Camber Underfoot: 3 mm
Factory Recommended Mount Point: -4.95 cm from center; 89.1 cm from tail
Boots / Bindings: Nordica Strider 120 & Dalbello Lupo Pro HD / Tyrolia AAAttack2 13 AT
[Note: our review was conducted on the 19/20 Deathwish, which returns unchanged for 20/21, apart from different sidewall and base materials.]

Intro
The Deathwish has now been in Moment's line for ~8 years, and when it was released, it was a pretty radical design. That's because it features Moment's "Triple Camber" — a rocker / camber / rocker profile with "micro camber" sections in front of and behind the bindings.
We reviewed the original version many years ago, but Moment updated the ski for 19/20, and we now have both the 184 cm and 190 cm versions of the 19/20 Deathwish. So first we're discussing what's new with the 19/20 ski, what's the same, and how its design compares to the current market. And below, you can see our full review for our thoughts on its on-snow performance.
What Moment says about the Deathwish
"Agile. Stable. Quick. Planted. Carveable. Surfy. The Deathwish is all of these—a living contradiction to the statement that one ski can't have it all. From crazy experiment to cornerstone technology, Triple Camber made its name with this design, and an all-new core layup living inside makes it even smoother and more powerful. In other words, first the Deathwish made you a better skier. Now, thanks to its improved core profile, it will make you faster. All you have to do is ask yourself: why not ski my favorite ski company's favorite ski?"
In our experience with the previous iterations of the Deathwish, Moment's talk of it being a "living contradiction" is actually not that far off. The previous versions of the ski offered a rare combination of easy pivoting when you skied them centered, but then provided surprisingly strong edge hold (for a 112mm-wide ski) when you pressed into the shovels of the ski.
The changes for 19/20 are all in the core — Moment switched from an aspen / pine wood core to an aspen / ash core, with the goal of making the ski more damp and stable at speed via the heavier ash portions of the wood core. So our biggest question is just how noticeable that new core will be.
Shape / Rocker Profile
This stays the same for 19/20. The Deathwish still has lots of tip and tail splay, pretty deep tip and tail rocker lines, and its signature "micro-camber" sections just outside of the binding area.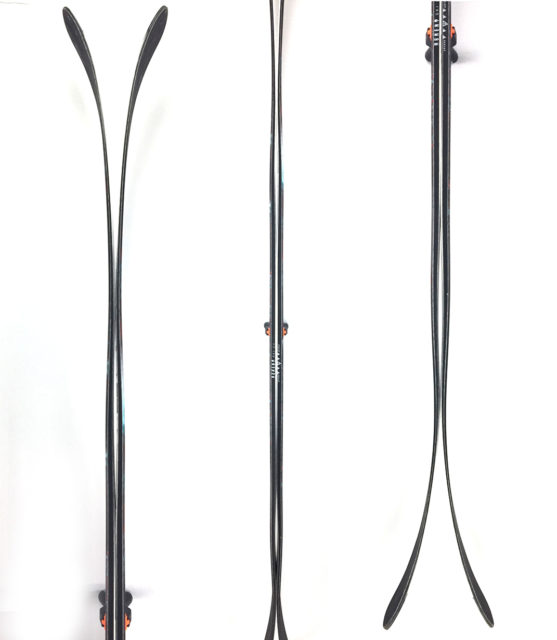 Compared to most directional skis in this class (e.g., Black Crows Corvus, Blizzard Cochise, 4FRNT MSP 107, Parlor Mountain Jay, Volkl V-Werks Katana), the Deathwish has much more tail splay and a significantly deeper tail rocker line. But compared to other all-mountain-freestyle skis in this class (e.g., Prior Northwest 110, ON3P Jeffrey 108, Faction Prodigy 4.0, Moment Wildcat 108), the Deathwish's rocker profile isn't all that unusual, apart from the micro-camber portions.
In terms of its shape, the Deathwish looks pretty similar to most freestyle-oriented skis in its class. It has more tip and tail taper than most directional skis of similar widths, and overall its shape looks very similar to some freestyle skis like the Prior Northwest 110, ON3P Jeffrey 108, Sego Big Horn 106, and Moment Wildcat 108.
One ski we have to talk about when discussing the Deathwish is the Shaggy's Ahmeek 105. It's one of very few skis that also features "micro-camber" sections outside the bindings (Shaggy's calls them "camber pockets"), it also has pretty deep tip and tail rocker lines, and it even has squared-off tips and tails. The notable differences here are that the Ahmeek 105 is narrower, has a shallower tail rocker line, significantly less tail splay, a bit less tip and tail taper, and its "camber pockets" are more subtle / lower than those on the Deathwish.
Flex Pattern
Here's how we'd characterize the flex pattern of the 184 cm Deathwish:
Tips: 6-7
Shovels: 7.5-8
In Front of Toe Piece: 9-10
Underfoot: 10
Behind the Heel Piece: 10-9
Tails: 7-6
And here's how we'd characterize the flex pattern of the 190 cm Deathwish:
Tips: 6
Shovels: 7-8
In Front of Toe Piece: 9-10
Underfoot: 10
Behind the Heel Piece: 10-9
Tails: 7-6
Overall, both lengths of the 19/20 Deathwish feel pretty similar to both lengths of the Moment Wildcat 108. The 184 cm and 190 cm Deathwish are a bit softer in the tips and tails, but the middles of the skis feel really similar.
And then regarding the 184 cm vs. the 190 cm Deathwish, the two skis feel extremely similar in terms of flex pattern, but interestingly, the 184 cm version's tips stiffen up a tiny bit quicker.
The Deathwish does not have a super burly flex pattern — its tips and tails are pretty soft. But it's also not a flimsy ski by any means. Compared to the Faction Prodigy 4.0, the Deathwish is a touch softer at the very ends, but a bit stiffer in the middle. Compared to the ON3P Jeffrey 108 and Woodsman 108, the Deathwish is again a bit softer at the extremities and in the shovels, but the three skis feel similar in the middle.
Sidecut Radius
Like many of Moment's skis, the Deathwish has a fairly long stated sidecut radius — 25 meters for the 184 cm, and 27 meters for the 190 cm (this doesn't change for 19/20 or 20/21).
Those numbers are longer than most freestyle skis in this category, and are more in line with many directional skis like the Prior Husume, Volkl V-Werks Katana, and ON3P Wrenegade 108. That said, we always take stated sidecut radii numbers with a large grain of salt since there are so many other factors that go into what sort of turn shapes a ski will be able to make.
Mount Point
No change here, but it's worth noting the Deathwish's progressive mount point of around -5 cm from center. That's pretty far forward, though we found that we could ski the previous Deathwishes centered or drive them fairly hard through the shovels.
Weight
Now, this is interesting. Despite the addition of a heavier wood in the core, the 19/20 Deathwish is not notably heavier than the 18/19 version. In fact, the 184 cm, 19/20 Deathwish we have actually came in a tiny bit lighter than the 18/19 version. That said, it's a small enough difference that I think the bottom line here is that the 19/20 Deathwish is not significantly heavier than the 18/19 version.
Compared to the whole market, the Deathwish is quite light for its size. In terms of weight, it's very similar to the 112mm-wide, 184cm-long Volkl V-Werks Katana — a ski that we've found to work really well both as a lightweight resort ski, or as a powerful backcountry ski.
Reviewer Cy Whitling is a massive fan of the previous Deathwish, and he's praised its stability-to-weight ratio. So we're curious to see if the new Deathwish, with its potentially more damp core, could make the 19/20 ski even more impressive in this regard.
For reference, here are a number of our measured weights (per ski in grams) for some notable skis. Keep in mind the length differences to try to keep things apples-to-apples.
1642 & 1651 Renoun Citadel 106, 185 cm, (18/19)
1806 & 1862 Armada Tracer 108, 180 cm (19/20)
1828 & 1842 Elan Ripstick 106 Black Edition, 188 cm (19/20)
1848 & 1903 Line Sick Day 104, 186 cm (17/18–19/20)
1849 & 1922 Elan Ripstick 106, 188 cm (17/18–19/20)
1913 & 1943 Sego Condor Ti, 187 cm (18/19)
1923 & 1956 DPS Alchemist Wailer 106, 189 cm (17/18–18/19)
1959 & 1975 Volkl V-Werks Katana, 184 cm (14/15–19/20)
1964 & 1972 Moment Deathwish, 184 cm (19/20)
1980 & 2019 Moment Deathwish, 184 cm (18/19)
1996 & 2012 Dynastar Legend X106, 188 cm (17/18–19/20)
2005 & 2035 Liberty Origin 106, 187 cm (19/20)
2010 & 2018 J Skis Vacation, 186 cm (18/19–19/20)
2011 & 2028 Moment Wildcat 108, 184 cm (19/20)
2013 & 2013 Moment Commander 108, 188 cm (18/19)
2018 & 2045 RMU North Shore 108, 185 cm (18/19–19/20)
2022 & 2047 Faction Dictator 3.0, 186 cm (17/18–18/19)
2030 & 2039 Rossignol Soul 7 HD, 188 cm (17/18–19/20)
2034 & 2052 Blizzard Rustler 11, 188 cm (17/18–19/20)
2047 & 2049 Moment Deathwish, 190 cm (19/20)
2046 & 2120 Black Crows Corvus, 188 cm (18/19–19/20)
2096 & 2100 Salomon QST 106, 181 cm (19/20)
2097 & 2113 DPS Alchemist Wailer 106 C2, 189 cm (19/20)
2101 & 2104 Fischer Ranger 102 FR, 184 cm (18/19–19/20)
2110 & 2119 Moment Wildcat 108, 190 cm (19/20)
2112 & 2125 4FRNT MSP 107, 187 cm (18/19–19/20)
2120 & 2134 Blizzard Rustler 10, 188 cm (19/20)
2143 & 2194 ON3P Wrenegade 108, 184 cm (18/19–19/20)
2165 & 2211 K2 Mindbender 108Ti, 186 cm (19/20)
2165 & 2219 Icelantic Nomad 105, 191 cm (19/20)
2182 & 2218 Nordica Enforcer 110, 185 cm (17/18–19/20)
2188 & 2190 Prior Northwest 110, 190 cm (19/20)
2190 & 2268 Armada ARV 106Ti LTD, 188 cm (18/19–19/20)
2202 & 2209 Shaggy's Ahmeek 105, 186 cm (19/20)
2218 & 2244 Volkl Mantra 102, 184 cm (19/20)
2232 & 2244 ON3P Woodsman 108, 187 cm (19/20)
2233 & 2255 Nordica Enforcer 104 Free, 186 cm (19/20)
2241 & 2295 4FRNT Devastator, 184 cm (14/15–18/19)
2250 & 2307 Argent Badger, 184 cm (19/20)
2283 & 2290 ON3P Wrenegade 108, 189 cm (18/19–19/20)
2312 & 2386 Prior Husume, 188 cm (17/18–19/20)
2318 & 2341 J Skis The Metal, 186 cm (16/17–18/19)
2321 & 2335 Fischer Ranger 107 Ti, 189 cm (19/20)
2376 & 2393 Blizzard Cochise, 185 cm (15/16–19/20)
Some Questions / Things We're Curious About
(1) The obvious question: how different does the 19/20 Deathwish feel vs. the 18/19 Deathwish?
(2) Moment makes a lot of skis in the mid-fat, all-mountain category, so how will the new Deathwish compare to the 19/20 Moment PB&J (First Look coming soon), Meridian, Wildcat 108, and Commander 108?
(3) The Deathwish is a pretty light ski, so how stable will it feel when skiing fast through rough inbounds conditions?
(4) The Shaggy's Ahmeek 105 shares a lot of traits with the Deathwish, so what are the most notable on-snow differences between the two?
Bottom Line (For Now)
The new Moment Deathwish is quite similar to the 18/19 version — at least on paper. But the new ski's design still looks pretty radical in the current market, and several of us at Blister are really excited to get on both lengths of the new ski to see how it stacks up against the current market. Blister Members should keep an eye out for a Flash Review in the next few days, and then stay tuned for our full review this season.
FULL REVIEW
Luke Koppa (5'8", 155 lbs): I've now spent a good chunk of time on the new 184 cm Deathwish, in everything from October groomers to the steep terrain off of Crested Butte's High Lift and North Face Lift. We'll update this review after we've spent more time on the 190 cm Deathwish, but for now, here's my take on the 184 cm version.
Powder
I haven't skied the Deathwish in any crazy deep snow, but I did use it during and after a storm that dumped about 6 inches of fresh, pretty dry pow. But in Crested Butte, where we ski a variety of aspects with a lot of wind loading, that equated to some areas with around 12 inches of wind-deposited snow.
The 184 cm Deathwish felt totally adequate for these conditions. That's basically what I expected, given that this ski is 112 mm wide and has a lot of tip and tail rocker. But I'm happy to report that the Deathwish's Triple Camber profile didn't have any negative impacts on its performance in powder.
Triple Camber aside, it is important to note that the Deathwish has a pretty forward mount of around -5 cm behind true center. So this is not a ski that encourages you to get all over the shovels in powder — it feels best when skied pretty neutral in fresh snow. Doing this made for a fun, playful, and surfy experience in pow, letting me arc big turns or very easily slashing sideways through the snow.
If the terrain was fairly steep (>30°), I could also pressure the Deathwish's shovels a bit, but especially on lower-angle slopes, the ski definitely wanted to be skied pretty neutral, lest its tips would sink a bit.
All in all, the Deathwish is a very good, playful pow ski for its width. I think it's pretty average in terms of flotation for a forward-mounted, 112mm-wide ski. Directional skiers who like to drive the shovels of their skis and carve through pow should look to skis with less tail rocker and a much more rearward mount point. But for surfing through pow from a centered stance, the Deathwish is lots of fun.
Soft Chop
While the Deathwish is fun in untracked snow, soft chop is where the ski really started to stand out for me. The Deathwish is pretty light and pretty strong, but also has lots of rocker and a forward mount point. In soft, low-density chop, that's a combination that I absolutely love.
When the chop isn't super consolidated (e.g., the first few hours of a weekend "pow" day at busier resorts), the Deathwish's low weight isn't that much of a liability when skiing fast. It was strong enough to blast through patches of lightly tracked or untracked snow, and light enough to super easily flick it around when catching air off every pushed-around pile of snow.
We often talk about skiing with an "active" or "dynamic" style — not blowing through everything in a straight line, but instead finding forgiving snow to ski fast through and then making lots of quick transitions and adjustments to avoid smashing into the firmer / rougher patches. For me, skiing the Deathwish in soft chop is the epitome of skiing with an aggressive dynamic style. It's supportive enough to blast through soft snow, but then it feels so quick in the air that I found myself trying to throw tricks off anything that even slightly resembled a bump or potential takeoff.
And another thing that makes the Deathwish great in soft chop is that, in those moments when you realize that you're not Candide, it's quite easy to shut it down. The Deathwish isn't the most forgiving ski when it comes to leaning back on the tails to wash them out, but if you stay centered or a bit forward, it's extremely easy to throw sideways and shed speed. While I love soft chop because it's a forgiving condition that won't mess me up too bad when I crash, not crashing in the first place is even better. And thanks to how easy it is to slash a turn and dump speed, the Deathwish has helped me avoid more than a few yard sales in soft chop.
Firm Chop / Crud
At the end of a resort pow day or the days after, the Deathwish's low weight is more noticeable. The 184 cm only weighs ~1970 grams per ski, which is pretty light for a ski of this size. This is not a super damp, glued-to-the-snow kind of ski.
Instead, it's a very quick ski that, again, encourages an active style. While the Deathwish could blow through softer, drier, chop, I had to be more deliberate with my line choices when that chop had become more dense and consolidated since the Deathwish does not blast through firmer, rougher snow. I wouldn't call the Deathwish "harsh" and I think it's pretty damp for its weight. But those seeking an ultra-plush, smooth ride in rough snow should look to much heavier skis.
That said, I'm someone who does like to ski with a dynamic style, so I found the Deathwish to be damp and stable enough to ski hard in firm chop and crud — I just had to dial things back a bit vs. how fast I could ski it in soft chop. The Deathwish's nimble, playful, and balanced feel that I love in soft chop still translates to firmer chop, but it requires a bit more attention and foresight to avoid smacking straight into a firm patch of snow and getting bucked off my line. To put it into context, I loved making GS to Super G turns on the Deathwish in soft chop, while I found myself slashing more in firm chop / crud and taking it down to GS or smaller-sized turns.
Groomers & the "Triple Camber Feeling"
Jonathan Ellsworth, Jason Hutchins, and Cy Whitling have all mentioned how impressive the previous versions of the Deathwish were on groomers for its size, and I definitely agree. In terms of edge hold, this is one of the best 112mm-wide skis I've used. There are more things to carving than just edge hold, though, so I want to get into more detail here.
First, turn initiation. The Deathwish has a pretty tapered and very rockered tip, plus a long sidecut radius (25 meters for the 184 cm). My first turns on the ski were in October on a green groomer (the only open run at the time), and I would've been better off on a different ski (duh). The Deathwish wants a bit of speed before it really comes alive and you can easily get it high on edge. It's not a ski that immediately pulls you into a turn due to its tip shape and rocker, and it's not the easiest ski to lay over at slower speeds due to that tip and its longer radius.
But … as soon as I got it on some blue and black groomers, I started to love the Deathwish on groomers. Once I got it past 25 or 30 mph (40–48 kph), it was very easy to lay over the Deathwish and carve some surprisingly high-angle turns, given that I was on a 112mm-wide ski with a lot of tip and tail rocker. If the snow was soft, I could bend it into turns a bit smaller than GS size, but this ski felt best when arcing GS or larger-sized turns on piste.
Another thing to note here is stance. In any terrain, the Deathwish feels best when skied with a fairly centered stance with a bit of pressure on the shovels. Those coming from skis with mount points around -8 cm or farther back will likely need some time to adjust to the Deathwish. On groomers, I felt like I could get away with putting more pressure on the shovels, but I still felt pretty centered overall. Like most skis with as much taper and rocker as the Deathwish, I felt like I was mostly carving the middle of the ski, rather than feeling most of the engagement in the shovels of the ski.
The unique thing with the Deathwish is that, when I did put a bit more pressure on its shovels, I could really feel its edges digging in, which I will confidently attribute to its Triple Camber design. If I skied very centered, the Deathwish wanted to pivot and slide around. But once I got a bit forward, I could feel much more edge engagement, and the edge hold felt excellent for a 112mm-wide ski with a lot of tip and tail rocker. As I started to trust the Deathwish more after I spent more time on it, I found myself laying it over surprisingly hard on pretty firm groomers. I was less eager to try and drag my hips on the Deathwish at the end of the day when the groomers were really roughed up since it gets knocked around a bit at high speeds, but man, get this ski on steep, fresh corduroy, and it's extremely fun.
As for the "Triple Camber feeling," it's difficult to describe. At this point I don't think too much about it since I've spent many days on the ski, but the Deathwish does feel different on edge than skis with traditional rocker / camber / rocker profiles. I've been describing the feeling as slightly "rough" or "slow." Particularly on corduroy or chalky snow where it's easy to carve deep into the snow, the Deathwish feels like it slices through the snow with a bit more resistance than more traditionally rockered skis. I can definitely feel those "camber pockets" digging into the snow.
But to be clear, I have not been viewing this as a significant downside. While it feels different, I personally don't think it feels weird, unpredictable, or bad. In fact, once I got used to the feeling of those camber pockets engaging, I found it very confidence inspiring since I knew I could trust them to hold a carved turn and not randomly disengage.
So, in summary: the Deathwish offers very good edge hold for its width. It's far from the most engaging carver in terms of pulling you into a turn. It needs a bit of speed before you can really lay it over. And it has a preference for GS-or-larger turn sizes.
Moguls, Trees, & Tight Terrain
I love the Deathwish in tight terrain. It's easy to slash around, I love its moderately stiff, round flex pattern, and it's really quick thanks to its low weight and rocker profile.
As I noted above, the Deathwish is really easy to pivot from a centered stance, while it feels a bit more locked-in when you ski it more forward. As someone who switches between a forward and centered stance in tighter spots, that was great for me. I could quickly release the tails when needed, but then drive it and dig in its edges on the backside of moguls.
Again, this is a pretty light ski, so it requires a more attentive and active pilot in really firm, messed-up bumps than a heavier ski that will slide through those sorts of conditions with little deflection. But for slashing and hopping my way through bumps with a very dynamic style, the Deathwish was a blast.
If you're used to skis with soft and / or short tails (i.e., more rearward mount point), the Deathwish's tail may feel a bit demanding. I never found myself thinking the Deathwish was punishing, but this is not a ski that encourages tail-gunning through bumps. If you try to steer it from the backseat — especially on firm snow — the Deathwish's tail has a tendency to hook up and make the ski more difficult to slash around. But as long as I stayed centered or slightly forward, the Deathwish felt really maneuverable.
Mount Point
I've spent the vast majority of my time on the 184 cm Deathwish with the bindings on the recommended line (5 cm behind true center) and I personally feel no need to move them. On the recommended line, the Deathwish encourages a centered stance but I could drive it pretty hard (again, I'm 5'8", ~155 lbs). It feels super balanced and light in the air and awesome on landings.
But I know there are lots of more directional skiers interested in the Deathwish, so I also tried it with the bindings around -6 cm from true center. At -6, I could drive the Deathwish slightly harder through the shovels, but it was a pretty minor difference. And regarding the tails in tight terrain, I didn't notice the ski feeling more forgiving, which I think is due to the fact that I was noticing the camber pocket behind the bindings digging into the snow when I got backseat, rather than the overall stiffness and length of the tail.
Given the unusual rocker profile of the Deathwish and the fact that the locations of its camber pockets are designed around its recommended mount point, I'd be hesitant to move it several cm's away from that recommended line. That said, if you have tried the ski much farther behind or in front of the recommended line, we'd be eager to hear what you think.
Playfulness
The Deathwish is a very playful, freestyle-friendly ski. It's super quick and balanced in the air; it skis switch really well; I've managed to land switch on it in some fresh snow without immediately tomahawking; it feels very supportive yet fairly forgiving on landings; it's super easy to throw sideways; and it offers plenty of pop / rebound when you flex it.
In my mind, the one thing that makes the Deathwish less playful than other freestyle skis is its flex pattern. This ski feels very strong in the cambered portion of its length and its tips and tails aren't crazy soft, so it's not the easiest ski to bend, butter, and press. But similar to other stiffer, freestyle-oriented skis like the ON3P Jeffrey 108 and Faction Prodigy 3.0, the Deathwish's deep rocker lines do give you a good leverage point on which to bend the ski, so this helps mitigate its stiffer-feeling flex and butters are totally doable — even for a butter-novice like me.
Who's It For?
Intermediate through expert skiers who want a very quick, playful, and versatile wider ski that's still strong enough to ski fast on with an active / dynamic style.
If you know you don't like light skis and / or you prioritize good suspension / damping above all else, you'd be much better off on a much heavier ski. And if you end up in the backseat often, you should consider skis with softer flex patterns.
But if your skiing style is more "light on your feet" than it is "make as few turns as possible," the Deathwish should be on your radar. It feels really surfy and loose when skied from a centered stance, but feels strong and very solid on edge when you get a bit more forward. Its low weight makes it really easy to flick around in tight terrain and in the air, but it's not so light that it feels really unpredictable at higher speeds. I think directional and more freestyle-oriented skiers could get along well with this ski, and I think it's a particularly good option for aggressive skiers looking to throw tricks and who value a low swing weight.
In terms of conditions, the Deathwish is one of the most versatile ~112mm-wide skis I've used. It offers excellent edge hold for its width, without losing its surfy feel in fresh snow. I think it's an excellent 1-ski-quiver option for areas that see a lot of snow, or a playful pow ski that still feels comfortable on firmer conditions.
Bottom Line
Even after ~8 years, the Moment Deathwish is still a unique ski. The current iteration is a very playful and nimble ski that encourages an aggressive, dynamic style, and it offers a rare combination of excellent edge hold on firm snow and a surfy feel in soft snow.
Deep Dive Comparisons
Become a Blister Member or Deep Dive subscriber to check out our Deep Dive comparisons of the Deathwish to see how it compares to the Moment Wildcat 108, Moment Meridian, Shaggy's Ahmeek 105, Icelantic Nomad 105, Blizzard Rustler 11, Faction Prodigy 4.0, ON3P Woodsman 108, ON3P Jeffrey 108, Nordica Enforcer 110, Sego Big Horn 106, Line Sir Francis Bacon, & K2 Mindbender 108 Ti.