Ski: 2021-2022 Volkl Mantra 102, 184 cm
Available Lengths: 170, 177, 184, 191 cm
Blister's Measured Tip-to-Tail Length: 183.2 cm
Blister's Measured Weight per Ski: 2218 & 2244 grams
Stated Dimensions: 140-102-123 mm
Blister's Measured Dimensions: 139.7-101.7-122.8 mm
Stated Sidecut Radius (184 cm): 21.4 meters
Measured Tip & Tail Splay (ski decambered): 54 mm / 20 mm
Measured Traditional Camber Underfoot: ~3 mm
Core: poplar/beech + "titanal "frame" + carbon tips + fiberglass laminate
Base: P-Tex 2100
Factory Recommended Mount Point: -11.6 cm from center; 80.0 cm from tail (also marks for +1 cm and +2 cm in front of the line)
Boots: Head Raptor 140 RS; Dalbello Lupo Pro HD; Dalbello Lupo SP I.D.
Bindings: Marker Griffon
Reviewers:
Sam Shaheen: 5'10", 145 lbs
Luke Koppa: 5'8″, 155 lbs
Jonathan Ellsworth: 5'10", 175 lbs
Test Location: Front Range, CO
Days Skied: ~10
[Note: Our review was conducted on the 19/20 Mantra 102, which was not changed for 20/21 or 21/22, apart from graphics.]

Intro
The Volkl Mantra has a long history and a ton of passionate fans. For the 18/19 season, Volkl introduced the 5th generation of the ski, dubbed the "Mantra M5."
While we're always wary of companies updating products we like, we ended up getting along really well with the new Mantra M5 and gave it a "Best Of" award in our 18/19 Winter Buyer's Guide.
For 19/20, Volkl is taking the construction and shape of the Mantra M5 and applying it to some new skis, including the brand-new Mantra 102. Before we get to the details on the new Mantra 102, let's quickly touch on Volkl's 19/20 Freeride lineup:
Volkl's 2019-2020 Freeride Lineup
The 117mm-wide Confession, 96mm-wide Mantra M5, and 84mm-wide Kanjo are the three skis in Volkl's 18/19 men's Freeride lineup that come back unchanged for 19/20.
The three new skis in the lineup are the Mantra 102, Kendo 92, and Kendo 88. All three skis feature the "Titanal Frame" construction of the Mantra M5, which you can learn more about on our GEAR:30 podcast with some of Volkl's engineers.
On the women's side, the Secret 92 (women's equivalent to the Mantra M5) and 84mm-wide Yumi return unchanged. Then Volkl is adding the Secret 102 and Kenja 88, both of which feature the Titanal Frame construction. We have the new Secret 102 in hand, and will be talking about it soon.
Now, let's take a closer look at the Mantra 102.
Shape / Rocker Profile
The Mantra 102's shape is extremely similar to the Mantra M5's. Apart from the Mantra 102 being wider, the two skis look basically identical. They both have very minimal tip and tail taper and fall in line with other traditionally shaped skis like the Blizzard Bonafide, Armada Invictus 99 Ti, Nordica Enforcer 100, and Parlor Cardinal 100 when it comes to shape.
The Mantra 102 and Mantra M5 are also nearly identical in regard to their rocker profiles. I wouldn't be surprised if I found out that both skis use the same press. Both have fairly deep tip and tail rocker lines for how narrow they are, but their tips and tails don't splay out much till the ends of the skis.
Compared to the Blizzard Bonafide, the Mantra 102 has a very similar tip rocker line, but a deeper and more splayed out tail rocker line. Compared to the new K2 Mindbender 99Ti, the Mantra 102 has a bit less tip rocker and a similar tail rocker line. Compared to the Enforcer 100, the Mantra 102 has a more subtle tip rocker line and a pretty similar tail rocker line, with the Mantra 102's tail rocker rising a bit slower / less abruptly.
Flex Pattern
Here's how we'd characterize the flex pattern of the Mantra 102:
Tips: 8.5
Shovels: 8.5-9
In Front of Toe Piece: 9-9.5
Underfoot: 10
Behind the Heel Piece: 9.5-9
Tails: 9 or 8.5
I feel like I sound like a broken record at this point, but after hand-flexing the Mantra 102 against the Mantra M5, the skis' flex patterns feel nearly identical. If anything, the Mantra 102 might be a touch stiffer in the tail, but the difference is extremely subtle.
The Mantra 102 is a strong ski with a pretty even, round flex pattern. It's stiffer than the Bonafide in the front, but the two skis feel similar in their back halves. The Mantra 102 is significantly stiffer than the Mindbender 99Ti in the front, but the Mindbender 99Ti is a bit stronger in the back half. The Mantra 102 is notably stiffer throughout compared to the Enforcer 100.
All in all, the Mantra 102 is a very strong ski and stands out from some other directional skis in that the Mantra 102's flex pattern is pretty round, rather than having soft tips and much stiffer tails.
Sidecut Radius
We typically don't place a huge emphasis on stated sidecut radii numbers because there are a ton of other factors that go into how a ski feels on snow, apart from its stated sidecut radius. And nowadays, many skis use a combination of sidecut radii, rather than one single radius. This makes stated sidecut numbers a bit less straightforward than they were when pretty much all skis used a single radius along the entire ski.
The Mantra 102, unlike the Mantra M5, reportedly uses three different radii throughout the sidecut of the ski. The radius in the middle of the 184 cm Mantra 102 is supposedly 20 meters, while the tip has a stated radius of 27 meters, and the tail, 25 meters. Volkl averages the sidecut throughout the ski to come up with an average stated sidecut radius of 21.4 meters for the 184 cm Mantra 102.
This "3-Radius Sidecut" is designed to make the ski responsive in the middle for making quick turns, while the longer radii in the front and back of the ski are meant to increase stability when making bigger turns. This is not a new concept (it's used on a lot of skis these days) but is worth noting as the Mantra M5 uses a single-radius sidecut. For reference, the 184 cm Mantra M5 has a stated sidecut radius of 21.2 meters, which is very close to the average stated sidecut radius of the 184 cm Mantra 102.
Weight
The Mantra 102 is a pretty heavy ski. At around 2230 grams per ski for the 184 cm length, it's one of the heaviest skis in this width that we've tested. It's not that much heavier than the 180 cm Blizzard Bonafide or 185 cm Nordica Enforcer 100, but the Mantra 102 is by no means a light ski.
We beat the "weight is good for inbounds skis" drum pretty loudly here at Blister, so we're excited about the heft of the Mantra 102. We tend to break out ~100mm-wide skis in a very wide range of conditions, including firm, rough snow. Heavier skis tend to better mute out / blast through rough snow compared to lighter skis, and the Mantra 102 looks like it has the potential to do exactly that. We'll see…
For reference, here are a number of our measured weights (per ski in grams) for some notable skis. Keep in mind the length differences to try to keep things apples-to-apples.
1629 & 1684 Elan Ripstick 96, 180 cm (17/18–19/20)
1734 & 1750 Renoun Endurance 98, 184 cm (18/19)
1758 & 1774 Moment Commander 98, 178 cm (18/19)
1800 & 1824 Luke Koppa's Romp Skis 100, 183 cm (18/19)
1807 & 1833 Fischer Ranger 98Ti, 180 cm (16/17–18/19)
1807 & 1840 Atomic Bent Chetler 100, 188 cm (18/19–19/20)
1863 & 1894 Blizzard Rustler 9, 180 cm (18/19–19/20)
1894 & 1980 Black Crows Daemon, 183.6 cm (17/18–19/20)
1896 & 1919 Dynastar Legend X96, 186 cm (18/19–19/20)
1921 & 1968 Head Kore 99, 188 cm (18/19–19/20)
1925 & 1937 Liberty Helix 98, 186 cm (18/19–19/20)
1931 & 1932 DPS Foundation Cassiar 94, 185 cm (18/19–19/20)
1937 & 1945 Fischer Ranger 94 FR, 184 cm (19/20)
1966 & 1973 Liberty Origin 96, 187 cm (18/19–19/20)
1985 & 2006 Parlor Cardinal 100, 185 cm (16/17–18/19)
1994 & 2011 Fischer Ranger 99 Ti, 181 cm (19/20)
1998 & 2044 4FRNT MSP 99, 181 cm (17/18–18/19)
2007 & 2029 Armada Invictus 99 Ti, 187 cm (18/19–19/20)
2049 & 2065 Volkl Mantra M5, 177 cm (18/19–19/20)
2050 & 2080 ON3P Wrenegade 96, 184 cm (18/19)
2053 & 2057 Atomic Vantage 97 Ti, 188 cm (18/19–19/20)
2062 & 2063 Rossignol Experience 94 Ti, 187 cm (18/19–19/20)
2085 & 2096 Dynastar Menace 98, 181 cm (19/20)
2101 & 2104 Fischer Ranger 102 FR, 184 cm (18/19–19/20)
2114 & 2133 Nordica Enforcer 93, 185 cm (16/17–19/20)
2115 & 2149 J Skis Masterblaster, 181 cm (16/17–18/19)
2124 & 2137 Blizzard Bonafide, 180 cm (17/18–19/20)
2131 & 2189 Nordica Enforcer 100, 185 cm (15/16–19/20)
2218 & 2244 Volkl Mantra 102, 184 cm (19/20)
2233 & 2255 Nordica Enforcer 104 Free, 186 cm (19/20)
2311 & 2342 K2 Mindbender 99Ti, 184 cm (19/20)
Some Questions / Things We're Curious About
(1) The Mantra 102 and Mantra M5 are extremely similar, apart from their width, weight, and sidecut radii. So how different will the Mantra 102 feel, and where does it make sense to choose the Mantra 102 over the Mantra M5, or vice-versa?
(2) We love how well the Mantra M5 carves on groomers, so will the Mantra 102's wider waist and multi-radius sidecut impact how well it carves? If so, will it be a positive or negative impact?
(3) On the other hand, will the Mantra 102's width and radius translate to notably better off-piste performance vs. the Mantra M5?
(4) The Mantra 102 is a heavy ski with a strong flex pattern, so we're eager to compare it to some of the other skis in its class like the Enforcer 100, Bonafide, and Mindbender 99Ti.
Bottom Line (For Now)
Volkl seems to have recognized that they have a good recipe with the Mantra M5, and therefore didn't stray very far from its design when creating the Mantra 102. The Mantra 102 shares many of the things that we think make the Mantra M5 great: a more traditional shape and rocker profile, a strong, round flex pattern, and a pretty heavy weight. Now it's time to see how that translates to a wider ski. Stay tuned for updates…
Flash Review
Blister Members can now check out our Flash Review of the Mantra 102 for our initial impressions. Become a Blister member now to check out this and all of our Flash Reviews, plus get exclusive deals and discounts on skis, and personalized gear recommendations from us.
FULL REVIEW
Powder
Sam Shaheen (5'10", 145 lbs): Although we didn't get the Mantra 102 until fairly late in the spring, one of the first days I got on it was a solid, mid-winter-style powder day — May 22, 2019. The day before, it had snowed about a foot of denser, wind-affected pow. And then that night, about 6" of surprisingly light fluff came down on top of that already deep and soft base. It was a good day.
You'll hear me say this a lot about this ski during this review, but I was amazed by how versatile the Mantra 102 felt. During everything from mobbing wide-open pow fields to picking through techy, consequential, steep terrain, I really liked — and instantly clicked with — the Mantra 102.
At 102 mm underfoot (101.7 mm is our measured width), the Mantra 102 is certainly not a dedicated powder ski. But in the 184 cm length and with a mount point of -11.6 cm, the Mantra 102 has a lot of tip in front of the bindings. Even with its fairly subtle amount of rocker, I was very happy with the float I was able to get out of the Mantra 102. I certainly don't think I would have been floating to the top of the snow was cold smoke in lower-angled trees. But in steep (35°+), technical terrain and mellower open bowls, I didn't experience any tip dive on the Mantra 102.
One of the things that makes the Mantra 102 so versatile is that it can be skied from a variety of stances — everything from neutral (but not backseat) to driving hard through the shovels felt very natural. And in powder, skiing from a neutral stance felt the most natural to me. To be clear, this is a pretty heavy, stiff ski, and it feels like all of those things on snow. But it also felt surprisingly forgiving and manageable for how heavy and stiff it is.
One thing I dislike about some traditional "chargers" is how they encourage high speeds and aggressive skiing, but are often pretty demanding and punishing of mistakes. When I ski fast and hard, I'm bound to make some mistakes, so I really appreciate a ski like the Mantra 102 that feels great when skied from a neutral stance and isn't super punishing. This is true all over the mountain, but I think it's most evident in powder and other types of 3D snow.
Soft Chop / Soft Variable Snow
Sam: This is not a fat ski, so in deep chop, the Mantra 102 requires a bit of work to keep the tips from diving / punching into the snow. But in chop and variable snow that is less than about 8" deep, I'd say that the Mantra 102 does an exceptional job. The suspension on this ski is amazing, and it is quite heavy; so it easily soaks up the bumps of soft variable snow and chop. There aren't many skis that I've been on that are more confidence inspiring in these conditions. The Mantra 102 just loves to go fast, and it feels composed and comfortable in nearly all soft snow conditions — with the exception of very deep snow.
At one point while testing, Luke and I were discussing which ski we'd take as our FWT competition ski, and I would be hard pressed not to choose the 184 cm Mantra 102. For skiing extremely hard on generally softer snow, I can't think of another ski I'd prefer. Only on deeper comp days would I be tempted to switch to something wider.
Luke Koppa (5'8", 155 lbs): Yep, I totally agree. The Mantra 102 just feels solid. It's round, stiff flex pattern, heftier weight, and more traditional shape and rocker profile all encouraged me to ski faster than I'd want to on most other skis in this class.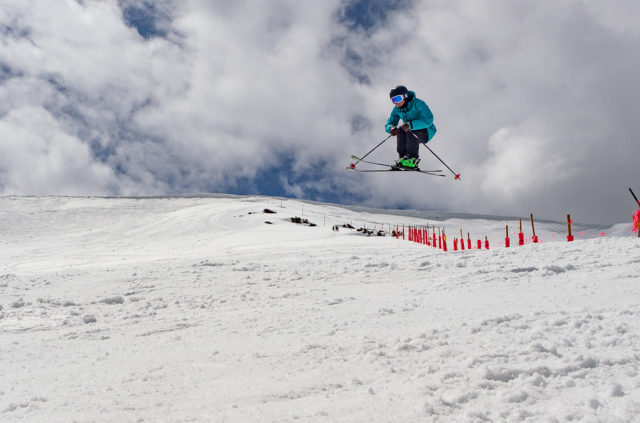 Much of my time on the Mantra 102 was spent skiing wide-open bowls where the snow was very variable. Some patches were warmed by the sun and fully isothermal, but then I'd randomly run into parts that were still refrozen, or the occasional debris from cornice fall.
On the Mantra 102, transitioning between these conditions was almost unnoticeable. As Sam noted, this ski does a great job of sucking up / absorbing impacts, more so than most comparable skis. I could see it getting bogged down in really deep chop, but I didn't notice a hint of tip dive in soft chop and variable snow up to around 6" deep.
On the topic of stance, I agree with Sam that the Mantra 102 is surprisingly versatile. Given its rearward mount point, I expected that I'd need to be driving the Mantra 102 at all times, unless I wanted to go flying and explore the upper canopy of the trees or the deep depths of the snowpack with my head.
But I think this ski has a very big sweet spot. It definitely doesn't feel good when skied from the heels / backseat, and I definitely would not recommend it to beginners or intermediates. But I could just basically sit in the middle of the ski and let it run. Like Sam, I like skis that will let me ski hard, but that also won't immediately launch me into orbit the moment I make a mistake. Unlike many skis that are this stable, the Mantra 102 is very predictable, has a big sweet spot, and I could always tell in advance when I was getting a bit too lazy / a bit too far backseat before the ski started to get away from me (as opposed to it bucking me the moment I leaned back at all).
Jonathan Ellsworth (5'10", 175 lbs): I really, really wish we'd been able to get on this ski sooner, because I personally still have some questions that could have been easily answered. Sigh.
That said, I wasn't on that chairlift ride when Sam and Luke when they were saying they'd take this ski as a comp ski … but after my first day on it … I very much agree — at least for skiing the beat conditions that are not uncommon to comps.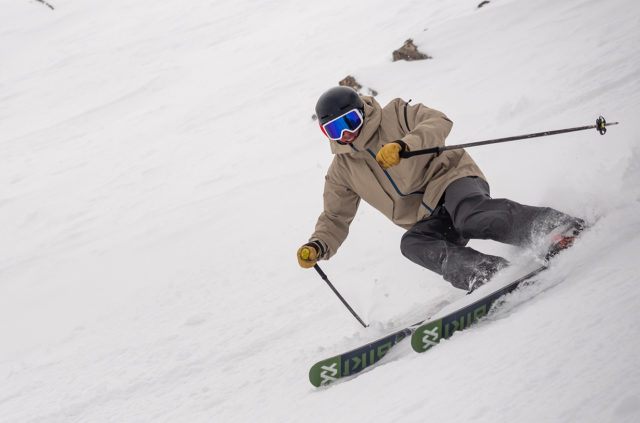 Sam and Luke haven't really touched on it yet, but one of the most notable characteristics of the Mantra 102 to me is just how composed its shovels remain at higher speeds in variable conditions. This tends to be one of my favorite qualities of a ski — and I'd say that it's a quality that seems to be harder and harder to find. But these shovels are quiet and stable … and I really, really like them.
Now in my 2nd "That said" in this section … I do agree with Luke and Sam that this is not a punishing ski. It did, however, require more input in tight spaces than I was expecting, but it is also not a ski that will kick your ass if you get off line or a bit backseat. And I do agree that its suspension is quite good — though I want to get this ski in more nasty / gross conditions before I sing the praises of its suspension too loudly.
(But I will say, for the millionth time: Dear Ski Designers, if you want to make a stiff ski, then please just don't also make it super light, and you will probably have made something that doesn't have super shitty suspension. Which would make us happy. And probably lots of other skiers, too.)
Crud
Sam: Crud / firm variable snow is generally more challenging to ski than softer variable snow, and that is definitely the case with the Mantra 102.
But skiing firm variable snow on the Mantra 102 was an absolute joy for me when compared to some other skis in this category. There are some skis on the market that are heavy, damp, and sluggish. They have great suspension and are confidence-inspiring on firm, crappy snow, but none of those skis (that I've been on, at least) are also as energetic as the Mantra 102, which I think makes the Mantra 102 feel a bit quicker in that it will respond with energy when pushed hard, rather than feeling kind of "dead." And to be clear, I'm calling this ski "quick" only in comparison to heavier skis that offer similar stability.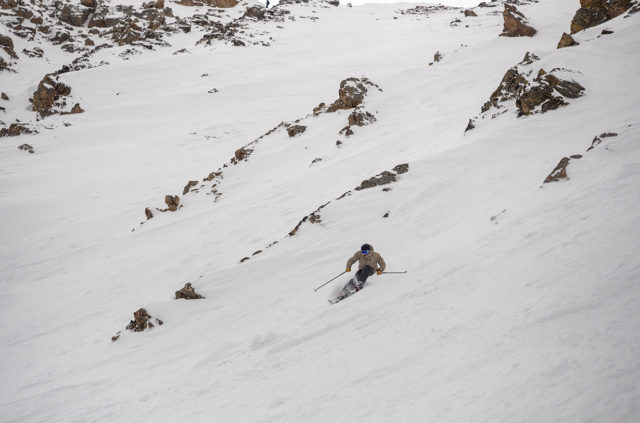 I am happy to lay the Mantra 102 over in a high-speed carve on firmer variable snow, but if I want to shut down speed a bit and make a few quick turns, the Mantra 102 responds with a good amount of energy and a looseness that is surprising given how strong it is on edge. This ski feels dialed in a way that no other "charger" I've been on has.
Luke: I'd agree that the Mantra 102 makes crappy snow a lot less crappy-feeling than many skis on the market. Its suspension is excellent, it's strong on edge, it's predictable, and again, it just feels solid.
That said, I think it's important to highlight that this is still a very heavy, stiff, directional ski. I wouldn't throw around the word "quick" when referring to the Mantra 102, unless I was comparing it to skis that are significantly heavier and / or wider. I'd agree with Sam in that it is surprisingly easy to shut down and slide around for how fun and composed it is at speed. But if playfulness or quickness are more important to you than stability, there are tons of better options (see the "All-Mountain – More Forgiving" and "All-Mountain Freestyle" sections of our Winter Buyer's Guide).
Jonathan Ellsworth: Sam and I have been on a remarkable / disconcerting streak lately of agreeing on things, which has actually started to make me worried that I've developed a serious neurological disorder. So it's comforting to be able to say that you probably shouldn't be listening to Sam here. Rather, Luke is right: "quick" is not a word that I think should be used to describe the 184 cm Mantra 102, and in fact, I was surprised — pleasantly surprised, but surprised nonetheless — how stable this ski felt. It works quite well at slower speeds, but it excels at high speeds. But there are dozens of other skis in this category that I would call quicker and more playful than the 102.
Important Note: After more back and forth with Sam, with Luke Koppa serving as our intermediary (and keeping me from murdering him), we updated Sam's comments above in this section, and he and I are now back in alignment. I.e., I would agree with Sam that the Mantra 102 might feel a bit quicker than bigger, burlier skis that offer a similar level of stability.
Groomers
Sam: It's difficult not to compare the Mantra 102 to it's skinnier cousin, the Mantra M5. They feel extremely similar across all conditions, but nowhere is this similarity more pronounced than on groomers. If we had both of these skis in the same length, I doubt I would be able to tell them apart on groomers. And that is high praise for the Mantra 102.
The Mantra 102 is powerful, precise, and energetic while also being easy to break free, accepting of a neutral stance, and surprisingly forgiving. This ski is a blast on groomers.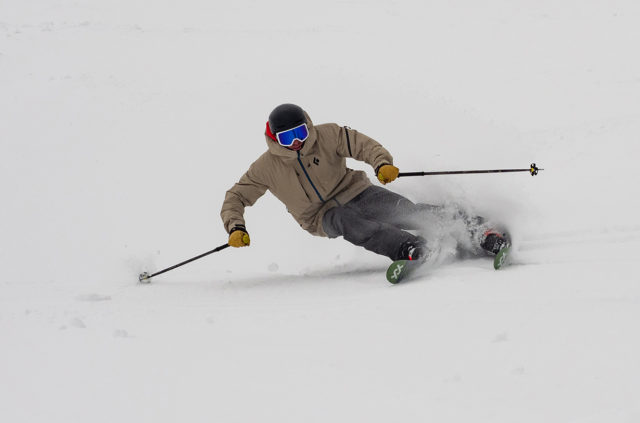 Luke: Yep, this ski is awesome on groomed snow. It initiates turns quickly and predictably, is easy to break free from a carved turn, smoothes out roughed-up groomers, and will produce some energy / rebound when pushed hard.
Overall, I'd say the Mantra 102 is one of the better 100mm+ carvers I've used.
Jonathan: I was just so impressed by how composed the Mantra 102 remained when making big, fast GS turns. And maybe just to serve as a counterpoint to Sam's claims here, this 184 cm Mantra 102 didn't really remind me at all of the 177 cm Mantra M5 we reviewed. The shorter, narrower M5 felt like a more precise carver to me — it's gorgeous on groomers, but I sometimes felt in steep, off-piste terrain that it might want to lock into a turn when I wouldn't want it to.
The 184 cm Mantra 102 felt the opposite to me. It's a ski that feels bigger and straighter and requires more input to turn … and as a result, it isn't going to 'overturn' when you're banging your way down steeper & techier terrain.
All that said, Sam is clear that he is guessing how the M5 and the Mantra 102 would compare in the same length … and he may well be right. So my primary point here is to make clear that the 177 cm M5 did not feel like the 184 cm Mantra 102 to me.
Moguls / Tight Terrain
Sam: This is one of the only places where the 184 cm Mantra 102 didn't feel super comfortable to me. It is just too heavy and has too much tip in front of you to feel nimble in moguls and super tight terrain. I'll talk more about sizing in the next section, but if you ski a lot of bumps and tight terrain, I wouldn't hesitate at all to recommend sizing down on this ski.
Luke: Yep. I loved the Mantra 102 everywhere except tight terrain.
In more open, less steep bumps and trees, the Mantra 102 was surprisingly manageable. Again, it's actually pretty easy to pivot and has a big sweet spot — two things I look for in a bump ski. I definitely wouldn't call it quick, but I didn't mind it in mellower, more spaced-out bumps and trees, given how stable it is in more open terrain.
But in very compact, steep, or otherwise tricky moguls and tight terrain, the 184 cm Mantra 102 felt like a lot of ski. I had to work very hard to flick it around, it would get away from me if I got backseat, and my legs felt pretty beat after skiing a lot of tight bumps on it. But if you've gotten this far in this review and think that the Mantra 102 might be the ski for you, you're probably used to working a heavier, stiffer ski through tight terrain, and I wouldn't say that it's notably more difficult than other skis that are similarly heavy, stiff, and that have similarly far-back mount points.
Jonathan: I agree with what both Luke and Sam have written in this section. In the 184 cm length, the Mantra 102 is still a well-behaved ski even in big moguls, but it requires a lot more input than a lot of ~185 cm, 100mm-105mm wide freeride skis on the market. Bigger, stronger skiers shouldn't have a problem. And those of you who don't spend much time in big moguls with deep troughs won't have much or any problem. But this brings me back to why I worry that Sam's talk about this ski being "quick" could be misleading. I think this is a very good ski. But it is not a very quick ski. Both things are true. And … the next section of this review is very important.
Length
Sam: In the 184 cm length, this ski feels very much like a charger. It feels long and heavy … because it is. If you're looking for a strong, damp ski for skiing at Mach speeds all over the mountain, then I think the 184 cm is an easy choice. (Or, if you're a particularly big / aggressive / ballsy skier, Volkl also makes a fairly intimidating-looking 191 cm.)
Though we haven't skied the Mantra 102 in the 177 cm length, the 184 cm Mantra 102's similarities to the 177 cm Mantra M5 that we have skied are striking. For someone who wants a more manageable daily driver to handle a mix of open terrain and moguls, trees, and other tight terrain, I think it's a no brainer to recommend sizing down. In fact, I would go as far as to say I think most people would be happier sizing down on the Mantra 102 from their typical ski length (except for the skiers I mentioned in the above paragraph).
Luke: Mostly, I'm just really eager to ski the 184 cm (and ideally, the 177 cm) Mantra 102 at Crested Butte. Because I loved the ski in the more open terrain I skied it in so far, and still liked it in everything except the tightest bumps with the deepest troughs. So I'm really interested to see how much I like it in the steep, techy, and often tight terrain off of Crested Butte's High Lift and North Face Lift.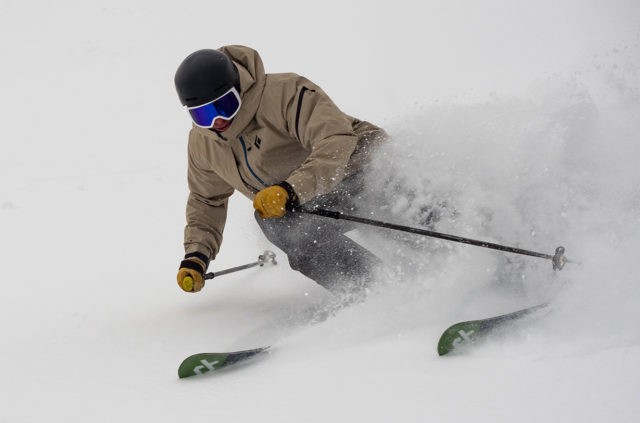 But given that the 177 cm Mantra 102 should offer much of what the 184 cm does, but in a quicker and slightly less stable package, I'd agree with Sam in that I think a lot of skiers will probably be happy skiing this ski in a shorter length.
Jonathan Ellsworth: Again — and to try to be as clear as possible here: if you spend little time skiing big, tight moguls, you may get on the 184 cm Mantra 102 and wonder why those guy at Blister kept talking about how much ski the 184 cm Mantra 102 is. In the open, rolling terrain of the upper mountain at Arapahoe Basin, I absolutely loved the 184, and would not consider sizing down. But if I was going to do laps of bump lines down Arapahoe Basin's lower mountain — i.e., lap after lap down Exhibition and Ramrod — I think that I would start feeling a bit worked even after just a couple of laps.
Sam, Luke, and I all ended up talking quite a bit about length, and we all felt pretty confident that at a steeper, techier mountain like Crested Butte, all three of us would probably opt for the 177 cm Mantra 102 — though we haven't yet skied the 177 cm, so we are saying more than we know here. The alternative would be to stick with the 184 model, avoid certain long-ass mogul runs, and just get stronger and get used to the ski. That would certainly be an option, too.
In sum, hard-charging skiers who are physically strong are probably going to get along quite well with the 184 cm Mantra 102. But we suspect that the 177 model is still going to provide pretty good stability, while also requiring less input and feeling quicker and more maneuverable in tight terrain — and especially big moguls. In other words, we suspect that the 177 will offer a blend of performance characteristics that will be more appealing to a bigger pool of skiers than that of the 184.
(See our accompanying Deep Dive article for more on my thoughts on this, and more on the Mantra 102 vs. the M5.)
Sidecut Radius
Luke: We mentioned in our First Look of the Mantra 102 that it uses a triple-radius sidecut. We also mentioned that we don't typically pay much attention to sidecut radii numbers and the marketing copy that surrounds them. And skiing the Mantra 102 just reinforced that second point for me.
I never noticed anything weird about how the Mantra 102 carved, slarved, and otherwise went downhill. It just felt intuitive, carved well, and didn't feel hooky — just like the Mantra M5. So if you were worried that Volkl messed up by changing the sidecut on the Mantra 102 vs. the M5, don't be.
Who's It For?
Sam: Advanced to expert skiers who are looking for a powerful all-mountain ski with excellent suspension, and who want a bit more width than something like the 96mm-wide Mantra M5. I don't think beginners or intermediates will get along very well with this ski — it is quite heavy and stiff.
Luke: Yep. If you value things like damping, stability at very high speeds (in various conditions), and mostly want a ski that feels very solid, strong, and capable, the Mantra 102 makes a lot of sense.
As I noted above, if quickness, forgiveness, or playfulness are priorities for you, this is not your ski. But if you want to go fast, want your ski to encourage you to do so, and don't want it to kick your ass immediately when you screw up, the Mantra 102 is an excellent option.
Jonathan: My only caveat here would be that I think that big intermediate skiers (let's say, folks who weigh at least 180 lbs, on up to those who weigh 200, 250 lbs, or more) I think would do just fine on a Mantra 102 in a 177 cm length — especially if they are just sticking to groomers and to mellower, open, off-piste terrain. As we've said: this is not a very punishing ski — not even in a 184 cm length. And it does work relatively well at lower speeds. So while I'm not suggesting that this is the best ski for a low intermediate, the heavier you are, the less worried I would be about you being on this ski — especially in a 177.
In sum, this review of ours is of the 184 cm Mantra 102. And I do not think that it is safe in this case to assume that shorter lengths of the Mantra 102 are going to feel similar. In fact, we've seen this before: note our review of the 177 cm M5. And note my review and comments about the previous Mantra — the Mantra M4 — and how I talked about the difference between the 177 and 184 cm models.
Bottom Line
Volkl has made another excellent ski in the Mantra family with the Mantra 102. This is a strong, damp, and powerful ski that feels at home in a lot of different conditions and terrain. Advanced and expert directional skiers take note.
Deep Dive Comparisons
Become a Blister Member or Deep Dive subscriber to check out our Deep Dive of the Mantra 102 to see how it stacks up against the Mantra M5, K2 Mindbender 99Ti, Head Monster 98, Nordica Enforcer 104 Free, Fischer Ranger 102 FR, Nordica Enforcer 100, Blizzard Bonafide, Blizzard Cochise, Fischer Ranger 99 Ti, Black Crows Corvus, J Skis Masterblaster, J Skis Metal, Salomon QST 99, 4FRNT MSP 99, Salomon QST 106, ON3P Wrenegade 96, ON3P Wrenegade 108, Atomic Vantage 97 Ti, and Moment Commander 98.