Ski: 2021-2022 Salomon QST 106, 181 cm
Available Lengths: 167, 174, 181, 188 cm
Blister's Measured Tip-to-Tail Length: 179.9 cm
Stated Weight per Ski: 2080 grams
Blister's Measured Weight per Ski: 2096 & 2100 grams
Stated Dimensions: 139-105-125 mm
Blister's Measured Dimensions: 138.8-105.1-124.6 mm
Stated Sidecut Radius (181 cm): 22 meters
Measured Tip & Tail Splay (ski decambered): 67 mm / 31 mm
Measured Traditional Camber Underfoot: 5-6 mm
Core: Poplar + Titanal Binding Reinforcement + Cork Tip/Tail Inserts + Carbon, Basalt, Flax, & Fiberglass Laminate
Base: Sintered
Factory Recommended Mount Point: -8.75 cm from center; 81.2 cm from tail
Boots / Bindings: Dalbello Lupo Pro HD; Dalbello Lupo SP I.D. / Salomon Warden MNC 13
Test Locations: Front Range, CO
Days Skied: 5
[Note: Our review was conducted on the 19/20 QST 106, which was not changed for 20/21 or 21/22.]

Intro
Salomon first introduced the QST 106 in 2016, and it was good. Which is why there's a good chance you've seen a lot of them at your local ski hill.
Then, for the 18/19 season, Salomon made some minor tweaks to the QST 106.
But for the 19/20 season, the QST 106 — and most of the other men's and women's QST skis — is getting some much more significant updates, and Salomon certainly isn't downplaying them: "New construction. New technologies. New shape. Already our most award-winning collection three years running, the QST line is all-new for 2019!"
So let's dive into what's new with the 19/20 ski, what stays the same, and how the new ski's design compares to some of the other options in its category.
What Salomon says about the QST 106
"A full-length poplar wood core teams up with a Ti Power Platform in the full sandwich construction. Then we added a tip-to-tail blend of carbon fiber and basalt for increased power and edge grip. A pure flax laminate was placed directly underfoot and we added Cork Damplifier technology in the tip and tail creating an unmatched damp and stable snowfeel. We wrapped all of this up into a new shape that offers smoother turn initiation, better floatation and more confidence at speed in steeper terrain."
New Construction
The new QST 106 has the same poplar wood core and a slightly tweaked laminate construction with carbon & basalt running tip to tail and flax and titanal underfoot. That's not too different compared to the 18/19 QST 106, but what is new is the switch from Koroyd in the tips and tails to cork, an update that is supposed to help dampen the ski and reduce tip and tail chatter.
The 19/20 QST 92, 99, Stella 106, Lumen 99, and Lux 92 all get the same updates as the 19/20 QST 106 (updated construction and tweaked shapes).
The QST 118 will feature the new cork inserts in its tips and tails, but the rest of its construction remains the same for 19/20, and so does its shape.
While the QST 106's updated construction is interesting, what might be even more important is the QST 106's redesigned shape.
Shape / Rocker Profile
The new QST 106's shape is basically less tapered than the 18/19 version of the ski.
It still has more tip and tail taper than some more traditionally shaped skis like the Blizzard Cochise and Black Crows Corvus, but the new QST 106 now has a bit less tip and tail taper than skis like the Rossignol Soul 7 HD, Line Sick Day 104, and Dynastar Legend X106.
As we've noted in other reviews, taper is useful when it comes to making skis feel nimble and easy to pivot (particularly in soft and / or grabby snow), but that often comes at the cost of stability in rough / firm snow as the effective edge of the ski is reduced. So we're interested to see the extent to which the new QST 106 gets a bump up in stability.
The new QST 106's rocker profile is pretty similar to the previous version's, but now has more tip splay (67 mm now vs. 58 mm) and more tail splay (31 mm vs. 24 mm).
The new ski's tip and tail rocker lines look similarly deep compared to the previous 106's, and those rocker lines are still on the deeper end of the spectrum. We were impressed by the float of the old QST 106, and given that the new ski has a pretty similar rocker profile and more surface area in the tips, we have high expectations for how the new QST 106 will float in powder.
Flex Pattern
Here's how we'd characterize the flex pattern of the QST 106:
Tips: 6
Shovels: 6.5-7
In Front of Toe Piece: 7.5-9.5
Underfoot: 9.5
Behind the Heel Piece: 9.5-8.5
Tails: 8
The 181 cm 19/20 QST 106's flex pattern is similar to the flex pattern of the 188 cm, 18/19 version of the ski, with the tips and tails of the new ski being slightly stiffer. It's not a huge difference, but it is noticeable. The new QST 106 still has a pretty moderate flex pattern with fairly soft shovels that ramp up smoothly to a strong midsection, and it finishes with a tail that is significantly stiffer than the tip.
We certainly would not call the 19/20 QST 106 some super burly ski, but it's still pretty strong, so we're curious to see how well it combines being supportive enough to be skied hard, while being forgiving enough to not punish mistakes.
Weight
In addition to the new ski's updated shape, this is another notable change for the 19/20 ski. The 181 cm 19/20 QST 106 is coming in around 2100 grams per ski, which is heavier than the 188 cm 18/19 version of the ski.
And, for what it's worth, Salomon is providing a stated weight of 2200 grams per ski for the 19/20, 188 cm QST 106.
The 18/19 QST 106 was pretty light for its size, and given its strong all-round performance, we found ourselves recommending it to a lot of people who were looking for a 50/50 ski that they could use in the resort and for backcountry touring.
The new ski now comes in at a weight that might make it a less easy choice for a 50/50 resort + backcountry ski, but that could boost its performance in the rough snow you'll encounter inside the boundary lines of a resort.
For reference, here are a number of our measured weights (per ski in grams) for some notable skis. Keep in mind the length differences to try to keep things apples-to-apples.
1605 & 1630 Line Vision 108, 183 cm (19/20)
1642 & 1651 Renoun Citadel 106, 185 cm, (18/19)
1806 & 1862 Armada Tracer 108, 180 cm (19/20)
1848 & 1903 Line Sick Day 104, 186 cm (17/18–19/20)
1849 & 1922 Elan Ripstick 106, 188 cm (17/18–19/20)
1913 & 1943 Sego Condor Ti, 187 cm (18/19)
1923 & 1956 DPS Alchemist Wailer 106, 189 cm (17/18–18/19)
1950 & 1977 Blizzard Rustler 10, 188 cm (17/18–18/19)
1996 & 2012 Dynastar Legend X106, 188 cm (17/18–19/20)
2005 & 2035 Liberty Origin 106, 187 cm (19/20)
2010 & 2018 J Skis Vacation, 186 cm (18/19)
2013 & 2013 Moment Commander 108, 188 cm (18/19)
2018 & 2045 RMU North Shore 108, 185 cm (18/19–19/20)
2022 & 2047 Faction Dictator 3.0, 186 cm (17/18–18/19)
2026 & 2056 Black Diamond Boundary Pro 107, 184 cm (17/18–18/19)
2030 & 2039 Rossignol Soul 7 HD, 188 cm (17/18–19/20)
2036 & 2064 Salomon QST 106, 188 cm (18/19)
2046 & 2120 Black Crows Corvus, 188 cm (18/19–19/20)
2096 & 2100 Salomon QST 106, 181 cm (19/20)
2112 & 2125 4FRNT MSP 107, 187 cm (18/19)
2143 & 2194 ON3P Wrenegade 108, 184 cm (18/19)
2165 & 2211 K2 Mindbender 108Ti, 186 cm (19/20)
2165 & 2219 Icelantic Nomad 105, 191 cm (19/20)
2182 & 2218 Nordica Enforcer 110, 185 cm (17/18–19/20)
2190 & 2268 Armada ARV 106Ti LTD, 188 cm (18/19–19/20)
2233 & 2255 Nordica Enforcer 104 Free, 186 cm (19/20)
2241 & 2295 4FRNT Devastator, 184 cm (14/15–18/19)
2250 & 2307 Argent Badger, 184 cm (19/20)
2283 & 2290 ON3P Wrenegade 108, 189 cm (18/19)
2312 & 2386 Prior Husume, 188 cm (17/18–19/20)
2318 & 2341 J Skis The Metal, 186 cm (16/17–18/19)
2376 & 2393 Blizzard Cochise, 185 cm (15/16–19/20)
Some Questions / Things We're Curious About
(1) With its new construction, heavier weight, and less tapered shape, we're very curious to see how the new QST 106 compares to the previous version when it comes to skiing hard and fast in rough snow.
(2) Salomon claims that the new QST 106's shape makes for easier turn initiation, better float, and more stability at speed. So just how much of a difference will the new ski's updated shape make in those regards?
(3) The previous QST 106 stood out in part due to the fact that it was pretty stable for its weight, while also being pretty forgiving. So will the new ski, with its heavier weight and slightly stronger flex pattern, maintain that characteristic?
Bottom Line (For Now)
Salomon says that the new QST 106 is supposed to float better, be more stable, and initiate turns better than the previous version of the ski. Based on the new ski's less tapered shape and heavier weight, those actually seem like reasonable claims to make. We just got the ski on snow and Blister Members can check out our Flash Review linked below for our initial on-snow impressions. Then stay tuned for updates, and let us know in the comments section below about any questions you'd like us to address in our full review.
Flash Review
Blister Members can now check out our Flash Review of the QST 106 for our initial impressions. Become a Blister member now to check out this and all of our Flash Reviews, plus get exclusive deals and discounts on skis, and personalized gear recommendations from us.
FULL REVIEW
Variable Spring Conditions
Luke Koppa (5'8", 155 lbs): We didn't get our hands on the 181 cm QST 106 until late this past season, so a lot of our time on it was spent skiing snow that varied from brutally refrozen in the morning to deep, soft slush in the afternoon. While these weird and quick-changing conditions make for challenging skiing, I think they really highlighted the versatility of the new QST 106.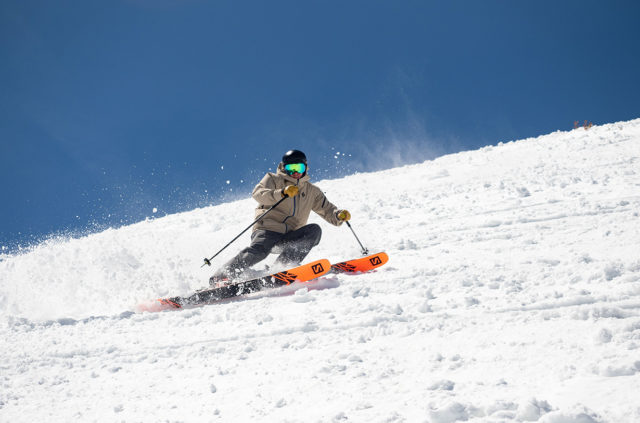 On really firm, inconsistent, early-morning snow, the 181 cm QST 106 is definitely not the most stable ski, but I do think its "suspension" (how well a ski absorbs impacts from the snow), is quite good. While it doesn't track completely unphased through rough snow at high speeds, the QST 106 doesn't feel nearly as harsh or unpredictable in these conditions as many lighter skis do.
And to clarify, the 181 cm QST 106 does still track pretty well in rough snow, especially if you put it on edge. I think beginners, intermediates, and advanced skiers will be happy with its stability. It's just not in the same class as heavier, stiffer, longer skis when it comes to very high-speed stability. (We do, however, intend to get time on the 188 cm QST 106 this coming season, so we'll see how much of a stability bump the longer model provides.)
Beyond suspension and stability, the QST 106's updated shape does a really good job of allowing both slarved and carved turns. I found it very easy to pivot (just as easy as the 18/19 version), while initiating and holding carved turns better than the previous iteration.
For me, this is important in variable conditions. With a ski like the new QST 106, I can lay it hard on edge when making faster, more aggressive turns, but then I can still easily throw it sideways to shut things down when riding at the edge of control.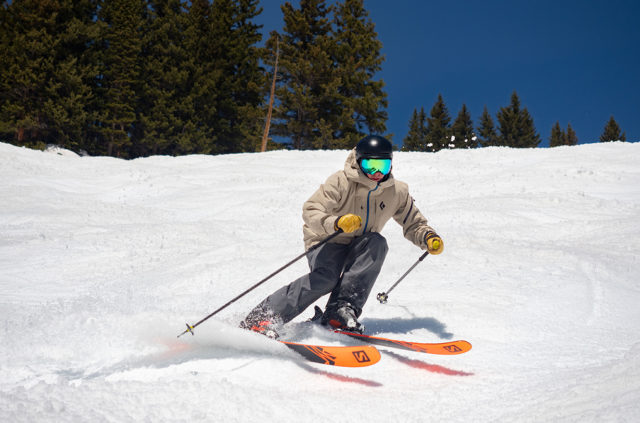 Sam Shaheen (5'10" 145 lbs): I agree with Luke here. I think the standout quality of the new QST 106 is its suspension (for its weight). One thing I also noticed with this ski is that it did a pretty good job of not getting bogged down in the thick, manky snow that we often end up skiing midday in the spring. Its tips do a good job at planing up over heavy snow rather than trying to slice through it.
Skiing the QST 106 in many types of terrain and varying snow conditions left me impressed by how versatile the ski feels. I never got into a line or snow condition where I said to myself, "I really wish I was on a different ski right now."
Groomers
Luke: On groomers, I like the new QST 106 a lot more than the previous version. As we mentioned in our First Look, skis with a lot of tip taper tend to be easy to pivot around, but that often comes at the cost of turn initiation and sometimes edge hold.
The new QST 106, with its less tapered shape, feels like a significantly better carver than the old one. Like many of my favorite skis, all I had to do was put some pressure on the QST 106's shovels and it would quickly initiate a turn and hold pretty strong through each one. I can think of a few skis this wide that are better carvers, but it's a fairly small group of skis — all of which are not as loose and playful as the new QST 106. Plus, the new QST 106 feels more energetic coming out of a turn than the previous version, which makes for a more exciting carving experience.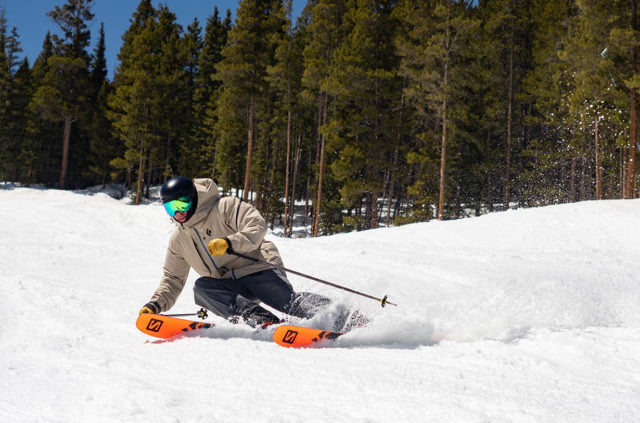 The QST 106 feels like a directional ski — I felt like I was getting the most out of the ski (edge hold, energy, & stability) when driving it through the shovels. But if you want / need to ski it centered, that's totally feasible. The sweet spot on this ski feels very big, and it will accept a variety of stances (it just feels best when driven through the front).
Sam: Though I do agree with Luke here, I think it's important to state that if you're looking to spend a lot of time on edge on firm snow, the QST 99 is a better carver than the 106. If you ski a lot of soft and firm snow, then I think the QST 106 makes a lot of sense. But the more time you tend to spend on firm snow, the more I'd look towards the QST 99 or other narrower skis.
Moguls, Trees, and Tight Terrain
Luke: As I noted above, the QST 106 is pretty versatile when it comes to making both slarved and carved turns. It also has a big sweet spot, produces some energy when bent, and the 181 cm version isn't super heavy. All of this made me like the new version in tight terrain.
In moderately spaced and / or moderately steep bumps and trees, the QST 106 was very easy and intuitive while still being supportive enough to ski quite hard.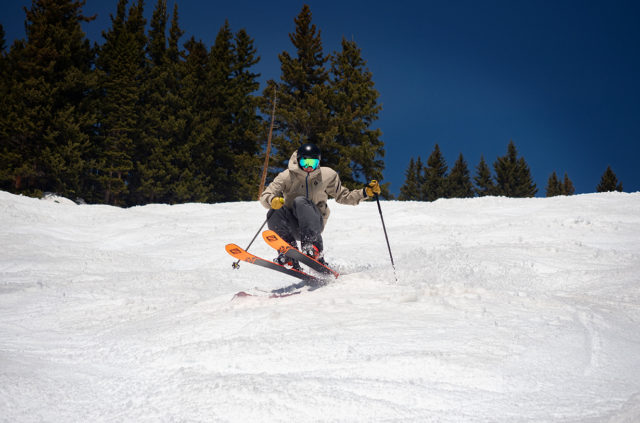 In really tight, steep, and inconsistent bumps, I would've preferred a longer ski, which is a bit odd (I tend to prefer shorter, more rockered skis in bumps). I found myself wishing for more ski to lean into when the bumps were really weird, as the 181 cm QST 106's shovels got knocked off track in these bumps a bit easier than I expected, given that it tracked pretty well in other conditions.
But apart from those really odd bumps — the ones I tend to ski pretty slowly anyway — the 181 cm QST 106 was a really predictable and intuitive ski in tight terrain. Its tail is supportive enough for me (5'8", 155 lbs) without feeling very punishing, and it was pretty accepting of both a fairly centered (but not backseat) or forward stance in tight spots.
Sam: I like the QST 106 in a lot of terrain, tight terrain included. But oddly enough, I also agree with Luke in that I wanted a bit more length in weird bumps and variable snow conditions. The shovel felt slightly vague and soft when I would really push the ski hard in tricky, tight terrain. This wasn't a big deal, but more of a subtle thing that I noticed a few times in particularly difficult terrain (or after I made a particularly bad mistake).
Playfulness
Luke: In terms of being balanced in the air and feeling designed to spin, flip, and ski switch, the QST 106 is not a very playful ski. After all, it has a -8.75 cm mount point and directional shape.
But in terms of energy and a loose / surfy feel, I would call the QST 106 pretty playful. I found it very easy to get the new QST 106 sideways, and also load up its tips or tails before airs.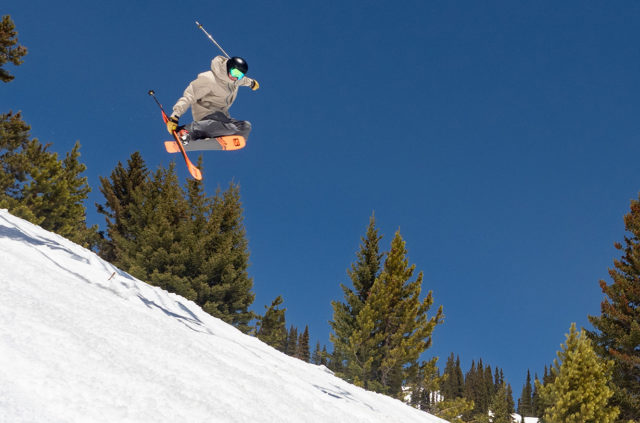 So I wouldn't recommend the QST 106 to people seeking a freestyle ski, but I think it does make a lot of sense for directional skiers who want a ski that's not "dead" and that can effortlessly switch between carved and slarved turns.
Sam: Yep, I agree exactly.
Who's It For?
Luke: Just like the new QST 99, I think there are a lot of skiers who will get along well with the new QST 106. So let's talk first about the people I would not recommend it to:
(1) Your ideal ski day involves seeing how few turns you can make down the mountain, and you like skis that are super stiff, super heavy, and that absolutely destroy everything in front of you. For those people, I'd recommend checking out the "All-Mountain Chargers" section of our Winter Buyer's Guide.
(2) Freestyle skiers who always ski centered and who want to ski switch and spin a lot. For you, I'd recommend checking out the "All-Mountain Freestyle" section of our Winter Buyer's Guide.
But if you don't fall into those two categories, the QST 106 is worth considering.
I think beginners could get along well with it in a shorter length — its sweet spot is big, it is versatile across a wide range of conditions, and it encourages good technique without demanding it.
I think intermediate and advanced skiers are probably the best demographic for the QST 106, since it is pretty easy to ski while also being strong and stable enough to ski pretty hard as you progress.
Then there are expert skiers who don't want the stiffest ski out there, but who still want a ski with good suspension and that'll work across a lot of snow conditions.
As for the question of whether it Is a 50/50 backcountry / resort ski, that one is not more complicated than it was with the previous generation of the QST 106 (which was one of our go-to suggestions for that category).
You can definitely use the new QST 106 for touring, and I think it'd be a lot of fun in most backcountry conditions. But it is now significantly heavier than the previous version, and personally, I'd be more inclined to opt for a slightly lighter ski for true 50/50 use.
Bottom Line
The old Salomon QST 106 was a good ski, and so is the new one. With its updated construction and shape, increased stability, and better on-edge performance, we'd say that the new QST 106 is a more capable ski for inbounds use (especially in rough snow) than the previous version, while the previous version — primarily because of its lighter weight — was the better option if you were spending a similar amount of time skiing inbounds and skinning up mountains.
But given that we tend to question how many skiers are actually using a ski like the QST 106 for truly equal parts ski touring and inbounds skiing, we don't mind at all the design decision to make this ski a bit heavier and a bit more inbounds-capable. And for those reasons, we think a lot of skiers will get along well with this new ski — and arguably even more than the last version.
Deep Dive Comparisons
Become a Blister Member or Deep Dive subscriber to check out our Deep Dive of the QST 106 to see how it stacks up against the previous QST 106, K2 Mindbender 108Ti, ON3P Woodsman 108, 4FRNT MSP 107, Rossignol Soul 7 HD, Line Sick Day 104, Nordica Enforcer 104 Free, Salomon QST 99, Liberty Origin 106, Elan Ripstick 106, G3 ROAMr 108, ON3P Wrenegade 108, Prior Husume, Black Crows Corvus, Moment Commander 108, J Skis Metal, Blizzard Cochise, and Faction Dictator 3.0.