Ski: 2020-2021 Salomon QST 99, 181 cm
Available Lengths: 167, 174, 181, 188 cm
Blister's Measured Tip-to-Tail Length: 179.6 cm
Stated Weight per Ski: 2090 grams
Blister's Measured Weight per Ski: 2055 & 2080 grams
Stated Dimensions: 138-99-120 mm
Blister's Measured Dimensions: 137.8-99.0-119.4 mm
Stated Sidecut Radius (181 cm): 19.4 meters
Measured Tip & Tail Splay (ski decambered): 69 mm / 28 mm
Measured Traditional Camber Underfoot: 5-6 mm
Core: Poplar + Titanal Binding Reinforcement + Cork Tip/Tail Inserts + Carbon, Basalt, Flax, & Fiberglass Laminate
Base: Sintered
Factory Recommended Mount Point: -9.8 cm from center; 80.0 cm from tail
Boots: Head Raptor 140 RS; Nordica Strider 120; Dalbello Lupo SP I.D.
Bindings: Salomon Warden 13
Reviewers:
Jonathan Ellsworth: 5'10", 175 lbs
Luke Koppa: 5'8″, 155 lbs
Sam Shaheen: 5'10", 145 lbs
Test Location: Front Range, CO
Days Skied: 9
[Note: Our review was conducted on the 19/20 QST 99, which was not changed for 20/21.]

Intro
As we noted in our First Look of the 19/20 Salomon QST 106, Salomon is overhauling their QST series for the 19/20 season. You can read more about the specific updates in our writeup of the QST 106, but the long story short is that Salomon is updating the construction and shapes of many of their QST skis, with the end goal being "smoother turn initiation, better floatation and more confidence at speed in steeper terrain."
So how does that translate to the narrower QST 99?
Shape / Rocker Profile
Like the 19/20 QST 106, the 19/20 QST 99 now has a slightly less tapered shape compared to the previous version of the QST 99. Its sidecut extends a bit farther toward the ends of the ski, and the new QST 99's tips and tails don't taper to as much of a point (i.e., they're now a bit more "blocky"). In theory, this equates to more effective edge and could potentially allow for easier turn initiation and more stability at speed.
Skis with a lot of taper tend to be easy to slide and pivot around, but removing mass and surface area from the tips and tails — and decreasing the effective edge — often makes heavily tapered skis feel "twitchy" or not stable in rough, inconsistent snow. So Salomon's decision to decrease the taper on the QST 99 seems to make sense, given that they're claiming that the new ski is going to initiate turns better and be more stable.
While the new QST 99 is less tapered than the last version, it still has a more tapered shape compared to several skis in its class like the Volkl Mantra 102, Blizzard Bonafide, and Nordica Enforcer 100.
The QST 99's rocker profile also looks a bit different than the previous version's, with the new ski having notably more tip splay (69 mm vs. 55 mm) and a bit more tail splay (28 mm vs. 20 mm). However, the 19/20 QST 99's tip rocker line now looks like it's a bit shallower than the previous ski's. The 19/20 QST 99 still has more tip and tail rocker than several skis in its class like the Mantra 102, Bonafide, and the Fischer Ranger 99Ti.
Flex Pattern
Here's how we'd characterize the flex pattern of the QST 99:
Tips: 6
Shovels: 6.5-7.5
In Front of Toe Piece: 8-9.5
Underfoot: 9.5
Behind the Heel Piece: 9.5-9
Tails: 8.5
Overall, the 19/20 QST 99's flex pattern is very similar to the flex pattern of the last version of the ski. If anything, the new ski might be a touch stiffer in the shovels and the tail, but the difference is pretty subtle.
The new QST 99 still has a fairly moderate, directional flex pattern. Its tips and shovels are pretty easy to flex, but they quickly and smoothly stiffen up as you move to the middle and finish with a pretty strong tail that's significantly stiffer than the tip.
Compared to skis like the Mantra 102 and Ranger 99Ti, the QST 99 is notably softer in the front. Overall, the QST 99's flex pattern is pretty similar to the flex patterns of the Bonafide and Enforcer 100, with the Enforcer 100 being a bit softer in the tail.
Weight
Like the new QST 106, the new QST 99 is coming in heavier than the previous iterations of the ski. At an average weight of around 2070 grams per ski for the 181 cm length, the new QST 99 now sits around the middle of the ~100mm-wide all-mountain category when it comes to weight. It's still not as heavy as some metal-laminate skis like the 184 cm Mantra 102, 185 cm Enforcer 100, and 180 cm Bonafide, but the new QST 99 now sits closer to those skis than it did before.
And for what it's worth, Salomon is providing a stated weight of 2295 grams per ski for the 19/20, 188 cm QST 99. That's pretty heavy, and is significantly heavier than our measured weight of the 17/18, 188 cm QST 99 (~2027 grams per ski).
For reference, here are a number of our measured weights (per ski in grams) for some notable skis. Keep in mind the length differences to try to keep things apples-to-apples.
1629 & 1684 Elan Ripstick 96, 180 cm (17/18–19/20)
1734 & 1750 Renoun Endurance 98, 184 cm (18/19)
1758 & 1774 Moment Commander 98, 178 cm (18/19)
1800 & 1824 Luke Koppa's Romp Skis 100, 183 cm (18/19)
1807 & 1833 Fischer Ranger 98Ti, 180 cm (16/17–18/19)
1807 & 1840 Atomic Bent Chetler 100, 188 cm (18/19–19/20)
1863 & 1894 Blizzard Rustler 9, 180 cm (18/19–19/20)
1894 & 1980 Black Crows Daemon, 183.6 cm (17/18–19/20)
1896 & 1919 Dynastar Legend X96, 186 cm (18/19–19/20)
1921 & 1968 Head Kore 99, 188 cm (18/19–19/20)
1925 & 1937 Liberty Helix 98, 186 cm (18/19–19/20)
1931 & 1932 DPS Foundation Cassiar 94, 185 cm (18/19–19/20)
1937 & 1945 Fischer Ranger 94 FR, 184 cm (19/20)
1966 & 1973 Liberty Origin 96, 187 cm (18/19–19/20)
1985 & 2006 Parlor Cardinal 100, 185 cm (16/17–18/19)
1994 & 2011 Fischer Ranger 99 Ti, 181 cm (19/20)
1998 & 2044 4FRNT MSP 99, 181 cm (17/18–18/19)
2007 & 2029 Armada Invictus 99 Ti, 187 cm (18/19–19/20)
2024 & 2029 Salomon QST 99, 188 cm (16/17–17/18)
2049 & 2065 Volkl Mantra M5, 177 cm (18/19–19/20)
2050 & 2080 ON3P Wrenegade 96, 184 cm (18/19)
2053 & 2057 Atomic Vantage 97 Ti, 188 cm (18/19–19/20)
2055 & 2080 Salomon QST 99, 181 cm (19/20)
2062 & 2063 Rossignol Experience 94 Ti, 187 cm (18/19–19/20)
2085 & 2096 Dynastar Menace 98, 181 cm (19/20)
2101 & 2104 Fischer Ranger 102 FR, 184 cm (18/19–19/20)
2114 & 2133 Nordica Enforcer 93, 185 cm (16/17–19/20)
2115 & 2149 J Skis Masterblaster, 181 cm (16/17–18/19)
2124 & 2137 Blizzard Bonafide, 180 cm (17/18–19/20)
2131 & 2189 Nordica Enforcer 100, 185 cm (15/16–19/20)
2218 & 2244 Volkl Mantra 102, 184 cm (19/20)
2233 & 2255 Nordica Enforcer 104 Free, 186 cm (19/20)
2311 & 2342 K2 Mindbender 99Ti, 184 cm (19/20)
Some Questions / Things We're Curious About
(1) All of the updates to the QST 99 seem in line with Salomon's claims about it initiating turns better, floating better in pow, and being more stable at speed. So the main question here is just how noticeable will those differences be?
(2) Due to its fairly low weight, we recommended the old QST 99 as a 50/50 ski to many people who were looking for a ski that they could tour on and use in the resort. Now that the new QST 99 is heavier, we're curious to see how it compares to some of the other heavier, more inbounds-oriented skis in this waist width.
Bottom Line (For Now)
The new Salomon QST 99 is less tapered and heavier than the previous iteration, two updates that seem in line with Salomon's claims about the new ski being more stable and easier when it comes to initiating turns. We'll be getting the new ski on snow soon, and will report back with updates ASAP.
Flash Review
Blister Members can now check out our Flash Review of the QST 99 for our initial impressions. Become a Blister member now to check out this and all of our Flash Reviews, plus get exclusive deals and discounts on skis, and personalized gear recommendations from us.
FULL REVIEW
Variable Spring Snow
Sam Shaheen (5'10", 145 lbs): I got to ski the new QST 99 in soft and variable spring conditions and, from the first turn, I was very impressed. Some skis take a little while to figure out — getting the right stance, figuring out the right skiing style, etc. That wasn't the case with the QST 99.
The first thing that I noticed about this ski is that it prefers to be driven. When I would try to make a turn from a more neutral / centered stance, the ski would pull me forward into a very comfortable, driving stance. Some skis encourage a driving stance because they feel uncomfortable and weird when skied from a neutral position, but the QST 99 just feels comfortable — it pulls you into the sweet spot in a very natural way. This ski feels very intuitive.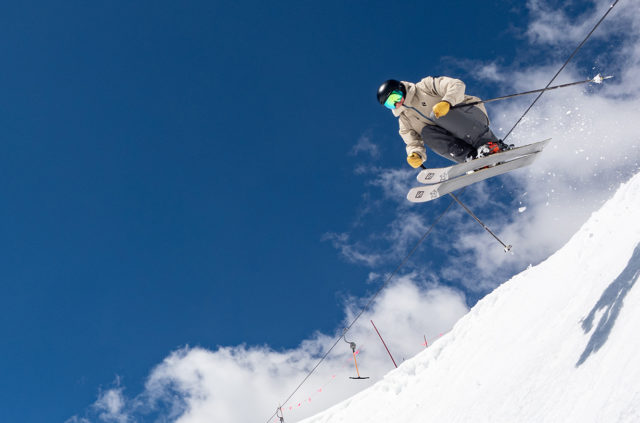 The QST 99's tail feels strong and energetic while the shovels feel accessible and comparatively soft. Often, this combination can make a ski feel a bit off balance, but the QST 99 just feels good. Whether I was trying to rail turns on groomers or plow through variable mank in steep terrain, the QST 99 felt intuitive and comfortable.
Luke Koppa (5'8", 155 lbs): Just like Sam, the word that kept coming to my mind while skiing the QST 99 was "comfortable." This ski was instantly intuitive and it took only a few turns for me to feel totally confident pushing it hard. While you might expect this to be true of a lot of skis, it's often not, and I think the intuitive feel of the QST 99 is a big part of what makes it stand out.
The 181 cm QST 99 does not feel like some super burly charger of a ski — and you definitely don't need to be an amazing skier to enjoy it. And yet, I could ski it quite hard in relatively soft conditions.
During the morning after a hard freeze, a longer, heavier ski like the 184 cm Volkl Mantra 102 is going to more easily blast through hard chunks of snow. The QST 99 is not the ski for those who's top priority is a completely calm, composed feel at super high speeds.
But I doubt many people will have issues with the new QST 99's stability. I was able to ski it very hard and fast in most of the conditions I got it in (apart from super firm off-piste snow), and it was a lot easier to ski at slower speeds compared to more stable skis.
Beyond stability, the QST 99's shape and rocker profile seem to strike a really nice balance between firm- and soft-snow performance. In the funky spring snow that could instantly transition between bottomless slush to consolidated hardpack, the QST 99 remained predictable across the varying conditions.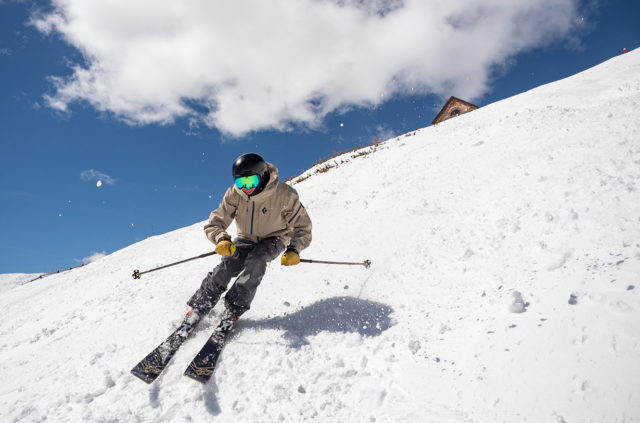 The QST 99 is quite easy to slide around when you want, but it also initiates carved turns quite well and feels strong on edge. I never had issues with the tips folding or getting hung up in the grabby spring snow, but the ski also didn't feel particularly demanding or difficult to ski. It just feels nice.
Jonathan Ellsworth (5'10", 175 lbs): I'll be 3rd Blister reviewer here to say that I instantly clicked with this ski — there was zero learning curve for me. Click in, then point and shoot. I liked this ski quite a bit in softer, off-piste conditions and terrain. And just to respond to (and try to clarify) Sam's comment that he found the QST 99 preferred to be driven … I would not say that this is some ski where you have to be driving the shovels at all times, or you are screwed. And I think Sam would agree with me — he says that he found that the ski prefers to be driven, but it also never felt uncomfortable when skied from a neutral stance.
So I think Sam and I (and Luke) are all in agreement here, but the way that I would put this is that this is a fairly strong ski that is also quite forgiving / not quick to punish instances where you get a bit off balance and / or too far in the backseat. Another way to say that is, I think that the 181 cm QST 99 is a ski that a lot of people will be able to get on, and it will make them better, more confident skiers.
Groomers
Luke: I haven't skied the old QST 99, but based on what Jonathan and Brian Lindahl said about it, it seems like the new version represents a step up in terms of turn initiation and general groomer performance.
Like many of my favorite skis, the QST 99 requires just a bit of pressure on its shovels in order to initiate a turn and it holds cleanly carved turns quite well for its width. There are definitely some skis in this class that are better pure carvers, but most of them are not as easy to ski when you head off trail.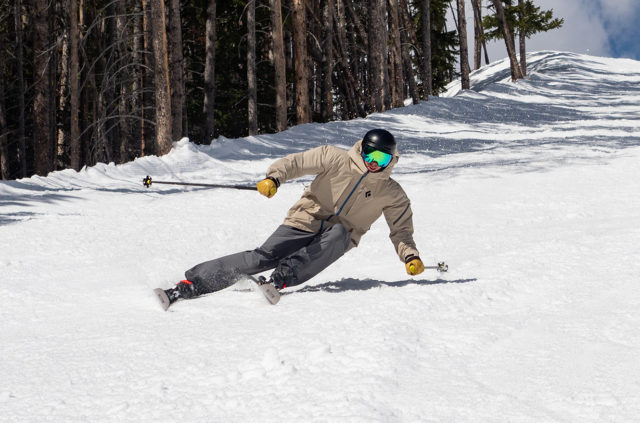 On edge, the QST 99 feels strong and it offers a moderate amount of energy coming out of a turn — not insanely poppy, but far from "dead."
Some skis feels very biased toward either groomed or ungroomed conditions, but to me, the QST 99 feels like it offers a very balanced performance envelope, which is part of why I think it makes for an excellent 1-ski-quiver option.
Moguls, Trees, and Tight Terrain
Luke: Jonathan and Brian had talked about how strong the tail was on the old 188 cm QST 99, but this new 181 cm QST 99 just feels pretty nice and manageable. I never found myself thinking that the ski was particularly demanding, but instead thought the new QST 99 felt easy to ski casually while also being strong enough for me to push it hard.
There are definitely looser skis out there (most of which have more rocker), there are lighter, quicker skis, there are softer, more forgiving ones, and there are burlier skis.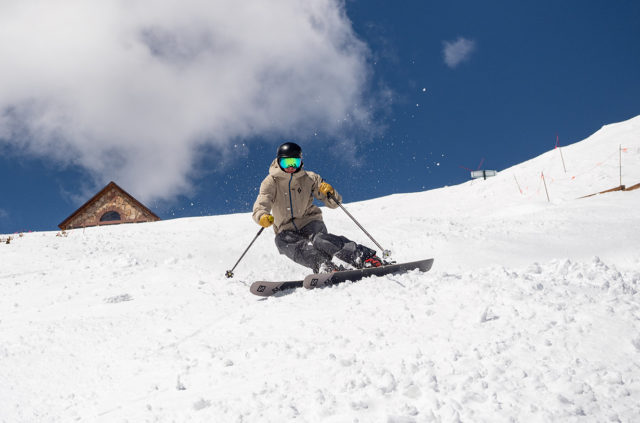 But for a lot of people, I think the QST 99's blend of (1) pretty easy maneuverability, (2) strong, but not punishing flex pattern, (3) moderate weight, and (4) pretty good suspension will make it a very appealing option in tight terrain.
Jonathan: I totally agree with Luke here, and I really liked the 181 QST 99 in moguls. It offers a very fun and appealing blend of quickness and stability. It felt pretty light on my feet, but not so light that it felt twitchy. Instead, I'd say that this is a ski that encourages you to ski moguls fast, pushing yourself to pull off quick turns (that could be more difficult on a heavier, more sluggish ski) and … basically just dance down the mogul line. And yet, if and when you want to slow things down and simply pick your way through moguls more conservatively, the ski will definitely let you do that, too. It does not need speed to work well.
Length (specifically, 181 cm vs. 188 cm)
Jonathan: This is going to be a strange section, but I wanted to at least bring this up. As we noted above, I found in my review of the previous iteration of the QST 99 that the tail on the 188 cm model was surprisingly strong, and it was not what I would describe as terribly forgiving. We heard from a few folks, however, who were surprised by my claims about the tails — though I believe that in every case, the people we heard from had only skied the 181 cm QST 99.
I am quite confident in my (and Brian Lindahl's) claims about the previous 188 cm QST 99. But it may be the case that Salomon beefed up the tail of the 188 for heavier and / or stronger skiers.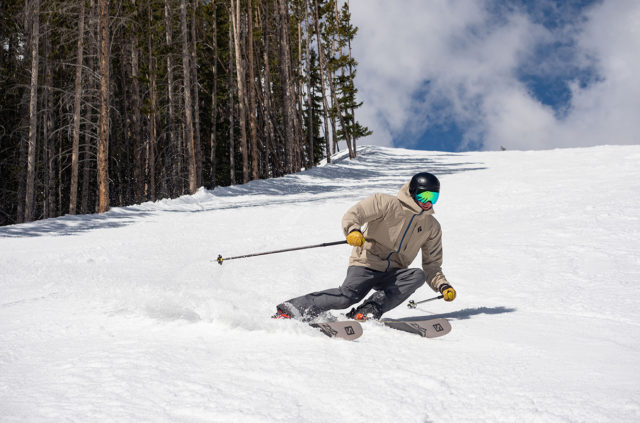 Now, with respect to this newest iteration of the QST 99 that we are reviewing here — and that we are reviewing in the 181 cm length — well, you've just heard Sam, Luke, and me all say that this is an intuitive ski that is more forgiving and supportive than it is demanding. (In fact, I personally wouldn't call the tail of the 181 demanding at all.)
So, what about the new / current 188 cm model? We have no idea. It's possible that it is also beefier and stronger like the previous 188. But we haven't been on it, so we can't say for sure. But what I mostly want to drive home here is that those who read my comments about the previous 188 cm QST 99 should be clear that those comments pertained to that specific model length — and the previous 188 cm QST 99 does not feel very similar to this current 181 QST 99.
Who's It For?
Luke: I think a really wide range of skiers could get along well with the new QST 99.
I'd be confident putting low-intermediate and advanced skiers on the QST 99, but I also think expert skiers who don't need the stiffest, heaviest ski could also appreciate the QST 99. It's a ski that's pretty strong and stable, but that's not very difficult to ski. For skiers who either want a ski that they can "grow into" or one that doesn't require they be on the gas at all times, the QST 99 makes a lot of sense.
The ski also feels very versatile across varying conditions, and I think it'd make for an excellent 1-ski quiver in many areas.
To me, the QST 99 seems like an excellent option for people who aren't really sure what they want. It may not clearly stand out in any particular condition or terrain, but it does stand out due to its lack of any notable shortcomings.
Jonathan: Yep, those who prioritize supreme stability at high speeds will find better options out there for that. And if you ski a lot of bulletproof ice, you should have something heavier and skinnier in your quiver. But honestly, for everybody else, it's hard for me to imagine anyone (who isn't tricking there way down the mountain) really disliking this ski. Another way to put that is: I think that this is a ski that should be on the feet of a whole lot of skiers. Because I think it will make them ski better and with more confidence, and they will, in turn, have more fun skiing.
Bottom Line
The updated Salomon QST 99 is one of those skis that just feels "nice." It's comfortable across a wide range of conditions and terrain, it's pretty stable without being challenging to ski, and remains intuitive and predictable throughout.
To Salomon's credit, hitting a very dialed blend of quickness and stability and supportiveness and intuitiveness is no small feat. And the result is that we can think of a lot of skiers who will get along very well with this ski.
Deep Dive Comparisons
Become a Blister Member or Deep Dive subscriber to check out our Deep Dive of the QST 99 to see how it stacks up against the K2 Mindbender 99Ti, Volkl Mantra M5, Volkl Mantra 102, Blizzard Bonafide, 4FRNT MSP 99, Fischer Ranger 102 FR, Fischer Ranger 99Ti, Nordica Enforcer 100, J Skis Masterblaster, Blizzard Rustler 9, Renoun Endurance 98, Moment Commander 98, ON3P Wrenegade 96, Rossignol Experience 94 Ti, Atomic Vantage 97 Ti, Dynastar Legend X96, and Liberty Origin 96.