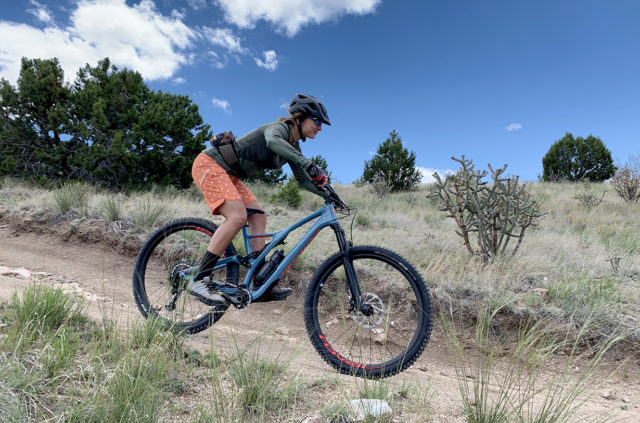 Intro
Wild Rye is a women's-specific mountain bike apparel brand. You might have seen their bright patterns and unique designs on women riding trails all over the country — at least I did while working as a mountain-bike guide with Western Spirit last year.
Wild Rye's aesthetic is definitely what makes their gear initially stand out, but this brand is focused on far more than just looks. And as someone who pretty much lives in mountain-bike shorts for half of the year, their apparel's potential blend of form and function drew me in.
I ended up spending almost a month straight in the Wild Rye Freel Short, Marion Chammy, and Sandia Shirt, squeezing every last ounce of pedaling in before I went in for ACL surgery in June. From long rides through the desert to cold and wet ones during what appeared to be a perpetual winter, I've spent a lot of time in this kit and think a lot of ladies out there will appreciate it.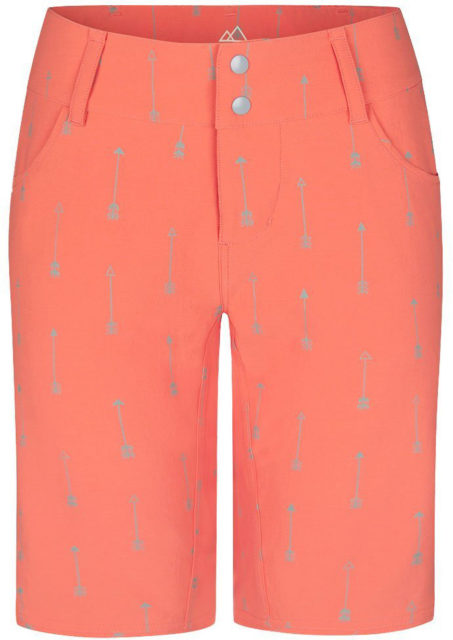 Freel Short
Size Tested: 8
Fabric: Stretch nylon w/ DWR finish
Stated Features:
Water repellant
Durable, abrasion resistant nylon
UPF 50
Breathable
Front pockets
Storage pocket big enough for your phone, sunglasses, or energy bar
Gusseted crotch
12″ inseam, size 8
MSRP: $119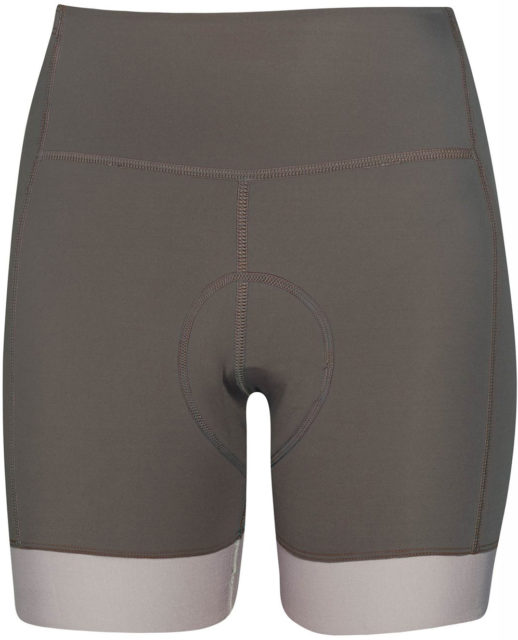 Marion Chammy Short
Size Tested: 8
Fabric: Spandex w/ bacteriostatic chammy pad
Stated Features:
Extra-high waist with new grippy elastic at the back keeps everything where it should be.
Fold over, yoga-style waist band
Bacteriostatic chammy pad sourced from Italy, designed for more comfort on longer rides
Reflective logo for visibility
Shorter leg suitable for road rides and mountain bike rides
MSRP: $115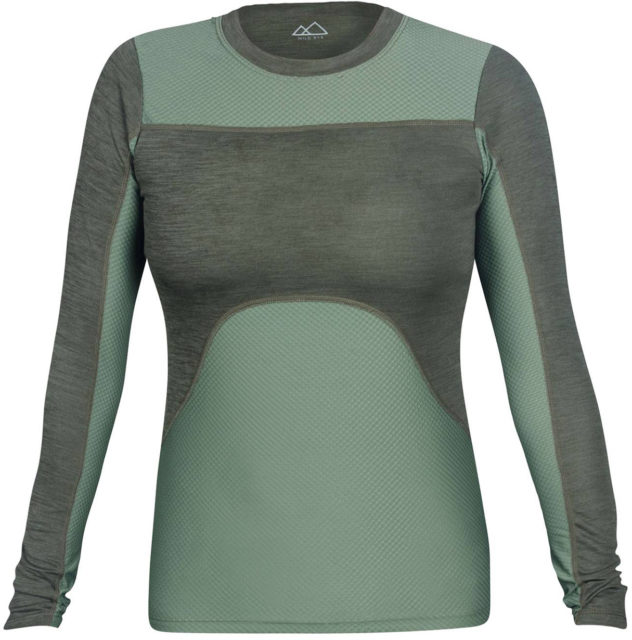 Sandia Adventure Shirt
Size Tested: 8
Fabric: Recycled polyester jersey w/ mesh panels
Stated Features:
Mesh panels for cooling
Wicking, recycled poly across whole garment
UPF 50
Breathable
Full-size 3-pocket placket
Reinforced seaming that's chafe free
MSRP: $95
Fit
It is somewhat rare to find mountain-bike apparel companies that list their sizing numerically, rather than the typical Small, Medium, Large, etc. I usually get a pretty good fit from a general women's "Medium" in both tops and bottoms but, of course, this is brand-dependent and can vary a bit. But Wild Rye's fit guide helped tremendously and, upon trying on the kit, it was obvious that going with a size 8 in all three pieces was the right choice.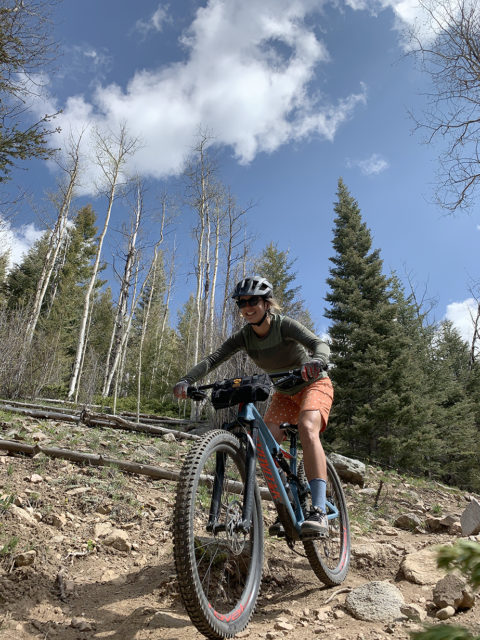 The Marion Chammy, in a size 8, fit me as a proper chammy should fit — snug to reduce movement / chafing but not too tight. It offers a nice, wide, yoga-style waistband that always feels flattering and supportive when bending, crouching, etc. The waistband and the leg cuffs also feature elastic bands with silicone grippers to prevent the fabric from shifting around, which I think is imperative for long rides.
I'm definitely a fan of how snug and smooth the fit of this chammy is, especially along the saddle zone. The chammy pad itself is thick and cushy, and offered me enough protection / support for rides of 20+ miles. After some long, hot days, the elastic around the waistband started to feel a bit grabby and stiff on the skin. Many of my other go-to chamois tend to have a bit less elastic on the waistband and leg cuffs and don't "grab" as much. But overall, the Marion Chammy was not too bulky and fit well under an overshort, offered supreme comfort in the saddle, and is a great option for long rides.
The Freel Short is the best pair of mountain biking shorts I have ever worn, and this is coming from someone who has tried shorts from a lot of different brands. When paired with the Marion chammy, they fit comfortably together.
With a 12" inseam, the Freel Short is the perfect at-knee length for me when standing. The waist is comfortable during movement, and it offers nice snap + zipper and velcro adjustment options to dial in the fit. The short moves really nicely and has a stretchy, but not too stretchy fabric.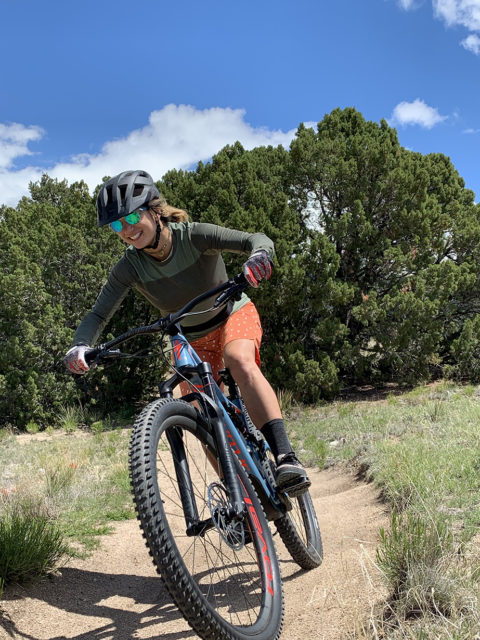 As someone who often wears bike shorts for days in a row, it's important to me that they are not excessively stretchy to the point that they feel like they are falling off. The Freel Shorts' fabric does a great job of treading this line and is durable and water resistant while still fitting comfortably against the skin and moving nicely through the pedal stroke. The Freel short fits longer in the inseam than a couple of shorts from other brands that I've worn, which I prefer (I like shorts that hit right around my knee). The Freel Short fits snugly through the hips and crotch, but it moves well enough that it not only looks flattering, but is also unrestrictive.
The Sandia Shirt, in size 8, fit in a way that was flattering and trim. The sleeves are long enough for my abnormally long torso and the shirt is flattering and snug through the torso, but not in an uncomfortable way — just enough to feel confident in. The Sandia shirt has more of what I'd call an "XC" fit — it's not super loose like most downhill jerseys. I like this cut because it isn't bulky or baggy. It's more of a trim, fitted style, complete with jersey pockets which makes it highly functional for XC or endurance riding.
Pockets
The Freel Short has, in my mind, a pretty ideal combination when it comes to pockets — two drop-in front pockets that can hold my gigantic cell phone and a small zippered pocket on the side that's a great spot for some lip balm.
The Sandia Shirt has the pretty standard bike-jersey pockets in back, divided into three sections. This pocket layout is nothing new, but I like it — especially when I can get away from carrying a huge pack, outside of guiding. In this 3-pocket placket I can carry snacks, a small water bottle, tube, tools, rain shell, etc., making it possible to forgo a pack on moderately long rides.
Material and Performance
While the materials vary quite a bit across these three pieces, the noticeable pattern is the quality, craftsmanship, and design of all of them. All three pieces have smart details, high-quality feels, and are very comfortable against the skin.
The Freel Short is made of water-resistant stretch nylon that's not only stretchy and flexible, but also pretty sturdy. The short feels great on skin and smooth through extensive movement, never bunching up along any particular area on my body. Having run into very unpredictable weather through the month of May, I was glad to see how quickly this short dries when drenched by rain, high river runoff, and puddles.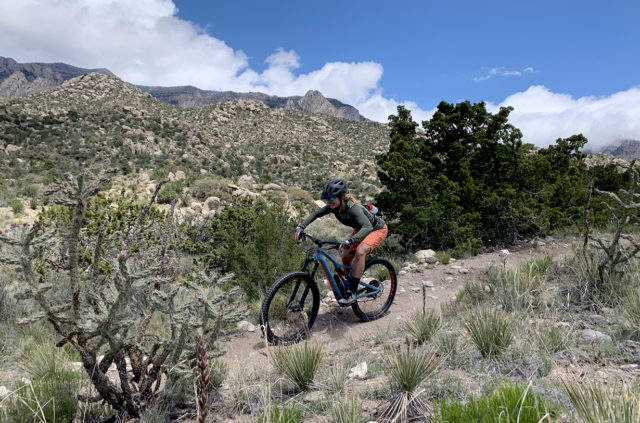 The Freel Short is hands-down the most comfortable, cute, and functional bike short I've used. I have the Freel Short in the "Cactus" pattern, which is a bright orange. After riding through the mud, the stains came out and the short basically looked new. I have worn other bike shorts with cute colored patterns from other brands and have sometimes been disappointed to see mud stains stick around even after several washes. Not so with the Freel Short.
When paired with the Marion Chammy, this made for an excellent system. I think the Marion is a great chammy, with a thick pad that anatomically fit my body well. The Marion Chammy's main material is smooth and comfortable, and its elastic bands and gripper pads made everything stay in place with absolutely no shifting or moving.
I think the Marion Chammy is an excellent chammy, just keep in mind that it's on the thicker / more supportive end of the spectrum. At times I prefer a chammy with a lighter, thinner material just to reduce bulk and keep things a little cooler — especially during hot desert rides. For this reason, I found the Marion Chammy to be ideal for the longer rides because it is pretty hefty and thick, while I prefer a thinner liner for some of my shorter rides.
One thing I appreciate about the Marion Chammy is that it uses a bacteriostatic chammy pad, which means that it helps prevent bacteria from growing / spreading. This is an important feature because unsanitary chammy conditions can lead to uncomfortable experiences in the saddle. Especially while mountain-bike guiding, this is a big plus as there have been desperate moments when I had to use a chammy for the second day in a row, and it's comforting to know that the Marion Chammy is designed with this in mind.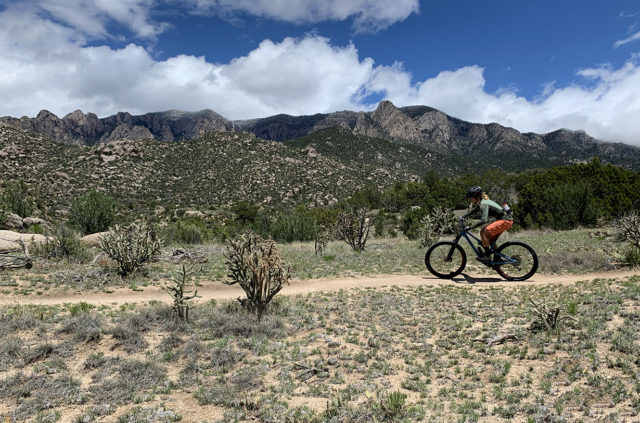 The Sandia Shirt is composed of recycled polyester with mesh paneling through most of the shirt for cooling and breathability. The shirt's UPF 50 rating means you get reliable sun protection, and its breathable fabric left me feeling comfortable through many rides of pedaling through the desert.
The Sandia Shirt offers the perfect versatility that I want from a lightweight long-sleeve shirt. I rarely wear long sleeves or sun shirts, but the Sandia Shirt was breathable enough for pretty hot rides and offered better coverage vs. a short-sleeve shirt. The Sandia also worked well for some colder spring rides as a nice layer against the cold and worked well within a layering system under a rain jacket.
The Sandia's material is incredibly soft and feels great against the skin. I found that it wicks moisture and dries quickly, having tested this with both sweat and rain. Because of its excellent breathability and extra coverage, the Sandia has become one of my go-to jerseys for a wide range of weather conditions. It never felt excessively bulky or hot, which sets it apart from several of the other long-sleeve sun shirts and jerseys that I've used.
Durability
The Freel Short has proven to be impressively durable for how light and thin it is. The Freel's light but sturdy fabric has withstood scuffs, sitting on rocks for snack breaks, and much more during my 20 days in the shorts. This isn't some ultra-burly DH short, but for a Trail short, the Freel has held up very well so far.
The Marion Chammy also seems designed for long-term durability. Every seam is reinforced and several pieces of material are used to maximize both comfort and durability. So far, the chammy shows little signs of wear.
Lastly, the Sandia Shirt has maintained its fit after 20 days and I have no durability issues to report.
As always, we'll update this review if we run into any durability issues down the line.
Who's It For?
This kit from Wild Rye is versatile for not only a wide range of lady mountain bikers, but also for activities outside of mountain biking.
The Freel Shorts are great for biking, hiking, camping, or just hanging around outside. Their lightweight-yet-durable fabric makes them a great year-round option, though you could go with something burlier or lighter for more specific uses (e.g., Downhill or XC, respectively).
The Sandia shirt offers great sun protection, wicking, temperature control, and style, making it an excellent option for a wide range of activities — from hot desert pedaling to cool evenings in the alpine.
While the Marion chammy is (obviously) limited to biking, it can be worn with or without an outer short and on road or dirt, but is probably best optimized for longer rides that require a more substantial chammy.
Bottom Line
Wild Rye has done a fantastic job of creating unique, attractive, versatile, and durable products for women, with a look and feel unlike the rest of the market. Their products come in a variety of patterns and colors, all of which are stylish and colorful, yet clean and simple. After spending some significant time in the saddle using the Freel Short, Marion Chammy, and Sandia Shirt, I think that this is one of the most functional kits I've ever had. And on top of that level of functionality, the kit also steps up the aesthetic and left me feeling cute — even after a dusty, sweaty day on the trail or being stuck out in the rain for several miles.