Ski: 2018-2019 J Skis The Friend, 189 cm
Available Lengths: 177, 183, 189 cm
Blister's Measured Tip-to-Tail Length: 186.5 cm
Blister's Measured Weight per Ski: 2343 & 2360 grams
Stated Dimensions: 143-117-133 mm
Blister's Measured Dimensions: 142.5-117-132.5 mm
Stated Sidecut Radius: 20.2 meters
Measured Tip & Tail Splay (ski decambered): 75 mm / 44 mm
Measured Traditional Camber Underfoot: 2-3 mm
Core: maple + carbon stringers + fiberglass laminate
Base: Sintered
Factory Recommended Mount Point: -6.85 cm from center; 86.4 cm from tail
Boots / Bindings: Atomic Hawx Ultra 130 / Marker Jester
Test Locations: Grand Targhee
Days Skied: 7

Intro
When J Skis first released their powder ski, The Friend, it proved to be a very intuitive and playful ski. However, these days there are a lot of playful and intuitive skis that also hold up significantly better to higher speeds than the original Friend. The old Friend was a good, fun ski, but it seemed best for skiers who wanted maximum playfulness, while other skis worked better for skiers who wanted a ski that was both playful and stable.
This year, J redesigned The Friend. It's now got a whole new shape and new length options designed to make the ski "bigger and more badass." So what does that actually mean? Let's take a look…
What J Skis says about the Friend:
"I've totally redesigned The Friend this year to be bigger and more badass, than your old friends! We've given it a completely new shape, widening it under foot by 3mm to a 117mm waist and increased the tip and tail width by 7mm. It's new width, in combination with a longer gentle rocker makes it effortless to surf, pivot and smear bottomless pow like a pro. The real surprise comes when the pow is gone; it's new tighter sidecut radius and high energy flex pattern grips it and rips it on firm snow like no other ski in its class. The Friend is a rare breed of powder ski that truly gives you the best of both worlds. Float, surf, slash and butter in the deep pow until it gets tracked out, then have equal fun charging endless top to bottom groomer and chunder laps. This is a powder skier's one ski quiver dream!"
The main changes to the Friend come in its shape and sidecut. The new ski is now 117 mm wide (vs. 114 mm for the previous version), and the new ski also has a slightly tighter sidecut radius. The old 180 cm Friend had a 19.5 m radius, while the new 183 cm Friend has an 18.5 m radius.
Beyond those design changes, J mentions several things we typically see these days when it comes to ~115 mm skis — The Friend is supposed to float, slash, and butter in deep snow while also being capable in tracked-out and firm snow.
Models & Lengths
Since J Skis doesn't operate on the traditional model-year schedule, we wanted to quickly clarify which ski we're referring to when we talk about the "new" Friend. The new ski is currently only offered in the "Cascade" graphic pictured above. All Friend graphics prior to the Cascade graphic are the old, 114mm-wide version of the ski. Our pair of the new Friend has the old "Pioneer Cabin" graphic, but the ski itself is actually the new, 117mm-wide version of the Friend.
It's also worth quickly touching on the new lengths of The Friend. The previous version was offered in 173, 180, and 186 cm lengths. The new Friend is offered in 177, 183, and 189 cm lengths. The 189 cm version we're testing comes with the nickname "Big D" stamped on the ski, and you can take your best guess at what that refers to. Apart from the nickname and longer length, the 189 cm version is the same as the other lengths in terms of construction.
Since the old 186 cm Friend measured around 183 cm long, we're happy that bigger skiers now have a longer option with the new ski.
Shape / Rocker Profile
The new Friend looks very similar to the previous version. Both versions have pretty moderate tip and tail taper (for skis of their size), and share J Ski's smooth and subtle taper lines.
The new Friend's rocker profile is also quite similar to the previous ski. The new ski has a pretty deep tip rocker line, but the tip doesn't start really rising off the ground / snow until the end of the ski. J says that all of his skis have rocker profiles that are designed to match their sidecuts, thus theoretically increasing edge contact when you lay them over while still providing float in fresh snow.
The Friend's tail rocker line is much shallower than its tip rocker line — it basically looks like a park ski's twin tip, just with a slightly deeper rocker line. There are many playful pow skis out there that have deeper tail rocker lines than the Friend (e.g., Rossignol Black Ops 118, ON3P Kartel 116, and Atomic Bent Chetler 120).
Flex Pattern
Here's how we'd characterize the flex pattern of the Friend:
Tips: 6
Shovels: 6.5-7
In Front of Toe Piece: 7.5-9
Underfoot: 9.5
Behind the Heel Piece: 9-8
Tails: 7.5-7
The new Friend has a very smooth flex pattern that starts out pretty soft in the tips and shovels and then slowly ramps up to a pretty solid section around the bindings. It softens up similarly behind the heel piece, though the back half of the ski is noticeably stiffer than the front half.
Compared to the old 186 cm Friend, the new 189 cm Friend is a bit stiffer throughout. Compared to the 18/19 J Skis Vacation, the Friend is a bit softer in the front of the ski and a bit stiffer in the back.
Weight
Like the previous version, the new Friend is on the heavier end of the spectrum compared to most of the other skis in its class. But despite being a bit wider and longer, the new 189 cm Friend is almost the same weight as the old 186 cm Friend we reviewed.
For reference, here are a whole bunch of our measured weights (per ski, in grams) for a number of notable skis. As always, note the length differences to keep things apples to apples.
1710 & 1744 Atomic Bent Chetler 120, 184 cm (18/19)
1910 & 1941 Scott Scrapper 115, 189 cm (17/18–18/19)
2013 & 2099 Moment Wildcat / Blister Pro, 184 cm (18/19)
2034 & 2052 Blizzard Rustler 11, 188 cm (17/18–18/19)
2083 & 2097 Line Magnum Opus, 188 cm (15/16–18/19)
2102 & 2137 Line Sick Day 114, 190 cm (17/18–18/19)
2126 & 2173 Rossignol Super 7 RD, 190 cm (17/18–18/19)
2130 & 2130 Moment Wildcat / Blister Pro, 190 cm (18/19)
2133 & 2133 Salomon QST 118, 192 cm (17/18–18/19)
2161 & 2163 Faction Dictator 4.0, 186 cm (17/18–18/19)
2183 & 2190 Black Crows Anima, 188.4 cm (17/18–18/19)
2196 & 2199 Icelantic Nomad 115, 191 cm (17/18–18/19)
2220 & 2252 Faction Prodigy 4.0, 186 cm (17/18–18/19)
2212 & 2215 Armada ARV 116 JJ, 185 cm (17/18–18/19)
2222 & 2278 Prior CBC, 184 cm (17/18–18/19)
2228 & 2231 Blizzard Spur, 192 cm (17/18–18/19)
2230 & 2250 Black Diamond Boundary Pro 115, 185 cm (17/18–18/19)
2246 & 2265 Fischer Ranger 115 FR, 188 cm (17/18–18/19)
2267 & 2270 Whitedot Ragnarok 118, 190 cm (16/17–18/19)
2296 & 2309 Liberty Origin Pro, 192 cm (17/18–18/19)
2297 & 2317 K2 Catamaran, 184 cm (17/18–18/19)
2341 & 2357 Dynastar PR-OTO Factory, 189 cm (18/19)
2343 & 2360 J Skis Friend, 189 cm (18/19)
2346 & 2351 Nordica Enforcer Pro, 191 cm (17/18–18/19)
2370 & 2387 Volkl Confession, 193 cm (17/18–18/19)
2382 & 2395 ON3P Billy Goat, 184 cm (17/18–18/19)
2408 & 2421 ON3P Kartel 116, 186 cm (17/18–18/19)
2418 & 2433 ON3P Wrenegade 114, 189 cm (18/19)
2429 & 2437 Kingswood SMB, 188 cm (16/17–18/19)
2438 & 2492 Rossignol Black Ops 118, 186 cm (16/17–18/19)
2490 & 2529 K2 Catamaran, 191 cm (17/18–18/19)
Bottom Line (For Now)
The updated J Skis Friend looks like it shares a lot of the same DNA as the original — playful shape and rocker profile, moderate flex pattern, and a fairly hefty weight. But it's also a bit bigger, stronger, and … maybe more badass? Blister Members can read our Flash Review linked here for our initial on-snow impressions, and we'll soon be posting our full review.
Flash Review
Blister Members can now check out our Flash Review of The Friend for our initial impressions. Become a Blister member now to check out this and all of our Flash Reviews, plus get exclusive deals and discounts on skis, and personalized gear recommendations from us.
FULL REVIEW
As we noted in our First Look of The Friend, it received a bunch of relatively minor tweaks this year, as opposed to a full overhaul. We've been skiing this updated Friend in a wide range of conditions this winter, as well as skiing it back to back against the old version and a few other skis in this class.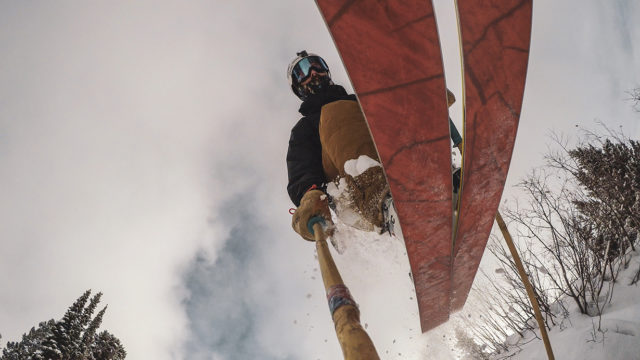 Our biggest takeaway is that, even though the design changes to this ski are subtle, the overall outcome has resulted in a ski that's pretty different from the old version. While we had no problem with the original Friend, it struck us as a somewhat bland ski, and as such, we didn't find ourselves recommending it to that many people. It was a reasonably competent ski across a wide range of conditions, but it didn't really excel at anything specific. And more importantly, there were a few skis that were just plain better at the all of the things that the old Friend was good at. This new Friend changes all of that. It has more pronounced strengths (and weaknesses) than the original version, and occupies a unique place in the playful pow ski category.
Overall Personality — AKA: The "Big D" Effect
J's tongue-in-cheek name for the 189 cm Friend we tested is the "Big D" edition, and while that name is just asking for ridicule, I think it really fits in this context. The new 189 cm Friend is bigger, faster, stronger, and more capable than the old version — across the board. It floats better in pow, it absorbs chatter better, it responds better to a forward stance, and it just generally wants to go big and straight line runouts. So here's how that pans out in a variety of conditions:
Deep Pow
In deep powder, the new Friend is one of the most powerful and aggressive skis in this class of playful pow skis. A lot of that can be attributed to its size and weight. The Friend's tips are hard to sink, so you can ski it in a much more forward position than the old version, and it has the stability necessary to go really fast in good snow.
And yet, the new Friend is still pretty easy to pivot and turn in tighter areas. The Friend's rocker profile and shape mean that, as long as you have the leg power to turn its fairly hefty mass, it has no trouble pivoting on a dime. The tips and tails don't catch on the snow, and you can ski it more slowly in a more centered stance when you need to.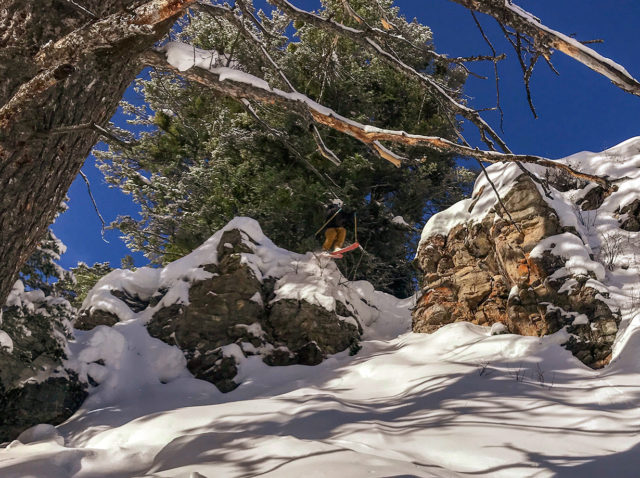 That said, The Friend is nowhere near as playful and slashy as something like the 184 cm K2 Catamaran or 184 cm Atomic Bent Chetler 120. The 189 cm Friend is just too long and heavy for a skier my size (6', 175 lbs) to drive sideways as easily as I can on those skis (which are probably the two surfiest skis in this class that we've used).
Soft Chop
In my opinion, soft conditions with a supportive, firmer base are where The Friend shines. Think day after the storm when landings are still soft, but the sun is out and you want to go big. Here, The Friend has a very high speed limit that I think is the result of two main characteristics. First off, it's heavy, long, and damp. Heavy, long, and damp skis make it easy to go fast and take chances.
That said, The Friend has a pretty tight sidecut and plenty of taper and rocker. That means it's also pretty easy to turn quickly when you need to. And the key to hauling ass and going big is having the ability to shut it all down when you need to. The Friend let's you do exactly that.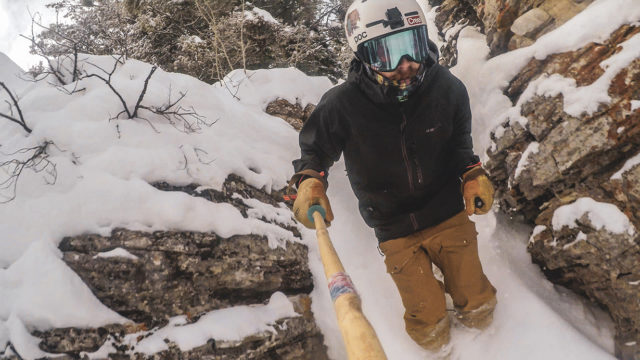 That combination makes this ski a blast on soft days when you want to go fast. You can take that air bigger than before, knowing that you'll be able to scrub speed without exploding or hitting that kid on the groomer below. The Friend's tips and tails don't catch / hook up unpredictably, so it's easy to skid and slarve through a wide variety of turn shapes.
Firm Chop
In firm conditions, a talented skier could rage on The Friend. Again, it's a long, damp ski that's easy to turn — a good combo. But its edge hold isn't that impressive as things get icier, and its size and heft make it feel like a bit of a burden in these conditions. On firmer, shallower snow, it just doesn't make that much sense to be on a 189cm-long, 117mm-wide ski that weighs a lot. That's why J makes the 106mm-wide Metal, which is a great ski for these conditions.
Bumps
If you want to ski moguls traditionally (i.e., quickly pivoting through every trough), The Friend is a lot of ski. Sure, it's easy to turn, but it's also long and heavy. So you're going to wear out your legs trying to nail that zipper line on The Friend.
But if you want to air off the cat track into that mogul field, make half a turn, and then straight line out, the new Friend is happy to oblige. All its mass means that, in bumped-up snow, you can take a strong, centered stance and then just sort of let the ski do its thing underneath you, knowing that it's going to take a pretty substantial impact to throw it off course.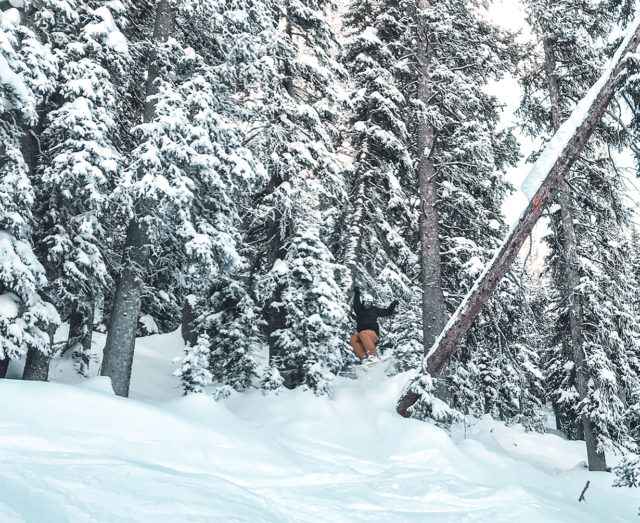 I never found The Friend's speed limit in bumped snow. As long as you can stay on top of it, The Friend will keep absorbing enough of the impacts so that you don't get bucked.
Now, if you're a directional skier who prioritizes maximum stability and support over forgiveness and maneuverability, you'd still be better off on a stiffer ski, and probably one with less tip and tail rocker and taper (e.g., the skis in the "All-Mountain Chargers" section of our Buyer's Guide). But if you want stability and playfulness, that's where The Friend makes a lot of sense.
In the Air
The Friend has a twinned tail, and is skied by guys like Sander Hadley and Giray Dadali, who are known for their spinning and jibbing. But when you watch videos of Sander on The Friend, it's important to remember that in his first edits — in which he's throwing huge screaming semen's, 3's, and backflips — he was on a pair of 191 cm ON3P Caylors (a very big, heavy ski). He's a pretty big guy who can make big skis look like light jib sticks.
For the rest of us, the 189 cm Friend is a pretty heavy ski, and it feels like it in the air. Some skis manage to be pretty heavy while also having a pretty light-feeling swing weight. That's not The Friend. On The Friend, shifties were a little harder on my hips than usual, and I found myself having to go bigger to get my spins around. It's definitely not impossible to spin The Friend, but I think it's telling that after a few 360's on The Friend, I switched back to the Moment Deathwish and promptly over-rotated to 540°. It just takes a little more input to get The Friend around.
All that said, The Friend feels very balanced in the air, and that weight is awesome when you want to stomp the crap out of a questionable landing.
It's also worth noting that I played around with the mount point on The Friend (moved to 1 cm in front of the recommended line, and 1 cm behind), and didn't notice much of a difference. Like most of the other J Skis we've used, the Friend doesn't feel very sensitive to mount point.
Compared to the Old Friend
Go bigger and faster. That's the new Friend's simple mantra. It takes the original package and ramps up the stability. The new Friend is not as easy to slash and spin as the original, but it's got a much higher speed limit, and offers better float.
Who's It For?
When folks asked about the old Friend, I often found myself pointing them to either the ON3P Kartel 116 or the Moment Deathwish or Wildcat. I found that all three of those skis were just as easy to turn and slash, but charged a little harder on firm conditions. It was hard to make a case for the old Friend in that context — it was a jack-of-all-trades in a crowded marketplace, competing with skis that were jacks-of-more-trades, and were better at all of them.
Not so with the new Friend — it's found a real niche in this realm. The bump up in stability and speed limit, without much of a loss in maneuverability means that the new Friend is a perfect fit for anyone who wants to charge hard and play around — both on the storm day, and the week after it. The Friend likes to be driven hard, but doesn't need to be. It's forgiving enough that it doesn't put you on your ass as the snow gets tracked and your legs turn to jello.
The Friend is also a great option for folks coming from more traditional, directional powder skis and who are looking to add something a little more playful to their quiver. The Friend (at least the 189 cm version) won't easily fold under their more forward stance, but it will allow them to slash and spin.
Bottom Line
In its recent redesign, the J Skis Friend has solidified itself as a very capable, but still playful pow ski. It's got a much higher speed limit, more float, and is more responsive to a range of skiing styles compared to the old model, while still maintaining that easy-to-turn feel that's becoming a hallmark of J Skis. It's always exciting to see a once-mediocre ski find its place in the market, and The Friend is an excellent example of this.
Deep Dive Comparisons
Become a Blister Member or Deep Dive subscriber to check out our Deep Dive of The Friend to see how it stacks up against the ON3P Kartel 116, Atomic Bent Chetler 120, Armada ARV 116 JJ, Moment Wildcat, previous Friend, and K2 Catamaran.