Ski: 2021-2022 Volkl Revolt 121, 184 cm
Available Lengths: 177, 184, 191 cm
Blister's Measured Tip-to-Tail Length: 182.2 cm
Blister's Measured Weight per Ski: 2240 & 2250 grams
Stated Dimensions: 143-121-135 mm
Blister's Measured Dimensions: 142.5-120.4-134.2 mm
Stated Sidecut Radius (184 cm): 19.2 meters
Measured Tip & Tail Splay (ski decambered): 87 mm / 53 mm
Measured Traditional Camber Underfoot: 4-5 mm
Core: Multi-wood core + fiberglass laminate
Base: P-Tex 3000
Factory Recommended Mount Point: -2.8 cm from center; 88.3 cm from tail
Boots / Bindings: Dalbello Lupo Pro HD; Nordica Strider 120 / Marker Griffon
Reviewer: 5'8″, 155 lbs
Test Location: Front Range, CO
Days Skied (so far): 3
[Note: Our review was conducted on the 19/20 Revolt 121, which was not changed for 20/21 or 21/22, apart from graphics.]

Intro
Volkl's playful powder skis haven't undergone a lot of change over the past several years. What started with the One, Two, and Three turned into the Bash 116, Revolt 124, and Bash 135, but the actual construction of the skis wasn't changed.
For 19/20 Volkl is moving in a whole new direction, ditching those previous skis and introducing a brand-new model — the Revolt 121. You may have seen the new Revolt 121 on a few big-mountain podiums this year, most notably under the feet of 2019 Freeride World Tour overall champion, Markus Eder:
Volkl has been hyping up the level of athlete input that's gone into the creation of the Revolt 121, and they definitely have the team to back that up. The likes of Markus Eder, Sam Smoothy, Fabio Studer, Colter Hinchliffe, Tanner Rainville, Paddy Graham, and Tom Ritsch all apparently provided feedback on the design of the new ski. And the ski's engineer, Lucas Romain, is a pretty talented freestyle rider, himself.
So what's the result of all that athlete feedback, and how does the Revolt 121 compare to the rest of the market?
Shape / Rocker Profile
Volkl's previous freestyle pow skis did have some early taper, but their shapes were pretty straight, with the tips and tails not tapering to much of a point. The Revolt 121 changes that.
The Revolt 121 has pretty dramatic taper lines, with the contact points of the ski being fairly close to the middle of the ski. The Revolt 121's tips taper to more of a point than the Bash 116 or Revolt 124 that it effectively replaces. In the tail, the Revolt 121 still has pretty deep taper lines, but it has more of a blunted tail shape.
The Revolt 121's rocker profile also stands out. It has a ton of tip splay (87 mm) and a pretty high tail (54 mm tail splay). And the Revolt 121's rocker lines are also quite deep, being a bit deeper than some other freestyle skis like the Moment Wildcat / Blister Pro and Rossignol Black Ops 118, and similarly deep compared to others like the K2 Catamaran.
Flex Pattern
Here's how we'd characterize the flex pattern of the Revolt 121:
Tips: 6.5
Shovels: 7-8
In Front of Toe Piece: 8.5-9.5
Underfoot: 9.5
Behind the Heel Piece: 9.5-8.5
Tails: 7.5-6
The Revolt 121 has a pretty round flex pattern, with the very ends of the tails being just slightly softer than the tips. The ends of the ski are pretty soft, but it pretty quickly and smoothly stiffens up as you move to the middle of the ski.
Given that Volkl's athletes are not only using this ski to throw tricks and land switch, but are also skiing it on some seriously consequential lines, the Revolt 121's flex pattern seems to make sense. It's accessible at the ends, but there's a pretty big, solid section around the middle.
Overall, the Revolt 121's flex pattern reminds us of the flex patterns of the Moment Wildcat and Rossignol Black Ops 118 (two skis we really like). The Revolt 121 is a bit softer overall vs. the Wildcat, and is a bit stiffer at the very ends vs. the Black Ops 118.
Mount Point
The Revolt 121 has a very progressive / forward recommended mount point of around -2.8 cm from center. That puts it in line with other freestyle skis like the Black Ops 118, Line Outline, and Prior CBC.
During our testing, we'll be skiing the Revolt 121 with the bindings moved around that recommended line to get a better idea of how it responds to different skiing styles.
Weight
The old Volkl freestyle pow skis were heavy. Like, really heavy. The stated weight for the 186 cm Revolt 124 was 2700 grams per ski (!!!).
Volkl has been emphasizing the Revolt 121's lower weight, and it is true that it's lighter than its predecessors. But at around 2245 grams per ski for the 184 cm version, the Revolt 121 still isn't some ultralight ski. That's not something we have a problem with.
We've come to really like skis that are both playful and stable, and many of the skis that fit those criteria are not super light. The Revolt 121 isn't as hefty as the 184 cm Catamaran or 186 cm Black Ops 118, but the Revolt 121 is still heavier than many skis in its class. So we're very curious to see how the Revolt 121 compares to the other playful, fairly heavy skis out there.
For reference, here are a number of our measured weights (per ski in grams) for some notable skis. Keep in mind the length differences to try to keep things apples-to-apples.
1710 & 1744 Atomic Bent Chetler 120, 184 cm (18/19–19/20)
1808 & 1809 Line Pescado, 180 cm (17/18–19/20)
1910 & 1941 Scott Scrapper 115, 189 cm (17/18–18/19)
1931 & 1959 Volkl BMT 122, 186 cm (17/18–18/19)
2013 & 2099 Moment Wildcat / Blister Pro, 184 cm (18/19–19/20)
2019 & 2051 K2 Mindbender 116C, 186 cm (19/20)
2024 & 2031 Line Outline, 186 cm (19/20)
2034 & 2052 Blizzard Rustler 11, 188 cm (17/18–19/20)
2043 & 2046 4FRNT Inthayne, 188 cm (18/19-19/20)
2102 & 2137 Line Sick Day 114, 190 cm (17/18–19/20)
2126 & 2173 Rossignol Super 7 RD, 190 cm (17/18–19/20)
2130 & 2130 Moment Wildcat / Blister Pro, 190 cm (18/19–19/20)
2130 & 2213 Faction Candide 4.0, 188 cm (19/20)
2133 & 2133 Salomon QST 118, 192 cm (17/18–18/19)
2183 & 2190 Black Crows Anima, 188.4 cm (17/18–19/20)
2196 & 2199 Icelantic Nomad 115, 191 cm (17/18–18/19)
2220 & 2252 Faction Prodigy 4.0, 186 cm (17/18–19/20)
2212 & 2215 Armada ARV 116 JJ, 185 cm (17/18–19/20)
2222 & 2278 Prior CBC, 184 cm (17/18–19/20)
2228 & 2231 Blizzard Spur, 192 cm (17/18–19/20)
2230 & 2250 Black Diamond Boundary Pro 115, 185 cm (17/18–19/20)
2240 & 2250 Volkl Revolt 121, 184 cm (19/20)
2246 & 2265 Fischer Ranger 115 FR, 188 cm (17/18–18/19)
2267 & 2270 Whitedot Ragnarok 118, 190 cm (16/17–18/19)
2296 & 2309 Liberty Origin Pro, 192 cm (17/18–19/20)
2297 & 2317 K2 Catamaran, 184 cm (17/18–19/20)
2341 & 2357 Dynastar PR-OTO Factory, 189 cm (18/19–19/20)
2343 & 2360 J Skis Friend, 189 cm (18/19)
2346 & 2351 Nordica Enforcer Pro, 191 cm (17/18–19/20)
2382 & 2395 ON3P Billy Goat, 184 cm (17/18–18/19)
2408 & 2421 ON3P Kartel 116, 186 cm (17/18–19/20)
2429 & 2437 Kingswood SMB, 188 cm (16/17–18/19)
2438 & 2480 DPS Foundation Koala 119, 189 cm (19/20)
2438 & 2492 Rossignol Black Ops 118, 186 cm (16/17–19/20)
2490 & 2529 K2 Catamaran, 191 cm (17/18–19/20)
Some Questions / Things We're Curious About
(1) The Revolt 121 was apparently designed with a lot of input from some very hard-charging skiers who also like to throw big tricks. So just how playful will it feel, and what about stability at speed?
(2) The Revolt 121 has a lot of taper and rocker, so how surfy and loose will it feel?
(3) What about not-so-deep conditions? Will the Revolt 121's taper and rocker detract from its performance in less ideal conditions?
(4) The Revolt 121 is fairly heavy for its size, so how will it compare to other playful, heavier skis like the Rossignol Black Ops 118, DPS Koala F119, and Prior CBC?
Bottom Line (For Now)
The Volkl Revolt 121 looks like a fresh evolution of the brand's playful pow skis. Its shape and rocker profile are now more in line with many other modern playful pow skis, but it maintains a bit of the heft and stiffness of the old Volkl skis that could give it an edge on the lighter, softer pow skis out there when it comes to stability. We'll be getting the Revolt 121 on snow soon, so stay tuned for updates.
Flash Review
Blister Members can now check out our Flash Review of the Revolt 121 for our initial impressions. Become a Blister member now to check out this and all of our Flash Reviews, plus get exclusive deals and discounts on skis, and personalized gear recommendations from us.
FULL REVIEW
Luke Koppa (5'8", 155 lbs): I've now had the chance to spend a few days on Volkl's new pow ski, the Revolt 121, in conditions ranging from soft and slushy, to brutally firm, to powder.
I talked a bit about my preliminary impressions of the ski on episode #49 of our GEAR:30 podcast, but now it's time to flesh things out further.
Powder
We didn't get on the Revolt 121 till the end of April, so I didn't have high expectations for skiing it in any deep powder right away. But with the crazy good spring we had in Colorado, I was able to spend a day on it in during a storm that dropped about a foot of fresh snow.
In powder, whether shallow or fairly deep, the Revolt 121 really just "clicked" for me. As someone who really likes skis on the more playful end of the spectrum, the Revolt 121 was instantly intuitive and — more importantly, fun — in fresh snow.
There are a couple skis I can think of that are a bit looser and "surfier" than the Revolt 121, but this is one of the easiest skis I've used when it comes to heading down the hill with your skis pointed across the fall line. Like the Dynastar PR-OTO Factory, the Revolt 121 was so easy to slash around that I found myself getting face shots in only a few inches of snow. Just straight line for a bit, pivot the ski from your ankles, and you've got a full snow beard (or, in my baby-faced case, cold cheeks and pow plastered all over your neck gaiter).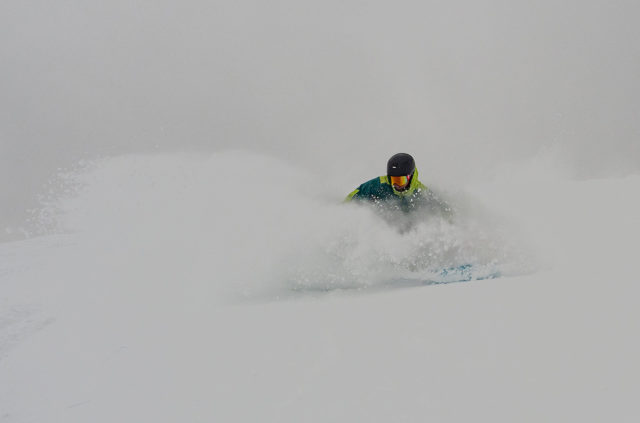 In fresh snow, the Revolt 121 felt best when I maintained a pretty balanced / neutral stance, rather than a forward one where I'm driving the shovels super hard. I never had any issues with tip dive (even when I did drive the front of the Revolt 121), but it just felt most natural when I was sitting more in the middle of the ski and skiing from my ankles, rather than smashing the front of my boots with my shins.
I still want to get some more time on the Revolt 121 before I make any final claims about how it performs as a pure powder ski, but so far, it seems like another excellent addition to the class of playful pow skis that favor going sideways, backwards, and upside down in fresh snow, rather than making huge, sweeping turns down the fall line.
But just because it is super fun to slash and slide around on the Revolt 121, doesn't mean that it's some slouch when you're not skiing untouched snow….
Soft Chop
The Revolt 121 is heavy and pretty stiff for a ski in this category. And I suspect that those two aspects are a big part of why this ski stays so composed in soft chop.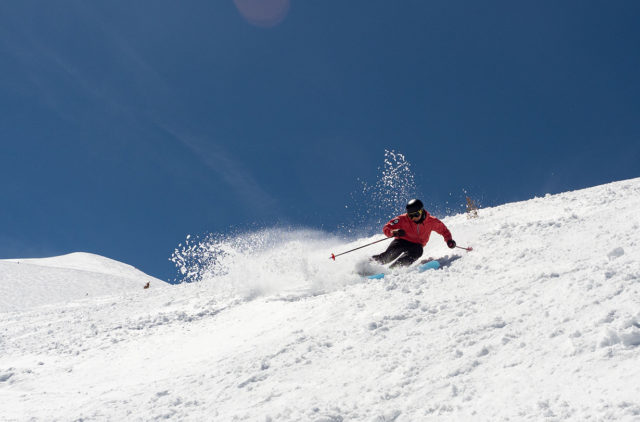 To be clear, the Revolt 121 is not a ski I'd recommend to people who primarily want to ski really fast in chop and don't care much about playfulness, looseness, or actually smiling and having fun down the mountain (just kidding on that last one — mobbing straight through chop is a lot of fun in its own way). But if you only care about raging, then check out our "Powder Skis – More Directional" section of our Winter Buyer's Guide.
But for a ski that has this much rocker, this much tip and tail taper, and that's this playful, I'd say that the Revolt 121 is quite stable. As long as the chop was fairly soft / unconsolidated, I didn't really feel the need to dial back my speed on the Revolt 121. And combined with just how fun this thing is to slash and spin, that made the Revolt 121 a blast in soft chop.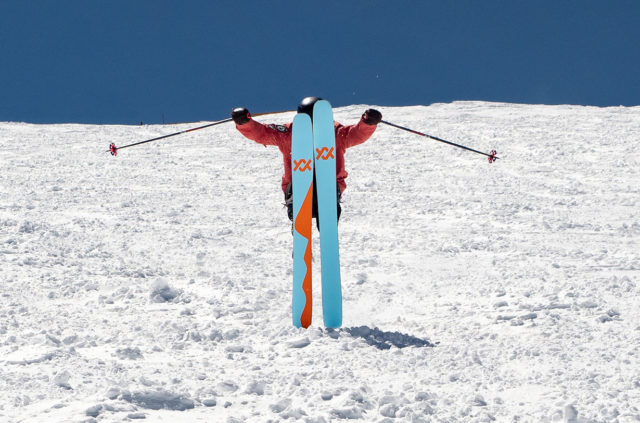 I could ski surprisingly fast on the Revolt 121 when conditions were soft, but then I could quickly burn speed by throwing the ski sideways, no matter how tight, steep, or tricky the terrain was.
Firm Chop / Crud
When conditions are firm and also rough, bumpy, and / or inconsistent, there are very few skis out there that encourage me to ski as fast and aggressively as I would when conditions are much softer and / or smoother. And the Revolt 121 is no exception here.
Still, I was surprised by how little I had to slow down on the Revolt 121 to stay in my comfort zone in rough snow. The Revolt 121 feels quite damp, which helps it stay a bit more planted on refrozen crud. And at the same time, it's also really easy to maneuver quickly, which can't be said of many of the more stable skis in this class.
Because of those two traits, I kept thinking that the Revolt 121 just felt "comfortable" in crud and firm chop. It didn't encourage me to just try to annihilate everything in my path, but it never felt harsh, unpredictable, or like much of a burden in crud.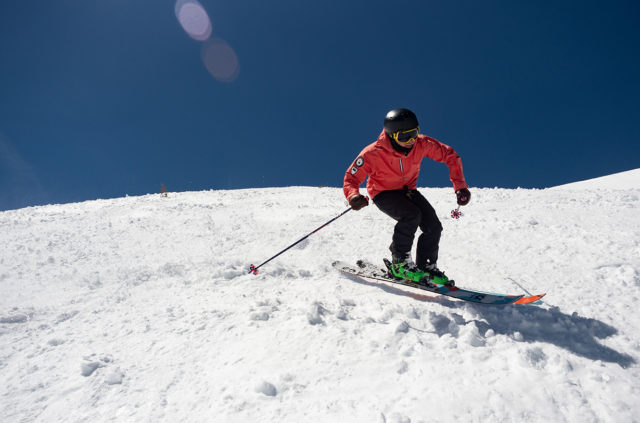 In other words, I don't think there are a ton of skiers out there who would find the Revolt 121 to be "not enough ski" in chop and crud. And to the people who would want more ski, well, you probably already know who you are — you like skis with minimal rocker, minimal taper, stiff flex patterns, lots of weight, and a more traditional mount point.
But in the class of playful pow skis, the Revolt 121 is one of the more stable that I've used. Plus, when the conditions were less soft and deep, I found that I could drive the Revolt 121 a bit more, which helped me keep it tracking in the right direction.
Moguls, Trees, & Tight Terrain
I alluded to this earlier, but the Revolt 121 feels super easy in tight spots. It's got a lot of rocker and taper, and unsurprisingly requires little effort to quickly pivot around.
This is obviously a very wide ski that's also pretty heavy, so I wouldn't pick it as a daily driver if I wanted a ski that I'd use in a lot of tight terrain every day (i.e., even when it hasn't snowed in a while). But for a 120mm+ ski, I had no complaints when taking the Revolt 121 down moguls, tight trees, and the chutes at A-Basin's East Wall — even when conditions were pretty firm.
Apart from its loose feel, the Revolt 121's flex pattern also felt really nice in tight spots. The ski felt like it had a huge sweet spot, and I never felt like I was unexpectedly too far forward or backward on the ski. Again, the Revolt 121 feels best when skied with a pretty neutral stance and, because of its big sweet spot, it was pretty easy for me to stay in a comfortable stance in the middle of the ski, rather than needing to drive the front all the time or being worried about getting too far backseat.
Groomers
Yeah, this is a 120mm-wide ski, so I doubt many people are all that concerned with how it rips groomers. But the Revolt 121 kinda blew me away with how versatile it is given its width, and its performance on groomers was a part of that.
The Revolt 121, with its highly tapered tips and tails, doesn't pull you into a turn like a much less tapered ski would. But the Revolt 121 still provided good edge hold on firm, early morning spring groomers, and even produced some pop and energy coming out of a turn.
I don't think the Revolt 121's groomer performance is anything to go nuts about, but my main point here is that this is not some pow ski that's only fun in … pow.
Playfulness
The Revolt 121 is very playful in almost every regard.
First, it's super easy to smear, slash, and slarve. The Revolt 121 requires very little effort to get it sideways, it'll hold an extended slarve longer than most, and it never felt "hooky" in the slightest.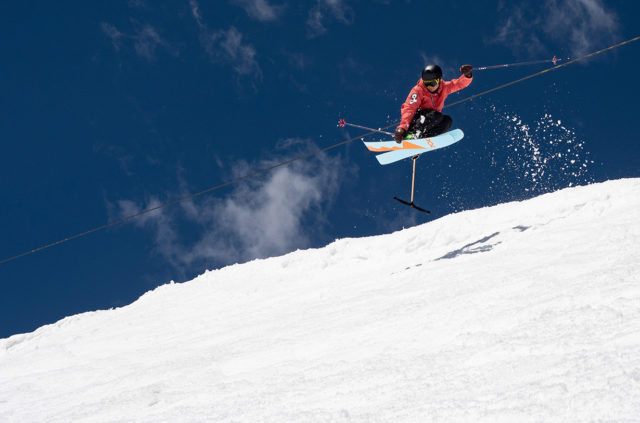 Second, the Revolt 121 feels poppy and balanced in the air. Despite its heavier weight, the Revolt 121 felt totally comfortable throwing quick shifties and spins — and it was very forgiving when it came to under- or over-rotating spins (AKA, pretty much every time I go past 180°).
Back to the weight, though: the Revolt 121 is a pretty heavy ski, and it's definitely not the lightest ski in the air. If you do want something that's super light and easy to flick around, you now have more options than ever (see several of our pow ski reviews from this season). But if you're willing to put in a bit more work to get the Revolt 121 around, it'll reward you with a really big stomping platform and will hold up better than those lighter skis when your inruns or runouts are not perfect powder.
Who's It For?
Skiers looking for a powder ski and who prioritize playfulness and / or maneuverability, but who also don't want some flimsy, twitchy, lightweight pow stick.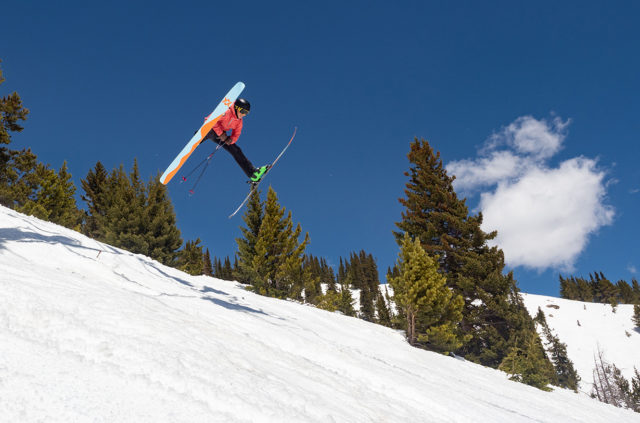 Again, there are loads of better options if your primary concern is getting down the mountain as fast as possible, regardless of the chunks of ice, rocks, or small children lie in your path.
And there are also some better options if you want the lightest, easiest-to-spin pow ski out there.
But for a lot of skiers out there, I think the Revolt 121 will offer plenty of stability while also feeling very playful.
I still think the Revolt 121 makes the most sense for people who prioritize playfulness and / or freestyle performance, but I also think those who just want a pow ski that's easy, intuitive, and maneuverable will also get along with the Revolt 121. Just keep in mind that if you're coming from skis with much more traditional mount points (-8 cm from center or farther back), it'll probably take a bit of time to get used to the more neutral / centered stance that the Revolt 121 prefers.
Bottom Line (For Now)
I would give the Revolt 121 the high praise of simply being a "good" ski. Normally, we are able to home in on one or two (or six or eight) aspects of a ski that some skiers out there will clearly dislike, and we advise those particular folks to look elsewhere. But so far, nothing about the Revolt 121 has ever felt odd, out of place, or dumb; the Revolt 121 was just intuitive from the start. It's super playful while still being quite strong and stable, and it never folded up on my at high speeds, while still being totally manageable at slower ones. I can't think of many people who would hate the Revolt 121, and I would encourage everyone to try it to prove me wrong about that.
Deep Dive Comparisons: Volkl Revolt 121
Become a Blister Member or Deep Dive subscriber to check out our Deep Dive comparisons of the Revolt 121 to see how it compares to the Moment Wildcat / Blister Pro, Rossignol Black Ops 118, Prior CBC, 4FRNT Inthayne, Dynastar PR-OTO Factory, Line Outline, Icelantic Nomad 115, Atomic Bent Chetler 120, Faction Candide 5.0, and Faction Candide 4.0