Intro
Lab Austere is a small company out of Utah and is the brainchild of Marshal Olson, who (among many other titles), has been a contributor at Blister in the past. So he sent Lab Austere's current offerings over to us to get our take.
Currently, Lab Austere makes three products — a lumbar pack, a tool roll, and a mini wallet. Pretty clearly, all of Lab Austere's offerings are made by someone who was looking for a very particular product that didn't quite exist in the market. And so, while the basic premise of these products certainly isn't new, they're each just a bit different than the competition.
Lab Austere Minimize Hydration Lumbar Pack
Stated Features:
The water holsters carry standard water bottles and will run gas station bottles in a pinch. They are super easy to use while in motion: no slowing down – grab and go.
The two hip slash pockets are great for Goo packets, a little TP, a sunglass bag, and some salt pills in case of cramps.
The "Hidden" passport pocket is ideal for travelling and keeping your money and valuables in thief-proof place.
The Holster slash pockets are constructed with high-spandex content, and can fit just about anything: Cell phone, wallet + keys, a few candy bars, etc.
The main storage pocket is designed to fit all the essentials for a big bike ride: tools, tube, CO2, zip ties, duct tape.
The front loader pocket easily swallows anything from a small shell to a pound of almonds. Run it empty or run it full, no matter.
MSRP: $69
Test Locations: Whitefish, Montana; Assorted locations in BC
Duration of Test: 6 months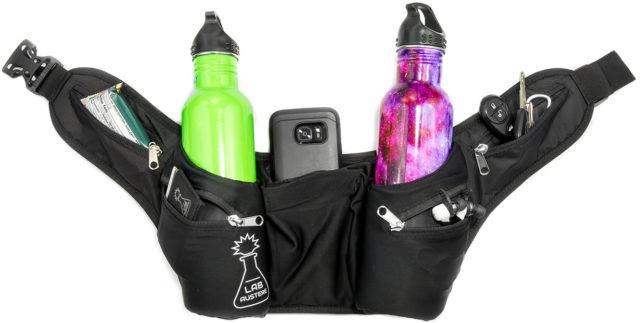 The Lab Austere lumbar pack really has two defining features that set it apart from other bike-oriented fanny packs.
First, it doesn't have a bladder. Instead, it carries two water bottles cleanly and securely. So with standard tall water bottles, that's 48 ounces, which is roughly 1.5 liters. That's a similar amount of water carried by many of the fanny pack bladders on the market. It's probably not enough for an all-day epic, but it's plenty of water for an hour or two of riding after work.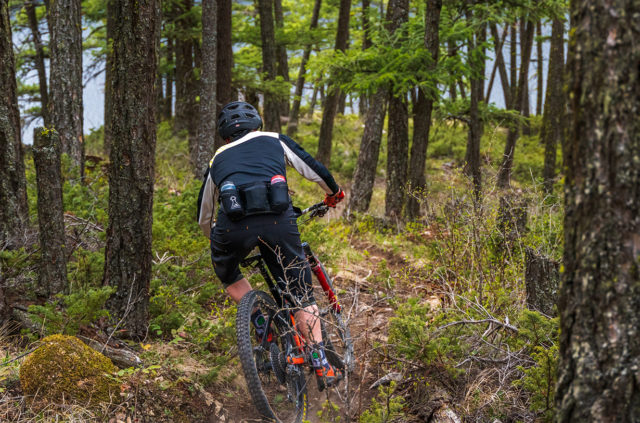 The other noteworthy feature is the placement of the weight relative to the waist strap. The pack and strap are cut such that the majority of the weight sits below the waist strap. This makes the pack sit a bit lower, which I find to work pretty well while on the bike and leaned over. At first I was a bit worried that it'd make the pack bounce around more, but that wasn't an issue — even with two full water bottles.
While they're less noteworthy, the rest of the Minimize Hydration Lumbar Pack's features are well thought out. There are small pockets on the waist strap and on the outside of the water bottle holsters and there's a larger pocket in the center with some interior and exterior partitions. Those exterior pockets are built with a stretchy material, so you can cram a fair amount of stuff into them if you need to. There's also a slim pocket inside the padding where you can put a phone. The only downside of the pockets is that they're not really sized well to fit longer items (e.g., a shock pump).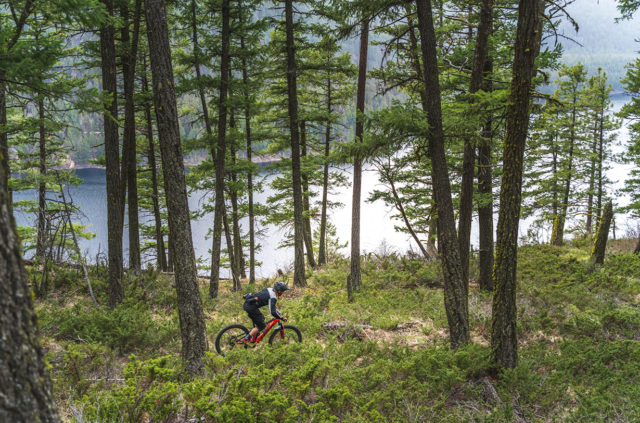 The upsides of the pack are pretty clear — no hydration hoses wrapped around your waist that inevitably come unclipped and dangle off the side at some point in the ride. And the water bottles are quick and easy to grab, and they're secure enough that I've never had one fall out. Plus, in a pinch, you can throw any old gas station water bottle in there. I've also found that the layout of the pack carries a bit better than many of the other fanny packs on the market when it's fully loaded down.
What would I change? I'd like to see some slightly stiffer foam in the panel that sits up against my back; with the pack loaded down, I sometimes had issues with it rotating slightly around my waist. I think a stiffer back panel would help keep it situated on the flat of my back.
Lab Austere Trunk Roll Up Tool Kit
Stated Features:
Clear pockets give easy visibility into what is where.
Easily hold all tools in one place.
Tight-roll design means you won't hear the constant rattle of tools while driving down the road.
Great for garage, car, travel, anywhere.
MSRP: $59
Test Locations: Whitefish, Montana; Assorted locations in BC
Duration of Test: 6 months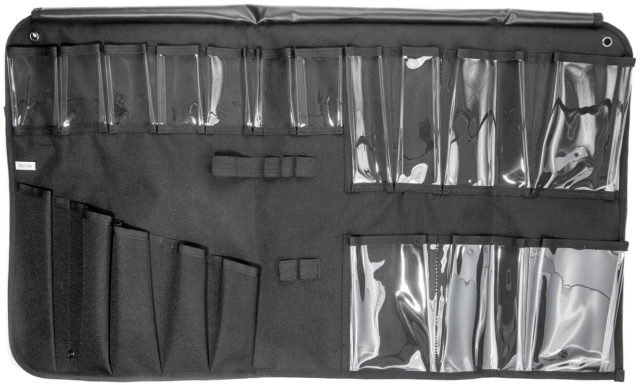 Tool rolls aren't a new idea, but this one is built more with bike tools in mind. Plenty of tool rolls work well if you want to carry a size run of box wrenches. But the bike tools that I tend to bring on trips don't tend to fit well into those sorts of tool wraps; I have too many small odds and ends that need tidy compartments.
The Lab Austere tool roll solves that. There are a bunch of clear pockets of varying sizes that work well for all the little things — spare brake pads, cassette lockring tool, spare valve stems, tire levers, etc. And the fact that the pockets are clear means that I can actually find what I need in a semi-timely fashion.
When it's time to pack everything away, a cover snaps over the top of everything and the whole deals rolls up quickly and easily. Some straps around the outside keep everything cinched down, and a carrying handle makes transportation easy. Size wise, the Lab Austere roll is slightly larger (by a few pockets) than the similar tool roll made by Wolf Tooth.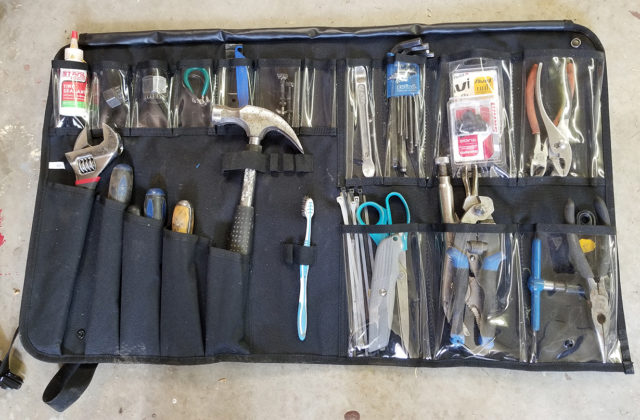 The upside with the Trunk Roll Up Tool Kit is that everything is nicely organized. If a cluttered toolbox with an assortment of tools and parts rattling around in complete disarray triggers your OCD, this tool roll is a nice solution. And the tool roll packs up a bit smaller than most toolboxes, so for a quick trip, it's less junk in the car.
The only downside of the layout that I've found is for larger items — fitting a rubber mallet, hammer, and other longer tools like a chainwhip can get a bit tight. Not unworkable, but for those kinds of items, a traditional toolbox works a bit better. The other downside is more inherent to the tool roll design — laying out the roll takes up a lot of space. If you're dealing with a tight workspace, the amount of real estate occupied by the tool roll can be a little annoying.
Lab Austere Simplify Wallet
Stated Features:
3 discrete high-stretch and grippy elastic pockets.
Key clip
MSRP: $9
Test Locations: Whitefish, Montana; Assorted locations in BC
Duration of Test: 6 months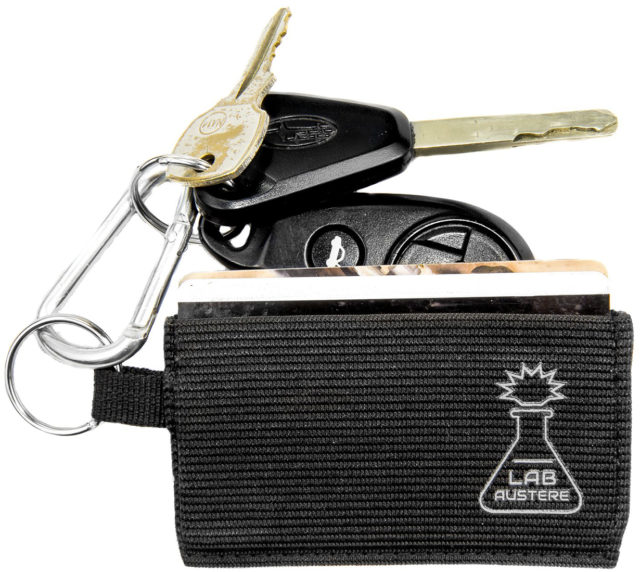 This is pretty straightforward — it's a stretchy little clip that'll hold your driver's license and a credit card or two, along with a few folded-up bills. It's nothing fancy, but it carries the essentials in a minimalist fashion. It's not a paradigm shift, but it works well when you want a minimalist way to carry some money while biking / skiing / running / long-distance-rollerblading.
Bottom Line
Lab Austere is a tiny company making the products that they want to use. Fortunately for the rest of us, the products they want to use are also the products that a bunch of other people want to use, too. Each of their products seems like it's designed to solve one or two common problems. So if your tools are disorganized, or if you're fed up with fanny pack hydration bladders, or even if you just hate riding with a bulky wallet, Lab Austere might have your answer.