Ski: 2021-2022 Line Outline, 186 cm
Available Lengths: 178, 186 cm
Blister's Measured Tip-to-Tail Length: 184.1 cm
Stated Weight per Ski: 2030 grams
Blister's Measured Weight per Ski: 2024 & 2031 grams
Stated Dimensions: 150-117-142 mm
Blister's Measured Dimensions: 152.5-117.5-141 mm
Stated Sidecut Radius (186 cm): 18.5 meters
Measured Tip & Tail Splay (ski decambered): 68 mm / 74 mm
Measured Traditional Camber Underfoot: ~5 mm
Core: Paulownia/Maple + Fiberglass Laminate
Base: "Fatty" 1.7 mm Sintered
Factory Recommended Mount Point: -4.2 cm from center; 87.9 cm from tail
Boots / Bindings: Nordica Strider 120; Dalbello Lupo SP I.D. / Tyrolia AAAttack 13
Test Locations: Crested Butte, CO; Wasatch Range, UT
Days Skied: ~12
[Note: Our review was conducted on the 19/20 Outline, which was not changed for 20/21 or 21/22, apart from graphics.]

Intro
When it comes to playful powder skis, Eric Pollard is arguably one of the most influential and important figures in the industry. With his help, Line was able to create iconic skis like the Elizabeth, Sir Francis Bacon, EP Pro, Mr. Pollard's Opus, Pescado, and many other skis designed to let skiers slash, spin, flip, and butter their way through deep snow.
The newest ski that Eric's been working on is the Outline, which will be Line's widest freestyle ski for 19/20.
The Outline effectively replaces the current Line Magnum Opus and Mordecai, and, like the 19/20 Sir Francis Bacon, the Outline features convex tips and tails. We've already talked a bit about the Outline and Sir Francis Bacon on our GEAR:30 podcast, but here we'll go over the Outline's design and how it compares to the skis it replaces, and others on the market.
What Line says about the Outline
"Equipped with Convex Base Technology to open up new possibilities in turn shape, the LINE Outline Skis are the ultimate development of freestyle powder ski design. Slarve, drift, and plane in any snow condition. Building on years of twin-tip ski design, the LINE Outline is the ultimate collaboration between Eric Pollard and LINE Skis."
First, saying that the Outline is the "ultimate collaboration between Eric Pollard and LINE Skis" is a very bold statement. Eric and Line have made a lot of very good skis, so the Outline has a lot to live up to.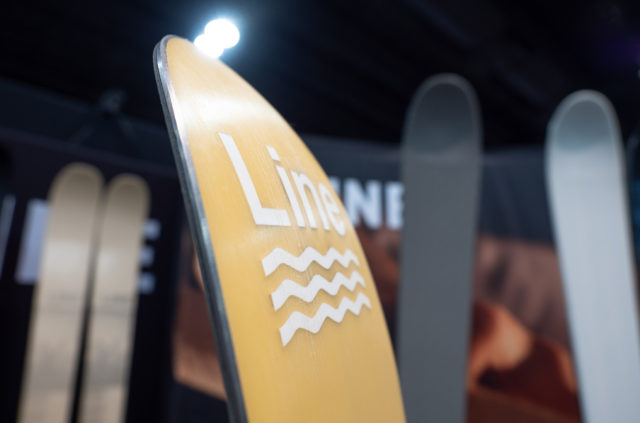 But the Outline's Convex Base Tech does set its design apart from previous Line skis. And after our initial time on the Outline and Sir Francis Bacon, we do think that Line has a reason to be hyping up these ski's ability to slarve, drift, and plane (you can listen to our GEAR:30 podcast for more on that).
Shape / Rocker Profile
Apart from its convex tips and tails, the Outline looks very similar to many of Eric Pollard's recent pow skis like the Mordecai and Magnum Opus. The Outline has fat tips and tails, with a bit of early taper. But unlike many current playful pow skis like the Prior CBC, Salomon QST 118, J Skis Friend, and Armada ARV 116 JJ, the Outline's tips and tails don't start tapering very early, and they also don't taper to much of a point.
Compared to the new Sir Francis Bacon, the Outline actually has slightly less tip and tail taper, presumably to increase float in deep snow.
The Outline's longitudinal rocker profile is also very reminiscent of the Magnum Opus and Mordecai. The Outline has pretty deep tip and tail rocker lines, but they're not crazy deep by today's standards. The Outline's rocker lines also rise pretty gradually until you get to the ends of the ski, where the tips and tails splay out significantly.
Flex Pattern
Here's how we'd characterize the flex pattern of the Outline:
Tips: 6-6.5
Shovels: 7-7.5
In Front of Toe Piece: 8-9.5
Underfoot: 9.5
Behind the Heel Piece: 9.5-8.5
Tails: 8-6
Unlike the Mordecai (especially the 193 cm version), the Outline is not a very stiff ski. Its tips and tails are pretty soft, and they slowly ramp up in stiffness as you get to the center of the ski. Overall, the Outline has a nearly symmetrical flex pattern with smooth transitions and no noticeable hinge points.
Compared to the 19/20 Sir Francis Bacon, the Outline is similarly soft at the ends, but ramps up quicker and is noticeably stiffer around the bindings.
Compared to the J Skis Friend, the Outline's extremities are a bit softer, but the Outline's flex pattern ramps up quicker. Compared to the 4FRNT Inthayne and Moment Wildcat / Blister Pro, the Outline is similarly soft at the very ends of the ski, but both the Wildcat and Inthayne stiffen up quicker and, apart from the ends, are significantly stiffer throughout.
Weight
Like the new Sir Francis Bacon, current SFB, Mordecai, and Magnum Opus, the Outline is a pretty light ski. At just over 2000 grams per ski for the 186 cm version, the Outline is one of the lightest pow skis we've reviewed.
For reference, here are a number of our measured weights (per ski, in grams) for some notable skis. As always, note the length differences to keep things apples to apples.
1710 & 1744 Atomic Bent Chetler 120, 184 cm (18/19–19/20)
1910 & 1941 Scott Scrapper 115, 189 cm (17/18–18/19)
2013 & 2099 Moment Wildcat / Blister Pro, 184 cm (18/19–19/20)
2024 & 2031 Line Outline, 186 cm (19/20)
2034 & 2052 Blizzard Rustler 11, 188 cm (17/18–19/20)
2043 & 2046 4FRNT Inthayne, 188 cm (18/19-19/20)
2042 & 2105 Line Mordecai, 186 cm (16/17–18/19)
2083 & 2097 Line Magnum Opus, 188 cm (15/16–18/19)
2102 & 2137 Line Sick Day 114, 190 cm (17/18–19/20)
2126 & 2173 Rossignol Super 7 RD, 190 cm (17/18–19/20)
2130 & 2130 Moment Wildcat / Blister Pro, 190 cm (18/19–19/20)
2133 & 2133 Salomon QST 118, 192 cm (17/18–18/19)
2183 & 2190 Black Crows Anima, 188.4 cm (17/18–19/20)
2196 & 2199 Icelantic Nomad 115, 191 cm (17/18–18/19)
2220 & 2252 Faction Prodigy 4.0, 186 cm (17/18–19/20)
2212 & 2215 Armada ARV 116 JJ, 185 cm (17/18–19/20)
2222 & 2278 Prior CBC, 184 cm (17/18–19/20)
2228 & 2231 Blizzard Spur, 192 cm (17/18–19/20)
2230 & 2250 Black Diamond Boundary Pro 115, 185 cm (17/18–19/20)
2246 & 2265 Fischer Ranger 115 FR, 188 cm (17/18–18/19)
2267 & 2270 Whitedot Ragnarok 118, 190 cm (16/17–18/19)
2296 & 2309 Liberty Origin Pro, 192 cm (17/18–19/20)
2297 & 2317 K2 Catamaran, 184 cm (17/18–19/20)
2341 & 2357 Dynastar PR-OTO Factory, 189 cm (18/19–19/20)
2343 & 2360 J Skis Friend, 189 cm (18/19)
2346 & 2351 Nordica Enforcer Pro, 191 cm (17/18–19/20)
2382 & 2395 ON3P Billy Goat, 184 cm (17/18–18/19)
2408 & 2421 ON3P Kartel 116, 186 cm (17/18–18/19)
2429 & 2437 Kingswood SMB, 188 cm (16/17–18/19)
2438 & 2492 Rossignol Black Ops 118, 186 cm (16/17–19/20)
2490 & 2529 K2 Catamaran, 191 cm (17/18–19/20)
Bottom Line (For Now)
The Line Outline follows a long line of prolific and iconic playful pow skis. The Outline's design doesn't stray too far from its ancestors', but we're already pretty psyched about the result. Blister Members can read our initial on-snow impressions in our Flash Review linked below, and then stay tuned for our full review.
Flash Review
Blister Members can now check out our Flash Review of the Outline for our initial impressions. Become a Blister member now to check out this and all of our Flash Reviews, plus get exclusive deals and discounts on skis, and personalized gear recommendations from us.
FULL REVIEW
This year we tested a lot of pow skis, and man, it was a good year to test them. Crested Butte had a lot of big storm days — so many that our memory of mid-January to mid-March is pretty blurred. But Sam Shaheen's and my days on Line's new pow ski, the Outline, definitely stood out. Here's why:
Powder
The Outline is 117 mm wide, has a lot of rocker, and a pretty forgiving flex pattern. So it didn't come as much of a surprise that it was a ton of fun in fresh snow.
As someone who takes more of a playful approach to the mountain — looking for drops, lips, and stashes to slash — the Outline felt really intuitive from the start. It's super easy to steer from the middle, throw sideways, and pop off of anything.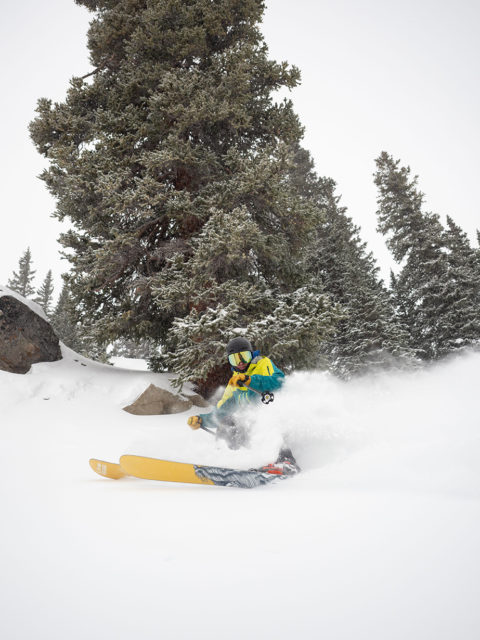 The Outline definitely feels like it's designed for a more playful / freestyle-oriented skier. If I tried to pressure the tips really hard, I could get bucked forward. But if I skied it from a more centered stance and just put a bit of pressure on the front of my boots, the Outline felt loose, balanced, surfy, and just fun.
While we were skeptical at first, Sam and I both agree that the new Sir Francis Bacon and Outline's convex tips and tails do play into the skis' loose feels. When pressuring the front or back of the ski, the tips and tails feel super easy to smear around. In deep powder, that can make for a really fun experience. And as we'll get to later, it doesn't really seem to have a negative impact when the snow isn't deep.
All in all, the Outline just feels like a very playful, easy powder ski.
Soft Chop
Luke: The Outline is light and fairly soft. It's not a charger. There are plenty of better skis out there if you want to ski really fast after the pow is cut up (see the "Powder Skis" sections of our Winter Buyer's Guide).
But again, if you like to play all over the mountain and tend to take things a bit slower when the snow isn't super clean and forgiving, the Outline is still a lot of fun. Its loose feel means you can slash those hidden stashes easily, shut down speed quickly when needed, and the ski's energetic flex makes even the smallest of hits more exciting.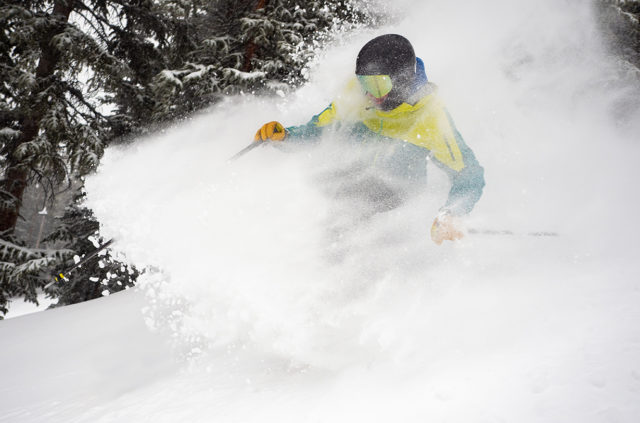 And unlike some other lighter skis, I'd say the Outline is still very predictable in chop. It doesn't make me want to blast through cut-up snow, but it does make me want to arc turns through the clean patches, boost off the set-up ones, and it won't send me flying if I end up unexpectedly hitting a firm spot or get knocked backseat (like stiffer skis tend to do).
Firm Chop / Crud
Luke: When chop sets up more and / or turns into straight-up crud, the Outline's low weight and softer flex become even more obvious. In really rough snow, I have to ski pretty conservatively on the Outline. It's still predictable and doesn't demand that I be 100% on my game all the time, but there are plenty of skis out there that stay more composed and let me ski much faster when the snow is really nasty.
Groomers
Luke: For a ski of its size, the Outline is a ton of fun on groomers. Like the Sir Francis Bacon, the Outline feels best when skied from the middle of the ski, rather than driving the tips super hard. That said, I could still pressure the front of the Outline hard enough to bend it into pretty tight turns, and it held an edge quite well for its width.
As I noted above, the Outline's convex tips and tails aren't really noticeable on firm snow (unless you're doing a nose or tail press). Instead, it just feels good on edge, engages turns easily, and produces lots of pop coming out of a turn.
It's definitely not the most stable ski, and I wouldn't want to take it out on super firm days when it hasn't snowed in a while. But for a playful pow ski, the Outline makes taking a groomer back to the lift less of a boring in-between stage between face shots, and more of an opportunity to have even more fun on your way to the next pow stash.
Moguls, Trees, & Tight Terrain
Luke: Remember that talk of how loose and easy the Outline is in pow? Well, that transfers over pretty well to bumps, trees, and other tight terrain. The ski is super easy to slide around, still holds an edge pretty well when you want it to, and is very forgiving when you end up moving your stance around a lot in techy terrain.
Again, there are plenty of better options out there for directional skiers who drive the front of their skis really hard and appreciate things like stiff, flat tails over a surfy and playful feel. But for skiers who are accustomed to a more forward-mounted ski and who like to slash, butter, and spin, the Outline is very competent in tight terrain.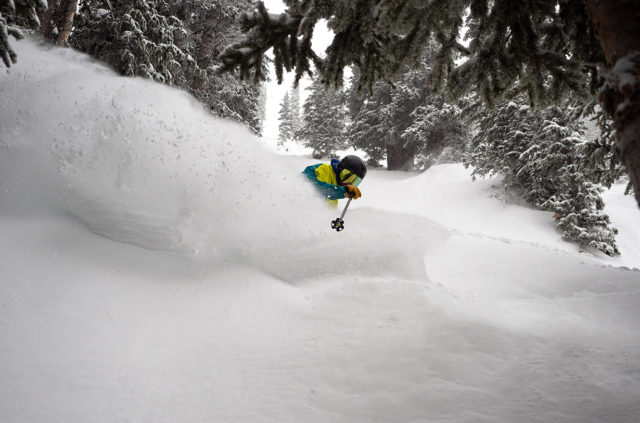 It's not particularly damp, and therefore isn't a great choice for when the snow is super firm. But for skiing through trees, bumps, or steeps when the snow was fairly soft, I loved how easy and surfy the Outline was when the terrain got tight.
Playfulness
Luke: While there are many skis out there that are playful in certain regards (e.g., poppy, loose, balanced in the air, etc.), the Outline is a ski that's basically playful in every regard.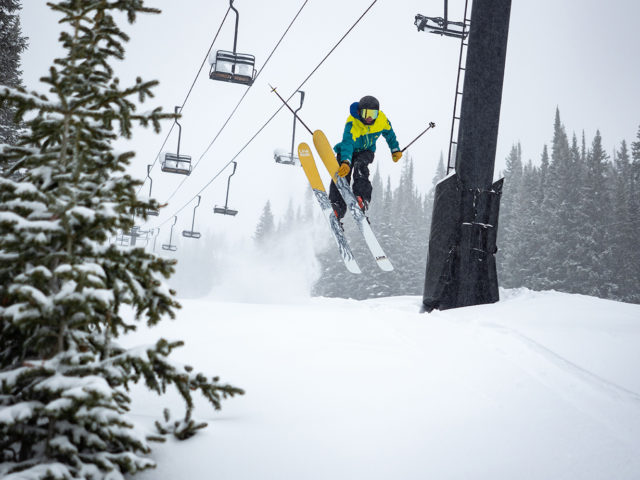 The Outline is super easy to throw sideways, it feels very comfortable in the air, is easy to spin and butter, and produces a lot of energy on takeoffs. I'm bad at butters, but the Outline (and Sir Francis Bacon) make them significantly easier as their tips and tails are super easy to slide around and don't catch unexpectedly. And its low weight (for its size) makes spins much easier than on many other similarly wide skis. Overall, the Outline is probably one of the most playful pow skis I've ever been on. So if that's a priority for you, take note.
Who's It For?
Skiers who want a pow ski that will let them almost effortlessly slash their way through deep snow, butter every roller, and spin off of everything.
Don't buy the Outline if your favorite part of a "powder" day is mobbing through chop. There are a lot of stiffer, heavier skis out there that are much better for that. But if you prioritize playfulness over stability, the Outline is worth a good look.
And due to its low weight, the Outline is an excellent option if you're a playful skier looking for a ski that you can use in the resort and in the backcountry.
Bottom Line
The Line Outline seems to embody it's designer's skiing style, which makes a lot of sense. Just like Eric Pollard, the Outline makes us want to surf around powder with a fluid, playful style, throwing slashes, spins, and butters wherever possible. If that sounds appealing to you, check it out.
Deep Dive: Line Outline
Become a Blister Member or Deep Dive subscriber to check out our Deep Dive comparisons of the Line Outline to the Line Sir Francis Bacon, Atomic Bent Chetler 120, K2 Catamaran, Moment Wildcat / Blister Pro, Blizzard Spur, Folsom Trophy Carbon, Prior CBC, Icelantic Nomad 115, Rossignol Black Ops 118, and Dynastar PR-OTO Factory.