Flylow Baker Bib
Reviewer: 5'10", 145 lbs
Size Tested: Small
Blister's Measured Weight (size Small): 896 grams
Materials:
Main Fabric: 3-layer Intuitive™ w/ 150-denier Oxford-weave face fabric (20k/20k waterproof / breathability rating)
Knee & Cuff Reinforcements: 1000-denier Cordura
Back Bib: Stretch-woven softshell
Stated Features:
Fully seam taped
Articulated knee box
High-Performance DWR (Durable Water Repellent)
Powder gaiters
Seamless cuff reinforcements
YKK waterproof zippers
Inner and outer thigh vents
Pockets:
1 kangaroo pocket (zippered)
1 upper bib pocket w/ clipping point (snap closure)
2 handwarmer pockets (zippered)
1 right thigh pocket (zippered)
1 back pocket (zippered)
MSRP: $400
Test Locations: Crested Butte, Summit County, & Eagle County, CO; Wasatch Range, UT
Days Tested: ~25

Intro
Love 'em or hate 'em, bibs are here to stay. They aren't for everyone, but their combination of increased protection from the elements, comfort (especially with a pack's hip belt), and ease of use have made bibs more common at ski resorts and on the skin track over the past several years.
Of the many bibs on the market today, Flylow's Baker Bib is one of the most prolific and is practically a ski-bum household name.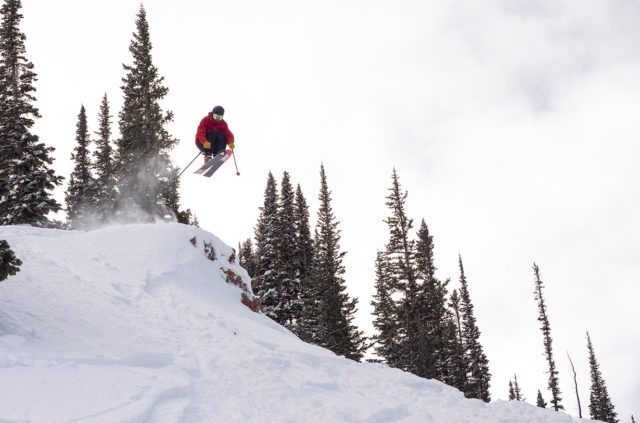 The Baker Bib was one of Flylow's first products, and has a bit of a cult following among skiers and snowboarders who are really hard on their gear. I've been wearing the Baker Bib for most of the season and, if I wasn't before, consider me a full-on bib convert. Here's why:
Fit
The Baker Bib has a very generous fit. I'm 5'10", 140 lbs and generally wear a Medium in most outerwear (occasionally going to Small for pants). But the Medium Baker Bib was definitely too big for me — the knee articulations hit me mid-shin. The size Small Baker Bib fits me nearly perfectly. It is still a loose, baggy fit, but the length is just about right.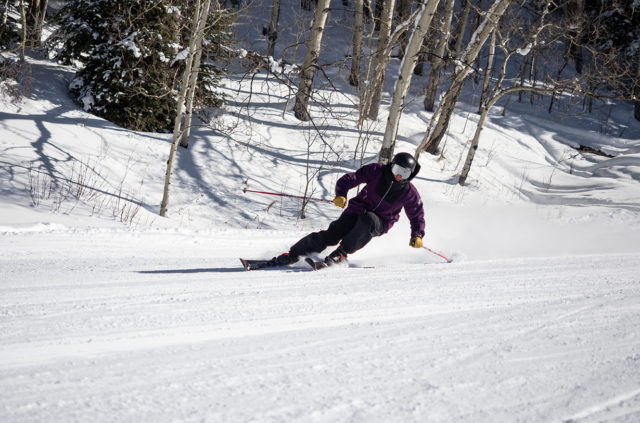 With the Baker Bib's suspender straps adjusted comfortably, the cuffs of the pant just barely brush the floor when I'm not wearing boots / shoes, and naturally hit my boots without significant scrunch in the legs when I'm on the mountain.
There is plenty of room in the leg of the Baker Bib for range of motion — the pant has a much roomier "freeride" cut compared to most 3L bibs we've used. There is nothing "alpine," slim, or restrictive about the cut of the Baker Bib. It is a very comfortable freeride fit. If you often find yourself between sizes in pants though, I recommend sizing down. This piece definitely fits on the bigger end of the spectrum.
Features
The Baker Bib has pretty much every feature you could want out of an inbounds-oriented bib. It has a plethora of pockets: two zippered handwarmer pockets, one zippered thigh pocket (right side), one zippered back pocket (right side), one zippered kangaroo pocket on the upper bib, and one snap-closure pocket on the bib. All the zippered pockets are secured with water-resistant zippers. That's a lot of pockets — I had to double check to make sure I was remembering them all.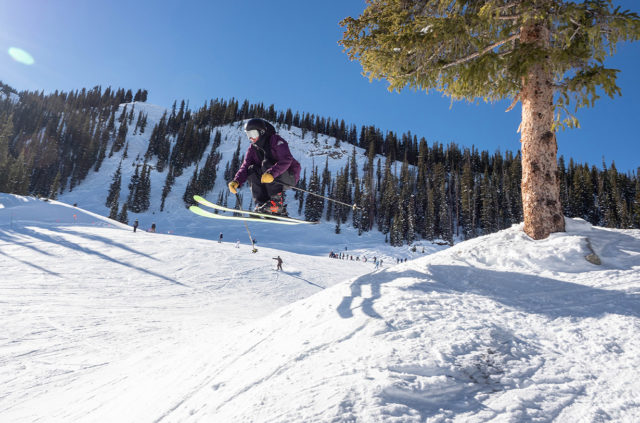 The Baker Bib also has a simple, robust snow-gaiter system, inner (~20 cm) and outer (38 cm & 68 cm) thigh vents, articulated knees, Velcro waist adjustment, belt loops, and 1000 denier Cordura reinforcements on the knees and cuffs. The Bake Bib's 68-cm outer vent also extends all the way to the top of the bib, which lets it double as a drop-seat.
None of the Baker Bib's features are particularly flashy or slick. But, they're all simple and work exactly how I would expect / want them to. This is a burly pant built with function in mind first — the fact that it looks good is just an added bonus.
Weight
PSA: I'm going to use the word "burly" a lot in the next few sections, so prepare yourself.
At almost 900 grams in a size Small, the Baker Bib is quite heavy for a 3L pant. In fact, it's the heaviest pant we've recently reviewed by almost 300 grams. This definitely isn't the pant I reach for when I'm headed out for long days in the backcountry, but what it lacks in scant weight, it makes up in an incredibly stout construction. The Baker Bib just feels solid — like I could run it through a wood chipper and it would come out the other side unphased. Burly.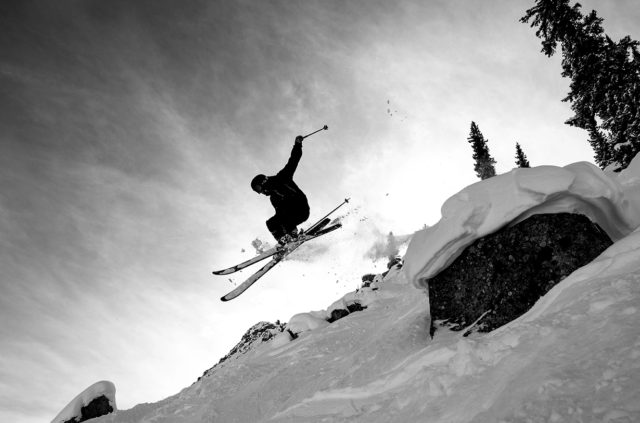 For reference, here are a number of our measured weights for some notable 3L ski pants in this category. Note the size differences to keep things apples-to-apples.
441 g Norrona Lyngen Windstopper Hybrid Pants, size Large
485 g Strafe Cham Pants, size Large
494 g Patagonia Descensionist Pants, size Medium
539 g Arc'teryx Rush LT Pant, size Medium
555 g Open Wear Open One 3L Shell Pants, size Medium
603 g Patagonia PowSlayer Bibs, size Large
618 g Rab Sharp Edge Pants, size Medium
620 g Arc'teryx Sabre Pants, size Large
896 g Flylow Baker Bibs, size Small
Materials
In a word — burly. The Bake Bib's Intuitive 3L fabric uses a 150-denier face fabric with a very tight weave, but it's quite thick. The fabric's hand is actually quite soft to the touch while still being rather stiff. Burly. The 1000-denier Cordura reinforcement fabric on the knees and cuffs is some of the heaviest and thickest fabric reinforcement I've ever seen in technical outerwear. Burly. The one complaint I have with the Cordura reinforcements is that the fabric is a very textured weave so snow tends to stick to it, whereas snow doesn't stick at all to the 3L fabric used on the rest of the bib.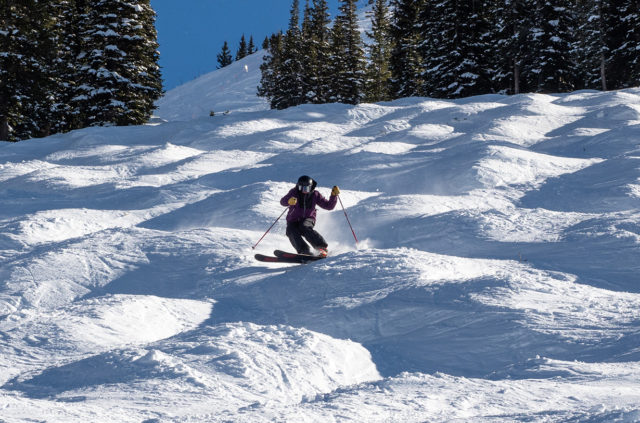 The zippers, snaps, and other notions on the Baker Bib are all equally solid — no surprises and not much else to report there. If you tend to destroy your pants / bibs, the Baker Bib's hefty construction alone makes it worth a very good look.
Weather Resistance
A big part of the reason you buy a bib is for the increased coverage / weather protection, and in that sense, the Baker Bib does not disappoint. The main 3L fabric hasn't leaked at all, and the DWR has performed a bit better than expected. I've skied a lot of storm days in it and have only had the DWR wet-out a few times, but no water got through to the inside of the pant.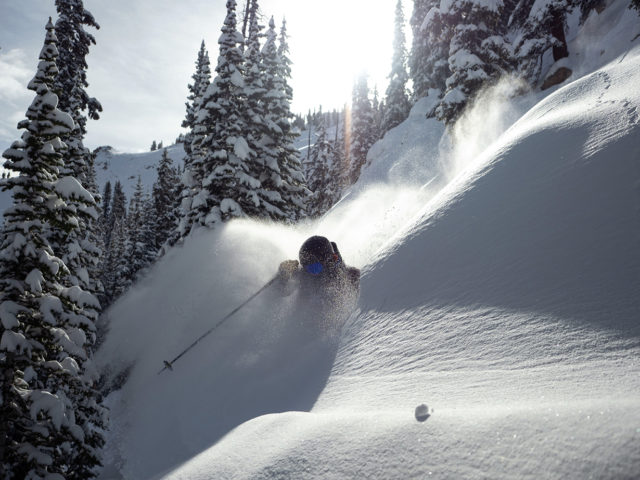 That said, the exterior Cordura fabric reinforcements do tend to take on a bit of water and can end up damp or soggy after a wet day. But there is waterproof 3L fabric under the Cordura knee patches, so I've never had issues with it actually soaking through to the inside of the pants.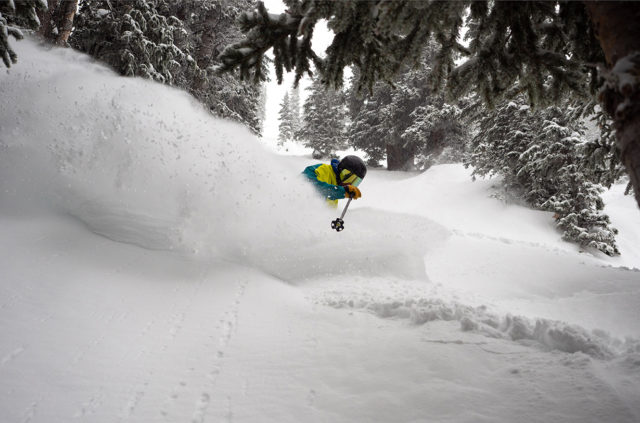 The bib extends very high and covers much of my chest in the front, with a breathable stretch panel in the back. Before I started to wear the Baker Bib, I was a staunch powder-skirt advocate and religious powder-skirt user. When I wear the Baker though, I don't need it. I've gone all day on huge pow days without even noticing that I didn't have my powder skirt on — praise be to bibs.
Breathability
Such excellent weather resistance does come with a hit to breathability. The Baker Bib isn't as breathable as other, more minimal pants. With a fabric that is so thick and burly, it just can't move as much moisture out of it as its thinner counterparts (and particularly those with more breathable, air-permeable membranes). But for what I use it for, the Baker Bib's breathability is just fine. Because I typically wear it inbounds, I appreciate the added warmth that the thicker fabric provides, and I rarely exert myself enough in the resort to sweat significantly in my legs. And if I do need to do a quick (or extended) boot pack, the Baker Bib has ample ventilation to keep me from overheating.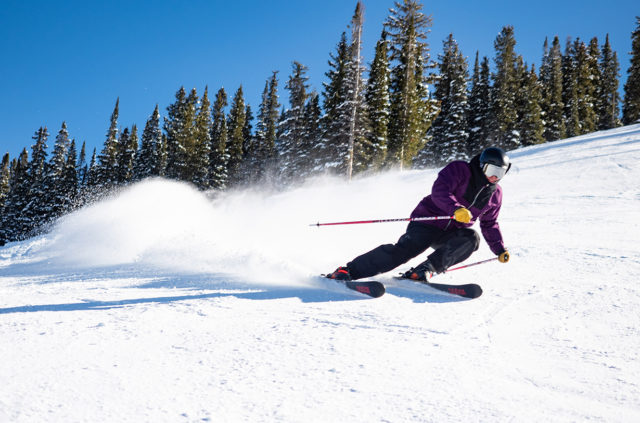 If you're looking for a touring pant to use on long, hot days, there are plenty of better options like the Strafe Cham, Patagonia Descensionist, and Norrona Lyngen Hybrid. But if you prioritize weather resistance and / or durability over breathability, the Baker Bib is definitely worth considering.
Warmth
As I mentioned in the previous section, the thicker fabric and relatively low breathability of the Baker Bib make it warmer than most 3L pants on the market. I typically wear lightweight long-underwear bottoms under the Baker Bib (e.g., Patagonia Capilene Lightweight bottoms) and if things get really cold, I'll switch to a heavier bottom (e.g., Icebreaker 200 Oasis leggings).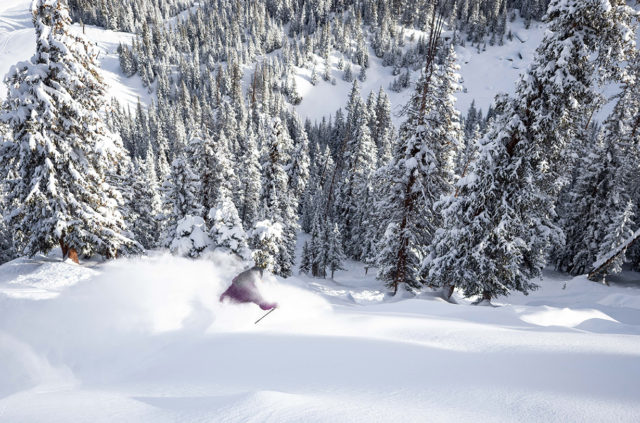 I don't often get cold in my legs — in most 2L pants, I don't even wear any long-underwear bottoms. The fact that I can use my ultralight Capiline for most days in the Baker Bib is excellent. The Baker Bib definitely isn't as warm as most 2L or insulated pants, but it offers a good balance of warmth for inbounds use while still being able to be worn on short- to moderate-length tours.
And if all that talk about "3L" vs. "2L" and membranes sounds confusing, check out our Outerwear 101 and 201 articles.
Durability
Did I mention that the Baker Bib is burly? Well, on the off chance that hasn't yet come across in this review, I'll say it again here. The Baker Bib is burly. I've worn it for about 25 days this year and there are practically no signs of wear. I fully expect the Baker Bib to last for several 50+ day seasons. We know several people who have used the Baker Bibs for several seasons of patrolling, and their bibs are still going strong. I'll be sure to keep this review updated if anything changes on this front.
Who's It For?
Do you spend between 70% to 100% of your time riding lifts (rather than touring) and want a high-performance, incredibly burly freeride pant to last several seasons? If so, I think you'll love the Baker Bib.
The more touring you do, the more I'd probably recommend a lighter, more breathable option like the Patagonia PowSlayer, Arc'teryx Rush LT, or the Strafe Cham. But if your closet is missing a burly everyday pant for abusing at the resort, the Baker Bib is an excellent option.
Bottom Line
The Flylow Baker Bib is an amazingly burly waterproof bib the excels in the resort but isn't totally out of place on the skin track. With a generous cut, a full feature set, and a construction that we expect to stand up to multiple seasons of abuse, the Baker Bib is a ski bum's dream.