Boot: 2021-2022 Nordica ProMachine 115 W
Stated Flex Rating: 115
Available Sizes: 22.5-27.5
Stated Last Width: 98 mm
Size Tested: 24.5
Stated BSL (size 24.5): 285 mm
Stated Weight: 1860 grams
Liner: Isotherm 3D Cork Fit with Primaloft.
Buckles: 4 Micro-Adjust, Aluminium Light
Power Strap: 45mm velcro strap with plastic Powerdriver reinforcement.
Shell Material:
Cuff: Bimat Polyurethane
Shoe / Clog: Bimat Polyurethane w/ Easy Entry Soft-Flap
Soles:
Installed: Grip Walk w/ Michelin rubber
In box: standard ISO 5355 alpine soles
Binding Compatibility:
With Grip Walk Soles: Grip Walk and MNC bindings
With Standard Alpine Soles: Standard Alpine, Grip Walk, and MNC bindings
MSRP: $750
Test Location: Taos Ski Valley, NM
Days Tested: 15
[Note: Our review was conducted on the 18/19 version of the Promachine 115 W, which returns unchanged for 19/20, 20/21, and 21/22, apart from graphics.]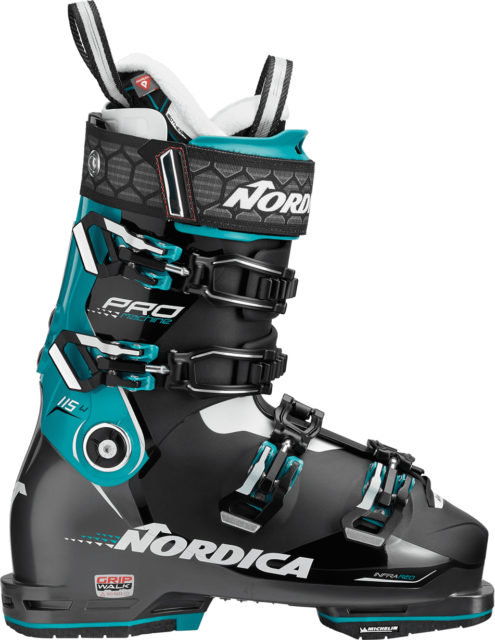 Intro
The Nordica Promachine 115 W is Nordica's highest-performance women's boot, without entering into the plug-boot realm. As someone who tends to find most women's boots a bit too soft, and who often ends up skiing in men's / unisex boots as a result, I was anxious to try this low-volume fit, "115-flex" boot.
The Promachine is a new mold for Nordica for the 18/19 season, replacing the old GPX. Nordica says the Promachine line was somewhat designed around the low-volume heritage of their race plug boot, the Dobermann, but in ways that are perhaps more comfortable and fit-friendly to the consumer.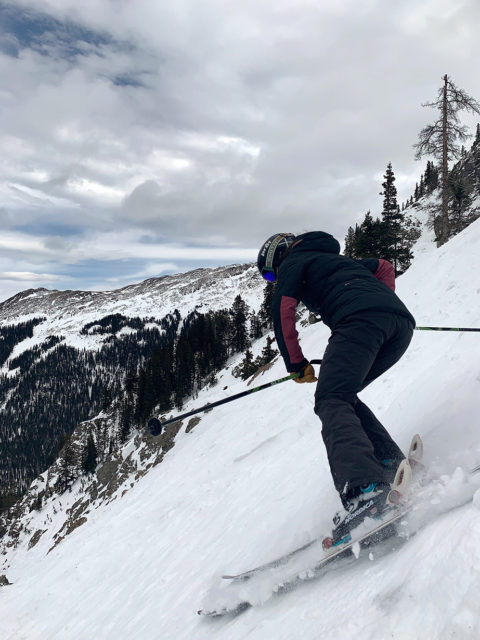 For those who don't know, a 115-flex, women's-specific boot wasn't actually that common until recently. Other companies, in like-minded dedication to women's performance ski boots, have recently entered into the 115-120 flex range starting this season, with more additions for the 19/20 season.
I have spent the majority of my 18/19 season in the Lange XT 130 Freetour LV, and was anxious to return to a women's-specific boot that is also alpine-specific (i.e. no hike mode). So just how strong and "high-performance" is the new Promachine 115 W?
What Nordica Says About the ProMachine 115 W
"Looking for a low-volume boot that skis like a race boot but has the comfort of an all-mountain boot? Inspired by our Dobermann race line, the Promachine 115 W features a higher cuff for increased support and leverage, while the lower shell maintains a light-weight, low-volume 98mm last, making it energetic and reactive and allowing it to perform well in all conditions. Its shell utilizes softer plastic over the instep to better wrap the foot and stiffer plastic along the spine of the shell to create lateral stability and fast energy transfer. And its Primaloft®-insulated liner increases comfort and warmth. If needed, easily customize your fit using infrared heating, making for an even more precise fit and, therefore, a more responsive boot. Wear the Promachine 115 W and enjoy the performance you demand with the comfort you desire."
There's a lot going on in that description. First, there are Nordica's claims about the Promachine 115 W offering race-boot performance with the comfort of an all-mountain boot. That's not easy to do. Second, there's the mention of the Promachine 115 W's higher cuff. This is significant, as many women's boots have lower cuffs that fit some ladies' legs better, but can, in turn, lead to less power transfer and poorer leverage when skiing very aggressively. Lastly, Nordica talks up the comfort and customizability of the Promachine 115 W.
Buckles, Power Strap, Etc.
The Promachine 115 W has four micro-adjustable buckles. It's quite nice that they are all removable with a Phillips screwdriver, and the boot has absolutely no rivets, making the parts super easy to replace / adjust.
The Promachine 115 W's power strap is unique, in that it has what Nordica calls a "PowerDriver." This is essentially a large plastic piece on the strap that sits next to the cuff of the boot, offering more support / stiffness, as well as evenly dispersing pressure along the shin. I found that this 45 mm power strap delivered more performance than most stock power straps, and became a fan of this added piece.

Liner
The Promachine 115 W's liner is pretty cush for a stock liner. I absolutely love cork as a liner material — it doesn't pack out like foam and it molds well. As a result, I was excited to try the Promachine's 3D Cork Fit liner. It felt good out of the box, and the heel had a secure and evenly snug fit throughout the entire cork heel pocket. I gave it a couple minutes of low heat, and I found that the cork relaxed and molded smoothly without the sensation of packing out. A bit of heat also helped relax the slight instep pressure I mentioned earlier.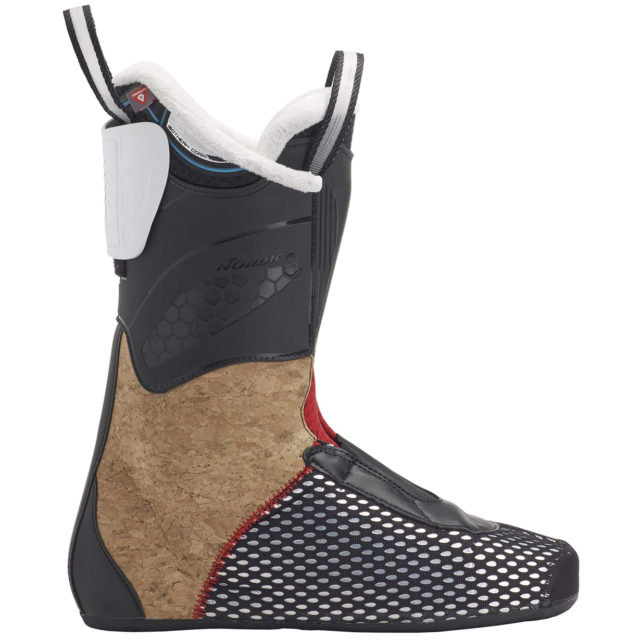 The Promachine 115 W's liner has an Isotherm material extending from the ankle pocket through the forefoot, which is designed to keep the foot warmer. My foot is always cold regardless, so I can't really speak to the effectiveness of this material. The Promachine's liner also features Primaloft insulation, which is one of the best insulators in the liner world.
Overall, I was really impressed by the quality of this stock liner. It features substantial materials without feeling heavy or too dense.
Fit:
As always, we highly encourage you to go to a bootfitter to figure out what boot will work best for you. With that said, I can talk about how the Promachine 115 W fits my feet.
As far as bootfitting goes, I have a super particular foot. That's actually why I became a Masterfit Certified bootfitter, and began working as a bootfitter almost 10 years ago. I have a low-volume foot with a few bony prominences, namely a tailor's bunion. I measure a 24.5 semi-weighted, and 25.5 standing / fully weighted. With proper arch support (for my giant arches), and ramp-angle adjustment (via a heel lift to accommodate my insanely rigid ankle joint), I can comfortably ski a 24.5. My insoles are the key when it comes to being able to comfortably ski and bare any boot. With proper installments made (heel lift and insoles), the fit of the Promachine 115 W immediately struck me as superbly snug.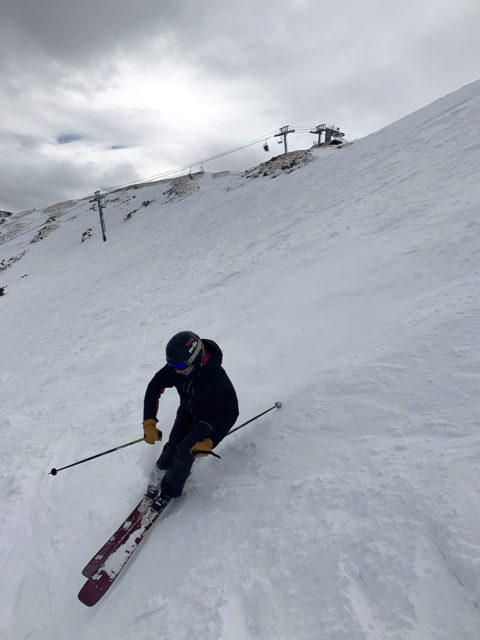 I was stunned and enthralled by the overall low-volume fit of this boot. Coming out of the Lange XT 130 Freetour LV, I quickly noticed that the ProMachine 115 W has a shorter, and slightly narrower toe-box. I have long toes, namely the 2nd and 3rd, and the Promachine 115 W felt a bit shorter up front than I am used to.
With an appropriate athletic skiing stance (i.e., forward, pressing my shins into the front of the boot), my toes weren't squished in the Promachine 115 W, but they were snugger than in "LV" Lange RX or XT shells I've been in. Interestingly, across the forefoot, the Promachine felt like it had a tiny bit more width than the Langes, as I didn't have to punch the shell of the Promachine for my tailor's bunion, which is an absolute necessity in any ~97mm-lasted Lange boot I've used.
Across the instep and midfoot, the Promachine aired on the side of snug, with a bit of a pressure point across my instep. This is not something I noticed in the Freetour. After a bit of time in the Promachine, the pressure over the instep has resolved and I was pleased to find my foot holding securely through this key-fit zone, even when only applying a bit of pressure with the instep buckle. The Promachine 115 W's heel pocket also offered a smooth, even grasp without any pressure points.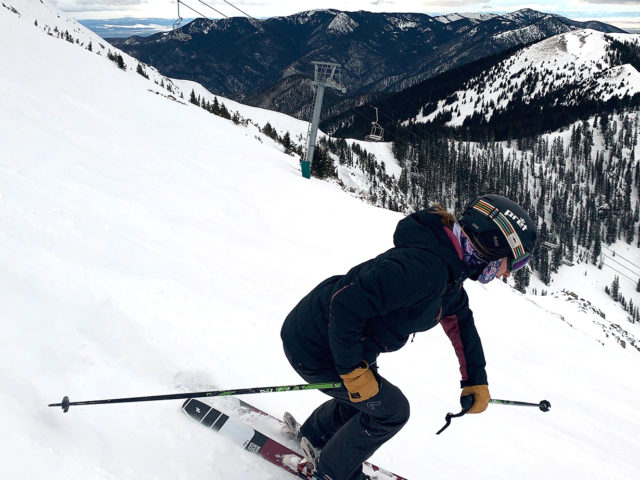 With minor break-in time, the Promachine 115 W fit my low-volume foot quite well, with a very performance-oriented, snug fit. While initially I was surprised by just how aggressively low volume it is, after a bit of work and break-in time, the Promachine 115 W has provided the snug, secure and uniform fit that I desire from a boot in this high-performance category.
For someone with a low-volume foot and pretty low instep, the Promachine 115 W is an awesome option. I am hoping to see how it compares to the 19/20 Salomon S/Max 120 W, which is also known for relatively low instep height and overall low-volume fit. I found the Tecnica Mach LV 105 W to be roomier over the instep, and the same goes for the Lange RX 110 LV and XT 110 LV.
Performance
In my experience, the Promachine 115 W delivers across all aspects of downhill performance. I found its flex pattern to be progressive, and smooth throughout. While I had been skiing a perceivably stiffer boot beforehand, the Promachine 115 W is one of the stiffest women's-specific boots I've skied in the last several years (compared to the Lange RX 110, Lange XT 110, Salomon X-Max 110, and Tecnica Mach 105 W LV).
The Promachine 115 W has a 13° forward-lean angle, which put me in the slightest bit more forward stance than the 12° I'm used to in the Lange XT 130 Freetour. This resulted in a slightly less neutral stance for me and my super rigid ankle joint compared to the Lange XT 130 Freetour, but it was a very minor difference.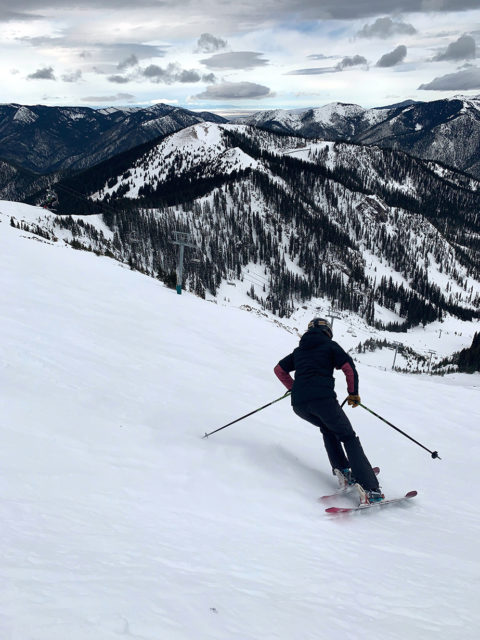 The overall flex pattern of the Promachine 115 W felt consistent throughout, in that it transferred energy smoothly as I moved through the flex. It felt supportive in all snow conditions, and also in terms of lateral and rearward support. I was consistently impressed by the power transfer and torsional response of this boot, and it basically lived up to all my hopes and expectations. The boot felt responsive, damp, and stiff regardless of temperature, and the liner felt plush while still feeling precise and not too bulky. I was impressed by all of the above, especially for a boot that is noticeably lighter than most other alpine boots.
I was really excited by the ability to use a women's-specific boot that still let me ski hard, even after skiing the unisex Lange XT Freetour 130 LV. Compared to the XT Freetour 130 LV, the Promachine 115 W only felt slightly softer when skiing really hard on firm snow, which is high praise.
Between the truly low-volume fit, fairly beefy liner, and notably / accurately stiff flex pattern, the Promachine 115 W is a true high-performance ladies boot, and that makes me really happy.
Durability
After 15 days of hard skiing, the Promachine 115 W appears unscathed. The liner has maintained a consistent fit without fluctuations in volume, which I think is hugely important from a stock liner.
Looking at the long-term lifetime of this boot, it's worth noting that every piece is removable, including the cuff, which makes for easy fixes and replacement of parts.
For an inbounds boot like the Promachine 115 W, I am a huge fan of the new Grip Walk soles that Nordica partnered with Michelin to develop. They are beefy, grippy compared to standard alpine soles, easy to walk on, and seem to last, even after a ton of ridge hikes over the last 15 days.
Don't have Grip Walk bindings? Don't worry, cause the Promachine 115 W also comes with the ISO 5355 standard alpine soles as well. Since many people don't have Grip-Walk-compatible bindings, we like to see companies including standard alpine soles along with the Grip Walk soles.
Bottom Line
I've been really happy with my experience with the Nordica Promachine 115 W. It was exciting to have a women's-specific ski boot that lived up to the performance that I seek from a boot, especially given that I have pretty high standards.
For any lady seeking a stiff, responsive boot, the Promachine 115 W is an excellent choice (fit permitting). It has an exceptional stock liner, the shell is light without compromising rigidity / stiffness, and the precision created by its well-tuned, low-volume fit continues to impress me.