Norrona Lyngen Hybrid Jacket and Pants
Norrona Lyngen Hybrid Jacket
Size Tested: Medium
Blister's Measured Weight: 605 grams
Materials:
Front Torso, Shoulders: driflex3 (waterproof breathable fabric)
Back, Underarms: flex1 (soft shell)
Stated Features:
Asymmetric cuffs with velcro adjustment
Storm hood fitted for helmet
Chest ventilation with water resistant zipper and mesh
Laminated stretch woven hand gaiter™
Removable powder skirt with silicone grip
Y-sleeves™
Under arm zipper ventilation
Soft brushed chin protection
Pockets:
2 exterior zippered chest pockets
1 interior zippered chest pocket
MSRP: $430
Norrona Lyngen Hybrid Pants
Size Tested: Medium
Blister's Measured Weight: 538 grams
Materials:
Seat, Lower Leg / Knees: driflex3 (waterproof breathable fabric)
Everywhere Else: flex1 (soft shell)
Stated Features:
Zipper ventilation with mesh
Web for closing around the boots
Snap tightening around ankles
Custom-fit waist system™
Extra wide belt loops
Pockets:
2 zippered hand pockets
2 zippered thigh pockets (one with beacon sleeve)
MSRP: $320
Days Tested: ~15
Test Locations: Cameron Pass & Fort Collins, CO
Intro
Norrona is a Norwegian outdoor brand that's been making apparel and equipment since 1929, with a broad product range including pieces for mountain biking, climbing, mountaineering, backcountry skiing / snowboarding, and even cold-water surfing. Their Lyngen line is specifically designed for backcountry skiing / snowboarding, and we became particularly interested in the Lyngen Hybrid Jacket and Pants since they use a combination of hard shell and soft shell fabrics, which should, at least in theory, provide a good balance between weather resistance and breathability. And, considering that there are not all that many manufacturers producing such hybrid garments (more on that here), the Lyngen Hybrid kit looks like a very interesting combo. So I've spent several days touring in it to see how the hybrid construction performs, and how it compares to other hard and soft shells on the market.
Fit
The Lyngen Hybrid Jacket is fairly slim, as you might expect from a touring-oriented jacket. It has a somewhat short front hem, which then drops in the back for some extra coverage. There's enough room for a light puffy insulator like the Patagonia Micro Puff Hoody, but not much more. The Medium's sleeves are plenty long for my 5'8" frame, and though the jacket is fairly slim overall, I have never felt restricted, which I attribute to the patterning and stretchy fabrics. The Lyngen Hybrid Jacket is less form-fitting than the very slim Strafe Recon Jacket and Arc'teryx Alpha FL, and significantly slimmer than the Strafe Pyramid Jacket.
The Lyngen Hybrid Pants are similarly slim, though not restricting. They are also looser than the Strafe Recon Pants, and I think they offer a nice compromise between being slim enough to not feel cumbersome while touring without looking like rando race pants.
Fabric
The Lyngen Hybrid Jacket and Pants use two fabrics — Norrona's stretchy, 3-layer waterproof breathable "driflex3" fabric and the brand's "flex1" soft shell. The waterproof driflex3 is used in the areas that see more moisture (shoulders, front torso, upper arms, knees, seat, upper thighs), while the flex1 fabric is used everywhere else to maximize breathability.
Both fabrics are stretchy and supple, making this kit one of the most comfortable I've used, especially compared to crinkly traditional hard shells. The only other fabric I've used that is similarly stretchy and comfy is the Polartec NeoShell on the Strafe Pyramid Jacket, though that fabric is much heavier. Norrona did not provide fabric denier numbers, but I'd say the driflex3 fabric definitely feels lighter than the 70-denier AscentShell of the Outdoor Research Skyward Jacket and a bit heavier than 40-denier Gore-Tex Pro on the Arc'teryx Alpha FL. The flex1 fabric feels a bit heavier than the fabric on the Strafe Recon, but is still fairly light for a soft shell. Since both fabrics are pretty stretchy and soft, the Lyngen Hybrid kit feels and drapes more like a full soft shell.
Weight and Packed Size
The Lyngen Hybrid Jacket and Pants are not exceptionally light, with Mediums coming in at 605 g and 538 g, respectively. However, since I very rarely took them off thanks to their breathability (more on that later), they weren't in my pack very often, and they both pack down to about the size of a football when I do need to stow them somewhere. If ultralight weight is a priority for you, you may want to look elsewhere, but I never found myself thinking the Lyngen Hybrid Jacket and Pants felt excessively heavy, something I could not say for the Outdoor Research Skyward Jacket (737 g, size Medium) and Strafe Pyramid Jacket (841 g, size Large).
Pockets
Though they're intended for touring, the Lyngen Hybrid Jacket and Pants do have plenty of features — some of which I love, and others, not so much.
The Lyngen Hybrid Jacket has two exterior zippered chest pockets that are asymmetrical — one is larger and can just barely fit my skins cut for 185 cm, 105mm-underfoot skis. The other exterior chest pocket is smaller, and cannot fit the same skins. This is a bit frustrating, as I'm not sure why Norrona decided to use a smaller pocket on one side, and I'd much prefer having the option of stuffing skins in both pockets. The interior zippered chest pocket fits a phone, wallet, or snacks snugly. The jacket has pretty large pit zips that slide easily, and thanks to their long length and 2-way zippers, they can serve as makeshift hand warmer pockets, which the jacket does not have.
The Lyngen Hybrid Pants have four zippered pockets — two upper, shallower hand pockets and two lower thigh pockets. The upper pockets are just barely deep enough to fit an iPhone 6, and are therefore best for smaller items. The lower pockets are larger and bellowed and can just barely fit the skins that wouldn't fit in the jacket's smaller chest pocket (for the record, I haven't been keeping my skins in the pockets of the Lyngen Hybrid Jacket and Pants, but if I had skins for smaller skis, I would toss them in the pants thigh pockets).
The right thigh pocket has a sleeve for a beacon / phone, and though it does hold an iPhone 6, the sleeve will not fit a BCA Tracker 2 (I suspect it should fit a Tracker 3 and other similarly narrow beacons, but I still need to test this). There is no beacon loop, which should be noted for those that prefer to keep their beacon in their pants pockets. The pants also have mesh-lined outer vents that don't open very wide, but you can cut out the mesh to help with this if you want, though I rarely feel the need to use the vents anyway.
Other Features
One other feature that stands out is the jacket-to-pants interface on the Lyngen Hybrid kit. The jacket has a removable powder skirt with six snaps that attach to corresponding belt loops on the pants, making for a very secure connection. When using the system, I've never had any snow get up my back during my many tumbles in the snow. However, unlike some jacket-to-pants systems, I didn't feel like the interface on the Lyngen Hybrid Jacket and Pants made them feel restrictive or affected the fit.
The Lyngen Hybrid Jacket's hood only has one halo adjustment, and it does a good job of securing the hood over a helmet or bare head. However, the hood does not have front adjustments, and instead has a somewhat stiff edge around the hood opening which can be slightly annoying when you have the front zipper zipped all the way up and the hood down (this is a very minor complaint, but something I noticed).
The Lyngen Hybrid Jacket has thin, minimal, stretchy interior wrist gaiters and some of the best cuffs I've ever used. I don't often use the gaiters since the outer cuff is extra-long to cover the back of the hand and the Velcro adjustment creates a very secure closure.
The Lyngen Hybrid Pants' cuffs have the standard gripper elastic (though it's not a fully separate interior gaiter) and have a cinchable draw-cord that does a good job of keeping out snow while bootpacking in touring boots. The exterior cuff also includes snaps the allow you to tighten the outer cuff significantly (I could get them very snug around Nordic ski boots). The pants cuffs also feature a stiff fabric reinforcement on the inside to protect them from ski edges / crampons, and though I'm a bit worried about durability since the reinforcement is on the inside of the face fabric, I haven't had any issues yet and will report back if I do.
The pant cuffs are a bit narrow, and just barely stretch over the Salomon QST Pro 130 when it's opened up in walk mode. They easily slide over that boot when it's all buckled up in ski mode, and I'm sure they'd fit over smaller touring boots, but they're quite tight with larger 50/50 and alpine boots. This, combined with the slim fit, is why I don't love the Lyngen Hybrid Pants in the resort.
Weather Resistance
From my experience in it, the Lyngen Hybrid kit provides plenty of weather protection for the fairly dry climate of Colorado. I've toured in it during some stormy days, and have not had the jacket wet out. That said, the soft shell fabric is definitely not waterproof, and while a quick shower test revealed a decent level of water resistance, the soft shell fabric did wet out after a couple minutes. So, if you're often touring in very wet weather, you might still want to look at fully waterproof options, but for drier climates like Colorado and Utah, I don't think I'd need more than what the Lyngen Hybrid Jacket and Pants offer in terms of water resistance.
Wind does come through the soft shell panels of the Lyngen Hybrid kit, though it doesn't cut through like a fleece, and is similar to the fabric of the Strafe Recon kit in terms of wind resistance.
Breathability
The Lyngen Hybrid Jacket and Pants breathe very well, and their combination of breathability and weather resistance is why they've quickly become my favorite jacket / pants combo for touring. With a light wool base layer underneath (I'm a fan of Norrona's Wool One-Piece for touring), I can skin with the Lyngen Hybrid Jacket and Pants on in temps up to around freezing. I will start sweating on strenuous skin tracks / bootpacks, but if those higher exertion portions are relatively short, I'll keep the Lyngen Hybrid kit on all day.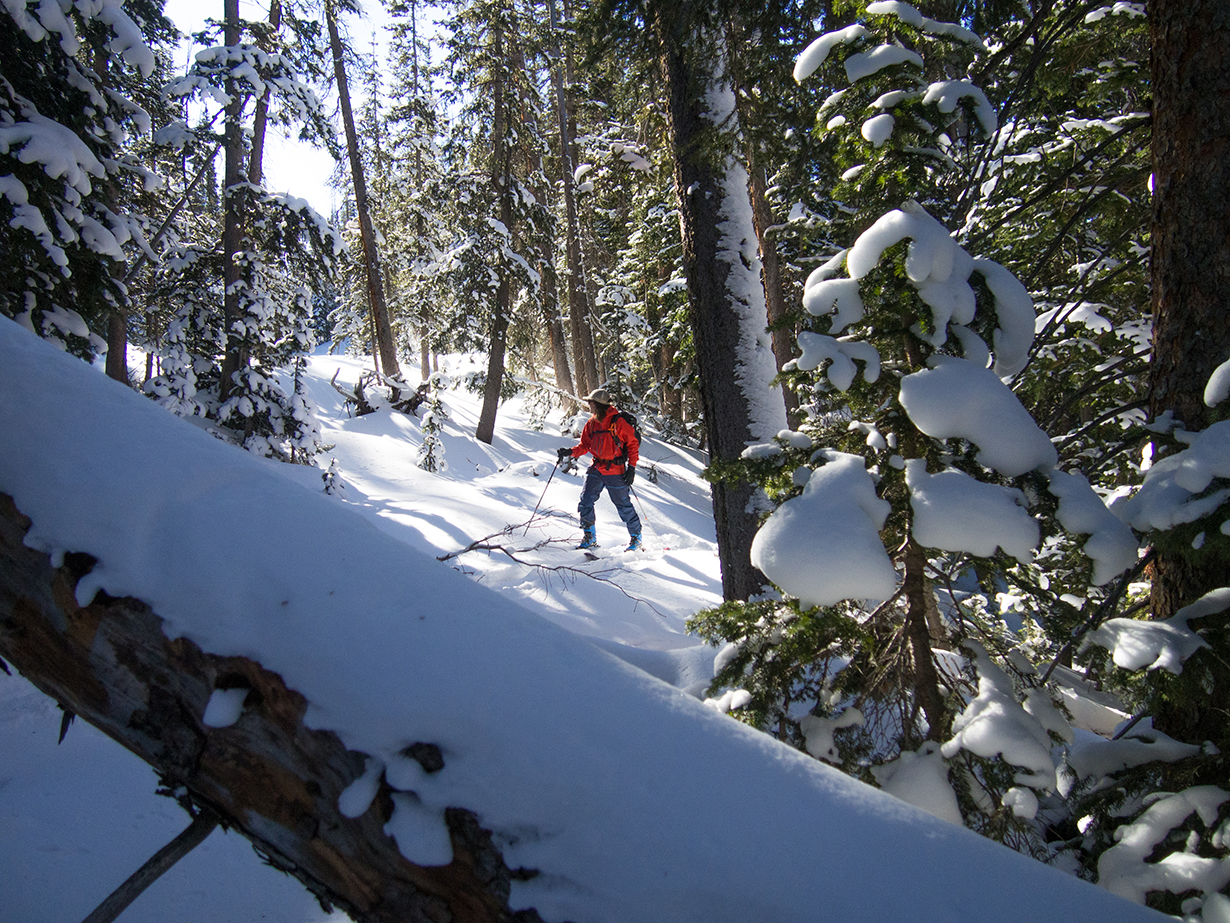 The hybrid construction was interesting in the field — I could definitely feel my chest and shoulders overheating significantly more than my back and other areas covered by the soft shell fabric. I think the Lyngen Hybrid Jacket could actually do with a bit less of the waterproof fabric in the front torso, but overall, I've been very happy with the compromise of weather protection and breathability.
Compared to the Strafe Recon Jacket and Pants, the Lyngen Hybrid Jacket and Pants are definitely less breathable, but offer a lot more weather protection, particularly from precipitation. The Lyngen Hybrid Jacket breathes noticeably better than the Polartec NeoShell Strafe Pyramid Jacket, and much better than the AscentShell Outdoor Research Skyward Jacket and Gore-Tex Pro Arc'teryx Alpha FL. Though I haven't had a chance to use them in very warm spring temps, from 40°F and below, the Lyngen Hybrid Pants have breathed equally well compared to the Polartec Powershield Pro fabric on the old Patagonia Alpine Guide pants.
Durability
The Lyngen Hybrid Jacket and Pants are very stretchy, which always worries me for clothing that I'm likely going to be bashing with branches and rocks while skiing, but I haven't had any issues yet. After about 15 days, the pant cuffs are all still looking good, the DWR is still holding up fine, and I really haven't noticed any durability issues so far, but I'll update this review if I do.
Who's It For?
This is actually pretty straightforward: you should consider the Lyngen Hybrid Jacket and Pants if you want better breathability than a full hard shell, but want more weather protection than a full soft shell. If that sounds good to you, and the fit and features sound appealing, I think you'll be happy with this kit.
Bottom Line
The Norrona Lyngen Hybrid Jacket and Pants do an excellent job of blending the benefits of waterproof hard shells and more breathable soft shells. They aren't completely waterproof, and they don't breathe quite as well as membrane-less soft shells. But I've found them to be a good compromise that offers plenty of weather protection for drier climates like Colorado, and significantly better breathability than waterproof hard shells.
If you get along well with the features & fit and are looking for a touring kit that offers a great balance of weather protection and breathability, the Lyngen Hybrid Jacket and Pants are certainly worth a look.