Rab Sharp Edge Jacket & Pants
Reviewer: 5'10", 140 Ibs
Rab Sharp Edge Jacket
Size Tested: Medium
Blister's Measured Weight (size Medium): 563 grams
Fabric: Pertex Shield AP 3L fabric with stretch
Stated Features:
Ski Mountaineering helmet compatible hood with wired peak, lined collar & roll down anti-snag velcro tab
Fleece lined chin guard and back neck
YKK AquaGuard Vislon front zip with dual internal storm flap system
2 YKK AquaGuard Vislon zipped bellowed chest pockets, with ventilation, large enough for ski skins and 2 internal mesh bottle pockets
YKK AquaGuard Escape Artist pit zips
Removable powder skirt
Hem drawcord with cord retainer and anti-snag velcro adjustable cuffs
Jacket Pockets:
2 exterior chest pockets (zippered)
1 exterior forearm pocket (zippered)
2 interior elastic drop-in pockets
Jacket MSRP: $400
Rab Sharp Edge Pants
Size Tested: Medium
Blister's Measured Weight (size Medium): 618 g
Materials:
Main Fabric: Pertex Shield AP 3L fabric with stretch
Cuff Reinforcements: Cordura
Stated Features:
Fleece lined, adjustable velcro waist with secure snap closure, belt loops and 2-way YKK® AquaGuard® zip fly
Includes adjustable, removable, elasticated braces
YKK® AquaGuard® mesh lined, 2-way thigh vents
YKK® AquaGuard ankle zips
YKK® AquaGuard® Vislon hip pocket and 2 YKK®AquaGuard® Vislon zip, bellowed thigh pockets, with internal mesh pocket
Knee articulation
Kevlar®
Cordura® crampon patches internal, removable ankle gaiters
Ski Mountaineering boot compatible hem with internal reinforcement and under boot cord attachment points
Pant Pockets:
2 front thigh pockets (zippered)
1 higher hand pocket (zippered)
Pant MSRP: $350
Test Locations: Hokkaido, Japan; Wasatch Mtns, UT; Front Range, CO; North Lake Tahoe, CA
Days Tested: ~25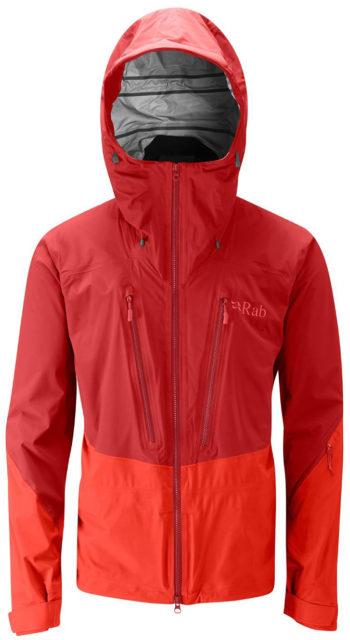 Intro
When I first saw the Rab Sharp Edge kit, I was instantly intrigued. There aren't many outwear setups that are designed explicitly for ski mountaineering, but the Sharp Edge kit is. As an avid ski mountaineer, I've spent most of my time in the mountains using outerwear that was designed for alpine climbing or typical ski touring, rather than being specifically designed for the unique demands of ski mountaineering.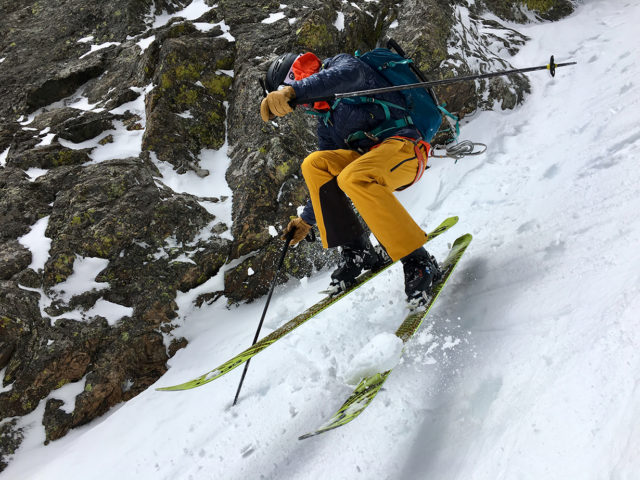 So how does the ski-mountaineering-specific Sharp Edge kit from Rab perform on steep lines and remote peaks? And should you also consider it if you're not strapping crampons on your feet and hacking your way up blue ice? Let's get into it.
Fit
When it comes to any outerwear kit, the fit is absolutely paramount. And the fit demands of a ski-mountaineering kit are pretty tricky to nail down. It needs to be roomy enough as to not restrict movement, slim enough so that extra fabric doesn't constantly get snagged by crampons, ice tools, etc., and have enough room to layer underneath for the huge temperature swings of an alpine start and hot afternoon temps in the spring. Plus, the jacket needs to be slim enough to easily throw a puffy jacket over when things inevitably turn chilly and / or sedentary. That's a lot of boxes to check, and the Sharp Edge kit does a pretty decent job of checking them.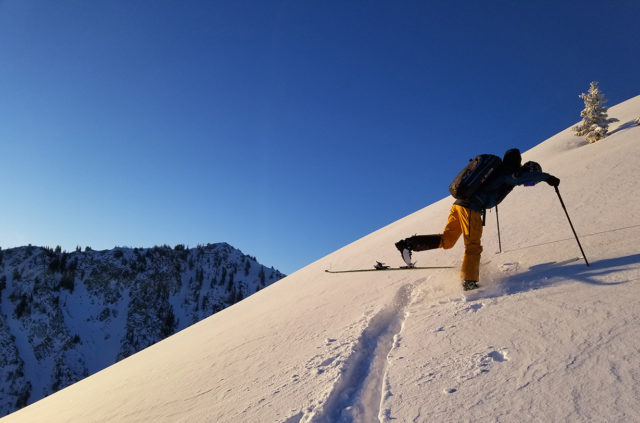 The size Medium Sharp Edge jacket fits me well (I'm 5'10", 140 lbs). The torso is almost the perfect size for me. I can fit several layers underneath while still maintaining room to move. However, if it's frigid and I need a puffy layer (e.g., Patagonia Micro Puff Hoody) under my shell, things definitely get a bit tight.
The Sharp Edge Jacket's sleeves are quite generous in length, which is nice for when I have to swing tools or reach overhead. The torso length on the jacket is shorter than most ski-specific pieces like the Arc'teryx Sabre LT, Open Wear Open One 3L Shell, Patagonia Descensionist, etc.. The Sharp Edge Jacket's fit feels more similar to climbing-oriented pieces than it does to ski-oriented pieces. This isn't necessarily a bad thing though, considering most of the time I spend ski mountaineering is spent on the way up. And the Sharp Edge Jacket's hem still drops low in the back to cover my butt, and the hood is large enough to fit over all of the helmets I own (both skiing and climbing helmets).
The Sharp Edge Pants come with suspenders, which I personally consider an absolute must for ski mountaineering as they mean I don't need to wear a belt and I find suspenders more comfortable with a pack vs. a belt. That said, the Sharp Edge Pants can be worn without the suspenders.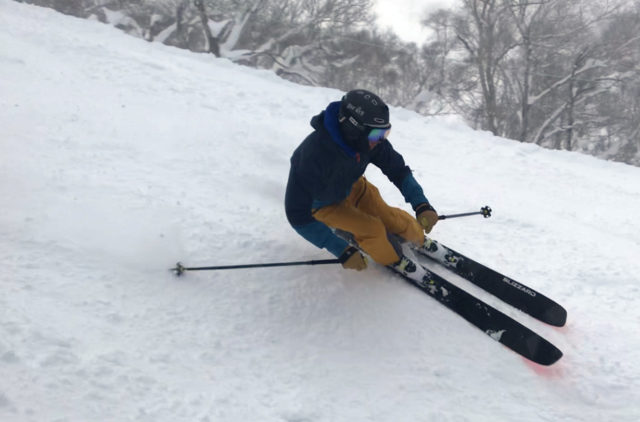 The Sharp Edge Pants don't have much in the way of extra length. I'm a very slim 5'10" and Medium pants usually fit me a touch on the big side, but I am definitely glad I went with the Medium in the Sharp Edge — I don't think the Small would have been long enough.
The Sharp Edge's pant leg is pretty wide and feels like a much more ski-specific cut (in contrast to the length of the Sharp Edge Jacket). The Sharp Edge Pants provide a good amount of room for range of motion, though I did blow out a few stitches in the crotch while doing some ill-advised downclimbing. This was by no means a major issue as the seam tape has held the seam together and the stitches were only partially torn, but a small crotch gusset would be a welcome update.
Overall, I think the fit of the Sharp Edge kit is good for its intended use. I can't say that Rab got it perfect for my needs, but overall I like the fit and my complaints are generally small. I wish the jacket was a touch roomier in the torso, an inch or two longer, and that the pants were a hair narrower and had a crotch gusset. However, the fit on the Sharp Edge has served me well on some very big days in the mountains and most of these things are small bits of personal preference.
Features
One of the things I appreciate about the Sharp Edge kit is that it is fairly minimal on features. In ski mountaineering, I want to be able to put everything that isn't critical to safety and success out of my mind, so having a kit that disappears when you put it on is a very good thing.
The minimalistic silhouette of the Sharp Edge is nice, and the features that are included are simple and seem to work well, with few exceptions.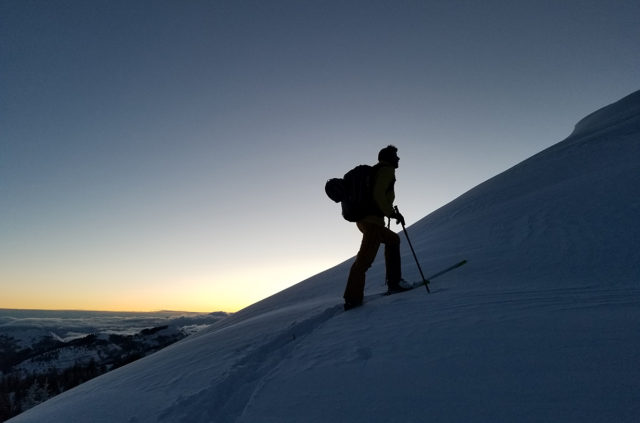 The jacket has a removable powder skirt, a drawcord-adjustable hem, an adjustable hood with a wire brim, two large, zippered chest pockets, two elastic drop-in pockets, and one zippered forearm pocket — all pretty standard stuff. The most interesting feature on the jacket is the pit zips.
The pit zips on the Sharp Edge Jacket are enormous. The zippers come nearly to the cuff of the sleeve. This allows you to pull your arms completely through the pit zips and out of the jacket when they are unzipped, which offers a huge amount of ventilation. I don't find myself using this feature very often (if I'm that hot, I'll usually just take off the shell), but when I'm overheating, it's a good option to have.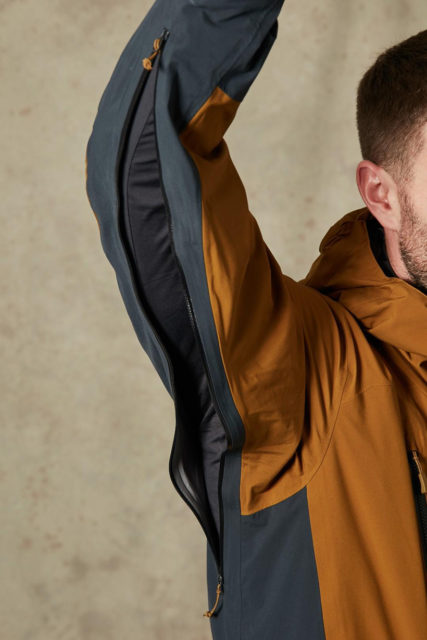 The Sharp Edge Pants are similarly bare bones. They have a removable suspender system, three zippered pockets (two on the right front, one on the left front), two long leg vents, and removable snow gaiters.
The leg vents on the Sharp Edge Pants are filled with a rather tight mesh and they don't open up very wide (maybe 1.5"). For colder / windier days where I'm operating at high output, the vents offer just about the perfect amount of ventilation. But for most other situations, I wish that the vents either opened wider, or didn't have mesh so that they could open wider. The vents are just too small to dump enough heat for high-output spring tours. Of course, you can always just cut out the mesh if you want to be able to open the vents wider (this is something that reviewer Luke Koppa has done with other pants that have mesh-lined vents, and it works very well).
The Sharp Edge Pants' removable snow gaiters are very well built and are sized quite well to fit over touring boots, but they are a bit large for mountaineering boots.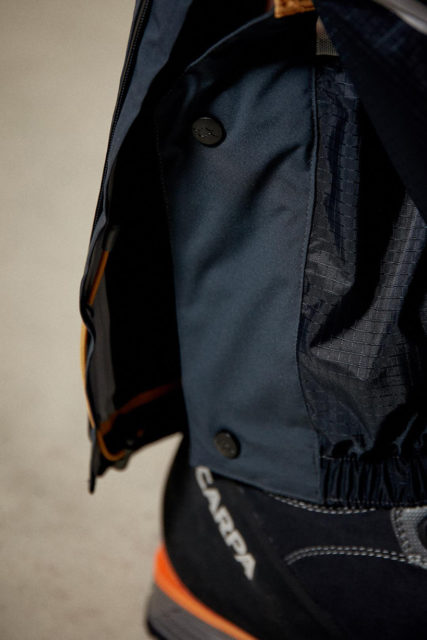 Weight
The Sharp Edge Jacket is comparatively a bit lighter than the Sharp Edge Pants. Note that these weights include the powder skirt, suspenders, and snow gaiters. Overall, the Sharp Edge Kit comes in at a competitive weight compared to other options on the market. True gram-counters might want to look elsewhere, but for most folks in the mountains, weight shouldn't be a reason to say no to the Sharp Edge.
For reference, here are a number of our measured weights for some notable jackets and pants in this category. Note the size differences to keep things apples-to-apples.
Jackets:
364 g Black Diamond Helio Active Shell, size Medium
518 g Flylow Cooper Jacket, size Medium
544 g Outdoor Research Hemispheres Jacket, size Medium
563 g Rab Sharp Edge Jacket, size Medium
590 g Flylow Higgins Coat 2.1, size Large
593 g Patagonia PowSlayer Jacket, size Large
605 g Patagonia Descensionist Jacket, size Medium
610 g Strafe Cham Jacket, size Large
841 g Strafe Pyramid Jacket, size Large
848 g Open Wear Open One 3L Shell Jacket, size Medium
Pants:
441 g Norrona Lyngen Windstopper Hybrid Pants, size Large
485 g Strafe Cham Pants, size Large
494 g Patagonia Descensionist Pants, size Medium
539 g Arc'teryx Rush LT Pant, size Medium
555 g Open Wear Open One 3L Shell Pants, size Medium
603 g Patagonia PowSlayer Bibs, size Large
618 g Rab Sharp Edge Pants, size Medium
620 g Arc'teryx Sabre Pants, size Large
896 g Flylow Baker Bibs, size Medium
Materials
The bulk of the Sharp Edge kit uses the same fabric — Pertex Shield 3L with stretch. This fabric has a surprisingly soft hand feel, drapes well, and offers just a touch of stretch. This iteration of Pertex Shield is a 3L laminate that is not air permeable. For much more info on waterproof / breathable membranes, how they work, and how they differ, check out our Outerwear 101 and 201 articles.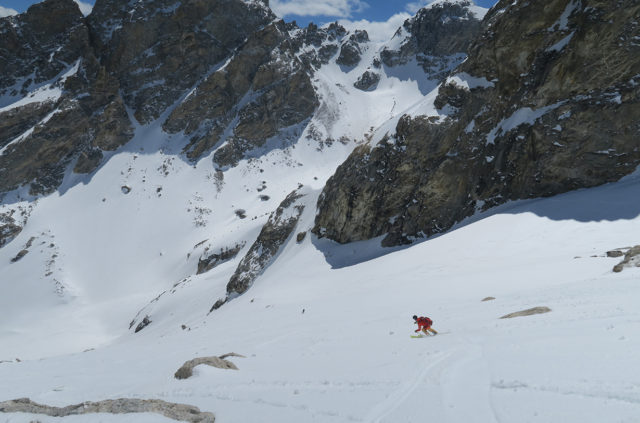 The Sharp Edge Pants use a Cordura fabric on the inner cuff to guard against ski edges and crampons. This fabric is incredibly stiff and serves as a large part of the structure of the pant. Ironically, the stiffness of this patch creates a bit of a crease on the upper edge of the reinforcement (where the regular fabric hangs just above the Cordura). As a result, I've put several holes in the pants when a crampon point finds this little crease just above the Cordura.
Weather Resistance
I've used the Sharp Edge kit in a huge variety of conditions — from puking snow storms in Japan to rain in the Colorado spring. I haven't experienced any water getting through the fabric or any notable DWR failures.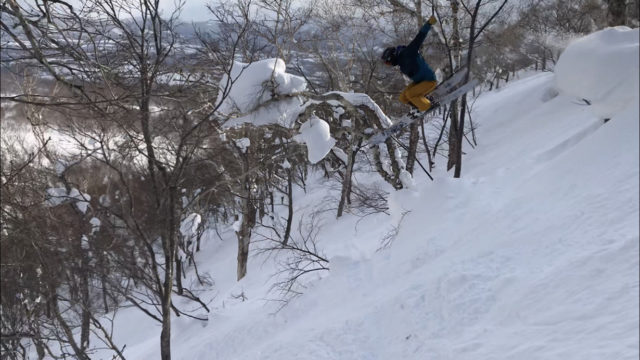 The Sharp Edge's DWR did wet out in extended rain, but I've never worn a 3L jacket with a DWR that wouldn't eventually wet out in such a scenario. Overall, I've been very pleased with the weather resistance of the Sharp Edge's Pertex Shield fabric.
Breathability
The Sharp Edge's Pertex Shield 3L fabric uses a non-air-permeable membrane, and it doesn't breath as well as some other fabrics used in similar kits. Notably, the Patagonia Descensionist, Black Diamond Helio Active Shell, and Flylow Cooper jackets all breathe a bit better than the Sharp Edge.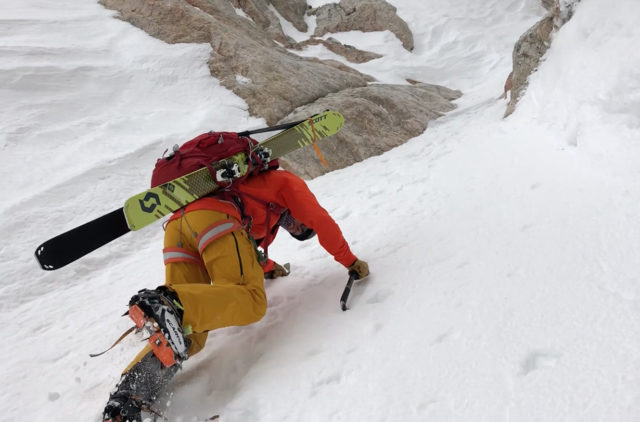 Yes, I would prefer the Sharp Edge to breathe a bit better. However, this hasn't turned out to be that big of a deal. I rarely wear a hard shell on the uphill portion of my days anyway, and because the Sharp Edge doesn't breathe incredibly well, the kit is a bit warmer. I find myself reaching for it more on colder days than other, more breathable kits like the Patagonia Descensionist and Black Diamond Helio Active Shell.
Warmth
As I just mentioned, the Sharp Edge kit feels a touch warmer than some other hard shells of similar weights that breathe better. The Sharp Edge's fabric (as in almost all hard shells) offers essentially zero insulation, so all of the warmth of this kit comes from the amount of warm air that the fabric traps between the shell and your layers under it. In other words, you should expect to get pretty much all your warmth from your base and mid layers, not the Sharp Edge Kit. But because the Sharp Edge doesn't breathe as well as some other options, it holds a bit more warmth in than pieces like the Patagonia Descensionist and Black Diamond Helio Active Shell.
Durability
I have used this kit for a lot of ski-mountaineering objectives — which can be extremely hard on gear. I have several crampon holes in the main fabric of the pant, but the jacket has held up quite well.
I'm not sure that the fabric is quite burly enough on the pant to hold up to several seasons of use, especially if you use a lot of pointy things on your ski days (crampons, ice tools, etc.). But the more you're looking for a pure ski-touring kit (rather than ski mountaineering), the more I think the durability of the Sharp Edge kit will be less of an issue.
It's also important to note that most of the pants in this weight class have similar durability concerns. It's very difficult to make lightweight gear that is also super burly. The lighter you go, the shorter its lifetime will be.
Who's It For?
As a pure ski mountaineering kit, the Sharp Edge setup works quite well. Apart from a few small quips with fit and durability, it's easy for me to recommend this to a dedicated ski mountaineer.
The Sharp Edge kit would also be a good kit for someone who ski tours, regardless of if they are looking to ski up and down massive peaks. I think this kit makes the most sense in colder climates and / or for folks who don't require the most breathability from their hard shells. If maximum breathability is a concern, check out the Patagonia Descensionist, Black Diamond Helio Active Shell, Strafe Cham, or some soft shell options.
Bottom Line
The Rab Sharp Edge is a purpose-built 3L hardshell ski-mountaineering kit that excels in high mountains and when hunting big objectives, though it's also very capable for general ski touring. Besides a few quirks with the fit (that may end up being just fine for you — try it on), this setup is definitely worth consideration if you're in the market for a new hard shell kit for big days in the mountains.