Age: 33 | Vitals: 5'1," 103 Ibs. | Years Skiing: 31 | Current Residence: Buena Vista, Colorado
Background
I grew up in the heart of the Rockies in the Roaring Fork Valley. Raised by ski bum parents, my first days skiing were experienced in a backpack strapped to my dad's back while cruising around Aspen Highlands. By the age of two, I had my own pair of skis and was mastering my pizza and french fries. I spent the rest of my younger years chasing my dad through steep runs at Highlands, trekking up the Elk Mountains to get to backcountry ski huts, and generally terrorizing the slopes with a purple-onesie-wearing ski gang.
I soon became involved in the local ski racing programs, and in high school (after taking a few years off from ski racing to play ice hockey), I decided to return to ski racing and continued racing through college.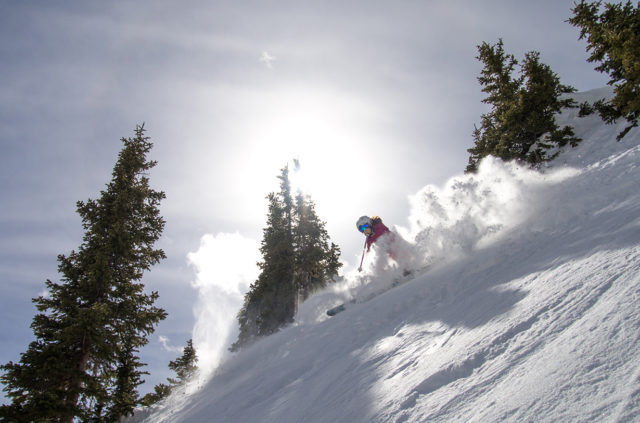 Wanting to experience a different part of the country and some coastal-snow conditions, I headed to the Northwest for college, and joined the University of Puget Sound ski team. Enamored by the wet and thick maritime snowpack, I tended to ditch race starts for fresh powder freeskiing at resorts throughout the PNW.
This marked the end of my racing career, and once the ski season was over, I decided to head to Moab, Utah, to take some time off college. In Moab, I learned some basic backcountry skiing skills in the La Sal Mountains, and soon headed to the Colorado Front Range to finish my degree at the University of Colorado in Boulder. I spent my weekends rock climbing and mountain biking in Eldorado Canyon and Boulder Canyon, and took some time off skiing.
After spending five years between Boulder and Moab, I headed south for graduate school in Albuquerque, New Mexico. Taos had always been on my radar, so I pulled the skis out of the closet and quickly realized I had some updating to do on the equipment end of things (I was still rocking my Salomon Pocket Rockets with original Diamir Fritschi bindings and my college Lange racing boots). It didn't take long to fall in love with New Mexico ski culture.
Recently, I moved back to Colorado and now reside in Colorado Springs with my bike- and ski-obsessed husband and our two black dogs. We happily make the commute from the Front Range to northern New Mexico and back to the Roaring Fork Valley when the snow is falling.