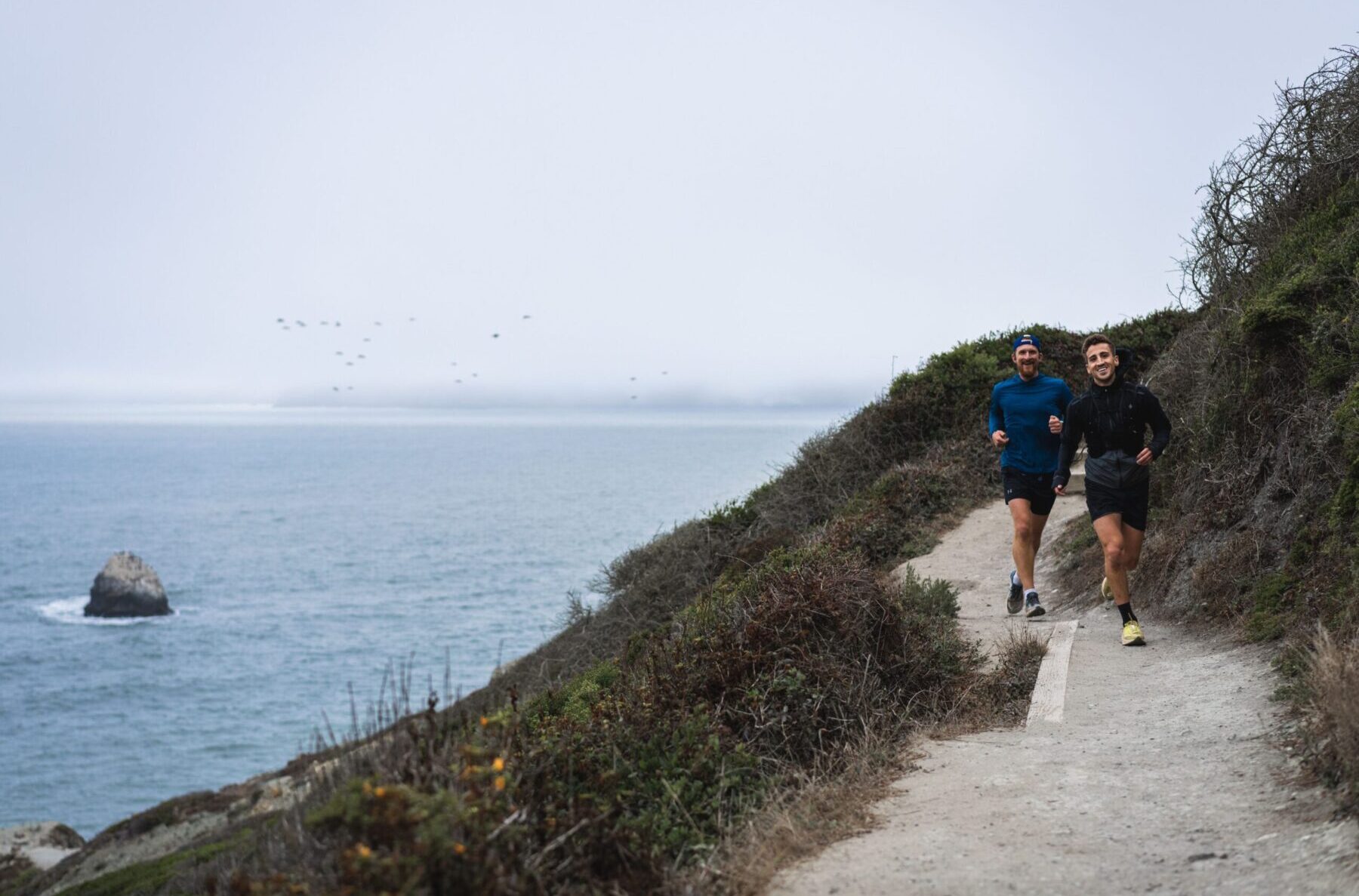 In our Trail Running 101 series, we're covering just about everything you might want to know to get started in the sport, as well as tips and tricks for experienced runners to make it more enjoyable. This is the eleventh part of the series; stay tuned for more.
Intro
Many outdoor sports are leashed to destinations, zones of interest that harbor the conditions to make a given activity feasible. These constraints, usually in the form of weather and/or terrain, can remove some of the autonomy involved in their pursuit. Skiing depends on snow, and certain types of skiing rely on resorts; surfing would be impossible without the ocean, and much less fun without a reliable wave; and while mountain biking succeeds in opening up more space to cyclists, it still leans heavily on trail systems with two-wheeled travel in mind.
A sport's reliance on place does nothing to diminish its value; rather, the capitals that form downstream of, for example, the country's best skiing / downhill mountain biking, pool together community and culture that arguably could not exist in a less concentrated form. What can perhaps be diminished in settings like these though is a sense of discovery, or feelings of boundlessness closely approximating freedom. By contrast, running seems like an activity that metabolizes curiosity for fuel. It's an end in itself, the point is precisely dislocation. It also requires little in the way of equipment, and when plucked from its competitive context, can really augment the way we see new places.
I just spent close to two weeks down in Santiago, Chile without much more of a cause than to plumb the city by foot. Over the course of my stay, running took on a new valence, evolving from a recreation I'm sometimes competitive into more of a method of travel. Limited to what I could corral into a carry-on and effectively mute with my makeshift Spanish, which often stuttered out into just a lot of pointing and gasping, it also became my most abundant resource. In the latest installment of our Trail Running 101 series, I'll pitch some best practices for running while traveling that I picked up over the course of my trip, including how to put together a gear list that transports well, practical ways to find / create running routes, and more.
Gear
The volume and variety of running gear needed when traveling depends entirely on your destination, objectives, and packing space. Acknowledging that, the purpose of this article is to provide a bare-bones approach to kit that should encompass a wide spectrum of activities — really anything up to the 50k distance on trails — and is still relatively compact. I'll do just about anything to avoid checking a bag, so this setup has the dimensions of a carry-on in mind.
Shoe Choice
Shoe choice feels like an intuitive place to start. For non-specific trips (i.e., you're not flying somewhere for an event, in which case bringing multiple pairs of shoes suited to the terrain you'll be running on is encouraged), most people can likely get by with a single pair. I always gravitate toward either a "generalist" trail model if I'm planning on spending the majority of my time on dirt, or a "road-to-trail" shoe if I anticipate any city running (we defined both categories in depth and offered some examples in our Trail Running Glossary of Terms: Trail Running Shoe Categories article).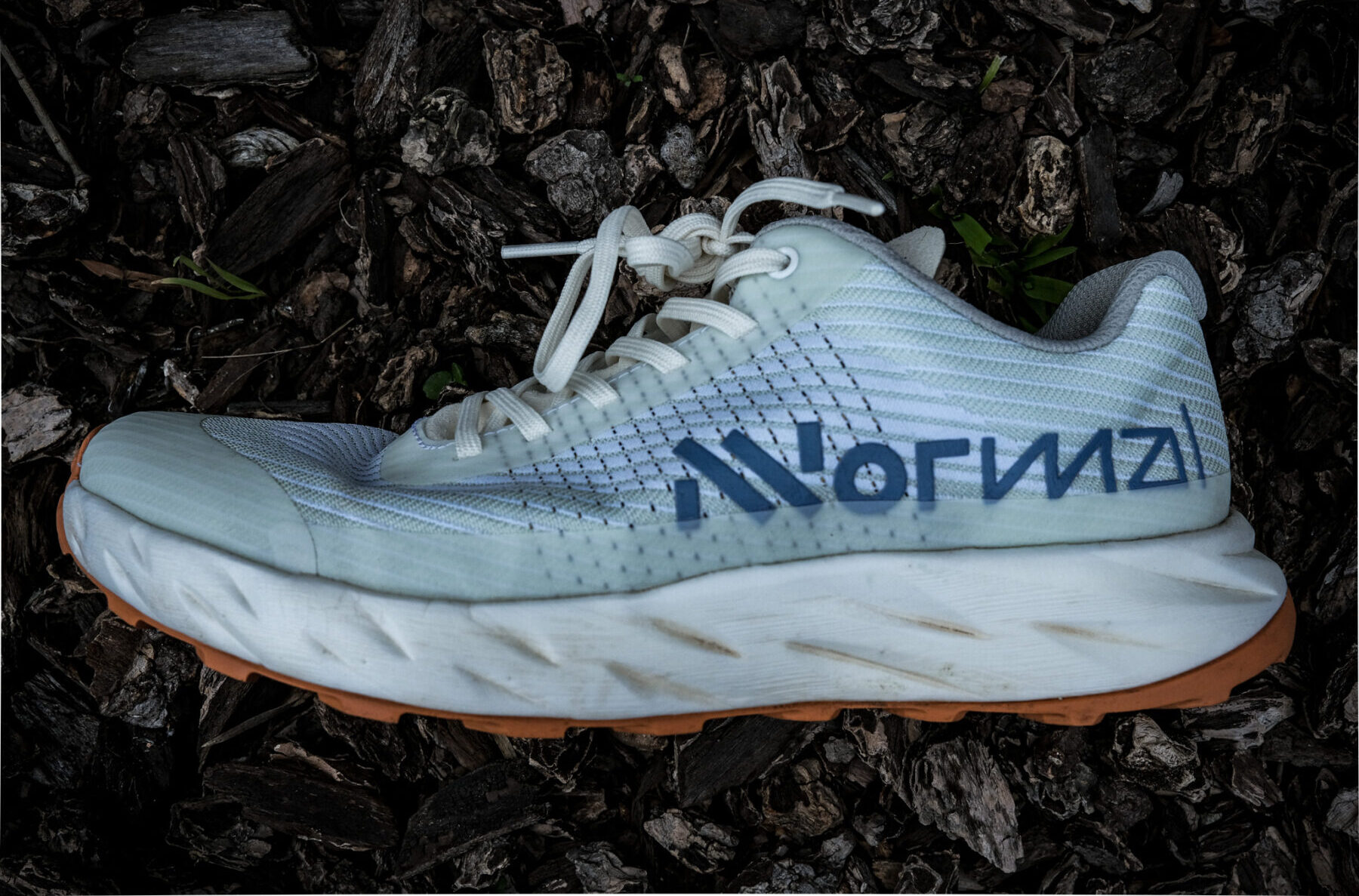 For this recent trip to Santiago, which included scrambling up loose terrain between the city's outlying peaks juxtaposed with scurrying through its thatched system of streets, I relied on the lightweight and versatile Nnormal Kjerag. The shoe's modest stack height lends stability while still supporting an impressive amount of cushioning for its volume, and its Vibram "LITEBASE" outsole made from "MegaGrip" rubber delivers excellent traction despite shallow, 3.5 mm lugs. Together, these qualities give the Kjerag a performance range ideal for a travel trail shoe; something cushioned enough not to fence in distance with an outsole made from high-quality rubber that's not too toothy for firm surfaces.
Accessories
Running while traveling can often involve levels of uncertainty we're mostly sheltered from on our home turf. In foreign settings, getting the most out of your accessories can help skim off the anxiety floating atop the excitement of checking out a new place. My personal gear setup has stayed the same for the better part of a decade now, and I think versions of it could help serve as a simple blueprint for most travelers.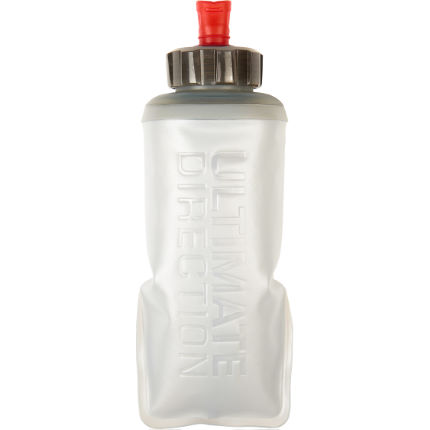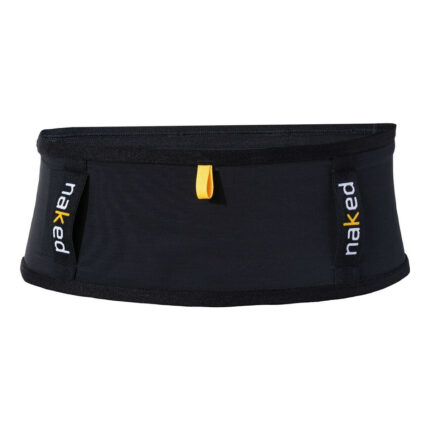 Everything branches off from a simple waist belt (the Naked Running Band, in my particular case). Discrete, compact, and unlikely to break, this accessory stores essential travel items you'd be ill-advised not to have close by, like a small amount of local currency, hotel key-card, phone, calories, and some form of ID. I like to keep these nestled up front, pinned against my body where they're less likely to spill out. Rear pockets house an extra wind / rain layer, like the Rab Phantom Jacket or the Arc'teryx Norvan SL Hoody – something I'll almost always bring along even if the weather calls for clear skies – and a full soft flask, like Ultimate Direction's superb Body Bottle 500. This approach is intended to set you up to be self-reliant, in that sense mirroring the gear you'd take on just about any backcountry run.
Practical Ways to Find Places to Run
Navigation is without a doubt the crux of running in a new environment. While an argument could be made that getting lost is perhaps the best way to thoroughly explore an unfamiliar city / trail system (the gear list detailed above is designed to ease the stress if you do lose your bearings), there now exists a compendium of route finding / route building apps even the most technologically illiterate runners should have no problems using.
The tool I lean the most on by a mile is Strava's mapping feature, which is available to platform subscribers and, in my opinion, well worth the $11.99 monthly fee. Both desktop and mobile versions of the app provide a multilayered interactive heatmap that charts out the most trafficked areas in a given zone. From there, you can then build a custom route on the fly and either use your phone to navigate in real time or export it as a GPX file to your GPS watch (Strava's mobile version will also auto-generate routes of up to 30 miles for you). In Santiago I used the navigation setting on my Coros Vertix 2 GPS watch, the subject of an upcoming review, and had no trouble carving my way through the city's dense neighborhoods. And the watch's high-definition map display made backtracking easy in the event that I did get off-track.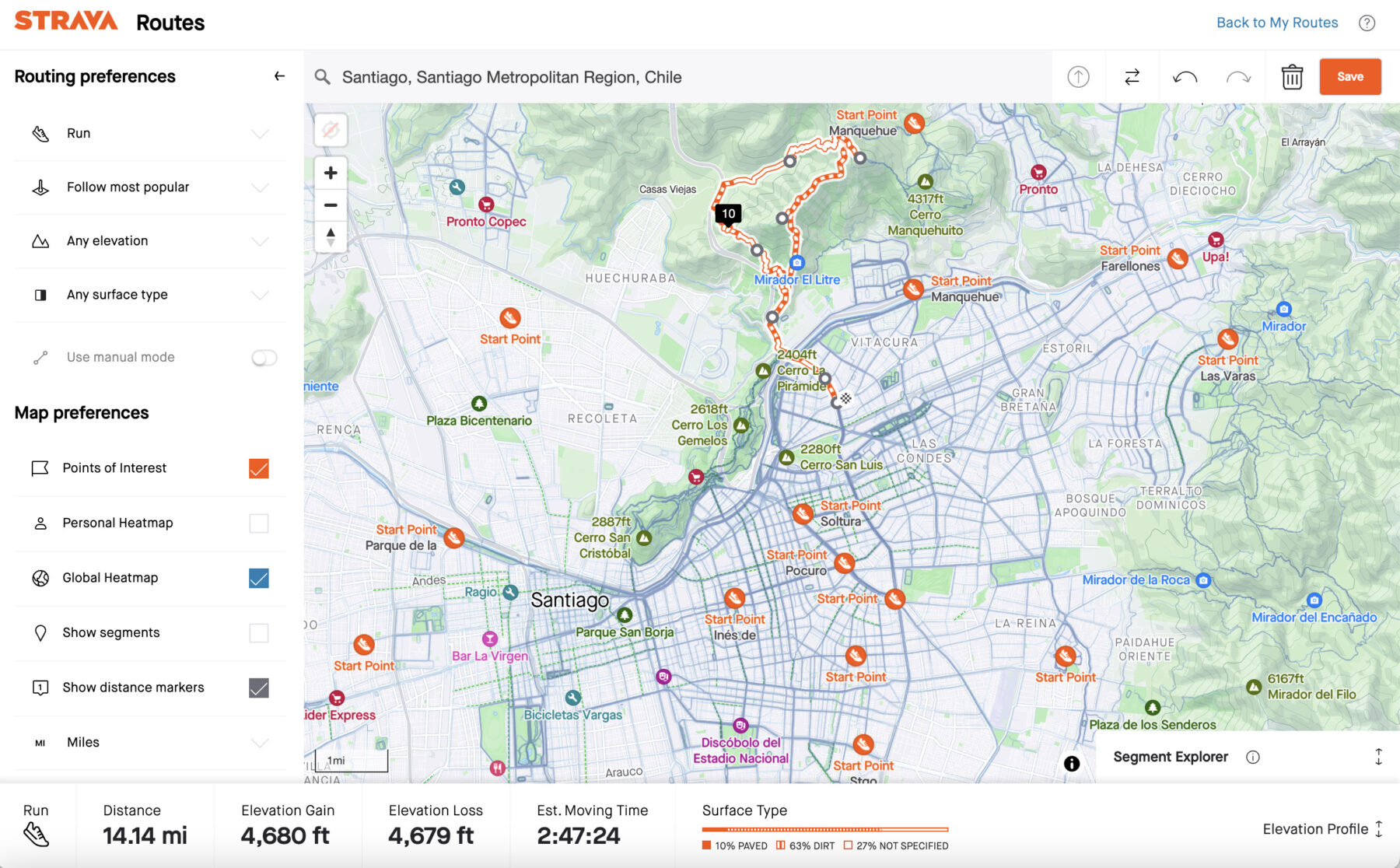 Strava also has a "Segment Explore" option which overlays the in-app map with user-generated "segments," or sections of roads / trails where athletes can compare times. Though originally meant to stoke competition, this feature has a secondary function particularly valuable to folks running in unfamiliar settings. Clicking on a given segment reveals a leaderboard with top historic times, which you can then sort using any number of filters (e.g., by recency, people you follow, age, gender, clubs, etc.). From there you have the option to view the user's specific activity the time on the segment was set during, revealing their entire route. With a bit of honest detective work, I'm usually able to parse together areas to check out based on how many people have run a given segment as well as example routes culled from a handful of user activities.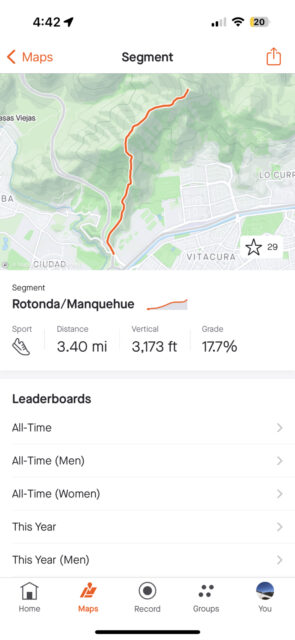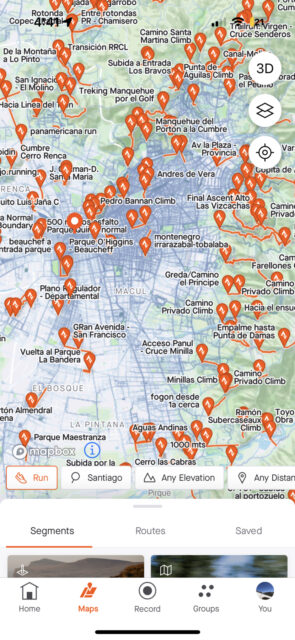 Using Segment Explore in this way is also particularly helpful if there's any uncertainty about trail access, a common concern during shoulder seasons in places known to receive a lot of snow. By selecting the most recent results on a given segment's leaderboard, you can get a sense for the last time someone had been up the pass you're interested in making a push for, or crossed the river you think could be impassable this time of year, to cite a couple of examples.
For folks wanting to keep things analog, seeking out beta from a local running store is always a smart move when possible. As a former "shop boy" myself, I considered doling out route recommendations to itinerant runners a huge part of my job. Out-and-backs were a format that worked for the majority of people, especially the self-confessed directionally challenged, and I still think they're a proven failsafe if you're looking for a non-fussy way to explore a new area.
Other Things to Keep in Mind
Unless you're an elite, there are plenty of other times to work on improving your fitness. Running while traveling should offer itself up as more of an immersive experience as opposed to a stringent training session. For this reason, it's perhaps best to pay little mind to nailing certain paces / distances and instead use the opportunity to lean more into your surroundings.
In a similar vein, don't overcommit to sticking to a pre-plotted route. If your surroundings start to feel unsafe, there's no shame in pulling the plug and retracing your steps back to a friendlier area. Conversely, if you feel yourself pulled in a particular direction, say, toward a market you spotted down a side street or a ridgeline not too far away, try not to feel guilty about indulging in a bit of improvisation and checking them out.
If your trip includes a long-haul flight like mine did, going for a short shakeout run after you step off the plane can help shed symptoms of jetlag, and at the very least straighten your body back out after sitting for hours. Relatedly, try and book an aisle seat if you can. Doing so puts you in the best position to be able to get up, walk around the cabin, and stretch your legs mid-flight.