After we'd promised to start putting time on the Masterblaster at Mt Bachelor, the snow gods decided to drop about 50 inches of snow on us while we were there. The Masterblaster was the skinniest ski we brought on the trip, and honestly, I could have easily skied the 125mm-underfoot Line Pescado every single day, and not only been happy on something that fat, but would have had a great time.
But I had brought the Masterblaster out with us, and figured that I might as well see how well it could handle some really deep conditions. (Pretty ironic, given that I have been most interested in seeing how well the Masterblaster handles terrible conditions.)
Nevertheless, for those of you who will be considering the Masterblaster as a one-ski quiver — for use on super firm days AND super deep days … I can weigh in on the latter. Luke Koppa has also now spent time on the 181 cm Masterblaster, and has added his thoughts on the ski from the perspective of a more playful skier.
Powder
Jonathan Ellsworth (5'10", ~180 lbs): All in all, I'd say the Masterblaster handled fat conditions quite well. In clean, smooth, deep, untracked pow, the 187 Masterblaster is substantial enough that it provides a very Cadillac-like ride. Granted, a fat, lightweight ski like the Line Pescado — which is pretty much the opposite of the Masterblaster — felt like a fantastic tool for the job. But the Masterblaster planed reasonably well. The main thing I had to adjust for is if I hit a transition into a super deep pocket of pow — if I did, I'd simply shift my weight back a bit to make sure I avoided tip dive. And for the most part, I was successful; there were only a couple of times where I failed to adjust upon entering a thigh-deep pocket of pow on the Masterblaster, and I'd get bucked forward a bit.
The biggest takeaway here: I doubt that many of you will have the Masterblaster out in conditions this deep. But if you do, you'll be fine. And if you ski at a resort where even the biggest, deepest days get tracked out super quickly, then you'll be more than fine. Because…
Tracked Pow & Soft Chop
Jonathan: The 187 cm Masterblaster is a pretty heavy ski for its width, but at Mt Bachelor, I quite liked that weight. Whenever I hit upon denser pockets of snow lurking beneath a foot or two of fresh pow, the Masterblaster stayed quite composed, smoothing out those transitions, or allowing me to blast through tracked snow into pockets of fresh. I really appreciate that quality (which is one of the reasons why I like the Bibby Pro so much), and the Masterblaster offers that in a much narrower package.
Long and short: I have zero reservations about skiing the Masterblaster in any fresh snow up to 12-18" deep. More than that, and I think you'd probably enjoy a wider ski (e.g., the J Skis Metal would have been a really fun ski to have out here, but again, at 106mm-underfoot, this week was easily accommodating 116-125 mm wide skis).
As for comparisons, I still think the Nordica Enforcer 93 and Enforcer 100 are probably the front runners, and my suggestion in my First Look at the Masterblaster — that maybe it sort of splits the difference between the Enforcer 93 and 100 — seems like it might be correct. The Masterblaster felt pretty substantial (like the Enforcer 93), but it also floated pretty well for its width (and I don't believe that the Enforcer 100 would have worked noticeably better in this pow).
Anyway, we're off to a pretty good start here. But the more important testing will happen as soon as we can finally get away from all of this fantastic snow and get the Masterblaster into some more everyday, run-of-the-mill conditions.
Luke Koppa (5'8", 155 lbs): I've now skied the Masterblaster in shallow chop and in some deep slush, and as long as the snow was shallower than around 6", I basically couldn't be happier on the 181 cm Masterblaster.
It has enough tip rocker and tip splay to not get bogged down in chop, and then has the rigidity and dampness to drive through the snow with little deflection.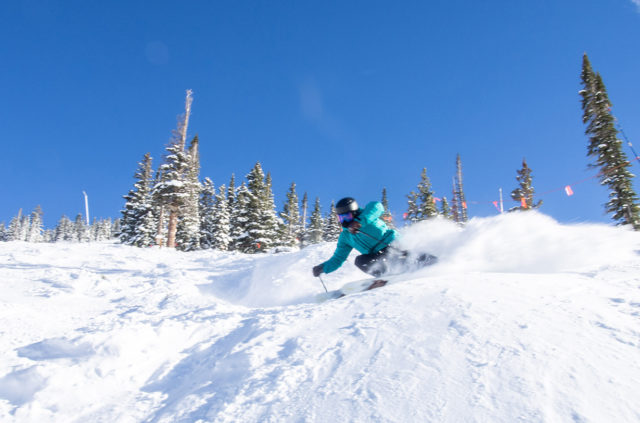 Jonathan Ellsworth and I just spent a day skiing at Crested Butte that consisted of about 4" of fresh in the morning, and a bit of snow falling throughout the day. Early on, Jonathan remarked that he thought the 181 cm Masterblaster would be pretty ideal for the conditions, so a bit later, we grabbed the ski from our HQ at Elevation, and confirmed Jonathan's suspicion. This ski kills it in fairly shallow chop. The formula of having enough mass to not get knocked around + a fairly round, stiff-but-not-too-stiff flex pattern + a bit of tip rocker seems to be a very good combination for these conditions.
The last thing I want to note here is the Masterblaster's level of forgiveness and playfulness. This is what I think makes the Masterblaster stand out in the metal-laminate all-mountain category, and is why I like it so much more than a lot of other directional, heavy, stable all-mountain skis.
The Masterblaster is damp, stable, and you can ski it hard and fast. But at the same time, it also lets you break the tails free when you want, and it's never felt out of place to me in fairly shallow chop and other off-piste snow. Some flatter-tailed skis out there have a tendency to get caught up in grabby snow, but I haven't experienced this on the Masterblaster.
Groomers
Jonathan: While I was pleasantly surprised how well the 187 Masterblaster handled deep snow, the biggest surprise to me so far is how the 187 Masterblaster performs on groomers. In short, the ski wanted a lot of speed before it was ready to get up on edge and carve. But man, if you often ski at inbounds areas that have long, wide groomers, the 187 had a significant amount of stability at speed; if, however, you prefer to carve shorter, quicker turns, you might look elsewhere. To be clear, if your approach to groomers is to keep your bases relatively flat and smear from turn to turn, the 187s will do that. But for high-angle carving? These skis wanted more speed than I had anticipated.
And I suspect that the 181 Masterblaster will feel pretty different in this regard. If I had to wager, I think the 181's will still offer good stability at speed, but they won't require as much speed. We'll be reporting back on this soon. But as for the 187s? Those who prefer short turns at slower speeds should likely consider the 181s rather than the 187s.
Luke: To me, the Masterblaster feels smooth, stable, and confidence-inspiring on groomers. I felt like it preferred medium to large-radius turns, and I basically couldn't find the speed limit of the 181 cm Masterblaster on fairly clean groomers.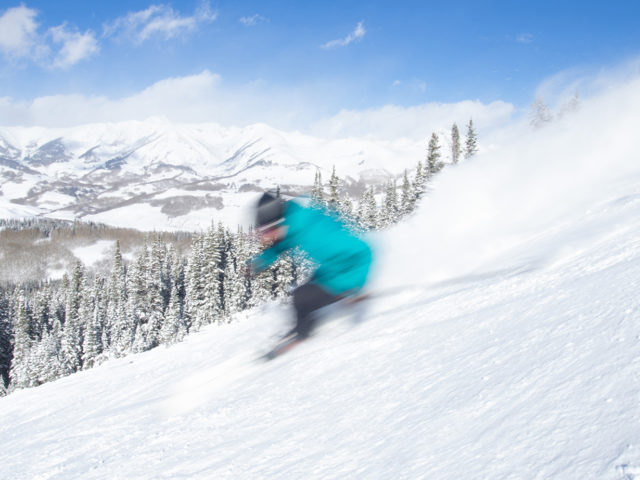 It's not the most energetic ski, and it doesn't necessarily yank you into a turn. But the Masterblaster feels really intuitive on groomers. It is smooth and stable without being very punishing, and it holds an edge fairly well on icy snow.
While I prefer more energetic skis with tighter turn radii for mellow groomer laps, if I want to mob down a groomer with little regard for who / what is in my path, the Masterblaster is one of my top picks.
Moguls
Jonathan: In slightly soft, fairly tightly spaced moguls, I certainly noticed the weight of the 187s. When I could find a good line, the skis felt really good and stable. But at almost 2400 grams per ski, these are not flick sticks, and I believe that the 181 Masterblaster is going to deliver good stability in bumps while also cutting nearly 300 grams and a little bit of length. Note the weight comparisons in my Deep Dive article; the 181 Masterblaster is still a pretty weighty ski, so I'm feeling pretty comfortable in generalizing (for now) and saying that for those who will be using the Masterblaster in firm conditions and tight terrain, the 181s will probably work well for heavier skiers — in the way that we've found the 180 cm Blizzard Bonafide to work well for heavier skiers (up to ~240 lbs).
It's maybe worth noting that I didn't think twice about the weight or length of the 187 Masterblaster while at Bachelor. In deep snow, having the little bit of additional surface area probably didn't hurt, and in general, the trees are spaced so well of the Northwest Express lift at Bachelor that it is easy to just ski and flow without needing to speed check. But in low-angle, tight trees? I think I'd opt for the 181s.
It's always great to be able to review the same ski in a couple of lengths. And I hope some of my comments makes it a bit clearer which length might work better for you, given (1) how you like to ski, (2) where you ski, and (3) in what conditions you want this ski to shine. I'm eager to get these skis into some of my favorite terrain at Taos (Reforma, Zdarsky, etc.) to see if I develop a clear preference there for the 181 or 187…
Luke: if you've read some of my reviews on Blister, you'll know that I don't love skis with really stiff tails, particularly in moguls. I tend to ski with a somewhat forward stance in moguls, but I will often mix in some pivoting from a more neutral stance. So, since I'm not always driving the tips of my skis into troughs, a ski with a really stiff tail can feel a bit punishing to me.
I was initially a little worried that the Masterblaster might be a bit too stiff or demanding for me in moguls. However, it's tail isn't all that stiff (it doesn't feel very punishing to me), and its tail rocker makes the back of the ski pretty easy to slide around.
As a result, the Masterblaster is one of my favorite mogul skis for when the snow is really harsh and unforgiving. I'd still prefer a lighter, more heavily rockered ski for spring laps or powder (when the snow is pretty forgiving). But when the moguls are bulletproof, the Masterblaster's combination of (1) a fairly forgiving flex, (2) easy-to-release tail, and (3) damp construction all make the ski feel pretty comfortable while mashing or pivoting through firm moguls.
Playfulness
Luke: I alluded to this earlier (and have talked about it in my quiver selections and on our GEAR:30 podcast), but I think this is what makes the Masterblaster stand out.
There are plenty of very good all-mountain skis out there. And a lot of the more stable ones tend to feel very directional, with a stiff, not-very-rockered tail, and a very traditional mount point. Those skis can be great, and a lot of people (like Jonathan) really like them. But I've never found myself calling a ski like the Blizzard Bonafide, Volkl Mantra, or Head Monster 98 "fun."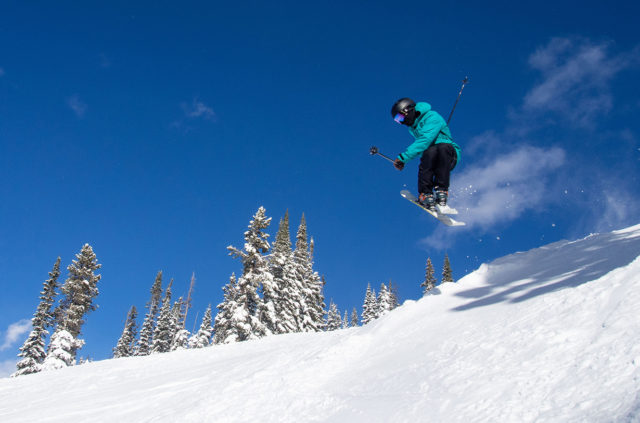 The Masterblaster takes that stable, damp feel and adds a slightly less traditional mount point, a bit more tail rocker, and a not-super-stiff flex pattern. The result is a ski that you can still ski very hard, but that also lets you slash, pivot, and jump your way around the mountain. In other words, it's conducive to the style of skiing that I personally consider to be "fun."
To be clear — the Masterblaster is not some jib ski. It's still quite heavy, does not feel particularly light in the air, and there are a ton of skis out there that are better options if your primary criteria are playfulness and freestyle performance. But if you're like me and like stable skis but have found more traditional metal-laminate all-mountain skis to feel a bit too one-dimensional, I think the Masterblaster is worth a close look.
Update: 181 cm Masterblaster vs. 187 cm Masterblaster
Jonathan: Well, after a couple of days on the 181s, I can't say that I personally have a clear preference (more on this below), but I can certainly speak to the differences.
While I felt like the 187 Masterblaster wanted a surprising amount of speed before it was willing to be coaxed into high-angle carves, that is not true of the 181. On my feet, the 181s certainly felt more versatile, happy to make both slalom and GS turns, easier to get up on edge at slower speeds, but — on clean groomers — still quite happy to hit high speeds and big turns. So on groomers, the choice to me is pretty simple: if you only make fast GS turns and don't care about moderate speeds or making both big turns and smaller, quicker turns, you may prefer the 187s (especially if you weigh ~180 lbs or more). Lighter skiers may still find that the 181s give them a really good top end, and may find the 187s to be overkill.
If we are going to go ski tight moguls all day, then there's no question that I'd opt for the 181s — shorter is simply nicer in big old bumps, and the 181s still provide a stable enough platform to ski hard and fast. Of course, if you are lucky enough to ski really nicely-spaced mogul lines all the time — where you can easily see your lines and anticipate your turns in advance, then the 187s ought to be just fine. But simply given the weight differences between the 181s and the 187s, it is no surprise that the 181s are the more flickable skis.
So when it came to my Reforma test at Taos, I appreciated how quick and easy it was on the 181s to make sudden changes of direction and air off moguls. The 181s still provide a good amount of stability. So really, it was only on the straight-line runouts on Reforma where I would have liked to have back the greater stability of the 187s. Again, not really a surprise here — you're going to gain more inherent stability from the heavier 187s, while you're going to gain quickness and maneuverability from the 181s.
In large part, I feel like the decision regarding length shouldn't actually be that difficult. Once again, it's "Know Thyself" time. If you are someone who often gravitates toward heavier skis and is more likely to complain that a ski is too twitchy or unstable, and you less frequently complain that a ski isn't quick enough for you … consider the 187s. If you often get along with lighter "fun" skis, don't typically find yourself complaining that a ski isn't stable enough for you, and you value quickness, it seems likely that the 181 (or shorter lengths, depending on your height / weight) will be the right call.
As for me personally? I can be quite happy on either length, and I think it would primarily come down to where I was going to ski most. At a place like Mt Bachelor, I would go with the 187s. The groomers are wide and long, and the trees are well-spaced enough that I'm not too worried about quickness. And it would be fun to nuke around on the 187s making big turns off the Summit.
At Taos, the decision whether to go with the 181s or the 187s becomes tougher. I'd probably still opt for the 187s since I do often prefer stability and a big top end to quickness, but there will be times (especially as I'm getting tired at the end of the day) when I'd miss the lighter, quicker 181s.
At a place like Ski Santa Fe — where there are a lot of tight trees, shorter, compacted moguls, and fewer straightline exits, I would easily opt for the 181s. The shorter ski just is a better fit with the terrain that the place affords.
Bottom Line
I noted in the Intro that J Lev likes to make fun skis. And the Masterblaster is definitely fun. But the 187 is also a pretty serious ski, and definitely belongs in the class of directional skis like the Nordica Enforcer 93, Nordica Enforcer 100, and Blizzard Bonafide. It is not some easy-going jib ski trying to disguise itself as a legit, all-mountain ski that can hold up to high speeds and firm conditions.
For most skiers, the 181 cm Masterblaster is going to strike more of a natural balance between stability and quickness. Strong skiers — and especially strong skiers who spend a lot of time skiing fast in open terrain — will still probably prefer the 187. But if you really value (1) a combination of quickness and stability, (2) the ability to make a variety of turn shapes (3) don't insist on a huge top end, and (4) spend a lot of time in tight trees, big moguls, or lower-angle terrain, the 181 may be the right call.
Deep Dive Comparisons: J Skis Masterblaster
Check out the rocker profile pics on the next page, and Blister members and Deep Dive subscribers can jump down the rabbit hole to look more closely at our updated comparisons of the Masterblaster vs. the ON3P Wrenegade 98, Liberty Origin 96, Nordica Enforcer 93 and 100, Blizzard Bonafide, and Line Supernatural 100.
Become a Blister Member or Deep Dive subscriber to check it out.
NEXT: Rocker Profile Pics