After reading Jonathan Ellsworth and Paul Forward's reviews of Moment's reverse-camber all-mountain ski, the Meridian 107, I was very intrigued. It sounded like it could offer a solid blend of playfulness and stability that I'm always searching for, and this year I finally got on it.
Slush
I first got on the Meridian 107 late in the 17/18 season, which meant long, warm, slushy days at A-Basin. This also meant that we were testing a lot of skis.
But while testing all of those skis, the Meridian 107 proved to be one of my favorites for the slushy, feature-laden terrain. Its fairly stiff flex pattern helped it easily push through the slush — even when that slush was deep and I was skiing very fast. Meanwhile, its reverse-camber profile and significant tip and tail splay meant that I could easily slash and slarve my way around the mountain.
Overall, I think the Meridian 107 is a fantastic soft-snow ski. It's strong yet playful, and stable on edge but super easy to break loose. That said, I was kind of expecting the ski to be good in soft snow, but how would it do on firm, early season conditions?
Groomers
I've been skiing the Meridian 107 almost every day this past week, and a lot of that has been on groomers ranging from icy to nice and soft.
On anything softer than ice, the Meridian 107 provided solid edge hold. One of the curious things about the ski was how easily I could feather and modulate my turns. If I wanted to chill out and casually slide around my turns, I could do it with ease. I could even hold an extended slide on steep slopes in an effort to do my best McConkey impression.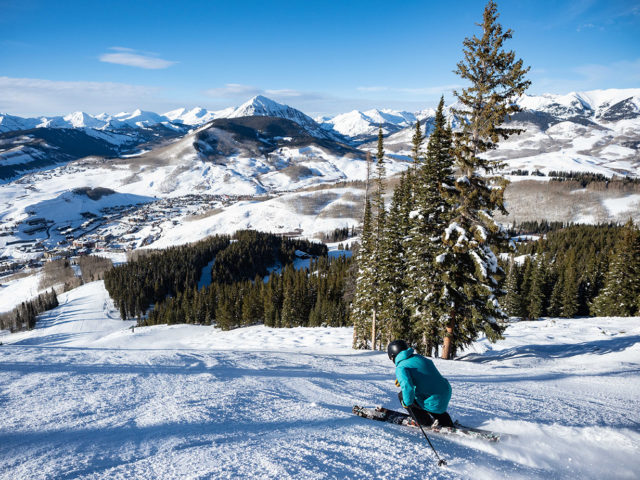 However, if I tipped the ski on edge — and especially if I pressured the front of my boots — the ski actually provided pretty solid grip. It definitely would not be my first pick for icy days, but the Meridian 107 at the very least remained predictable on firm snow, and when that snow was at all soft, it was a lot of fun.
The one thing the Meridian 107 lacks on groomers is energy. Like most reverse-camber skis I've used, the Meridian 107 doesn't produce much "pop" when coming out of a turn. So if that's important to you, you might be better off with another ski. However, since this ski is so much fun elsewhere, I was pretty happy with how it handled groomers.
Moguls & Tight Terrain
The Meridian 107 is one of my all-time favorite mogul skis. That's a result of a few things:
(1) It's incredibly easy to pivot and slide.
(2) It's strong enough so I can pressure the front of it, but it's still pretty forgiving and also accepts a more centered stance.
(3) It has a very low swing weight.
I like to ski moguls with a pretty neutral stance, putting just a bit of pressure on the front of my boots. The Meridian 107 feels very intuitive when skiing with this style, but unlike some freestyle skis with progressive mount points, the Meridian 107 also feels great with a more forward, driving stance. I love skis that give me the option of both, particularly in moguls where I'm making lots of minute adjustments to my stance.
The other factor is just how easy it is to swing around the Meridian 107. It feels very light, and its rocker profile makes it one of the loosest skis I've ever used when running bases flat. But again, put the ski on edge, and it will dig in.
People who like flat tails or lots of camber obviously won't love the Meridian 107. But if you like to slash your way through bumps and also appreciate a ski with a supportive flex pattern, the Meridian 107 could be worth a look.
Chop & Crud
I was on the Meridian 107 when they dropped the ropes on Lower International and some of the trees under the Silver Queen Express Lift at Crested Butte, and the snow was an interesting mix of week-old, cold pow and sun-baked, crusty slush. While I would've preferred a slightly wider ski for the deep stuff, I was very happy to be on the Meridian 107.
Here, its rocker profile again came in handy, making it easier to slide around and through the fairly grabby snow. Meanwhile, its strong flex pattern again let me bust through patches of softer pow.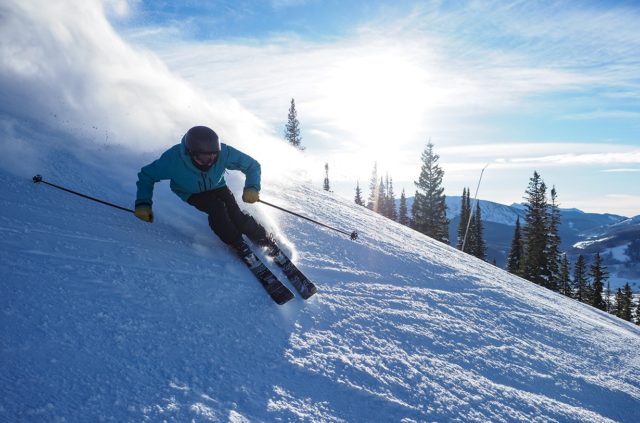 And when I found some shaded areas that hadn't been warmed by the sun, that's when the ski really shined. Airing into fields of cold, soft chop felt great on the Meridian 107 — balanced in the air, strong landing platform, and powerful enough to ski fast on the runout. I'd say the Meridian 107 is one of the more stable ~105mm freestyle skis I've used.
When the chop got cut up more, thawed, and refroze the next day, I definitely had to slow things down on the Meridian 107. It's not an extremely damp ski, and I felt much better while carefully picking my way around the firmer patches of crud (rather than try and roll over / through them). And since the Meridian 107 is so easy to slide around, that was pretty easy. But if you want something that you can rage on no matter how firm and nasty the conditions are, I'd check out a heavier ski.
Playfulness
The Meridian 107 has an interesting combination of traits that affect how playful it feels. On one hand, it's got a pretty stout flex pattern that doesn't feel very conducive to slow-speed butters, presses, ollies, etc. But on the other hand, it has a rocker profile that makes quick slashes ridiculously easy. It also has a recommended mount point (-5 cm) that's pretty close to center, and a twin tail.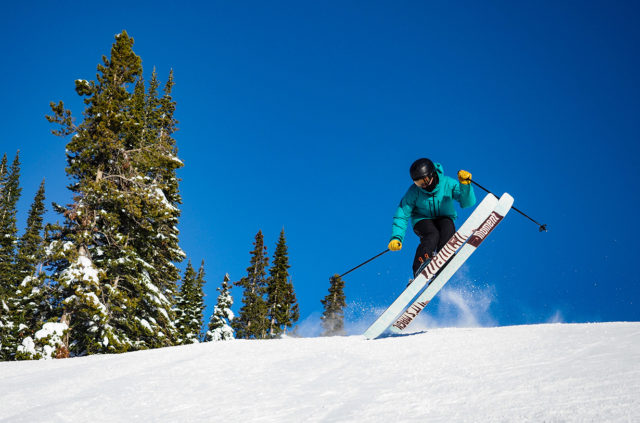 The result is a unique on-snow experience, and one I really like. The Meridian 107 definitely feels loose and it will let you slash and spray your friends with ease. But don't expect to be able to easily bend the ski like you would a soft park ski.
Personally, I'm a fan of the Meridian's playful-yet-stiff feel. It feels great in the air, you can ski it centered, it's just stupid-easy to slide around, and it's strong enough to ski quite fast through fairly soft snow.
Who's It For?
Anyone who wants a ski that's extremely easy to pivot and slide around when you want to, but that's also strong on edge and stable enough to ski hard in soft snow. The Meridian 107 should be particularly appealing to freestyle-oriented skiers who want a ski with some backbone.
Bottom Line
The Meridian 107 is a unique ski, and one I've really come to like. It brings together characteristics from freestyle skis (lots of rocker, loose feel, light in the air) and more directional options (fairly stiff, stable on edge). The result is a ski that I've found to be quite versatile, and more importantly, really fun.
NEXT: Rocker Profile Pics