2021 Ibis Mojo 4
Geometry: See below
Wheel Size: 27.5′′
Travel: 130 mm rear / 140 mm front
Stated Weight
Frame w/ shock: 2.68 kg / 5.9 lbs
Lightest Full Build: 12.11 kg / 26.7 lbs
MSRP:
Shimano Deore: $4,499
Shimano SLX: $5,399
SRAM GX: $5,699
Shimano XT: $6,099
SRAM AXS: $10,699
Frame only w/ Fox DPS shock: $2,999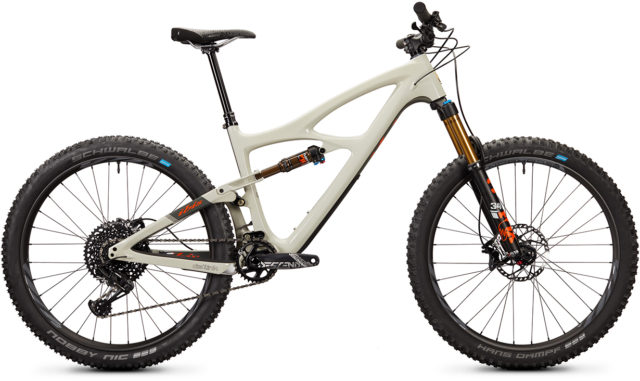 Intro
The first Ibis Mojo was introduced way back in 1994, and the first carbon Mojo under the revived Ibis brand came out in 2005. It's been one of the mainstays in the brand's lineup since then, undergoing multiple revisions that have culminated in the newest version released today, the Mojo 4.
The 130mm-travel Mojo has been and still is Ibis's shortest-travel 27.5" bike, positioned as the more general "Trail" bike counterpart to the more gravity-oriented Mojo HD5.
There are a lot of interesting things going on with the new Mojo 4 (this isn't just a name + graphics change), especially since 29ers seem to have recently dominated this travel class. We're hoping to spend time on the Mojo 4, but in the meantime, we'll dive into how its design compares to the current crop of wide-ranging "Trail" bikes.
Ibis also released a video showcasing what the Mojo 4 is all about, handing it off to the Wallner family with bike coach and guide Elin Wallner taking it out on some of their local trails and EWS racer Robin Wallner getting it off the ground as much as possible:
The Frame
Just staring at the two, the Mojo 3 and Mojo 4 look pretty similar. The Mojo 4 retains a similar aesthetic and is still only available with carbon front and rear triangles, but there are several notable updates.
First, the Mojo 4 features in-frame molded cable tunnels for easier setup of its internally routed cables, whereas the Mojo 3 lacked any internal guides for its cables.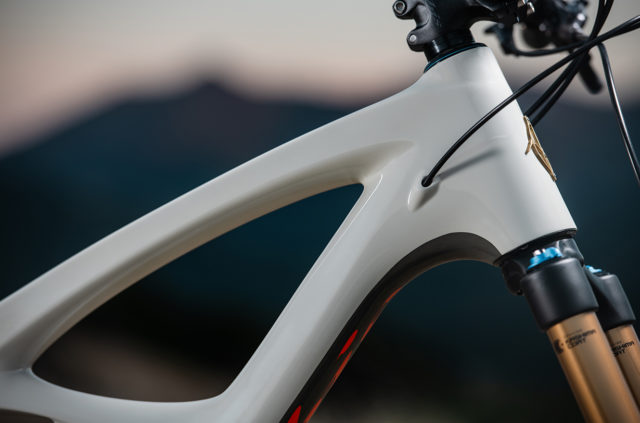 Another notable change is that, while the Mojo 3 was marketed as being 27.5+ compatible with its 2.8" of tire clearance, the Mojo 4's stated tire clearance maxes out at 2.6" and full builds come stock with a choice of 2.6" or 2.5" tires (more on specific builds below).
Ibis also added rock / mud protection to the upper and lower links on the DW-Link suspension design. And in line with the recently revised Mojo HD5, they used bushings for the lower link of the Mojo 4 to reportedly reduce how often you need to service them and also increase stiffness vs. the bearings used on the Mojo 3's lower link. Like the Mojo HD5, the Mojo 4 still uses bearings for the upper link.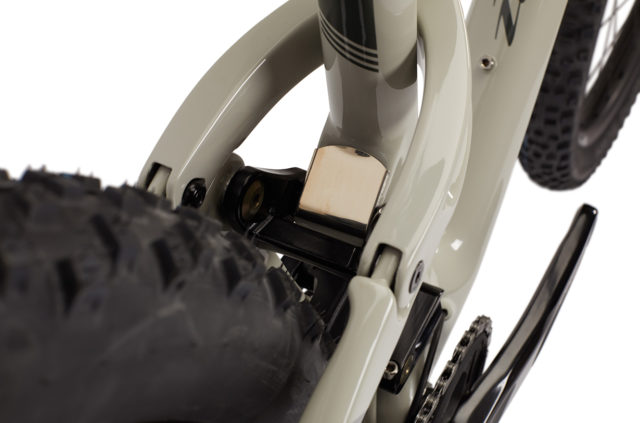 The Mojo 4 will also come with Ibis's new "Traction Tune" applied to its suspension (on all builds and frame w/ shock). You can read much more about this here, but the super basic version is that Ibis says their DW-Link-suspension bikes can get away with a lighter-than-average compression tune and therefore create a more reactive suspension platform with better, more consistent traction.
In terms of things that have not changed a whole lot vs. the Mojo 3 frame, the Mojo 4 can still fit a 22-oz water bottle inside its front triangle, it still has downtube & chainstay protection, it's got a removable ISCG 05 chain guide tab, a threaded bottom bracket, and a 7-year warranty for the original owner. And you can still separately buy Ibis's "Pork Chop" bag that slots into the cavity in the Mojo 4's front triangle.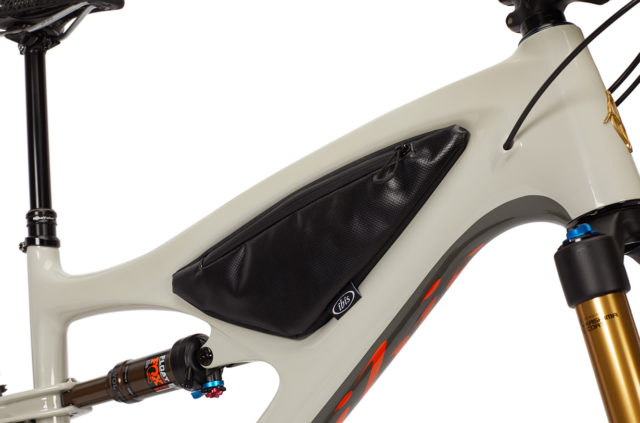 The Builds
As of right now, Ibis is offering the Mojo 4 as a frame only with a Fox Factory DPS shock for $2,999 or in full builds ranging from $4,499 for the Shimano Deore build all the way up to $10,699 for all the bells and whistles of the AXS build. Curiously, there are no full SRAM X01 or Shimano XTR builds, leaving a rather sizable gap between the $6,099 Shimano Deore XT build and the $10,699 SRAM AXS build.
One notable thing with all of the Mojo 4's full builds is that — according to Ibis's build sheet — they all come standard with Fox's Factory Series suspension (DPS Evol shock + Float 34 fork). It's cool to see high-end suspension that's not limited to the most expensive builds.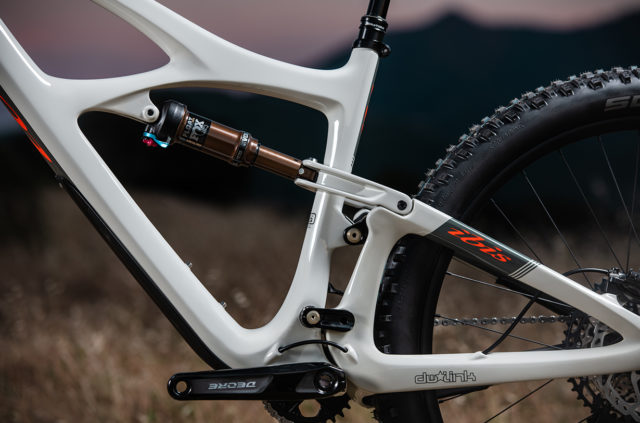 Another noteworthy aspect of the Mojo 4 is that, due to its redesigned geometry, riders can fit up to a 185 mm dropper post in the size Medium, Large, and XL while the size Small will fit down to a 125 mm dropper.
All full Mojo 4 builds come with a choice of 2.5" Maxxis Assegai Exo+ tires front and rear, or a 2.6" Schwalbe Hans Dampf Addix Super Soft Trail up front and a 2.6" Schwalbe Nobby Nic Speed Grip Super Trail out back.
One interesting thing is that, across all builds – including those with SRAM drivetrains – the Mojo 4 comes with one of four different levels of 2-piston Shimano brakes, and all of them come standard with 180 mm rotors front and rear (they say you can fit up to a 203 mm rotor).
There are a few upgrade options for all builds apart from the AXS build, with the option to upgrade to Ibis's Logo Carbon Wheels for $800, Ibis's carbon wheels + Industry Nine Hydra hubs for $1300, and / or carbon handlebars for $68. You can also upgrade the Shimano Deore build's dropper to the Bike Yoke Revive for $125.
For reference, here are some of the key components and prices for all of the Mojo 4 builds. You can see the full details for all builds here.
Shimano Deore
MSRP: $4,499
Drivetrain: Shimano Deore 12-speed
Brakes: Shimano Deore M6100
Dropper Post: KS Rage-i (125 or 150 mm)
Shimano SLX
MSRP: $5,399
Drivetrain: Shimano SLX 12-speed
Brakes: Shimano SLX M7100
Dropper Post: Bike Yoke Revive (125, 160, or 185 mm)
SRAM GX
MSRP: $5,699
Drivetrain: Sram GX Eagle 12-speed
Brakes: Shimano SLX M7100
Dropper Post: Bike Yoke Revive (125, 160, or 185 mm)
Shimano Deore XT
MSRP: $6,099
Drivetrain: Shimano XT 12-speed
Brakes: Shimano XT M8100
Dropper Post: Bike Yoke Revive (125, 160, or 185 mm)
SRAM XX1 AXS
MSRP: $10,699
Drivetrain: Sram XX1 Eagle AXS 12-speed
Brakes: Shimano XTR M9100
Dropper Post: RockShox Reverb AXS (125, 160, or 170 mm)
Geometry
The Mojo 3 hadn't been majorly updated in a few years, and its geometry was evidence of that. With a 67.1° head angle, 74.4° seat tube angle, and 424 mm reach for a size Medium, the Mojo 3's geo numbers were looking a bit dated for a modern, 130mm-travel bike.
As we end up writing about every new bike, the new Mojo 4 changes that — and it's not just a minor update. The Mojo 4's head angle comes in at a far slacker 65.4°, its seat tube angle has steepened to 76.6°, and its reach for a size Medium comes in at 460 mm.
Those numbers are decidedly more modern for a 130mm-travel bike, and we're excited about the potentially improved stability and seated climbing position of new Mojo 4. And the really interesting thing is that, while we were trying to come up with some ~130mm-travel, 27.5" bikes (that don't have dramatically longer-travel forks) to compare to the Mojo 4, not many came to mind.
One of the few obvious comparisons is the Santa Cruz 5010, which has a 66.2° head angle, 74.9° seattube angle, and 437 mm reach for a size Medium (all numbers from the "low" setting). The Kona Process 134 DL 27.5 is another potentially good comparison, which has a 66° head angle, 76.6° seattube angle, and 450 mm reach for a Medium.
One thing that hasn't gotten longer on the Mojo 4 is its chainstays — at 425 mm for all sizes, the Mojo 4 still has the shortest chainstays of any Ibis mountain bike. With its longer reach, pretty slack head angle (for a bike this class), and resulting increase in wheelbase, we're curious to see how those short chainstays affect how nimble and playful the new Mojo 4 feels.
In another move to modernize the geometry of the new Mojo 4, all full builds will come with 37mm-offset forks. If you need to study up on fork offset and what it does (and doesn't do) for bike handling, check out our Fork Offset 101 article.
Last geometry update of note, converse to all of this modernizing, the BB height has risen ever so slightly from 337 mm on the Mojo 3 to 340 mm on the Mojo 4. Ibis says that the Mojo 4's four sizes (Small, Medium, Large, & XL) will cover riders anywhere from 5' to 6'6" and you can check out the full geometry chart for all sizes below: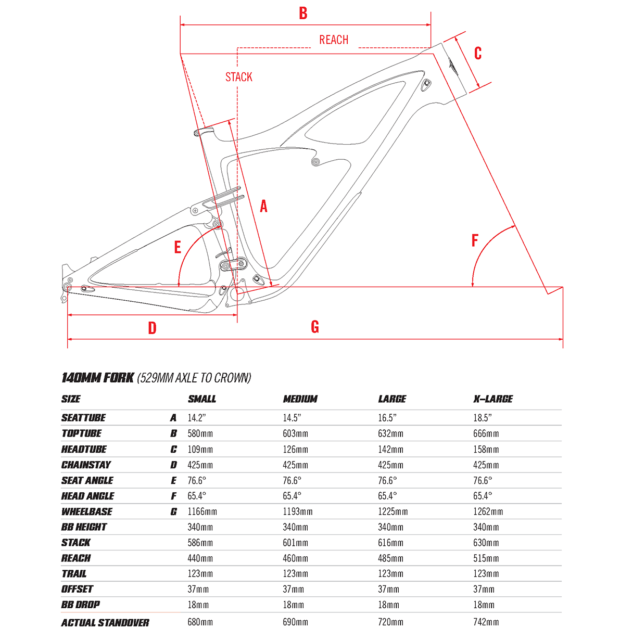 Bottom Line (For Now)
Most bike companies seem to be making 29ers in the short- / mid-travel Trail category, but Ibis is sticking to the roots of the Mojo and the resulting Mojo 4 is a 130mm-travel, 27.5-wheeled bike with modern geometry that has us excited about its potential versatility. We're hoping to get on one this summer, and will update this review if / when that happens.