Giant Glory Advanced
Wheel Size: 29'' front / 27.5'' rear; 29'' rear compatible
Travel: 200 mm rear / 203 mm front
Geometry Highlights:
Sizes offered: S/M, M/L, L/XL
Headtube angle: 62° (mid-geometry position)
Reach: 465 mm (size M/L, low position)
Chainstay length: 447 mm (mid-geometry position; adjustable +10 mm via flip chip)
Frame Material: Carbon fiber
Price:
Framekit (with Fox 40 Factory and Fox DHX2 Factory): $6,200
Complete bike: $8,000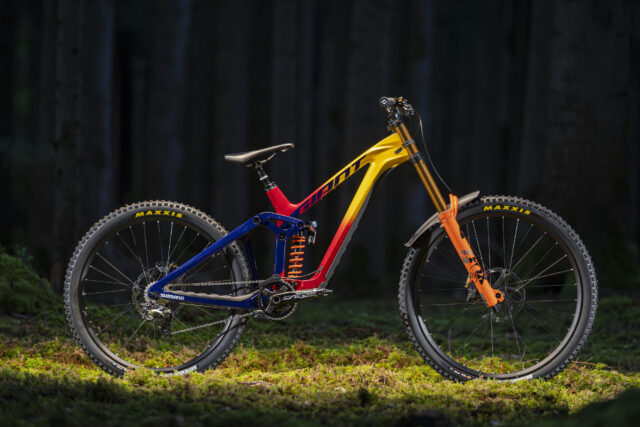 Intro
The first Giant Glory came out nearly 20 years ago and quickly became one of the most popular Downhill bikes on the market at the time. And now after a bit of a hiatus, there's a new Glory — the first full carbon fiber version, with mixed wheels, dramatically overhauled geometry, and a lot of new adjustability.
With the first round of the 2023 Downhill World Cup (finally) about to kick off, it's time to check out the bike that Luke Meier-Smith, Remy Meier-Smith, and Remi Thirion will be piloting this season.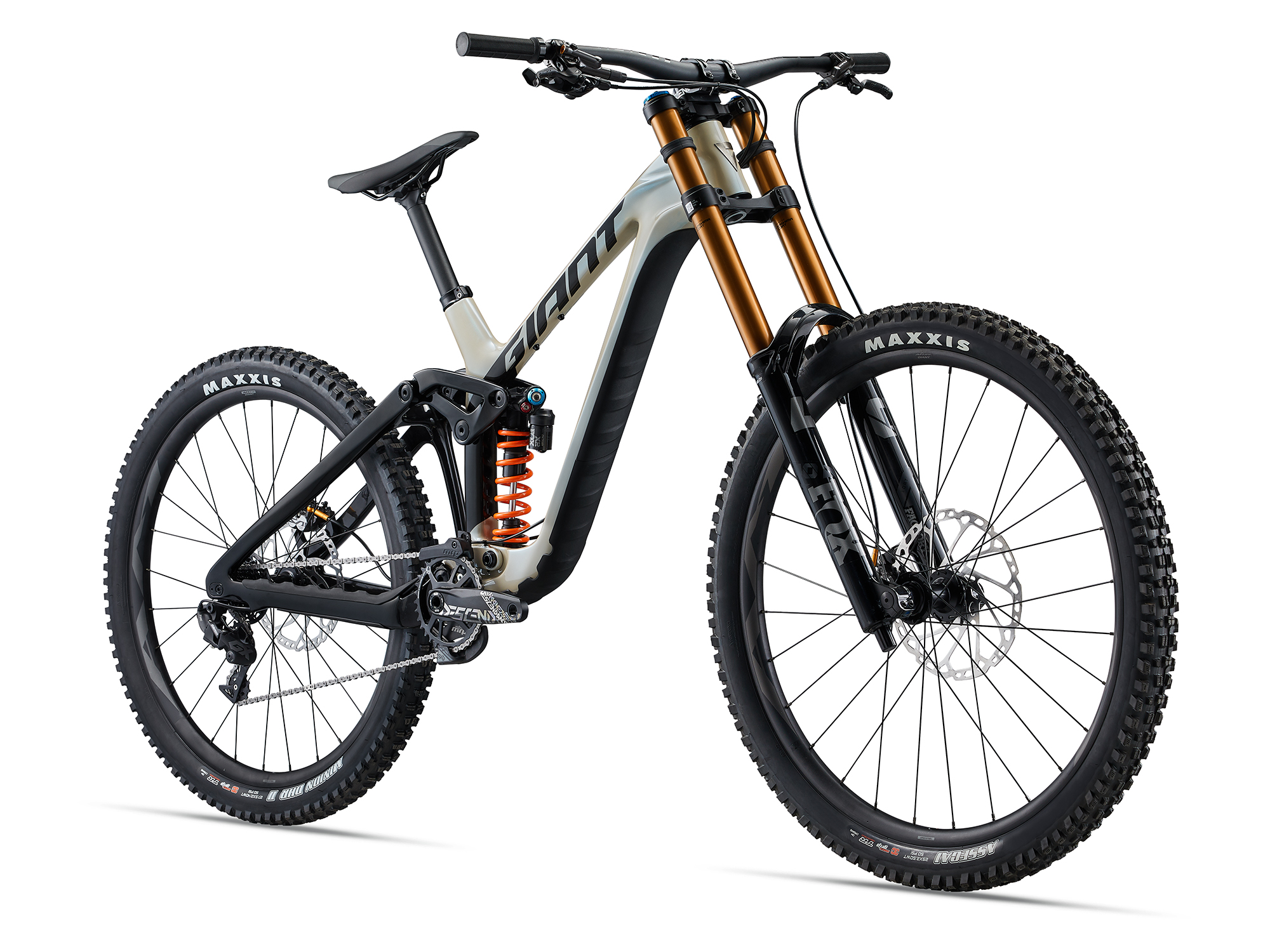 The Frame
The new Glory still looks like a Glory. From its inception in 2006, the Glory has always used Giant's longstanding Maestro suspension with a vertically(ish) oriented shock layout; after the early versions with a big shock cradle that pierced the downtube, the overall lines of the bike took a familiar form that, at the high level, carries over to the new fifth-generation bike.
But despite the generally familiar lines, the new Glory is a whole lot different from the bikes that preceded it. For one thing, it's the first full carbon fiber iteration of the bike — Giant has offered carbon front triangles in the past, but they were always paired with aluminum rear ends. And for another, the Glory now gets a mixed wheel configuration, with the possibility of running it as a full 29er, thanks in part to a whole host of additional geometry adjustments — more on those below.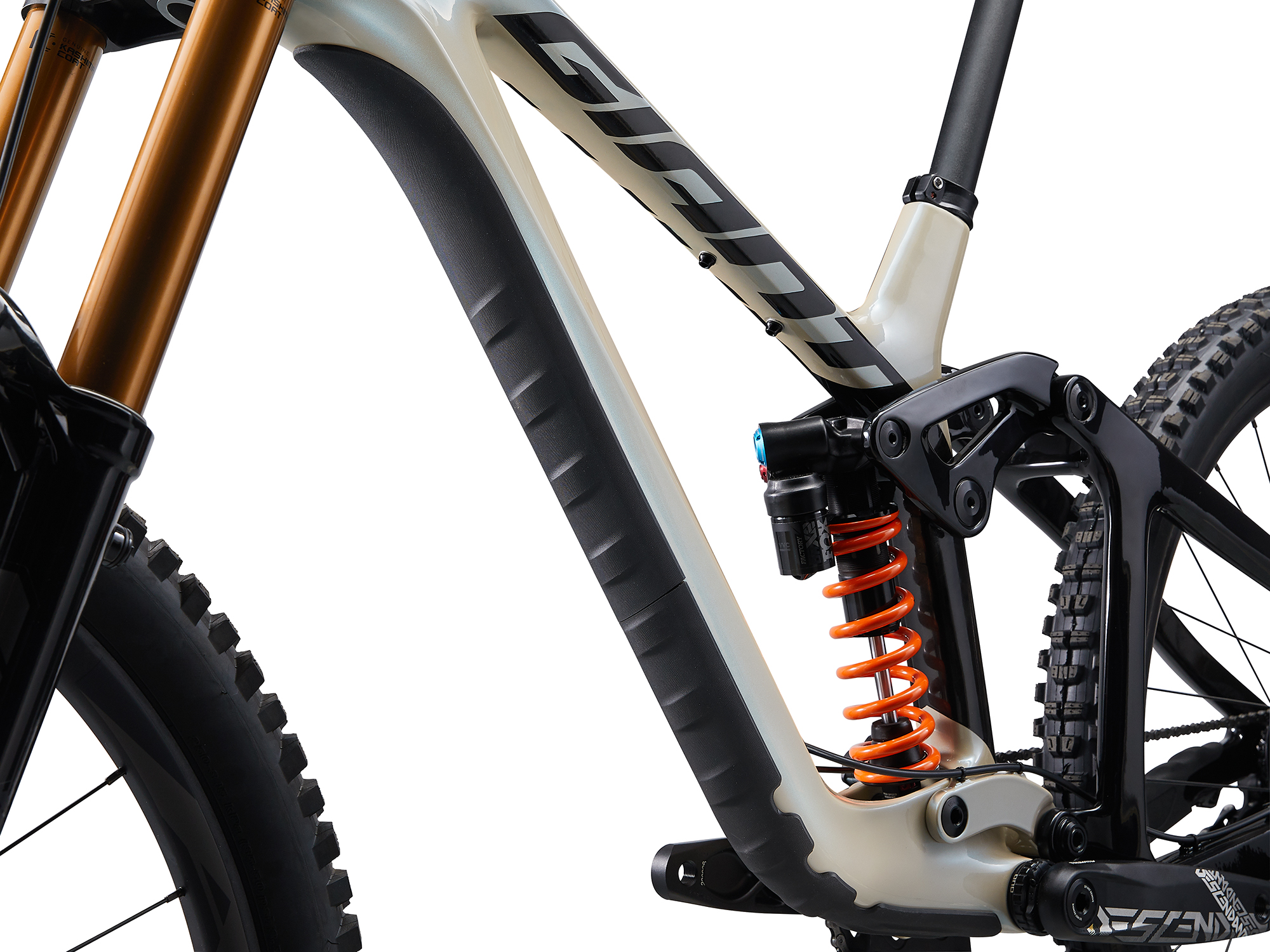 The Glory, of course, gets ample rubber protection on the chainstay, seatstay, and downtube; there's a full set of ISCG-05 chainguide tabs, and internal cable routing for both the brake and derailleur, with provisions for routing the brake on either side of the headtube depending on your preferences there. The Glory now uses a 225 x 75 mm Trunnion shock to get its 200 mm of rear wheel travel and is of course meant to be run with a 200 / 203 mm travel dual-crown fork, though Giant notes that the Glory isn't compatible with 2023 and older Rock Shox Boxxers (i.e., any currently-available version as of publishing) due to clearance between the arch and headtube at bottom-out.
And though the Maestro suspension — in short, a dual mini-link design with co-rotating links — looks similar to Glorys of old, Giant has made some notable tweaks to the suspension kinematics. The leverage curve has been straightened out, and while it still flattens out deeper in the travel, there's no longer the big digressive upswing that the prior-generation bike had. The anti-rise curve is especially flat, starting at about 75% before falling off to about 60% and staying there; anti-squat is also especially consistent throughout the travel range at about 120% at topout before falling off to around 70% by mid-travel and staying in that ballpark.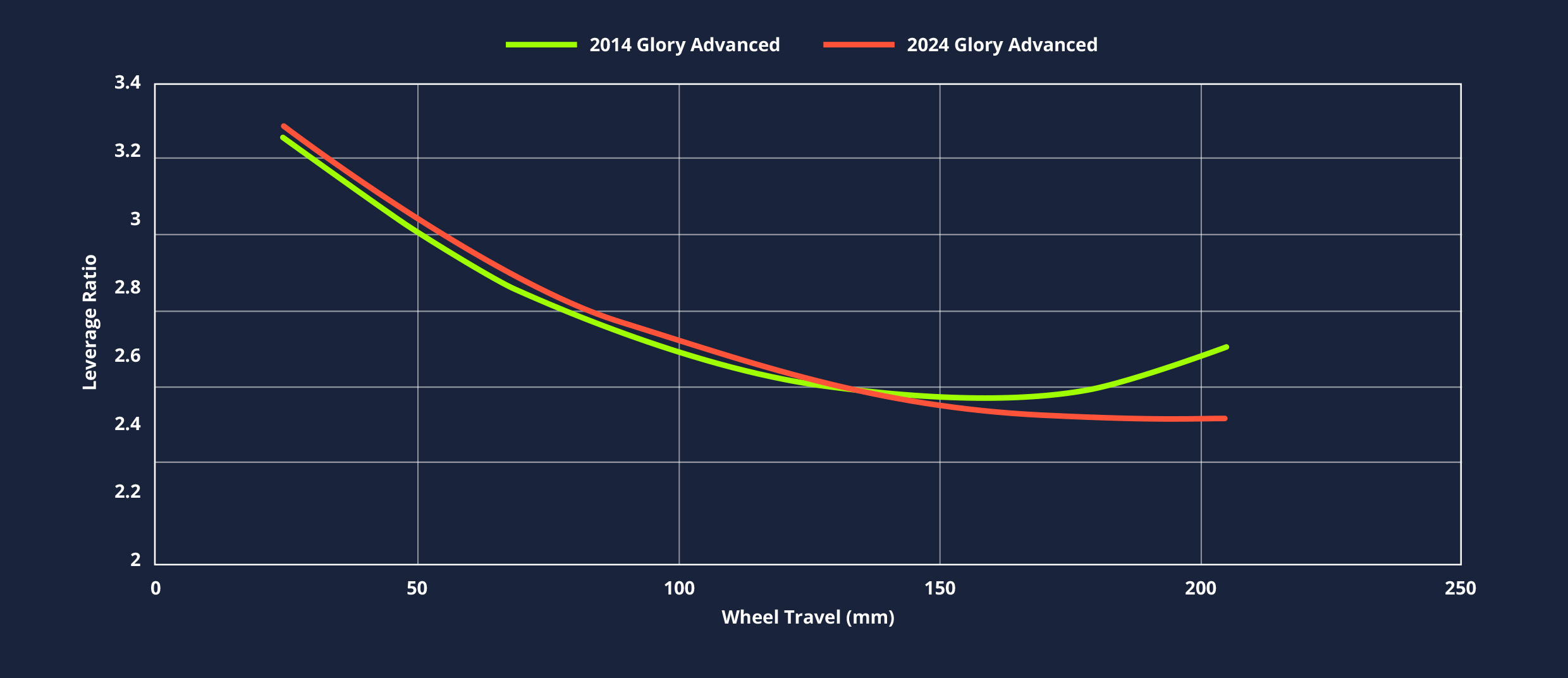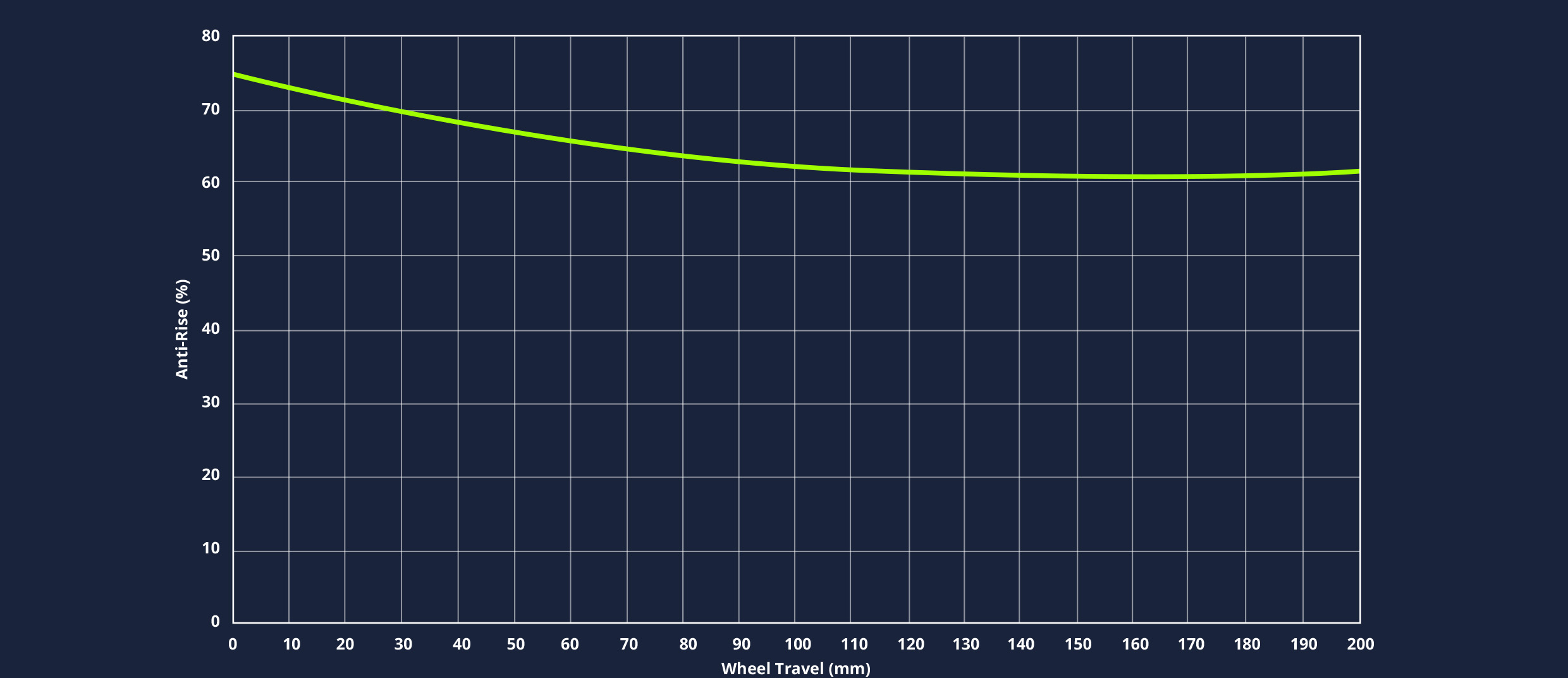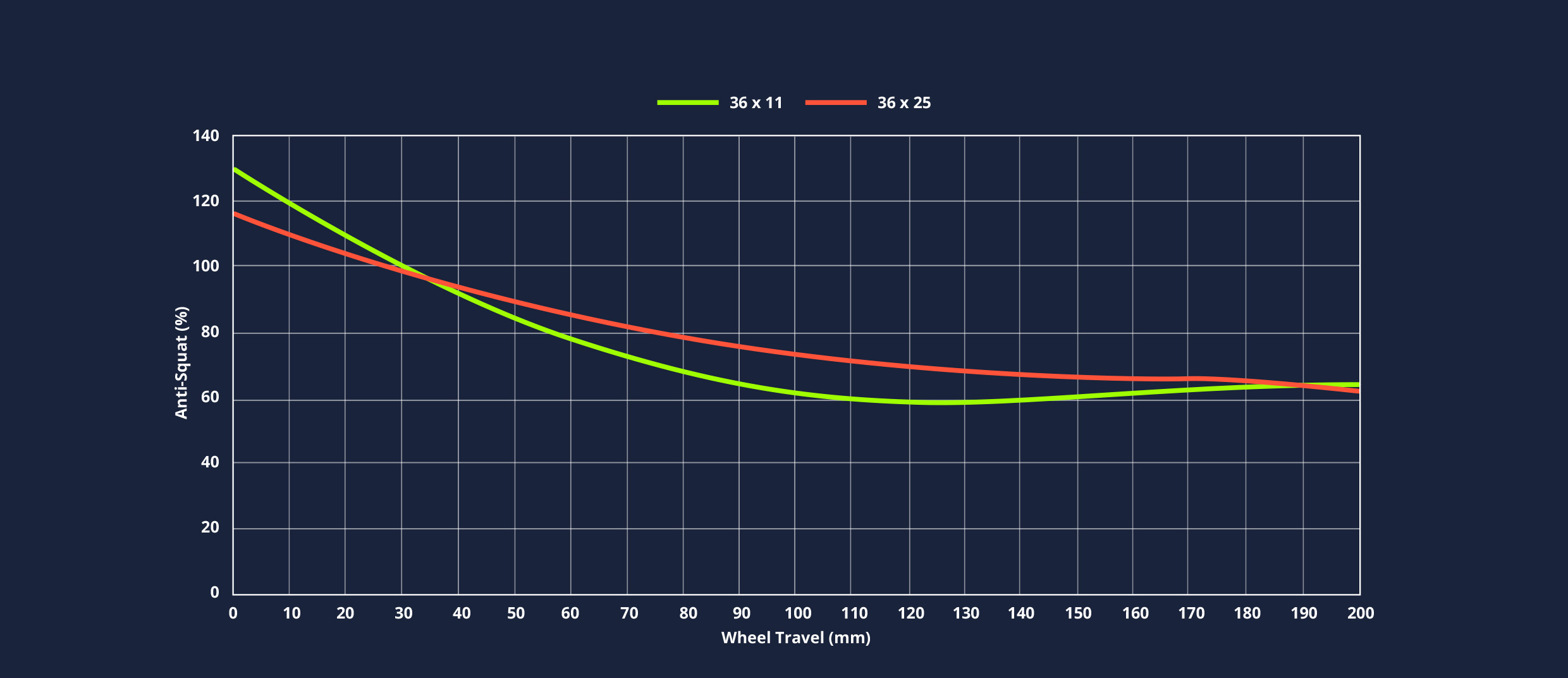 Fit & Geometry
The Glory is offered in three sizes, interestingly named S/M, M/L, and L/XL. All three default to a mixed wheel size setup but can be run with dual 29'' wheels if desired; complete bikes are only available with the 29'' front / 27.5'' rear combo. Reach ranges from 445 to 485 mm in neat 20 mm increments, and is paired with a 62° headtube angle and 447 mm chainstays across the size range. That all adds up to wheelbases ranging from 1,272 to 1,312 mm (with the M/L coming in at 1,292 mm).
Or at least, those are the default numbers before you get into the frame adjustability — of which the new Glory has a lot. For starters, there's an additional set of offset headset cups that adjust the reach of a given frame size by +/- 5 mm (by swapping out the stock 0 mm offset cups, depending on the orientation of the offset ones). And there are also two different versions of the flip chips at the upper shock mount, with the standard "mid" option coming installed, but an extra set of offset chips offering different high and low settings. Those toggle the headtube angle by +/- 0.3° and raise or lower the bottom bracket by 5 mm, which also changes the reach by +/- 4 mm.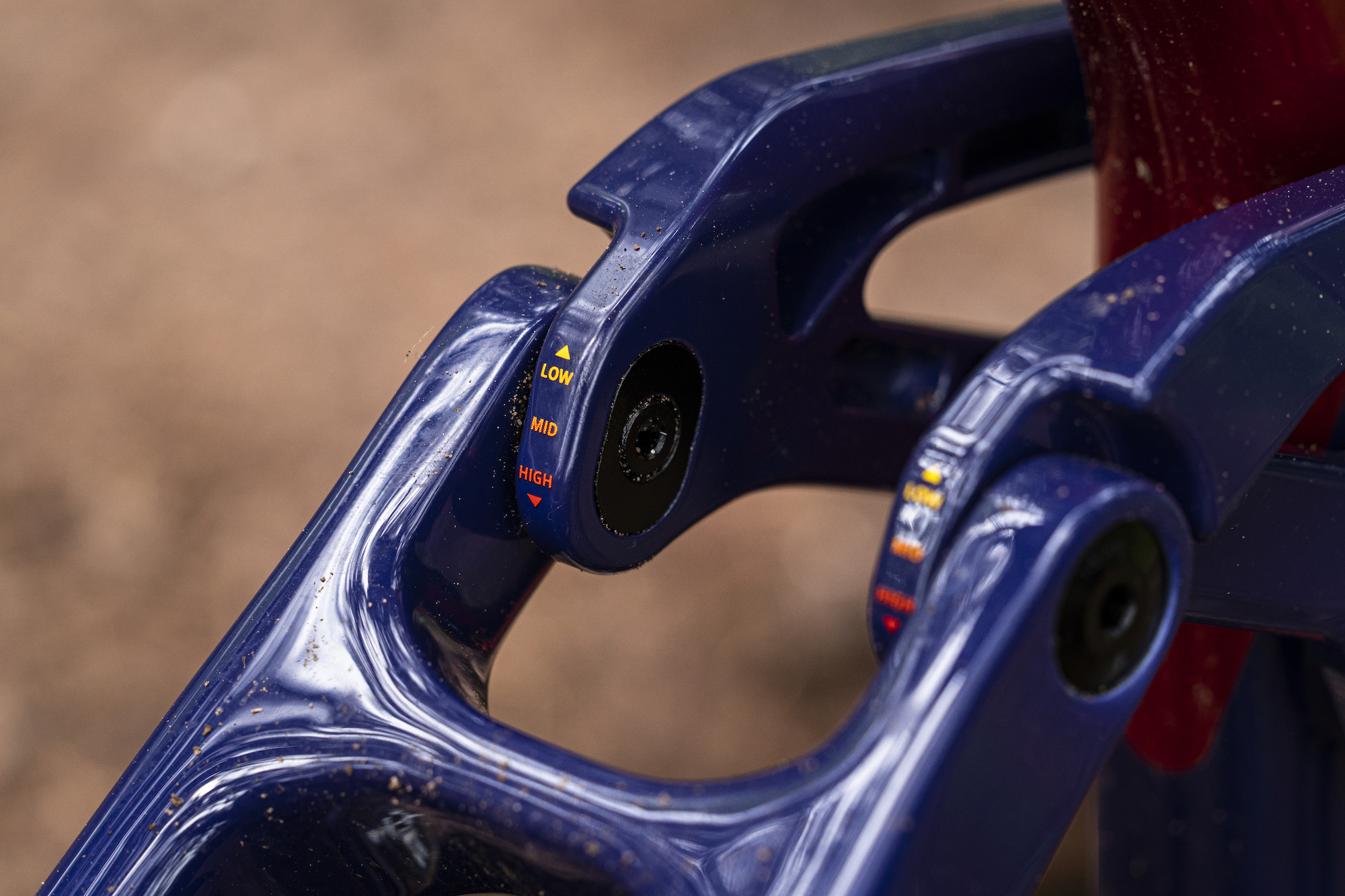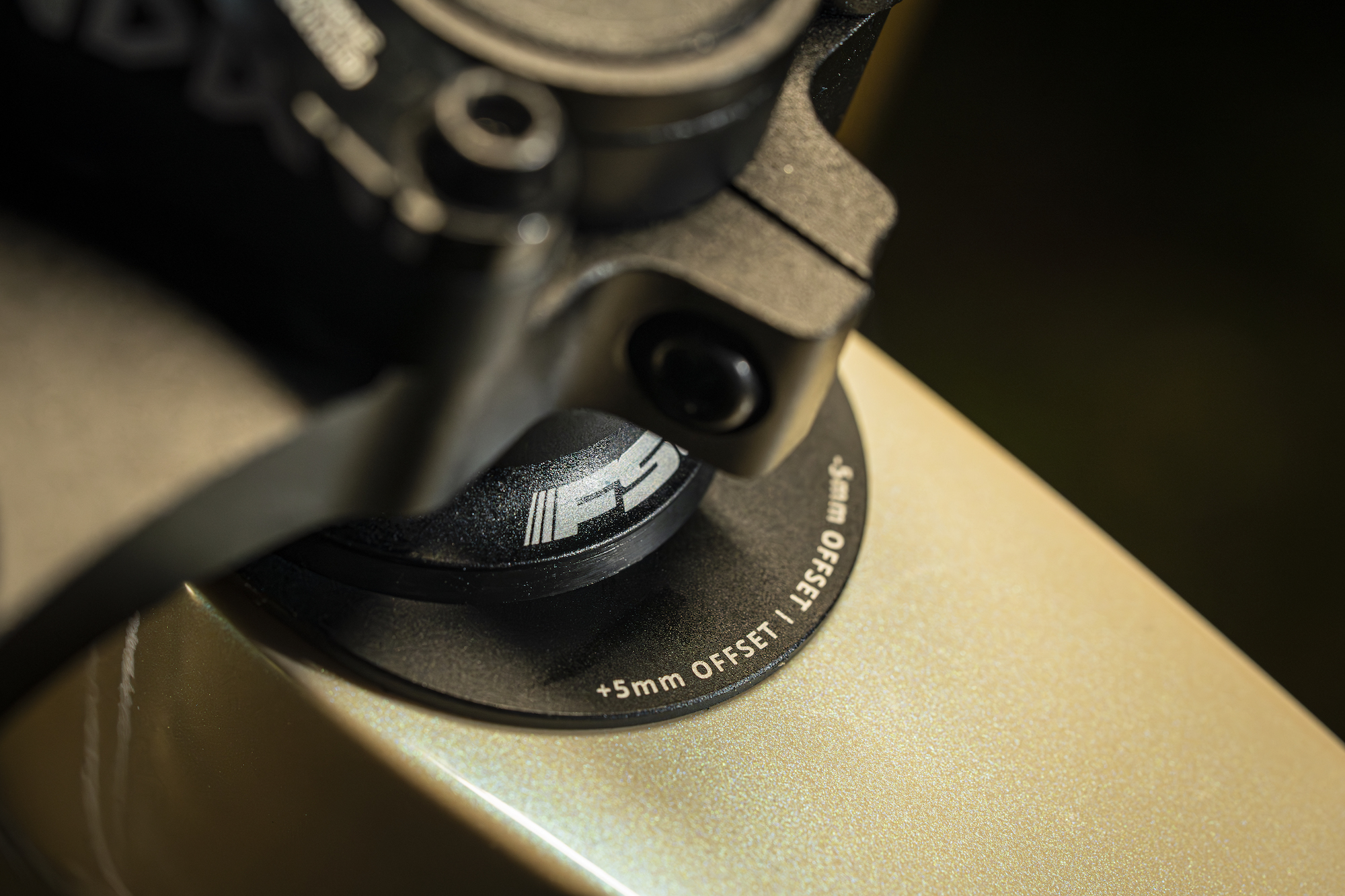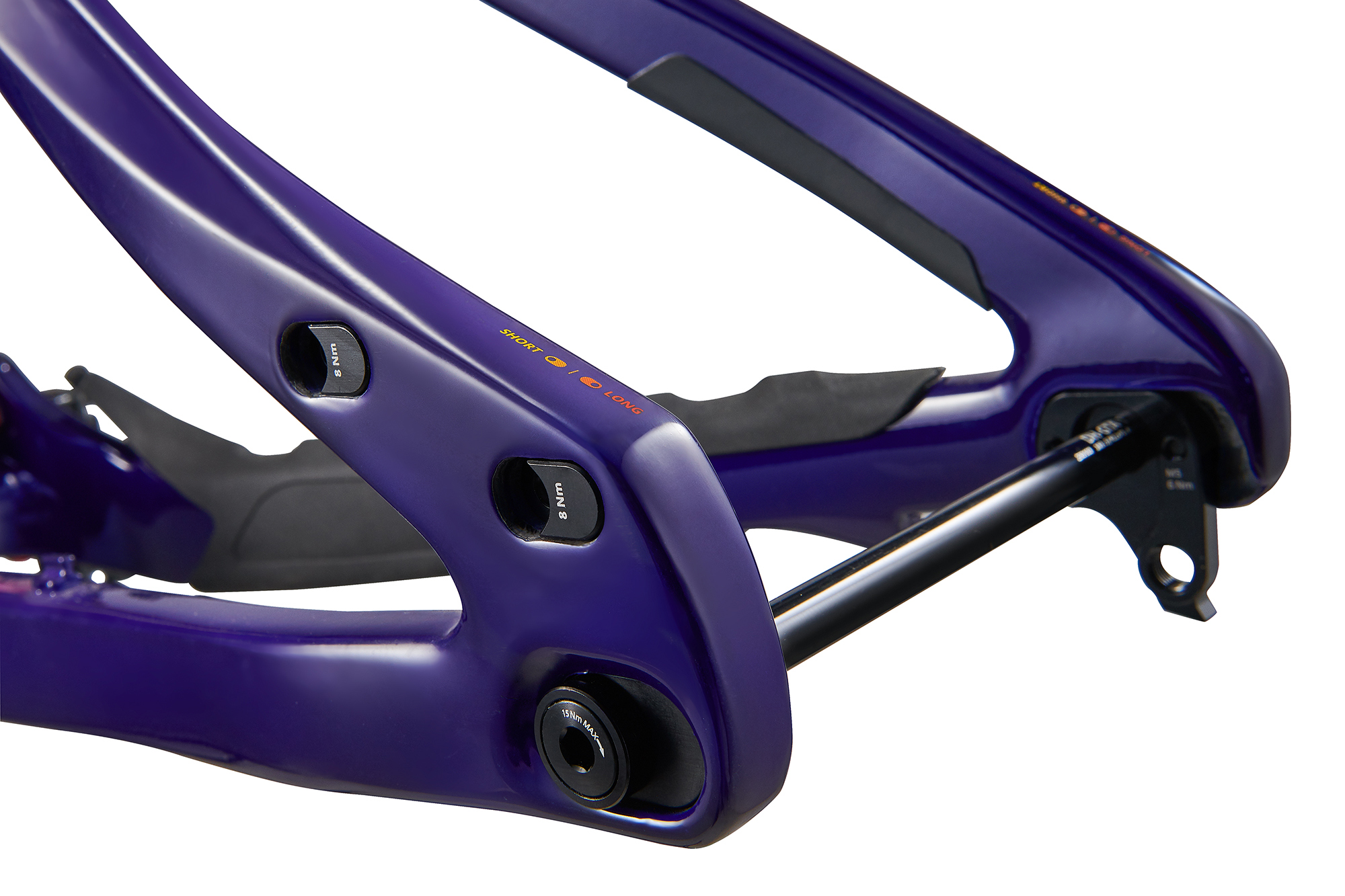 And then there's another set of flip chips at the dropouts, which offers an extra long +10 mm chainstay setting, too. All of the listed numbers are for the stock mixed wheel configuration; Giant also lists a set of geometry charts for the Glory in full 29'' guise, which predictably steepens things up slightly due to the larger rear wheel.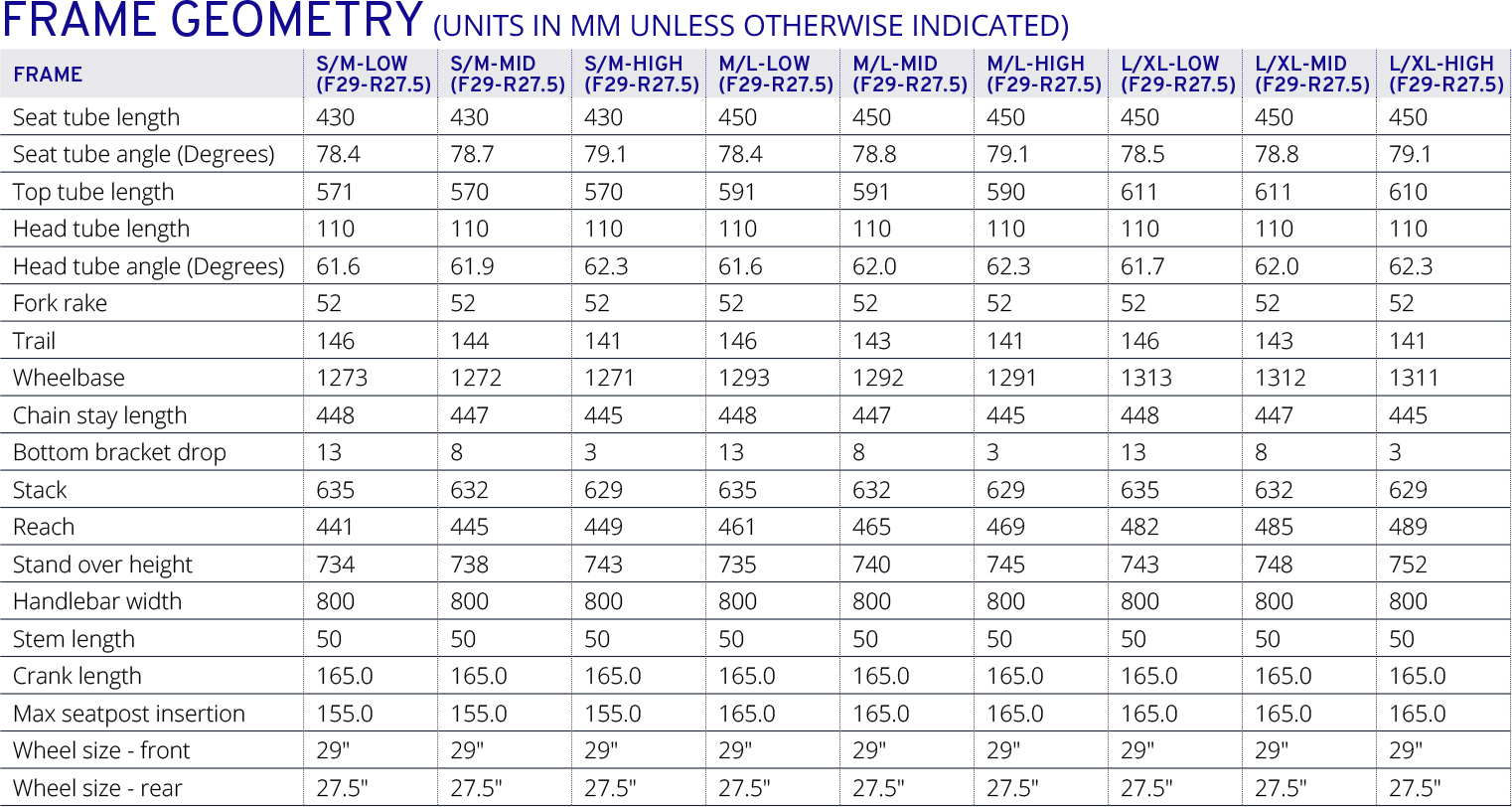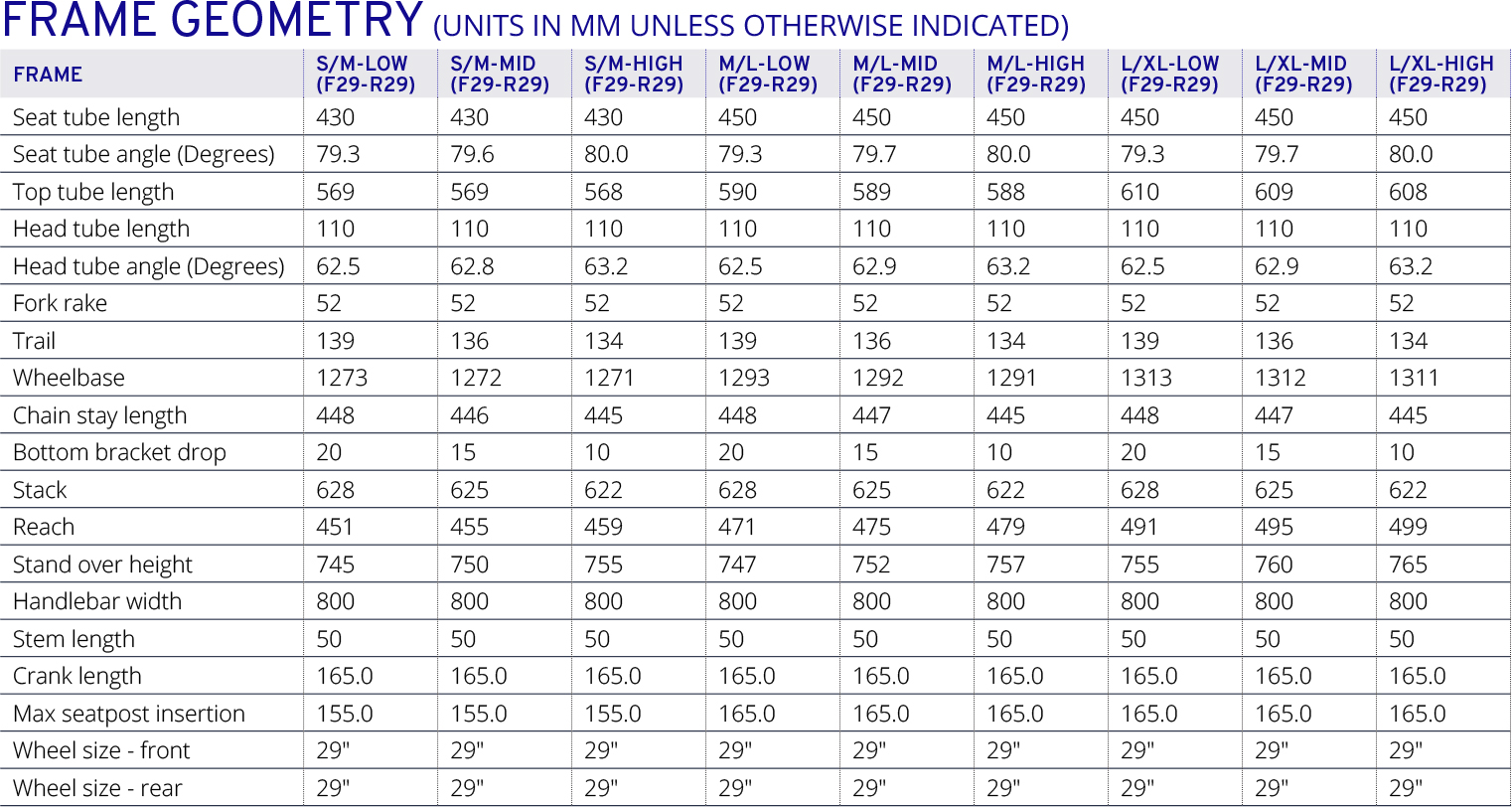 Those numbers are a big departure from the prior-generation Glory, which had dual 27.5'' wheels, a steeper headtube, shorter reach, and much shorter 439 mm chainstays. The 447 / 457 mm chainstay options on the new Glory really highlight just how much rear centers have grown on modern DH bikes in particular, though the long setting on the new Glory is still something of an outlier even by modern norms.
The Build
Giant offers the Glory in a single complete build, as well as a frame kit with a Fox 40 Factory fork and DHX2 Factory shock for $6,200. The latter comes with "Legends Edition" paint — basically a retro throwback to Giant Team bike paint of old, which Giant illustrates with some photos of a young Rob Warner racing on an ATX 1 from the 1998.
The lone complete build gets the same suspension package plus Shimano Saint brakes, a SRAM GX DH drivetrain, and Giant branded wheels, shod in Maxxis Assegai front / Minion DHRII rear tires with DH casings.
Drivetrain: SRAM GX DH
Brakes: Shimano Saint (220 mm front / 203 mm rear rotors)
Fork: Fox 40 Factory
Shock: Fox DHX2 Factory
Wheels: Giant AM30
Some Questions / Things We're Curious About
(1) The new Glory seems to be following modern norms for DH race bikes, with a mixed wheel size setup, long-to-super-long chainstays, and a host of adjustability to fine-tune things to the rider's preferences. So how does it all add up on the track, and how does it stack up against the competition?
(2) And how is the new Glory going to fare when the World Cup season kicks off this weekend? The Giant Factory Off-Road Team was racing what appeared to be a prototype version of the new bike last season, but we're excited to see how things go this year (and to finally get to watch some World Cup DH again).
Bottom Line (For Now)
The new Giant Glory Advanced looks like a welcome overhaul of their longstanding DH bike, and we're excited to see brands still investing in DH race bikes (not to mention the return of World Cup DH this weekend). We're hoping to be able to get on the new Glory this summer to see how it stacks up against the burgeoning crop of modern DH bikes.