Marin Alpine Trail E
Wheel Size: 29" Front / 27.5" Rear
Travel: 150 mm rear / 160 mm front
Geometry highlights:
Sizes offered: SM, MD, LG, XL
Headtube angle: 63°
Seat tube angle: 78º
Reach: 485 mm (size Large)
Chainstay length: 435 mm
Drive System highlights:
Torque: 85 Nm
Power: 250 Watts continuous
Battery: 630 Wh (E1 and E2), 504 Wh (E)
Motor: Shimano EP8 (E2), Shimano EP6 (E and E1)
Display: Shimano SC-E600
Frame material: Aluminum
Price: Complete bikes: $4,489 to $6,299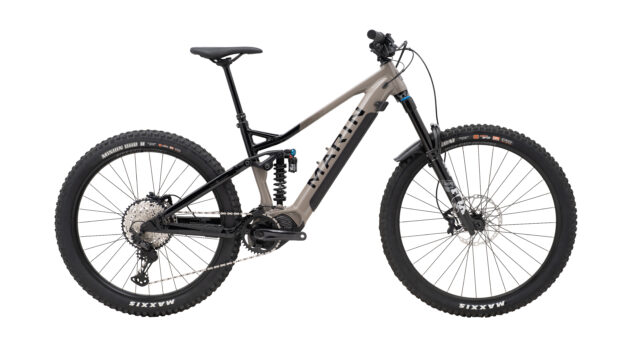 Intro
Marin's Alpine Trail E has been around for three model years now and was due for a wee update — which Marin rolled out today. The changes are subtle, and have more impact on the lower spec models, but there's also some nice tweaks to the top of the range as well. We're going to go through those changes, take a look at the builds and geometry, and get ready to have one in for testing soon.
The Frame
All Alpine Trail E models will now use the same frame. Previously the E1 frame was made specific to fit the smaller 504 Wh battery, which meant you wouldn't be able to upgrade to the bigger battery because it simply wouldn't fit. Now, since Shimano has introduced a new 504 Wh battery that has the same dimensions as their 630 Wh battery, the same frame can be used throughout the model range, which opens the door to battery upgrades.
The Alpine Trail E shares the MultiTrack suspension design seen in other Marin models. It's essentially a four-bar linkage-driven single pivot system. The Trunnion mounted shock is oriented vertically, and is driven by a very robust looking rocker link providing 150mm of rear travel. The Series 4 aluminum frame is at the top of the heap in regards to alloy frames that Marin makes, and is compatible with both coil and air shocks. It is mixed wheel size only, with no geometry adjustments. There is full internal cable routing, and room for a full size water bottle inside the front triangle in all sizes, but understandably, the mounts on the underside of the downtube are missing due to the battery placement.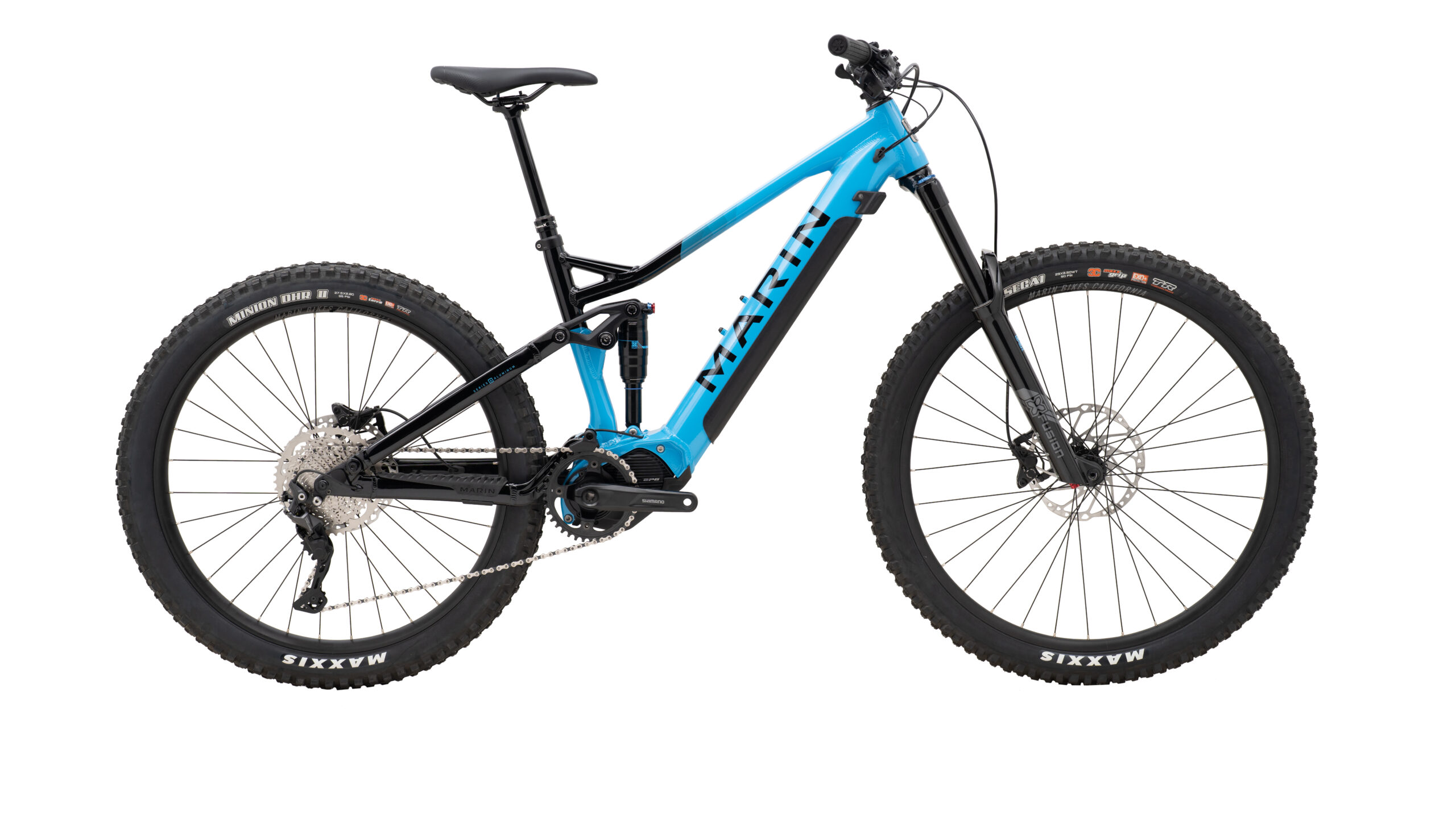 The Drive System
Both the Alpine Trail E and E1 get the Shimano EP6 motor, which offers a significant upgrade over the outgoing Shimano STEPS E7000 that was on the E1. It's essentially a heavier EP8 motor, as it has the same 85 Nm of torque and 250 Watts of continuous power, and reportedly only weighs 300 grams more. For reference, the STEPS E7000 motor produced 60 Nm of torque, so 85 Nm on the EP6 is a healthy boost. The E2 model receives the latest version of the Shimano EP8 motor, revisions to it include CAN and ACC ports for more connectivity to external devices. As we mentioned above in the "Frame" section, Shimano now offers the 504 Wh battery in the same dimensions as the 630 Wh battery, obviously simplifying frame design, but also allowing for an upgrade path. Charge times are claimed to be around 5 hours for the 504 Wh battery and 6 hours for the 630 Wh battery. Both motors will use the same Shimano SC-E600 displays with a left side remote.
Fit & Geometry
When the Alpine Trail was first introduced it's geometry was definitely on the progressive side. And while that geometry is unchanged on the new model and a few years have passed, we'd say that still very much holds true. When considering the 150 / 160 mm travel numbers, the 63º head angle definitely stands out, with most bikes in this category in the 64º – 65º range. Its reach numbers are long (485 mm on a Large), the seat tube angle is steep (78º), and the chainstays are short (435 mm), so in summary, all the numbers are still on the pointy end of the chart.
Sizing wise, the Alpine Trail E comes in Small through Extra Large, with the reach starting at 445 mm for the small, and then going up in 20 mm increments to the Extra Large at 505 mm. Those reach numbers are definitely on the long side, but bear in mind, the 78º seat tube angle coupled with the 35mm stem spec'd, should prevent it from feeling excessive. That's all quite similar to the regular Alpine Trail that we reviewed a while back, and found to be an especially playful take on a relatively aggressive bike. It'll be interesting to see to what extent that carries over to the electrified version as well.
The Builds
For 2023 Marin is introducing a new entry level build (E) that will be priced at $4,489. Now, the E1 build has been in the line-up since its introduction, and being priced at $4,899 already represented one of the better values in this segment. The new E model lowers that ceiling even further, and honestly, it's hard to find anything anywhere close to that pricepoint for a decently spec'd eMTB. The E build is also upgradeable to the bigger 630 Wh battery, which is great, but here's the rub – batteries are one of the most expensive components on an e-bike, and a Shimano 630 Wh battery is likely to cost nearly $1,000, so if upgrading is even remotely in the picture, just get the E1 build for $400 more, and then also benefit from a Deore 11-Speed drivetrain and Rockshox Super Deluxe Coil upgrade as well. As good a value as the E and E1 builds are, it's hard to ignore the substantial performance advantage the E2 build provides – The Fox 38 Performance Elite, Fox DHX2 coil, 12-speed Shimano SLX/XT drivetrain, and the Shimano EP8 motor make a good argument to spend more.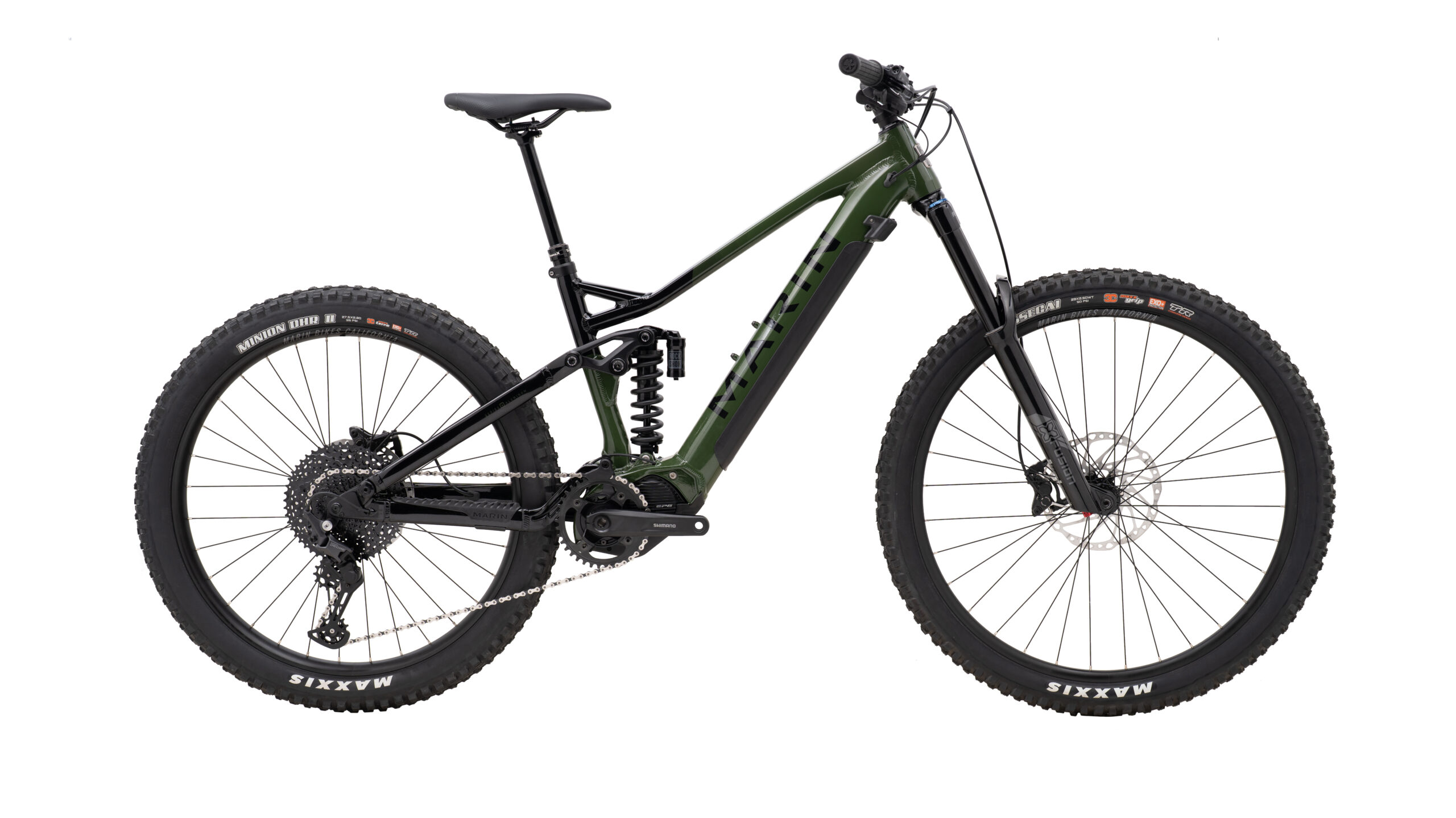 Drivetrain: Shimano Deore 10-Speed
Motor: Shimano EP6
Battery: 504 Wh
Brakes: Shimano MT420 4-piston with 203 mm rotors
Fork: X-Fusion Trace 36 RC
Shock: X-Fusion 02 PRO RXC
Wheels: Shimano HB-MT400B/410B hubs with Marin alloy rims.
Dropper Post: TranzX (S: 150mm; M – XL: 170mm)
Drivetrain: Shimano Deore 11-Speed
Motor: Shimano EP6
Battery: 630 Wh
Brakes: Shimano MT420 4-piston with 203 mm rotors
Fork: X-Fusion Trace 36 RC
Shock: RockShock Super Deluxe Coil R ( S/M Spring Rate: 300lb, L/XL Spring Rate: 400lb)
Wheels: Shimano HB-MT400B/410B hubs with Marin alloy rims.
Dropper Post: TranzX (S: 150mm; M – L: 170mm; XL: 200mm)
Drivetrain: Shimano XT 12-Speed with SLX Shifter
Motor: Shimano EP8
Battery: 630 Wh
Brakes: Shimano SLX 4-piston with 203 mm rotors
Fork: Fox 38 Performance Elite
Shock: Fox DHX2 Performance Elite (S/M Spring Rate: 350lb; L/XL Spring Rate: 450lb)
Wheels: Shimano HB-MT510B/410B hubs with Marin alloy rims.
Dropper Post: X-Fusion Manic ( S: 125mm, M – L: 150mm; XL: 170mm)
There's really no loser in the build department, and the fact that the two upgraded carry-over models are the same price as last year, not to mention that all models now come with factory installed Cushcore tire inserts, is really quite impressive.
Some Questions / Things We're Curious About
(1) The Marin Alpine Trail E is a great value for money, but it's likely going to be heavier than a lot of the competition, and the battery is a bit smaller than the big guns in this segment – can you ride with someone running a 700 plus Wh battery on a lighter bike without having range anxiety?
(2) Is there a noticeable difference between Shimano EP6 and EP8 motors, or is it really just in the weight?
(3) How will it handle in comparison to the non-motorized Alpine Trail we tested?
Bottom Line (For Now)
In a sea of eMTBs in the five-digit price range, it's refreshing to see a company focus on value, while keeping a keen eye on performance. The Marin Alpine Trail E is poised to be a value leader in this category, but will it keep up in terms of outright performance too? We can't wait to get some time on it and find out.