2021 Marin Alpine Trail
Test Location: Washington
Duration of Test: 2 months
Size Tested: Large
Geometry: See Below
Build Overview (as tested):
Drivetrain: Shimano SLX, w/ XT rear derailleur
Brakes: Shimano SLX
Fork: Fox 38 Performance Elite
Rear Shock: Fox Float DPX2 Performance
Wheels: Marin rims, Shimano MT410 Hubs
Wheel Size: 29''
Travel: 150 mm rear / 160 mm front
Blister's Measured Weight (as tested; w/o pedals): 34.6 lbs (15.7 kg)
MSRP:
Carbon Frameset (with Fox Float DPX2 Performance): $2,299
Alpine Trail 7: $2,799
Alpine Trail Carbon 1: $3,379
Alpine Trail XR: $3,829
Alpine Trail Carbon 2: $4,399 (tested)
Reviewers:
David Golay: 6′, 165 lbs (183 cm, 74.8 kg)
Zack Henderson: 6'1, 160 lbs (185 cm, 72.5 kg)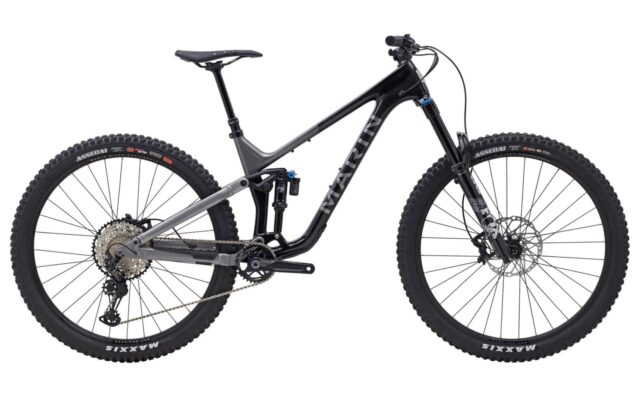 Intro
Marin calls the Alpine Trail "a 29'' wheeled full suspension bike built for the all day enduro rider that earns their downhill fun."
That's a straightforward and accurate description, but also one that could apply to a lot of different bikes, so who, specifically, should be most interested in the Alpine Trail, and where does it stand out from the competition? We've been spending a lot of time on the top-spec (but not wildly expensive) Alpine Trail Carbon 2, so let's dig in.
The Frame
The Alpine Trail is a 29er with 150 mm of rear-wheel travel that's designed around a 160mm-travel fork. The rear suspension uses what Marin calls their MultiTrack layout — essentially, it's a four-bar, linkage-driven single pivot, with a vertically oriented shock driven by a rocker link. Aluminum and carbon fiber versions of the Alpine Trail are both on offer, though only the front triangle actually differs — the carbon version still uses an aluminum rear end.
Cable routing on the Alpine Trail is fully internal, and a large water bottle fits inside the front triangle on all sizes, along with a second set of mounts underneath the top tube for accessories. The bottom bracket shell is threaded, and features a full set of ISCG '05 tabs for a chain guide. A rubber chainstay guard is included, along with a bolt-on guard on the underside of the downtube, just forward of the bottom bracket shell.
The Alpine Trail uses a 205 x 65 mm Trunnion-mount rear shock, and the rear brake tabs are of the post-mount variety, for a 180 mm rotor. Maximum tire clearance isn't stated, but there's plenty for the 2.5'' Maxxis Assegai that comes stock on the rear. It's not a flashy frame, but the Alpine Trail frame is well built and well thought out — just what you'd hope for from a frame that sells for a notably modest $2,299.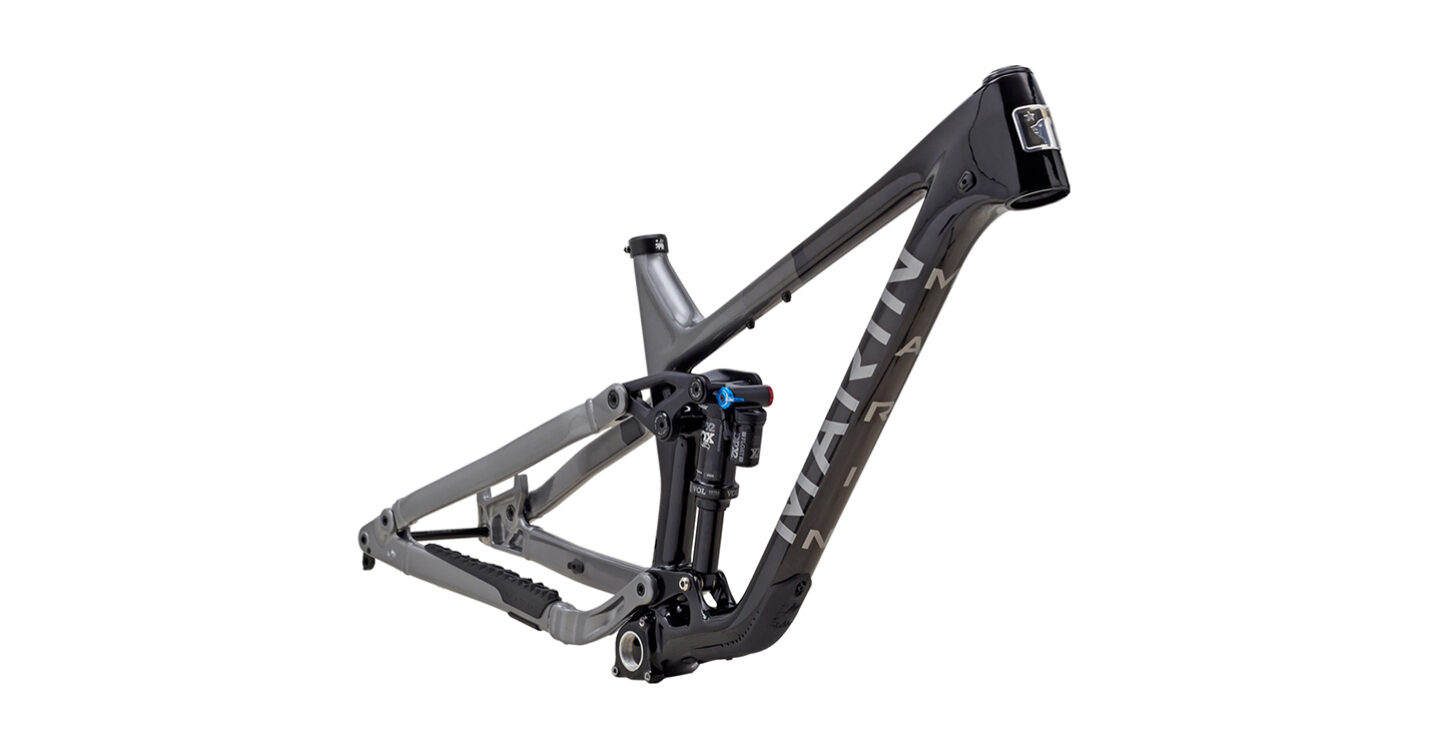 The Builds
Marin sells the Alpine Trail Carbon frame with a Fox Float DPX2 Performance rear shock for $2,299, or as one of four complete builds, with prices ranging from $2,799 for the Alpine Trail 7, through $4,399 for the Alpine Trail Carbon 2 that we've been testing. Here's the breakdown of the builds:
Alpine Trail 7: $2,799
Drivetrain: Shimano Deore, with FSA Comet cranks
Brakes: Shimano MT420 4-Piston
Fork: RockShox Yari RC
Shock: RockShox Deluxe Select+
Wheels: Marin 29 mm rims, Shimano MT410 hubs
Dropper Post: TranzX
Alpine Trail Carbon 1: $3,379
Drivetrain: Shimano Deore, with FSA Comet cranks
Brakes: Shimano MT420 4-Piston
Fork: RockShox Yari RC
Shock: RockShox Deluxe Select+
Wheels: Marin 29 mm rims, Shimano MT410 hubs
Dropper Post: TranzX
Alpine Trail XR: $3,829
Drivetrain: Shimano SLX, with XT rear derailleur and FSA Gradient cranks
Brakes: Shimano MT420 4-Piston
Fork: RockShox Lyrik Ultimate
Shock: RockShox Super Deluxe Ultimate Coil
Wheels: Marin 29 mm rims, Shimano MT410 front / MT510 rear hubs
Dropper Post: X-Fusion Manic
Alpine Trail Carbon 2: $4,399 (tested)
Drivetrain: Shimano SLX, with XT rear derailleur and FSA Gradient cranks
Brakes: Shimano SLX 4-Piston
Fork: Fox 38 Performance Elite
Shock: Fox Float DPX2 Performance
Wheels: Marin 29 mm rims, Shimano MT410 front / MT510 rear hubs
Dropper Post: X-Fusion Manic
As we've come to expect from Marin of late, the various builds on the Alpine Trail are quite good in the value-for-money department, and don't include any ultra-blingy, super expensive options. In particular, the Alpine Trail XR (pictured above) stands out for including top-of-the-line suspension and an otherwise solid spec for well under $4,000.
The top-spec Alpine Trail Carbon 2 that we've been testing is an impressive value as well. The Fox 38 Performance Elite fork is outstanding, and offers basically all of the performance of the 38 Factory, just without the gold Kashima bling. The Fox DPX2 Performance rear shock does give up a bit of adjustability as compared to the Performance Elite and Factory versions, but by and large, worked well (more on that below).
I'm a big fan of the Shimano SLX/XT drivetrain, though I have the same complaint about the KMC chain spec'd on the Alpine Trail that I mentioned in our review of Marin's burly hardtail, the El Roy — it just doesn't shift as well on the Hyperglide+ cassette as a matching Shimano chain. It's a small detail, but including a Shimano chain would take much better advantage of the excellent shifting potential of the drivetrain package.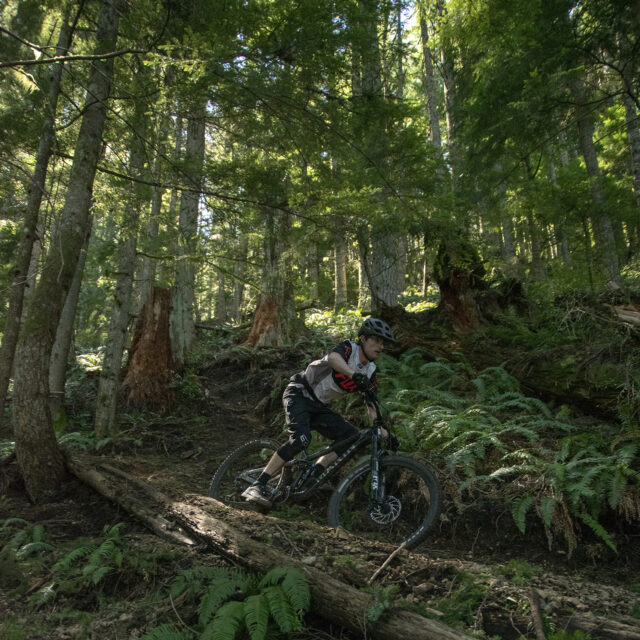 The tire spec on the Alpine Trail is also slightly odd — it comes with a DoubleDown, 3C MaxxGrip version of the Maxxis Assegai in the rear, and an Exo+, 3C MaxxTerra version up front. While I'm all for the DoubleDown rear casing, I do wish that the stickier rubber came up front. I had the same thought about the El Roy, and actually borrowed the rear tire from that bike and put it up front on the Alpine Trail, to run a matched set of DoubleDown, 3C MaxxGrip Assegais.
Finally, my standard note about Shimano brakes and their wandering bite point issues is, unfortunately, still relevant. I like the SLX brakes when they're working right, but yet again found the bite point on the rear brake to vary, as I have with many, many Shimano brakes over the last decade.
Overall though, this is a really good build for the money. It's not super flashy, but includes solid, functional parts throughout, and comes in at a lower price than similar builds from a lot of other brands. Sure, there are a few details that I might tweak, but the spec on the Alpine Trail Carbon 2 is very well put together.
Fit and Geometry
Marin offers the Alpine Trail in four sizes, from Small through Extra Large, and Marin says that range covers riders between 5'3'' (160 cm) and 6'4'' (193 cm). At 6' (183 cm) tall, I'm squarely in the middle of their recommended band for the Large, and found that recommendation to be spot on.
Our size Large test bike comes with a 480 mm reach, and all four sizes get the same 63.5° headtube angle, 78° effective seat tube angle, and 430 mm chainstays. Those are all solid, modern numbers for an Enduro bike, and if anything, the headtube angle is a touch more slack than many ~150mm-rear-travel bikes out there. The chainstays are also notably short, for this class of bike, and I was curious to see how the combination of a fairly long front-center + relatively short chainstays would feel on the trail.
All of that adds up to a 1256 mm wheelbase on our size Large (1229 mm on the Medium), which is about average for this sort of bike, though again, the balance is shifted notably toward a longer front end and shorter rear than most other bikes.
The Alpine Trail's effective seat tube angle is quite steep at 78°, which seems like a sensible decision for a bike with relatively short chainstays. One of the ways that steeper seat tube angles help on steeper climbs is by shifting the rider's weight farther forward, to help keep the front wheel weighted, and make it easier to avoid wheelieing out without needing to hunch forward over the handlebars. Bikes with short chainstays and slack seat tube angles — the first generation Evil Following being a prime example — tend to be particularly susceptible, so it makes sense that Marin has gone quite steep with the seat tube angle on the Alpine Trail. For reference, here's the full geometry chart for the Alpine Trail:
Climbing
David Golay: Marin's description of the Alpine Trail makes it clear that this is a bike that's meant to both climb and descend very capably — a one-dimensional sled it is not. And while it's not the most efficient-pedalling Enduro bike we've been on recently — the Privateer 161 still holds top honors there — the Alpine Trail's suspension does feel a bit on the firmer, more efficient side of the spectrum, compared to bikes like the Rocky Mountain Altitude, Guerrilla Gravity Gnarvana, and Trek Slash.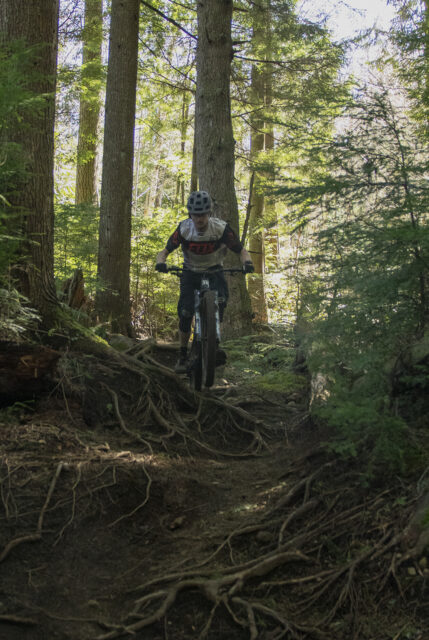 The downside of that efficiency is that the Alpine Trail does give up some traction compared to those more active, supple bikes that I just listed, but the Alpine Trail still strikes a balance that feels reasonably versatile. The Privateer 161 is astoundingly efficient at grinding up a fire road, but feels notably lacking in compliance when the climbing gets rougher. The same isn't true for the Alpine Trail — it's a little more efficient and a little less compliant than average, but not by a huge margin.
The short chainstays on the Alpine Trail do mean that it requires a little more care to keep the front wheel planted on very steep climbs, as compared to the other bikes listed above — all of which have much longer chainstays — but the Alpine Trail's very steep seat tube angle makes that fairly straightforward.
Where those short chainstays are a notable help is in more technical, stair-step-y climbing. Compared to many long-travel Enduro bikes, the Alpine Trail makes it notably easy to pick up the front wheel and maneuver the bike through tight, awkward sections of climbs. Despite the slack headtube angle and not-short wheelbase, the Alpine Trail feels surprisingly nimble in those situations.
The only things that hold the Alpine Trail back from being a really outstanding climber for this sort of bike are its weight (34.6 lbs / 15.7 kg, without pedals), and its slow-rolling DoubleDown, 3C MaxxGrip Assegai rear tire. The latter is an easy fix; the former is just the price to pay for the Alpine Trail's modest price point.
Zack Henderson: The cockpit on this bike reminded me quite a lot of the first-generation Transition Sentinel that I owned, which was a comfortable bike for long days in the saddle. I'll speak to this a bit more below, but I am not a fan of uber-short stems for several reasons, and the Alpine Trail came with an awfully stubby 35mm-long Deity Copperhead stem up front. Its 63.5° headtube angle, paired with the short stem, made the front wheel somewhat inclined to wander on steep climbs, also likely not helped by the rather short chainstays that David mentioned above. For this reason, I found the bike to be most comfortable on slightly less steep climbs, but the short chainstays were really an advantage in switchbacks and tight, technical climbs where they helped the bike quickly change direction.
Descending
David: The Alpine Trail climbs pretty well for what it is, but nobody's buying a 150 / 160 mm travel bike with a 63.5° headtube angle and nearly 35-lb weight without some considerable expectations for how it'll perform on the way back down.
Despite its slack headtube angle, the agility that the Alpine Trail displayed on the way up carries over when the trail points back down, too. It's not the most stable Enduro bike out there, and wouldn't be our first choice for someone whose riding style could be described as "full throttle, all the time." But compared to a lot of bikes with longer wheelbases — the Privateer 161 and Guerrilla Gravity Gnarvana again being prime examples — the Alpine Trail feels much easier to throw around and ride with a more playful style, while still being quite capable when the trails get steep and rough.
The Alpine Trail does clearly favor a somewhat forward, aggressive stance to weight the front wheel, but it also feels like it pulls the rider into that position naturally, and doesn't require a particularly aggressive touch to make that happen. Compared to the (even more slack) Nicolai G16, for example, the Alpine Trail feels similar in that it wants the rider forward and weighting the front end, but quite different in that it doesn't feel like there's a real bar to clear in terms of pushing the bike hard enough for it to come alive. The G16 can quickly make you feel like a passenger if you don't take charge of it and get forward on the bike; I felt none of that with the Alpine Trail. Get too far back, and it'll gently warn you to shift forward with the front wheel starting to push in corners, but a slightly more forward stance brings it all back, and the bike feels like it naturally encourages the kind of body positioning that gets the most out of it.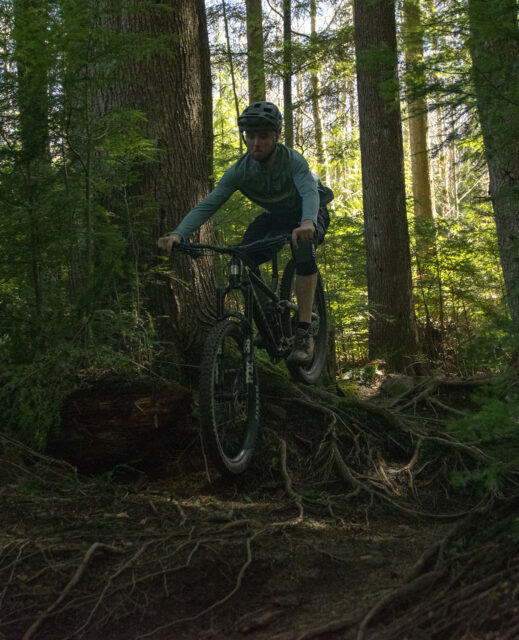 Between its short chainstays and slack headtube angle, the Alpine Trail is one of the easiest and most fun bikes I've been on recently when it comes to slashing around the rear end of the bike and slapping corners. It's super easy to break the rear end free if you want to, and there's enough wheelbase and calm-enough steering that the sweet spot for staying balanced as you bring the rear end around is huge. The Alpine Trail is also notably poppy and easy to get airborne, for a bike with 150 / 160 mm of suspension travel, and offers a fairly unique blend of being very playful, while also maintaining much (but not all) of the stability and composure of longer, more race-focused Enduro bikes.
We've offered up enough praise of the Fox 38 on Blister that I won't rehash all of it here — check out our full review and Enduro fork roundup for much more on the fork — but suffice it to say that it's excellent, and a rarity to see the high-end Grip2 damper in one on a bike at the Alpine Trail Carbon 2's price point. There's maybe a case to be made that the 38 is a bit overkill at 160 mm travel, as configured for the Alpine Trail, but I'm not inclined to argue that point. Yes, the Fox 36 is lighter, and yes, it's a good fork at 160 mm of travel, but the added stiffness and precision of the 38 is welcome, and a few hundred extra grams isn't a big deal on what is, overall, not a particularly light bike.
The Fox DPX2 Performance rear shock works well enough, though it lacks the fine-tuneable compression adjustment in the "open" mode, as featured on the higher-end Performance Elite and Factory versions. As such, the "open" mode on the three-position compression knob was more or less useless, for me — in that setting, it feels like there's almost no compression damping at all. The middle position worked well enough for all-round riding, and I mostly just left the shock there, apart from using the firm mode for a few especially steep, brutal climbs. I did also bump up to one size larger volume spacer (to the 0.6 in³ version, from the 0.4 in³ stock one) after bottoming out the rear suspension a couple of times. The larger volume spacer did the trick, and while a bigger, more DH-oriented shock (like the Fox Float X2) would offer a bit more of a plush ride, it would also cost more, and take away a bit of the poppiness that makes the Alpine Trail stand out. I'm not mad about the choice at all.
I personally wouldn't mind a longer-drop seatpost than the 150mm-stroke X-Fusion that comes on the size Large bike (the XL does get the 170 mm version), and my hunch is that the seat tube on the Alpine Trail is short enough for most people who'd want a Large to run the 170 mm post. The 150 mm version is probably a safer bet to work for everyone though, and I get why Marin went that route.
The only other complaint I have about the Alpine Trail is that there's a fair bit of rattle from the internally routed cables, inside the downtube. Some foam wrap, such as Jagwire's internal housing damper, would likely help, and if I owned an Alpine Trail, I'd definitely spend some time and effort on a solution.
Overall, though, the Alpine Trail is a really fun, surprisingly playful bike that's still reasonably composed at speed, but also doesn't require a whole lot of it to come alive. Think of it, if you like, as a different twist on a very versatile Enduro bike, in comparison to the Rocky Mountain Altitude. The Altitude feels like a true all-rounder — maybe not superlative at any one thing in particular, but unflappable and very hard to make feel totally out of its element. The Alpine Trail is more playful, and a bit more particular about how it wants to be ridden, but for the right sort of rider, it's incredibly fun and can do a bit of everything.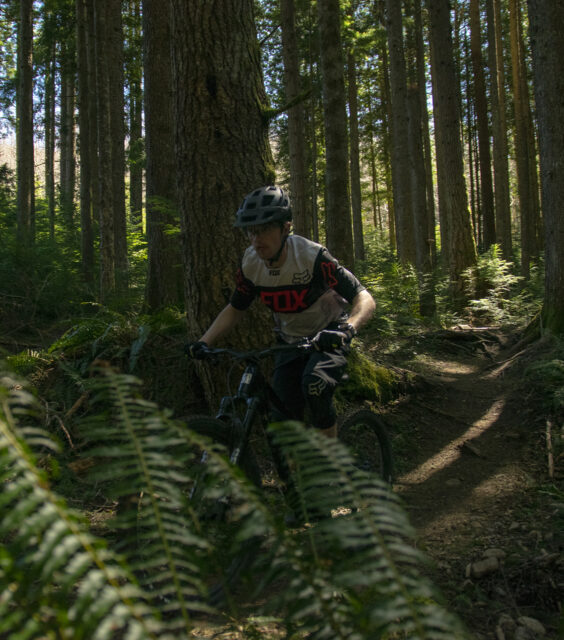 Zack: I totally agree with David about the fun-loving nature of the Alpine Trail — this bike has more "personality" than some other bikes I've been on lately, in that it really does like to play on the trail. Like David, I had a great time slashing the Alpine Trail's back end around on loose turns. Compared to the Banshee Titan that I have spent a lot of time on, the Alpine Trail doesn't feel as locked into a turn and likes to drift around quite a bit. It's also a very fun and predictable bike to jump, and the short chainstays and poppy-feeling rear suspension beg you to turn rollers and other trail features into opportunities to go airborne.
Like David, I had mixed feelings on the suspension specifications on this bike. The Fox 38 up front was excellent and often came to the rescue when testing the bike's limits, but it felt like the little Fox DPX2 out back couldn't quite keep up. This is now the second bike I've tested with the DPX2 Performance, and I've had similarly underwhelming experiences on both shocks. The "open" setting truly feels like it has no damping and I could use most of the travel just bouncing hard on the bike in the parking lot. While the middle setting worked fine, it sometimes felt a little spiky in really rough terrain as though it was struggling to keep up with repeated hits. I think the DPX2 helps in offering a lot of the playfulness that the rear end shows on trail, but I'd personally like to see a Performance Elite or Factory version of the shock, which have more robust compression damping in the "open" setting.
While I did eventually adapt, I had a bit more trouble than David with how the bike handles in steeper terrain. For the first few rides, I struggled to keep the front end tracking in really steep and loose terrain, and I had a pretty big crash on my first ride when I lost the front wheel coming into a very steep corner. Coming from a bike with chainstays that are nearly a full inch longer than the Marin's, I found that my weight felt much more rearward, and I had to be very intentional about keeping my weight forward to keep the front tire from surfing around and suffering from understeer. I think this is a combination of the short chainstays creating a rearward weight bias, the slack 63.5° headtube angle putting the front wheel a long ways in front of me, and the short 35 mm stem length making it a bit harder to get my weight closer to the front tire's contact patch. While I didn't get a chance to try it, I would have loved to throw a 40, 45, or even 50 mm stem on the bike to pull my weight a bit more forward over the front wheel.
Ultimately, the Alpine Trail would not be my first choice for super steep trails. The tradeoff, however, is that it's incredibly fun to play around on, and the energetic feel of the bike makes it much more engaging than most other Enduro bikes on trails that don't just point straight down.
David: Zack and I are definitely talking about the same thing, when we say that the Alpine Trail really wants you to keep your weight forward and make a point of weighting the front wheel, especially in steep terrain. Our take only differs in the extent to which the bike naturally encouraged the kind of stance that it needs to work, vs. needing a deliberate touch from the rider to get there. My familiarity with the Nicolai G16 — which does require the rider to make a point of staying forward on the bike — might be the difference here.
Who's It For?
The Alpine Trail is an Enduro (or long-travel Trail) bike for the rider who's more interested in riding with a playful style and popping, jumping, and manual-ing off things, rather than charging flat-out and chasing race times. It's still very capable when the trail gets steep and rough, too, which is what makes it so uniquely versatile, in its own way — there are few bikes that are both this playful, and as comfortable in technical terrain. If you find many modern Enduro bikes to be too sluggish and dead-feeling, especially when trying to get airborne, but also want to ride terrain where a shorter-travel Trail bike would feel under-gunned, the Alpine Trail is well worth a look.
The Bottom Line
The Marin Alpine Trail is an exceptionally good value for the money, and one of the most playful, fun Enduro bikes that we've been on recently. If you're someone who's more inclined to approach the trail like a playground and look for side hits and things to pop off, but also want a bike that's up for some steeper, gnarlier trails, maybe some bike park laps, and a whole bunch of airtime, it's great.