Marin El Roy
Test Location: Washington
Duration of Test: 2 months
Size Tested: Regular
Geometry: See Below
Build Overview:
Drivetrain: Shimano Deore
Brakes: Shimano MT420
Fork: Marzocchi Bomber Z1 Air
Wheels: Marin 29mm Internal Rims / Shimano MT410 Hubs
Wheel Size: 29''
Travel: 140 mm front
Blister's Measured Weight (as tested; w/o pedals): 32.6 lb / 14.8 kg
MSRP:
Frame only: $1,049
Complete bike: $2,699
Reviewers:
David Golay: 6′, 165 lbs (183 cm, 74.8 kg)
Zack Henderson: 6'1, 160 lbs (185 cm, 72.5 kg)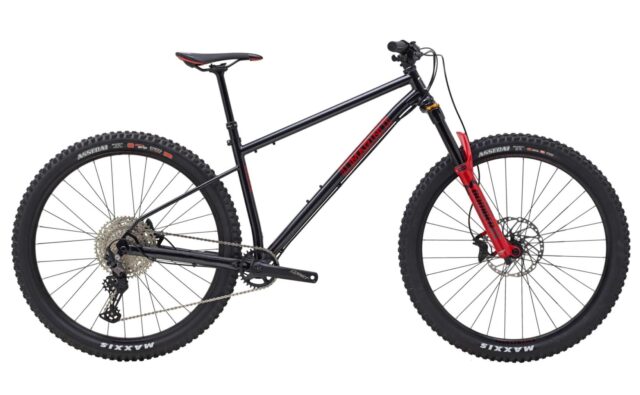 Intro
Marin's new El Roy occupies a very interesting niche within the mountain bike world — ultra-aggressive, descending-oriented hardtails. That might sound like an oxymoron, but as I've been arguing for quite some time now, very aggressive hardtails can be an absolute blast, and isn't that the whole point of mountain biking? We're all in it because it's fun, not because it makes objective sense.
The El Roy isn't all crazy though — it's offered with a no-nonsense build, and comes in at a reasonable $2,699 for a complete build. So who should be most interested in this wild offering from Marin, and who would be better served by either a less extreme hardtail, or a full-suspension bike? Let's dig in.
The Frame
The El Roy features a steel frame, built from what Marin calls "Series 3 CrMo." It's a 4130 chromoly, double- and triple-butted tubeset, designed around a 140mm-travel fork. It's got a threaded bottom bracket shell, 148 mm Boost rear dropout spacing, a tapered headtube, and two sets of water bottle / accessory mounts inside the front triangle — one on the downtube, and a second underneath the top tube.
Post-mount brake tabs for a 160 mm rotor are squeezed between the seat stays and chainstays, with a substantial kink in the seat stays making room for the brake caliper. The derailleur hanger is replaceable, but there aren't any chain guide tabs for riders looking for a bit of extra security. Since the El Roy features a threaded bottom bracket, though, a BB-mount chainguide or set of tabs is a viable option.
Normally we don't get too hung up on aesthetics at Blister, but the finish on the El Roy frame is particularly striking — it's essentially a black frame with subtle red lettering and a whole lot of bass-boat-esque sparkle. In dimmer light, it looks closer to a dark gunmetal, but in bright sunlight, the sparkle in the finish really pops, and looks awesome, in my opinion.
My only real quibble with the El Roy frame design is the cable routing. All three cables are routed externally, underneath the downtube, which leaves them vulnerable to damage from impacts, rocks thrown off the front wheel, or tailgate shuttles. It also forces a slightly awkward kink in the dropper post cable, as it wraps around from below the downtube and up into the seat tube just above the bottom bracket shell. It's not a big deal, but I'd rather see the cables on top of the downtube where they're better protected.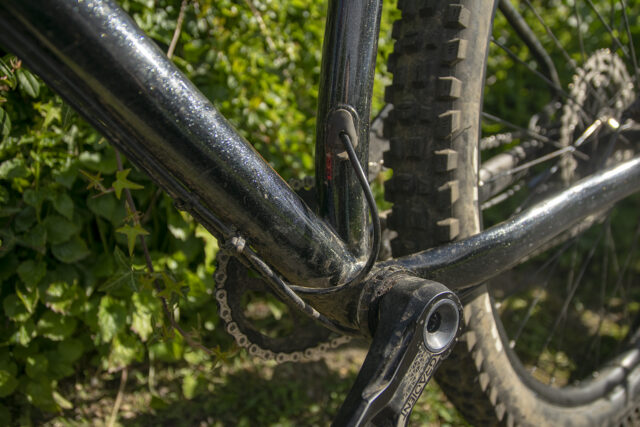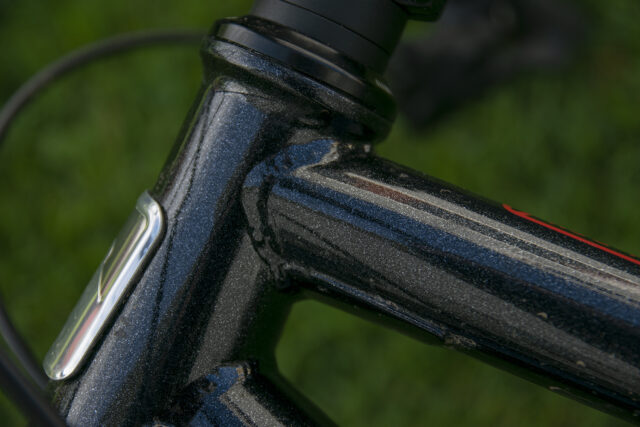 The Build
The El Roy is only offered in one complete build, which comes with a 140mm-travel Marzocchi Bomber Z1 Air fork, a Shimano Deore 12-speed drivetrain with FSA Comet cranks, and Shimano MT420 four-piston brakes. The wheels use Marin-branded 29 mm internal width aluminum rims, laced to Shimano MT410 Centerlock hubs, and come shod with 2.5'' Maxxis Assegai tires at both ends. An X Fusion Manic dropper post rounds out the build.
Overall, it's a very solid spec, but there are a couple of quirks that are worth mentioning. First, and most annoyingly, Marin specs the El Roy with a KMC chain. There's nothing wrong with the quality, exactly, and I've been perfectly happy running various KMC chains on other drivetrains in the past — but Shimano's Hyperglide+ tooth profile on the cassette really does work much better with a matching Hyperglide+ chain. The KMC chain works okay, but feels rougher through the pedals, doesn't shift as well, and is prone to dropping gears when backpedaling. I borrowed a Shimano chain from another bike for a few rides, and all of these issues disappeared. Marin was clearly trying to hit a fairly aggressive price point target with the El Roy, but it would easily be worth a few extra dollars to go with a Shimano chain. Fortunately, a new chain is far from the most expensive upgrade to make.
Our test bike is a pre-production model, with a few quirks in the build. The bike showed up with 2.5'' Maxxis Assegai tires at both ends, but in a Exo+ / 3C MaxxTerra front, DoubleDown / 3C MaxxGrip rear combo. I'm all for the decision to go with a DoubleDown casing, especially on the rear of a hardtail, but didn't like the feeling of having the stickier rubber compound in the rear, paired with a harder front tire. If one tire is going to out-grip the other, I want it to be the front one. After a few rides, I swapped the rear tire for a WTB Trail Boss in their TCS Tough, Fast Rolling construction, which felt like a much better fit. Production versions of the El Roy will come with DoubleDown, MaxxGrip Assegais at both ends, which makes a lot more sense, though I suspect a lot of people will want to put something faster rolling on the rear, and save the Assegai as a backup for once the front wears out. Our bike also came with an SLX shifter, but a Deore one is standard on production models. Finally, the test bike came with an FSA Gradient crank, in place of the standard FSA Comet.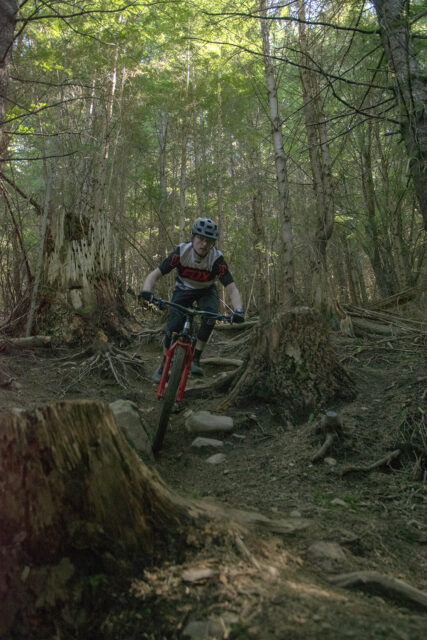 Overall, though, this is a really solid build. The Deore drivetrain isn't flashy, and the cassette in particular is quite heavy, but it shifts really well once you swap in a Shimano chain. The Marzocchi Z1 fork lacks some of the adjustability of higher-end options, but is an entirely competent performer. And while I've long complained about many models of Shimano brakes developing a wandering bite point — sometimes very quickly — the MT420s on the El Roy have actually been totally solid so far. My hunch is that their lack of a Servo Wave mechanism in the lever might have something to do with it, though it's hard to know with 100% certainty if that's really the case, or we just got lucky. Whatever the case, I've been very impressed with the MT420 brakes. The lever feel is good, and while power isn't quite on par with their more expensive SLX/XT/XTR cousins, they're impressively close (especially considering that they come with resin brake pads), and have been totally consistent and reliable in our time on them.
While I've got no complaints about the performance of the X-Fusion Manic dropper post, I do wish it was spec'd in a longer drop than 150 mm (the "Grande" size frame gets the 170 mm version). As we'll get into below, though, Marin intends the Regular size frame that we've been testing to be ridden by riders as short as 5' 5'', and it's not hard to imagine that riders in that height range wouldn't be able to fit a longer post.
The stock bars on the El Roy are 780 mm wide, but a previous user had trimmed them to 760 mm, which is considerably narrower than I prefer. I swapped a 790 mm wide Answer Protaper bar and 40 mm Answer stem on to get the cockpit sorted, but likely would have been fine with the stock setup if the bars had been full width.
While you can get a hardtail with a similar build for a bit less, it's worth bearing in mind that a significant part of what you're paying for with the El Roy is a higher-end frame, with a more heavily butted and manipulated tubeset. Compared to a more basic frame, this should save a little weight, but more importantly, make for a more compliant, better riding frame, with less stiffness where it isn't needed. We'll discuss the ride quality of the El Roy more below, but in short, we really do think the El Roy frame rides notably well for a hardtail, and that the El Roy is actually quite a reasonable value for what you get, all told.
Fit and Geometry
Marin offers the El Roy in two sizes, dubbed "Regular" and "Grande," and they're both very big bikes. Both get a 63° headtube angle, 78° seat tube angle, and 435 mm chainstays. The reach on the Regular frame is an already-long 480 mm; the aptly named Grande bumps that up to 510 mm. All of that adds up to a 1252 mm wheelbase on the Regular, and 1282 mm one for the Grande. The full geometry chart can be seen below: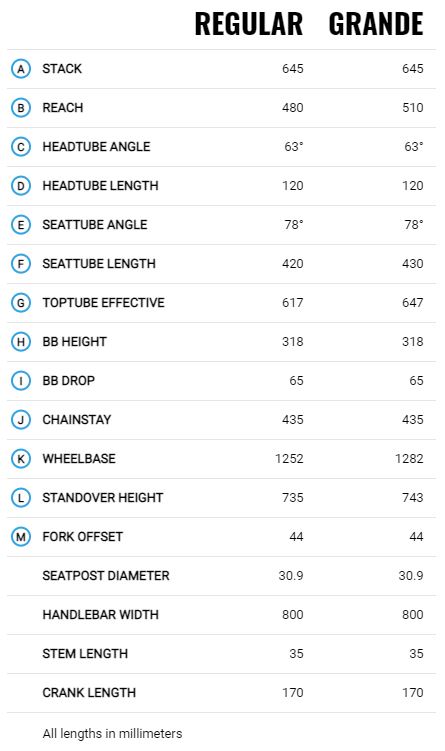 Marin recommends the Regular frame for riders 5'5'' through 5'10'' (165–178 cm) and the Grande for folks 5'10'' through 6'4'' (178–193 cm). In my estimation, though, that's a bit aggressive. It's worth noting that, on a hardtail, the reach only grows longer as the bike (fork) sags and moves through its travel, with no rear suspension to balance out the front wheel movement. We've been testing a Regular frame, and at 6' / 183 cm, I suspect it's the size I'd prefer, though I likely could ride either. It's a big, long bike though, and I'd be reluctant to put someone 5'10'' / 178 cm on the Grande, or someone quite as short as 5'5'' / 165 cm on the Regular, at least without a test ride first. It'd be nice to see a third, smaller size, so that Marin doesn't need to stretch their sizing recommendations quite so far.
Sizing quibbles aside, though, I really like what Marin has done with the El Roy. Sure, that 63° headtube angle sounds pretty crazy, but keep in mind that, again, there's no rear sag to balance out the front, and that angle is only getting steeper as the suspension moves. And on that same note, I'm glad that they've resisted the temptation to go for a longer-travel fork to eke a little more compliance out of their hardcore hardtail. I've found that going much longer than the 140 mm that the El Roy is designed around just makes for more dramatic swings in geometry on a hardtail, and a tendency to feel like you're going over the bars, as the front end disappears / shortens. No hardtail is ever going to feel as compliant and forgiving as a full-suspension bike, so might as well embrace that.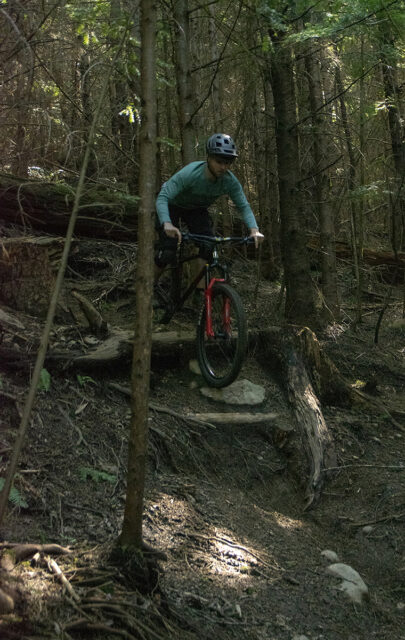 At 435 mm, the chainstays are on the longer end of the spectrum for a hardtail, but not outrageously so. And given the otherwise roomy proportions of the El Roy, not cramming on the shortest possible chainstays seems prudent, to maintain a more natural weight balance between the two wheels. All told, the geometry decisions that have gone into the El Roy make a lot of sense for a very aggressive Trail / Enduro hardtail that's meant to "shine on the way down," as Marin puts it.
Zack: I agree with David's thoughts on the sizing of the El Roy, and found myself quite comfortable on the Regular size frame despite being above the recommended sizing range, at 6'1'' / 185 cm. The bike feels quite comfortable, and that wild-seeming 63° headtube angle feels surprisingly sensible on a hardtail given that there's no rear suspension sag. Adding to David's comments, I would note that this is unmistakably a big bike, and the slack head angle and long wheelbase look quite imposing. I personally think that the recommended "Grande" size would be a bit much for me, but I also tend to be a little more conservative than some on willingness to try bikes with uber-long reach measurements.
On The Trail
David: The climbing position and handling of the El Roy on the way up feels a lot like what you might expect from a modern Enduro bike — it's just that, it's also a hardtail, for both better and worse. The reach is long, the seat tube angle steep, and the wheelbase lengthy. It's easy to stay seated and grind your way up a climb at a leisurely pace on the El Roy. There's of course a tradeoff made, compared to a full-suspension bike, where the El Roy offers less traction, but a whole bunch more efficiency, especially under hard, out-of-the-saddle efforts, but the El Roy still doesn't really feel like a bike that wants to attack every climb and race its way up the mountain. The 32.6 lb (14.8 kg) weight doesn't help, and the long wheelbase and low bottom bracket can be a bit of a handful in tight, technical climbing.
Zack: I find the way that hardtails let you put the power down to be quite addictive, and the El Roy still delivers that sense of get-up-and-go that I love about hardtails, but it is somewhat muted by the factors David mentioned. I think that climbing performance and handling on flatter trails would be significantly helped by a lighter wheelset, which would be my first upgrade if this were my bike.
David: As Marin makes clear, the El Roy is a bike that's meant to descend, first and foremost, and the way back down is indeed where the El Roy shines. Now, it's obviously nowhere near as compliant and cushy as just about any modern full suspension bike, but for a hardtail, the ride quality and compliance that the El Roy offers are quite impressive. Credit, I think, goes to the heavily butted and relatively small-diameter tubeset — this is not a super-stiff frame, in a good way. It doesn't feel unduly flexy, by any stretch — it just rides really nice. There's no disguising the lack of suspension, overall, but compared to a lot of hardtails I've recently spent time on — including the Canyon Stoic and even my BTR Ranger — the El Roy rides notably well.
The very long wheelbase of the El Roy likely helps here, too. There's a lot of room to move around on the bike and use your body to help out with soaking up bumps, without upsetting the balance of the bike, and the El Roy is quite stable and composed, especially at higher speeds. For a hardtail, it has a very big sweet spot, and it's a bike that encourages you to go a little faster and push a little harder once you point it back down.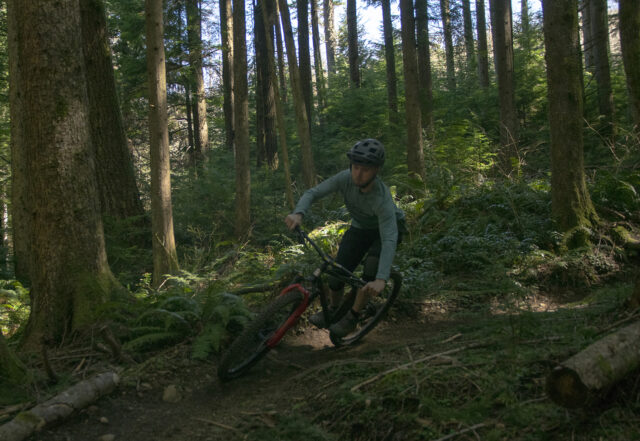 The flip side of all this stability and capability is that the El Roy isn't particularly engaging / exciting at lower speeds and in mellower terrain. It'll do some lighter-duty Trail bike work if called upon, but if that's the primary use case, something lighter and with a bit more moderate geometry is going to be more exciting, more of the time. The tradeoff, of course, is that such a bike isn't going to be as capable as the El Roy when the going gets tough, so as we're fond of saying at Blister, this is a time to know thyself and think about how much bike you really want or need.
It's also worth noting that aggressive hardtails tend to favor a fairly high degree of commitment and a reasonably skilled rider to get the most out of them. You know how if you're tense and nervous, and riding tentatively as a result, you're often more likely to crash than if you're riding with more confidence? Riding the El Roy is a bit like that, only for smoothness. If you're tiptoeing through rough sections, the lack of suspension can be particularly apparent. Take a more aggressive approach, get on the gas, and try to stay light and pop and skip over everything, and (if you get it right), suddenly everything starts to click, and the trail feels a whole lot smoother. Of course, there's less margin for error on a hardtail if you don't get it right, but that's part of the fun. As I said up top, the El Roy doesn't quite make rational sense, but on some level, that's precisely the point.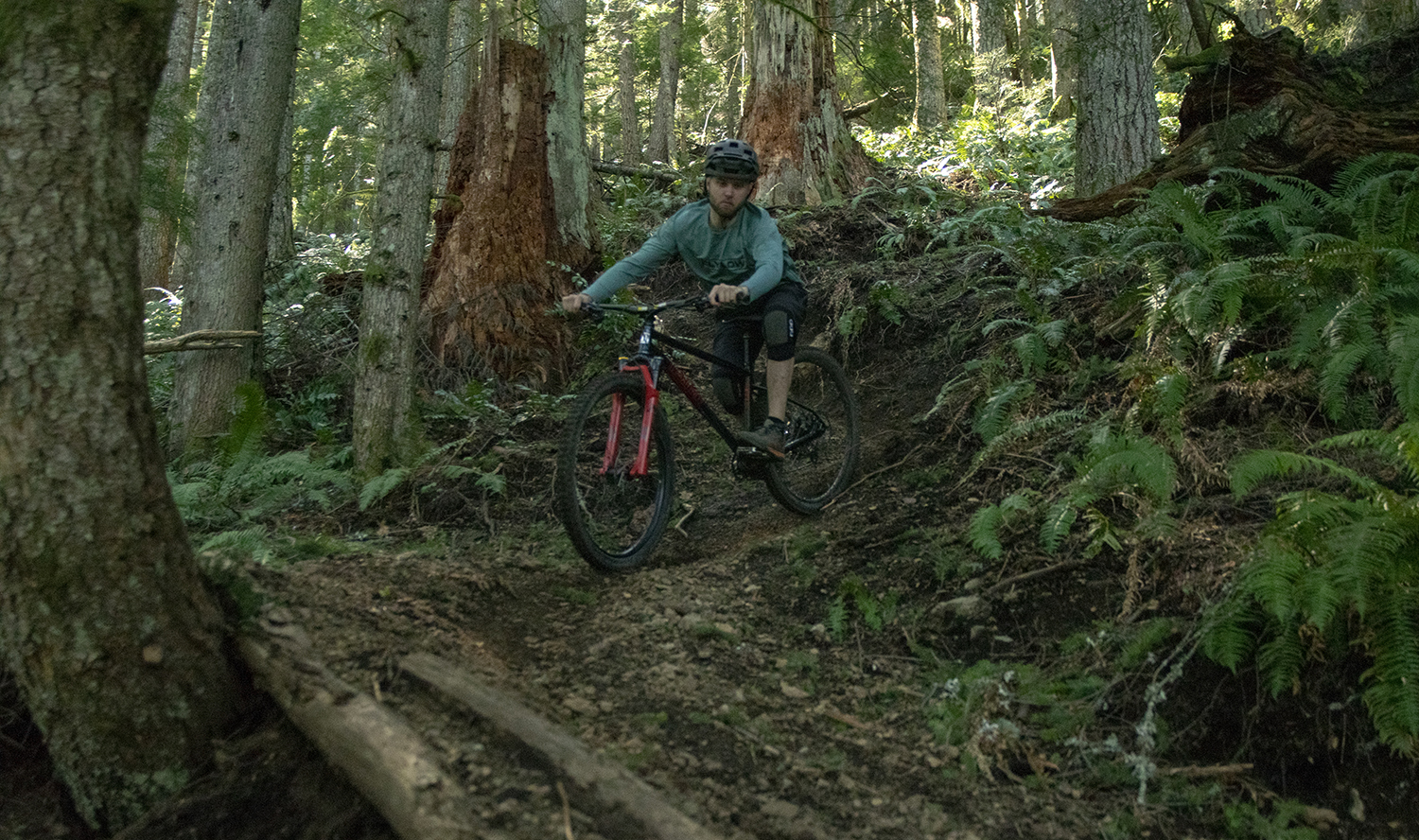 An area where the El Roy does specifically excel is when cornering. As we've been saying, it's too long to be terribly engaging at low speeds and on very tight trails, but given some room to open up into medium-speed, medium-radius corners, in particular, and it's a ton of fun. With the direct connection to the trail that you get from a hardtail, and no rear suspension to offer huge amounts of grip, it's very easy to drift the rear end around and slash corners, and the combination of a long-ish wheelbase and very low bottom bracket gives enough stability to be able to put a lot of body English into throwing the bike around, without requiring a crazy amount of precision to keep it all together. Beginners, or generally less aggressive riders might find the El Roy a bit ponderous, but with a more assertive touch and a little speed, it really comes alive.
Zack: I don't disagree with any of David's points on how the El Roy rides when pointed downhill. The long wheelbase, slack head angle, and damp-feeling frame make it easy to go fast on this bike, and when you're really attacking and moving dynamically, the bike rewards you. I had my fair share of what I affectionately called "El Roy moments" on this bike where I'd be riding on the edge of my limits and enjoying how much the bike was letting me push, only to make a mistake and be quickly reminded that I'm on a hardtail with a 140 mm fork, not my 170/160 mm travel daily driver Enduro rig. It's an easy bike to get into trouble on in steeper and more technical terrain where the geometry allows you to push more than you might on another hardtail, but that makes it a whole lot of fun.
As David mentions, the bike doesn't do particularly well on flatter, less engaging bits of trail. It's still better than a full-suspension Enduro bike with similar geometry, but the El Roy's heavy wheels and generally burly build make it feel a bit slow to get up to speed when pumping and jumping, relative to many other hardtails. I took this bike to a few dirt jump trails, and while it was more fun than a full-suspension Enduro bike, it wasn't as easy to pop and flick around as I had expected. Again, as David mentions, potential buyers need to think about what type of riding they're really looking to do with a hardtail.
Who's It For?
David: A descending-oriented hardtail might sound like a contradiction of terms, but as I hope we've made clear by now, they can be a whole lot of fun, too. Does the El Roy make 100% rational sense? Not really, but that's exactly why it's such a good time. There's something exciting about deliberately handicapping yourself with a hardtail, and then trying to go fast and push hard anyway, and soon enough you'll be chasing those moments where you get it all right and hit your line so precisely that you forget you're even on one.
Realistically, ultra-aggressive hardtails like the El Roy are going to mostly be for experienced riders who are interested in one as a second (or third, or…) bike, as a way to mix things up from their typical full-suspension rigs, try something new, and add some spice into old, familiar trails. I certainly fall into that camp myself, and have had some manner of aggro hardtail in my quiver for a long time now. Sure, there's a small cadre of hard-charging, hardtail-or-die purists out there too, and I salute those maniacs, but most people who want a hardtail because their riding simply doesn't merit a full suspension bike would be better off with something lighter and more Cross Country oriented. The El Roy is a bike for riders who want to push hard and go fast on steep descents, and if you're up for the challenge of doing so on a hardtail, it's a riot.
Zack: I completely agree with David on this front, despite being less of a hardtail enthusiast than he is. I think the El Roy makes an incredible companion to another bike in a quiver, but it also goes downhill so much better than many of its competitors that it may be worth considering as an only bike for someone who likes to get rowdy, but loves the simplicity of a hardtail.
The upper left corner of the Pacific Northwest where we are has generally unforgiving, steep trails, and the El Roy definitely can be a workout around here. I usually find myself reaching for my bigger Enduro bike for big days in the sunnier months and reserving the hardtail for when the days get shorter and the trails get wetter and lower speed. Despite this personal preference, I found that the El Roy still absolutely pushed me to try gnarly lines and offered more control at the limit than other hardtails I've ridden — or at least more encouragement to find that limit. I think almost anyone could have a good time on this bike, but it's the more aggressive riders who understand the appeal and challenge of a hardtail who will get the most out of it.
I should also mention that, while riding this bike, I couldn't help but think about how I'd tinker with the build spec if it were my own. Marin made many sensible choices to make this bike appealing to folks who want to charge on a hardtail, and I appreciate that, but I think that a wheel and cassette upgrade could substantially reduce the weight of the bike, possibly by a pound or two where that weight matters most. I found myself daydreaming about the additional peppiness that those changes might lend the bike, without reducing its ability to charge, and I think that the bike might stretch its appeal a bit farther with those changes by offering a more versatile and engaging feel.
The Bottom Line
The El Roy is a bike for terrain where most people would want a full-suspension Trail or Enduro bike, but for the riders who want to tackle those sorts of rides with a hardtail — at least some of the time. If there's appeal for you in that idea, I really do think that these sorts of hardcore hardtails are a blast, and that the El Roy is an excellent example from that category. If you think the notion sounds absurd, that's okay. It's not for everyone. Bring the right attitude and some decent bike handling skills to the table, though, and you'll be amazed by what the El Roy can do.